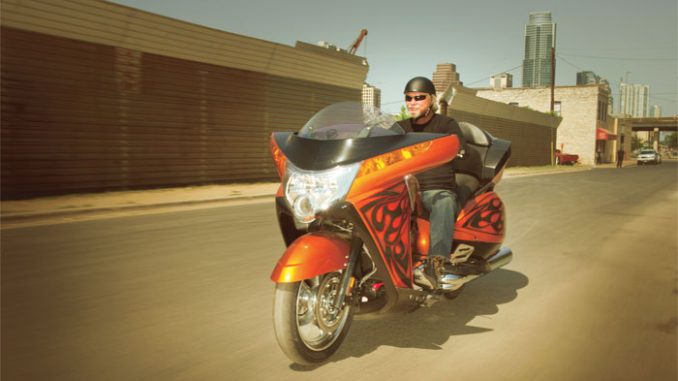 Click photos to enlarge. They make great desktop wallpaper.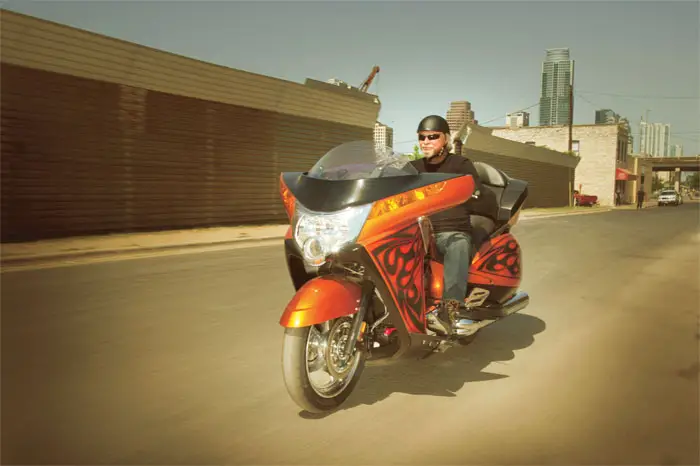 2012 Victory Arlen Ness Vision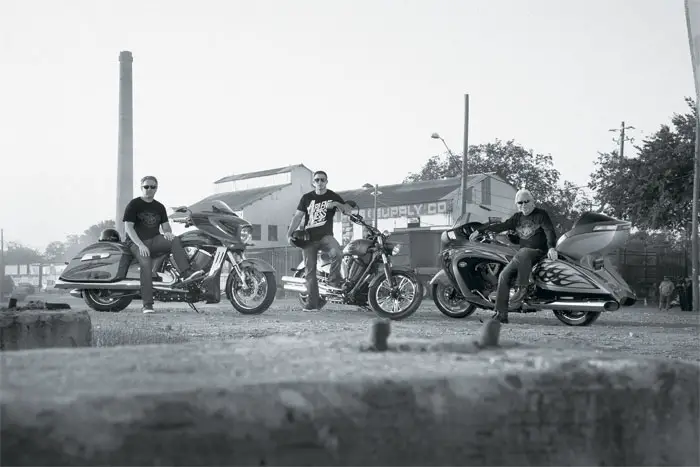 2012 Victory Arlen Ness Vision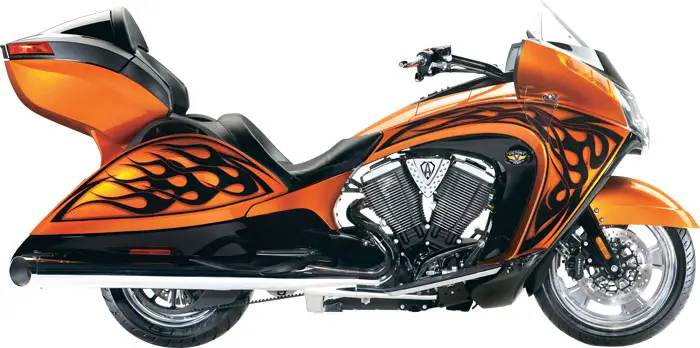 2012 Victory Arlen Ness Vision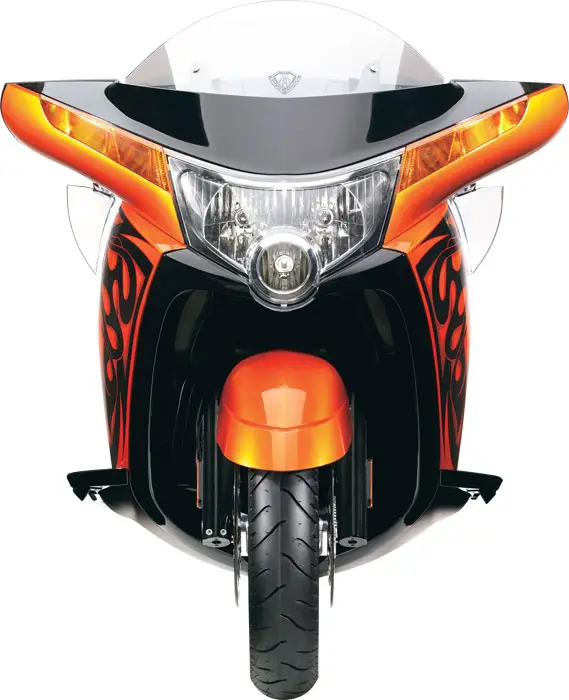 2012 Victory Arlen Ness Vision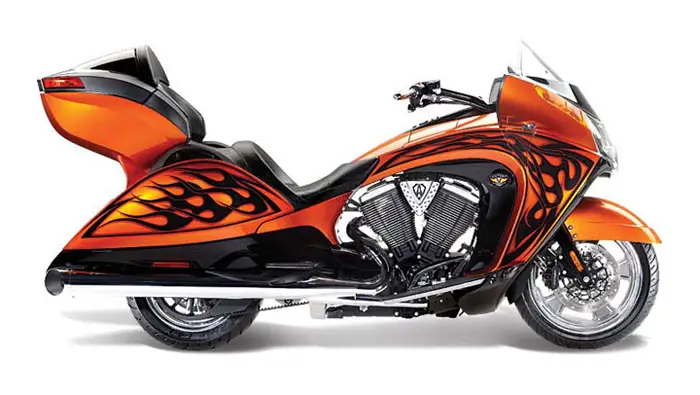 2012 Victory Arlen Ness Vision


2012 Victory Arlen Ness Vision

2012 Victory Arlen Ness Vision Review
A masterpiece of luxury touring. By the man who's in it for the long haul.

Modern, luxury touring from the godfather of custom.
The 2012 Victory Vision is already a standard setting touring motorcycle that leaves a lasting impression on riders. Now, the Arlen Ness Signature Vision Tour Motorcycle is here to up the stakes a bit more. This Ness Vision V-Twin motorcycle features a distinctive paint scheme heavy on the black, plenty of chrome for contrast, and accessories straight from the Ness collection.
Take home the touring comfort and control of the Victory Vision with the signature style of the legendary Arlen Ness. A chopper builder for decades, Ness and his family has been producing custom designs for the Victory lineup for several years. These bikes combine the performance prowess of Victory V-Twin motorcycles with their own unique takes on style and design. If you really want to stand out in a crowd, drive a Ness Signature motorcycle.
Featuring the Victory 106 cubic-inch Freedom V-Twin engine that is standard across the line, you get the benefit of an engine producing 97 horsepower and the customized styling of Arlen Ness at your disposal.

2011 NESS SIGNATURE SERIES MODELS
The 2011 Victory lineup is the first in motorcycle history to include limited-edition custom bikes from three generations of custom bike builders. The legendary Arlen Ness, his son Cory, and Cory's son Zach have each styled a Ness Signature Series model that will be produced in limited numbers and will include a numbered plate with a facsimile of the customizer's signature.

oThe Cory Ness Signature Series Victory Cross Country features numerous Ness chrome or billet accessories, diamond-cut cylinders, billet wheels, a custom suede seat, Sunset Red paint with custom graphics designed by Cory, and more.
oThe Zach Ness Signature Series Vegas 8-Ball is the first Victory production model styled by the Ness family's up-and-coming young customizer. Among his custom creations to date, Zach previously customized a Victory Kingpin that gained widespread media attention and was featured at bike shows across North America. The 2011 Zach Ness model features several Ness accessories, suede black paint with custom graphics designed by Zach, a stitched custom leather seat, and more.

The Victory Arlen Ness Vision makes 1,000-mile Iron Butt trips easy. This is a spectacular, full-featured luxury-touring bike that spoils riders with comfort and convenience, and thrills riding enthusiasts with its power, ride and handling.


PROVEN OUTSTANDING RELIABILITY
Victory has a track record of consistently outstanding reliability and dependability, which has led to the industry's highest customer satisfaction ratings. This proven reliability, along with the new transmission design, allows Victory to recommend extended oil service intervals for 2011 drivetrains.

oThe recommended oil change interval for 2011 models is every 5,000 miles (8,000 km).
oLess-frequent oil changes results in a lower cost of ownership.

NEW TRANSMISSION
The Victory drivetrain team scrutinized every component of the engine and transmission and fine-tuned the designs and performance of numerous parts. Approximately 40% of the drivetrain is new for 2011, with the transmission receiving so many improvements it is virtually a new transmission.
The changes: improved manufacturing efficiency and quality assurance; enhanced drivetrain's already-impressive reliability; improved engine performance; and, for riders, improved ridability and delivered a more appealing-sounding transmission.

oIn terms of operating sound, selected modulation frequencies have been eliminated. This produces a more-appealing sound – consistently in each gear. In 4th and 6th gears in particular, gear whine has been reduced.
oDriveline lash has been reduced by 66%.
o"Neutral Assist" has been added to make it easier for a rider to shift into neutral when stopped. This will reduce the rider's effort, will reduce clutch wear and will lessen the performance demands on the oil.

ENHANCED INSTRUMENTATION
All cruisers now have instrumentation similar to that of the Victory Cross Roads, which provides a rider with a wealth of information in one, easy-to-read location. The new instrumentation includes:

o An analog speedometer, which may be set to show MPH or KPH.
oBlue backlighting.
oA large LCD that displays: Clock (time of day is viewable at all times), gear position, tachometer and diagnostic readouts for Victory dealership service technicians.
o The gauge face includes lights such as high-beam and neutral indicators and the oil warning light. Cruisers no longer have these indicator lights atop the triple clamps.
oThe Cross Roads instrumentation also has an always-viewable fuel gauge.

CHASSIS CHANGES ACROSS THE LINEUP
All brake calipers, rotors, lower belt guards, and floorboards are black.

oAll left- and right-hand switch cubes are black, as are the audio control switch block and cruise control switch block.
o The triple clamp is black on all models except the Vegas Jackpot (which retains its chrome triple), and the Victory Cross Roads (which retains its brushed finish).
o A new side stand on each model features an integrated hooked-end design for easy locating and easy control of the side stand.

o All cruiser exhausts have a larger outlet for improved sound quality and a lower exhaust note.
2012 Victory Arlen Ness Vision Model Highlights
– Nuclear Sunset with custom Ness flamed graphics

– Signature chrome from nose to tail

– Hot Rod Ness billet wheels
– 106 cubic-inch Freedom V-Twin Engine

– 29 gallons of trunk and saddlebag capacity

– Dual-zone heated seats and handgrips
2012 Victory Arlen Ness Vision Features and Benefits
NUCLEAR SUNSET PAINT AND CUSTOM NESS FLAMED GRAPHICS
Maybe you can't be Arlen Ness, but you can now own one of his brilliant custom painted creations. Basking in the glow of Arlen's flame graphics, it's almost like riding with the master himself.

HOT ROD NESS BILLET WHEELS
High performance wheels front and rear send out a bold custom styling message with every revolution.

FLAMED NESS ENGINE COVERS
Nestled between the diamond-cut cylinders sits the crown jewel of Arlen's Custom Vision Tour – fully flamed out engine covers that direct the eye toward the heart of the machine and set the theme for the rest of the bike.

NESS FLAMED CHROME BILLET GRIPS AND CHROME GRIP ENDS
A true artist with motorcycles as his medium, Arlen pays strict attention to every chrome-inspired detail. Even the billet grips become an opportunity for signature flame. Chrome grip ends cap off the bike's overall chrome treatment.

DIAMOND CUT ENGINE
The Ness family wanted to ensure that the Freedom V-Twin at the heart of the custom Vision Tour looked as precision stylish as it was precision powerful. The answer was found in detailed, diamond-cut cylinders that elevate and anchor the bike's incredible style.

NESS CHROME FLAMED BILLET SHIFTER, BRAKE PEGS AND HAND LEVERS
The welder was put away long before, but the Arlen Ness Vision Tour continues throwing sparks. The Ness chrome hand and foot controls integrate with the bike's total custom flame treatment and deliver dependable, reliable performance.

KICKER PREMIUM AUDIO SPEAKERS
Acoustically precise and top of the line, these are the speakers the open road deserves. We suspect the audio waves that emanate from them look like flame exhaust.

NESS WINDSHIELD GRAPHIC
Forward of everything, the Ness custom windshield graphic provides a wind-breaking as well as ground-breaking extension of the bike's singular look.

LEATHER STITCHED SEAT
Comfortable enough to make the long haul seem short, and every bit Arlen. Except for the imprint, which will be all yours.

ABS BRAKES
The Arlen Ness Vision Tour's Anti-Lock Brake System doesn't discriminate between dry, wet or rock-strewn pavement. No matter what the conditions, ABS monitors what the wheel is doing and gives you consistent, smooth braking from the handlebar lever down to the rubber on the road.

CRUISE CONTROL
After making every other aspect of going the distance as effortless as possible, the throttle hand still had a beef about being overworked. By adding precise, automotive-style cruise control, the right mitt can now simply hang on and enjoy the ride.

106 CUBIC-INCH FREEDOM V-TWIN
The foundation of the Arlen Ness Vision Tour, the Freedom V-Twin power plant is an engine worthy of this ultimate touring bike's esteemed designer. Expertly balanced for perfectly controlled explosions, the Freedom V-Twin delivers 97 enduring horsepower to keep the mile markers coming, along with 113 ft lbs of on-ramp torque for when you just can't start your journey fast enough.

6-SPEED OVERDRIVE TRANSMISSION
To Arlen, nothing less than the highest performing transmission available was worthy of his masterpiece. The Victory 6-speed overdrive tranny takes the power generated by the massive V-twin and gently converts the bike into rolling art. Neutral Selection Assist and helical-cut gears ensure every shift is smooth and clean as the master's design.

CHROME DRIVER AND PASSENGER FLOORBOARDS
Even the roomy, firm-footed floorboards provide an opportunity to toss more fuel onto the flame-etched chrome theme. Enhancing an otherwise overlooked area of the bike, the chrome driver floorboards add a bright, custom look.

TRUNK
Adding to the Ness Vision Tour's long-haul luxury, the matching spacious trunk provides ample room for two riders' gear. Passengers can lean back and see the world in easy-chair comfort while enjoying the added audio speakers, relaxing even more knowing their personals are dry-lock safe.

NESS OIL LINE COVER
To the Ness Family, a road is never just a road, and an oil line is never just an oil line.

ENGINE NUMBER PLATE
No proof of purchase has ever been more rewarding. Each of Arlen's Custom Vision Tour motorcycles bears a number and an etched facsimile of Arlen's John Hancock.

NESS RADIO DISPLAY
Yet another place to channel his creative energy, Arlen's take on the radio display makes everything that comes out of it sound a little bit crisper.

NESS IGNITION KEY GRAPHIC
In Arlen's words, even the key graphic is designed to move you.
---
2012 Victory Arlen Ness Vision – USA Specifications/Technical Details
USA MSRP Price: $27,999 USD
Engine
Battery 12 volts / 18 amp hours
Bore x Stroke 101 x 108 mm
Charging System 48 amps max output
Clutch Wet, multi-plate
Compression ratio 9.4 : 1
Cooling System Air / oil
Displacement 106 ci / 1731 cc
Engine Type 4-stroke 50° V-Twin
Exhaust Split dual exhaust with crossover
Final Drive Carbon Fiber Reinforced Belt
Fuel Capacity 6.0 gal / 22.7 ltr
Fuel System Electronic Fuel Injection with dual 45mm throttle body
Oil capacity 5.0 qts / 4.75 ltr
Primary Drive Gear drive with torque compensator
Transmission 6-speed overdrive constant mesh
Valve train Single overhead camshafts with 4 valves per cylinder, self-adjusting cam chains, hydraulic lifters

Chassis
Dry Weight 869 Lbs / 395 Kg
Ground Clearance 4.8 in / 122 mm
GVWR 1414 lbs / 643 kg
Length 104.9 in / 2,665 mm
Rake/trail 29.0o / 5.6 in / 142 mm
Seat Height 24.5 in / 622 mm
Wheelbase 65.7 in / 1670 mm

Suspension
Front Suspension Conventional telescopic fork, 46 mm diameter, 5.1 in / 130 mm travel
Rear Suspension Single, mono-tube, cast aluminum with constant-rate linkage, 3.65 in / 92.7 mm travel, air adjustable

Brakes
Brake System Type Linked (ABS)
Front braking system Dual 300mm floating rotors with 4-piston calipers
Rear braking system 300mm floating rotor with 2-piston caliper

Wheels & Tires
Front Tire 130/70R18 Dunlop Elite 3
Front Wheel 18 x 3.0 in
Rear Tire 180/60R16 Dunlop Elite 3
Rear Wheel 16 x 5.0 in

Color
Colors Nuclear Sunset w/ Ness Graphics


---
2012 Victory Arlen Ness Vision – Canadian Specifications/Technical Details
Canada MSRP Price: $30,499 CDN

Engine
Battery 12 volts / 18 amp hours
Bore x Stroke 101 x 108 mm
Charging System 48 amps max output
Clutch Wet, multi-plate
Compression ratio 9.4 : 1
Cooling System Air / oil
Displacement 106 ci / 1731 cc
Engine Type 4-stroke 50° V-Twin
Exhaust Split dual exhaust with crossover
Final Drive Carbon Fiber Reinforced Belt
Fuel Capacity 6.0 gal / 22.7 ltr
Fuel System Electronic Fuel Injection with dual 45mm throttle body
Oil capacity 5.0 qts / 4.75 ltr
Primary Drive Gear drive with torque compensator
Transmission 6-speed overdrive constant mesh
Valve train Single overhead camshafts with 4 valves per cylinder, self-adjusting cam chains, hydraulic lifters

Chassis
Dry Weight 869 Lbs / 395 Kg
Ground Clearance 4.8 in / 122 mm
GVWR 1414 lbs / 643 kg
Length 104.9 in / 2,665 mm
Rake/trail 29.0o / 5.6 in / 142 mm
Seat Height 24.5 in / 622 mm
Wheelbase 65.7 in / 1670 mm

Suspension
Front Suspension Conventional telescopic fork, 46 mm diameter, 5.1 in / 130 mm travel
Rear Suspension Single, mono-tube, cast aluminum with constant-rate linkage, 3.65 in / 92.7 mm travel, air adjustable

Brakes
Brake System Type Linked (ABS)
Front braking system Dual 300mm floating rotors with 4-piston calipers
Rear braking system 300mm floating rotor with 2-piston caliper

Wheels & Tires
Front Tire 130/70R18 Dunlop Elite 3
Front Wheel 18 x 3.0 in
Rear Tire 180/60R16 Dunlop Elite 3
Rear Wheel 16 x 5.0 in

Coluor
Colours Nuclear Sunset w/ Ness Graphics