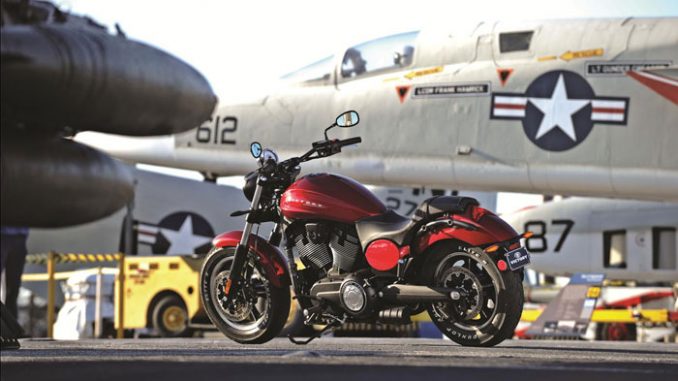 You are here: Home — 2012 Models — Victory — 2013 Victory Judge Review
Click photos to enlarge. They make great desktop wallpaper.




2013 Victory Judge

2013 Victory Judge Review
American muscle never died. It just needed handlebars.
All-New Victory Judge Rules the Street
With Muscle Car inspired Styling & American Power
At the intersection of exhilarating American V-Twin power and dynamic muscle bike styling is the all-new Victory Judge.
This is a new cruiser from Victory, the only brand that can combine such powerful new styling with dominating V-Twin power and smooth, confidence-inspiring handling for riders of all sizes.
JUDGE STYLE
The Victory Judge has a powerful silhouette and details that evoke visions of classic American muscle cars. Deeply sculpted bodywork and blacked-out components give the bike a strong purpose. Three paint options including a sinister Gloss Black, Sunset Red, and a signature Suede Nuclear Sunset, with minimal graphics. No frills, no excess, no excuses. Lots of bikes look good when parked, the Judge looks like it's just resting up for the next challenge.
The fuel tank features signature Victory styling, the new headlight has crisp design lines and the side covers have oval faces just waiting to be customized. The frame, dual exhaust, triple trees, cases, cylinder heads and more are blacked-out. The Judge says "drop the polish and pull the trigger."
The drag bars inspired by the CORE concept motorcycle and bodywork are all new and unique, as is the styling of the taillight, fender struts and new EFI covers between the cylinders. The Victory Judge features new 5-spoke cast wheels that evoke memories of performance mag wheels seen at race tracks in the 70's. These 16″ rims are shod with premium Dunlop Elite II tires with raised white lettering, the perfect look on this performance cruiser.
JUDGE PERFORMANCE
The Judge pulses with Victory Engineering DNA, delivering premium power and braking, and a smooth ride and handling.
A Judge rider is in an engaged riding position, on top of the action, and in total command of the bike. The mid-mount lower controls help create an exceptionally comfortable, confidence-inspiring cockpit. The Judge's intuitive, natural handling produces easy, responsive handling resulting in confident handling all the time. Roll smoothly over back roads then carve twisties hard on the gas as the premium suspension and semi-floating brake rotors blend into seamless performance.
With the rearward control positions and 25.9″ (658 mm) seat height, the Judge is an ideal cruiser for riders with modest inseams. Its incredible balance and low center of gravity invite riders of all heights to get on and go, whether the object is to wind down from the day, or get pumped up for the weekend ride.
Street-owning power flows from within the Freedom® 106/6 V-Twin. Serving up 113 ft-lbs of torque that let a rider punch through the gnarliest traffic, hustle through the curves and decimate any straightaway. Helical-cut gears in the proven 6-speed transmission deliver consistently smooth shifting. The true overdrive of 6th gear delivers smooth highway cruising, and a positive neutral finder simplifies the stoplight to stoplight battles.
The 4.5-gallon (17.0 litre) fuel tank offers great range and is coupled to a high-end fuel injection system that can handle any riding conditions. Pure Victory Gear, available from Victory dealers, features Judge-specific accessories so every rider can make their Judge truly their bike.
THE VERDICT
The all-new Victory Judge presides. It has the American V-Twin power and dynamic muscle bike styling that only Victory can deliver. The Judge opens a new chapter of outstanding Victory cruiser performance. It serves up incredible handling and street-dominating power for a phenomenal riding experience.
Locally the Judge is expected to arrive for retail in Australia around May this year. Pricing will be announced closer to launch.

Available in dealerships April 2012
2013 Victory Judge Model Highlights
•106 cubic-inch Freedom V-Twin Engine

•113 ft lbs torque

•Mid mounted controls
2013 Victory Judge Features and Benefits
A NEW CRUISER EXPERIENCE
Victory reinvented the cruiser riding experience with the premium ride and performance of the Vegas. Now Victory again introduces a high new level of cruiser excitement with the stylish, sport-influenced Victory Judge.

MID MOUNTED CONTROLS
The mid mounted controls put the driver in an active, engaged riding position. The rider is confidently in total command of the bike, and the ergonomics ensure long-riding leg comfort for riders on the open road.

ALL-NEW VICTORY STYLING
Only Victory offers such distinctive cruiser styling. The Victory Judge is a powerful rolling sculpture showcasing fresh bodywork, blacked-out features, new drag handlebars, a new headlight nacelle and side panels an owner can customize. The Victory ignition cover between the cylinders also features a great new look.

AMERICAN CRUISER STYLE
The Victory Judge combines modern high-performance technology with American styling cues of the 1960s muscle car era, such as cast 5-spoke wheels. The 16″ wheels are shod with premium Dunlop Elite II tires with raised white lettering, the perfect look on this cruiser.

CONFIDENCE-INSPIRING RIDE & HANDLING
Beautifully balanced and engineered with a low center of gravity, the Victory Judge is a full-sized cruiser with sporty & performance-oriented handling that instills confidence and delivers an incredibly smooth ride.

106 CUBIC-INCH FREEDOM V-TWIN
The pulse of the street beats from within the powerful Freedom® 106/6 V-Twin. Its serves up 113 ft-lbs of torque that lets a rider accelerate through the gnarliest traffic and bask in the freedom of the open road.

6-SPEED OVERDRIVE TRANSMISSION
Helical-cut gears in the durable, reliable 6-speed transmission deliver consistently smooth shifting. The true overdrive of 6th gear provides a rider with the smoothest highway cruising.

113 FT-LBS OF TORQUE
The Freedom® 106/6 V-Twin delivers instant throttle response and outstanding acceleration that gets a rider off the line and through traffic in complete control. Even while cruising in 6th gear, there's passing power to spare
---
2013 Victory Judge – USA Specifications/Technical Details
USA MSRP Price: $13,999 USD
Engine
Battery 12 volts / 18 amp hours
Bore x Stroke 101 x 108 mm
Charging System 38 amps max output
Clutch Wet, multi-plate
Compression Ratio 9.4 : 1
Cooling System Air / oil
Displacement 106 ci / 1731 cc
Engine Type 4-stroke 50° V-Twin
Exhaust Staggered slash-cut dual exhaust with crossover
Final Drive Carbon Fiber Reinforced Belt
Fuel Capacity 4.5 gal / 17.0 ltr
Fuel System Electronic Fuel Injection with dual 45mm throttle body
Oil Capacity 5.0 qts / 4.75 ltr
Primary Drive Gear drive with torque compensator
Transmission 6-speed overdrive constant mesh
Valve Train Single overhead camshafts with 4 valves per cylinder, self-adjusting cam chains, hydraulic lifters

Chassis
Dry Weight 660 lbs / 300 kg
Ground Clearance 4.7 in / 120 mm
GVWR 1151 lbs / 522 kg
Length 92.0 in / 2337 mm
Rake/Trail 31.7o / 6.7 in / 170 mm
Seat Height 25.9 in / 658 mm
Wheelbase 64.8 in / 1647 mm

Suspension
Front Suspension Conventional telescopic fork, 43 mm diameter, 5.1 in / 130 mm travel
Rear Suspension Single, mono-tube gas, cast aluminum with rising rate linkage, 3.0 in / 75 mm travel, preload adjustable spring

Brakes
Brake System Type Conventional
Front Braking System 300mm floating rotor with 4-piston caliper
Rear Braking System 300mm floating rotor with 2-piston caliper

Wheels & Tires
Front Tire 130/90 B16 67H Dunlop 491 Elite II-RWL
Front Wheel 16 x 3.5 in
Rear Tire 140/90 B16 77H Dunlop 491 Elite II-RWL
Rear Wheel 16 x 3.5 in

Color
Colors Gloss Black; Sunset Red; Suede Nuclear Sunset
---
2013 Victory Judge – Canadian Specifications/Technical Details
Canada MSRP Price: $15,299 CDN
Engine
Battery 12 volts / 18 amp hours
Bore x Stroke 101 x 108 mm
Charging System 38 amps max output
Clutch Wet, multi-plate
Compression Ratio 9.4 : 1
Cooling System Air / oil
Displacement 106 ci / 1731 cc
Engine Type 4-stroke 50° V-Twin
Exhaust Staggered slash-cut dual exhaust with crossover
Final Drive Carbon Fiber Reinforced Belt
Fuel Capacity 4.5 gal / 17.0 ltr
Fuel System Electronic Fuel Injection with dual 45mm throttle body
Oil Capacity 5.0 qts / 4.75 ltr
Primary Drive Gear drive with torque compensator
Transmission 6-speed overdrive constant mesh
Valve Train Single overhead camshafts with 4 valves per cylinder, self-adjusting cam chains, hydraulic lifters

Chassis
Dry Weight 660 lbs / 300 kg
Ground Clearance 4.7 in / 120 mm
GVWR 1151 lbs / 522 kg
Length 92.0 in / 2337 mm
Rake/Trail 31.7o / 6.7 in / 170 mm
Seat Height 25.9 in / 658 mm
Wheelbase 64.8 in / 1647 mm

Suspension
Front Suspension Conventional telescopic fork, 43 mm diameter, 5.1 in / 130 mm travel
Rear Suspension Single, mono-tube gas, cast aluminum with rising rate linkage, 3.0 in / 75 mm travel, preload adjustable spring

Brakes
Brake System Type Conventional
Front Braking System 300mm floating rotor with 4-piston caliper
Rear Braking System 300mm floating rotor with 2-piston caliper

Wheels & Tires
Front Tire 130/90 B16 67H Dunlop 491 Elite II-RWL
Front Wheel 16 x 3.5 in
Rear Tire 140/90 B16 77H Dunlop 491 Elite II-RWL
Rear Wheel 16 x 3.5 in

Colour
Colours Gloss Black; Sunset Red; Suede Nuclear Sunset