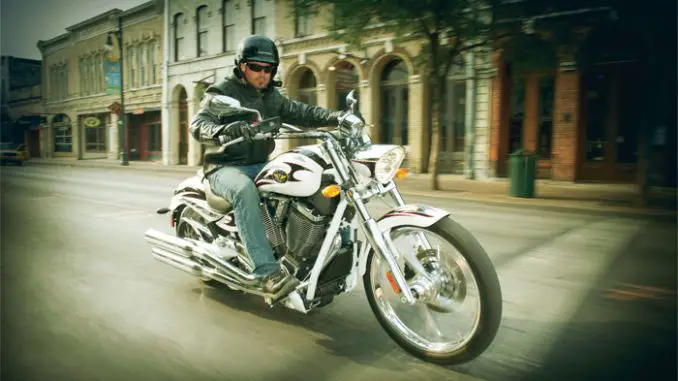 Click photos to enlarge. They make great desktop wallpaper.
2012 Victory Vegas Jackpot

2012 Victory Vegas Jackpot Review
The point at which customized styling turns into work of art.

A custom look straight from the factory. This is the ultimate custom cruiser. The Vegas Jackpot exudes style from its billet wheels to the color-matched frame and chrome front end. It's long, low, sleek and powerful, with a meaty rear tire that complements the bike's unique style.

The cruiser motorcycle that helped re-define and re-imagine the new generation of American cruisers has returned in 2012 – better than ever.
The first cruiser motorcycle to blur the lines between custom and stock is back in 2012, with another year of polished chrome, primal graphics, unparalleled power and uninhibited style. The Vegas Jackpot custom cruiser motorcycle powers down the city streets with an all-new Freedom 106 V-Twin that brings 10% more displacement to your ride this year.
The distinctive styling of the Jackpot custom cruiser guarantees that people will be asking – "Where did you get that done?" whenever you take a break from the pavement crushing performance to fuel up. Available in three distinctive color schemes – Pearl white and black with graphics, Black and Indy Red with graphics, or intimidating Solid Black – you're definitely going to stand out in the crowd with this machine.
With this combination of power, performance, comfort and style, there is only one question that remains – why aren't you riding a Vegas Jackpot yet? Follow your passion to ride with a custom cruiser motorcycle that begs to be driven – try the Vegas Jackpot at a local motorcycle dealer today.

PROVEN OUTSTANDING RELIABILITY
Victory has a track record of consistently outstanding reliability and dependability, which has led to the industry's highest customer satisfaction ratings. This proven reliability, along with the new transmission design, allows Victory to recommend extended oil service intervals for 2011 drivetrains.

o The recommended oil change interval for 2011 models is every 5,000 miles (8,000 km).
o Less-frequent oil changes results in a lower cost of ownership.

NEW TRANSMISSION
The Victory drivetrain team scrutinized every component of the engine and transmission and fine-tuned the designs and performance of numerous parts. Approximately 40% of the drivetrain is new for 2011, with the transmission receiving so many improvements it is virtually a new transmission.
The changes: improved manufacturing efficiency and quality assurance; enhanced drivetrain's already-impressive reliability; improved engine performance; and, for riders, improved ridability and delivered a more appealing-sounding transmission.

o In terms of operating sound, selected modulation frequencies have been eliminated. This produces a more-appealing sound – consistently in each gear. In 4th and 6th gears in particular, gear whine has been reduced.
o Driveline lash has been reduced by 66%.
o "Neutral Assist" has been added to make it easier for a rider to shift into neutral when stopped. This will reduce the rider's effort, will reduce clutch wear and will lessen the performance demands on the oil.

ENHANCED INSTRUMENTATION
All cruisers now have instrumentation similar to that of the Victory Cross Roads, which provides a rider with a wealth of information in one, easy-to-read location. The new instrumentation includes:

o An analog speedometer, which may be set to show MPH or KPH.
o Blue backlighting.
o A large LCD that displays: Clock (time of day is viewable at all times), gear position, tachometer and diagnostic readouts for Victory dealership service technicians.
o The gauge face includes lights such as high-beam and neutral indicators and the oil warning light. Cruisers no longer have these indicator lights atop the triple clamps.
o The Cross Roads instrumentation also has an always-viewable fuel gauge.

CHASSIS CHANGES ACROSS THE LINEUP
All brake calipers, rotors, lower belt guards, and floorboards are black.

o All left- and right-hand switch cubes are black, as are the audio control switch block and cruise control switch block.
o The triple clamp is black on all models except the Vegas Jackpot Jackpot (which retains its chrome triple), and the Victory Cross Roads (which retains its brushed finish).
o A new side stand on each model features an integrated hooked-end design for easy locating and easy control of the side stand.

o All cruiser exhausts have a larger outlet for improved sound quality and a lower exhaust note.
2012 Victory Vegas Jackpot Model Highlights
o Distinctive Vegas-family raised spine runs the length of the bike on the fenders and fuel tank.
o "Anvil" billet wheels, including 21-inch front wheel.
o Chrome front end (forks and triples).
o Colour-matched frame and two-tone headlight housing.
What's New for 2011?

o New Freedom® 106/6 Stage 2 V-Twin
o New 6-speed transmission with overdrive.
2011 Colour Options

o Pearl White and Black with extreme graphics, the "Lucky Lady" graphics package
o Sunset Red with graphics
o Tequila Gold with graphics
Pure Victory Accessories for the Vegas Jackpot Include:

o New X-Bow and Tri-Pro Stage 1 Performance Exhausts.
o Large selection grips, lower controls, covers and trim in varied finishes and designs.
o New speedometer features blue backlighting, indicator lights on the gauge face and large LCD that provides: Clock (viewable at all times), gear position, tachometer, odometer, trip meter and diagnostic readouts.
– Color matched frame

– Custom inspired paint

– Custom 21-inch anvil billet front wheel


2012 Victory Vegas Jackpot Features and Benefits
106 CUBIC-INCH FREEDOM V-TWIN
Whether you're finding your way across town or cruising the city's glass canyons, the Freedom V-Twin power plant delivers 97 horsepower and 113 ft lbs of green-light torque with ultimate authority. The heart of every Victory Cruiser machine, it informs the world of your arrival with every crack of the throttle.

6-SPEED OVERDRIVE TRANSMISSION
The best performing transmission on the street collects the power generated by the massive V-twin and allows the Vegas Jackpot to roll fluidly between the curbs. Helical-cut gears ensure that each shift will be as smooth and clean as the bike itself.

113 FT LBS TORQUE
Press the starter and you can feel deep in your chest an eruption of low-end torque. With each precision-tuned piston stroke, the Freedom V-Twin's 4-valve overhead cams and perfectly matched 6-speed overdrive transmission promise to provide unmatched throttle response, acceleration and passing power.

250-MM REAR TIRE
Put a 250 mm tire on the back of a street cruiser like the Vegas Jackpot, and rider and machine both look like they are ready for anything the road has to dish out. In this case, looks aren't deceiving. This tire will stick to the road no matter the condition, and make any rim proud to be associated with it.

CUSTOM 21-INCH ANVIL BILLET FRONT WHEEL
As in poker, the Vegas Jackpot always leads with trump. At the head of Jackpot's 106 cubic-inch charge rolls a wheel that's as artful as the bike itself, priming the eye for the added treat to follow. Strong as an anvil, it can easily bend any road to its will.

COLOR MATCHED FRAME
After witnessing the eye-popping custom inspired paint and detailed color-matched frame and headlight, it would seem no surprise if a custom shop paint shooter sauntered up and said 'That's my custom'.
---
2012 Victory Vegas Jackpot – USA Specifications/Technical Details
USA MSRP Price: $18,499 USD
Engine
Battery 12 volts / 18 amp hours
Bore x Stroke 101 x 108 mm
Charging System 38 amps max output
Clutch Wet, multi-plate
Compression ratio 9.4 : 1
Cooling System Air / oil
Displacement 106 ci / 1731 cc
Engine Type 4-stroke 50° V-Twin
Exhaust Staggered slash-cut dual exhaust with crossover
Final Drive Carbon Fiber Reinforced Belt
Fuel Capacity 4.5 gal / 17.0 ltr
Fuel System Electronic Fuel Injection with dual 45mm throttle body
Oil capacity 5.0 qts / 4.75 ltr
Primary Drive Gear drive with torque compensator
Transmission 6-speed overdrive constant mesh
Valve train Single overhead camshafts with 4 valves per cylinder, self-adjusting cam chains, hydraulic lifters

Chassis
Dry Weight 652 lbs / 296 kg
Ground Clearance 5.3 in / 135 mm
GVWR 1,171 lbs / 531 kg
Length 95.9 in / 2435 mm
Rake/trail 32.9o / 4.9 in / 126 mm
Seat Height 25.7 in / 653 mm
Wheelbase 66.3 in / 1684 mm

Suspension
Front Suspension Conventional telescopic fork, 43 mm diameter, 5.1 in / 130 mm travel
Rear Suspension Single, mono-tube gas, cast aluminum with rising rate linkage, 3.0 in / 75 mm travel, preload adjustable spring

Brakes
Brake System Type Conventional
Front braking system 300mm floating rotor with 4-piston caliper
Rear braking system 300mm floating rotor with 2-piston caliper

Wheels & Tires
Front Tire 90/90 21 Dunlop Elite 3
Front Wheel 21 x 2.15 in
Rear Tire 250/40R18 Dunlop Elite 3
Rear Wheel 18 x 8.5 in

Color
Colors Solid Black; Fireball Red w/ White Scallops; Pearl White & Black w/ Extreme Graphics


---
2012 Victory Vegas Jackpot – Canadian Specifications/Technical Details
Canada MSRP Price: $20,199 CDN

Engine
Battery 12 volts / 18 amp hours
Bore x Stroke 101 x 108 mm
Charging System 38 amps max output
Clutch Wet, multi-plate
Compression ratio 9.4 : 1
Cooling System Air / oil
Displacement 106 ci / 1731 cc
Engine Type 4-stroke 50° V-Twin
Exhaust Staggered slash-cut dual exhaust with crossover
Final Drive Carbon Fiber Reinforced Belt
Fuel Capacity 4.5 gal / 17.0 ltr
Fuel System Electronic Fuel Injection with dual 45mm throttle body
Oil capacity 5.0 qts / 4.75 ltr
Primary Drive Gear drive with torque compensator
Transmission 6-speed overdrive constant mesh
Valve train Single overhead camshafts with 4 valves per cylinder, self-adjusting cam chains, hydraulic lifters

Chassis
Dry Weight 652 lbs / 296 kg
Ground Clearance 5.3 in / 135 mm
GVWR 1,171 lbs / 531 kg
Length 95.9 in / 2435 mm
Rake/trail 32.9o / 4.9 in / 126 mm
Seat Height 25.7 in / 653 mm
Wheelbase 66.3 in / 1684 mm

Suspension
Front Suspension Conventional telescopic fork, 43 mm diameter, 5.1 in / 130 mm travel
Rear Suspension Single, mono-tube gas, cast aluminum with rising rate linkage, 3.0 in / 75 mm travel, preload adjustable spring

Brakes
Brake System Type Conventional
Front braking system 300mm floating rotor with 4-piston caliper
Rear braking system 300mm floating rotor with 2-piston caliper

Wheels & Tires
Front Tire 90/90 21 Dunlop Elite 3
Front Wheel 21 x 2.15 in
Rear Tire 250/40R18 Dunlop Elite 3
Rear Wheel 18 x 8.5 in

Colour
Colours Solid Black; Fireball Red w/ White Scallops; Pearl White & Black w/ Extreme Graphics