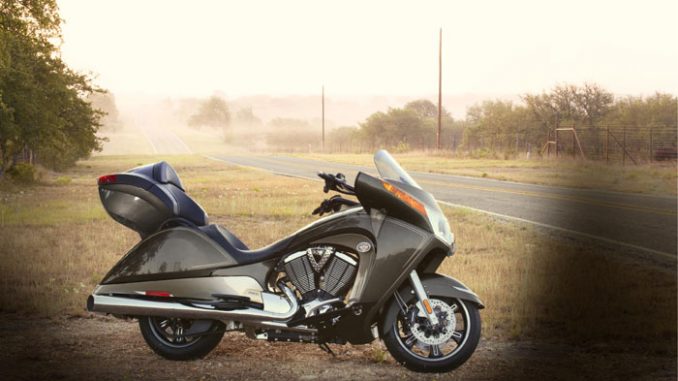 Click photos to enlarge. They make great desktop wallpaper.
2012 Victory Vision Tour

2012 Victory Vision Tour Review
When the open road calls for innovation, this is how you respond.

Commands attention with progressive, modern styling.
The Victory Vision Tour makes 1,000-mile Iron Butt trips easy. This is a spectacular, full-featured luxury-touring bike that spoils riders with comfort and convenience, and thrills riding enthusiasts with its power, ride and handling.

o Distinctive bodywork incorporates a full fairing, side storage compartments and a spacious trunk with a passenger backrest and audio speakers.
o Comfortable 2-up seating and low driver seat height: 26.5 inches/673 mm.
o Electric windshield height control, heated seats (individual driver/passenger Hi-Lo controls) and heated handlebar grips.
o Combined 110 litres of cargo capacity in trunk and side storage compartments (all lockable).
o Instrumentation integrated in fairing includes analog speedometer, fuel gauge, odometer, trip meter, and indicator lights.
o Audio system integrated in fairing has AM/FM radio. MP3/iPod® can also be used as audio source. Bike is wired to accommodate CB radio and helmet communicator system.
o Cruise Control is standard.
o Air-adjust rear suspension with 4.7 inches/120 mm of rear travel.
o Dual disk front brakes; front-rear linked braking system.
o 22.7-litre fuel capacity.

2011 Colour Options

o Midnight Cherry/Sandstone
o Solid Pearl White
o Two-Tone Vogue Silver and Black

Pure Victory Accessories for the Victory Vision Tour Include:

o Trunk Cargo Rack, Trunk Liner, Passenger Armrest Kit, and Saddlebag Liners.
o Stage 1 Exhaust, chrome accessories, backrests, auxiliary lighting, and more.

ABS STANDARD ON VICTORY VISION
The Victory Vision has several noteworthy improvements for 2011, including:

o New tubular handlebars offer easy steering control and can accept mounts and clamps so a rider can add a cup holder and all common electrical device mounts.
o The dampers have been removed from the side storage compartment covers for easier opening.
o Passenger handholds have a black, textured finish so a passenger has a better gripping surface and there's no paint to nick or scratch.
o The redesigned exhaust tips now resemble those of the Victory Cross Country.
o Anti-Lock Braking System (ABS) is standard on the Victory Vision Tour. Sensors on each wheel monitor wheel speed, and if they sense slippage or wheel lock, the ABS provides instant, effective braking to slow the vehicle and help the rider maintain control.


PROVEN OUTSTANDING RELIABILITY
Victory has a track record of consistently outstanding reliability and dependability, which has led to the industry's highest customer satisfaction ratings. This proven reliability, along with the new transmission design, allows Victory to recommend extended oil service intervals for 2011 drivetrains.

oThe recommended oil change interval for 2011 models is every 5,000 miles (8,000 km).
oLess-frequent oil changes results in a lower cost of ownership.

NEW TRANSMISSION
The Victory drivetrain team scrutinized every component of the engine and transmission and fine-tuned the designs and performance of numerous parts. Approximately 40% of the drivetrain is new for 2011, with the transmission receiving so many improvements it is virtually a new transmission.
The changes: improved manufacturing efficiency and quality assurance; enhanced drivetrain's already-impressive reliability; improved engine performance; and, for riders, improved ridability and delivered a more appealing-sounding transmission.

oIn terms of operating sound, selected modulation frequencies have been eliminated. This produces a more-appealing sound – consistently in each gear. In 4th and 6th gears in particular, gear whine has been reduced.
oDriveline lash has been reduced by 66%.
o"Neutral Assist" has been added to make it easier for a rider to shift into neutral when stopped. This will reduce the rider's effort, will reduce clutch wear and will lessen the performance demands on the oil.

ENHANCED INSTRUMENTATION
All cruisers now have instrumentation similar to that of the Victory Cross Roads, which provides a rider with a wealth of information in one, easy-to-read location. The new instrumentation includes:

o An analog speedometer, which may be set to show MPH or KPH.
oBlue backlighting.
oA large LCD that displays: Clock (time of day is viewable at all times), gear position, tachometer and diagnostic readouts for Victory dealership service technicians.
o The gauge face includes lights such as high-beam and neutral indicators and the oil warning light. Cruisers no longer have these indicator lights atop the triple clamps.
oThe Cross Roads instrumentation also has an always-viewable fuel gauge.

CHASSIS CHANGES ACROSS THE LINEUP
All brake calipers, rotors, lower belt guards, and floorboards are black.

oAll left- and right-hand switch cubes are black, as are the audio control switch block and cruise control switch block.
o The triple clamp is black on all models except the Vegas Jackpot (which retains its chrome triple), and the Victory Cross Roads (which retains its brushed finish).
o A new side stand on each model features an integrated hooked-end design for easy locating and easy control of the side stand.

o All cruiser exhausts have a larger outlet for improved sound quality and a lower exhaust note.
2012 Victory Vision Tour Model Highlights
– 106 cubic-inch Freedom V-Twin Engine

– 29 gallons of trunk and saddlebag capacity

– Dual-zone heated seats and handgrips
2012 Victory Vision Tour Features and Benefits
106 CUBIC-INCH FREEDOM V-TWIN
At the heart of the Vision Tour sits the Freedom V-Twin power plant, expertly balanced for the perfectly controlled explosions that deliver 97 horsepower and 113 ft lbs of hole shot torque. Maestro of the motorcycle world, it's what keeps man, machine and highway working together in perfect harmony.

DUAL ZONE HEATED SEATS AND HANDGRIPS
The Vision Tour lacks for nothing in the comfort category, and as proof we offer up heated seats and handgrips as exhibit A. Together they offer the best means of enhancing your road warrior reputation, by adding precious road time to both sides of summer.

29 GALLONS OF TRUNK AND SADDLEBAG SPACE
True to the bike and shaped by the wind itself, the injection-molded trunk and saddlebags provide enough storage space to comfortably get you and a friend all the way to points unknown. Don't hesitate to bring everything you could possibly need for the ride – even the all-important hair dryer.

6-SPEED OVERDRIVE TRANSMISSION
The highest performing transmission on the road receives the power generated by the massive V-twin and seamlessly turns it into something you can use. Neutral Selection Assist and helical-cut gears ensure every shift is as quiet and smooth as the one before it.

ABS BRAKES
Standard on the Vision Tour, the Victory Anti-Lock Brake System doesn't discriminate between dry, wet or rock-strewn pavement. No matter what the conditions, ABS monitors what the wheel is doing and gives you consistent, smooth braking from the handlebar lever down to the rubber on the road.

CRUISE CONTROL
After making every other aspect of long haul cruising as effortless as possible, the throttle hand still had a beef about being overworked. By adding precise, automotive-style cruise control, the right mitt can now simply hang on and enjoy the ride.

POWER WINDSHIELD AND FULL-COVERAGE FRAME MOUNTED FAIRING
Some riders feel they're not getting their due without wind in their face. Others prefer calmer days in the saddle. With the push of a button both get their wish – power the windshield up for full protection with wraparound faring, or slide the windshield down for the gentle wash that comes with the ride.
---
2012 Victory Vision Tour – USA Specifications/Technical Details
USA MSRP Price: $20,999 USD
Engine
Battery 12 volts / 18 amp hours
Bore x Stroke 101 x 108 mm
Charging System 48 amps max output
Clutch Wet, multi-plate
Compression ratio 9.4 : 1
Cooling System Air / oil
Displacement 106 ci / 1731 cc
Engine Type 4-stroke 50° V-Twin
Exhaust Split dual exhaust with crossover
Final Drive Carbon Fiber Reinforced Belt
Fuel Capacity 6.0 gal / 22.7 ltr
Fuel System Electronic Fuel Injection with dual 45mm throttle body
Oil capacity 5.0 qts / 4.75 ltr
Primary Drive Gear drive with torque compensator
Transmission 6-speed overdrive constant mesh
Valve train Single overhead camshafts with 4 valves per cylinder, self-adjusting cam chains, hydraulic lifters

Chassis
Dry Weight 800 Lbs / 364 Kg
Ground Clearance 4.8 in / 122 mm
GVWR 1414 lbs / 643 kg
Length 103.5 in / 2629 mm
Rake/trail 29.0o / 5.6 in / 142 mm
Seat Height 24.5 in / 622 mm
Wheelbase 65.7 in / 1670 mm

Suspension
Front Suspension Conventional telescopic fork, 46 mm diameter, 5.1 in / 130 mm travel
Rear Suspension Single, mono-tube, cast aluminum with constant-rate linkage, 3.65 in / 92.7 mm travel, air adjustable

Brakes
Brake System Type Linked
Front braking system Dual 300mm floating rotors with 4-piston calipers
Rear braking system 300mm floating rotor with 2-piston caliper

Wheels & Tires
Front Tire 130/70R18 Dunlop Elite 3
Front Wheel 18 x 3.0 in
Rear Tire 180/60R16 Dunlop Elite 3
Rear Wheel 16 x 5.0 in

Color
Colors Sunset Red & Black w/ Black Carbon Graphics; Imperial Blue & Super Steel Gray; Bronze Mist & Sandstone Metallic



---
2012 Victory Vision Tour – Canadian Specifications/Technical Details
Canada MSRP Price: $22,899 CDN

Engine
Battery 12 volts / 18 amp hours
Bore x Stroke 101 x 108 mm
Charging System 48 amps max output
Clutch Wet, multi-plate
Compression ratio 9.4 : 1
Cooling System Air / oil
Displacement 106 ci / 1731 cc
Engine Type 4-stroke 50° V-Twin
Exhaust Split dual exhaust with crossover
Final Drive Carbon Fiber Reinforced Belt
Fuel Capacity 6.0 gal / 22.7 ltr
Fuel System Electronic Fuel Injection with dual 45mm throttle body
Oil capacity 5.0 qts / 4.75 ltr
Primary Drive Gear drive with torque compensator
Transmission 6-speed overdrive constant mesh
Valve train Single overhead camshafts with 4 valves per cylinder, self-adjusting cam chains, hydraulic lifters

Chassis
Dry Weight 800 Lbs / 364 Kg
Ground Clearance 4.8 in / 122 mm
GVWR 1414 lbs / 643 kg
Length 103.5 in / 2629 mm
Rake/trail 29.0o / 5.6 in / 142 mm
Seat Height 24.5 in / 622 mm
Wheelbase 65.7 in / 1670 mm

Suspension
Front Suspension Conventional telescopic fork, 46 mm diameter, 5.1 in / 130 mm travel
Rear Suspension Single, mono-tube, cast aluminum with constant-rate linkage, 3.65 in / 92.7 mm travel, air adjustable

Brakes
Brake System Type Linked
Front braking system Dual 300mm floating rotors with 4-piston calipers
Rear braking system 300mm floating rotor with 2-piston caliper

Wheels & Tires
Front Tire 130/70R18 Dunlop Elite 3
Front Wheel 18 x 3.0 in
Rear Tire 180/60R16 Dunlop Elite 3
Rear Wheel 16 x 5.0 in

Coluor
Colours Sunset Red & Black w/ Black Carbon Graphics; Imperial Blue & Super Steel Gray; Bronze Mist & Sandstone Metallic