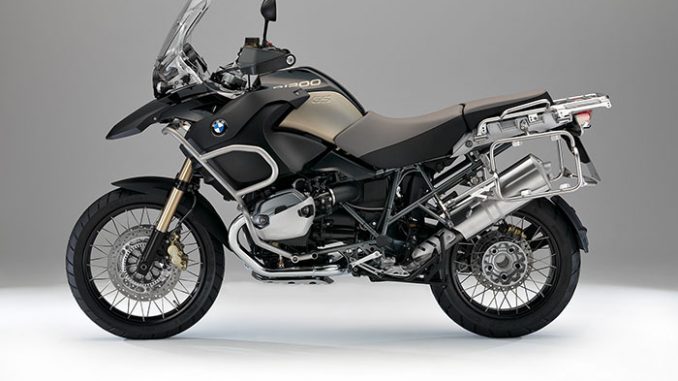 Click photos to enlarge. Our big, clean bike pics make great desktop wallpaper.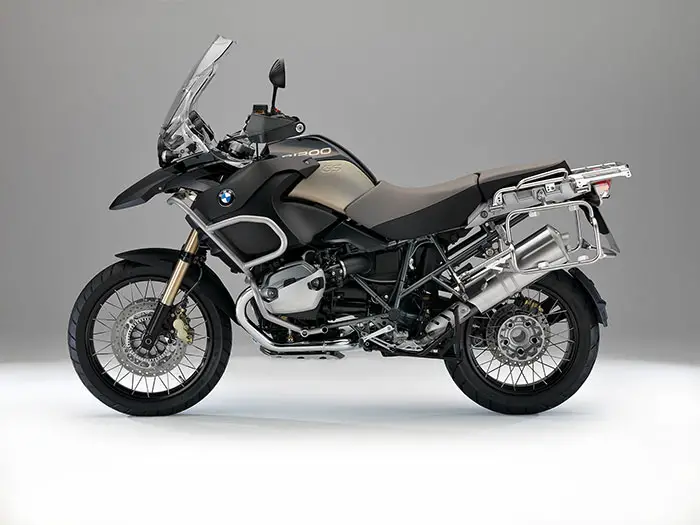 2013 BMW R1200GS Adventure 90 Years Special Model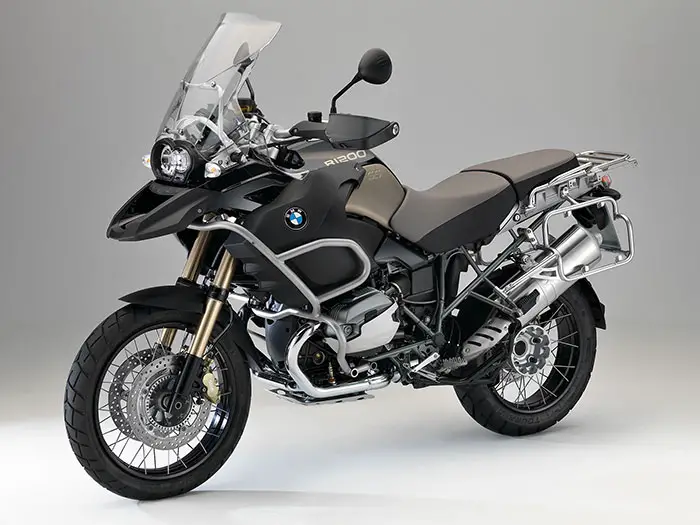 2013 BMW R1200GS Adventure 90 Years Special Model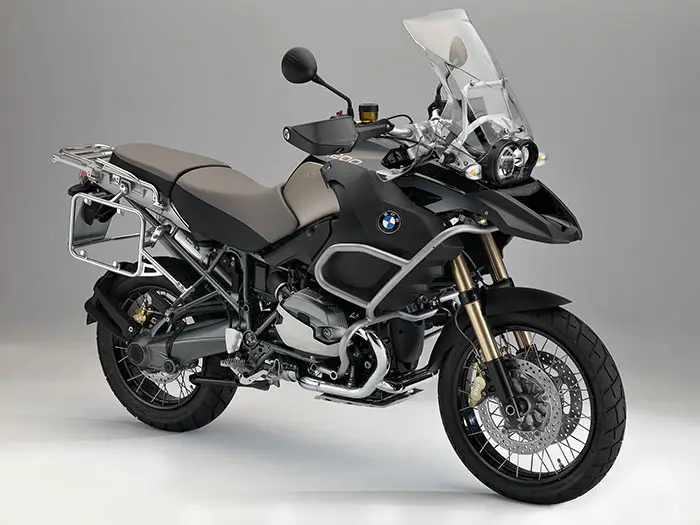 2013 BMW R1200GS Adventure 90 Years Special Model
2013 BMW R1200GS Adventure 90 Years Special Model Review

2013 BMW R1200GS Adventure 90 Years Special Model
90 years of character. 90 years of yearning for adventure. BMW Motorrad is marking the anniversary of the exciting boxer model and its irrepressible pioneering spirit – 90 years of motorcycle construction motivated by sheer passion.
The adventure highlight is showcased at its most impressive: the anniversary outfit of the R1200GS Adventure comprises a matt black/gold paint finish. Like all the special models, it also bears high-quality model inscriptions and an exclusive brass plate on the fork bridge. The R1200GS Adventure stands for a level of fascination which can barely be surpassed. And it still sets the ultimate benchmark – today as it did 90 years ago.
90 years – unstoppable: the adventure highlight.
Wherever you are, get ready for it: whether taking a quick trip to the nearest mountains or setting off for a different continent to discover faraway new cultures, the R 1200 GS Adventure will take you there. Range is not a problem with a tank capacity of 8.7 gallons. Robustness? The R 1200 GS Adventure looks as if it had invented the term – and it certainly has defined it in the motorcycle world.
This is partly due to the range of features which have become almost as legendary as the bike itself. On this machine you can take potholes with 1″ more clearance than on the R 1200 GS. Perfect ergonomics, optimum gearing for every terrain, and a chassis which – whether fully loaded or not – will allow you to thrill your pillion passenger as well as surprise anyone ahead of you. The special equipment features off-road ESA and ASC continue to be unsurpassed, hence the motto: Unstoppable.
The bike's unstoppable character is further enhanced with the new DOHC engine*, which first displayed its impressive performance in the legendary HP2 Sport. For the R 1200 GS Adventure, torque was given higher priority than output in line with practical considerations. And you can feel it. 88 ft-lb of torque at the peak at 6000 rpm is one thing, but the consistently higher level of torque in the relevant range up to 5000 rpm can be fully experienced. The output has been increased to 110 hp at 7750 rpm.
The supreme riding pleasure is underscored by a powerful sound from the new exhaust system with exhaust flap – so take a test ride now!
Some journeys you can tell are going to be tough just by looking at the map – but the reality is always going to be tougher. And that's where the new BMW R 1200 GS Adventure comes into its own. However far you have to go, whatever the terrain, this is a motorcycle that will never let you down.
With superb suspension, brakes you can rely on, supreme handling and an engine that now delivers more torque, power and responsiveness, the new R 1200 GS Adventure was made to explore new horizons.
The R 1200 GS Adventure features an updated boxer engine which gives you more torque at lower revs, improved responses and better acceleration across the rev range. The two-cylinder DOHC (Double overhead camshaft) engine delivers 120 Nm at 6000 rpm, and output has been increased to 110hp at 7750 rpm.

* DOHC = Double Overhead Camshaft, two overhead camshafts per cylinder
2013 BMW R1200GS Adventure 90 Years Special Model Key Features
Factory Fit Options:

L & R Pannier Fastenings for Aluminium Cases
ESA (Electronic Suspension Adjustment)
Heated Grips
Tyre Pressure Control
On-board Computer
Additional Fog Lights
LED Indicators
Anti Theft Alarm System
Enduro Gearbox
Off Road Tyres
ASC (OW 630)
Chrome Exhaust

ZG1 Enduro Pack (Enduro Gearbox, Off Road Tyres) £0.00
432 Premium Package (Chrome Exaust, ESA, Heated Grips, On Board Computer, Additional Fog Lights, LED Indicators, L+R Pannier Fastenings) £1545.00
431 Comfort Package (Chrome Exhaust, Heated Grips, On Board Computer, LED Indicators) £530.00
430 Dynamic Package (Tyre Pressure Control, ASC) £430.00

Standard Factory Equipment: Special Features
Seat top/side – Luxor Olive Grey / Seta Black
Knee cover (aluminium) – Olive Grey anodised
Special tape design
Swing arm, rear frame – Asphalt Grey Metallic 2 Matt
Paralever strut – Black anodised
Cylinder head cover – Granite Grey Metallic Matt
Engine – Black Matt
Exclusive badge: polished brass, positioned on fork bridge, replacing BMW logo
Front fork, front + rear brake calipers – Gold anodised
Front fender top, tank cover – Sapphire Black Metallic

Engine/Driveline
Magnesium cylinder head covers
Complete stainless steel exhaust system
Shaft drive
6 Speed gearbox
Closed loop 3 way catalytic converter with oxygen sensor
Digital engine management (BMS-KP) with twin-spark ignition system
Air/oil cooled flat twin four stroke DOHC engine with radial valves

Running Gear
Adjustable rear rebound damping
BMW Motorrad integral ABS (switchable)
Twin disc front brake (EVO, 305mm dia)
Single disc rear brake
Hydraulic rear spring preload adjuster
5-position mechanical front spring pre-load adjuster
Cross spoke Wheels
Prop stand with starter inhibit
Braided steel brake and clutch hoses
Handlebar conical, without cross support
BMW Motorrad telelever and paralever (EVO)

Electronics
White indicators
Diagnostic interface
Electronic immobiliser
Low beam headlamp height adjustment
Info flat screen (digital clock, gear indicator, fuel gauge, coolant temperature and cruising range indicator, total 2 trip odometers and service indicator)
Instrument cluster with digital speedometer and revolution counter
LED rear light
Alternator, strong (720 W)
Single wire system (Can-Bus)
Power socket
Hazard warning flasher
Permanent headlamp beam

Equipment
Skid plate
Adjustable footbrake lever and gear lever
Stainless steel luggage rack
Handguards
Tank and engine protection bar
Aluminium valve cover protection system
Handbrake lever and clutch lever adjustable
Centre Stand
Integral ignition switch and steering lock
Adjustable handlebar
Windshield adjustable
Two section dual seat with variable height rider's seat
One key system for ignition, steering, fuel filler cap, dual seat and helmet locks
---
2013 BMW R1200GS Adventure 90 Years Special Model – USA Specifications/Technical Details
US MSRP Price: See Dealer for pricing
Engine
Type Air/oil-cooled flat twin ('Boxer') 4-stroke engine, two camshafts and four radially aligned valves per cylinder, central balancer shaft
Bore x stroke 101 mm x 73 mm
Capacity 1,170 cc
Rated output 110 hp (81 kW) at 7,750 rpm
Max. torque 89 ft-lb (120 Nm) at 6,000 rpm
Compression ratio 12.0 : 1
Mixture control / engine management Electronic intake pipe injection / BMS-K+ digital engine management with overrun fuel cut-off, twin spark ignition
Emission control Closed-loop 3-way catalytic converter, emission standard EU-3
Performance / fuel consumption
Maximum speed over 125 mph (200 km/h)
Fuel consumption per 100 km at constant 90 km/h 51 mpg, at a constant 55 mph
Fuel consumption per 100 km at constant 120 km/h 51 mpg, at a constant 55 mph
Fuel type Unleaded super and premium.
Electrical system
Alternator three-phase alternator 720 W
Battery 12 V / 14 Ah, maintenance-free
Power transmission
Clutch Single dry plate clutch, hydraulically operated
Gearbox Constant mesh 6-speed gearbox with helical gear teeth
Drive Shaft drive
Chassis / brakes
Frame Two-section frame consisting of front and rear sections, load- bearing engine-gearbox unit
Front wheel location / suspension BMW Motorrad Telelever; stanchion diameter 41 mm, central spring strut, spring pre-load with 5-position mechanical adjustment
Rear wheel location / suspension Cast aluminium single-sided swing arm with BMW Motorrad Paralever; WAD strut (travel-related damping), spring pre-load hydraulically adjustable (continuously variable) at handwheel, rebound damping adjustable
Suspension travel front / rear 8.3/8.7 inches (210 mm / 220 mm)
Wheelbase 59.4 inches (1,510 mm)
Castor 3.5 inches (89 mm)
Steering head angle 65.2°
Wheels Cross-spoke wheels
Rim, front 2.50 x 19″
Rim, rear 4.00 x 17″
Tyres, front 110/80 R 19
Tyres, rear 150/70 R 17
Brake, front Dual disc brake, floating brake discs, diameter 305 mm, 4-piston fixed calipers
Brake, rear Single disc brake, diameter 265 mm, double-piston floating caliper
ABS STANDARD (part integral, can be switched off)
Dimensions / weights
Length 88 inches (2,240 mm)
Width (incl. mirrors) 39 inches (990 mm)
Height (excl. mirrors) 60 inches (1,525 mm)
Seat height, unladen weight 35.0/35.8 inches (adjustable seat height) Standard
Inner leg curve, unladen weight 77.2/78.7 inches (adjustable seat height) Standard
Unladen weight, road ready, fully fuelled 1) 564 lbs (256 kg)
Dry weight 2) 505 lbs (229 kg)
Permitted total weight 1,045 lbs (475 kg)
Payload (with standard equipment) 482 lbs (219 kg)
Usable tank volume 8.7 gallons (33.0 liters)
Reserve Approx. 1 gallon (4.0 liters)
" Technical data relate to the unladen weight (DIN)
" 1) According to guideline 93/93/EWG with all fluids, fuelled with at least 90% of usable tank volume
" 2) Unladen weight without fluids
---
2013 BMW R1200GS Adventure 90 Years Special Model – Canadian Specifications/Technical Details
Canada MSRP Price: See dealer for Pricing.
Engine
Type Air/oil-cooled flat twin ('Boxer') 4-stroke engine, two camshafts and four radially aligned valves per cylinder, central balancer shaft
Bore x stroke 101 mm x 73 mm
Capacity 1,170 cc
Rated output 81 kW (110 hp) at 7,750 rpm
Max. torque 120 Nm at 6,000 rpm
Compression ratio 12.0 : 1
Mixture control / engine management Electronic intake pipe injection / BMS-K+ digital engine management with overrun fuel cut-off, twin spark ignition
Emission control Closed-loop 3-way catalytic converter, emission standard EU-3
Performance / fuel consumption
Maximum speed over 200 km/h
Fuel consumption per 100 km at constant 90 km/h 4.6 l
Fuel consumption per 100 km at constant 120 km/h 6.1 l
Fuel type Unleaded super and premium, octane number 95-98 (RON)
(knock sensor; rated output at 98 RON); optional extra 91 (RON) available
Electrical system
Alternator three-phase alternator 720 W
Battery 12 V / 14 Ah, maintenance-free
Power transmission
Clutch Single dry plate clutch, hydraulically operated
Gearbox Constant mesh 6-speed gearbox with helical gear teeth
Drive Shaft drive
Chassis / brakes
Frame Two-section frame consisting of front and rear sections, load- bearing engine-gearbox unit
Front wheel location / suspension BMW Motorrad Telelever; stanchion diameter 41 mm, central spring strut, spring pre-load with 5-position mechanical adjustment
Rear wheel location / suspension Cast aluminium single-sided swing arm with BMW Motorrad Paralever; WAD strut (travel-related damping), spring pre-load hydraulically adjustable (continuously variable) at handwheel, rebound damping adjustable
Suspension travel front / rear 210 mm / 220 mm
Wheelbase 1,510 mm
Castor 89 mm
Steering head angle 65.2°
Wheels Cross-spoke wheels
Rim, front 2.50 x 19″
Rim, rear 4.00 x 17″
Tyres, front 110/80 R 19
Tyres, rear 150/70 R 17
Brake, front Dual disc brake, floating brake discs, diameter 305 mm, 4-piston fixed calipers
Brake, rear Single disc brake, diameter 265 mm, double-piston floating caliper
ABS Optional extra: BMW Motorrad Integral ABS (part-integral), can be switched off
Dimensions / weights
Length 2,240 mm
Width (incl. mirrors) 990 mm
Height (excl. mirrors) 1,525 mm
Seat height, unladen weight 890 / 910 mm
Inner leg curve, unladen weight 1,960 / 2,000 mm
Unladen weight, road ready, fully fuelled 1) 259 kg
Dry weight 2) 225 kg
Permitted total weight 475 kg
Payload (with standard equipment) 216 kg
Usable tank volume 33 l
Reserve approx. 4.0 l
" Technical data relate to the unladen weight (DIN)
" 1) According to Directive 93/93/EEC with all fluids, fuelled to at least 90% of usable fuel tank
" 2) Unladen weight without fluids
---
2013 BMW R1200GS Adventure 90 Years Special Model – Europe Specifications/Technical Details
European MSRP Price: £12,665.00 on the road

Engine
Type Air/oil-cooled flat twin ('Boxer') 4-stroke, two camshafts and four radially aligned valves per cylinder, central balancer shaft
Bore x stroke 101 mm x 73 mm
Capacity 1,170 cc
Rated output 81 kW (110 hp) at 7,750 rpm
Max. torque 120 Nm at 6,000 rpm
Compression ratio 12.0 : 1
Mixture control / engine management Electronic intake pipe injection/BMS-K digital engine management with overrun fuel cut-off, twin spark ignition
Emission control Closed-loop 3-way catalytic converter, emission standard EU-3
Performance / fuel consumption
Maximum speed Over 200 km/h
Fuel consumption per 100 km at constant 90 km/h 4.6 l
Fuel consumption per 100 km at constant 120 km/h 6.1 l
Fuel type Unleaded super and premium, octane number 95-98 (RON), (knock sensor; rated output at 98 RON); optional extra 91 (RON) available
Electrical System
Alternator three-phase alternator 720 W
Battery 12 V / 14 Ah, maintenance-free
Power transmission
Clutch Single dry plate clutch, hydraulically operated
Gearbox Constant mesh 6-speed gearbox
Drive Shaft drive
Chassis / brakes
Frame Two-section frame consisting of front and rear sections, load- bearing engine-gearbox unit
Front wheel location / suspension BMW Motorrad Telelever; stanchion diameter 41 mm, central spring strut, spring pre-load with 5-position mechanical adjustment
Rear wheel location / suspension Cast aluminium single-sided swing arm with BMW Motorrad Paralever; WAD strut (travel-related damping), spring preload hydraulically adjustable (continuously variable) at handwheel
Suspension travel front / rear 210 mm / 220 mm
Wheelbase 1,510 mm
Castor 89 mm
Steering head angle 65.2°
Wheels Cross-spoke wheels
Rim, Front 2.50 x 19″
Rim, rear 4.00 x 17″
Tyre, front 110/80 R 19
Tyre, rear 150/70 R 17
Brake, front Dual disc, floating brake discs, 305 mm diameter, four-piston fixed calipers
Brake, rear Single disc brake, diameter 265 mm, double-piston floating caliper
ABS As standard
Dimensions / weights
Length 2,240 mm
Width (incl. mirrors) 990 mm
Height (excl. mirrors) 1,525 mm
Seat height, unladen weight 890 / 910 mm
Inner leg curve, unladen weight 1,960 / 2,000 mm
Unladen weight, road ready, fully fueled 256 kg
Dry weight 223 kg
Permitted total weight 475 kg
Payload (with standard equipment) 219 kg
Usable tank volume 33.0 l
Reserve approx. 4.0 l