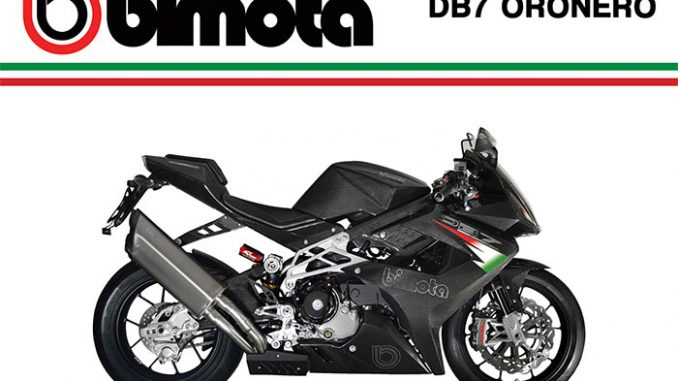 Click photos to enlarge. Our big, clean bike pics make great desktop wallpaper.
2013 Bimota DB7 Oronero Review

2013 Bimota DB7 Oronero
TOP-NOTCH PERFORMANCE without compromise

The 2013 DB7 Oronero, only for the best. When Bimota's genius meet the finest materials to create a unique bike.
When the materials aren't only to please our eyes. The DB7 Oronero's a sport bike that reaches ultimate performance on track or fast roads.
The carbon used for the frame and the swing arm assures a perfect stiffness, its compactness allows for superior manoeuvrability and the power to weight ratio of a legendary rate 1:1 enables mind blowing performance brought to you via a refined electronic injection system developed by Bimota.
This Superbike delivers all that it promised and standard devices include GPS and a full data management system.

2013 Bimota DB7 Oronero Features and Benefits
Look

The DB7 Oronero is a vehicle that fully embodies Bimota's story and philosophy. A unique bike where hard work and precious materials are combined for an exotic machine that performs as well as it looks.
The DB7 Oronero is mean and moody purposely offered with a more sombre look, where the eye catches the tailoring skills that create this Superbike.
The Italian flag is detailed on the carbon-black of the chassis, a reminder of the craftsmanship applied from the hands of the Italian builders.

Technology

Equipped with a 90° L Twin cylinder engine 1098cc, reach a max of 160hp/9750rpm and powered by electronic injection developed by Bimota. The dry cluch is multi-plates.
The frame utilises the original technology of Bimota, a carbon oval tube trellis frame with alloy plates. Exquisite swing arm is carbon and connected directly to the motor to provide a compact design with excellent rigidity.
Carbon is even used to dress the ORONERO. The result is the lightness of this bike, with its 164kg that, giving its 164hp allow a weight/power ratio of 1:1.
The 43mm fork is fully-adjustable as is the mono shock. The 2x320mm discs are activated by radial mounted Brembo monobloc calipers.
The data logging equipment allows you to record the bike's full behaviour. Furthermore the GPS provides detailed data on timings and tracks.

---
2013 Bimota DB7 Oronero – Specifications/Technical Details
MSRP Price: See Dealer for Pricing

Model Bimota DB7 Oronero
Valves 4
Engine 90°L twin cylider, 4 strokes
Capacity 1099cc
Bore x stroke 104×64,7mm
Compression Ratio 12,5:1
Fuel system fuel injection
Starter electric
Max power 160 hp/9750 rpm
Max torque 11,8 kgm/8000 rpm
Transmissione Chain
Frame carbon oval tube hybrid trellis frame with ergal plates
Front suspension 43mm upside-down DLC treated and preload-fully adjustable fork
Rear suspension preload-fully adjustable, top and lower speed monoshock
Front brakes 2x320mm disc, 4 piston calipers
Rear brakes single 220mm disc, 2 piston calipers
Dry-weight 172 kg.
Fuel capacity 16 lt.
Top speed 275 km/h
Front tyre 120/70 ZR17
Rear tyre 190/55 ZR17
Overall lenght 2040mm
Overall width 730mm
Overall height 1105mm
Seat height 800mm
Wheelbase 1430mm


Bimota S.r.l. si riserva il diritto di modificare ogni caratteristica tecnica, di equipaggiamenti e colori senza preavviso. / Bimota S.r.l. reserves the right to make any kind of modifications to the technical charateristics, equipments and outfits without prior notice.