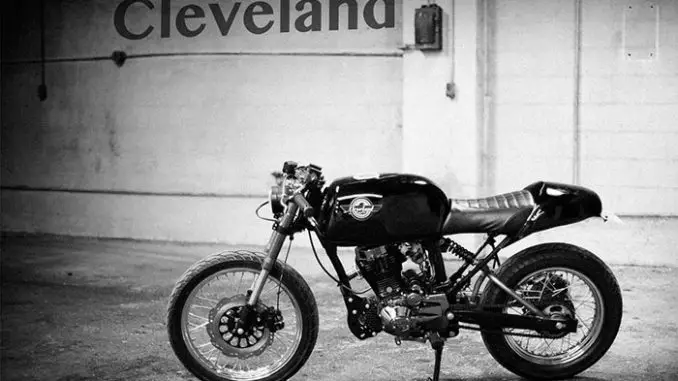 Click photos to enlarge. Our big, clean bike pics make great desktop wallpaper.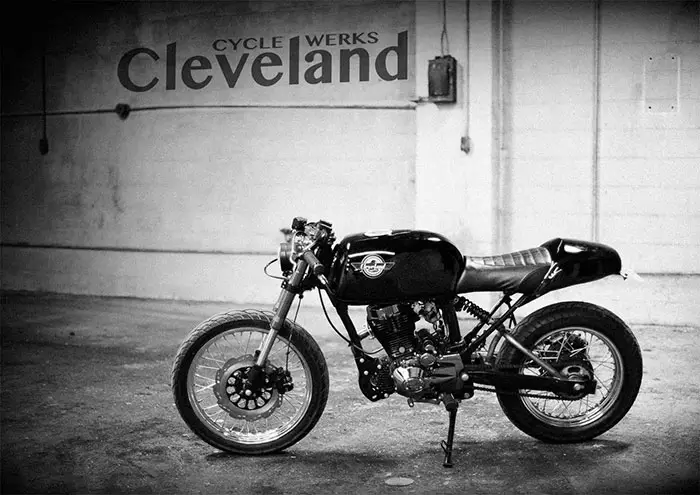 2013 Cleveland CycleWerks Misfit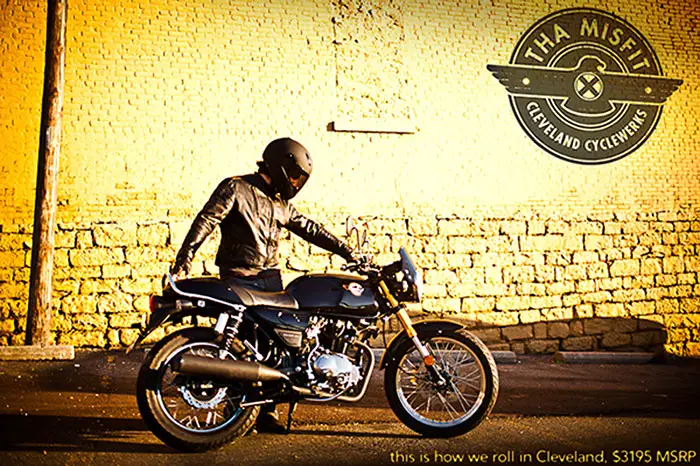 2013 Cleveland CycleWerks Misfit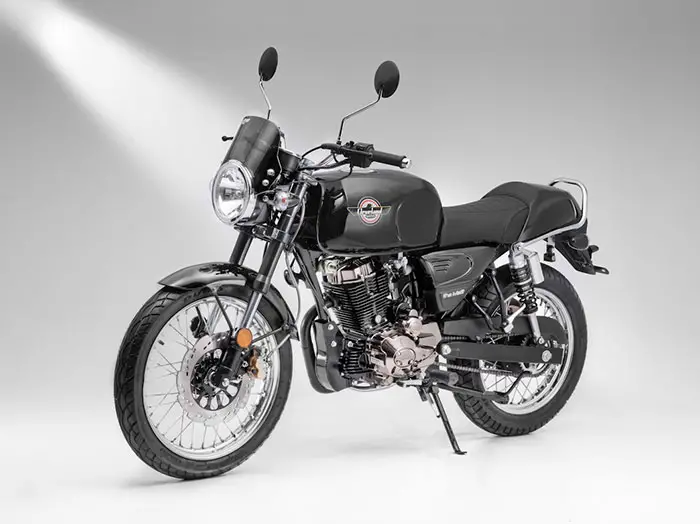 2013 Cleveland CycleWerks Misfit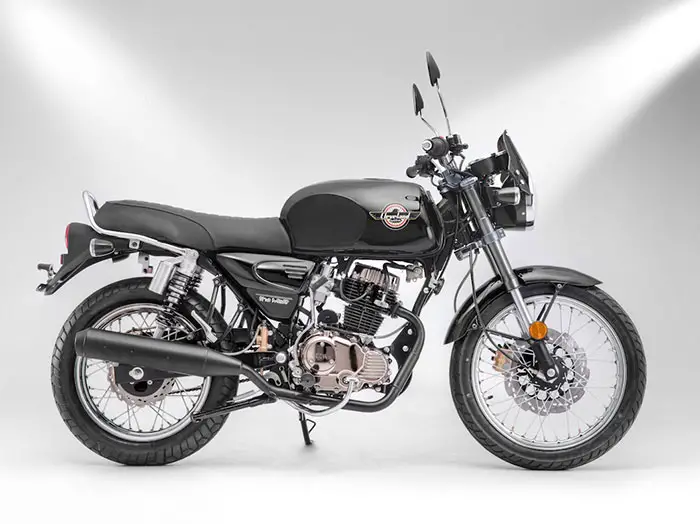 2013 Cleveland CycleWerks Misfit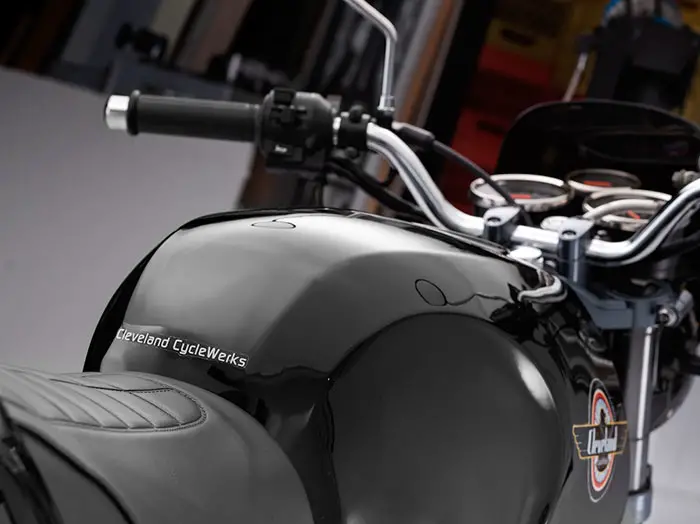 2013 Cleveland CycleWerks Misfit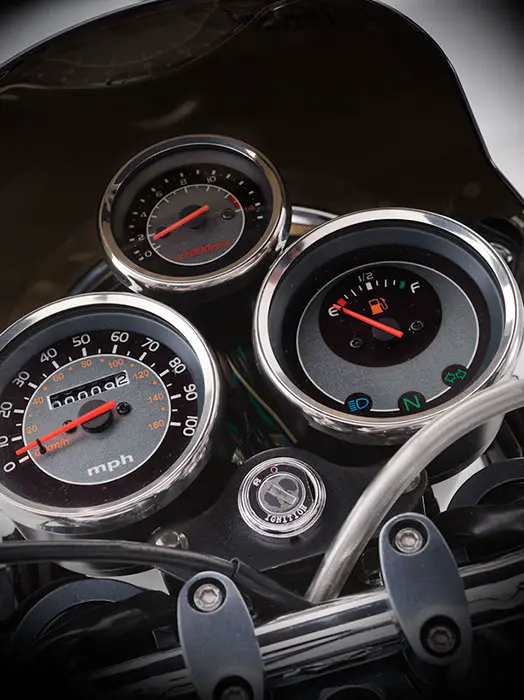 2013 Cleveland CycleWerks Misfit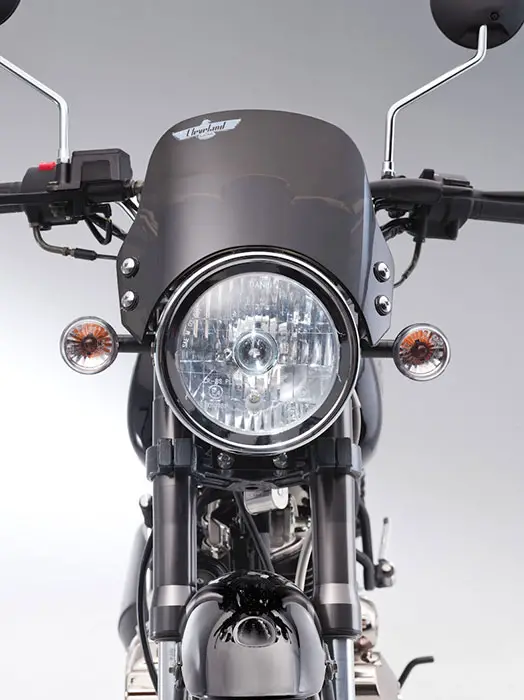 2013 Cleveland CycleWerks Misfit



2013 Cleveland CycleWerks Misfit Review

2013 Cleveland CycleWerks Misfit
Tha Misfit is an extremely affordable Cafe' style motorcycle. The bike has a DOM main tube that mates up to a boxed section that supports the counter-balanced motor, the large front boxed section adds a great deal of rigidity to the frame and the motor acts as a stressed member. The rear swing arm is a boxed section swing arm for rigidity. The rear shocks have remote reservoir, and the rear springs come with pre-load adjuster to adjust for proper sag. The inverted forks do a nice job of absorbing the bumps, while still keeping the ride sporty. The rear cowl removes for 2 up riding when needed. There is a center stand for those times when parking is tight, or the bike needs some maintenance. The large front and rear slide style brakes stop this light (under 300lbs) bike very quickly.

Scott Colosimo, from CCW remarks:

"Tha Misfit is really the sort of Café bike that everyone attempts to build in their home shop. Chopping out all the bullshit tabs and brackets that you don't want and putting on all the cool components that you do." We think Scott is trying to say that CCW, being a small company can afford to build bikes in a more custom manner, with more control over the design and quality of the final product. Scott adds "Being a small company, we build bikes that as enthusiasts, we want to ride, and this directly translates to the types of bikes that other enthusiasts and beginners can appreciate."
sometimes trouble just finds you on a Misfit…. No lofting that front wheel in front of cops. We found out that will cost you 4 points quickly, even during a photoshoot……..

2013 Cleveland CycleWerks Misfit Key Features
•Cafe' style racer
•Engine: Custom Counterbalanced 250cc. Meets EPA, CARB and EEC standards
•65 real-world MPG
•Grade 8 chrome headlight and speedometer
•Custom 21" front wheel and 18" back wheel
•Disk brakes with dual piston calipers
•Cast hard chrome kick stand
•Fits small, medium and large riders

2013 Cleveland CycleWerks Misfit Features and Benefits
•The 250cc engine is a custom "CG" series engine manufactured by LIFAN. It has redesigned intake and exhaust tracks, and counterbalanced internals accompanied by a performance enhancing cam curve.
•The brake lines are bonded braided stainless steel. Controls are high quality, durable, and they look great too. They integrate internal sealed bearings to provide smooth actuation and eliminate vibration.
•The brake rotors are 290mm in the front and 240mm in the back. Stopping power is provided by dual piston calipers, which provide better feel and actuation.
•The wheels use 3mm spokes for a custom look and minimized flexibility, leading to increased traction. The front wheel is 18" and rear wheel is 16". Our wheels are constructed with 36 spokes with inner tube.
•Classic style gauges with speedometer, tachometer and all warning gauges.
•Tha Misfit is built with 1020 DOM (Drawn Over Mandrel) extruded tubing to enhance strength and durability. 1020 DOM is used by custom builders of large bikes. Most production motorcycle frames are built with ERT tubing which is less expensive and less rigid.
•Modern lockable sport bike fuel filter.
•Small details are revealed in the hand stitched speed stitching on the seat cover.
•Modern production management techniques are revered at the CCW factory. We receive real time feedback from riders and mechanics and integrate their feedback on the production line. We have test bikes running constantly with hundreds of thousands of miles on the odometer.

---
2013 Cleveland CycleWerks Misfit – North American Specifications/Technical Details
USA MSRP Price: $3,095 MSRP (Standard), $3,195 MSRP (Deluxe) USD
Canadian MSRP Price: $3,499 CDN
Engine
Engine type Four-stroke single cylinder, counterbalanced
Displacement 229cc
Cooling system Air cooled
Bore × stroke: 67× 65 mm (2.64″ x 2.55″)
Compression ratio: 9.2:1
Ignition system: CDI
Starting Electric with kick backup

Drive
Transmission Constant mesh, five-speed
Clutch Wet multi-plate

Brakes
Front brakes 280 mm (11″) hydraulic disc
Rear brakes 240 mm (9.45″) hydraulic disc
Tires & suspension
Tires (front) 90 / 90 – 18″
Tires (rear) 110 / 70 – 16″
Suspension (front) Inverted fork
Suspension (rear) Dual reservoir shocks

Chassis
Dry weight 134kg (296lbs)
Frame 1020 DOM
Width 710 mm (27.9″)
Height 1050 mm (41.3″)
Wheelbase 1230 mm (48.4″)
Ground clearance 273 mm (10.7″)
Seat height TBD
Max capacity 251kg (552 lbs)
Fuel capacity 18.3L (4.8g)
Colours Gloss black
Specifiations and pricing to change without notice.