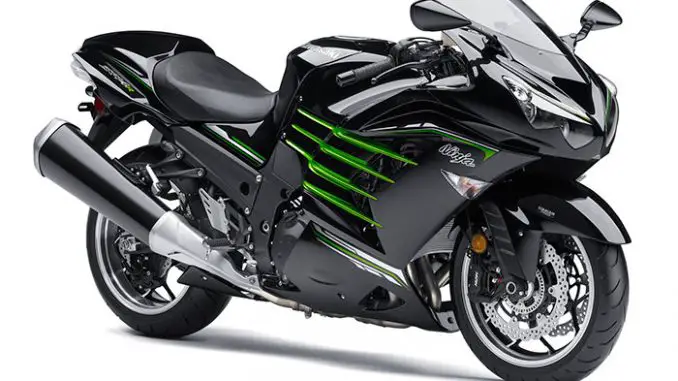 Click photos to enlarge. Our big, clean bike pics make great desktop wallpaper.

2013 Kawasaki Ninja ZX-14R ABS Special Edition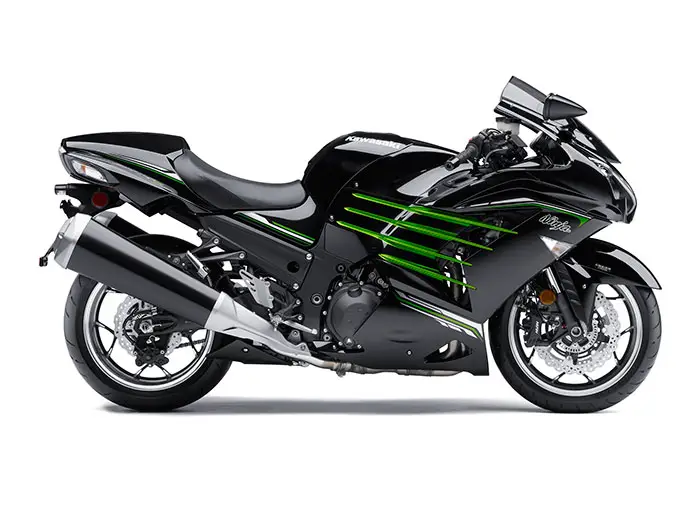 2013 Kawasaki Ninja ZX-14R ABS Special Edition
2013 Kawasaki Ninja ZX-14R ABS Special Edition Review

2013 Kawasaki Ninja ZX-14R ABS Special Edition
Since the dawn of modern motorcycling Kawasaki has been respected as the no-holds-barred, take-no-prisoners king of two wheeled performance… and that's not about to change any time soon.
Superlative Performance: the Quickest and Strongest Sportbike in the World!

The massively more powerful, R-designated, Ninja® ZX™-14R made its debut last year as an almost entirely new motorcycle. It remains on-top for 2013, reigning as the undisputed king of the sportbike world. New ABS brakes complement its amazing comfort and usability on the street, and help increase its appeal to a wide range of riders. It has to be tough competing against a machine like the ZX-14R, year after year, and continuous refinements have kept it several steps ahead of the sportbike competition, all while filling enthusiasts' face shields with wild, ear-to-ear grins.

The ZX-14R packs a 1,441cc inline-four that produces significantly more power than any other production sportbike on the planet! Big power delivered smoothly has always been a big Ninja hallmark, so surface-milled combustion chamber shapes and polished intake ports provide maximum flow while working in concert with the rest of the induction system. This ultimate Ninja really does come "ported" straight from the factory.

High-lift camshafts are operated by a high-performance cam chain and tensioner system to help ensure high-rpm reliability. Lightweight forged pistons also help durability and are cooled by an oil-jet cooling system that pumps a continuous stream of lubricant at the underside of each piston. (Testing shows the engine runs considerably cooler with this race-spec system.) The impressive durability built into this high-compression powerhouse continues with its super-strong alloy connecting rods have beefy small ends; it also uses thick 40mm crankshaft main journals; and its transmission gears are heat- and surface-treated for smooth shifting and a long service life.

Feeding this class dominating engine is a large, high-flow, air-cleaner element that helps prevent debris ingestion without restricting performance, and a Digital Fuel Injection (DFI®) system that offers automatic idle adjustment and helps reduce emissions. Exhaust exits through a high-performance system with large-diameter tapered header pipes and large-volume mufflers, each with an advanced catalyzer to minimize emissions.

The benefits of all this hot-rodding are substantial, as there's class leading power virtually everywhere across the rev range. The advantages are most profound in the mid-high rpm range, but incredible acceleration is still available from as low as 4,000 rpm. This translates into the sort of thrust riders can appreciate in a wide variety of situations, whether it's powering up a freeway on-ramp to merge with fast-moving traffic or cruising along a deserted backroad on a sunny, Sunday-morning ride. On the ZX-14R, total domination is just a twist of the throttle away.

The Ninja ZX-14R's engine is more than supremely powerful; there's also plenty of polish and refined manners to go along with it. The engine's dual gear-driven counterbalancer setup has been optimized to work with the mill's heavy-duty crankshaft and long-stroke dimensions. The end result is smooth power across the entire rev range.

Beyond just being impressively strong, the engine's manners are also effectively managed by a combination of its back-torque limiting "slipper" clutch assembly, a three-mode KTRC traction control system and a two-mode Hi/Low power selector system. The first two KTRC modes are intended to maximize acceleration similar to the ZX-10R's S-KTRC, the third mode is tuned for low-traction (wet/slippery) conditions, similar to the Concours™ 14 sport tourer's KTRC. The KTRC system can be turned-off by the rider and its settings and the Hi/Low ignition maps can be selected with the bar-mounted toggle/push switch. KTRC activity can be monitored on a seven-segment real-time bar graph in the cockpit's LCD info-screen. The back-torque limiting clutch technology comes directly from the racetrack, and helps eliminate the wheel-hop and stability-eroding torque effects of energetic downshifting and braking while cornering, or during spirited – or emergency – stops. It also helps protect the bike's drive train, for optimum durability.

The result of all this refined and high-tech hot rodding is arguably the finest open-class sportbike engine ever built – and an engine this capable needs a similarly competent chassis in which to live and thrive. The ZX-14R is up to the job, and then some. Kawasaki engineers designed its chassis to deliver a light-handling and maneuverable personality. To provide a sweet-handling character coupled with real sport riding performance, the engineers designed the frame's aluminum castings and forgings to have unique flex and rigidity characteristics. So while its monocoque alloy frame and aluminum swingarm designs look similar to the original ZX-14, they have vastly different flex characteristics, stiffer in some places and unchanged in others. The net result creates an ideal balance for the ZX-14R's world class power and acceleration capabilities.

Front and rear suspension tuning helps maintain the balancing act of wheel control, ride compliance and maneuverability. Both the 43mm fully adjustable inverted fork and multi-adjustable single shock offer excellent response throughout a wide speed range, while the beautifully machined 10-spoke wheels reduce unsprung weight to aid acceleration, handling and suspension action.
The powerful triple petal-type disc brakes help provide powerful, fade-free stops and a progressive feel at the lever. For 2013, the Ninja ZX-14R ABS Special Edition brakes, for additional rider confidence on mixed or slippery surfaces.

Of course, with this much top-shelf performance, you also have to look good. Dynamic styling has been a Kawasaki hallmark since the days of H1s, H2s and Z-1s, so it's only fitting that the pinnacle of a long line of sportbikes looks the part. From tip-to-tail, the ZX-14R's bodywork honors the imposing, angular and flowing shapes that have made recent Ninja models some of the most attractive sportbikes in existence. The nose is especially imposing, with a highly aggressive nose fitted with a quad-headlight assembly and a large ram-air duct to stuff cool atmosphere into the intake system. The traditional 4-fin theme along the fairing's sides has a pronounced 3D design, while great effort was expended to hide hooks and fasteners as much as possible. The bike's tail section is especially well-sculpted, with faired-in turn signals and a cool rear seat cowl – standard on all U.S.-spec models – boosting aesthetic performance.

The fairing package offers functional benefits as well as aesthetic ones. The seat, for instance, offers excellent thigh support and helps make it easy for vertically challenged riders to reach the ground. The bodywork's venting system effectively extracts heated air from the engine bay and away from the rider and passenger.

Instruments and controls are fully up to the latest standards, with a multi-function switch on the left handlebar that handles all system functions; you can toggle the LCD screen using the upper/lower buttons, and easily scroll through fuel consumption, remaining range, battery voltage, external temperature, traction control, etc., choosing and adjusting functions using the 'select' button in the center of the toggle switch. There's even an "eco" indicator on the LCD screen that lets riders know when they're getting maximum economy and fuel mileage.

The end result of all this technology and all these features is a dominating open-class ride – a supremely smooth, powerful and refined sporting motorcycle that'll gladly go anywhere there's asphalt and do it with an uncanny level of competence. High-aggression Sunday-morning rides? No worries. Two-up along the coast for the weekend? Easy. Commuting to and from work? Simple. Weekend bracket racing at the local dragstrip? Cake.

See? It's difficult to compete with an open-classer this good at so many things. It's a fact our competition knows all too well.

Genuine Kawasaki Accessories are available through authorized Kawasaki dealers.

2013 Kawasaki Ninja ZX-14R ABS Special Edition Key Features
– Massively powerful 1,441cc inline-four engine is the strongest motorcycle engine Kawasaki has ever produced and delivers the most power of any current production sportbike in the world
– New ABS brake option is available for 2013. This compact and lightweight system helps increase rider confidence and helps provide additional security in slippery situations
– KTRC traction-control system features three different modes for varying conditions and is controlled by a handy switch assembly on the left handlebar
– Slipper clutch assembly controls rear-wheel torque effects while braking and downshifting
– Exhaust system features tapered head pipes, a catalyzer and an efficient muffler assembly for low noise and emissions
– Aluminum monocoque frame is narrow, strong and rigid for impressive sport riding performance
– Aluminum swingarm assembly is longer than traditional designs and features strengthening gussets to cope with the engine's substantial torque
– Supersport bodywork package builds upon the slick aesthetic image of the previous machine, includes a rear seat cowl and adds better air management to the mix for improved rider and passenger comfort
– All-new 10-spoke wheels are more than 3 pounds lighter in total than the previous machine's units; this reduces unsprung weight, which aids handling and maneuverability
– New disc material and pads improve the 14R's radial-mount braking system
– Revised suspension settings front and rear add wheel control and compliance to an already plush ride
– Higher overall finish quality than before, including hidden bodywork fasteners
2013 Kawasaki Ninja ZX-14R ABS Special Edition Features and Benefits
1,441cc Four-cylinder Liquid-cooled DOHC Engine
– Long-stroke design, ported cylinder heads, lightweight forged pistons, and aggressive camshaft profiles provide more torque and power throughout the rev range than any other production sportbike
– Piston jet system sprays a continuous stream of cooling lubrication to the underside of each piston for cooler running temperatures, more consistent power output and excellent long-term durability
– Strong cam chain and tensioning system offers excellent high-rpm durability
– Thick 40mm crankshaft main journals contribute to long-term engine durability
– Surface and heat treatments allow the transmission gears to better harness the engine's prodigious power output
– Chrome composite-plated aluminum cylinder bores are lightweight, durable, and effectively transfer heat away from the combustion chamber and piston for maximum durability at high power outputs
– Mechanical noise is kept to a minimum via special piston profiles and a urethane insulation sheet on the inside of the magnesium chain cover
High-flow Exhaust System
– Header assembly has tapered-diameter pipes for optimal engine response and power output
– The internal construction of the dual mufflers minimizes the impact of noise and emissions regulations, while maintaining impressive top-end power
– Airflow directed into the exhaust by the large secondary air ports in the cylinder head and head cover, plus a third honeycomb catalyzer in the exhaust collector, help meet strict Euro III emissions standards
Gear-driven Dual Engine Balancers
– Revised balance weights keep the newly dimensioned engine (more stroke) in ideal balance, resulting in improved comfort for riders and passengers
– Already in perfect primary balance, the ZX-14R's engine design features dual secondary balancers that virtually eliminate unwanted vibrations for extremely smooth operation and reduced rider fatigue
Ram Air Induction
– Central ram air duct in the newly shaped fairing draws cooler, higher-pressure air from the face of the fairing and efficiently guides it through the larger and more efficient air cleaner and into the reworked engine for maximum power output
Digital Fuel Injection
– DFI® throttle body assembly features individual 44mm throttle bodies fitted with an idle speed control and sub-throttle valves controlled by the 32-bit ECU. They provide precise response, smooth performance, automatic idle speed adjustment, and help the bike meet strict Euro III emissions requirements
– High performance intake tract porting optimizes flow characteristics
– Fuel injectors deliver lateral spray at a 20-degree angle to disperse the finely atomized (75-micron droplet size) fuel over a wide area
Dual-Mode Digital Ignition
– Rider selectable High & Low maps offer a choice between full power and approximately 50 percent power output to help suit changing conditions
– Digital Timing Advance enhances low- and mid-range power
– Individual spark plug-mounted ignition coils fire each of the four spark plugs independently to achieve the optimum timing for that cylinder
– ECU includes an idle speed control system for easier starting and warm-up
KTRC Traction Control
– KTRC traction-control system features three different selectable modes to suit rider preference and different riding conditions
– Modes are selected by a handy switch assembly on the left handlebar
– Modes are indicated on the LCD cockpit display
Back-Torque Limiting "Slipper" Clutch
– Back-torque limiting "slipper" clutch assembly helps control rear-wheel torque effects while downshifting or coasting to minimize wheel hop, chatter and reduce rider stress
– Radial-pump hydraulic clutch master cylinder offers smooth and precise engagement and optimal feel at the lever
ABS Disc Brakes with Petal-type Rotors and Radial-Mount Calipers
– ABS brakes offer excellent performance and enhanced confidence in adverse conditions
– Compact, lightweight ABS unit is highly effective without weighing the bike down
– Petal-type brake rotors provide better cooling and enhanced warp resistance than traditional discs
– Radial mounted four-piston front brake calipers offer greater rigidity than traditional caliper mounting to improve brake feel
– A separate brake pad is used for each piston. Individual pads provide increased cooling efficiency and can absorb more heat without deforming so they maintain a consistent brake feel longer
– Radial-pump front brake master cylinder provides excellent lever feel and feedback
Monocoque Aluminum Frame
– Lightweight monocoque frame is a hollow aluminum box that arches over the engine from the steering head to the swingarm pivot. It is narrow, strong, rigid and very light
– Many of the frame's cast aluminum sections – steering head and swingarm pivot areas – are produced via a die-casting process for weight savings
– Rigidly mounted engine is a stressed frame member, which increases the frame's torsional rigidity and saves weight vs. traditional designs
– Engine is positioned forward in the frame, with the long wheelbase and front/rear weight balance carefully designed to achieve high-speed stability and responsive handling
– Long swingarm design helps maximize forward drive and is gusseted to better cope with the engine's healthy torque output
– Massive head pipe casting contributes to frame rigidity
– Frame houses the air box and air filter in a space-saving design that simplifies air cleaner maintenance
– Battery is also housed within the frame and is easily accessible through an aluminum frame cover
Comfortable Sporting Suspension
– Inverted and multi-adjustable 43mm cartridge-type fork provides excellent wheel control and without sacrificing ride comfort
– Stepless damping adjustment allows ultra-precise tuning of fork reactions
– Fully adjustable bottom-link Uni-Trak® rear suspension is a compact design that offers premium control and feedback
– Linkage rates designed to allow linear suspension action and excellent wheel control
– Bottom-link design helps create a lower center of gravity, which makes the motorcycle more nimble
Aggressive Supersport Bodywork
– Monocoque frame is positioned over the engine so the sleek fairing is uninterrupted by protruding frame spars, adding to the extremely long and low styling
– Efficient fairing venting offers excellent engine-heat control to help maintain rider and passenger comfort on hot days
– Standard rear-seat cowl adds aesthetic appeal
– Both the front and rear turn signals are integrated into the bodywork and have clear lenses to enhance for a more modern appearance
– Quadruple projector beam headlights give the ZX™-14R a distinctive look. The outer lights contain position lamps and high beams, while the low beams are located in the center lamps
– Lightweight Denso radiator with dual fans and high-density cores provides maximum cooling efficiency
Full Instrumentation
– Black-faced dual analog speedometer and tachometer are easy to read
– Multi-function LCD digital display includes an odometer, two trip meters, fuel gauge, gear position indicator, clock, and many other variables, including traction-control and power mode information through its LCD indicator
– Programmable shift indicator lamp illuminates at pre-set rpm to signal rider upshift
– Programmable clutch engagement lamp illuminates at pre-set rpm to signal the rider to engage the clutch
– Controller Area Network (CAN) interface between the gauges uses fewer wires yet allows a greater volume of information, such as estimated fuel mileage, to be exchanged

---
2013 Kawasaki Ninja ZX-14R ABS Special Edition – USA Specifications/Technical Details
US MSRP Price: $16299 USD
Engine Four-stroke, liquid-cooled, DOHC, four valve per cylinder, inline-four
Displacement 1,441 cc
Bore x Stroke 84.0 x 65.0 mm
Compression Ratio 12.3:1
Fuel System DFI® with four 44mm Mikuni throttle bodies
Ignition TCBI with Digital Advance
Transmission Six-Speed
Final Drive X-Ring Chain
Rake/Trail 23 degrees / 3.7 in.
Front Tire Size 120/70 ZR17
Rear Tire Size 190/50 ZR17
Wheelbase 58.3 in.
Front Suspension / wheel travel 43mm inverted cartridge fork with adjustable preload, 18-way compression and 15-way rebound damping adjustment / 4.6 in.
Rear Suspension / wheel travel Bottom-link Uni-Trak® and gas-charged shock with adjustable preload, stepless rebound and compression damping adjustments, adjustable ride height / 4.9 in.
Front Brakes Dual semi-floating 310 mm petal discs with dual radial-mounted four-piston calipers and ABS
Rear Brakes Single 250mm petal disc with twin-piston caliper and ABS
Overall length 85.4 in.
Overall width 30.3 in.
Overall height 46.1 in.
Ground clearance 4.9 in.
Seat Height 31.5 in.
Curb Weight 590.9 lbs.
Fuel Capacity 5.8 gal
Color(s) Passion Red, Pearl Stardust White, Metallic Spark Black/Golden Blazed Green(SE), Golden Blazed Green
Warranty 12 months
---
2013 Kawasaki Ninja ZX-14R ABS Special Edition – Canadian Specifications/Technical Details
Canada MSRP Price: $17999 CDN
ENGINE
Type 4-stroke, In-Line Four
Displacement 1,441cc
Bore and Stroke 84.0 x 65.0 mm
Cooling Liquid
Compression Ratio 12.3:1
Valve System DOHC, 16 valves (4 valves per cylinder)
Fuel System DFI with 44 mm Mikuni Throttle Bodies (4)
Ignition Digital
Lubrication Forced lubrication (wet sump with cooler)

DRIVETRAIN

Transmission 6-speed, return, positive neutral finder
Final Drive Sealed chain
Primary Reduction Ratio 1.556 (84/54)
Gear Ratio: 1st 2.611(47/18)
Gear Ratio: 2nd 1.947 (37/19)
Gear Ratio: 3rd 1.545 (34/22)
Gear Ratio: 4th 1.333 (32/24)
Gear Ratio: 5th 1.154 (30/26)
Gear Ratio: 6th 1.036 (29/28)
Final Reduction Ratio 2.471 (42/17)
Clutch Wet multi-disc, manual

FRAME

Type Monocoque, aluminium
Wheel Travel: Front 117 mm (4.6 in.)
Tire: Front 120/70ZR17M/C (58W)
Wheel Travel: Rear 124 mm (4.9 in.)
Tire: Rear 190/50ZR17M/C (73W)
Caster (Rake) 23º
Trail 93 mm (3.7 in.)
Steering Angle (Left/Right) 31º / 31º

SUSPENSION

Suspension, Front 43 mm inverted cartridge fork. with adjustable preload, stepless rebound and compression damping adjustments
Suspension, Rear Bottom-Link Uni-Trak and gas-charged shock with adjustable preload, stepless rebound and compression damping adjustments

BRAKES

Front: Type Dual semi-floating 310 mm petal discs
Front: Calipers Dual radial-mount, opposed 4-piston, 4-pad
Rear: Type Single 250 mm petal disc
Rear: Calipers Opposed, twin-piston

DIMENSIONS

Overall Length 2,170 mm (85.4 in.)
Overall Width 770 mm (30.3 in.)
Overall Height 1,170 mm (46.1 in.)
Wheelbase 1,480 mm (58.3 in.)
Ground Clearance 125 mm (4.9 in.)
Seat Height 800 mm (31.5 in.)
Curb Mass** 265 kg (584.2 lbs.)
Fuel Capacity 22 litres (4.8 gal.)
DETAILS

Warranty 12 months warranty
ADDITIONAL COST OPTIONS

Good Times Protection Plan 24 or 36 months (Kawasaki GTPP coverage begins after the standard limited warranty expires)

MSRP*

Metallic Spark Black / Golden Blazed Green ZX1400FDFA TBA
Passion Red ZX1400FDF TBA
---
2013 Kawasaki Ninja ZX-14R ABS Special Edition – United Kingdom Specifications/Technical Details
UK MSRP Price: £11899 (Prices are recommended and inclusive of VAT @ 20% and delivery)
Engine
"
Engine type
Liquid-cooled, 4-stroke In-Line Four
"
Displacement
1,441 cm³
"
Bore x stroke
84.0 x 65.0 mm
"
Compression ratio
12.3:1
"
Valve/Induction system
DOHC, 16 valves
"
Fuel system
Fuel injection: ø44 mm x 4 (Mikuni)
"
Ignition
Digital
"
Starting
Electric
"
Lubrication
Forced lubrication, wet sump with oil cooler
Transmission
"
Transmission
6-speed, return
"
Final Drive
Sealed chain
" Primary reduction ratio
1.556 (84/54)
" Gear ratios: 1st
2.611(47/18)
" Gear ratios: 2nd
1.947 (37/19)
" Gear ratios: 3rd
1.545 (34/22)
" Gear ratios: 4th
1.333 (32/24)
" Gear ratios: 5th
1.154 (30/26)
" Gear ratios: 6th
1.036 (29/28)
" Final reduction ratio
2.471 (42/17)
"
Clutch
Wet multi-disc, manual
Frame
"
Frame type
Monocoque, aluminium
"
Rake/Trail
23°/ 93 mm
"
Wheel travel, front
117 mm
"
Wheel travel, rear
124 mm
"
Tyre, front
120/70ZR17M/C (58W)
"
Tyre, rear
190/50ZR17M/C (73W)
"
Steering angle, left / right
31°/ 31°
Suspension
"
Suspension, front
Type: 43 mm inverted fork with top-out springs Compression damping: 18-way Rebound damping: 15-way Spring preload: Fully adjustable
"
Suspension, rear
Type: Bottom-Link Uni-Trak with gas-charged shock Compression damping: Stepless Rebound damping: Stepless Spring preload: Fully adjustable
Brakes
"
Brakes, front
Type: Dual semi-floating 310 mm petal discs Caliper: Dual radial-mount, opposed 4-piston, 4-pad
"
Brakes, rear
Type: Single 250 mm petal disc Caliper: Opposed, twin-piston
Dimensions
"
Dimensions (L x W x H)
2,170 mm x 770 mm x 1,170 mm
"
Wheelbase
1,480 mm
"
Ground Clearance
125 mm
"
Seat height
800 mm
" Fuel capacity
22 litres
"
Curb Mass
268 kg
Performance
"
Maximum power
147.2 kW {200 PS} / 10,000 rpm
"
Maximum power with RAM Air
154.5 kW {210 PS} / 10,000 rpm
---
2013 Kawasaki Ninja ZX-14R ABS Special Edition – Australia Specifications/Technical Details
Australia MSRP Price: See Dealer
Engine
Type Liquid-cooled, 4-stroke In-Line Four
Displacement 1,441 cm³
Bore and Stroke 84 x 65 mm
Compression ratio 12.3:1
Valve system DOHC, 16 valves
Fuel system Fuel injection: ø44 mm x 4 (Mikuni)
Ignition Digital
Starting Electric
Lubrication Forced lubrication, wet sump with oil cooler
Transmission 6-speed, return
Final drive Sealed Chain
Primary reduction ratio 1.556 (84/54)
Gear ratios:
1st 2.611 (47/18)
2nd 1.947 (37/19)
3rd 1.545 (34/22)
4th 1.333 (32/24)
5th 1.154 (30/26)
6th 1.036 (29/28)
Final reduction ratio 2.471 (42/17)
Clutch Wet multi-disc, manual
Frame Type Monocoque, aluminium
Wheel travel:
front 117 mm
rear 122 mm
Tyre:
front 120/70ZR17M/C (58W)
rear 190/50ZR17M/C (73W)
Caster (rake) 23°
Trail 93 mm
Steering angle (left/right) 31° / 31 °
Suspension
Front: 43 mm inverted fork with top-out springs
Compression damping 18-way
Rebound damping 15-way
Spring preload Fully adjustable
Rear: Bottom-Link Uni-Trak with gas-charged shock and top-out spring
Compression damping Stepless
Rebound damping Stepless
Spring preload Fully adjustable
Brakes
Front: Dual semi-floating 310 mm petal discs
Caliper Dual radial-mount, opposed 4-piston, 4-pad
Type Single 250 mm petal disc
Caliper Opposed, twin-piston
Overall length 2,170 mm
Overall width 770 mm
Overall height 1,170 mm
Wheelbase 1,480 mm
Ground clearance 125 mm
Seat height 800 mm
Curb mass 268 kg Includes full fuel tank
Fuel capacity 22 litres
Maximum power 147.2 kW {200 PS} / 10,000 rpm
Maximum power with Ram Air 154.5 kW {210 PS} / 10,000 rpm
Maximum torque 162.5 N·m {16.6 kgf·m} / 7,500 rpm