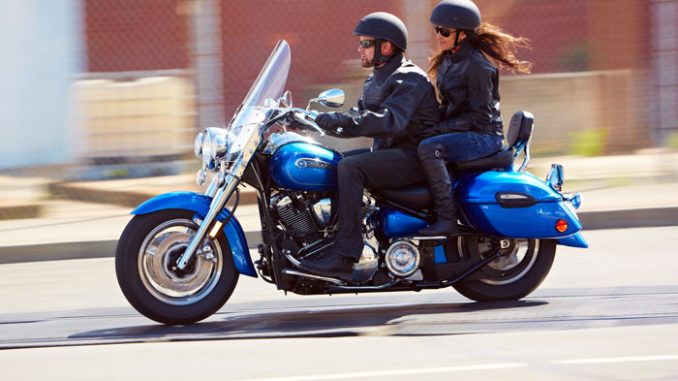 Click photos to enlarge. Our big, clean bike pics make great desktop wallpaper.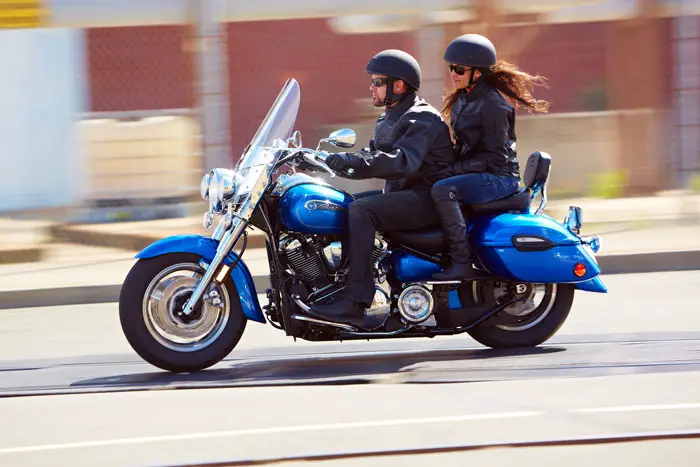 2013 Yamaha Road Star Silverado S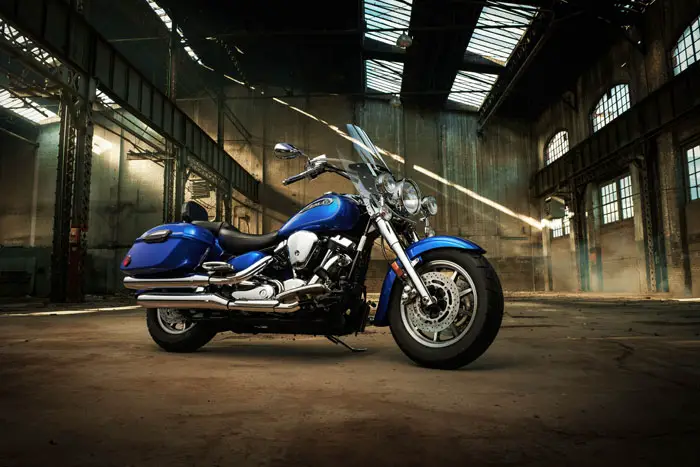 2013 Yamaha Road Star Silverado S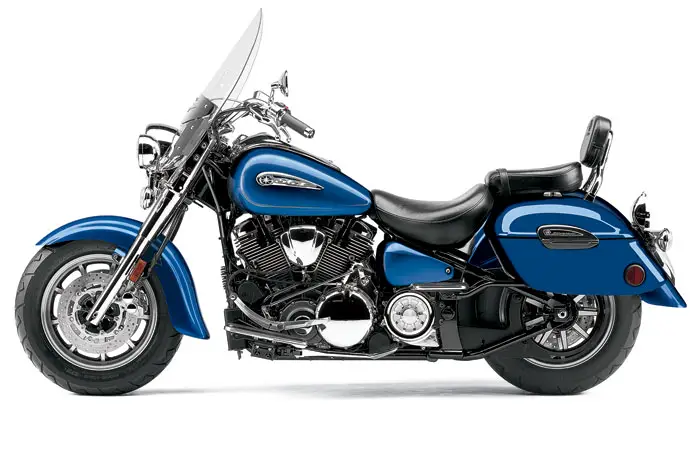 2013 Yamaha Road Star Silverado S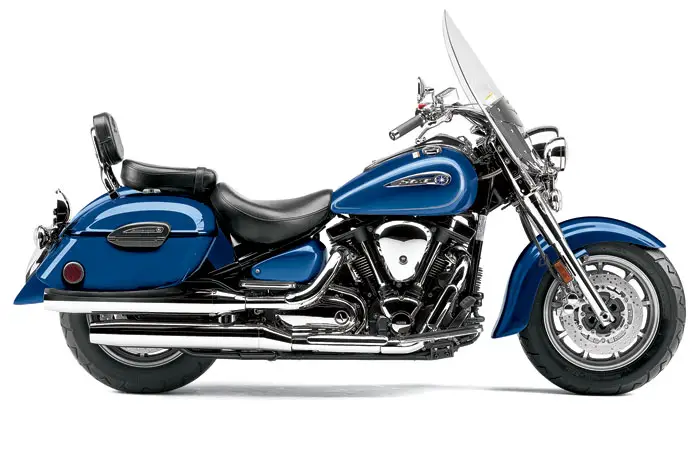 2013 Yamaha Road Star Silverado S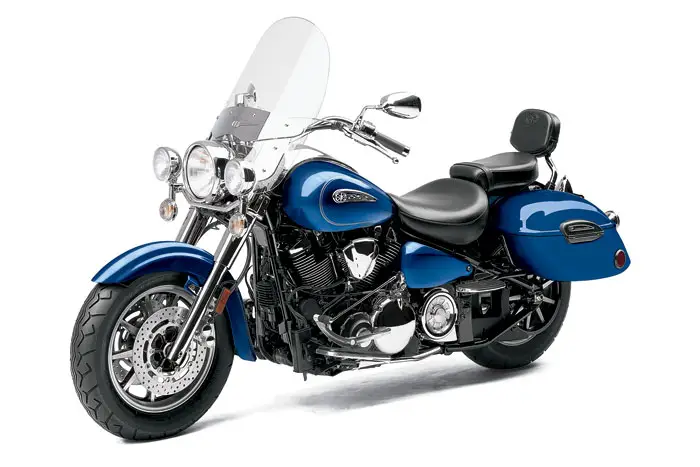 2013 Yamaha Road Star Silverado S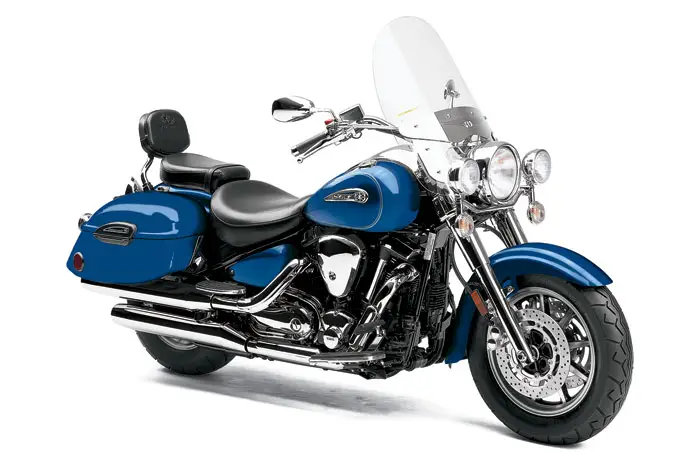 2013 Yamaha Road Star Silverado S
2013 Yamaha Road Star Silverado S Review

2013 Yamaha Road Star Silverado S
Ready for the open road and adorned with endless chrome accents…
The 2013 Yamaha Road Star Silverado S comes loaded with special features, including hard saddlebags, tons of chrome and passing lamps. With its authentic 102 cubic inch, air cooled V-Twin with fuel injection, this American styled classic is sure to turn heads as you rumble past.
Your Next Adventure is in the Bag.
Fill up the 4.7 gallon fuel tank, plant your feet on the floating floorboards and let that big 1670cc fuel injected V-Twin have its head. Medium size adjustable windshield. Color matching hard sidebags. Touring saddle and passenger seat with backrest. You are ready to go. The 2013 Yamaha Road Star Silverado S adds chrome accents and more.
The Road Star Silverado S is bathed in high quality paint and brilliant rich chrome.

Somewhere between the gorgeous looks and the rumble of the fuel injected big V-twin powerplant, the intoxication of the Silverado S takes hold. Sit back and let the miles roll by, in relaxed casual touring comfort.


2013 Yamaha Road Star Silverado S Key Features

US MPG Fuel Consumption: 36 mpg; Fuel Consumption ± 15kpl/43mpg(Imp)

Fuel injected 1,670cc V-twin

Hard locking saddlebags

The Road Star Silverado S gets a chromed out front end including chrome forks, fork covers, fork clamp, switch housings, and brake/clutch levers as well as stainless steel braided throttle and clutch cables.

Electronic fuel injection provides easy cold starting and flawless fuel delivery at nearly all altitudes and in nearly any conditions.

A medium-size adjustable windshield enhances riding experience by keeping wind and weather off the rider.

Color-matched locking hard sidebags look great and provide ample storage for traveling.

Touring rider seat and passenger seat with backrest is shaped for roominess and extended long-range comfort.

Power is not a problem for the long-legged 102-cubic-inch V-twin, and belt final drive passes it to the rear wheel with maximum efficiency.

Estimated 36 mpg* means this cruiser is in for a long haul between fill-ups.

The Star® Accessories Catalog is packed full of high-quality parts that invite Star owners to fully express their individuality.
2013 Yamaha Road Star Silverado S Features and Benefits
Engine:

•1,670cc, air-cooled, long-stroke, OHV, 8-valve, 48° V-twin powerplant pumps out lots of low-rpm torque. Max torque occurs at 2,500 rpm.

•4 valves per cylinder provide optimum breathing efficiency while 2 spark plugs per cylinder ensure complete combustion for maximum power output.

•Hydraulic valve lifters driven by twin crankcase-mounted camshafts deliver exceptional torquey performance and reduce maintenance needs.

•Twin crankcase-mounted camshafts activate the valves via hydraulic valve lifters and pushrods.

•Traditional pushrod valve actuation keeps overall engine height down for a lower centre of gravity. Pushrod tubes are chromed, adding to the beauty of this high tech, yet traditional, engine.

•Large-diameter, forged pistons offer great durability and lighter weight for fast engine response.

•Large bore ceramic composite-plated cylinders provide uniform heat dissipation, reduce weight, reduce friction and increase cylinder service life.

•Cooling fin thickness is optimized for maximum heat dissipation, thereby eliminating the need for liquid cooling, maintaining that traditional clean, air-cooled engine appearance.

•Electronic fuel injection with TPS features a single 40mm throttle body with dual injectors (one for each cylinder). The throttle position sensor is linked to the ECU and supplies info about throttle opening so the ECU can adjust ignition timing for optimum engine performance at all rpms.
•High-capacity air intake system with paper type air filter provides maximum breathing for optimum performance.

•Smooth-shifting, 5-speed transmission with 5th gear overdrive delivers outstanding cruising performance and reduced rpms at highway speeds.

•Clean, quiet belt drive system is extremely low- maintenance and simplifies customization. Special narrow design drive belt and sprockets (front and rear) provide lightweight performance and exceptional durability.

•Dry sump lubrication system with handy, spin-on type oil filter, creates a lower centre of gravity by helping reduce overall engine height. The oil tank is located under the seat.
•Large-flywheel crankshaft delivers superior, low-rpm torque and that special V-twin "pulse" feel.

•2-piece heel-and-toe shifter adds versatility and enhances the overall cruising experience. The 2-piece design allows the rider to individually adjust front and rear portions to suit foot size or remove the rear section if not desired.

•Electric starting system features solenoid-activated auto-decompressor for easy, no-hassle starting.

•Maintenance-free transistor controlled ignition (T.C.I.) provides a hot spark for sure starts and strong engine performance.

•2-into-2 exhaust system features beefy, staggered, dual shotgun pipes that produce a soulful V-twin exhaust tune. Muffler replacement is fast and simple, if desired.
•Lots of high-quality chrome engine covers
•Air Induction System (A.I.S.) reduces exhaust emissions (CO + HC).

Chassis and Suspension:

•Solid-mounted engine housed in a specially designed gusset-less, double-cradle steel frame

•Long 1,685mm (66.3″) wheelbase creates a long and low retro profile, great rider comfort and solid, stable handling.

•Spacious ergonomics provide ample legroom, which maximizes rider comfort.

•43mm front fork provides 140mm (5.5″) of wheel travel to smooth out the ride. The large-diameter upper fork shrouds, lower fork legs, upper triple clamp and handlebar clamp are accented with a brilliant chrome finish.

•Spring preload-adjustable, single-shock, rear link suspension lowers centre of gravity for better handling and a plush ride. Rear wheel travel is 110mm (4.3″).

•Rear shock is horizontally mounted under the engine and tucked out of sight, providing that classic, hardtail look, while also maintaining a low centre of gravity.

•Dual 298mm front disc brakes feature ultra rigid, monoblock, 4-piston calipers with chrome "buttons" accenting the outer piston covers.
•320mm rear disc brake with 4-piston caliper provides excellent stopping power and feel.

•"Police-style" windshield offers great wind and weather protection while proudly displaying the Silverado insignia. This windshield offers two positions of height adjustability, and for those riders who prefer a "convertible", the windshield can be quickly removed.

•Separate Rider and passenger seats offers great comfort and support.

•Passenger backrest provides that extra peace of mind.

•Colour-matched, hard saddlebags with chrome accents offer 35 litres of storage space per bag. The bags are lockable and fitted with handy, one-touch latches.

•Full-size, floating-type rider floorboards are roomy and comfortably positioned while also helping to reduce vibration.

•Passenger floorboards provide roomy comfort and reduce vibration.

•Deeply valanced steel fenders combine timeless styling with rugged durability and easy customization.

•Nine-spoke, cast aluminum wheels not only reduce weight and maintenance (no spokes to tighten or clean), but they also add a sportier styling image to the Road Star Silverado S.
•18 litre fuel tank provides an exceptional cruising range. The FI electric fuel pump is located inside the tank. Fuel tank seam is hidden for that clean, custom look.

•Wide, swept-back, 1″ diameter handlebars minimize vibration on the rider's hands thanks to being rubber mounted. The one-piece handlebar clamp is beautifully chrome-plated.

•Beautiful braided-look steel throttle and clutch cables enhance that the Silverado's stylish custom look and image.
•Tank-mounted speedometer features a stylish design with raised 3-D marks to highlight the speed graduations. Instrumentation includes odometer, dual tripmeters, clock and a fuel gauge plus a range of indicator lights.

•Eye-catching, diamond-shaped, LED rear taillight with white lens looks like it is straight off a fully customized machine. The LED design not only provides a bright light, but also uses less power.

•Rear turn signal mounting bracket is beautifully chromed and features a built-in license plate light.

•Value added passing lamps not only enhance styling, but also provide additional illumination.

Additional Features:

•Industry-leading Star family fit and finish features rich, lustrous paint and extensive chrome accents creating a machine as stunning as it is powerful.

•Chromed, extra wide front brake and clutch levers provide a quality feel.

•Chrome handlebar switches and master cylinder

•Stylish 3-D, fuel tank-mounted Road Star logo

•Seat and steering locks are integrated into the main ignition switch for extra convenience.

•Handy, dual under seat helmet holders

•Powerful, 12V 60/55-watt, halogen headlight

•Low-maintenance, sealed battery

•Self-canceling turn signals with stylish clear lenses



---
2013 Yamaha Road Star Silverado S – USA Specifications/Technical Details
US MSRP Price: $15,890 (Impact Blue) USD

Engine
Type 102-cubic-inch (1670cc) air-cooled 48° V-twin; pushrod OHV, 4 valves/cylinder
Bore x Stroke 97mm x 113mm
Compression Ratio 8.4:1
Fuel Delivery Fuel injection
Ignition TCI: Transistor Controlled Ignition
Transmission 5-speed, wide-ratio; multiplate wet clutch
Final Drive Belt

Chassis
Frame Steel; hidden shock
Suspension / Front 43mm fork; 5.5-in travel
Suspension / Rear Single shock; 4.3-in travel
Brakes / Front Dual hydraulic disc, 298mm
Dual hydraulic disc, 298mm Hydraulic disc, 320mm
Tires / Front 130/90-16M/C 67H
Tires / Rear 150/80B16M/C 71H
Wheels 9-spoke cast

Dimensions
Length 98.4 in
Width 38.6 in
Height 59.1 in
Seat Height 27.9 in
Ground Clearance 5.7 in
Wheelbase 66.5 in
Fuel Capacity 4.8 gal
Fuel Economy** 36 mpg
Wet Weight*** 773 lb

Other
Warranty 1 Year (Limited Factory Warranty)
*Prices and specifications subject to change without notice. Please read your Owner's Manual and all labels before operation.
**Fuel economy estimates are based on US EPA exhaust emission certification data obtained by Yamaha. Your actual mileage will vary depending on road
conditions, how you ride and maintain your vehicle, accessories, cargo, and operator/passenger weight.
***Wet weight includes the vehicle with all standard equipment and all fluids, including oil, coolant (as applicable) and a full tank of fuel.
---
2013 Yamaha Road Star Silverado S – Canadian Specifications/Technical Details
Canada MSRP Price: $15,499 CDN
Engine Air-cooled, OHV, 8-valve, 48°, V-twin
Displacement 1,670 cc (103 cubic inch)
Bore and Stroke 97 x 113 mm
Compression Ratio 8.4:1
Maximum Torque 13.9kg-m (100.5ft-lbs.) @2,500rpm
Fuel Delivery 40 mm throttle body FI
Estimated Fuel Consumption* 15kpl / 43mpg (Imp.)
Ignition / Starting TCI / Electric
Transmission 5-speed
Final Drive Belt

Suspension (Front) 43 mm fork
Suspension (Rear) Adjustable link Monocross
Brakes (Front) Dual 298 mm discs
Brakes (Rear) 320 mm disc
Tires (Front) 130/90-16
Tires (Rear) 150/80-16

Length 2,500 mm (98.4″)
Width 980 mm (38.6″)
Height 1,500 mm (59.1″)
Wheelbase 1,688 mm (66.5″)
Rake / Trail 32° / 142 mm (5.6″)
Seat Height 710 mm (28″)
Fuel Capacity 18 litres (3.4 imp. gal.)
Wet Weight 351kg (774 lb)
Colour(s) Vivid Purplish Blue
± Fuel economy estimates are based on US EPA exhaust emission certification data obtained by Yamaha and converted into Canadian measurements. Your actual mileage will vary depending on road condition, how you ride, maintain your vehicle, accessories, cargo and operator/passenger weight.

Specifications, appearance, and price of product are subject to change without notice.
* MSRP does not include freight, PDI (Pre Delivery Inspection), pre-rigging (boats), or taxes. Dealer may sell for less. See your local dealer for out the door pricing.
---
2013 Yamaha Road Star Silverado S – UK/Europe Specifications/Technical Details
UK/European MSRP Price: £ See dealer for Pricing.

More information to follow shortly
---
2013 Yamaha Road Star Silverado S – Australian Specifications/Technical Details
AU MSRP Price: $TBA AUD

More information to follow shortly
Specifications, features and prices to change by manufacturer without notice. All information correct as of posted date.