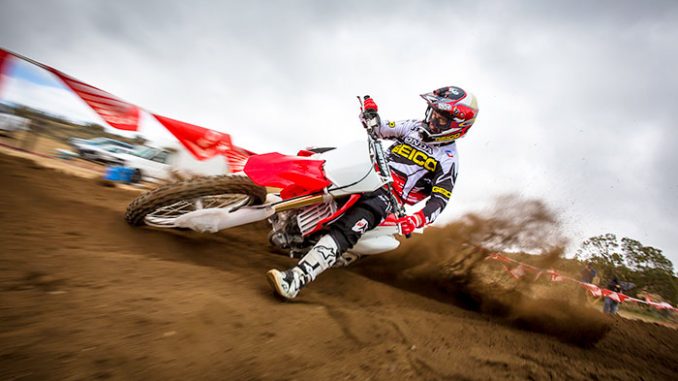 Click photos to enlarge. Our big, clean bike pics make great desktop wallpaper.
2014 Honda CRF250R Review

2014 Honda CRF250R
The New CRF250R. The Best Just Got Better.
The 2013 Honda CRF250R was a careful evolution of the previous model, a machine that won both U.S. Supercross Lites titles in 2012. Fighting in a finely balanced arena of competition the CRF250R has consistently proven itself a complete and winning package – its combination of power, poise and pin-sharp agility, devastatingly fast.
For 2014 HRC's development engineers have chosen revolution over evolution, and upgraded the CRF250R with the same mass-centralised aluminium beam frame and design philosophy as the awesome CRF450R. The engine and PGM-FI fuel injection likewise have received updates to further improve power, torque and throttle control, while weight has been trimmed wherever possible.
The best-handling bike in the 250 class just got a whole lot better. That's because Honda's CRF250R is all new for 2014, with a major emphasis on doing what a 250 does best: offer precise, nimble, tack-sharp handling. So what did we do? First, we gave it our new, low-CG aluminum frame. Next, there's an updated fork, a new swingarm, a new shock and new linkage ratio. Finally, we added our patented dual-muffler exhaust –- all of these come together to make the new CRF250R handle better than ever.
We didn't stop there. Engine changes include a new, high-compression piston, new cylinder head and porting, a lighter radiator and new dual-stage fuel injection timing that offers crisp low to mid range power. Add it all up and you can see that the bike that Wil Hahn rode to win the 2013 250SX East title is even better for 2014!

By moving the main chassis spars downward, the 2014 CRF250R features a lower center of gravity. The result? Improved handling, and a perfect match of suspension action, steering feedback, and chassis balance and compliance.

Like our CRF450R, the new CRF250R uses our exclusive twin-muffler exhaust system. Compared to a single-muffler setup, the CRF's mufflers are way shorter, lower and tucked in much closer to the bike's center of mass. That helps make the CRF250R more of a "whip and scrub" demon, and also contributes to the bike's improved power, while keeping it quiet at 94db.

The CRF250R's updated Showa fork features new settings with full compression and rebound-damping functions in each leg for balanced, proven performance.

Developed by our factory racing team, the Honda Progressive Steering Damper is lightweight, compact and enhances cornering ability while reducing rider fatigue.

A new cylinder head, new higher-compression piston, and new dual-stage PGM-FI timing for the CRF250R's fuel injection are fine-tuned to work with the new dual exhaust to give you more low-end horsepower and more freerev up top.

Model Overview
At the heart of the 2014 CRF250R's transformation is the aluminium beam frame that debuted on the CRF450R for the 2013 model year. The low centre of gravity and reduced turning inertia the new chassis brings, help improve the already stunning handling abilities of the CRF250R over ground and – perhaps even more importantly – in the air. Internal improvements to the 48mm Showa inverted front fork are complemented by a compact new Showa rear shock, revised Pro-Link suspension and redesigned aluminium swingarm.
Always a jewel of usability, delivering incredible drive from anywhere in its wide rev-range, the 249cc engine has received a multitude of upgrades from HRC's development engineers including major work on the PGM-FI fuel injection, gas flow through the head as well as intake and exhaust efficiency.
The new CRF250R has been honed to an even higher state of perfection and, once again, HRC has created a motorcycle in a state of the purest balance, the ultimate riding tool for the professional and amateur alike.

2014 Honda CRF250R Key Features

A completely new mass-centralised chassis complements engine and suspension upgrades, enhancing rider control and feel both on the ground and airborne.
New High-Compression Piston
More compression means more power, and the CRF250R's compression moves up to 13.5:1. Along with a new cylinder head and head porting, the CRF250R gives a stronger low-end hit you can feel, a big advantage in this class.

249cc Unicam® Engine
A new cylinder head, higher-compression piston, head porting and new dual-stage injector timing for the CRF250R's fuel injection are fine-tuned to work with the new dual exhaust to give you more low-end horsepower and more freerev up top

New Transmission
We made the gears in the CRF250R's new transmission wider to increase durability and better handle the bike's increased power.

PGM-FI
The CRF250R's fuel injection makes a big difference with a bike in this class. New settings this year include dual-stage injector timing and a new injector angle for improved low and mid-range performance. This technology provides smooth and consistent power with an improved throttle response. And fine-tuning it to specific track conditions is easier than ever with our HRC Fuel-Injection Setting Tool.

New Aluminum Frame
A new twin-spar aluminum chassis features lower frame spars to help lower the CRF250R's center of gravity and improve center of mass. The result? A machine that's both responsive and stable, and that's easier than ever to rail around the next berm.

New Swingarm and Rear Shock
Honda didn't stop with the new frame. A new swingarm, linkage and Showa rear shock helps the bike hook up better under all types of track conditions.

Works-Style Brakes
Honda's MX bikes have always had great brakes on the track, and the 2014 CRF250R continues that tradition. Front and rear discs with factory-spec master cylinders help you out brake the other guy into the turns. The front and rear rotor covers are new too.

Dunlop MX51 Tire
A premium Dunlop MX51FA tire up front and an MX51 tire in the rear mean the new CRF250R is ready to win, right out of the box. Great handling starts from the ground up, and with these skins you're off to the best start ever.

New Front Suspension Settings
The CRF250R's updated Showa fork features new settings. Since this is a true dual-function design, it offers full compression and rebound-damping functions in each leg for balanced, proven performance.

Honda Progressive Steering Damper (HPSD)
Our HPSD has been purpose-built to help deliver precise steering at all points on the track, from acceleration to braking, whoops to hardpack. So you can hit your line from the opening gate through the final lap.

New Fuel Tank
We increased fuel capacity this year, and that means you can ride longer motos before pulling in for gas.

New Seat and Bodywork
New cutaway bodywork reduces mass. More important, it makes the bike feel narrower and makes it easier for you to move around, increasing control and handling.

New Air Box Design
The new CRF250R features a new easy-access airbox that makes filter service a snap, as well as improving airflow for more power.

New Subframe
We shaved weight from the CRF250R's subframe this year. How? In part due to the new twin-muffler setup. Moving the mufflers towards the bike's center of mass moves their mounting points so the structure can be lighter and improves handling characteristics.

Short Twin-Muffler Exhaust System
The new CRF250R uses an exclusive twin-muffler setup. The mufflers are way shorter and lower tucking in much closer to the bike's center of mass. That helps make the CRF250R a better handling machine, and also contributes to the bike's improved power.

2014 Honda CRF250R Features and Benefits
Chassis
HRC started out with a number of requirements for their sixth generation of aluminium beam frame: improved front and rear traction – plus the feel for available grip, so important to a rider – high-speed stability and braking plus a much lighter sensation when turning in all situations and conditions. In every respect the CRF250R's new frame is a game changer in its class.
It's a complete redesign. Weighing in at just 9.35kg, the junction of the steering head and main frame spars now intersect much lower on the steering head pipe, closer to the midway point rather than toward the top. This change helps lower the centre of gravity and instills more 'tuned' flex into the chassis for better front-end traction and improved corner speed.
The steering geometry of 27.23°, with 116.7mm trail and wheelbase of 1,489mm takes advantage of the frame's enhanced performance parameters and gives a more direct connection to the front tyre, with increased feel for available traction and faster turn-in. Combined with the lower centre of gravity side-to-side transition is easier, greatly increasing rider confidence and reducing fatigue.
A CRF250R-exclusive lower cradle houses the engine. Careful packaging of equipment around the frame contributes to mass centralisation, the subsequent decrease in inertia and lighter overall feel of the CRF250R. The electrical components – ECU, condenser, regulator and wiring harness – save weight and are centrally located below the throttle body. Revised, lighter weight radiators – specific to the CRF250R – are mounted lower.
The top mount of the Showa rear shock is sited 14.5mm lower within the frame and the shock itself is physically 14.5mm smaller, and features revised a spring weight plus new rebound and compression damping rates. The benefit of mass centralisation in this area is reduced pitching inertia along the bike's centre line; harder braking is possible with improved stability. The new aluminum swingarm provides added rigidity thanks to taller beam height in the front and centre sections, minimising deflection and improving rear tyre traction on corner exit.
The Showa 48mm inverted cartridge forks received new internal sub-piston diameter in the 2013 model year – from 35mm to 37mm – with improved low speed damping. For 2014 the spring weight has been updated to suit with the new frame. Rebound and compression damping remain adjustable through 16 positions.
The Pro-Link rear suspension features new CRF250R-specific linkage ratios and allows 12.3in of wheel travel. Fully adjustable, the rear shock features 17-position rebound adjustment; compression damping is separated into 13-position (low-speed) and 3.5 turns (high speed).
The CRF250R's new bodywork inherits an evolution of the 'triangle proportion' dynamic seen on the 2013 CRF450R; the motorcycle is singularly built about the rider's needs, with mass centralisation and superior ergonomics key. The radiator shrouds, side covers, lightweight seat and fuel tank offer a slim, smooth and continuous transition allowing the rider huge freedom and flexibility of movement.
Also, the bodywork attachment points – where the rider contacts the bike – are extremely rigid so the rider can grip the bike hard for better feel and control. In addition, the rear fender has a lift point with integrated support to make it easier to hoist the bike onto a stand.
Lightweight 80/100-21 front and 100/90-19 rear tyres save unsprung weight. Protecting the front 240mm wave pattern disc and two-piston brake caliper is a two-piece cover; the rear 240mm wave-pattern disc and single-piston caliper is also shielded.

Engine
During this cycle of development HRC's race engineers focused attention on a number of areas to further improve the CRF250R engine's output and delivery. The 249cc, liquid-cooled four-valve Unicam unit has always impressed with its broad spread of useable power no matter the revs, plus a crisp and instant throttle response. Building on this all-round drivability and searing top-end were the targets.
Combustion efficiency, thanks to a higher compression piston (compression ratio is increased from 13.2:1 to 13.5:1) and re-shaped cylinder head and inlet/exhaust porting, is improved. Bore and stroke remains 76.8mm x 53.8mm; the 30.5mm diameter titanium inlet valves and 25mm dia. steel exhaust valves are also unchanged. The 5-speed gearbox has been revised to improve durability. Power and torque improvements have been focused on the all-important low-to-mid range.
Like the 2014 CRF450R, the smaller capacity sibling gains new PGM-FI mapping with Dual Injector timing and employs a revised injector angle. A CRF450R specification airbox is married to a dedicated CRF250R air boot and twin rear mufflers – centralising mass once again – are exclusive to the CRF250R.

---
2014 Honda CRF250R – USA Specifications/Technical Details
US MSRP Price: $TDA USD

ENGINE
Engine Type 249cc liquid-cooled single-cylinder four-stroke
Bore And Stroke 76.8mm x 53.8mm
Induction Dual-Timing Programmed Fuel Injection (PGM-FI), 46mm throttle body
Ignition Full transistor with electronic advance
Compression Ratio 13.5:1
Valve Train Unicam®, four-valve; 30.5mm intake, titanium; 25mm exhaust, steel

DRIVE TRAIN
Transmission Close-ratio five-speed
Final Drive #520 Chain; 13T/49T

CHASSIS / SUSPENSION / BRAKES
Front Suspension 48mm inverted Showa cartridge fork with 16-position rebound and 16-position compression damping adjustability; 12.2 inches travel
Rear Suspension Pro-Link® Showa single shock with spring preload, 17-position rebound damping adjustability, and compression-damping adjustment separated into low-speed (13 positions) and high-speed (3.5 turns); 12.3 inches travel
Front Brake Single 240mm disc with twin-piston caliper
Rear Brake Single 240mm disc
Front Tire Dunlop MX51FA 80/100-21
Rear Tire Dunlop MX51 100/90-19

DIMENSIONS
Rake 27° 23′ (Caster Angle)
Trail 118mm (4.6 inches)
Wheelbase 58.6 inches
Seat Height 37.4 inches
Curb Weight 231 pounds (Includes all standard equipment, required fluids and a full tank of fuel-ready to ride)
Fuel Capacity 1.66 gallons
Ground Clearance 12.7 inches

OTHER
Available Colors Red
Model Id CRF250R
---
2014 Honda CRF250R – Canadian Specifications/Technical Details
Canada MSRP Price: TBA CDN
To be announced.

---
2014 Honda CRF250R – European Specifications/Technical Details
European MSRP Price: £6,399* GBP (* Includes delivery and VAT)

ENGINE
Type Liquid-cooled, 4-stroke, single-cylinder
Displacement 249cc
Bore Stroke 76.8mm x 53.8mm
Compression Ratio 13.5 : 1
Max. Power Output TBC
Max. Torque TBC
Oil Capacity 0.85/0.75
FUEL SYSTEM
Carburation FI
Fuel Tank Capacity 6.3L

ELECTRICAL SYSTEM
Ignition Full transistor
Starter Kick
DRIVETRAIN
Clutch Type Wet multiplate
Transmission Type Constant mesh
Final Drive Chain
FRAME
Type Aluminium twin tube
CHASSIS
Dimensions (L W H) 2181mm x 827mm x 1271mm
Wheelbase 1,489mm
Caster Angle 27°23?
Trail 116.7mm
Seat Height 951mm
Ground Clearance 322mm
Kerb Weight 105.7kg
SUSPENSION
Type Front 48 USD Telescopic
Rear Prolink
WHEELS
Type Front Al Spoke
Rear Al Spoke
Tyres Front 80/100-21
Rear 100/90-19
BRAKES
Type Front Single disc
Rear Single disc
All specifications are provisional and subject to change without notice
---
2014 Honda CRF250R – Australian Specifications/Technical Details
Australia MSRP Price: See dealer for pricing in AUD
ENGINE
ENGINE TYPE 249cc 4 stroke, single cylinder, uni-cam
BORE AND STROKE 76.8 x 53.8mm
COMPRESSION RATIO 13.5:1
VALVE TRAIN Unicam®, 4-valve; 30.5mm titanium intake valves, 25mm steel exhaust valves
CARBURATION PGM-FI
IGNITION Full transistor
TRANSMISSION Close-ratio, 5-speed
STARTER Kick
FINAL DRIVE Chain
FRAME
DIMENSIONS 2,181mm x 827mm x 1,271mm
WHEEL BASE 1,489mm
RAKE (CASTER ANGLE) 27°23′
TRAIL 116.7mm
SEAT HEIGHT 951mm
GROUND CLEARANCE 322mm
FUEL CAPACITY 6.3 litres
KERB WEIGHT 105.7kg
SUSPENSION
FRONT 48? USD Telescopic
REAR Pro-link
BRAKES
FRONT Single 240mm disc, twin-piston calliper
REAR Single 240mm disc, single-piston calliper
TYRES
FRONT 80/100 – 21 inch
REAR 100/90 – 19 inch
Specifications, features and prices to change by manufacturer without notice. All information correct as of posted date.