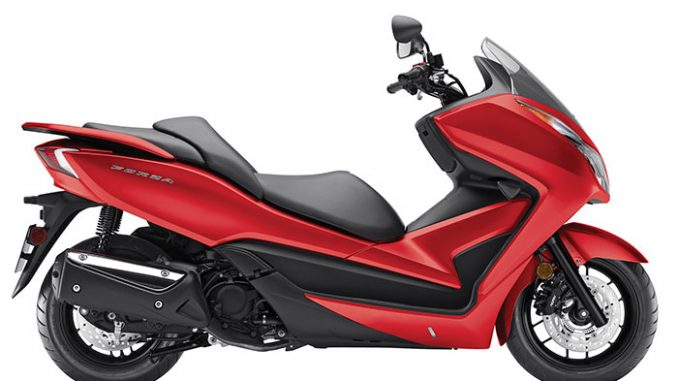 Click photos to enlarge. Our big, clean bike pics make great desktop wallpaper.
2014 Honda Forza ABS Review

2014 Honda Forza ABS on Totalmotorcycle.com
Forza ABS – wherever you ride…
Blurring the lines between scooter and motorcycle the NSS300 is a high specification mount for the serious rider who ranks ease of operation as highly as performance.

High function scooter or lightweight sport tourer it's hard to say for sure. The convenient step through styling and the ease of operation that comes with a sophisticated automatic transmission suggest the Forza ABS is a scooter, but the high-performance linked ABS disc brakes, full coverage fairing and generous storage capacity imply sport tourer. Similarly the narrow overall design, low seat height and the lightweight single cylinder engine seem to add up to scooter like urban agility while roomy two up seating, comprehensive instrumentation and fuel range of over 350km insinuate highway burner. High tech fuel injection, efficient exhaust catalyzer, oversize wheels with radial tires and a rigid aluminum swingarm only add to the confusion. So which is it? …Both. Ride it wherever you want, you won't be disappointed.
Convenient + Practical + Fun: Meet the new Honda Forza ABS

Forza ABS
Base MSRP $5,599*
Features & Options
•Liquid-cooled fuel-injected four-stroke 279cc
•Under-seat storage compartment
•12-volt power socket
Build This Forza ABS
Forza ABS ABS
Forza ABS ABS
Base MSRP $6,099*
Features & Options
•Liquid-cooled fuel-injected four-stroke 279cc
•Under-seat storage compartment
•12-volt power socket
•Anti-Lock Braking System
2014 Honda Forza ABS Totalmotorcycle.com Key Features

The new Honda Forza ABS is one of the most practical scooters anywhere. Its 300-class engine has plenty of power—even two-up—and gets great mileage. Underseat storage makes errands a breeze. And the sleek bodywork means you'll arrive in style.

Honda's new Forza ABS™ is a scooter that's way more than what you think a scooter can be. With the power to carry you and a passenger on the highway thanks to a smooth, powerful all-new engine, integral storage (enough for two helmets) and even a power outlet for your accessories, the Forza ABS bridges the gaps between fun, practical, and luxurious. Whether you use it for commuting, around-town, errand running, or just a way to get out and have fun, the Forza ABS is a great transportation option that just about anyone can enjoy.


Plenty of Power.
With its liquid-cooled, fuel-injected 279cc engine, the new Honda Forza ABS offers lots of user-friendly power—enough that this great new scooter is legal for highway use.


CVT Automatic Transmission.
The Forza ABS features a CVT Automatic Transmission. That means there's no shifting, not even into neutral or park—just start it up and go. It also means you'll experience an automatic seamless shifting.


Underseat Storage.
It doesn't get any easier than this: Just pop a latch and the Forza ABS's seat tips up, revealing a huge storage compartment big enough for two full-face helmets or a bunch of groceries. It's secure and weather-resistant, too.
2014 Honda Forza ABS Totalmotorcycle.com Features and Benefits
The smooth running 279 cc engine is designed to deliver strong midrange performance and is perfectly matched to the fully automatic transmission for effortless operation across a broad range..
The V-matic automatic transmission has been specifically tuned to target perhaps the two most important operating zones – immediate, strong response off the line and laid-back feel on the highway. Entertaining when you want it to be, relaxing when you don't..
Liquid cooling and a low stress engine design mean you have all day highway cruising capability without worrying about "hurting" the engine, whether you're travelling two-up or solo..
Electronic fuel injection, advanced combustion control and a number of low-friction engine technologies ensure maximum efficiency paying dividends in reduced fuel costs..
There's a dual-core exhaust catalyzer to keep emissions in check so you can feel good about riding the Forza..
Chassis/Suspension
Belying the sit-in scooter riding position the Forza offers "motorcycle feel" thanks in part to the stout tubular-steel frame that provides composed, sure-footed handling..
A stiff, double -sided, aluminum swingarm adds to the Forza's handling prowess working in harmony with beefy 35mm telescopic forks. The well matched suspension components also offer excellent compliance improving ride comfort..
In keeping with its sport-touring mandate the Forza's oversized, cast-aluminum wheels are fitted with high-traction tires that offer excellent wear characteristics..
Powerful front and rear disc brakes provide right now stopping power while control is retained thanks to Honda's advanced Combined Braking System with ABS. With the Combined Braking System the rear brake lever also operates the front brake (the front brake lever operates only the front brake) enhancing peace of mind in fast-stop situations while ABS adds an extra measure of security in low traction conditions..
The Forza's low slung frame design contributes to an exceptionally low seat height that greatly enhances the feeling of security when manoeuvring fully loaded in parking lot situations..
Additional Features
The Forza's sleek, contemporary bodywork offers excellent protection against the elements without the bulk found in some scooter offerings. In fact the Forza's narrow profile makes it a natural for squeezing through those narrow city spaces..
The ergonomically-shaped shaped seat offers generous, comfortable accommodation for both rider and passenger and passenger security is further aided by a cast aluminum grab rail built in to the rear of the bodywork..
A vast under-seat storage area swallows two full face helmets with room to spare and a Genuine-Honda accessory top box can add even more capacity should you ever need it..
Convenience features abound in the cockpit from dual easy to reach fairing pockets, to a 12V power outlet, to a comprehensive dash display including speedometer, clock, dual trip-meters plus fuel and temperature gauges and oil level warning light. There's even an integrated security system that makes it just about impossible to start the Forza without one of the original keys..
Powerful, twin, multi-reflector headlights that cut a wide swath through the darkness complete the impressive list of touring credentials..

It's the details that set the Forza ABS apart.
Some manufacturers don't take their scooter lineup very seriously. But not Honda—and our new Forza ABS is a perfect example. It's full of technical innovation and attention to detail that not only make the Forza ABS reliable, practical, and a great value, they also make it more fun to ride!

Multi-Function Display
Instrument display features speedometer, odometer, tachometer, A&B trip meters, fuel gauge, clock, average fuel consumption meter, PGM-FI Malfunction Indicator Lamp (MIL) Coolant temperature gauge, low oil pressure indictor, ABS indicator (where applicable), parking brake indicator, and oil change indicator.

Electric Start
Reliable electric start, combined with the Forza ABS's fuel injection, ensures hassle-free starting with push-button ease, even on cold mornings.

Convenient Power Outlet
Need to charge your cell phone or other devices while you ride? No worries—the Forza ABS's convenient 12-volt power outlet makes it easy.

Three-Gallon Fuel Tank
With its estimated 68 MPG and three-gallon tank, you'll be able to go far between fill-ups.

Combined ABS (Optional)
The new Forza ABS offers powerful front and rear brakes. Want even more peace of mind? Forza ABS offers an optional Combined Anti-Lock Brake Package.

Convenient Storage
Flip the seat open and you have room for two full face helmets or enough groceries for Thanksgiving dinner. There's also a convenient helmet holder underneath the seat that allows you to secure your helmet while away from your scoot. There's even a second compartment in the dash for your mobile phone, wallet, or MP3 player.

V-Matic Transmission
With the Honda V-Matic automatic transmission, riding couldn't be easier. Just start the engine, twist the gas, and go. The V-Matic means no shifting, ever— so you concentrate on the road ahead and simply enjoy the ride! The V-matic is a continuously variable design, so all you'll feel is a smooth transition of power

Rider Comfort
That long, plush seat does more than just look comfortable—it's probably nicer than that sofa in your living room. The stepped passenger section gives your copilot a better view. Besides great style, Forza ABS's bodywork is all about function to help protect you from the wind and the elements.

Lower Floating Link
A low-mounted engine featuring a unique lower link minimizes engine vibration and dampens jarring bumps from the road.

PGM-FI Engine
With plenty of power to carry you and a passenger too, the Forza ABS features liquid cooling and Programmed Fuel Injection (PGM-FI) for great performance. Plus Forza ABS gets an estimated 68 MPG*!

Low Center of Gravity Engine Placement
Mounting the engine low keeps the Forza ABS's center of gravity low as well. That helps with the Forza ABS's nimble and capable handling.

---
2014 Honda Forza ABS – Totalmotorcycle.com USA Specifications/Technical Details
US MSRP Price: $6,099 USD

ENGINE

Engine Type
279cc liquid-cooled single cylinder four-stroke
Bore And Stroke
72.0mm x 68.6mm
Compression Ratio
10.5:1
Induction
PGM-FI with automatic enrichment
Ignition
Full transistorized
Valve Train
SOHC; four-valve
DRIVE TRAIN

Transmission
Honda V-Matic belt-converter continuously variable automatic transmission
CHASSIS / SUSPENSION / BRAKES

Front Suspension
35mm telescopic fork; 3.7 inches travel
Rear Suspension
Twin shock; 3.8 inches travel
Front Brake
Single 256mm disc with twin-piston caliper with CBS (third front brake piston is activated upon application of rear brake)
Rear Brake
Single 240mm disc with single-piston caliper with CBS (one front brake piston is activated upon application of rear brake)
Front Tire
120/70-14
Rear Tire
140/70-13
DIMENSIONS

Rake
27° 0´
Trail
89mm (3.5 inches)
Wheelbase
60.9 inches
Seat Height
28.2 inches
Fuel Capacity
3.0 gallons
Mpg
68 MPG*
Curb Weight
422 Pounds (Includes all standard equipment, required fluids and full tank of fuel – ready to ride)
OTHER

Available Colors
Pearl Red
Model Id
NSS300
Note
*Miles per gallon values are calculated estimates of fuel consumed during laboratory exhaust emissions tests specified by the EPA, not during on-road riding. Use for comparison purposes only. Your actual mileage will vary depending on how you ride and maintain your vehicle, weather, road conditions, tire pressure, cargo and accessories, rider and passenger weight, and other factors.
FACTORY WARRANTY INFORMATION

One Year
Unlimited-mileage limited warranty; extended coverage available with a Honda Protection Plan.

---
2014 Honda Forza ABS – Totalmotorcycle.com Canada Specifications/Technical Details
Canadian MSRP Price: $5,899 CDN

Engine Type
Liquid-cooled single-cylinder four-stroke
Displacement
279 cc
Bore & Stroke
72 mm x 68.5 mm
Compression Ratio
10.5:1
Valve Train
SOHC, 4 valves
Fuel Delivery
PGM-FI electronic fuel injection
Transmission
Automatic V-Matic
Final Drive
Belt
Front Suspension
35 mm fork; travel 94 mm
Rear Suspension
Twin shocks; travel 96 mm
Tires
120/70 – 14 front; 140/70 – 13 rear
Brakes
Front 256 mm disc with dual-piston caliper; rear 240 mm disc with single-piston caliper. Combined Braking System with ABS
Seat Height
716 mm (28.2 in.)
Wheelbase
1,546 mm (60.9 in.)
Curb Weight
194 kg (428 lb) including required fluids and full tank of gas – ready to ride
Fuel Capacity
11.6 litres
Colour
Silver Seal Metallic & Pure Red

---
2014 Honda Forza ABS – Totalmotorcycle.com UK/European Specifications/Technical Details
European MSRP Price: £NA GBP
Model Not Available
Specifications, features and prices to change by manufacturer without notice. All information correct as of posted date.