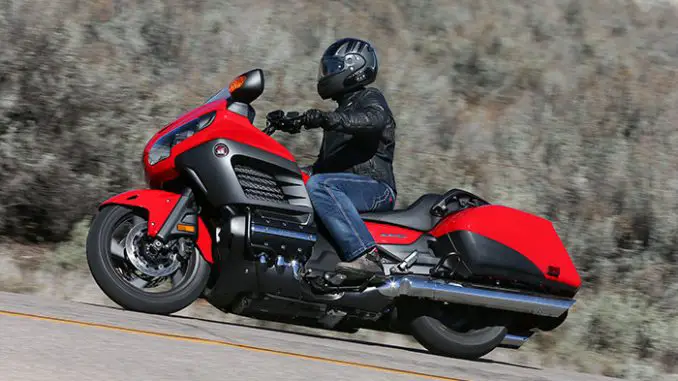 Click photos to enlarge. Our big, clean bike pics make great desktop wallpaper.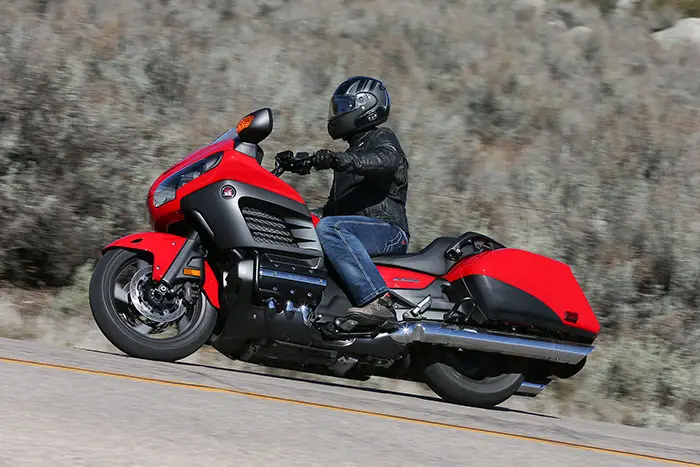 2014 Honda Gold Wing F6B GL1800B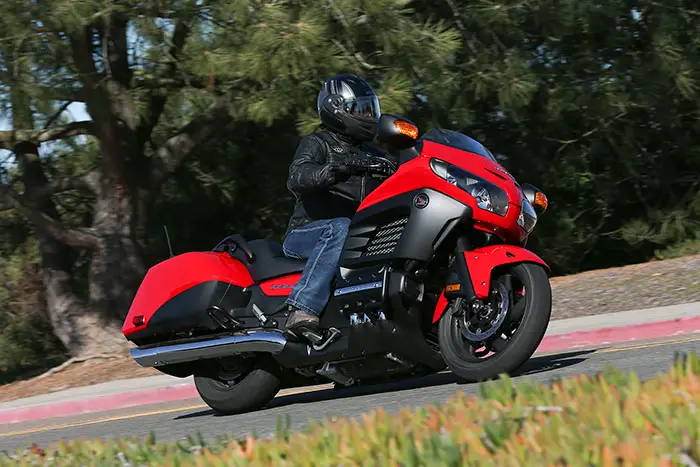 2014 Honda Gold Wing F6B GL1800B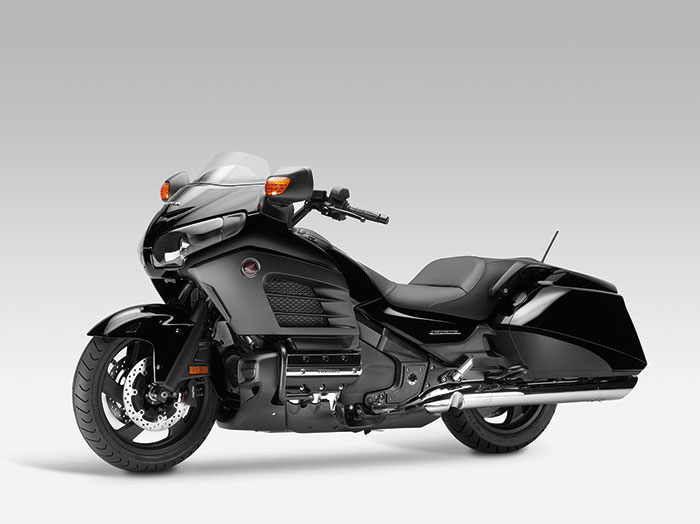 2014 Honda Gold Wing F6B GL1800B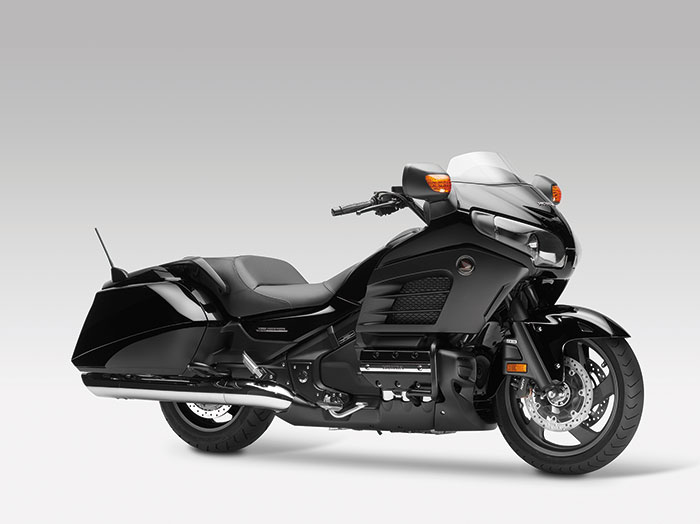 2014 Honda Gold Wing F6B GL1800B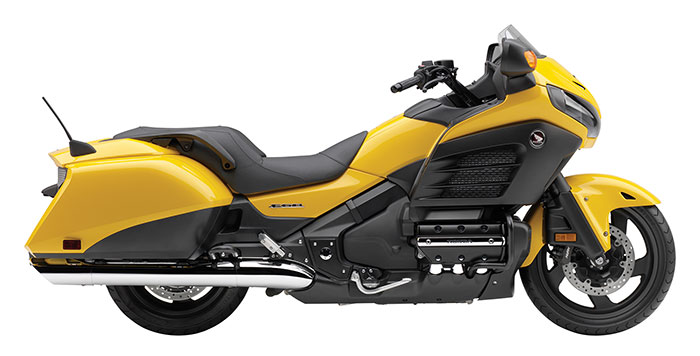 2014 Honda Gold Wing F6B GL1800B
2014 Honda Gold Wing F6B GL1800B Review

2014 Honda Gold Wing F6B GL1800B on Totalmotorcycle.com
A New Way To Go Everywhere…
Honda has taken the world's best touring machine in a different direction. The Gold Wing F6B changes all the rules to create the perfect bike for around-town, shorter trips or weekend getaways. Around the legendary liquid-cooled flat-six is a touring machine that's lighter, trimmer, leaner. Its radical new bodywork features a lower windscreen and sleeker fuselage while still surrounding riders with the comfort and luxury you demand from a Gold Wing.

Do you believe in love at first sight? You might after seeing the Gold Wing F6B. That was the overwhelming reaction from press and public alike when it was introduced last year. Unquestionably beautiful, the F6B's appeal is much more than skin deep Look beneath the elegant flowing bodywork and you'll find its proven Gold Wing heart. Using virtually the same frame, engine and suspension as the legendary tourer, this is a love that's meant to last. And just because the F6B is a reliable, comfortable companion, don't think that it doesn't have a wild side. Stripped down from its Gold Wing origins, the F6B performs; that powerful flat-six motor rushes to redline with even greater urgency while the reduced weight also lets you handle the curves with full confidence. There are times though when love needs to move at a slower pace and the F6B delivers here too, with a Dual Combined ABS braking system backed up by an anti-dive front suspension design. Considering a new love in your life? Take an F6B dancing with its four-speaker sound system with iPod and USB interface, and you may have found your soulmate.
Gold Wing F6B – a love that endures
The new GoldWing Bagger is a lightweight and stylish touring bike featuring optimised equipment and specifications to further improve dynamic performance, while retaining great riding comfort. The 1,832cc six-cylinder engine driving the GoldWing Bagger is one of motorcycling's masterworks. The style flows fluidly from front to rear; the unique seats provide support for rider and pillion and the 4-speaker sound system guarantees listening pleasure, even at speed.
With a combination of cool credibility, useful practicality and exciting style, the GoldWing Bagger was built to be at home in an urban environment as well as on the open road. Honda has built a new breed of Gold Wing to sit alongside the original. Stripped, stylish and smooth, part custom, part cruiser the Gold Wing Bagger is a touring bike distilled to its very essence.

2014 Honda Gold Wing F6B GL1800B Totalmotorcycle.com Key Features

•1832cc liquid-cooled horizontally opposed six-cylinder engine

•Integrated luggage, low-profile windshield, adjustable suspension, comfortable seat

•Premium surround sound
Build This GOLD WING F6B
Gold Wing F6B Deluxe
Gold Wing F6B Deluxe
Base MSRP $20,999*
Features & Options
•Adds: Centerstand, passenger backrest, heated grips, and self-cancelling turn signals.
The Wilder Wing
It's like no other Gold Wing we've ever made. The F6B features sleek, super streamlined bodywork with a lower, swoopier profile that sweeps back from the minimal windscreen to the low rear cowl right where the trunk could have been. And where other bikes have chrome, the F6B is pure blacked-out metal, from engine casing to the cast wheels.

Low-Profile Windscreen
When it comes to engineering, Honda has unmatched resources. Countless hours in our research facility wind tunnels led to the F6B's revolutionary windscreen. With its minimal design it saves weight, eliminates a prime cause of wind drag and delivers absolutely amazing wind and weather protection. Riders will also love how open the cockpit now feels.

Audio System With Surround Sound
Making a superior motorcycle sound system is a challenge, but it's one that Honda has mastered like no other bike maker. You'll be amazed when you experience the clear, powerful surround sound (SRS CS Auto*) with deep, powerful bass. And for those who prefer headsets (SRS Headphone*), you'll discover sound that feels three-dimensional and totally realistic (SRS CS Auto*)**.

Advanced Wind And Weather Protection
At first glance, the F6B looks bare of wind and weather protection. But on your first ride, you understand its radical new bodywork. Through careful design, rider and passenger are shielded from wind, cold and rain. This is a carefully tuned fuselage that deflects the environment and vastly improves rider comfort. It's part of what makes a Gold Wing world-class touring machine.

Blacked-Out Styling
You're going to need a lot less chrome polish. The F6B features stealth fighter, sinister styling with blacked-out wheels, engine and frame. Yes, it's easier to maintain, but it's not about practicality. So don't expect to fly under the radar.

Glovebox Within Glove Reach
Because all Gold Wings feature a low-mounted fuel tank, there's additional storage room right in front of the rider. It's easy to access this convenient storage, and it's lockable for items like your cell phone, GPS or camera for scenic turnouts.

Heated Grips
You should always wear gloves, but sometimes you're not wearing heavy enough ones. Now there's help right at your fingertips to save them from extreme cold. Experienced riders know this one idea that sounds like a luxury until you have it; then it becomes a necessity you'll never want to ride without. (Deluxe Model.)

Easy-Up Centerstand
Sometimes a side stand just isn't enough. Putting your F6B up on the centerstand gives you a little more confidence when you park it and leave it—no chance of it accidentally being brushed past and pushed over. If you've ever come back and found your bike on its side, you know the feeling. It also makes routine maintenance on the bike a lot easier. (Deluxe Model.)

Adjustable Suspension
On a touring motorcycle, how much weight you carry constantly changes. From passenger to no passenger, from fully loaded to empty saddlebags, you need an adjustable suspension that's also easy to adjust. The F6B features a rear Pro Arm single-side swingarm with Pro-Link single shock. Best of all, the spring preload adjustment is remote-controlled.

Long-Distance Seating
You don't design a comfortable seat for two without putting in real miles, and Honda engineers have racked up millions of them. Our experience and testing have created a new seat design that gives the rider just enough back support while providing the passenger an elevated view so they can see more than the back of a helmet. The F6B's carefully tuned padding and shape mean more pleasure from more miles in the saddle.

Shaft Final Drive
The concept of shaft drive was proven in the very first Gold Wing over 50 years ago, and it's still the best solution today. Shaft drive means you never have to worry about adjusting, lubricating or repairing your chain; and Honda engineering means the lightest, best performing shaft drives on the road.

Let Music Move You
The Gold Wing F6B has an unbeatable sound system, so don't forget to pack your music. Now you can connect a compatible Apple® iPod® player and control it through the Gold Wing's audio controls, or you can plug in a USB flash drive MP3, WMA6 or AAC music files. The connector is located in the lockable saddlebags, where devices can be conveniently carried and discreetly stored.

Passenger Backrest
Nothing makes passengers happier, especially newbies, than a comfortable and secure backrest. The F6B features a sleek, modern design that's totally integrated with its overall look. It's just wide enough, just padded enough to make every mile just a little more comfortable for your riding partner. And you can't be happy if they're not happy. (Deluxe Model.)

Engineered Luggage
Creating a high-performance touring bike means paying careful attention to the art of packing. The Gold Wing F6B's twin saddlebags are mounted low for a better center of gravity, sealed to be weather resistant and lockable to deter thievery. Offering 22 liters of space, there's ample room for the stuff you need to enjoy every trip.

Self-Cancelling Turn Signals
When you share the road, you always want other riders and drivers to know what your intentions are. So it can be unsettling when you realize you left your turn signal blinking long after the turn. The F6B is equipped with turn signals that automatically turn off after they detect that you've completed a turn. (Deluxe Model.)

Integrated Luggage.
Luggage performs better when it's designed in, not added as an afterthought. The F6B sports twin-integrated saddlebags with 11 liters of storage each; both are lockable and sealed against the elements.


Six-Cylinder Engine.
The Gold Wing powerplant is legendary for power, durability and smoothness, which is why we've chosen the same liquid-cooled six-cylinder for the F6B. And with a lower overall weight, expect even more performance.


Low-Profile Windscreen.
A proper touring windscreen isn't for hiding behind; it's to redirect wind up and over the riders. The Gold Wing F6B's lower windscreen offers surprising wind and weather protection while connecting you with the environment all around you.


Two Levels Of Wow.
Gold Wings have always been famous for creature comforts. So the Gold Wing F6B comes loaded with everything from surround sound to an adjustable air suspension. The F6B Deluxe goes even further, with self-cancelling turn signals, backrest, heated grips, centerstand and more. You even have your choice of color—luxurious Black or Pearl Yellow
Redefining The Genre.
Gold Wings revolutionized the concept of the modern touring motorcycle, and the new Gold Wing F6B is taking that one step further. The result? You get the best of both worlds: proven Gold Wing performance and the Gold Wing F6B's innovative, fresh, new take on what a motorcycle like this can be.
**Some local governments may prohibit the use of a headset by the operator of a motor vehicle. Always obey applicable laws and regulations.
*SRS CS Auto and SRS Headphone are trademarks of SRS Labs, Inc.

2014 Honda Gold Wing F6B GL1800B Totalmotorcycle.com Features and Benefits
Engine
Powerful fuel-injected 1,832 cc six-cylinder engine produces smooth, effortless power..
Low, forward engine placement and solid engine-mounting produce excellent road handling characteristics and impressive low-speed manoeuvrability..
Nickalloy crankshaft bearing caps provide quiet operation throughout the engine's operating temperature range..
Parallel two-valve cylinder-head design utilizes direct shim-under-bucket valve actuation and requires no 1,000 km service..
Silent-type camshaft chains with automatic adjusters provide reliable, maintenance-free operation..
Two 40 mm-diameter throttle bodies deliver air to six specially designed Keihin 50-psi high-pressure programmed fuel injectors (PGM-FI). Fuel is delivered through four nozzle tips in each injector, producing an atomized fuel mixture that is highly combustible for optimum efficiency and power..
Electronic control unit (ECU) provides two digital 3-D fuel injection maps for each cylinder and one digital 3-D ignition map for each cylinder, creating ideal fuel mixture and spark advance settings for superb rideability. Unique knock-control sensors monitor ignition advance to improve performance throughout the entire rpm range..
ECU-controlled closed-loop emission control system utilizes two oxygen sensors to constantly deliver a precise air/fuel mixture, while two exhaust catalytic converters further reduce emissions of carbon monoxide, hydrocarbons and nitrogen oxides..
Rotary Air Control Valve (RACV) maintains precise idle control under widely varying engine loads and operating temperatures..
Compact water pump is mounted behind the engine and is driven directly by the crankshaft, contributing to quicker engine warm-up..
Engine cooling system features a series-flow coolant flow pattern that offers cold-start rideability and provides rapid engine warm-up..
Two side-mounted radiators enhance cooling efficiency and use low-air-pressure areas created by side cowls to draw cooling air through the radiators and beyond the rider at highway speeds..
Sturdy eight-plate clutch with maintenance-free hydraulic-assist..
Efficient stainless steel six-into-two exhaust system produces a pleasing, powerful sound..
Powerful 1,300-watt alternator uses a fluid-damper (viscous coupling) system to minimize alternator noise..
Precise-shifting five-speed transmission includes overdrive fifth..
Chassis/Suspension
Beautiful multi-box-section aluminum dual-spar frame and Pro-Arm single-sided cast aluminum swingarm set new class standards for handling..
The innovative aluminum frame is specifically engineered for optimum rigidity with tuned flex. This combination of rigidity and flexibility produces excellent handling, superb riding comfort and wonderful road feel..
Inherently smooth flat-six-cylinder engine also serves as a tuned stressed frame member. The solid engine-mounting system utilizes specially designed hangers and carefully matched mounting bolts to provide both excellent road feel and minimal engine vibration..
The Gold Wing rigid Pro-Arm single-sided cast aluminum swingarm provides simplified servicing of the rear wheel and tire, while assuring optimum handling..
Dual full-floating 296 mm front discs with Dual-Combined Braking System three-piston calipers and a single ventilated 316 mm rear disc with one Dual-Combined Braking System three-piston caliper provide excellent braking power..
Honda's Dual-Combined Braking System features a second master cylinder and a three-stage proportional control valve (PCV) to couple the three-piston calipers of the dual front and single rear brake discs. Using the front brake lever activates the outer two pistons of the front right-side caliper and the centre piston of the front left-side caliper and, acting through the secondary master cylinder and an inline proportioning valve, the outer two pistons of the rear caliper. The rear brake pedal operates the centre piston of the rear brake caliper, the centre piston of the front right-side brake caliper and the outer two pistons of the front left-side caliper. A delay valve sensitive to the rider's pedal pressure smoothes front brake engagement..
Anti-lock Braking System (ABS) features an electric-motor-driven modulator that provides rapid and precise braking-pressure adjustments, resulting in smooth ABS operation. The system incorporates an integrated ECU, self-diagnostics with an interactive ECU test function, and automatic protection against system failure..
Massive 45 mm front fork houses a cartridge damper in the right leg with 122 mm (4.8 inches) of travel for a smooth yet superb ride in all road conditions..
Anti-dive system minimizes front fork dive when braking. The system utilizes brake fluid pressure generated in the secondary Dual-Combined Braking System master cylinder mounted on the left fork leg and is activated by input from either the front brake lever or the rear brake pedal. This application of anti-dive and Dual-Combined Braking System produces enhanced stability when manoeuvring at both low speeds and highway speeds..
Pro-Link-mounted rear shock provides 104 mm (4.1 inches) of plush travel for relaxed touring or sport riding..
Computer-controlled adjustable hydraulic rear suspension preload is easily set by the rider with push-button controls and features a two-position memory..
Unique driveshaft-damping system utilizes a double-pipe structure, with a rubber-bonded coating applied to the inner pipe to absorb road shock and engine torque. The long-life design simplifies rear wheel maintenance..
Final gearcase assembly design in the Pro-Arm eliminates wheel alignment splines and assures accurate alignment of the rear wheel after servicing..
Cast aluminum 18 x 3.5-inch front wheel and 16 x 5.0-inch rear wheel are lightweight and strong. Radial touring tires are specifically engineered for the Gold Wing, providing a combination of excellent traction, cornering grip and long tire life..
Additional Features
The parallel two-valve cylinder head design, together with side-mounted radiators, allows optimum ergonomics, with excellent rider foot room and a large passenger area..
The Gold Wing aerodynamic bodywork is functional as well as beautiful, providing excellent rider wind protection while reducing the aerodynamic drag coefficient..
Shorty windshield provides protection from the elements while also giving the rider a clear view of the road ahead..
Wide, well-padded seat provides excellent comfort for both rider and passenger, and a low seat height adds confidence during low-speed manoeuvring..
Motorized headlight aiming system is operated by a dial switch and provides 2.5 degrees of adjustment from level..
Large 25-litre fuel tank houses the PGM-FI fuel pump and provides excellent long-distance cruising range..
Headlight system features two 55-watt H7 low-beam and two 55-watt H7 high-beam bulbs with computer-designed multi-reflectors. In high-beam operation, all four bulbs produce a distinctive front lighting signature..
Engine and saddlebag guards help protect the bodywork in case of a tip-over..
Handsome two-piece aluminum handlebars are lightweight and strong..
Adjustable brake and clutch levers..
Extensive tool kit..
Dual electric spiral horns trumpet a distinctive note..
20-amp YTX maintenance-free battery..
Dual helmet locks..
Convenient ignition switch/fork lock for added security..
3 year, unlimited mileage, freely transferable warranty; extended coverage available with Honda Plus..

---
2014 Honda Gold Wing F6B GL1800B – Totalmotorcycle.com USA Specifications/Technical Details
US MSRP Price: $19,999 USD

Engine Type
1832cc liquid-cooled horizontally opposed six-cylinder
Bore And Stroke
74.0mm x 71.0mm
Induction
PGM-FI
Ignition
Computer-controlled digital with 3-D mapping
Compression Ratio
9.8:1
Valve Train
SOHC; two valves per cylinder
DRIVE TRAIN

Transmission
Five-speed including Overdrive
Final Drive
Shaft
CHASSIS / SUSPENSION / BRAKES

Front Suspension
45mm cartridge fork with anti-dive system; 4.8 inches travel
Rear Suspension
Pro Arm® single-side swingarm with Pro-Link® single shock with remote-controlled spring preload adjustment, 4.1 inches travel
Front Brakes
Dual full-floating 296mm discs with CBS three-piston calipers
Rear Brake
Single ventilated 316mm disc with CBS three-piston caliper
Front Tire
130/70R-18
Rear Tire
180/60R-16
DIMENSIONS

Rake
29.15°
Trail
109mm (4.3 inches)
Wheelbase
66.5 inches
Seat Height
28.5 inches
Curb Weight
842 pounds (Includes all standard equipment, required fluids and a full tank of fuel—ready to ride)
Fuel Capacity
6.6 gallons
Miles Per Gallon
34 MPG – Miles per gallon values are calculated estimates of fuel consumed during laboratory exhaust emissions tests specified by the EPA, not during on road riding. Use for comparison purposes only. Your actual mileage will vary depending on how you ride and maintain your vehicle, weather, road conditions, tire pressure, cargo and accessories, rider and passenger weight, and other factors.
OTHER

Model Id
GL1800B
Emissions
Meets current California Air Resources Board (CARB) and EPA standards.
Available Colors
Black, Pearl Yellow
FACTORY WARRANTY INFORMATION

Three Years
Transferable, unlimited-mileage limited warranty; extended coverage available with a Honda Protection Plan.

---
2014 Honda Gold Wing F6B GL1800B – Totalmotorcycle.com Canada Specifications/Technical Details
Canadian MSRP Price: $22,999 CDN

Engine Type
Liquid-cooled horizontally opposed six cylinder
Displacement
1,832 cc
Bore & Stroke
74 mm x 71 mm
Compression Ratio
9.8:1
Valve Train
Chain-driven SOHC, 2 valves per cylinder
Fuel Delivery
PGM-FI electronic fuel injection
Transmission
Five-speed including overdrive
Final Drive
Shaft
Front Suspension
45 mm cartridge fork with anti-dive system; 122 mm (4.8 in.) travel
Rear Suspension
Pro-Arm single-sided swingarm with Pro-Link single shock; 104 mm (4.1 in.) travel 130/70R – 18 radial front; 180/60R – 16 radial rear
Tires
130/70R – 18 radial front; 180/60 – 16 radial rear
Brakes
Front dual 296 mm discs with triple-piston calipers; rear 316 mm disc with triple-piston caliper. Dual-Combined Braking System with ABS
Seat Height
725 mm (28.5 in.)
Wheelbase
1,690 mm (66.5 in.)
Curb Weight
385 kg (849 lb) including required fluids and full tank of gas – ready to ride
Fuel Capacity
25 litres
Colour
Black, Red
Warranty
3 year, unlimited mileage, freely transferable warranty; extended coverage available with Honda Plus.

---
2014 Honda Gold Wing F6B GL1800B – Totalmotorcycle.com UK/European Specifications/Technical Details
European MSRP Price: £19,999 GBP
Engine Displacement
1,832cc
Fuel Tank Capacity
25litres (including 4.4L warning light reserve)
Oil Capacity
4.6L
Battery Capacity
12V/20AH
Ignition System
Computer-controlled digital transistorised with electronic advance
Bore × Stroke
74 x 71 mm
Carburation
PGM-FI electronic fuel injection with automatic choke
Type
Liquid-cooled 4-stroke 12-valve SOHC flat-6
Starter
Electric
Cylinder Valves
2
Max. Torque
167Nm/4,000rpm (95/1/EC)
Max. Power Output
87kW/5,500rpm (95/1/EC)
Compression Ratio
9.8: 1

Transmission

Transmission Type
5-speed (including overdrive)
Clutch
Hydraulic, Wet, multiplate with coil springs
Final Drive
Enclosed shaft, 2.750 (33/12) reduction

Dimensions and Weight

Caster Angle
29° 15′
Kerb Weight
385kg (F:179kg; R: 205kg)
Trail
109mm
Ground Clearance
125mm
Dimensions (LxWxH)
2,605 x 945 x1,455mm
Turning Radius
3.3m
Frame type
Diamond; triple-box-section aluminium twin-spar
Seat Height
725mm
Wheelbase
1,690mm

Wheels, Suspension and Brakes

Tyres Front
130/70-R18 (63H)
Wheels Rear
Hollow-section 5-spoke cast aluminium
ABS System Type
Dual Combined ABS (C-ABS)
Rim Size Front
18 x MT3.5
Brakes Rear
316 x 11mm ventilated disc with 3-piston caliper, CBS, ABS and sintered metal pads
Suspension Front
45mm telescopic fork with anti-dive
Suspension Rear
Pro-Link Pro-Arm with electronically-controlled spring preload adjustment
Rim Size Rear
16 x MT5
Tyres Rear
180/60-R16 (74H)
Brakes Front
296 x 4.5mm dual hydraulic disc with Combined 3-piston calipers, ABS, floating rotors and sintered metal pads
Wheels Front
Hollow-section 5-spoke cast aluminium

Specifications, features and prices to change by manufacturer without notice. All information correct as of posted date.