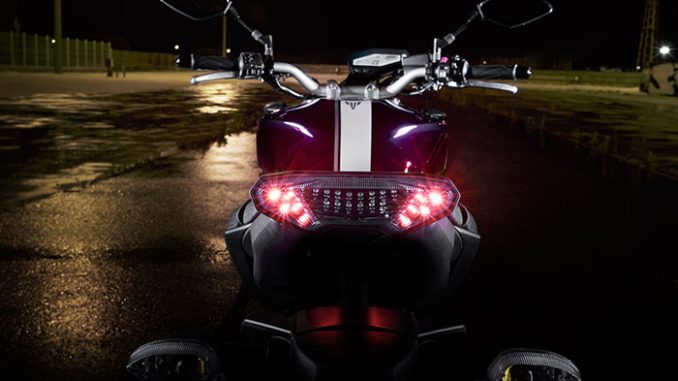 Click photos to enlarge. Our big, clean bike pics make great desktop wallpaper.
2014 Yamaha MT-09 Review

2014 Yamaha MT-09
Discover your Darker Side
Yamaha MT-09 is a whole new concept in sport bike design. With a compact new chassis and high-torque 3-cylinder engine, this new generation performance machine is designed for riders who appreciate character and soul.
The beating heart of this new kind of animal is a lightweight 850cc 3-cylinder engine that kicks out a wide band of raw, linear torque giving outstanding acceleration that gets your adrenaline flowing.
And for agile handling this dynamic new naked motard-style bike is equipped with a compact aluminium chassis and upright riding position that make light work of everything – from weekday urban riding through to Sunday morning blasts.

ALL-NEW YAMAHA MT-09

MT re-loaded
The 2014 model year marks the debut of what is surely one of the most significant new models to be launched by Yamaha in recent years. As well as representing the beginning of a new direction in sport bike evolution, this new machine represents the re-ignition of those forces that shaped the first generation MT models.
With its strong focus on heightened riding emotion, multi-faceted character, naked mass-forward style and outstanding all-round agility, this motorcycle takes Yamaha into new territory.
Created by the same team of engineers that changed the face of the supersport world with the original R1, the all-new MT-09 is ready to challenge the status quo and bring a new kind of performance, together with increased riding emotion and provocative new-wave design to the street.
The embodiment of passion
Ask a selection of riders what Yamaha means to them and you'll get many different answers. Older riders will tell you Yamaha means high-performance 2-stroke twins. Trail riders will say XT or Ténéré. And supersport fans will surely regard the R-series as the bikes that define Yamaha.
Of course, they are all right. Because Yamaha means different things to different people. But there is another word that will always be associated with Yamaha. That word is passion. We build motorcycles because we are motorcyclists. We are totally committed to the two-wheeled world. Just take a look at some of the models we have built over the years and it is clear that they are more than machines. They embody the very soul of the designers and engineers that created them.
Only Yamaha could have produced bikes like the XT500, RD350, Ténéré, VMAX and R1. And only Yamaha could be the driving force behind the new MT-09.

Thrilling torque, leading power-to-weight and naked motard style

Since we built our first motorcycle, the two-wheeled world has changed beyond recognition. Rapidly advancing technology has brought previously unattainable levels of engine and chassis performance to the street. The new Yamaha MT-09 represents the next step in sport bike development. Light, powerful and delivering thrilling performance in everyday conditions, the MT-09 is ready to bring an exciting and addictive new dimension to sport riding.
This 850cc 3-cylinder naked motard-style design is a new kind of animal in the two-wheeled jungle that combines strength with guile. Above all else, the MT-09 is about emotion, character, excitement, agility and control. Its surge of raw, linear torque is available instantly throughout the rev range for adrenaline-charged acceleration.
At the same time as having a wave of characterful torque waiting to be unleashed, this revolutionary new 3-cylinder bike also pushes out serious quantities of class-leading horsepower to give the MT-09 a leading power-to-weight ratio in the upper mid class. Weighing in at less than a Yamaha YZF-R6, this light, powerful and agile motorcycle will prove to be a revelation to those riders brought up on more conventional designs.
Building on the charismatic mass-forward look pioneered by the original MT models, its lightweight naked body shows off the compact engine and focuses attention on the muscular motard look that emphasizes the bike's dynamic image.
The arrival of the MT-09 marks more than just a new chapter in Yamaha's evolution. This new-wave 3-cylinder naked motard offers an exciting new alternative for those riders who understand what the shape of a torque curve means. And sport riding is never going to be the same again.
Inspired by the dark side of Japan
While some onlookers may see Japan as a traditional and respectful society where conformity is the norm, behind this stereotypical image lies a vibrant sub-culture where new fashions and ideas are constantly emerging. From the spectacle of drift racing through to the insanity of Japanese speedway, the other side of Japanese society has been responsible for some wild and wonderful trends. The same creative forces that drive the darker and unconventional side of Japan have inspired and shaped the unique and original MT-09, which is about to change the sport motorcycle world.
MT-09: The next generation sport bike
Raw torque. Motard control. Naked soulbeat. A new excitement.
MT-09 is much more than a next generation sport bike. This game-changing machine represents a whole new direction for Yamaha. With a focus on strong torque delivery, agile handling and total controllability, this all-new 3-cylinder motorcycle is built to deliver exciting and enjoyable motorcycling.
Yamaha now believe that it's time to offer European riders the opportunity to experience a compact high-torque mid-class sport machine that is designed to bring new levels of engine and chassis performance to the street.
The company's decision to diversify into the 3-cylinder class reflects the fact that very many of today's sport riders place a great emphasis on engine character and everyday driveability. While there will always be a place in the market for high-powered 4-cylinder motorcycles, Yamaha believe that the 3-cylinder layout used in the new MT-09 opens up a new world of possibilities.
By combining the best characteristics of both the 4-cylinder engine and the parallel twin, the new lightweight Yamaha 3-cylinder unit offers a new and exciting riding experience to those customers who may be either moving up from the 600cc class, or down from the one-litre class.

Producing class leading torque and high levels of horsepower, together with a throaty exhaust note, this easy-handling mid-class motorcycle takes the sport category into new territory.
European sport bike market background
Within the European marketplace, the demand for sport bikes accounts for around 40% of all sales, making it the largest sector. Despite the economic slowdown in Europe, this particular class has seen strong sales, and Yamaha believe that this trend is set to continue, especially in the 700cc – 999cc class.
A growing number of riders in Europe are appreciating the attractions of a owning a sport bike. Their upright riding position makes them ideal for everyday use together with weekend sport and leisure riding, and their power and handling character makes the easy to handle in a variety of situations.

2014 Yamaha MT-09 Total Motorcycle Key Features

" All-new 3-cylinder sport bike
" 115 hp – 85 Nm
" Wet weight 188kg / ABS 191kg
Dry weight (*) 171kg / ABS 174kg
" Linear and enjoyable torque delivery
" Best power-to-weight ratio in the 700cc+ sport class
" Lighter than a YZF-R6
" Slim and lightweight aluminium chassis
" Naked Motard 'mass-forward' style
" Compact body design
" Upright riding position for maximum control
" Refined ergonomics for a stress free ride
" A new kind of bike to deliver a new level of excitement

2014 Yamaha MT-09 Total Motorcycle Features and Benefits
MT-09 ENGINE

Compact and lightweight liquid-cooled 3-cylinder engine

Without a doubt the most significant feature on the new MT-09 is its all-new 3-cylinder engine, which is the key element that shapes the fundamental character and feel of this new mid-class sport bike. The goals during the intensive development programme were to create a compact and lightweight 3-cylinder engine producing a raw but linear torque output together with strong high rpm power. Attention was also focused closely on achieving a satisfying intake and exhaust note, as well as creating a visually attractive powerplant that would enhance pride of ownership. Furthermore, the MT-09 development team also placed great emphasis on achieving high levels of economy together with good environmental performance.
Featuring a bore and stroke of 78mm x 59.1mm to give a displacement of 847cc, this all-new 4-stroke DOHC 4-valve engine runs with a compression ratio of 11.5:1. Intake valve diameter is 31mm, while exhaust valve diameter is 25mm, and by setting the valves at a narrow angle of only 26.5 degrees, our engineers have been able to keep the combustion chambers ultra-compact for quicker combustion processes and higher torque output.
Forged aluminium pistons are fitted with fracture split (FS) connecting rods for added engineering precision, and the 78mm diameter pistons run in direct-plated cylinders which ensure effective heat dissipation. The MT-09 is also significant for the fact that it is the first multi-cylinder production Yamaha motorcycle to utilize an offset cylinder design.
Yamaha's 'crossplane philosophy' for linear torque output
The MT-09's all-new 3-cylinder engine has been developed to embody the essence of Yamaha's 'crossplane philosophy' which is designed to ensure instant throttle response together with strong low to mid-range torque. One of the inherent characteristics of the 3-cylinder engine design is its linear torque output, and it is this strong and responsive power delivery that defines the fundamental character of the new MT-09.

The all-new engine runs with a 120º crank that delivers a regularly-spaced firing sequence at 0º, 240º and 480º, and it is these even firing intervals that ensure a linear delivery of the massive levels of available torque, together with an exciting and satisfying high rpm power feeling. Compared to an in-line 4-cylinder engine with a 180º crank, the MT-09's 3-cylinder powerplant transmits a stronger feeling of combustion torque to the rider because its combustion torque waves and composite torque waves are virtually identical.
The MT-09's 3-cylinder design is also inherently lighter, slimmer and more compact when compared to parallel 4-cylinder designs, being around 10kg less than the Yamaha FZ8. This has given our designers greater freedom to produce a correspondingly compact and agile-handling sports chassis. Overall engine width has also been minimized by pressure inserting the gears on the crank web, a process which allows the space between the cylinders to be reduced.
Compact counter-balancer for smoother running
To minimize unwanted vibration while still allowing MT-09 riders to enjoy the engine's strong power pulses, the powerplant is equipped with a primary coupled-force counter rotating balancer.
All-new 6-speed transmission with optimized ratios
In order to maximize the potential of the engine's linear torque output, Yamaha's engineers have developed an all-new transmission which is specifically designed to match the unique engine character of the MT-09. To handle the wave of low to mid-range torque, the MT-09 runs with a relatively high primary reduction ratio of 1.708 (FZ8 = 1.512), and both the secondary reduction ratio and also the ratios of the 6 gears are also set to optimize the bike's driveability in everyday riding conditions. The new transmission complements both the engine's instantaneous throttle response as well as its strong low to mid-range torque, to give rapid acceleration and a sporty and exciting riding experience.
Yamaha's designers have also focused their efforts on space efficiency, and the new 6-speed transmission is very compact. Together with the reduced dimensions of the 3-cylinder engine, this new gearbox design has allowed the use of a light and compact chassis.
Fuel Injection (FI)
The Fuel Injection (FI) system features twelve-hole injectors which are designed to deliver an atomized fuel spray with a droplet size of only a few microns. These injectors are attached directly to the 4-valve cylinder head, a design which ensures the highly precise injection of fuel directly at the valve skirt to give good fuel efficiency. An added advantage of positioning the injectors directly onto the head is that it allows the use of shorter throttle bodies which contribute towards achieving high rpm intake efficiency.
240km-plus riding range
Another significant aspect of the fuel system is the use of a compact and lightweight fuel pump, which allows the use of a slim 14-litre fuel tank. With its efficient fuel injection system and YCC-T, the MT-09 offers a potential range from the 14-litre tank of 240km or more depending on the conditions.

Unequal length intake funnels

Another feature which is designed to enhance the engine's strong torque characteristics is the downdraft intake system which utilizes three intake funnels of unequal length. The first funnel is 102.8mm long, the second is 82.8mm and the third is 122.8mm, and these different intake passage lengths create slightly different conditions in each cylinder head to create complementary power and torque curves. Combined with the highly efficient torque-boosting YCC-T system, these intake funnels help to make the MT-09 such a versatile and enjoyable motorcycle which feels at home whether commuting to work in the week or going for a Sunday morning run on twisty country roads. There's also the added bonus that these unequal length funnels also make a gutsy intake sound which, together with the exhaust system, gives the MT-09 a unique and sensual sound.
Efficient Yamaha Chip Controlled Throttle (YCC-T)
Yamaha's engineers set out to build a motorcycle that would deliver instant engine response in order to achieve high levels of rider/machine unity. One of the major factors in being able to achieve this level of controllability is the use of a Yamaha Chip Controlled Throttle (YCC-T) which is derived from our YZF-R series supersport models. This 'fly-by-wire' system senses every throttle action made by the rider, and the ECU instantaneously actuates the throttle valve to give an immediate engine response. Such is the speed of this chip controlled system that it gives the feeling that the MT-09's engine is an extension of the rider's right wrist that can be controlled at will, giving added riding confidence – particularly when instant acceleration is required.
Yamaha D-MODE: select the soul you want
To give the MT-09 rider the bike – and the excitement – he or she needs in different riding situations, this new motorcycle is equipped with the Yamaha D-MODE system. The rider has a choice of three different throttle valve control mapping settings, STD Mode, A Mode and B Mode.
STD Mode has been designed to be used in a wide range of riding and road conditions, and it allows the rider to enjoy the 3-cylinder engine's linear torque output and top performance right through the bike's rpm range, from low to high engine speeds.
With the A Mode the MT-09 engine delivers the maximum level of adrenaline. This setting gives a sharper throttle response in the low to mid speed range for a harder-hitting character with a more aggressive sport riding experience.
Finally, the B Mode delivers a milder throttle response with easy-to-use power characteristics which are perfect for riding in the city or in adverse road or weather conditions.
Concealed 3-into-1 exhaust
The MT-09 is fitted with an integrated single-piece 3-into-1 exhaust system and short muffler featuring three internal expansion chambers. The stubby muffler emits a pleasing sound that highlights the bike's unique character, and its concealed under-slung location contributes towards the centralization of mass, which in turn helps to ensure light and responsive handling performance.
To achieve a strong exhaust pulse effect, the three stainless steel exhaust pipes feature connecting tubes between pipes 1 and 2, and between pipes 2 and 3 – and the pipes are also treated with a Nanofilm coating that helps to keep the system looking factory-fresh by preventing discolouration, rust and stains.
Extensive space-saving measures and weight-reduction features
Weight saving and space saving designs have been used extensively on this new-generation machine, making this the one of the lightest sport bikes in the over 700cc class, at 188kg wet/171kg dry(*). As a comparison, the MT-09 is lighter than the YZF-R6, a supersport machine recognized as being one of the most agile in its class.
A specially-designed oil pan enables the three exhausts to run tightly against the engine to give a deep banking angle of 51º, allowing the MT-09 rider to enjoy supersport-levels of cornering performance. The irregular shape of the pan – which tapers towards the base – also helps to reduce surface fluctuations and bubble formation in the oil during sudden machine movements, which helps ensure effective lubrication.
Further weight savings are made with the use of an innovative new 'half-nut' cam-chain tensioner which is lighter and more compact than traditional designs, and also features fewer working parts.
Another weight saving feature is the integrated breather chamber, which is built into the cylinder head cover. Excess internal engine air pressure is vented via the breather into the air cleaner, whereas on other models these chambers are usually situated behind the crankcase. Locating the MT-09's breather closer to the air cleaner reduces pipe length for a lighter and tidier-looking engine.
Some creative thinking has also been applied to the design of the cooling system, and the MT-09 features a greatly simplified coolant hose layout. By adjusting the relative positions of the radiator, water pump and thermostat, our engineers have been able to reduce considerably the amount of hose required, giving lower weight and improved appearance. The newly designed coolant system now features a thermostat at the point where the coolant enters the engine. During cold starts the thermostat restricts water circulation to the water jacket only, giving shorter warm-up times with increased fuel efficiency and quicker catalyzer activation for reduced emissions.
Engine technical highlights
" 850cc liquid-cooled 4-stroke 3-cylinder DOHC 4-valve
" 'Crossplane philosophy' for linear torque output
" 115hp @ 10,000rpm
" 87,5 Nm @ 8,500rpm
" 78mm x 59.1mm bore x stroke
" 120º crank with firing sequence at 0º, 240º and 480º
" Narrow angle valves with 11.5:1 compression ratio
" Compact counter-balancer
" Fuel injection with YCC-T
" High fuel efficiency and 14-litre tank give 240km+ range
" Forged aluminium pistons and direct-plated cylinders
" Offset 3-cylinder layout
" Downdraft intake with unequal length funnels
" Newly-designed 6-speed transmission with compact clutch
" Pipeless design for cooling systems
" Single unit-type exhaust pipe and 3-into-1 muffler
" Compact oil pan allows 51º bank angle
" Yamaha D-mode switchable mapping
" Compact and lightweight engine weighs only 60kg
MT-09 CHASSIS
All-new lightweight and compact CF aluminium die-cast frame
In order to enable the rider to optimize the performance characteristics of the new high-torque 3-cylinder engine, the MT-09 runs with an all-new compact and lightweight aluminium chassis. The space-saving and weight-reducing features employed on the new engine have given our designers great freedom in the design of the frame.
Its structure consists of CF aluminium die-cast left and right halves which, like the MT-01 frame, are bolted together at the head pipe and rear pivot areas. Compared to a 4-cylinder model in the same capacity class – such as the FZ8 – the MT-09 achieves overall weight savings of around 10kg in the engine and a further 10kg in the chassis, making it one of the lightest sport bikes in the 700cc+ class at only 188kg wet.
Compact overall dimensions with mass-centralization features

One of the key goals in the MT-09 development project was to create a machine that gives the rider increased levels of pleasure and enjoyment by being able to control the machine at will. More than any other form of transport, a well-designed motorcycle should feel like an extension of the body.
By carefully selecting such dimensions as the wheelbase, seat height, caster angle and overall riding position, Yamaha's designers have been able to produce a compact and easy handling chassis which responds accurately to every rider input. The MT-09's natural handling qualities are also enhanced by the efforts to centralize mass with the use of a low-level under-slung muffler, and an almost horizontal rear shock absorber. As well as their positive effects on handling performance, the location of these major components also contributes towards the MT-09's slim and compact body design.
CF aluminium die-cast asymmetric swingarm with externally mounted pivots
The swingarm is a CF aluminium die-cast design with the left and right sides welded together with extruded aluminium cross members, and this design gives the desired rigidity balance and minimizes unsprung weight for responsive and comfortable suspension action.
In order to achieve our goal of building a compact chassis, the swingarm's pivot assembly is located on the outside of the frame in a system similar to that used on the MT-01. This reduces the chassis width in the footrest area to that of a typical parallel twin cylinder machine, and gives a slimmer and more agile feel to the whole motorcycle.
Adjustable front and rear suspension systems
The MT-09 is equipped with newly-designed upside down front forks which are equipped with flex-resistant 41mm tubes that deliver progressive and plush suspension characteristics. These new forks offer 137mm of wheel travel – 7mm more than the FZ8 – to give high levels of riding comfort and responsive steering on a variety of road surfaces from cobblestones through to fast twisties. A cast aluminium handlebar crown and forged aluminium lower triple clamp help to minimize the MT-09's weight, and the new front forks can be adjusted for rebound damping.
At the rear the MT-09 runs with an innovative new link-type Monocross suspension design which incorporates an almost horizontal shock positioned beneath the seat. The location of the shock not only contributes towards the bike's centralization of mass which helps to enhance handling – it also makes for a slimmer chassis layout, and the under-seat location protects the shock and linkage from the road dirt to help reduced wear and tear. Featuring rebound damping and preload adjustment, this rear suspension can be fine-tuned to suit a range of riding conditions and preferences.
Twin 298mm floating front discs with radial-mount calipers
To underline its high overall chassis specification, the MT-09 is equipped with a newly-designed braking system which is designed to offer accurate initial feel. Twin floating 298mm front discs are operated by radial-mount calipers with 4-pot opposed piston calipers that deliver strong and consistent braking performance. This advanced new set up is also equipped with a high specification master cylinder and brake hoses, and for increased fade-resistance, sintered pads are fitted as standard equipment. At the rear the MT-09 runs with a 245mm disc and pin-slide type caliper offering plenty of feel and easy controllability.
All-new lightweight 10-spoke wheels with radial tyres
To emphasize the MT-09's compact and agile character and also to accentuate the 'mass-forward' image, this new-generation sport bike is fitted with new cast-aluminium 10-spoke wheels. Their lightweight construction minimizes the bike's unsprung weight for responsive suspension characteristics, and the new wheels are equipped with new radial tyres that have been developed jointly with the manufacturer. At the front is a 120/70ZR17 tyre, while the rear wheel runs with a 180/55ZR17tyre for high levels of handling stability and traction.
Stress-free ergonomics for an upright and 'slim-fit' riding position
The MT-09's ergonomics have been specifically developed to give riders of varying sizes the freedom to adopt a riding position that suits their style and situation.
One of the most significant features contributing towards the relaxed riding position is the 400mm long seat which has an almost flat profile. Its length and shape allow the rider to shift their riding position to different scenarios, and a frosted-pattern on the front section gives excellent grip.
The 14-litre steel fuel tank has been manufactured using a new process which achieves extremely tight curves which were previously not possible to sculpt in a steel design. The new tank is also very slim in the area close to the seat, and incorporates deeply recessed knee grip areas which enable the rider to adopt a compact riding position for increased comfort.
A lightweight wide tapered handlebar design is used for the first time on a Yamaha sport bike, and to create a natural and upright riding position, is mounted relatively high on the aluminium crown.
High quality lighting, instruments and components
An all-new asymmetrically-mounted lightweight LCD instrument panel features a digital bar display for the tachometer, and the panel also includes a useful gear position indicator.
A slide-type electric starter button incorporates the cut off switch, and the MT-09's new switch box is the lightest and most compact design ever used on a Yamaha.
Compact hexagonal-type rear view mirrors emphasize the compact 'mass-forward' body design and complement the overall contemporary style of the MT-09.
The bike's high specification is underlined with the use of forged aluminium brake and shift pedals and footrests. The angular headlight features a multi-reflector design, and a new-style LED tail light – inspired by MT-01 – features separate left and right side lamps when the lights are turned on, while the whole surface lights up during braking.
Chassis technical highlights
" Lightweight frame featuring CF aluminium die-cast components
" Lightweight CF aluminum die-cast asymmetric swingarm
" Externally-mounted swingarm pivots for reduced chassis width
" 188kg wet weight, 171kg dry(*) weight
" Link-type Monocross rear suspension with horizontal shock
" Upside-down forks with 41mm tubes
" Newly-designed lightweight 10-spoke cast aluminium wheels
" 17-inch radial tyres front and rear
" 14-litre 'slim-fit' steel fuel tank with depression in knee grip area
" Dual floating 298mm front discs
" Radial-mount 4-pot opposed piston calipers
" Sintered brake pads
" 400mm long flat seat giving range of riding positions
" Multi-reflector headlight
" Forged aluminum brake and gear shift pedals
" LED tail light with separate left and right side lamps with full-surface lighting for braking only
" Newly-designed hexagonal rear view mirrors
" Lightweight LCD instrument panel
" All-new compact switchgear
Genuine Yamaha Accessories

To underline the MT-09's versatility and multi-role character, Yamaha have designed a unique range of stylish and functional genuine Yamaha accessories that will be available at the same time as the machine is introduced into the market.
This comprehensive line up of accessories has been specially created to satisfy the different needs of a broad spectrum of customers, from the most sport-oriented riders through to those looking for functional solutions. Each accessory has been specifically designed around the new MT-09, enabling the owner to customize this new generation sport bike for increased riding enjoyment and enhanced everyday practicality.
Full details of the accessories range will be revealed nearer the MT-09's availability date in the market.
A new bike. A new experience. A new direction.
In Yamaha's long and illustrious history, the company has been responsible for creating some of the most innovative and ground-breaking motorcycles that have gone on the capture the imagination of a whole generation of riders. Right from the launch of the company's very first motorcycle, Yamaha has always set out to create inspirational new models that are designed to bring a special feeling of enjoyment and satisfaction.
Throughout the past six decades Yamaha has continued to push the boundaries of motorcycle design with new concepts, new technologies and new directions. Yamaha is ready to break new ground and open up a new chapter in the company's history with the launch of the MT-09 3-cylinder sport bike. Totally new from the ground up, this new generation sport bike has been engineered to deliver a whole new riding experience where the focus is on controllability, torque and agility.
MT-09 from Yamaha. A new era begins.
Colours
Deep Armor with MT fuel tank logo graphic
Blazing Orange with MT fuel tank logo graphic
Race Blu
Matt Grey

The MT-09 offers a significant level of power and performance. It is not intended for novice or inexperienced riders.
---
2014 Yamaha MT-09 – Total Motorcycle USA Specifications/Technical Details
US MSRP Price: MSRP $NA

See 2014 Yamaha FZ-09

---
2014 Yamaha MT-09 – Total Motorcycle Canadian Specifications/Technical Details
Canada MSRP Price: $NA

See 2014 Yamaha FZ-09
---
2014 Yamaha MT-09 – Total Motorcycle UK/Europe Specifications/Technical Details
UK/European MSRP Price: £6,799.00.

TECHNICAL SPECIFICATION 2014 – MT09

ENGINE
Type Liquid cooled,4-stroke,DOHC,4-valve
In-line,3-cylinder
Displacement 847cm3
Bore & stroke 78.0×59.1mm
Compression ratio 11.5 ? 1
Maximum horse power 84.6kW(115HS)/10000r/min
Maximum torque 87.5N?m(8.9kgf?m)/8500r/min
Starting system type Electric
Lubrication system Force-feed lubrication,wet sump
Clutch type Wet, multiple-disc
Ignition system TCI
Starter system Electric
Transmission system Constant mesh, 6-speed
Final transmission system Chain drive
Primary reduction ratio 1.681 (79/47)
Secondary reduction ratio 2.813 (45/16)
Gear ratio 1st gear 2.667 (40/15)
Gear ratio 2nd gear 2.000 (38/19)
Gear ratio 3rd gear 1.619 (34/21)
Gear ratio 4th gear 1.381 (29/21)
Gear ratio 5th gear 1.190 (25/21)
Gear ratio 6th gear 1.037 (28/27)

CHASSIS
Frame Diamond
Front suspension Telescopic forks
Front wheel travel 137 mm
Rear suspension Swingarm (Link Suspension)
Rear wheel travel 130 mm
Caster angle 25º
Trail 103 mm
Front brake Dual hydraulic disc brake, Ø 298 mm
Rear brake Hydraulic disc brake, Ø 245 mm
Front tyre 120/70ZR17M/C (58W) (Tubeless)
Rear tyre 180/55ZR17M/C (73W) (Tubeless)

DIMENSIONS
Overall length 2,075mm
Overall width 815mm
Overall height 1,135mm
Seat height 815mm
Wheelbase 1,440mm
Min. ground clearance 135mm
Wet weight (including full oil and fuel tank) 188 kg / ABS 191 kg
Fuel capacity 14 litres
Oil capacity 3.4 litres
Specification are subject to change without notice, in accordance with national regulation and legislations
---
2014 Yamaha MT-09 – Total Motorcycle Australian Specifications/Technical Details
AU MSRP Price: See dealer for pricing AUD

Details to follow shortly.
Specifications, features and prices to change by manufacturer without notice. All information correct as of posted date.