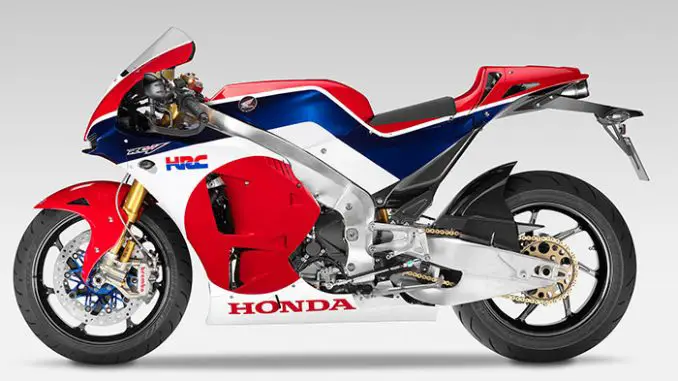 Click photos to enlarge. Our big, clean bike pics make great desktop wallpaper.
2015 Honda RC213V-S Prototype Review

2015 Honda RC213V-S Prototype on www.Totalmotorcycle.com
Road going RC213V-S Prototype…
Developed by Honda Racing Corporation (HRC) and Honda Motor, the RC213V-S is a road going prototype of the awesome Championship winning MotoGP RC213V machine. Inspired by, and developed with input from many legendary GP riders, the RC213V-S Prototype is set to be the ultimate road going motorcycle.
Two machines have been presented; a static bike painted with a distinctive Japanese flag to mark 100 years of the EICMA show, along with a fully functioning, running version clothed in full carbon-fibre, fittingly ridden onto the stage by 2013/14 MotoGP champion, Marc Marquez.
EICMA November 2014 Press Release – Two Prototypes unveiled
Two Prototypes unveiled, plus new models and paint options for 2015
•Road going RC213V-S Prototype revealed
•True Adventure Prototype revealed

Honda today reveals its full 2015 motorcycle line up, looking back to the past by celebrating a long manufacturing heritage and, simultaneously, forward into the future with a glimpse of two stunning Prototypes.
Honda has always worked to produce motorcycles and scooters that inspire dreams and expand horizons. Adding an engine to two wheels creates a machine that connects the rider to true emotion, excitement and a world full of adventure and experience.
And Honda's desire to encourage new riders – in particular a younger demographic – to the world of motorcycling continues. Core elements of this approach include fifteen A2 licence models on offer, with eight* bikes equipped with Honda's unique Dual Clutch Transmission (DCT). DCT technology has enjoyed growing popularity in the market, with over 30% of riders choosing the DCT option, where available, in 2014.

2015 Honda RC213V-S Prototype www.Totalmotorcycle.com Key Features

2015 Honda RC213V-S Prototype www.Totalmotorcycle.com Features and Benefits
---
2015 Honda RC213V-S Prototype – www.Totalmotorcycle.com Specifications/Technical Details
MSRP Price: $




All specifications are provisional and subject to change without notice.

# Please note that the figures provided are results obtained by Honda under standardised testing conditions prescribed by WMTC. Tests are conducted on a rolling road using a standard version of the vehicle with only one rider and no additional optional equipment. Actual fuel consumption may vary depending on how you ride, how you maintain your vehicle, weather, road conditions, tire pressure, installation of accessories, cargo, rider and passenger weight, and other factors.