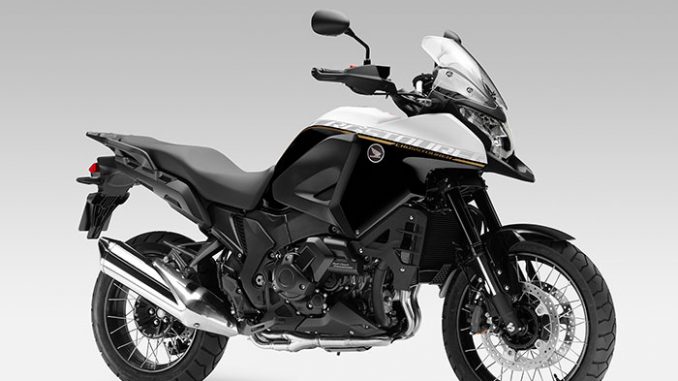 Click photos to enlarge. Our big, clean bike pics make great desktop wallpaper.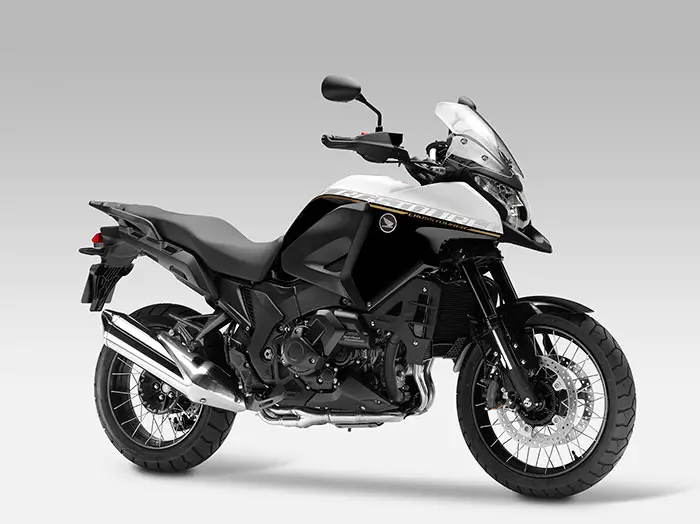 2015 Honda VFR1200X Crosstourer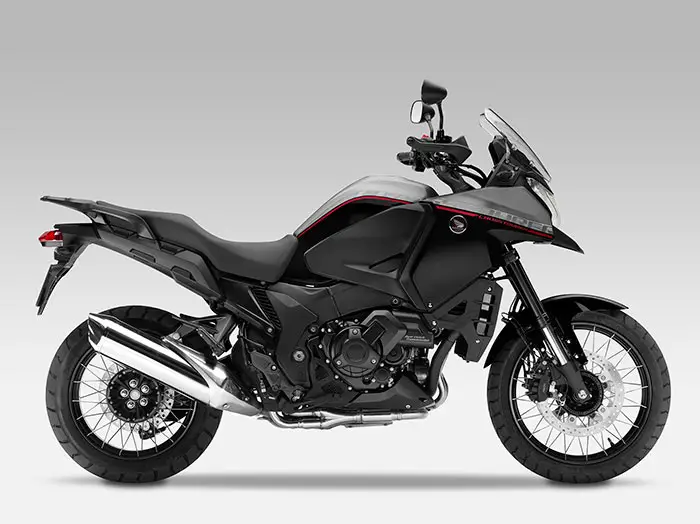 2015 Honda VFR1200X Crosstourer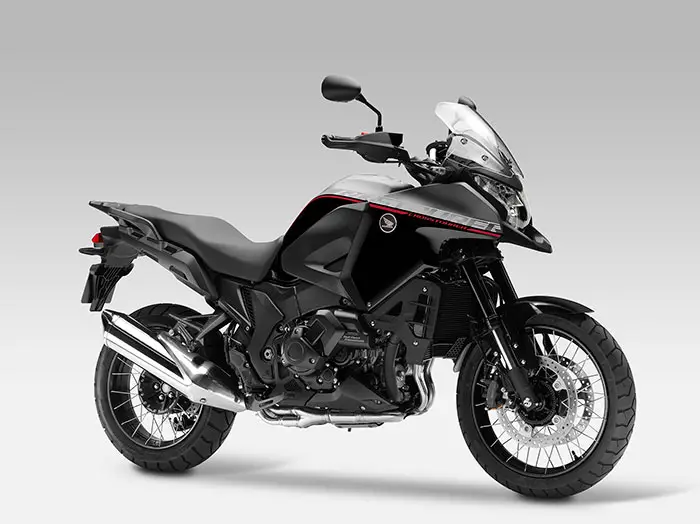 2015 Honda VFR1200X Crosstourer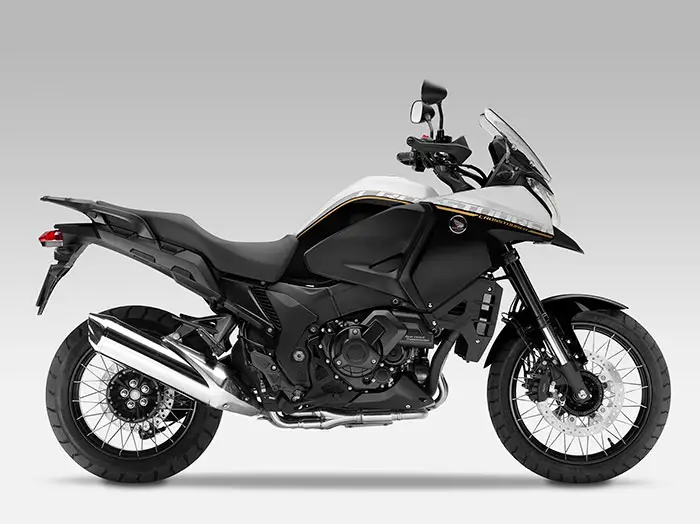 2015 Honda VFR1200X Crosstourer
2015 Honda VFR1200X Crosstourer Review

2015 Honda VFR1200X Crosstourer on www.Totalmotorcycle.com
Challenge and Explore…
The VFR1200X Crosstourer, launched in 2012, is Honda's range-topping adventure sports touring motorcycle. The original design team, led by Large Project Leader Yosuke Hasegawa, set out to create a machine that gave the rider a sense of challenge and the facility to explore.
Equipped with a 1,237cc V4 engine, advanced chassis and electronic package – Combined ABS, Traction Control System (TCS) and the option of Honda's Dual Clutch Transmission (DCT) gearbox – the Crosstourer firmly planted a flag at the high-performance end of the adventure segment.
As a go-anywhere, do-anything tool it has few peers – but its real difference lies in the addictive power and soundtrack produced by its soulful V4 engine, something unique in this class.
In 2014 the VFR1200X Crosstourer received improved comfort, evolved its existing technology and applied new touches. With Honda's Selectable Torque Control, the system allows the rider to select three different levels to control engine torque and resultant drive to the rear wheel; the system can also be switched off. Honda's six-speed DCT gearbox received software refinements to deliver an even more intuitive and natural performance, whether on highway or back road.
Honda's unique new self-cancelling indicators were also fitted.
The seat was modified to improve rider comfort and facilitate easier ground reach and a 'wave' design ignition key was set as standard.
2015 Honda VFR1200X Crosstourer www.Totalmotorcycle.com Key Features

For 2015 the VFR1200X Crosstourer paint schemes include new Special Edition Digital Silver Metallic and Pearl Glare White colour schemes.
2015 Honda VFR1200X Crosstourer www.Totalmotorcycle.com Features and Benefits
Engine
The Crosstourer's engine continues Honda's proud heritage with V4 technology, with its uniquely smooth, flexible delivery of impressive power and torque. Offering precise control of this power thanks to its throttle-by-wire system, and an engaging, characterful sound – due partly to carefully-sized chambers in the exhaust – the Crosstourer's engine is integral to its appeal.
The V4 configuration is slim and compact, reducing frontal area and aiding mass centralisation. It also features a very closely set pair of rear cylinders, making the engine narrower at the back. Further contributing to the 1,237cc, 16-valve engine's compact dimensions is Honda's Unicam technology, also used on the CRF range of motocross machines. This SOHC configuration helps reduce the size and weight of the cylinder heads, and optimise combustion chamber shape.
PGM-FI fuel injection employs 44mm throttle bores and fly-by-wire technology for precise throttle control. Peak power of 95kW arrives at 7,750rpm, with peak torque of 126Nm at 6,500rpm.
A combination of a 76° angle between the two banks of cylinders and a crankshaft with 28° phasing between the crankpins virtually eliminates vibration. Since there's no need for a power-sapping balancer shaft the result is higher output, and uneven firing intervals give an intimate connection to the engine.
The Honda Selectable Torque Control constantly monitors front and rear wheel speed; when it senses a certain difference in speed between front and rear wheels, engine torque is momentarily reduced by a combination of ignition cut and modulation of the throttle butterflies through the throttle-by-wire system. As the difference in speed between front and rear wheels reduces, the system transitions into modulating only the throttle butterflies. This ensures a seamless, unobtrusive control. The system features 3 modes of operation for the rider to choose depending on road conditions. It can also be switched off.
Dual Clutch Transmission
Available as an option on the Crosstourer, Honda's DCT gearbox offers a unique combination of direct riding feel and ease of use. A world first for motorcycles when launched on the VFR1200F in 2010, it delivers consistent, seamless gear changes, and very quickly becomes second nature in use.
The system uses two clutches: one for start-up and 1st, 3rd and 5th gears: the other for 2nd, 4th and 6th, with the mainshaft for each clutch located inside the other for compact packaging. Each clutch is independently controlled by its own electro-hydraulic circuit. When a gear change occurs, the system pre-selects the target gear using the clutch not currently in use. The first clutch is then electronically disengaged as, simultaneously, the second clutch engages.
The result is a consistent, fast and seamless gear change. Furthermore, as the twin clutches transfer drive from one gear to the next with minimal interruption of the drive to the rear wheel, any gear change shock or pitching of the machine is minimised, making the change feel direct as well as smooth. The Crosstourer's ride-by-wire technology allows the system to electronically "blip" the throttle on downshift for even smoother, faster gear changes.
With extra benefits such as durability (as the gears cannot be damaged by missing a gear), impossibility of stalling, low stress urban riding, and reduced rider fatigue, DCT has seen increasing acceptance in the market: 55% of Crosstourer customers chose the DCT option across Europe in the first nine months of 2014.
Three modes of operation are available. MT mode gives full manual control, allowing the rider to shift with the handlebar trigger control buttons. Automatic D mode is ideal for city and highway riding, and achieves optimum fuel efficiency. Automatic S mode is sportier and the ECU lets the engine rev a little higher before shifting up, giving greater performance. It also shifts down sooner when decelerating for extra engine braking.
In either D or S mode DCT offers immediate manual intervention if required – the rider simply selects the required gear using the up and down shift triggers. At an appropriate time DCT seamlessly reverts back to automatic mode, depending on throttle angle, vehicle speed and gear position.
Furthermore, in "D" mode, the DCT system detects variations in rider input typical to certain environments, from busy urban streets to mountain switchbacks, and adapts its gear change schedule accordingly to create an extra level of riding compatibility.
In 2014 upgrades to the software and operating logic ensured an even more intuitive system; downshifts in D and S mode happened earlier for a more responsive feel and extra engine braking, making corner entry natural. Kick down was also smoother thanks to remapping of the ECU.
Chassis
The VFR1200X Crosstourer has relaxed riding ergonomics. Seat height is 850mm but thanks to the narrow profile it's an easy motorcycle to straddle, with good ground reach.
The diamond aluminium twin-spar frame is a hollow unit that employs quartered construction – this enables very precise control over the all-important weight/rigidity balance of each part of the frame. Rake is set at 28° with trail of 107mm and 1,595mm wheelbase. Kerb weight is 275kg, 285kg for DCT version.
Designed to excel on hugely varied road surfaces the front and rear suspension offer generous amounts of controlled, bump-absorbing travel. The 43mm inverted fork offers reassuring control with precise steering and stability, even during hard cornering and heavy braking.
And Pro-Link rear suspension combines excellent traction with refined ride quality. Both the fork and gas-charged shock are adjustable for rebound damping and spring preload, allowing riders to alter characteristics to suit their riding style and intended usage.
Spoked wheels are designed to absorb the shocks generated by rough road surfaces and work with the suspension to deliver a comfortable ride quality. Tubeless tyres – 110/80-R19 front and 150/70-R17 rear – balance keen, agile handling with traction.
Combined ABS works between the dual front 310mm discs/three-piston calipers and rear 276mm disc/twin-piston caliper. It delivers balanced braking for more stable deceleration and the extra reassurance of an Antilock Brake System. If either wheel is about to lock up and slide, C-ABS momentarily reduces the hydraulic pressure being applied to the relevant brake and distributes the force optimally between both wheels, ensuring powerful and secure braking in all conditions.
Adding to its adventure appeal the frame, fork legs, single-sided swing arm, tail section and front fender are blacked out, complementing the four
colours (two standard and two SE).
Digital Silver Metallic (Special Edition colour)
Pearl Glare White (Special Edition Colour)
Matt Pearl Glare White
Pearl Cosmic Black
4. Accessories
5-stage heated grips with indicator, replacing the previous 3-stage design, are now available from Honda Genuine Accessories. A new waterproof rear top box does away with the zip expander and, 60mm deeper, can take a full-face helmet. And an accessory low seat reduces the seat height by 20mm to 830mm.
Other Honda Genuine Accessories for the Crosstourer include:
Pannier set. Specially designed and fully integrated 35L (RH) and 39L (LH) square panniers. The left pannier can contain most helmets; the set fits directly to the motorcycle and matches the top box.
Main stand. Allows more secure parking and also facilitates cleaning and rear wheel maintenance.
Cowl ornament kit. Tubular anodised aluminium kit developed to emphasise the bike's rugged appearance. Also serves as a front LED fog lamp stay.
Front LED fog lamp kit. Pair of LED fog lights which mount on the cowl ornament kit. Combines a very bright beam with minimal power consumption and a long lifetime. Control button integrates nicely in the motorcycle's fairing.
Touring screen, 145mm higher than standard screen.
Side deflector kit. Set of left and right deflectors that protect the rider and pillion from the elements and reduce turbulence. Made from black polyurethane.
12V DC socket kit, positioned under the seat.
Outdoor cycle cover – protects the bike from the elements.
Averto Alarm Kit. A compact alarm unit with 118dB siren and back-up battery. Low consumption sleep mode to protect the battery from draining. Features a movement and shock detector with 8 sensitivity modes.
Tank pad.

---
2015 Honda VFR1200X Crosstourer – www.Totalmotorcycle.com USA Specifications/Technical Details
US MSRP Price: $ USD



---
2015 Honda VFR1200X Crosstourer – www.Totalmotorcycle.com Canadian Specifications/Technical Details
Canada MSRP Price: $ CDN
---
2015 Honda VFR1200X Crosstourer – www.Totalmotorcycle.com European/UK Specifications/Technical Details
UK/European MSRP Price: £ See Dealer for Pricing in GBP (On The Road).
ENGINE
Type Liquid-cooled 4-stroke Unicam 16-valve 76° V4
Displacement 1,237cc
Bore x Stroke 81mm x 60mm
Compression Ratio 12:1
Max. Power Output 95kW @ 7,750rpm (95/1/EC)
Max. Torque 126Nm @ 6,500rpm (95/1/EC)
Oil Capacity
FUEL SYSTEM
Carburation PGM-FI electronic fuel injection
Fuel Tank Capacity 21.5L
Fuel Consumption 16.7km/litre
(Tested in D-Mode WMTC mode)
ELECTRICAL SYSTEM
Starter Electric
Battery Capacity 12V/11.2AH (YTZ14S)
DRIVETRAIN
Clutch Type Manual: Wet, multiplate
DCT: Wet multiplate, hydraulic 2-clutch
Transmission Type 6-speed
Final Drive Enclosed shaft
FRAME
Type Diamond; aluminium twin-spar
CHASSIS
Dimensions (LxWxH) 2,285mm x 915mm x 1,335mm
Wheelbase 1,595mm
Caster Angle 28°
Trail 107mm
Seat Height 850mm
Ground Clearance 180mm
Kerb Weight Manual: 275kg
DCT: 285kg
SUSPENSION
Type Front 43mm inverted telescopic forks with hydraulic damping, preload and rebound damping adjustment
Type Rear Pro-Link with gas-charged damper, preload and stepless rebound damping adjustment
WHEELS
Type Front Tube less spoked
Type Rear Tube less spoked
Rim Size Front 19M/C x MT2.50
Rim Size Rear 17M/C x MT4.00
Tyres Front 110/80-R19
Tyres Rear 150/70-R17
BRAKES
ABS System Type Combined ABS
Type Front Dual 310mm disks
Type Rear Single 276mm disk
INSTRUMENTS & ELECTRICS
Instruments Fuel, engine temperature, bar-type tachometer, odometer, two trip meters, remaining fuel, fuel consumption (both actual and average), range to empty, a gear position indicator, a clock and the currently selected Dual Clutch Transmission mode (if applicable). This instrument panel is also adjustable for brightness
Headlight 55W x 1 (Hi)/55W x 1 (Low)


All specifications are provisional and subject to change without notice.

# Please note that the figures provided are results obtained by Honda under standardised testing conditions prescribed by WMTC. Tests are conducted on a rolling road using a standard version of the vehicle with only one rider and no additional optional equipment. Actual fuel consumption may vary depending on how you ride, how you maintain your vehicle, weather, road conditions, tire pressure, installation of accessories, cargo, rider and passenger weight, and other factors.