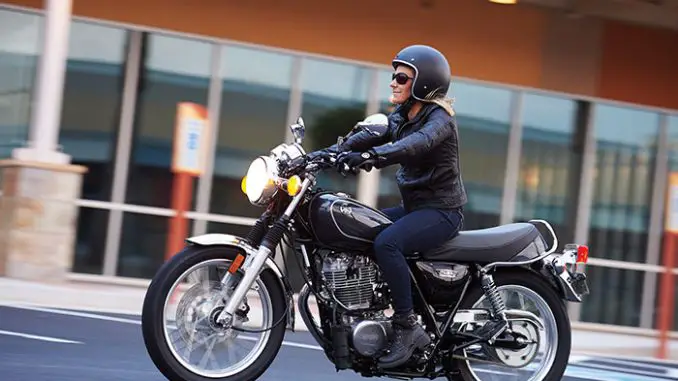 Click photos to enlarge. Our big, clean bike pics make great desktop wallpaper.
2015 Yamaha SR400 Review

2015 Yamaha SR400 on Totalmotorcycle.com
Everything old is new again…
The new SR400 is a legendary classic that's a kick to ride. With it's retro 1970s styling and one of the best performing 399cc air-cooled engines, the SR400 embodies the true meaning of the saying "Everything old is new again." Jump on, give the kickstarter a stab, and you will be on your way.

Unlike some retro bikes that are modern interpretations of older designs, the SR400 is an authentic living classic which has been
constructed to virtually the same specification as the original model. With its air-cooled engine and twin-shock chassis, this timeless big single represents a return to motorcycling's core values.

Start with a 399cc air-cooled 4-stroke single-cylinder engine with one intake valve, one exhaust valve, and one exhaust pipe – timeless simplicity. Add a slim chassis with a natural riding position that delivers sporty relaxed handling. What you get is an authentic design and pure mechanical beauty that makes the SR400 a true classic, from any angle.

The Yamaha SR400 has stood the test of time like no other model. It represents everything that is good about motorcycling. And the same core values that appealed to yesterday's motorcyclists are ready to inspire today's generation of riders who appreciate retro style with proven technology like fuel injection, high-tensile steel semi-double cradle frame that doubles up as an oil tank, plush suspension, and an easy-to-start air-cooled 4-stroke single-cylinder engine.

The big single has always held a special place in the hearts of motorcyclists but kick starting a big single can be a challenge. Yamaha engineers have made kick starting the SR400 a breeze using a decompressor and piston position indicator.

This timeless retro just oozes charm and authenticity wherever you look. And as the basis for creating your own café racer, bobber or street scrambler, the SR400 offers endless possibilities.

The Yamaha SR400 has stood the test of time like no other model.
It represents everything that is good about motorcycling. And the same core values that appealed to yesterday's motorcyclists are ready to inspire today's generation of riders who appreciate retro style and proven technology.
The moment that you kick start the SR400 you can feel that this is something special. From the thumping exhaust sound to the strong power pulses, this big single feels alive.
Its slim chassis and natural riding position deliver sporty relaxed handling. And the authentic design and pure mechanical beauty make the SR400 a true classic, in every sense.

35 years heritage. Built to customize.
The big single has always held a special place in the hearts of motorcyclists. And when we launched the original Yamaha SR400 over 30 years ago it became a favourite with riders who yearned for a simple, agile and engaging motorcycle.
Over the years the huge level of interest in the SR has never gone away. And now the Yamaha SR400 is ready to become an integral part of the daily lives of a whole new generation of riders who appreciate its enduring appeal.
This timeless retro just oozes charm and authenticity wherever you look. And as the basis for creating your own café racer, bobber or street scrambler, the SR400 offers endless possibilities.

Timeless retro style with proven technology

Ideal basis for an easy customization

Create your own café racer, bobber or scrambler

400cc air-cooled 4-stroke single cylinder engine

Fuel injection with transistor ignition

Relaxed torque for easy and enjoyable ridingDecompressor for easy kick starting

Light, slim and agile steel chassis

Spoked wheels with aluminium rims

Conventional front forks with twin rear shocks

Classic 12-litre teardrop fuel tank

How Yamaha Developed the SR400
The re-launch of the SR into the European market with 400cc may seem odd. However, Yamaha kept this model in production for the Japanese market where it is a cult classic, and with the modern fuel injection it could pass European emission standards again.
"We decided to import the SR 400 in small quantities, based on the demand from tuners and special customers" says Product Planning manager Oliver Grill. "It is a true classic. A unique bike that fits today's trend for high-character motorcycles."
Actually, the current SR dates back to the success of the first XT 500 since 1976.

This off-road bike was an instant success and created a boom in the off-road market with its big-single four stroke engine. Big singles had gotten totally out of fashion till then. But by developing a lightweight and reliable engine, Yamaha proved that this engine type still had a strong right of existence for serious riders. The high torque of these engines makes them pull hard and respond instantly to the throttle, at any rpm. The strong pulse of the big-single makes it feel alive too – as a rider you can sense any change in rpm or load of the engine; a very direct connection between rider and engine that many riders appreciate.

The SR 500
Yamaha launched the SR 500 in 1978, a model with – already at that time – classic looks, utilizing the proven engine and frame basis of the XT 500 and optimizing everything around it for pure road use.

In a time where all motorcycles became technically more complicated, and multi-cylinders with high performance were the trend, the simplicity of the SR was a big hit.

The bike stood on its own, with its lack of pretentions and with a strong SOUL as a sales argument, instead of features and specs.
It created a strong design impact as an iconic motorbike. Customers appreciated the simplicity, the reliability, the low running costs and the remarkable joy of riding from the big thumper in its nimble chassis. Easy to step on and off. the bike was light and handy in the city while stable enough for open roads, enjoying the steady rumble of the engine.

Without any need to race against the clock, the enjoyment was always there!
Throughout the years

Many SR have been sold throughout the years. Due to continued demand, Yamaha kept the SR 500 in production until 1999. Its extreme simplicity allowed you to maintain the bike and individualize it by yourself without complex tools.

The chassis and engine have served as popular basis for many café racers, street trackers and bobbers all across the world!
It's 400 cc version, the SR 400 was continued to be produced, in Japan, all through the years. In 2010 it had a model change: the introduction of fuel injection to comply with the latest emission standards. In 2013 it celebrated its special 35th anniversary edition….


For 2014, the SR400 will be brought to Europe too.
Oliver expects the bike to remain exclusive. "The bike is of course not cheap with low production quantities, high-quality parts and production in Japan. Nevertheless, the purists and the real connoisseurs and tuners are waiting for it. It will appeal by its coolness, its practicality in the city and its customizing potential."


Cool minimalism
The archetypical motorcycle. One cylinder. One intake valve. One exhaust valve. One exhaust pipe. No balancer in the engine. Not even rubber mounts between engine and frame. A pure and simple-cradle frame design. Nothing fake. Steel fenders. Steel fuel tank.
Everything authentic. And, talking about minimalism: No electric start!


The kick-start ritual
Kick-starting the engine is like a ritual. It looks tough but actually it is really easy and fun to do. You put the engine's piston in the right position, kick once, done. That's all there is to it! There is a small window on the cylinder to help finding the right piston position, and a decompression lever to help moving the piston around. Thanks to the fuel injection system the engine starts much easier than the old SR 500. Once started, you can enjoy letting it idle along at 1000 rpm, and listen how it runs like clockwork while it warms up…

The strong fashion style and easy handling make the SR the ideal companion for the city, despite its modest performance. Being extremely light as well as somewhat smaller and with a narrower seat than today's average motorcycle, the SR excels in tight city traffic and is very easy to approach even by smaller riders. Anybody will appreciate the super nimble handling, which is a sensation in itself! Destined for short stretches and winding roads as well as the occasional relaxed day- tour, the SR will also guarantee curious onlookers when stopping at café's or vantage points. The more personal your bike is the better!

Historic
You will recognize in the design style the purpose, simplicity and directness of a design that pays homage to the classic beauty of the best British and Japanese designs of the 60s and 70s.

Times gone by can also be seen in the chrome finish and classic shape of its equipment such as the chrome headlight and flashers, the timeless trumpet shape of the exhaust or the round analog instruments for rev counter and speedometer.

Sun will sparkle off the chromed fenders and the spoked wheels… but before getting too romantic: many riders will appreciate the tough style of the SR and the ease by which it can be customized into a one-off café racer or scrambler!
Customizing
Not surprising therefore that many famous custom builders across the world have taken the SR as a basis for stunning redesigns…
Tips & tricks: how to kick

First you pull the decompression lever (below the clutch lever) and slowly rotate the kickstarter to get the piston in the correct starting position. That position is indicated in the looking-glass in the cylinder. When the indicator is in front of this glass, it is in the correct position. Then you let go of the decompression lever and let the kickstarter go up fully. Take a deep breath. The bike is ready to start! Now give a strong kick. No hesitations here: give it all you got, let the kickstarter go down all the way with a lot of speed…. And beware that you don't touch the throttle at all before the bike starts and runs! If the bike did not start, or even if you gave only a small push to the kickstarter, then ALWAYS go back to the start of the ritual: get the piston in the correct starting position and only then try to kick it. Never try to kick it when the piston is off the correct position.

If you do this well, the bike will start at the first kick, surprisingly easy! It's like a magic trick: On-lookers imagine that it needs a lot of force to start it, but when you know the trick it is so easy.
2015 Yamaha SR400 Totalmotorcycle.com Key Features

• 66 MPG
•The SR400 is powered by a 399cc, single-cylinder, air-cooled, SOHC, 2-valve engine that produces a torquey, "thumper" engine character that makes it an absolute blast to ride.

•The SR weighs a mere 384 pounds and has a slim chassis and natural riding position with a low, 31-inch seat height. This combination makes for a machine that is well suited to both entry riders as well as experienced enthusiasts.

•Virtually unique among today's street bikes, there's no push-button starter. The SR400 is equipped with an easy-to-use kick starter as the only means of getting the engine running. That will draw smiles from old-school motorcycle fans and appeal to more modern motorcycle enthusiasts who value the allure of riding a motorcycle that stands out in the crowd.

•The Yamaha SR400 is the perfect motorcycle for both the custom bike builder and the rider who loves personalization. The SR is world renowned for its basis as the perfect platform as a Café or Street Tracker machine. Personalization and customization are limited only by the designer's imagination.
2015 Yamaha SR400 Totalmotorcycle.com Features and Benefits
Engine:
•The 399cc, single-cylinder, air-cooled, 4-stroke, SOHC, 2-valve power plant with electronic fuel injection combined with the SR's light weight makes for a very fun motorcycle to ride.
•Easy to start kick-starter is actuated through a handlebar mounted compression release that makes starting the SR quick and easy, with very little effort.
•The torquey, single-cylinder engine provides "thumper" appeal and engine character with a feeling of direct power connection to the rear wheel adding to the fun factor of the SR.
•Single-cylinder design is easy to maintain.
Chassis/Suspension:
•Slim, narrow, double-cradle steel frame makes for a very compact body design for excellent rider maneuverability.
•3.2 gallon fuel tank offers excellent touring range with an estimated 96 miles per gallon* depending on the weight of the rider, passenger and any cargo.
•Compact 55.5" wheelbase makes for quick, light steering for fun riding when the roads get twisty.
•Front disc brake offers optimum stopping power.
•Chain final drive provides excellent power transfer to the rear wheel.
Additional Features:

•Outstanding platform for personalization and customization.

---
2015 Yamaha SR400 – Totalmotorcycle.com USA Specifications/Technical Details
US MSRP Price: $5,990 (Liquid Graphite) Available from May 2014


Engine
Type 399cc, air-cooled SOHC, 2-valve
Bore x Stroke 87.0 x 62.7mm
Compression Ratio 8.5:1
Fuel Delivery Fuel Injection
Ignition TCI: Transistor Controlled Ignition
Transmission 5 speed; multiplate wet clutch
Final Drive Chain

Chassis
Suspension / Front Telescopic; 5.9-in travel
Suspension / Rear Swingarm; 4.1-in travel
Brakes / Front Hydraulic disc brake, 268mm
Brakes / Rear 150mm drum
Tires / Front 90/100-18M/C 54S
Tires / Rear 110/90-18M/C 61S

Dimensions
Length 82.1 in
Width 29.5 in
Height 43.1 in
Seat Height 30.9 in
Wheelbase 55.5 in
Rake (Caster Angle) 27.7º
Trail 4.4 in
Fuel Capacity 3.2 gal
Fuel Economy** 66.2 mpg
Wet Weight*** 384 lb

Other
Warranty 1 Year (Limited Factory Warranty)

---
2015 Yamaha SR400 – Totalmotorcycle.com Canadian Specifications/Technical Details
Canada MSRP Price: $NA CDN
Model not available at press time.
---
2015 Yamaha SR400 – Totalmotorcycle.com European/UK Specifications/Technical Details
UK/European MSRP Price: £9,795.00 GBP (On The Road).
Engine
Engine type 4-stroke, air-cooled, SOHC, 2-valves
Displacement 399cc
Bore x stroke 87.0 mm x 67.2 mm
Compression ratio 8.5 : 1
Maximum power 17.1 kW (23.2PS) @ 6,500 rpm
Maximum Torque 27.4 Nm (2.8 kg-m) @ 3,000 rpm
Lubrication system Dry sump
Clutch Type Wet, Multiple Disc
Carburettor Fuel Injection
Ignition system TCI
Starter system Kick
Transmission system Constant Mesh, 5-speed
Final transmission Chain

Chassis
Frame Steel Double Cradle
Front suspension system Telescopic forks
Front travel 150 mm
Caster Angle 27º
Trail 111 mm
Rear suspension system Dual shock
Rear Travel 125 mm
Front brake Hydraulic Disc, Ø 298 mm
Rear brake Drum mm
Front tyre 90/100-18M/C 54S (Tube type)
Rear tyre 110/90-18M/C 61S (Tube type)

Dimensions
Overall length 2,085 mm
Overall width 750 mm
Overall height 1,095 mm
Seat height 785 mm
Wheel base 1,410 mm
Minimum ground clearance 130 mm
Wet weight (including full oil and fuel tank) 174 kg
Fuel tank capacity 12 litres
Oil tank capacity 2.4 litres

Specifications and appearance are subject to change without prior notice.