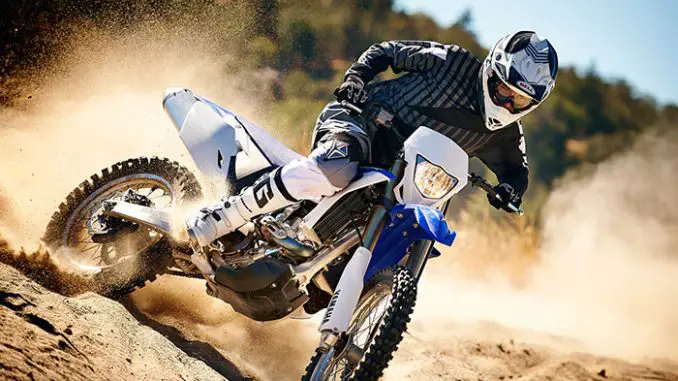 Click photos to enlarge. Our big, clean bike pics make great desktop wallpaper.
2015 Yamaha WR450F Review

2015 Yamaha WR450F on www.Totalmotorcycle.com
The Ultimate Combination: YZ250F Style Chassis with 450FI Power…
Packed with legendary Yamaha features: Advanced, light aluminum YZ250F bred frame for scalpel sharp steering; powerful, reliable high-revving 5 titanium valve engine with fuel injection delivering crisp linear throttle response; plus slim body work for ultra-lightweight handling combined with open class power – for the best of both worlds.
The WR450F offers 3 main advantages over its competition; an easy to ride demeanor, unparalleled reliability, and the versatility to win in a number of different racing disciplines. Featuring a proven 5-valve engine design, the biggest WR also sports a Keihin fuel injection system, a lightweight aluminum Bilateral Beam frame and YZ based suspension.
78 MPG
2015 Yamaha WR450F www.Totalmotorcycle.com Key Features
/// Power
Fuel injected, liquid-cooled, 449cc, DOHC, 5-valve, 4-stroke powerplant with super light titanium valves. Selected items such as camshafts, exhaust and ECU settings are specially designed for enduro type riding. Click here for YZ Power Tuner suggested settings.

/// Frame
Compact "Bilateral Beam" aluminum frame centralizes mass for exceptional handling and incredible cornering ability. This frame consists of forged, extruded and panel aluminum parts. This frame is more compact than the last generation and offers significantly improved rider – machine communication" (a.k.a. feedback).
Top Features:
•A YZ-bred advanced aluminum frame – carefully engineered from castings, forgings and extrusions—enhances handling while retaining legendary Yamaha feel and characteristics.
•Highly evolved five-titanium-valved engine starts with the push of a button.
•Highly functional digital enduro computer offers speedometer, clock, tripmeter, etc., in basic mode—or pace management functions such as timer, distance-compensating tripmeter, average speed, etc., when switched to race mode.
•The WR450F is green sticker approved for California.

2015 Yamaha WR450F www.Totalmotorcycle.com Features and Benefits


/// ENGINE
• Fuel injected, liquid-cooled, 449cc, DOHC, 5-valve, 4-stroke powerplant with super light titanium valves. Selected items such as camshafts, exhaust and ECU settings are specially designed for enduro type riding.
• Super convenient electric starting means fast, sure starts and is backed up by a manual kick starter.
• Hassle free automatic decompression system ensures fast restarts in any gear.
• Magnesium cylinder head cover helps reduce weight.
• Optimized cylinder inclination angle (4.5 degrees) brings the center of gravity closer to the rider for mass centralization and light handling.
• Optimized intake port shape increases the velocity of the incoming charge for more complete cylinder filling and more power.
• Titanium valves and load-reduced springs decrease weight by more than 40% over a conventional steel valve train and reduces reciprocating mass for faster-revving and smoother-hitting power delivery across the rev range.
• The lightweight aluminum cylinder features a ceramic composite coating which is applied directly to the aluminum, eliminating the need for a liner or sleeve. The ceramic coating insures faster, more uniform heat dissipation, reduced friction and a longer service life.
• Cylinder design features cutaways that allow the air trapped under the piston to enter a side chamber (or cutaway) to reduce horsepower-robbing "pumping losses."
• The crankcase also utilizes cutaways to reduce "pumping losses". The crankcase cutaways match the cutaways in the cylinder.
• Crankcase design features an integrated dry sump oil tank inside the front area of the engine cases. This design centralizes mass and reduces the centre of gravity for improved handing and a lighter feel.
• The crankcases features a "tri-axis" layout for the crankshaft, main and drive axles. This tri-axis design keeps the crankcases more compact while also centralizing mass for better handling.
• Special cam shaft profiles provide outstanding low to mid range power well suited to enduro style riding. The WR450F offers a wide spread of linear torque from low to peak rpms.
• Ball bearing style lightweight crankshaft provides fast throttle response.
• Engine balancer shaft reduces vibration for excellent rider comfort and reduced fatigue during long rides.
• Lightweight, short-skirt, forged piston offers great durability and reduced weight for fast engine response.
• Piston oil cooler utilizes a pinpoint nozzle that directs oil to the desired portion of the cylinder and piston, to reduce piston, cylinder and rod temperatures for excellent durability.
• Oil volume in engine has been optimized to reduce weight and oil "drag" related power losses.
• Compact automatic cam chain tensioner reduces maintenance and mechanical engine noise.
• Keihin 42mm throttle body fuel injection system. This is an open loop system and features a throttle position sensor (TPS). There is a cold start knob which also doubles as an idle adjuster too.
• The 12-hole fuel injector maximizes fuel atomization for more complete combustion and great power output.
• The fuel injection system has been designed with a capacitor, which allows hardcore or competition riders the option of reducing even more weight by removing the battery and starter motor if desired.
• The benefits of fuel injection include optimum fuel – air ratio regardless of outside air temperature or altitude. Other benefits include excellent starting with no choke to fuss with, improved throttle response, reduced fuel consumption and reduced emissions.
• Compact, lightweight in-tank electric fuel pump
• High capacity ACM (alternating current magneto) is used to power the FI system and other electrical components
• Lightweight, compact, high powered 32 bit ECU. The ECU controls the fuel injection process and ignition timing.
• Lightweight direct ignition coil is integrated into the spark plug cap to reduce weight and complexity
• Wide ratio 5-speed transmission features gear ratios designed for enduro type riding and that match the torquey, linear engine power characteristics of the WR450F engine.
• Heavy-duty multi plate wet clutch.
• Quick-access, lightweight magnesium outer clutch cover allows fast, easy access to the clutch.
• Lightweight dual radiators with special design louvers direct cooling air into the rads for maximum cooling.
• Washable, dual-stage, foam air filter can be accessed without tools via "Dzus-type" fasteners.
• Lightweight exhaust system features a stainless steel header pipe with titanium heat shield and an aluminum muffler. The exhaust features a resonator canister which helps create a more efficient exhaust pulse effect for improved low to mid power.
• Lightweight aluminum muffler features a "serviceable", screen-type spark arrestor which prevents sparks from exiting the exhaust.
• Oversize race-type "barrel adjuster" for easy, on-the-fly adjustability of clutch lever free play.

/// CHASSIS / SUSPENSION
• Compact "Bilateral Beam" aluminum frame centralizes mass for exceptional handling and cornering ability. This frame consists of forged, extruded and panel aluminum parts. This frame is more compact than the last generation and offers significantly improved rider – machine communication" (a.k.a. feedback).
• The rigidity balance of this "Bilateral beam" frame has been optimized for enduro type riding. It contributes to a feeling of lightness, agility and traction.
• The head pipe (steering head), wheelbase, caster and trail dimensions are optimized to accentuate the engine and frame characteristics. The benefit is quick, direction changes with good stability.
• Removable rear sub frame is constructed of square-section, lightweight aluminum pipe. Its detachable design allows easy access when servicing rear suspension components.
• Lightweight, tapered, aluminum swingarm is produced using "hydro forming", a special method that uses high pressure water to form shapes. The swingarm design provides great overall chassis "balance" for precise cornering excellent rear wheel traction.
• 48mm, adjustable inverted, Kayaba "SSS" cartridge fork provides excellent suspension performance. This fork is based on the current YZ series with different setting specifically for enduro type riding. These forks feature a twin-chamber design which means the damper unit is in a separate structure which prevents aerated fork oil from entering the inner damper assembly and reducing its damping abilities. Since the inner damper is pressurized, it also eliminates bubbles forming in the oil. This fork design also features a Transfer Control Valve (TCV). The TCV enhances the damping force from mid to full stroke and improves bottoming characteristics. The benefit of TCV is more precise control throughout the full suspension stroke. The TCV is located on the upside of the spring and its function is controlled by piston speed, not piston position … hence the term "Speed Sensitive fork" (SSS).
• Front wheel travel is 300mm (11.8″).
• Front fork adjustments include: 20-way compression damping and 20-way rebound damping. Optional fork springs are available through Genuine Yamaha parts.
• Large plastic fork protectors wrap around the fork tubes for increased protection against dirt, mud and stone chips. These fork protectors are self-supporting to reduce friction for smoother fork operation.
• Cast aluminum upper and forged aluminum lower triple clamps reduce weight while providing excellent strength.
• Adjustable forged handlebar mounts allow the handlebars to be moved 10mm rearward if desired.
• Monocross rear suspension system features a fully adjustable, Kayaba piggyback style shock with separate adjusters for high- and low-speed compression damping. Rear wheel travel is 294mm (11.6″).
• Shock adjustments include: spring preload, 20 clicks of low-speed compression damping, 2 turns of high-speed compression damping and 20 clicks of rebound damping.
• Link-type rear Monocross suspension provides a rising rate (progressive) suspension function. The linkage design is virtually the same as YZ-F series of MX bikes.
• 250mm fully floating front disc brake with "wave style" rotor is squeezed by a twin piston Nissin caliper fitted with lightweight, aluminum pistons for excellent braking performance.
• "Shorty style" adjustable front brake lever
• 245mm rear disc brake with lightweight wave style rotor is squeezed by a compact single piston Nissin caliper. The rear master cylinder is an integrated design (fluid reservoir is integrated into the top of the master cylinder to reduce weight) and delivers strong, progressive stopping power with excellent control and feel.
• Rugged, Excel 21″ front and 18″ rear rims provide exceptional durability and help reduce unsprung weight for optimal suspension performance.
• High tech, lightweight digital meter assembly. This compact meter features: speedometer, dual tripmeters, odometer and a clock in the basic mode, or in the "race mode", pace management functions such as timer, and distance compensating tripmeter.
• YZ inspired body work. This "slim line" bodywork allows fast, easy rider movements and a lighter overall machine feel.
• Stylish slim design headlight offers 35 watts of lighting power. The headlight beam is adjustable up and down.
• Slim design compact LED taillight is tucked out of the way to prevent damage
• 7.5 litre black plastic fuel tank is designed to allow easy rider movements. The tank features a special "fluorination surface treatment" which reduces fuel permeation for improved environmental protection.
• Lightweight aluminum kickstand is designed to allow lots of ground clearance.
• Heavy duty one piece resin plastic engine guard. Only 3 bolts hold it in place for easy removal when washing the bike.
• Extra wide 55mm stainless steel foot pegs provide excellent grip.

/// DETAILS
• Low fuel warning light on main on / off ignition switch
• Tapered steering head bearings for durability
• Serrated rear brake lever and folding shift lever tip
• Rugged, plastic, lower rear disc and rear caliper protectors
• Sealed, low-maintenance battery is gel-filled type to prevent leaks in the event of a tip-over.
• Waterproof starter button and engine kill switch are handlebar-mounted.
• Lightweight chain guide / support helps reduce chance of chain derailment. Also helps protect rear sprocket from damage too.
• Heavy duty 520 series "O" ring chain for durability

---
2015 Yamaha WR450F – www.Totalmotorcycle.com USA Specifications/Technical Details
US MSRP Price: $8,290 – Team Yamaha Blue/White – Available from October 2014

Engine
Engine Type 449cc liquid-cooled DOHC 4-stroke; 5 titanium valves
Bore x Stroke 95.0mm x 63.4mm
Compression Ratio 12.3:1
Fuel Delivery Fuel Injection
Ignition TCI
Transmission Constant-mesh 5-speed; multiplate wet clutch
Final Drive Chain Drive

Chassis
Suspension / Front Inverted fork; fully adjustable; 11.8-in travel
Suspension / Rear Single shock; fully adjustable, 11.6-in travel
Brakes / Front Hydraulic single disc brake
Brakes / Rear Hydraulic single disc brake
Tires / Front 80/100-21M
Tires / Rear 120/90-18M

Dimensions
Length 85.0 in
Width 32.5 in
Height 50.2 in
Seat Height 37.8 in
Wheelbase 57.7 in
Ground Clearance 13.2 in
Fuel Capacity 2.1 gal
Wet Weight*** 273 lb

Other
Warranty 30 Day (Limited Factory Warranty)




---
2015 Yamaha WR450F – www.Totalmotorcycle.com Canadian Specifications/Technical Details
Canada MSRP Price: $9,099 CDN
/// ENGINE
ENGINE
Liquid-cooled, DOHC, 5-valve (titanium), single
DISPLACEMENT
449cc
BORE AND STROKE
95 x 63.4mm
COMPRESSION RATIO
12.3:1
FUEL DELIVERY
Keihin 42mm throttle body F.I.
LUBRICATION
Dry sump
IGNITION / STARTING
TCI / Electric & Kick
TRANSMISSION
Wide ratio 5-speed
FINAL DRIVE
"O" ring chain

/// CHASSIS
SUSPENSION (FRONT)
Adj. 48mm inverted fork /300mm (11.8″) travel
SUSPENSION (REAR)
Fully Adj. Link Monocross /294mm (11.6″) travel
BRAKES (FRONT)
250mm floating disc – twin piston caliper
BRAKES (REAR)
245mm disc – single piston caliper
TIRES (FRONT)
80/100-21
TIRES (REAR)
120/90-18

/// CRITICAL DATA
LENGTH
2,160mm (85″)
WIDTH
825mm (32.5″)
HEIGHT
1,275mm (50.2″)
WHEELBASE
1,465mm (57.7″)
GROUND CLEARANCE
335mm (13.2″)
SEAT HEIGHT
960mm (37.8″)
FUEL CAPACITY
7.5 litres (1.7 Imp. gal.)
WET WEIGHT
124 kg (273.5lbs)
COLOUR(S)
Yamaha Blue
Specifications, appearance, and price of product are subject to change without notice.
* MSRP does not include freight, PDI (Pre Delivery Inspection), pre-rigging (boats), or taxes. Dealer may sell for less. See your local dealer for out the door pricing.
± Fuel economy estimates are based on US EPA exhaust emission certification data obtained by Yamaha and converted into Canadian measurements. Your actual mileage will vary depending on road condition, how you ride, maintain your vehicle, accessories, cargo and operator/passenger weight.

Manufacturer Specifications and appearance are subject to change without prior notice on Total Motorcycle (TMW).