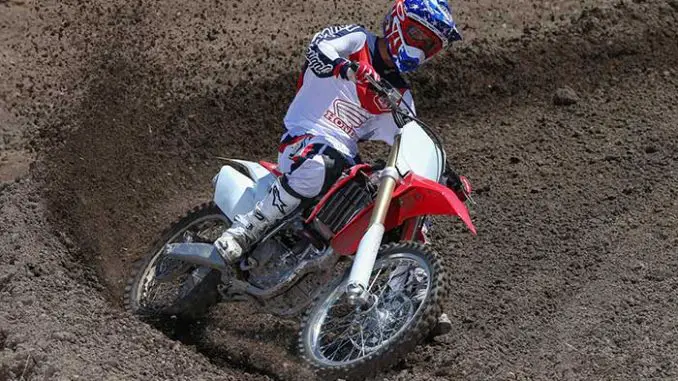 2016 Honda CRF250R
2016 Honda CRF250R Review

2016 Honda CRF250R on www.Totalmotorcycle.com
Podium Ready…
It's the little things that make the difference between that sweet taste of champagne and finishing somewhere in the back of the pack. Because, face it, every racer wants to win, and most motocross bikes these days are pretty darn good. That's why you have to bring your best to every moto. And that's why Honda is bringing some updates to what was already the best bike in the class, our CRF250R.
This year's fine tuning gives the CRF250R what it needs to keep you in front. New, larger radiators handle the output from a more powerful engine, which includes more cam lift and new titanium exhaust valves. Larger-diameter muffler pipes and a new resonator also help increase power. In terms of suspension, the Showa® SFF-Air TAC Fork is five millimeters longer, and now features a Schrader valve to make adjusting the balance chamber easier. There's even a new chain-roller diameter—our engineers haven't missed a thing. And it's all with one goal in mind: Giving you the best 250 MX bike there's ever been. Mission accomplished!

2016 CRF250 Tech Talk
The CRF250R has a lot of great updates for 2016 and this video will take you through them.

More Powerful Unicam® Engine
The CRF250R gets some major engine upgrades this year.The top-end changes (pistons, valves, compression ratio) all contribute to the bike's race-winning power.

Next Gen Showa® SFF-Air TAC Fork
Lighter and easier to tune than a conventional-spring fork, the CRF250R's Showa® SFF-Air TAC fork improves suspension reaction and simplifies adjustments for track conditions. Updated this year with an added Schrader valve for the balance chamber for easier tuning.

Choose Your Power
This handlebar-mounted mode-select button lets you dial in engine power delivery character with a push of your thumb. Choose between Standard, Smooth and Aggressive, depending on track conditions.

Twice As Good
The CRF250R pioneered our twin-muffler exhaust system. The two-pipe design means that each muffler is shorter, mounts lower and is tucked in much closer to the bike's center of mass. For 2016, the mufflers feature a larger diameter and a new resonator for better power delivery.
2016 Honda CRF250R www.Totalmotorcycle.com Key Features
Good, Better, Best: The CRF250R Difference.
At Honda, we built our reputation on racing, right from the very start. And Honda motorcycles have won just about every racing championship on the planet. How? By innovating, and offering our racers the best machines in their class. The 2016 CRF250R is a great example, with fine-tuning tweaks that keep it out in front. Built for the way you ride, the CRF250R is also built to put you in the winner's circle.
2016 Honda CRF250R www.Totalmotorcycle.com Features and Benefits

Engine / Drivetrain

Keeping cool
Larger radiators for 2016 handle the output from the more powerful engine, and further enhance the CRF250R's renowned reliability.
Improved air and exhaust flow
The air-intake tube has been revised and the mufflers feature larger outlet diameters for improved breathing and flow, which has increased top-end power.
Engine Mode Select button
The CRF250R's Engine Mode Select (EMS) system lets you modify fuel-injection and ignition mapping with the simple push of a handlebar-mounted button – perfect for dialing in the best power curve for better starts, better drive out of corners, better traction, or simply to better suit your riding style. Modes two and three can even be fine-tuned using the optional HRC setting tool. Mode selection is easily accomplished without changing the rider's hand position or shutting down the engine (as long as the engine is idling).
Even more power
Increased cam lift, new titanium exhaust valves, new valve springs, and updates to cylinder-head porting, piston shape and connecting-rod shape, add up to an engine that's more powerful than ever.
Programmed for power
The Programmed Fuel Injection (PGM-FI) system has new mapping to take full advantage of the upgraded engine components.
Effortless directional changes on the fly
Unique 4-valve Unicam cylinder head has very compact dimensions, allowing it to be ideally placed for excellent mass centralization. This helps make it even easier for a rider to change direction, on the ground or in the air.

Chassis / Suspension

Better grip
Dunlop MX52 tires offer excellent traction in a wide variety of conditions.
Stop hard
A full 260 mm in diameter, the wave-style front brake rotor offers excellent stopping power plus superior lever feel.
Full adjustment
Pro-link rear Showa suspension offers full damping adjustability and over 12 inches of smooth, well-controlled travel.
Improved air fork
The inverted Showa air fork designed specifically for the CRF250R includes a number of clever innovations. By separating air-spring and damping functions between left and right fork legs respectively, overall weight balance from left to right is improved when the weight of the brake is included. The left fork with its air spring not only offers reduced weight, but its three-chambered design allows separate adjustment of ride height and "spring" rate. Together these innovations result in reduced weight, improved balance, superior suspension action and simplified adjustability. The fork is also 5 mm longer for 2016 to enhance stability
Precise handling
The Honda Progressive Steering Damper allows more-aggressive chassis geometry for quicker steering, while also assisting straight-line handling. Damping action smoothly progresses as handlebar deflection increases, which produces very natural steering characteristics and feel.
Excellent feel & feedback
Twin-spar aluminum chassis offers the benefit of a low centre of gravity with excellent feel and feedback. Designed to work in concert with the Showa air fork and the Honda Progressive Steering Damper, the chassis combines excellent stability with right-now turning precision.

Additional Features
Move freely
Optimized rider ergonomics with a very narrow midsection allow you to move freely on the bike and fully utilize the CRF's incredible agility.
Connectivity simplifies setup
Optional HRC setting kit includes an easy-to-use programming system with precise data for setting up the machine to meet all race situations. Ignition timing and fuel mapping settings can be uploaded by connecting the motorcycle to a computer and following simple step-by-step instructions. The system radically simplifies the setup process and makes tuning accessible to a wide spectrum of riders. Connection is simple with only one connector and no need to remove the fuel tank.
Simplified maintenance
The design of the fuel hose connector simplifies maintenance.
Preventative indicator
The engine stop switch with integrated LED indicator lets you know if the PGM-FI system is working properly.
Comfort paired with control
Wide, long footpegs offer greater support for more comfort and control.
Reduced rider fatigue
Aluminum handlebar is rubber-mounted to reduce rider fatigue and improve comfort.
Easy to adjust
Quick-adjust clutch perch simplifies cable adjustment.
---
2016 Honda CRF250R – www.Totalmotorcycle.com USA Specifications/Technical Details
US MSRP Price: $7599 USD

ENGINE
Engine Type 249cc liquid-cooled single-cylinder four-stroke
Bore And Stroke 76.8mm x 53.8mm
Induction Dual-Timing Programmed Fuel Injection (PGM-FI), 46mm throttle body
Ignition Full transistor with electronic advance
Compression Ratio 13.5:1
Valve Train Unicam®, four-valve; 30.5mm intake, titanium; 25mm exhaust, steel

DRIVE TRAIN
Transmission Close-ratio five-speed
Final Drive #520 Chain; 13T/49T

CHASSIS / SUSPENSION / BRAKES
Front Suspension 49mm inverted Showa® SFF-Air TAC fork with 16-position rebound and 16-position compression damping adjustability; 12.2 inches travel
Rear Suspension Pro-Link® Showa single shock with adjustable spring preload, 17-position rebound damping adjustability, and compression damping adjustment separated into low-speed (13 positions) and high-speed (3.5 turns); 12.3 inches travel
Front Brake Single 260mm disc with twin-piston caliper
Rear Brake Single 240mm disc
Front Tire Dunlop MX52F 80/100-21
Rear Tire Dunlop MX52 100/90-19

DIMENSIONS
Rake 27° 23′ (Caster Angle)
Trail 118mm (4.6 inches)
Wheelbase 58.6 inches
Seat Height 37.4 inches
Curb Weight 231 pounds (Includes all standard equipment, required fluids and a full tank of fuel-ready to ride)
Fuel Capacity 1.7 gallons
Ground Clearance 12.7 inches

OTHER
Available Colors Red
Model Id CRF250R
---
2016 Honda CRF250R – www.Totalmotorcycle.com Canadian Specifications/Technical Details
Canada MSRP Price: $8699 CDN

Engine & Drivetrain

Engine type
Liquid-cooled single-cylinder 4-stroke

Displacement
249 cc

Bore & stroke
76.8 mm x 53.8 mm

Compression ratio
13.8:1

Valve train
SOHC, 4 valves

Fuel delivery
PGM-FI electronic fuel injection with 46 mm throttle body

Transmission
Close-ratio five-speed

Final drive
#520 O-ring-sealed chain; 13T/49T

Chassis & Suspension

Front suspension
49 mm inverted Showa SFF-Air fork with 16-position rebound and 16-position compression damping adjustability 310 mm (12.2 in.) travel

Rear suspension
Pro-Link Showa single shock with spring preload, 17-position rebound damping adjustment, and compression damping adjustment separated into low-speed (13 positions) and high-speed (3.5 turns); 313 mm (12.3 in.) travel

Dimensions & Additional Information

Tires
Front: 80/100 – 21; Rear: 100/90 – 19

Brakes
Front: 260 mm disc with dual-piston caliper; Rear: 240 mm disc

Ground clearance
322 mm (12.7 in.)

Seat height
951 mm (37.4 in.)

Wheelbase
1,489 mm (58.6 in.)

Curb weight
104.9 kg (231 lbs.) including required fluids and full tank of gas – ready to ride

Fuel capacity
6.3 litres

Colour
Extreme Red
---
2016 Honda CRF250R – www.Totalmotorcycle.com European Specifications/Technical Details
Europe/UK MSRP Price: £6999 GBP (On The Road inc 20% Vat)
Engine


Bore × Stroke (mm) 76.8 x 53.8
Carburation Fuel Injection
Compression Ratio 13.8:1
Engine Displacement (cm³) 249
Engine Type Liquid-Cooled 4-Stroke Single Cylinder Unicam
Ignition System Full Transistor
Max. Power Output 29.4 kW / 11,500rpm
Max. Torque 27.1 Nm / 9,00rpm
Starter Kick
Wheels


Brakes Front 260mm hydraulic wave disc
Brakes Rear 240mm hydraulic mave disc
Suspension Front Showa 49mm inverted SFF-TAC air fork (310mm stroke)
Suspension Rear Showa monoshock using Honda Pro-Link system (317.6mm stroke, 133mm axle travel)
Tyre Size Front 80/100-21 Dunlop MX52F
Tyre Size Rear 100/90-19 Dunlop MX52
Wheels Front Aluminium spoke
Wheels Rear Aluminium spoke
Dimensions and Weights


Caster Angle 27°
Dimensions (L×W×H) (mm) 2,181 x 827 x 1,271
Frame type Aluminium twin tube
Fuel Capacity (Litres) 6.3 litres
Ground Clearance (mm) 322
Kerb Weight (kg) 105.6
Seat Height (mm) 951
Trail (mm) 117
Wheelbase (mm) 1489
Transmission
Clutch Wet, multiplate
Final Drive Chain
Gearbox Constant mesh
Specifications, features, illustrations and equipment shown are believed to be correct – however, accuracy cannot be guaranteed. Honda Inc. reserves the right to make changes at any time, without notice or obligation, in colours, specifications, accessories, materials and models. Some vehicles are shown with optional equipment. Some vehicles shown are U.S., European and/or Canadian models.
Manufacturer Specifications and appearance are subject to change without prior notice on Total Motorcycle (TMW).