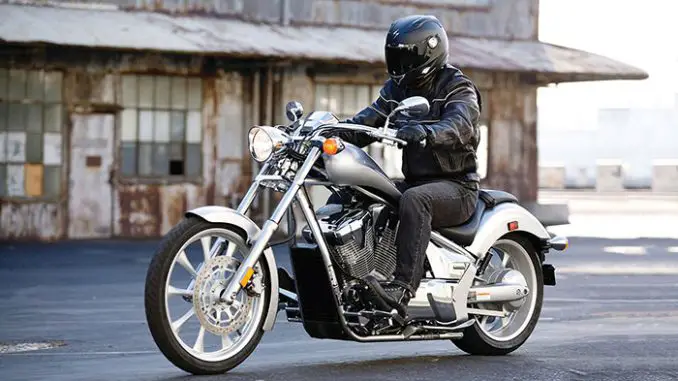 2016 Honda Fury ABS
2016 Honda Fury ABS Review

2016 Honda Fury ABS on www.Totalmotorcycle.com
Custom Styled Confidence…
When was the last time you saw a beige motorcycle? Motorcycling has never been about blending in or being one of the herd, and that's especially true in the world of cruisers and customs. But we think a bike has to work as good as it looks, and that's what really sets the Honda Fury apart. Wanna turn some heads? The Fury is guaranteed to do that. But it's also for riders who want a machine that they can cruise on all day long, that doesn't spend its life in the service bay. Long, lean and mean, stretching nearly six feet from axle to axle, this is an outrageous testimony to the builder's art. And the power and sound coming from its big 1312cc V-twin? Pure music. With clean, crisp lines few customs ever achieve, the Fury is as eye-catching when it's stopped as when it's rolling down the highway. One ride, and you'll be hooked.

Customize Your Ride.
See how easy it is to personalize your Honda Fury with Honda Genuine Accessories, then check out our full line of Honda Accessories, designed to make this unique machine shine a little brighter.

V-Twin Power and Torque.
You won't find a V-twin more righteous than the Fury's, a 52º, 1312cc brute, putting out heaps of power and torque—and a sound that is pure V-twin soul.
2016 Honda Fury ABS www.Totalmotorcycle.com Key Features
Not Just a Chopper. A Honda.
There's no mistaking that the Fury is all about the way it looks, sounds and feels—and the way all these sensations make you feel when you're riding it. But like all Hondas, the Fury is also a showcase of engineering, boasting innovative features like Programmed Fuel Injection, custom-cast wheels, specially designed shaft drive and, of course, that monster 1312cc V-twin engine. Call it the perfect marriage of style and substance.

Options & Pricing
The Fury is a bike that makes you just want to stand back and stare. Oh sure, you'll definitely want to ride it, but only after taking in its gorgeous styling; long lines; and swooped-out chopper front end.
And when that time comes to throw a leg over this too-cool machine and thumb its starter, you'll have two Fury models to choose from: our standard (if you can call anything about the Fury "standard") stunner or, for riders wanting that added level of stopping control in less than ideal conditions, Honda also offers the optional anti-lock braking-equipped Fury ABS.

Fury
Features & Options
•1312cc liquid-cooled, 52º V-twin engine
•Low 26.9-inch seat height
•Wide 200-series rear tire


Fury ABS
Features & Options
•1312cc liquid-cooled, 52º V-twin engine
•Low 26.9-inch seat height
•Anti-Lock Braking System (ABS)
2016 Honda Fury ABS www.Totalmotorcycle.com Features and Benefits
Engine & Drivetrain

Optimum exhaust flow
Each three-valve cylinder head features two 31 mm intake valves and a large 40 mm exhaust valve to produce optimum flow.
Smooth & quiet shifting
Sturdy clutch utilizes a rubber clutch-centre damper to ensure smooth and quiet shifting.
Excellent power at acceleration
Five-speed transmission with carefully selected gear ratios for exciting roll-on performance.
Improved power
A unique dry-sump oil system utilizes a closed-crankcase design and places the oil tank inside the gearbox case. The result is a freer-revving engine for improved power and a lower engine height.
No harsh – all rumble and purr
Dual two-axis primary counter-balancers help to minimize harsh engine vibration without eliminating the powerful pulses
Attractive engine design
Powerplant design features special camshafts and a single-pin crankshaft to accentuate the engine's character.
Relaxed cruising with passing power
1,312 cc liquid-cooled 52-degree V-twin delivers strong low-end and midrange torque, with ample power for passing and relaxed cruising.

Chassis & Suspension

Exceptional riding comfort
The Fury's sleek lines cloak an ingenious single-shock rear suspension system with adjustable rebound damping and five-position spring preload adjustment for superb riding comfort that's far above the norm for a chopper-style motorcycle.
Combined ABS braking system
Combined Braking System with ABS provides both the operating ease of linked front and rear brakes and the control of an advanced Anti-lock Braking System.
Ultra-low seat height control
A long wheelbase — the Fury stretches a full 1,805 mm (71.1 in.) between the axles — accentuates the chopper look and allows an ultra-low 685 mm (27 in.) seat height.
200-series Rear tire
Eight-spoke alloy wheels hold a fat 200-series rear tire paired with a slim 21-inch front tire.
Designed for excellent visibility
High-mount steering head gives the frame a see-through, open-air look with plenty of breathing room between the tank/upper frame and the front cylinder head.

Additional Features
Personalize your ride
A wide selection of Honda Genuine Accessories allow you to add your personal touch.
Versatility in appearance
Riding solo? The passenger seat can be removed to give the Fury an even more stripped-down appearance.
Stunning aesthetics
A metallic finish to the engine cases combines with ample chrome to create a gleaming centrepiece for the Fury.
Clean uncluttered look
The LED taillight is tucked cleanly into the back of the rear fender, and the fender itself lacks visible stays. The result is a clean and smooth shape that complements the Fury's uncluttered look.
---
2016 Honda Fury ABS – www.Totalmotorcycle.com USA Specifications/Technical Details
US MSRP Price: $10999 USD

Engine Type: 1312cc liquid-cooled 52° V-twin
Bore and Stroke: 89.5mm x 104.3mm
Compression ratio: 9.2:1
Valve Train: SOHC; three valves per cylinder
Induction: PGM-FI with automatic enrichment, one 38mm throttle body
Ignition: Digital with 3-D mapping, two spark plugs per cylinder
Transmission: Five-speed
Final Drive: Shaft
Suspension Front: 45mm fork; 4.0 inches travel
Rear: Single shock with adjustable rebound damping and five-position spring preload adjustability; 3.7 inches travel
Brakes Front: Single 336mm disc with twin-piston caliper
Rear: 296mm disc with single-piston caliper
Optional ABS
Tires Front: 90/90-21
Rear: 200/50-18
Wheelbase: 71.1 inches
Rake (Caster angle): 32.0°
Trail: 92.0mm (3.6 inches)
Seat Height: 26.9 inches
Fuel Capacity: 3.4 gallons
Fuel Economy Estimate**: 45 mpg
Colors: Red, Black (ABS model available in Black only)
Curb Weight*: 666 pounds (VT1300CX) / 681 pounds (VT1300CX ABS)
---
2016 Honda Fury ABS – www.Totalmotorcycle.com Canadian Specifications/Technical Details
Canada MSRP Price: $14799 CDN

Engine & Drivetrain

Engine Type
Liquid-cooled 52-degree V-twin

Displacement
1,312 cc

Bore & Stroke
89.5 mm x 104.3 mm

Compression Ratio
9.2:1

Valve Train
Chain-driven SOHC, 3 valves per cylinder

Fuel Delivery
PGM-FI electronic fuel injection

Transmission
Five-speed

Final Drive
Shaft

Chassis & Suspension

Front Suspension
45 mm fork; 102 mm (4 in.) travel

Rear Suspension
Single shock with adjustable rebound damping and five-position spring preload adjustability; 95 mm (3.7 in.) travel

Additional Information

Tires
Front: 90/90 – 21 Rear: 200/50R – 18

Brakes
Front: single 336 mm disc with triple-piston caliper Rear: 296 mm disc with dual-piston caliper. Combined Braking System with ABS

Seat Height
685 mm (27 in.)

Wheelbase
1,805 mm (71.1 in.)

Curb Weight
308 kg (679 lbs.) including required fluids and full tank of gas – ready to ride

Fuel Capacity
12.8 litres

Colour
Graphite Black

Warranty
12 months, unlimited mileage, freely transferable warranty; extended coverage available with Honda Plus
---
2016 Honda Fury ABS – www.Totalmotorcycle.com European Specifications/Technical Details
Europe/UK MSRP Price: £ GBP (On The Road inc 20% Vat)
NA
Specifications, features, illustrations and equipment shown are believed to be correct – however, accuracy cannot be guaranteed. Honda Inc. reserves the right to make changes at any time, without notice or obligation, in colours, specifications, accessories, materials and models. Some vehicles are shown with optional equipment. Some vehicles shown are U.S., European and/or Canadian models.
Manufacturer Specifications and appearance are subject to change without prior notice on Total Motorcycle (TMW).