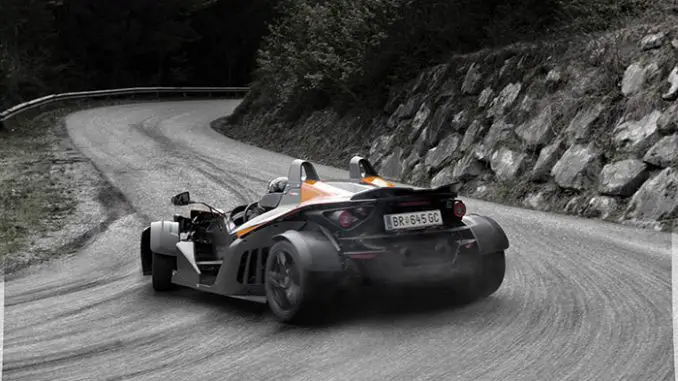 Click photos to enlarge. Our big, clean bike pics make great desktop wallpaper.
2016 KTM X-Bow R Review

2016 KTM X-Bow R on www.Totalmotorcycle.com
A REVOLUTIONARY SPORTS CAR CONCEPT …
KTM is a company built around racing.
2016 KTM X-Bow R www.Totalmotorcycle.com Key Features
Racing is in our DNA

The idea behind KTM's first 4-wheel model

For our first sports car, we applied the same approach we have always applied to our race focused motorcycles.

The design concept.

Focused on only including elements that directly add to the performance and function of the vehicle. Trim away and leave off everything else. Assemble the best suppliers of the necessary components and use the strongest, lightest and most advanced materials available.

Only the best.

The chassis was developed with Italian sports car specialists Dallara and composites experts Wethje. KTM Technologies and engine partner Audi refined the performance and WP created a suspension system that allows exceptional handling and cornering agility
2016 KTM X-Bow R www.Totalmotorcycle.com Features and Benefits

X-Bow technology
Revolutionary. Puristic. Radical.
The production KTM X-BOW is KTM's interpretation of a super sports car for the 21st century. "We took Colin Chapman's idea of a spartan, lightweight sports car reduced to the bare essentials and transfered it into the new millennium – with as many technological innovations as possible", says KTM CEO Stefan Pierer, of the first four-wheeled model in KTM's history

Breaking boundaries


The world's first production car with a full carbon composite monocoque. Produced by carbon-fibre specialists Wethje the monocoque weighs just 80 kg yet has exceptional safety levels. Aerodynamics derived from open-wheel racing, jointly developed by KTM Technologies and Dallara produces 100 kg of down force at 200 km/h, allowing up to 2 G of lateral acceleration – superior to any other street-legal car

Iconic Design from Kiska


What is probably the most exciting super sports car of our times was produced in only 18 months. The KTM X-BOW takes a large part of its uniqueness from its extraordinary styling. Gerald Kiska and the team at KISKA were responsible for this, creating an iconic modern sports car with their design. One that seamlessly combines form with function


Pure race bred technology


Pure racing courses through every inch of the KTM X-Bow. A 300 hp
2.0 litre Audi TFSI engine uses direct injection, combining the benefits of turbocharging with highly effective charge air cooling. With a modular concept typical to racing, it is quick, easy and relatively inexpensive to repair. As long as the monocoque remains in tact in an impact, any other damaged parts bolt off easily for quick replacement. Formula derived tire and suspension technology from Michelin and WP suspension – with adjustable high- and low-speed settings as well as rebound damping – allows exceptional handling.

Gran turismo with Racing-DNA


The new GT version of the Austrian super sports car makes an even wider, lower, more compact and more powerful impression. Even the version with a windscreen and soft top is 100% pure, radical and race bred. Now it's possible to experience the 21st century sports car technology for yourself – without a helmet. This latest model is embedded with the same racing DNA that makes the KTM X-BOW driving experience so special. Try it yourself and feel what it is like to always be "Ready to Race

Revolutionary production plant
The KTM X-BOW has been manufactured in a purpose-built plant in Graz since June 2008. It is one of the world's most modern vehicle limited-production facilities and was built in a matter of months in accordance with the latest standards.

State-of-the-art logistics and technology
KTM has developed ingenious warehousing, special transport logistics (including specially designed transport containers for the valuable carbon-fibre parts) and special assembly technologies

From factory straight to race track
Naturally, customers and interested parties are welcome to visit us at any time in Graz – whether it be to buy new performance parts or to find out all there is to know about the KTM X-BOW. For all those who would like to collect their vehicle from the Graz factory, there is a special offer, which is supervised personally by site manager Michael Wölfling in person: "With the KTM X-BOW, we are not merely selling a car, but a unique experience. Every customer naturally receives a guided tour around our factory. Anyone who wants to can even watch their vehicle pass through the final stages of production – and then drive directly to their first driver training session on the Red Bull Ring

---
2016 KTM X-Bow R – www.Totalmotorcycle.com USA Specifications/Technical Details
US MSRP Price: $ See Local Dealer for Pricing in USD

TBA
---
2016 KTM X-Bow R – www.Totalmotorcycle.com Canadian Specifications/Technical Details
Canada MSRP Price: $ See Local Dealer for Pricing in CDN
TBA
---
2016 KTM X-Bow R – www.Totalmotorcycle.com European Specifications/Technical Details
Europe/UK MSRP Price: £ See Local Dealer for Pricing in GBP (On The Road inc 20% Vat)
TBA


*Starting at MSRP is the manufactured suggested price and excludes delivery, setup, tax, title, license, and additional fees and expenses. Bikes may be shown with optional accessories. Final sale price determined by an authorized dealer. Specifications and MSRP are subject to change.
Manufacturer Specifications and appearance are subject to change without prior notice on Total Motorcycle (TMW).