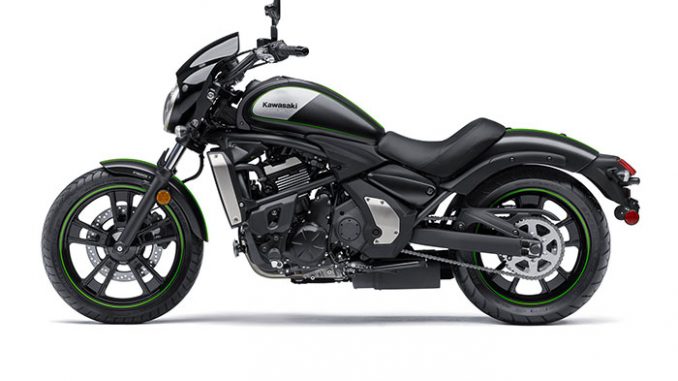 2016 Kawasaki Vulcan S ABS Cafe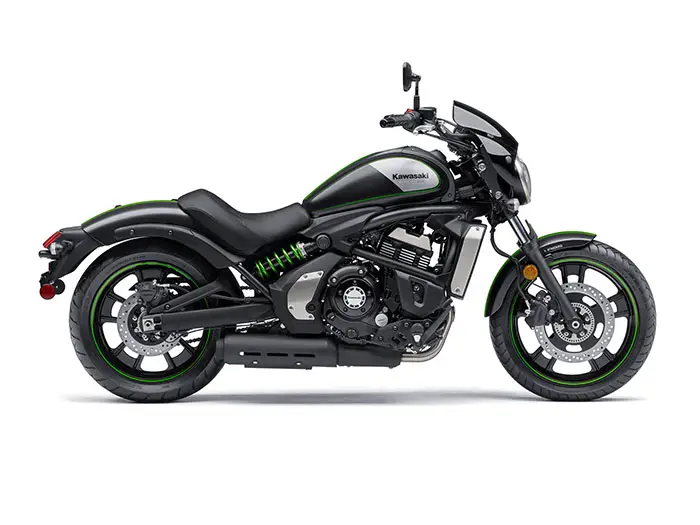 2016 Kawasaki Vulcan S ABS Cafe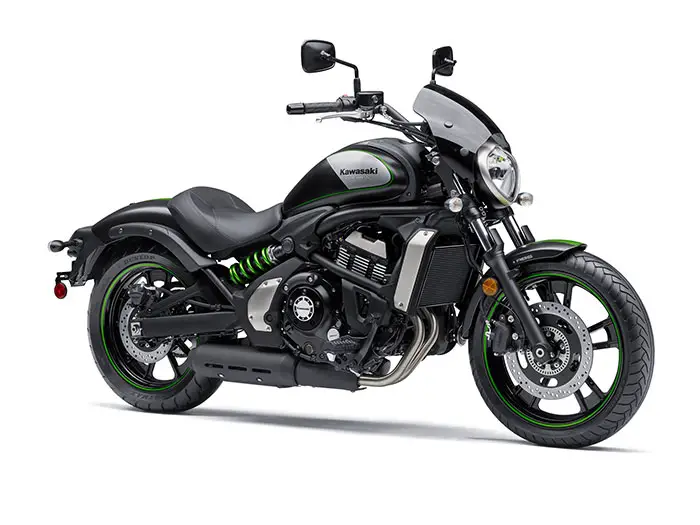 2016 Kawasaki Vulcan S ABS Cafe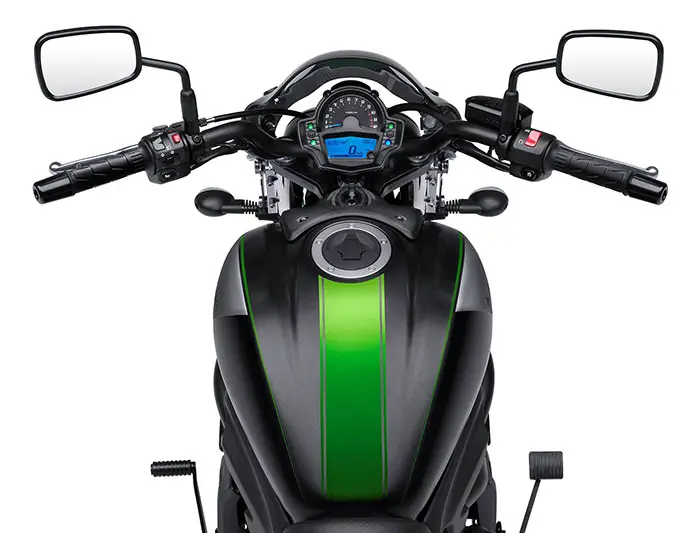 2016 Kawasaki Vulcan S ABS Cafe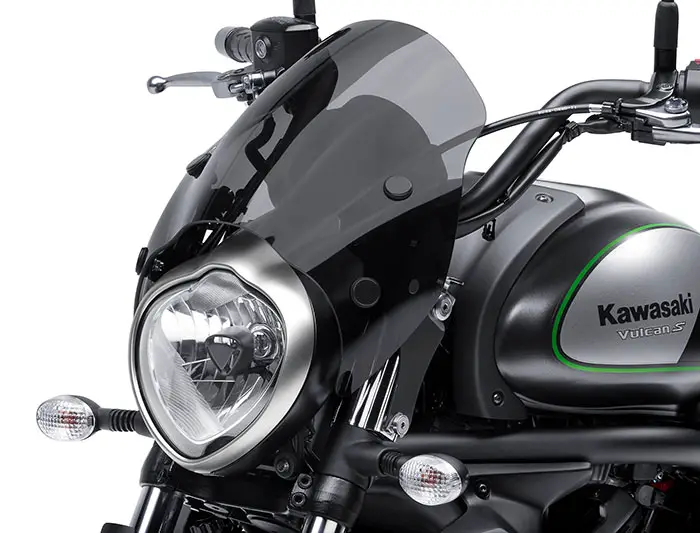 2016 Kawasaki Vulcan S ABS Cafe
2016 Kawasaki Vulcan S ABS Cafe Review

2016 Kawasaki Vulcan S ABS Cafe on www.Totalmotorcycle.com
SPORT CRUISER PERFORMANCE MEETS CAFÉ STYLING…
Unlike any other cruiser, the Vulcan® S ABS Café is geared to fit a wide range of riders. Never taking away from its stylish features, this bike takes comfort, adjustability, Ninja®-derived power and performance to the next level.
•Three-tone paint, signature tank badging and sport
emphasize the sportbike spirit of the Vulcan S
•Dark-tinted windshield deflector helps wind management
for a more comfortable ride
NEW MODELS
To increase the appeal of the 2016 Kawasaki Vulcan S, there are two new models that are guaranteed to capture plenty of attention. The first is the Vulcan S ABS SE. This model will be available in a very stylish two-tone finish, featuring Metallic Imperial Blue and Metallic Spark Black paintwork.
The Vulcan S ABS Café model will feature a dark tinted wind deflector as standard equipment. It also receives a distinctive Candy Lime Green sports stripe down its entire length. The Vulcan S ABS Café is painted in a contrasting Metallic Matte Carbon Gray.
2016 Kawasaki Vulcan S ABS Cafe www.Totalmotorcycle.com Key Features
Kawasaki adds SE and Café models to the Vulcan S line to further increase the appeal of this modern cruiser with its customizable
ERGO-FIT™ concept and smooth ride
For 2016, the Kawasaki Vulcan® S becomes a line of motorcycles with the same great features and even more appeal. It has the same low silhouette of a Vulcan cruiser, mixing it with Kawasaki sportbike-derived power and handling, as well as its popular ERGO-FIT custom fit concept, designed to comfortably fit a wide range of riders.
New for 2016 is the Vulcan S ABS Café, will incorporate a new tinted wind deflector and custom paint scheme. Vulcan S ABS SE, will feature a special two-tone paint finish. The Vulcan S and Vulcan S ABS models will also be available in two striking new colors to add to its overall appeal.
The new models in the 2016 Vulcan S motorcycle line-up are designed to enhance this very special motorcycle, which remains the only bike in its class with standard adjustable, forward-positioned footpegs, allowing a range of riders to get comfortable. It also has a low seat height, plus optional seats and handlebar to accommodate a wide range of riders. Furthermore, the Vulcan S boasts the lowest weight of any motorcycle in its class, and we all know what that means – easier to maneuver, quicker acceleration, easier to stop, quicker to turn and smooth suspension action.
Another standout element of the 2016 Vulcan S is its 649cc liquid-cooled parallel-twin engine. Derived from the Kawasaki Ninja® 650 and tuned for more low- and mid-range torque, the engine is very smooth when pulling away from a traffic light, and responsive when the rider wants to accelerate. This makes it suitable for novice riders, while its top-end power and the nimble handling will keep more experienced riders entertained all day.
2016 Kawasaki Vulcan S ABS Cafe www.Totalmotorcycle.com Features and Benefits


FIND YOUR ERGO-FIT™
ERGO-FIT™ Extended Reach
ERGO-FIT™ Mid Reach
ERGO-FIT™ Reduced Reach

The Kawasaki Vulcan® S is an exceptionally adaptable cruiser that showcases adjustable riding positions for every rider.
Three-position footpegs* and adjustable handlebar levers are positioned to give the rider more room to stretch out. Add to the experience with an Extended Reach seat, which moves hip support back one inch to provide extra room and reach for taller riders.
Adjustable handlebar levers and three-position footpegs are positioned in the ERGO-FIT Mid Reach setting, while the front of the sculpted seat is tapered for an easy reach to the ground.
Handlebar levers are positioned inward, while the ERGO-FIT Reduced Reach handlebar decreases reach.
COMMAND THE ROAD

•Smooth, Ninja®-derived, 649cc parallel-twin engine
•Lightweight and responsive for easy handling and exceptional
performance
•Smooth power delivery with ample low-to-mid range torque and
strong top end
SPORT CRUISER PERFORMANCE
Whether you're commuting to work or enjoying a day trip, the Vulcan® S inspires confidence in riding and delivers exhilarating sport cruiser performance for maximum enjoyment on every ride.

SPORTBIKE-DERIVED CHASSIS AND SUSPENSION PROVIDES LIGHT AND RESPONSIVE HANDLING FOR EASY MANEUVERING AND A SPORTY FEEL

7-WAY ADJUSTABLE REAR SPRING PRELOAD ALLOWS SUSPENSION TO BE SET SOFTER FOR ADDED CRUISING COMFORT OR STIFFER FOR A SPORTIER FEEL

SPORTBIKE-INFLUENCED WHEELS AND TIRES CONTRIBUTE TO THE LIGHT-HANDLING FEEL AND PROVIDE CONFIDENT TRACTION
COMFORT & CONFIDENCE
There are many aspects that can influence the comfort and confidence of a motorcycle rider, and one of the most obvious is the fit. So, first and foremost, the Vulcan S has been designed to accommodate a wide range of riders.
Being a cruiser-style motorcycle, the seat has a low height and is conveniently tapered at the front, meaning most riders will be able to place their feet firmly on the ground, helping to keep them stable when stopped, and increasing confidence in stop-and-go city traffic. What's more, there is significant hip support at the rear of the seat to increase the level of comfort. And there are tailored fit options with two additional different seats and handlebar to ensure a comfortable fit for a range of riders.
The Vulcan S has a slim chassis thanks to the narrow parallel-twin engine, which has its engine cylinders positioned further forward than a V-twin engine. The parallel-twin configuration also enabled engineers to route the exhaust under the engine and away from the rider's legs. A further benefit of the slim chassis is an increased lean angle when cornering.
The Vulcan S suspension was designed to absorb the bumps and give the rider positive feedback, allowing them to relax and feel in control.
TAILORED FIT
Kawasaki Genuine Accessories has several options to tailor the motorcycle to fit individual riders. The customer-selected ERGO-FIT™ option Reduced Reach Seat, for example, moves the hip support further forward, making it easier for riders with a shorter inseam to reach the adjustable footpegs and handlebar. There is also a second optional ERGO-FIT Extended Reach Seat with firmer foam with a gel insert that moves the hip support further back to accommodate taller and heavier riders.
The rider's forward-positioned footpegs are mounted in a relaxed position that is typical of the cruiser riding experience. As a first for this class of motorcycle, the footpegs have three positions to accommodate a variety of different-sized riders. With an adjustment range of 1" forward and 1" backwards from the middle mounting points, the footpegs are able to suit shorter or taller riders for maximum confidence and comfort. Kawasaki Genuine Accessory ERGO-FIT shift rods are required when the footpegs are repositioned.
It doesn't stop there. Kawasaki Genuine Accessories also offers an
ERGO-FIT Reduced Reach Handlebar to help riders with shorter arms to comfortably reach the bar, which is brought 1" closer to the rider.
When combined with the low seat height, adjustable footpegs and range of accessory options, the Vulcan S ABS and its variants have been designed to instill confidence and increase the overall riding enjoyment, making it a good choice for novice and experienced riders alike. And as an added bonus, the preferred ERGO-FIT parts are available free of charge and will be fitted to the motorcycle for the first-time purchaser to ensure they leave the Kawasaki dealership with the ideal fit.
And for the rider who wants to take along a friend, the Vulcan S is customizable thanks to the optional Kawasaki Genuine Accessories passenger seat, backrest and passenger footpeg setup that will accommodate a second person.
CONTROLS
Continuing with the tailored fit theme of the 2016 Vulcan S, both the clutch and brake levers are adjustable for easy reach to suit a range of hand sizes. The rider will also appreciate the Positive Neutral Finder, which makes it easier to select neutral when stopped.
The wide diameter handlebar provides a positive feel and is rubber-mounted to reduce vibration, increasing overall comfort.
The instrumentation consists of a compact analog tachometer with a multifunction dual window. The digital display features speed, fuel level, clock, odometer, dual trip meters, range, average and instant fuel economy as well as an Economical Riding Indicator to show when the rider is optimizing fuel economy.
ENGINE
The liquid-cooled 649cc parallel twin engine is another important aspect of the 2016 Vulcan S. It brings many distinct advantages over a regular cruiser, which includes its Kawasaki sportbike DNA that enables superb flexibility at all engine speeds, a healthy dose of power and legendary dependability. It is also considerably smoother than the V-twin engines used in most cruisers.
For the Vulcan S, the engine has been engineered specifically to make it cruiser-friendly and to inspire confidence in new riders, while still being fun and responsive for experienced riders. There has been specific tuning to the camshaft profiles, intake funnel length, throttle body spacer and air intake to provide exceptional low- and mid-range power delivery. The aim was to create an engine with user-friendly characteristics that ensure the motorcycle is easy to ride, with a smooth power delivery that is responsive to rider inputs at low speed. It also has enough power at higher RPM to keep it entertaining, being considerably more powerful than most cruisers, without becoming intimidating.
Thanks to its use of Digital Fuel Injection (DFI®) to carefully meter the fuel used by the 649cc engine, the 2016 Vulcan S will sip gas reasonably, providing more miles and smiles between fuel stops while also being kinder to your wallet. The motorcycle boasts a 3.7-gallon fuel tank to give plenty of range between stops.
The exhaust system has been routed under the engine to keep the motorcycle narrow for easy reach to the ground. It uses dual-wall pipe with a large diameter that is designed to look good and sound even better, having a distinctive growl that separates it from the typical cruiser.
The six-speed transmission drives an O-ring chain to efficiently transfer engine power to the road. It also has a Kawasaki Positive Neutral Finder: When stopped, this allows you to simply upshift from first to select neutral every time.
CHASSIS
With its cruiser appeal, the 2016 Vulcan S is long and low, with a wheelbase designed for increased stability at typical highway cruising speeds. And Kawasaki brought its sportbike expertise to create the slim, lightweight chassis that has a low center of gravity and centralized mass for even greater stability as well as nimble handling. These benefits will be felt as soon as you maneuver it out of the garage or in a tight space, but will be most appreciated on a Sunday morning ride.
The perimeter frame adds to the unique styling of the Vulcan S and incorporates a rear subframe with slim backbone that eliminates seat rails. By keeping the motorcycle narrow, it helps the rider's feet reach the ground more easily. There is also a "D" section steel swingarm that provides both style and strength.
The 31-degree rake and 4.7" trail of the front fork contribute to the light handling and easy control of the motorcycle, with the fork prioritized towards comfort and control.
The suspension was designed to absorb bumps and provide plenty of feedback. In fact, despite its low appearance, the Vulcan S has 3.15" of rear wheel travel, which is more than most of its competitors and this contributes to the greater comfort.
The rear shock also includes a seven-position, cam-style preload adjuster. It can be easily adjusted to suit the rider or when carrying a passenger and luggage, such as when the Kawasaki Genuine Accessories passenger components and luggage rack are fitted. This means the 2016 Vulcan S rider will enjoy confidence thanks to its suspension technology that is neither rough nor fatiguing, as it can sometimes be on cruiser motorcycles with short-travel suspension.
The 2016 Vulcan S is fitted with stylish cast wheels that feature a five-spoke design with twin spokes. These measure 18" front, 17" rear and exemplify cruiser style. The wheels are fitted with modern, high-performance radial tires to provide responsive handling.
The brakes comprise a single 300mm rotor and twin-piston caliper up front, with a 250mm rotor mated to a single-piston rear caliper. The Vulcan S ABS, Vulcan S ABS SE and Vulcan S ABS Café model also add anti-lock braking (ABS) technology, which contributes to rider confidence in the motorcycle's stopping ability because it assists braking under certain conditions.
STYLING
As with any cruiser, style is very important, and the Vulcan S doesn't disappoint. It incorporates elements such as the teardrop-shaped, 3.7-gallon fuel tank, inverted triangular headlight and black mirrors to match the black frame and exhaust muffler.
The distinctive front headlight design works in conjunction with a bright and compact LED tail light. The rear light is incorporated into the rear fender, which is supported by the separate rear subframe.
The 2016 Vulcan S and Vulcan S ABS will be available in two distinctive new colors: Candy Matte Orange and Urban City White.
ACCESSORIES
Kawasaki Genuine Accessories has developed a host of options to maximize the ownership experience of the Kawasaki Vulcan S. Owners can customize the fit, comfort and style of their motorcycle to meet their needs. Some of the standout items include ERGO-FIT™ Reduced Reach and Extended Reach Seats as well as the ERGO-FIT Reduced Reach Handlebar to tailor-fit the rider fit. These are free of charge to the first-time Vulcan S buyer at designated ERGO-FIT dealerships, or can be purchased by subsequent owners.
Additionally, KQR™ (Kawasaki Quick Release) large and medium windshields, saddlebags and passenger backrest options allow easy installation or removal once installed. Vulcan S customers will also be able to purchase the Café model's wind deflector separately for their own motorcycles.
Other notable accessories include a DC power outlet, gear position indicator, LED light bar, helmet lock, tank bag, soft top case, passenger seat and footpegs.
Kawasaki Genuine Accessories have more than 40 accessories available for purchase at Kawasaki dealerships nationwide.

TIME TO RIDE
With its unique blend of cruiser style and sportbike performance, as well as its customizable fit that instills greater confidence in the rider, there is only one thing left to do: Ride!
With its affordable purchase price, low running costs and easy parking, the 2016 Kawasaki Vulcan S line represents the perfect motorcycle choice for any rider to get across the city to meet friends. And while it has plenty of practical uses, the 2016 Vulcan S is fun, above anything else. It allows you to drop everything at a moment's notice and take-off with a smile. So whether it's a new rider looking to buy a first motorcycle, or an experienced rider looking to rekindle the reason they started riding in the first place, the 2016 Vulcan S is the perfect reason to visit a Kawasaki dealer.
---
2016 Kawasaki Vulcan S ABS Cafe – www.Totalmotorcycle.com USA Specifications/Technical Details
US MSRP Price: $7999 USD

Power
Engine
4-stroke, 2-cylinder, DOHC, Liquid-cooled
Displacement
649cc
Bore x Stroke
83.0 x 60.0mm
Compression ratio
10.8:1
Maximum Torque
46.3 lb-ft @ 6600 rpm
Fuel System
DFI® 38mm throttle bodies (2), with sub-throttle valves
Ignition
TCBI with digital advance
Transmission
6-speed with positive neutral finder
Final Drive
Sealed Chain
Performance
Front Suspension / Wheel Travel
41mm telescopic fork/5.1 in
Rear Suspension / Wheel Travel
Lay-down offset rear shock with linkage and adjustable preload/3.1 in
Front Tire
120/70×18
Rear Tire
160/60×17
Front Brakes
Single 300mm disc with twin-piston caliper, ABS
Rear Brakes
Single 250mm disc with single-piston caliper, ABS
Details
Frame Type
High-tensile steel double pipe perimeter frame
Rake/Trail
31°/4.7 in
Overall Length
90.9 in
Overall Width
34.6 in
Overall Height
43.3 in
Ground Clearance
5.1 in
Seat Height
27.8 in
Curb Weight
498.3 lb**
Fuel Capacity
3.7 gal
Wheelbase
62.0 in
Color Choices
Metallic Matte Carbon Gray/Metallic Matte Phantom Silver
Warranty
12 Month Limited Warranty
Kawasaki Protection Plus™ (optional)
12, 24, 36, or 48 months
---
2016 Kawasaki Vulcan S ABS Cafe – www.Totalmotorcycle.com Canadian Specifications/Technical Details
Canada MSRP Price: $ CDN
TBA
---
2016 Kawasaki Vulcan S ABS Cafe – www.Totalmotorcycle.com European Specifications/Technical Details
Europe/UK MSRP Price: £ GBP (On The Road inc 20% Vat)
NA
*Starting at MSRP is the manufactured suggested price and excludes delivery, setup, tax, title, license, and additional fees and expenses. Bikes may be shown with optional accessories. Final sale price determined by an authorized dealer. Specifications and MSRP are subject to change.
Manufacturer Specifications and appearance are subject to change without prior notice on Total Motorcycle (TMW).