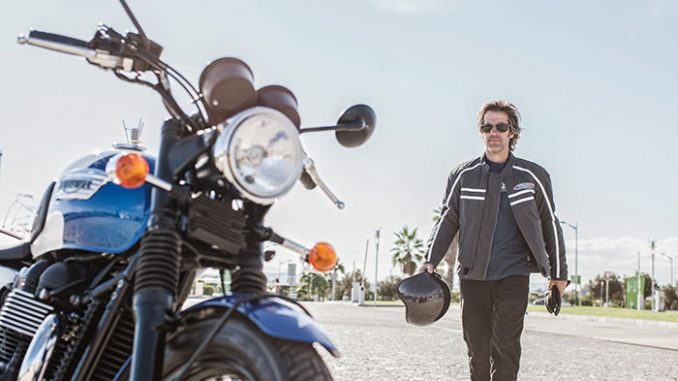 Click photos to enlarge. Our big, clean bike pics make great desktop wallpaper.
2016 Triumph Bonneville T214 Review

2016 Triumph Bonneville T214 on www.Totalmotorcycle.com
Limited Edition…
The Limited Edition Bonneville T214 celebrates the achievements of Texas-born racer Johnny Allen, and his record-breaking Triumph-powered Cee-Gar streamliner which, in 1956, set the first of many land speed records at the Bonneville Salt Flats by recording a two-way average of 214.4mph.

2016 Triumph Bonneville T214 www.Totalmotorcycle.com Key Features
Celebrating a century of speed at Utah's Bonneville Salt Flats – the dramatic setting for Johnny Allen's 1956 Triumph-powered Texas Ceegar Streamliner world record. Allen tore across the flats at 214.40mph, establishing Triumph as the team behind the World's Fastest Motorcycle.
The limited edition Bonneville T214 combines traditional craftsmanship and the latest technology to create a 21st century ride that draws inspiration from our rich landspeed record-breaking heritage.
The Bonneville 214. A unique salute to a very special moment in Triumph history.
Bodywork
Hand-painted Pure White and Caspian blue livery with red/white chequer detail
Headlamp
Smaller deep bowl headlamp
Rear Mudguard
Re-profiled rear mudguard
2016 Triumph Bonneville T214 www.Totalmotorcycle.com Features and Benefits
Limited edition Bonneville celebrating Johnny Allen's 1956 land speed record set at Bonneville Salt Flats in the USA

Commemorates 100 years of land speed setting at Bonneville

Special paint scheme using the distinctive colours of Johnny Allen's Texas Cee-Gar

Individually numbered 1000 unit limited production run
The Limited Edition Bonneville T214 celebrates the achievements of Texas-born racer Johnny Allen, and his record-breaking Triumph-powered Cee-Gar streamliner which, in 1956, set the first of many land speed records at the Bonneville Salt Flats by recording a two-way average of 214.4mph.
The "Texas Cee-Gar," a Triumph Thunderbird 650 powered, methanol-fuelled motorcycle with a streamlined bodyshell was built by airline pilot J.H. "Stormy" Mangham, and Fort Worth dealer, tuner and 2001 Motorcycle Hall of Fame inductee, Jack Wilson and piloted by legendary Texas racer Johnny Allen.
On 6th September 1956 , AMA and FIM observers looked on as Allen set the world absolute speed record for a motorcycle at 214.40 mph. The now-classic 1959 Triumph Bonneville was named in tribute to the Texas Cee-Gar team's record-setting efforts.
The 214.4 mph record lasted until 1962, when it was broken by Bill Johnson, riding the nitro methane powered Dudek Triumph streamliner to a speed record of 224.57.
The new Bonneville T214 Limited Edition, based on the T100 Black, pays homage to the remarkable land speed record achievement. The hand painted Caspian Blue and Pure White colour scheme complete with red and white chequer detailing echoes that of the 1956 Texas Cee-Gar. The blue front mudguard shares the same white star motif from the nosecone of the iconic streamliner. The shortened rear mudguard combined with blacked out wheel rims, handlebars, and rear suspension springs add to the authentic look which is complimented with red seat stitching detail and a smaller front headlight.
Limited to a total of 1000 bikes worldwide, each is individually numbered, and comes with an unlimited mileage, two year factory warranty. Service intervals are every 6000 miles, or one year, whichever is soonest.
Land Speed Clothing Range:
New for Autumn Winter 14 is a range of land speed record clothing and merchandise that echo the spirit of the T214 and Cee-gar. The Speed Record jacket takes all of its styling from that ground breaking machine from the colour to the subtle sign off of the chequered design with the white contrast piping. This heritage styled riding jacket is still full of riding technology like CE certified Knox® protection, TriTex waterproof and windproof Z liner with an additional quilted liner that can be removed too help create the perfect micro climate. Other casual items in the range include t-shirts, polo shirts, zip thrus, and caps.
The story of the Texas Cee-Gar
The Texas Cee-Gar currently resides in the National Motorcycle Museum, near Birmingham, England. It has been lovingly restored by Big D Motorcycles following a devastating fire at the museum in September 2003.
The original power unit was built by Jack Wilson with the aerodynamic glass fibre bodywork designed by the pilot J.H. "Stormy" Mangham. The fire damaged Cee-Gar was restored by a team in Texas led by Keith Martin of Big D Motorcycles who had worked for Jack Wilson. Now in pristine condition, the Cee-Gar complete with its 650cc Thunderbird engine looks just as it did on that famous day, 6th September 1956.
The Pursuit of Speed – The Triumph Castrol Streamliner
Triumph held the title of "World's Fastest Motorcycle" from 1955 to 1970 with the exception of a brief 33-day period. The Triumph streamliners that have carried world records are the Devil's Arrow, Texas Cee-Gar and Gyronaut X1, the last being at 245.60 mph (395.28 km/h). Today's bar now sits at 376.363 mph (605.697 km/h).
In the continued pursuit of speed, Triumph and Castrol have joined forces to create the world's most advanced streamliner – the Triumph Castrol Rocket. With an ambition of hitting 400mph, Castrol Rocket showcases the passion and endeavor for man's quest to be the fastest.
The Bonneville Salt Flats are a challenge in themselves. 100+ degrees heat combined with 1286m altitude and a surface that is similar to sand or packed dirt all take their toll on performance.
Former NHRA Pro Stock Motorcycle Champion and engine tuner Bob Carpenter, has de-stroked two Rocket III engines from their stock 2,294cc to just 1,485cc each (so 2,970cc in total) to meet the 3,000cc total displacement class rule requirement. He has then added his signature cylinder head porting to the stock castings and a Garrett GT2876R ball bearing liquid cooled turbocharger to each engine. Each methanol-burning engine produces 500bhp at 9,000rpm and 250ft.lbs of torque.
Matt Markstaller, a long-time land-speed enthusiast with more than 25 years of experience on the Bonneville Salt Flats is responsible for the aerodynamics and the Carbon Kevlar monocoque. Used in fighter jets and racing cars, the monocoque design incorporates the body and chassis into a single stressed unit. And, built with Carbon Kevlar, the result is much stronger and lighter than conventional materials and construction.
Piloting the Castrol Rocket is motorcycle racer Jason DiSalvo. Currently racing for the Latus Motors Racing Triumph team, Jason already holds AMA and FIM land speed racing records at the Bonneville Salt Flats on a Carpenter Racing powered Triumph Rocket III Roadster in 2012.
Over the coming months, the Triumph Castrol Streamliner will continue its engineering, testing, and development in the pursuit the ultimate accolade of being the world's fastest motorcycle.
---
2016 Triumph Bonneville T214 – www.Totalmotorcycle.com USA Specifications/Technical Details
US MSRP Price: $ USD

TBA

---
2016 Triumph Bonneville T214 – www.Totalmotorcycle.com Canadian Specifications/Technical Details
Canada MSRP Price: $ CDN

TBA

---
2016 Triumph Bonneville T214 – www.Totalmotorcycle.com European Specifications/Technical Details
Europe/UK MSRP Price: £ GBP (On The Road inc 20% Vat)
Engine and Transmission
typeAir-cooled, DOHC, parallel-twin, 360º firing interval
capacity865cc
bore90mm
stroke68mm
systemMultipoint sequential electronic fuel injection with SAI
exhaustStainless steel headers, twin chromed silencers.
final driveX ring chain
clutchWet, multi-plate
gearbox5-speed
oil capacity4.5L
Chassis, Running Gear and Displays
frameTubular steel cradle
swingarmTwin-sided, tubular steel
Front Wheels36-spoke 19 x 2.5in
Rear Wheels40-spoke 17 x 3.5in
Front Tyres100/90-19
Rear Tyres130/80 R17
Front SuspensionKayaba 41mm forks, 120mm travel
Rear SuspensionKayaba chromed spring twin shocks with adjustable preload, 106mm rear wheel travel
brakes frontSingle 310mm disc, Nissin 2-piston floating caliper
brakes rearSingle 255mm disc, Nissin 2-piston floating caliper
instrument display and functionsAnalogue speedometer and tachometer with odometer and trip information
Dimensions and Capacities
length2230mm
width handlebars740
height without mirror1100mm
seat height775mm
wheelbase1500mm
rake28º
trail110mm
tank capacity16l
wet weight230 kg
dry weight214 kg
Performance
max power ec68BHP @ 7500
max torque ec68NM @ 5800
Fuel Consumption
urban51mpg
56mph/90kph68mpg
75mph/120kph56mpg
Manufacturer Specifications and appearance are subject to change without prior notice on Total Motorcycle (TMW).