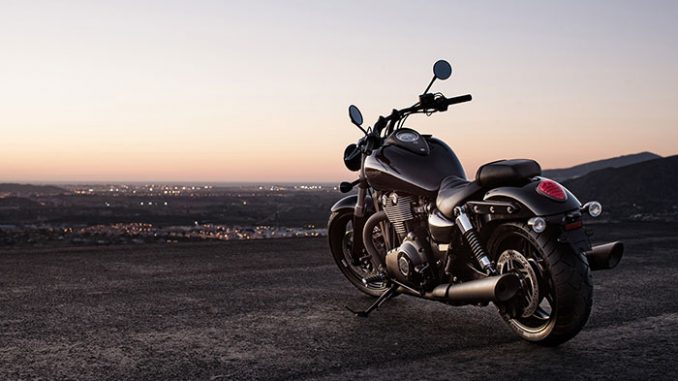 Click photos to enlarge. Our big, clean bike pics make great desktop wallpaper.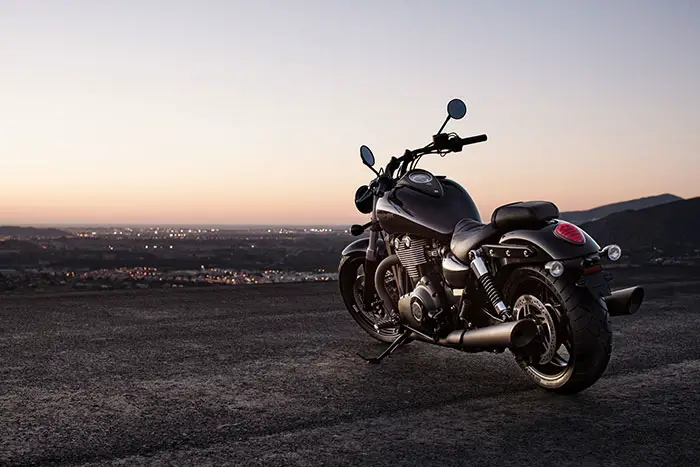 2016 Triumph Thunderbird Nightstorm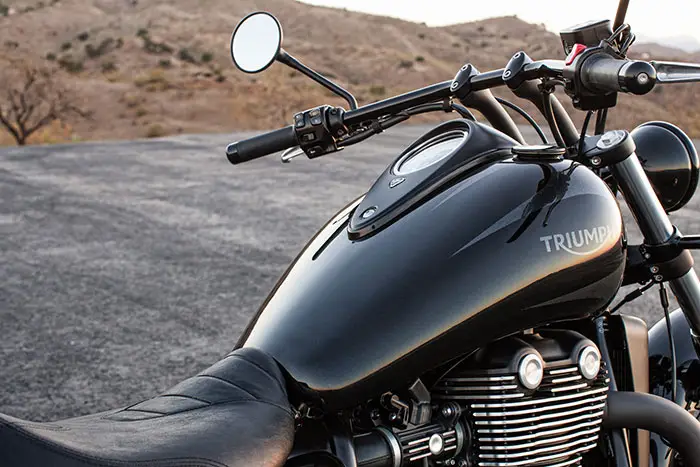 2016 Triumph Thunderbird Nightstorm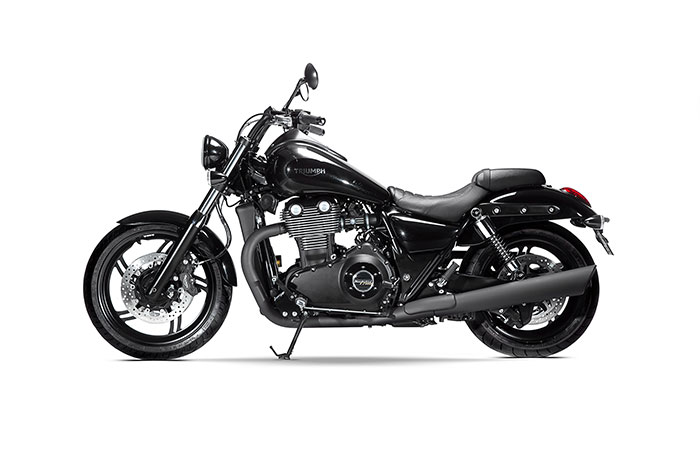 2016 Triumph Thunderbird Nightstorm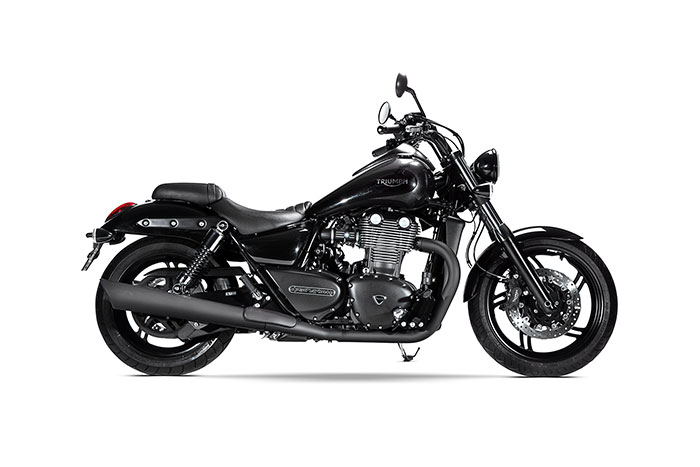 2016 Triumph Thunderbird Nightstorm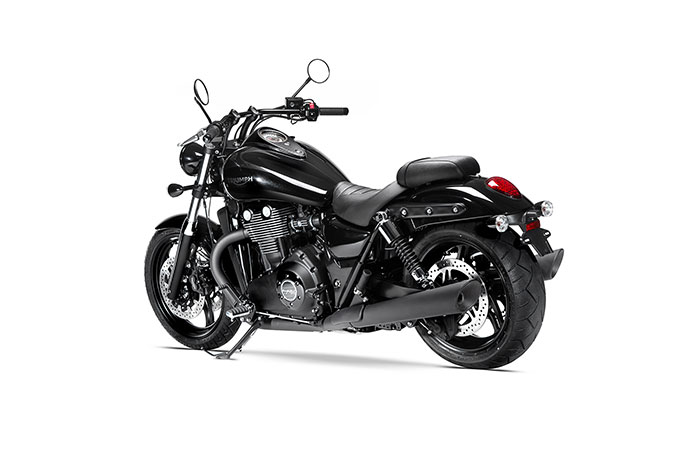 2016 Triumph Thunderbird Nightstorm
2016 Triumph Thunderbird Nightstorm Review

2016 Triumph Thunderbird Nightstorm on www.Totalmotorcycle.com
Menacing…
The Triumph Thunderbird Nightstorm Special Edition is a fully-specified, blacked-out power cruiser for riders who demand a harder edge along with their laid-back ride. Based on the successful Thunderbird Storm and powered by the big-bore 1699cc (104ci) version of Triumph's acclaimed parallel-twin engine, the Nightstorm adds a host of styling touches to provide a darker, moodier and more menacing presence.
The Triumph Thunderbird and Thunderbird Storm share an underlying chassis, but they're two very different breeds of muscle cruiser. The Triumph Thunderbird is the original, laid-back, relaxed, chromed-up classic street cruiser using a torque-rich parallel twin engine to sweep you off your feet and get you where you want to be in life, every time. The Triumph Thunderbird Storm, on the other hand, is blacked-out, mean-streets cruiser that uses its enlarged motor to hammer out even more gut-wrenching bottom-end performance.
We squeezed 102cc more from the muscle-bound parallel twin engine so that it packs an even bigger punch. Still laid-back but underpinned by serious power and the best handling in the class. This is a cruiser with a dark side.
The Thunderbird Strom is a fully specified, blacked out power cruiser for riders who demand a harder edge along with their laid-back ride. Powered by an uprated, big-bore 1699cc version of the award winning Thunderbird.
Style, performance and control. It's a classy combination, but it only takes one look at the Triumph Thunderbird Range to instantly know they've got the lot. From making big miles disappear to dominating the urban landscape; whichever you choose, the world's largest parallel twin engine has every answer.
Laid back and relaxed, the Thunderbird is everything a cruiser should be , but with a uniquely British touch. Twice awarded "Cruiser of the Year" by Cycle World, the Thunderbird combines classic cruiser styling with class leading chassis and engine performance.
2016 Triumph Thunderbird Nightstorm www.Totalmotorcycle.com Key Features
•ABS
•Adjustable suspension
•Belt drive
•Liquid-cooled
•Self cancelling indicators
•Big bore 1699cc parallel twin
•107mm pistons push out 98PS and 156Nm of Torque at 2950rpm
•Aggressive blacked-out look dark-style stealth cruiser looks with twin headlights
The Thunderbird Storm is available in:
•Jet Black
•Matt Graphite
2016 Triumph Thunderbird Nightstorm www.Totalmotorcycle.com Features and Benefits
Engine

The Triumph Thunderbird engines look every cubic inch a classic cruiser motor, designed with Triumph's unique, big-bore parallel twin twist. But don't be fooled by the air-cooling fins. Because inside is a modern, high-performance, water-cooled power plant with sophisticated electronic fuel injection and engine management, built with Triumph's cutting-edge quality and durability.
Configuration
With forged pistons the size of saucers, the Thunderbird's 1597cc, Thunderbird Storm, Commander and Thunderbird LT's 1699cc, eight-valve, water-cooled parallel twin is engineered with a 270° firing interval for a chunky, charismatic power delivery. Twin balance shafts soothe low frequency vibes, allowing the Thunderbird's pulsating torque to be felt across the rev range.

Performance
At a colossal 1699cc, the world's largest parallel twin engine powering the Triumph Thunderbird Commander and Thunderbird LT packs a mighty big punch, pounding out a remarkable 94PS and truly staggering 151Nm at 3550rpm. This barn-storming low down performance makes it the perfect engine for anything from effortlessly relaxed cruising across entire continents on the Thunderbird LT to cutting a domineering dash along today's roads on the Thunderbird Commander. But with phenomenal overtaking power always on tap whichever gear you're in, your Thunderbird is never found wanting.
The 1597cc Triumph Thunderbird motor thumps out a fulsome 86PS, but the real story is a whopping 146Nm of peak torque at a mere 2750rpm. Meanwhile the 1699cc Thunderbird Storm engine raises the bar even higher to 98PS and a simply colossal 156Nm of torque. It means both Thunderbird and Thunderbird Storm's low down power deliveries are specifically engineered to suit their chilled-out cruising vibe, but both bikes also come fully armed with serious performance under the tank to lay down the law when action is called for.

Gearbox-Transmission
The Triumph Thunderbird's smooth, six-speed gear ratios deliver every ounce of the engine's torque-rich performance, from the intense thrust of first gear right the way to an overdrive top gear for relaxed cruising and exceptional fuel efficiency. But with phenomenal overtaking power always on tap whichever gear you're in, the Thunderbird is never found wanting.

Belt Drive
The Triumph Thunderbird belt drive, with carbon fibre in the belt and a tungsten carbide treatment on the rear pulley, has a higher tensile strength than steel and ensures snatch-free transmission with high durability and almost no maintenance compared to chain-drive. And it doesn't need oiling.
Chassis

Overview

The Triumph Thunderbird's dynamic engine demands an equally dynamic chassis with handling developed as a priority, not an afterthought. As a result, all Thunderbirds can supply relatively high levels of agility, control and precision usually unheard of in a cruiser, with plenty of ground clearance for when the ride gets interesting.

Suspension
Stylish on the outside, modern on the inside. The Triumph Thunderbirds feature chunky 47mm Showa forks with 120mm of travel. set-up and carefully matched to a pair of five-way preload adjustable shocks at the rear, with 109mm (LT & Commander) and 95mm (Thunderbird & Thunderbird Storm) of travel giving the right dynamic for everything from spirited solo riding to two up touring.

Chassis


Frame

The Triumph Thunderbird frame is built with a massively strong twin steel tube spine layout that utilises the engine as a strengthening factor, with optimised geometry to maintain user-friendly steering. But the frame also shows off the Thunderbird's stunning parallel twin as the bike's design focal point.
Wheels and Tyres
To match the Triumph Thunderbird Commander's dominant presence on the road, yet retain its agile, user-friendly handling characteristics, a dramatic, fat-section 140/75 17in front tyre is fitted with a 200/50 17in at the rear, running on lightweight diamond-turned cast wheels. Meanwhile the Thunderbird LT features the world's first white-walled radial tyres, developed exclusively for Triumph by British tyre manufacturer Avon. With a fat-section 150/80 16in front and 180/70 16in rear on stunning 56-spoke wire rims, they're the ultimate in laid-back cruiser cool.

Wheels and Tyres Thunderbird and Storm
For guaranteed confidence leaning over in the corners, and to complement the Triumph Thunderbird and Thunderbird Storm's remarkable combination of low-down, cruiser style and easy, neutral handling, a pair of specially developed 120/70 front and wide-section, low-profile 200/50 Metzeler Marathon tyres are fitted to lightweight, five-spoke cast alloy 19in front and 17in rear wheels. The result is a no-compromise level of grip and feedback, plus the added bonus of that crucial fat-tyred look.

Handling
The Triumph Thunderbird delivers awesome engine performance. That's why outstanding handling, in all situations and for all riders, is called for. The bikes are carefully developed to bring Triumph's trademark light, neutral steering, easy low speed agility, and high stability and user-friendliness to the big cruiser class. High performance braking is also of prime importance, using twin Nissin four-piston calipers on 310mm discs at the front and a Brembo caliper and 310mm disc at the rear, backed up by sophisticated ABS.

Riding Position
The Thunderbird Commander instantly lives up to its name as soon as you get on. Wide, swept-back bars brace you against the world, forward-placed running boards and a low, deeply padded seat with double-layer, dual-density seat foam, settle you into a tough, yet laid-back, groove. If feels like you're ready to take on the world – and win. The Thunderbird LT has the same footboards and deeply padded seat, but its high, pulled-back cow horn bars give a more steady, touring feel to its riding position. It feels like you're ready to ride round the world – and win.
Being in control and being seen to be in control are what counts on the Triumph Thunderbird and Thunderbird Storm. With forward footrests, double-foam low seat, and wide, pulled-back bars for a spacious riding position, they're perfect for a quick Sunday spin, or comfortable on long trips, even two-up.
Style


Styling

Style matters, which is why the Triumph Thunderbirds stir emotions visually as well as on the road. From mechanical highlights like machined cooling fins, chrome covers and careful exhaust routing, to the aesthetics of diamond-turned cast wheels or wire spokes, deep fenders, hand-painted coach lines and lustrous body-colours, each Thunderbird is built with the quality and detailing you'd expect of a prestige Triumph cruiser. So whether you prefer the LT's classic touring cruiser stance or the clean, elegant style of the Thunderbird Commander, you know your bike looks as good to everyone else as it does to you.

Accessories

Foot Board Kit
Make your riding position fit you with a pair of Triumph accessory footboards. The chromed tear drop rider footboards come with either plain rubber mats or with chrome line detailing, and are available for either rider and/or passenger comfort.(Image shows Thunderbird Commander foot board)

Luggage Rack
For added day-to-day convenience or solo longer trips, a high gloss, hand polished, multi-layer chrome plated luggage rack, fabricated from steel tubing, fits to the rear of the Triumph Thunderbird and Thunderbird Storm (when the pillion seat is removed).

Dresser bars
Made from high quality, hand polished, triple-layer chrome plated tubular steel, engine dresser bars are available for the Thunderbird family both to enhance and offer maximum protection for your engine or the rear of your Thunderbird. Supplied complete with all mounting hardware.

Leather Panniers
Longer trips on the Triumph Thunderbird Commander will benefit from a pair of sumptuous, genuine leather, top-loading panniers with ample 52-litre capacity. Includes chrome plated, Triumph-branded buckles and hidden snap clips for ease of use.

Rider Comfort Seat
Covered with premium luxury Sky Renna fabric and with distinctive stitching detail, the long-haul rider seat delivers exceptional comfort over any distance. Designed to be installed together with the pillion comfort seat. (Image shows Thunderbird Commander Seat)

Silencer Kit
Available in long or short design, the High Flow silencer kit includes slash cut, tapered, triple-plated chrome silencers with improved gas flow for enhanced engine performance and a deeper exhaust note. Supplied with gaskets and replacement heat shield covers. Requires specific calibration to guarantee optimum performance. Off-road use only. (Image shows Thunderbird LT Silencer kit)
---
2016 Triumph Thunderbird Nightstorm – www.Totalmotorcycle.com USA Specifications/Technical Details
US MSRP Price: $ USD

NA



---
2016 Triumph Thunderbird Nightstorm – www.Totalmotorcycle.com Canadian Specifications/Technical Details
Canada MSRP Price: $ CDN

NA

---
2016 Triumph Thunderbird Nightstorm – www.Totalmotorcycle.com European Specifications/Technical Details
Europe/UK MSRP Price: £ See Dealer for Pricing in GBP (On The Road inc 20% Vat)
Type Liquid-cooled, DOHC, Parallel-twin, 270º firing interval
Capacity 1699cc
Bore/Stroke 107.1mm / 94.3 mm
Compression 9.7:1
Max power 98 PS/97 BHP (72 kW) 5,200 rpm
Max torque 156 Nm 2,950 rpm
System Multipoint sequential electronic fuel injection, progressive linkage on throttle
Exhaust Chromed twin-skin stainless steel 2 into 1 into 2 exhaust system with chrome plated silencers
Final drive Toothed Belt
Clutch Wet, multi-plate
Gearbox 6-speed
Frame Tubular Steel, twin spine
Swingarm Twin-sided, steel
Front Wheels Cast aluminium alloy 5-spoke 19 x 3.5 in
Rear Wheels Cast aluminium alloy 5-spoke 17 x 6.0 in
Front Tyres 120/70 R19
Rear Tyres 200/50 R17 75W
Front Suspension Showa 47 mm forks. 120 mm travel
Rear Suspension Showa black spring twin shocks with 5 position adjustable preload, 95 mm rear wheel travel
Brakes Front Twin 310 mm floating discs. Nissin 4-piston fixed calipers, ABS
Brakes Rear Single 310 mm fixed disc. Brembo 2-piston floating caliper, ABS
Instrument Display and Functions Analogue speedometer featuring integrated rev counter, scroll button on handlebars, LCD trip computer, fuel gauge and clock
Width Handlebars 880 mm
Height Without Mirror 1120 mm
Seat Height 700 mm
Wheelbase 1615 mm
Rake 32 º
Trail 151 mm
Dry Weight 308 Kg
Tank Capacity 22 L
Constant Speed 56mph/90kph 66.8 MPG
Constant Speed 75mph/120kph 48.9 MPG
Manufacturer Specifications and appearance are subject to change without prior notice on Total Motorcycle (TMW).