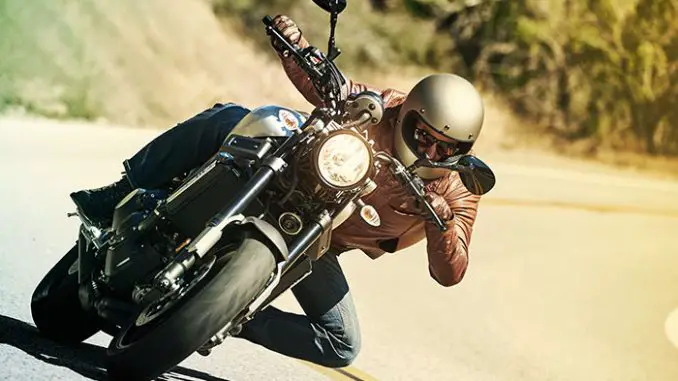 Click photos to enlarge. Our big, clean bike pics make great desktop wallpaper.
2016 Yamaha XSR900 Review

2016 Yamaha XSR900 on www.Totalmotorcycle.com
The Faster Sons Philosophy…
Yamaha's 'Faster Sons' philosophy continues to grow; tipping its hat in respect to the bikes that came before, whilst showing pride in the faster sons of today and tomorrow.
The Sport Heritage bike building philosophy pushed the boundaries of motorcycle technology earlier this year, bringing Faster Sons to life with the XSR700. The cool, retro styled street bike paid tribute to the iconic Yamaha XS650 on the surface whilst showcasing the latest in Yamaha technology under the skin to deliver timeless style with an involved, emotional riding experience.
Yamaha continues to evolve its Sport Heritage range, never standing still. Now a new chapter has arrived with the second model that lives and breathes the Faster Sons philosophy, the all-new XSR900.
The Shinya Kimura collaboration with Yamaha saw the Faster Sons philosophy realized and confirmed with the 'Faster Son', influencing the development of the XSR700. The XSR900 shares a similar story, continuing to develop the Faster Sons story through collaboration with iconic builders. It was Roland Sands' stunning triple concept, the 'Faster Wasp' launched earlier this month that further validated the philosophy. The concept shone with classic retro style blended with cutting edge technology and a strong race influence, inspiring the concept of the XSR900.
Design Inspiration
Building on the success of the XSR700, The all-new XSR900 steps up to join the Sport Heritage range, again paying tribute to the iconic motorcycles of Yamaha's past, including the first 4-stroke model,
The simple, timeless styling of the XSR900 is perfectly blended with colour schemes and graphics to reflect Yamaha's sporty DNA, its history and its iconic motorcycles of the past. Beneath the retro inspired exterior lies the latest and best of Yamaha's technology, promising a true emotional riding experience.
The XSR900 delivers on its authentic feel with minimal use of plastic resin parts, instead offering high quality components to reward the senses. A 14-litre fuel tank with aluminium covers takes centre stage ahead of a split level stitched seat and is complimented by front and rear aluminium fenders, aluminium side covers and a sporty aluminium headlight stay. A matt black exhaust system with contrasting polished muffler end cap provides a throaty soundtrack to any riding adventure.
The Ride
The XSR900 has the 'Go' to match the 'Show' with a powerful in-line 3-cylinder 850cc Crossplane Concept engine. The liquid-cooled 4-stroke motor benefits from some of the latest bike technology to deliver an unparalleled riding experience, including a Traction Control System (TCS) and an Assist & Slipper (A&S) clutch.
The TCS is fully adjustable with three performance modes depending on the road conditions. Riders can opt for minimal or maximal intervention and can also switch the system off completely when appropriate to do so.
The A&S clutch adds another level to rider enjoyment, providing more comfort through a gentler machine motion resulting from back torque when downshifting through the gears. It also creates a lighter clutch feel, inspiring more confidence when starting off and also coming to a stop, particularly when riding in the city.
To reach the full potential of the powerful and involving engine and technology package requires a chassis set up to match, and the XSR900 doesn't disappoint. A lightweight CF aluminium die-cast frame cradles the heart of the machine whilst the swingarm's pivot is attached to the outside of the frame, creating a narrower, slimmer area around the feet. The end results deliver a foot position on par with an inline 2-cylinder motorcycle.
Keeping the ride under control and offering even more input for the rider are the front and rear suspension setups. 41mm upside down forks at the front and a linked-type Monocross rear with shock unit are taken from the class leading Yamaha MT-09, and given specific setting changes for the XSR900. Rebound damping is adjustable at the front and preload and rebound damping at the rear, giving total control.
The carefully thought out and designed engine and chassis package, mixed with cutting edge electronics means the XSR900 has everything to offer riders who already have a base set of riding skills and are maybe ready to step up from an entry level sport bike. The new Sport Heritage machine is also the perfect choice for those who appreciate the real fun of riding motorcycles and who take the design and style of their machines seriously. The icing on the cake for total control comes in the form of Yamaha's D-MODE selection system, allowing the selection of engine character to suit the riding conditions. Riders can switch between sharper response characteristics and a milder, gentler setting with easier-to-use power for more challenging road conditions.

STYLE ALL ITS OWN
The XSR900™ blends Yamaha engineering with neo-retro style, creating a new machine for riders looking for an authentic and honest motorcycle with plenty of performance.


Conquer Road

Introducing the new XSR900. Based on the popular FZ-09, the XSR is a beautiful blend of 3-cylinder performance and eye catching "authentic sports" styling. The XSR includes all of the FZ-09's key features plus traction control and ABS equipped brakes. A natural riding position offers solid riding comfort while the new slipper clutch with assist highlights the more serious sports side of the XSR. Tasty, timeless styling combined with plenty of Yamaha's latest technologies, the XSR is guaranteed to provide a fun, exciting ride.

2016 Yamaha XSR900 www.Totalmotorcycle.com Key Features
Highlights
• Stitched two-level seat seat
• Aluminium retro fuel tank covers
• Aluminium front and rear fenders
• Aluminium headlight stay
• Round front and rear headlight and taillight
• Round rear muffler end cap
• Wide range of customization accessories
Chassis highlights
• Lightweight frame with CF die-cast aluminium parts
• Adjustable 41mm upside-down forks
• Adjustable linked-type Monocross rear shock system
• Pivot assembly outside of frame for narrower foot position
• Standard with ABS
• TCS – Traction control system
• Assistant & Slipper Clutch – for enhanced rider enjoyment
Engine highlights
• 850cc inline 3-cylinder engine
• Crossplane Concept engine design philosophy
• Deep linear torque
• 270-degree crank for strong acceleration and traction
• Smooth, exciting power delivery to high rpm
• Yamaha D-MODE engine power control

2016 Yamaha XSR900 www.Totalmotorcycle.com Features and Benefits

///Key Highlights
• 847cc, DOHC, 4-valve / cylinder, liquid-cooled, 42.5 degree inclined, inline-3 cylinder engine
• Offset, ceramic composite plated cylinder
• CP3 crankshaft with fracture split connecting rods
• Yamaha's chip controlled throttle (YCC-T)
• Slipper clutch with assist function
• D-Modes (3)
• Traction Control
• ABS brakes
• Adjustable suspension front & rear
• Neo-retro "authentic sports " styling
///ENGINE
• Compact, 847cc, DOHC, 12-valve (4/cyl), liquid-cooled, 42.5 degree inclined, inline-three cylinder engine.
• engine is tuned to provide plenty of low & mid-range torque
• strong yet linear throttle response
• meets or exceeds Europe's EU-4 emission regulations
• 4-valve, downdraft style combustion chamber
• excellent torque output… especially in the low to mid rpm range
• 4-valve design maximizes flow into & out of combustion chambers
• 31 mm intake & 25 mm exhaust valves
• stainless steel valves feature an Isonite surface treatment & carburized tips for excellent durability & wear resistance
• Valve adjustment intervals are every 42,000 kms.
• 120 degree CP3… cross plane concept crankshaft.
• design reduces inertial torque while emphasizing linear torque
• design has been optimized to achieve strong torque over a broad rpm range
• fast, linear throttle response
• engine design allows a whole new level of "rider – machine communication"
• Lightweight "coupling force balancer".
• reduces engine vibration for excellent rider comfort
• "Fracture split" connecting rods feature a "nut-less" design.
• lower end "cap" of the rod is made from the same piece of material as the upper portion; the 2 pieces are "split" apart using a special fracturing process & then machined and re-mated
• design aids in establishing true big end roundness & greater precision in con rod dimensions for excellent durability despite the higher horsepower loads.
• Lightweight, forged, aluminum short skirt pistons.
• lightweight design for fast engine response
• reduces mechanical vibration
• excellent durability
• Direct ceramic composite plated cylinder uses "liner less" bores.
• ceramic coating sprayed directly on the aluminum block, eliminating the liners & reducing weight
• excellent heat dissipation for consistent power delivery
• coating enhances the thin film of oil between the cylinders & pistons, reducing friction & increasing power
• Offset cylinder design.
• cylinder is "offset" relative to the crank (toward exhaust side)
• reduces frictional losses between the pistons & the cylinder walls during the power stroke for improved power output
• One-piece cylinder & upper crankcase assembly.
• superior engine & chassis rigidity (engine is a stressed member)
• reduces weight
• Lightweight, hollow, high performance camshafts.
• cam profiles are designed for excellent torque in the low & mid rpm range
• Crankcases feature a "Tri-Axis" layout for the crank, main & drive axles.
• creates a more compact & shorter engine front to back
• shorter engine allows for optimum engine placement in the "sweet spot" of frame for desired weight distribution & great handling
• Closed loop, Mikuni, 41 mm, throttle body fuel injection system.
• system uses throttle position sensor (TPS) & acceleration position sensor (APS)
• 12 hole injectors
• injectors spray fuel directly at the intake valve
• "closed loop system" uses an oxygen sensor to "sniff" spent exhaust & automatically adjust the fuel / air ratio for reduced emissions
• fuel injection benefits include choke-free starting, steady idling during warm up, excellent fuel economy & reduced emissions
• Yamaha Chip Control Throttle (YCC-T).
• YCC-T electronically controls throttle valves for outstanding throttle response & controllability
• YCC-T system provides precise control of intake air volume for a smoother torque curve
• ECU that controls YCC-T is capable of responding to changes at a speed of 1000th of a second
• Yamaha D-Mode variable throttle control … 3 modes available.
• enables the rider to adjust the performance characteristics of the engine based on riding preferences or riding conditions
• "STD" (standard) Mode emphasizes very linear throttle & torque feel of the engine
• "A" Mode allows the rider to enjoy even sportier engine performance in the low to mid rpms
• "B" Mode reduces throttle response for riding situations that require softer power characteristics, such as slippery or wet conditions
• D-Mode button is conveniently located on the RHS handle bar switch gear
• Traction control system.
• 3 setting modes available; Mode 1 for minimal intervention (some wheel spin), Mode 2 for maximum intervention (no wheel spin) and off.
• works in conjunction with the YCC-T system (utilizing same front & rear wheel sensors as ABS system)
• system senses when the rear wheel begins to spin & modifies the YCC-T function, ignition timing & fuel injection volume to reduce power & eliminate wheel spin
• status indicator / warning light in meter assembly
• Electronic Control Unit (ECU) utilizes a powerful 32-bit processor for fast control of the injection, engine management & ignition processes.
• Air box features unequal internal intake funnel lengths for all 3 cylinders
• benefit is a wide torque curve & exciting intake sound that accentuates the exhaust note
• viscous paper type air filter is used
• Compact 6-speed transmission.
• gear ratios are optimized to accentuate the torque & throttle response of the engine
• Compact, slipper (back limiter) clutch assembly with assist.
• slipper clutch function reduces the negative effects of engine braking on handling & suspension
• reduces rear wheel hop when making down shifts under hard braking
• assist function reduces clutch lever effort by up to 20%
• Flat design radiator for excellent cooling efficiency.
• aluminum side covers (left & right sides) adds style to the rad
• Liquid-cooled, oil cooler maintains stable lubricant temperatures for extended engine life.
• Convenient spin-on type oil filter & easy access drain plug for fast oil changes.
• Maintenance-free transistor controlled ignition (TCI).
• produces a strong spark for fast starts
• provides precise ignition timing / mapping for optimum engine performance at all rpms
• Stylish, low mounted, 3 into 1 exhaust system.
• muffler is a triple expansion type with a 3-way honeycomb catalyzer to reduce harmful emissions
• low mounted design centralizes mass for excellent handling & light weight feeling
• Air Injection System (AIS… not ram air) injects fresh air into exhaust ports to fully burn any unburnt fuel, reducing exhaust emissions.
///CHASSIS
• CF (Controlled Filling) die cast, twin spar, diamond-type, aluminum frame
• provides an optimized rigidity balance for sporty handling & excellent stability
• engine is a stressed member of the chassis, allowing a lighter, more compact main frame
• light, agile handling qualities
• Riding position is one of the most important features of the XSR900 chassis.
• upright, natural riding position offers a balance between sporty riding & excellent rider comfort
• Key chassis geometry figures include:
• 1440 mm (56.7″) wheelbase, 25 degrees of rake & 103 mm of trail
• front to rear weight distribution is 51 / 49%
• lean angle is approximately 50 degrees, highlighting the sporty nature of the XSR900
• chassis dimensions & shape are designed to enhance the qualities of the 3 cylinder engine & to centralize mass & lower the centre of gravity
• Detachable, round tube steel rear sub frame.
• allows easy access to rear suspension components
• reduces costs in the event of damage
• Externally mounted, C.F. (Controlled Filling) die cast aluminum, truss-type rear swingarm.
• external design means the swingarm mounts on the outside of the frame spars… not the inside
• external design keeps unit narrower in the seat – fuel tank junction which influences seat height & makes it easier to touch the ground
• lightweight design reduces unsprung weight for superior suspension performance
• excellent rear wheel traction & control
• Adjustable, 41 mm inverted cartridge style fork offers 137 mm (5.4″) of wheel travel.
• adjustments include; 15 mm of spring preload adjustment & 12-way rebound damping
• inverted design benefits include: reduced "unsprung" weight & reduced fork flex since the larger diameter tubes are gripped in the triple clamps
• adjustable design allows the rider to tailor suspension settings to match rider weight, load, road conditions & riding style to maximize suspension performance & handling
• Lightweight, aluminum upper & lower triple clamps.
• Adjustable link-type Monocross rear suspension with 130 mm (5.1″) of wheel travel.
• rear shock adjustments include: 7-steps of spring preload & 3 turns of rebound damping
• ABS equipped, dual 298 mm floating front discs squeezed by radial mount, mono-block, 4-piston calipers.
• radial mount design helps to reduce caliper distortion for improved braking performance
• master cylinder uses a 16 mm piston
• excellent stopping power & control with good lever feedback
• 5-position adjustable front brake lever
• ABS equipped, 245 mm rear disc is squeezed by a lightweight single piston, slide-type Nissin caliper.
• ABS or Anti-Lock Braking System.
• controlling ECU & hydraulic unit are combined into a single compact unit
• when ABS system senses impending wheel lock-up (via active type wheel sensors) it regulates hydraulic pressure to the point just before the wheel(s) lock-up
• ABS benefits include; excellent control under hard braking or when braking on wet, slippery or loose surfaces
• design reduces weight & centralizes mass
• Lightweight, cast-aluminum 10-spoke wheels.
• lightweight design reduces unsprung weight for excellent suspension & handling characteristics
• front rim size is MT3.50-17
• rear rim size is MT5.50-17
• Conventional, tapered aluminum handlebar.
• lightweight & strong
• offers a comfortable, upright riding position for excellent all day riding comfort
• traditional design allows easy replacement to a different "bend" if desired
• 14-litre fuel tank with replaceable aluminum tank covers.
• slim design with great knee grip
• reserve portion of the tank is 2.7 litres (low fuel light illuminates)
• internal electric fuel pump
• exterior replaceable tank covers /side panels… reduce expenses if damaged
• One piece rider & passenger seat (seat is slightly shorter than FZ-09).
• seat height is 830 mm (32.7″)
• Round, retro design, liquid crystal multi-function meter / instrument.
• functions (all digital) include: speedo, bar-style tachometer, odometer, dual trip meters, fuel gauge, fuel reserve trip meter (counts kilometers since low fuel warning flashed) coolant temp, gear indicator, instant & average fuel consumption, clock, intake air temp, D-mode display, TCS indicator & ECO indicator
• full range of warning lights including ABS & TCS status
• adjustable background illumination
• Neo-retro style 65/55 watt halogen headlight with retro style aluminum headlight brackets / stays.
• highlights the XSR900's "neo-retro authentic sports styling"
• Vintage style 19 LED rear tail light.
• Neo-retro "authentic sports" body design.
• front fender with aluminum stay, fuel tank panels (3), side covers, rear fender , mirrors & mud guard
///Additional Features
• Lightweight forged aluminum footrests, shifter & rear brake pedal
• Lockable steering
• Durable "O"-ring drive chain
• 4-way emergency flasher
• Convenient oil level sight glass.
• Bungee cord hook points on passenger footpeg mounts
• Excessive lean angle engine cut-out switch (if unit is on its side the engine will shut down)
• Low-maintenance sealed battery (battery should be charged during winter storage)
• Yamaha diagnostic tool connector
NOTE: The XSR900 offers a significant level of power and performance. It is not intended for novice or inexperienced riders.

---
2016 Yamaha XSR900 – www.Totalmotorcycle.com USA Specifications/Technical Details
US MSRP Price: $9,490 – Matte Gray/Aluminum – Available from March 2016; $9,990 – 60th Anniversary Yellow – Available from April 2016


Engine Type 847cc liquid-cooled DOHC inline 3-cylinder 4-
stroke; 12 valves
Bore x Stroke 78.0mm x 59.1mm
Compression Ratio 11.5:1
Fuel Delivery Yamaha Fuel Injection with YCC-T
Ignition TCI: Transistor Controlled Ignition
Transmission 6-speed; multiplate assist-and-slipper wet clutch
Final Drive Chain
Suspension / Front 41mm inverted fork, adjustable preload and
rebound damping; 5.4-in travel
Suspension / Rearv Single shock, adjustable preload and rebound
damping; 5.1-in travel
Brakes / Front Dual 298mm discs; ABS
Brakes / Rear 245mm disc; ABS
Tires / Front 120/70ZR17
Tires / Rear 180/55ZR17
L x W x H 81.7 in x 32.1 in x 44.9 in
Seat Height 32.7 in
Wheelbase 56.7 in
Rake (Caster Angle) 25.0°
Trail 4.1 in
Maximum Ground
Clearance
5.3 in
Fuel Capacity 3.7 gal
Fuel Economy** 44 mpg
Wet Weight*** 430 lb
Warranty 1 Year (Limited Factory Warranty)
Color Matte Gray/Aluminum; 60th Anniversary Yellow


** Fuel economy estimates are based on US EPA exhaust emission certification data obtained by Yamaha.
Your actual mileage will vary depending on road conditions, how you ride and maintain your vehicle,
accessories, cargo and operator/passenger weight.
*** Wet weight includes the vehicle with all standard equipment and all fluids, including oil, coolant (as
applicable) and a full tank of fuel. It does not include the weight of options or accessories. Wet weight is
useful in making real-world comparisons with other models.



---
2016 Yamaha XSR900 – www.Totalmotorcycle.com Canadian Specifications/Technical Details
Canada MSRP Price: $10,699 – Matte Gray/Aluminum – Available from March 2016; $10,990 – 60th Anniversary Yellow – Available from April 2016
Engine
Liquid-cooled, DOHC, 12-valve (4-valves/cyl), inline-three cylinder
Displacement
847cc
Bore and Stroke
78 x 59.1 mm
Compression Ratio
11.5:1
Maximum Torque
8.9 kg-m (64.3 ft-lbs.) @ 8,500 rpm
Engine Management
YCC-T & D-Mode (3 positions) & Traction Control
Fuel Delivery
Mikuni 41mm throttle body F.I.
Estimated Fuel Consumption±
18.6kpl / 52.5 mpg (Imp.)
Lubrication
Wet sump
Ignition / Starting
TCI / Electric

Transmission
6-speed
Final Drive
"O"-ring chain
Suspension (Front)
Adjustable 41mm inverted fork / 137mm (5.4″) wheel travel
Suspension (Rear)
Adjustable link Monocross / 130mm (5.4″) wheel travel
Brakes (Front)
Dual 298mm discs / radial mount 4-piston calipers, ABS equipped
Brakes (Rear)
245mm disc / single piston caliper, ABS equipped
Tires (Front)
120/70ZR17
Tires (Rear)
180/55ZR17

Length
2,075mm (81.7″)
Width
815mm (32.1″)
Height
1,140mm (44.9″)
Wheelbase
1,440mm (56.7″)
Rake / Trail
25° / 103mm
Ground Clearance
135 mm (5.3″)
Seat Height
830mm (32.7″)
Fuel Capacity
14 litres (3.1 imp. gallons)
Wet Weight
195 kg (430 lb.)
Colour(s)
Brushed Aluminum & Mat Gray
60th Anniversary Yellow & Black
Specifications, appearance, and price of product are subject to change without notice.
* MSRP does not include freight, PDI (Pre Delivery Inspection), pre-rigging (boats), or taxes. Dealer may sell for less. See your local dealer for out the door pricing.
± Fuel economy estimates are based on US EPA exhaust emission certification data obtained by Yamaha and converted into Canadian measurements. Your actual mileage will vary depending on road condition, how you ride, maintain your vehicle, accessories, cargo and operator/passenger weight.
---
2016 Yamaha XSR900 – www.Totalmotorcycle.com European Specifications/Technical Details
Europe/UK MSRP Price: See Dealer for pricing in GBP (On The Road inc 20% Vat)
Engine
Engine type 3-Cylinder, 4-stroke, liquid-cooled, DOHC, 4-valves
Displacement 847 cm³
Bore x stroke 78.0 mm x 59.1 mm
Compression ratio 11.5 : 1
Maximum power 84.6 kW (115PS) @ 10,000 rpm
Maximum Torque 87.5 Nm (8.9 kg-m) @ 8,500 rpm
Lubrication system Wet sump
Clutch Type Wet, Multiple Disc
Carburettor Fuel Injection
Ignition system TCI
Starter system Electric
Transmission system Constant Mesh, 6-speed
Final transmission Chain
Fuel consumption 5.2 l/100km
CO2 emission 120 g/km

Chassis
Frame Diamond
Front suspension system Telescopic forks
Front travel 137 mm
Caster Angle 25º
Trail 103 mm
Rear suspension system Swingarm, (Link type suspension)
Rear Travel 130 mm
Front brake Hydraulic dual disc, Ø 298 mm
Rear brake Hydraulic single disc, Ø 245 mm
Front tyre 120/70ZR17M/C (58W) (Tubeless)
Rear tyre 180/55ZR17M/C (73W) (Tubeless)

Dimensions
Overall length 2,075 mm
Overall width 815 mm
Overall height 1,135 mm
Seat height 830 mm
Wheel base 1,440 mm
Minimum ground clearance 135 mm
Wet weight (including full oil and fuel tank) 195 kg
Fuel tank capacity 14 L
Oil tank capacity 3.4 L
*Starting at MSRP is the manufactured suggested price and excludes delivery, setup, tax, title, license, and additional fees and expenses. Bikes may be shown with optional accessories. Final sale price determined by an authorized dealer. Specifications and MSRP are subject to change.
Manufacturer Specifications and appearance are subject to change without prior notice on Total Motorcycle (TMW).