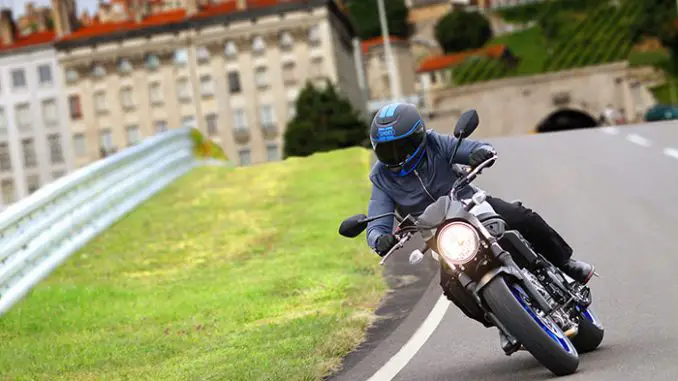 2017 Suzuki SV650 Review

2017 Suzuki SV650 on www.Totalmotorcycle.com
V-TWIN POWER FOR THE STREET…
For 2017, Suzuki introduces a new version of an iconic motorcycle that embodies the sporty personality that only a lively, mid-sized V-twin roadster can deliver. The new SV650 ABS* has a polished powerplant that provides increased performance with low emissions and outstanding fuel economy, mated to refined trim and lightweight chassis that delivers a sporty, exciting ride. Like its predecessors, the 2017 SV650 ABS promises to have the sparkling performance, style and value that a broad range of riders will enjoy.
That's why we've built the new SV650 with a punchy V-Twin engine and light weight chassis. The new SV650 is the bike that will make your daily commutes or weekend blasts unforgettable.
*Depending on road surface conditions, such as wet, loose, or uneven roads, braking distance for an ABS-equipped vehicle may be longer than for a vehicle not equipped with ABS. ABS cannot prevent wheel skidding caused by braking while cornering. Please drive carefully and do not overly rely on ABS.
2017 Suzuki SV650 www.Totalmotorcycle.com Key Features
Liquid cooled, 645cc, 4-stroke, DOHC, V-twin engine delivers increased performance.
Refined EFI system with Low RPM Assist makes take offs smooth and pleasant.
Trellis-style frame constructed of high-strength steel tubes contributes to the motorcycle's lower weight and trim chassis.
Slim bodywork is aesthetically pleasing while aiding comfort and maneuverability.
V-Twin Excitement
What started in 1999 as a motorcycle built to deliver "V-Twin fun", the Suzuki SV650 quickly became renowned the world over. Not only was this a motorcycle with universal appeal, but it was well-suited to urban roads and was right at home on the racetrack too.
Presenting the newest version of the SV650, it comes complete with the latest Suzuki innovations and will set the bar even higher for V-Twin fun and performance.
The SV650's V-Twin comes loaded with capabilities and exudes personality, to make sure your daily commutes or weekend blasts are an unforgettable ride. No matter if you've just gained your licence or you've been riding for years, the SV650's light weight and ultra-slim profile make you want to take to the road again and again.
V-Twin Power For the Street
The SV650's 645cc, DOHC, 90° V-Twin engine is calibrated with irregular firing intervals to create a unique heartbeat-like sound and linear power delivery. The engine has a broad rangthat's extremely rider friendly. Combine this power plant with the SV650's slim design and lightweight body, and you have a riding experience that will bring reward and enjoyment every time you turn the key.
Performance and Efficiency
The Suzuki V-Twin engine is a marvel of engineering with superb versatility.While at lower RPM, this engine delivers powerful torque that's easy to handle and a deep robust sound. Open the throttle to mid-range, and the power of the engine's response is linear and smoothly, yet always under your control. Then at higher RPM, the V-Twin has performance ready to go, even in the higher gears. As well as this great performance the engine is also extremely fuel efficient delivering a class leading 26.05 km/L (73.6 MPG) and meets the latest emissions requirements.
Dual Spark Technology
Suzuki's Dual Spark Technology utilises two spark plugs per cylinder for precision ignition. What's more, by employing high-performance nickel-alloy spark plugs instead of iridium plugs, Suzuki has managed to minimise replacement costs for owners without sacrificing performance. The result is increased combustion efficiency, smoother power delivery, lower fuel consumption and
lower emissions.
SDTV Fuel Injection
The SV650 features Suzuki's performance-proven Dual Throttle Valve fuel- injection system, which includes dual butterfly valves per cylinder for enhanced power output efficiency. Combined with the ten-hole fuel injectors, fuel combustion efficiency is further optimised as well as smoother power delivery and fuel economy. Furthermore, the system includes a thinner and lighter 39mm throttle body with a built-in ISC (Idle Speed Control), providing even more idling stability and environmental performance.
Keep Cool
A newly designed efficient round shape radiator that helps to keep the engine temperature consistent. Shrouds guide air to the radiator core. A liquid-cooled oil cooler is light and compact. Its small dimensions help to make the bike look neat by creating more room for the exhaust system.
Exhaust System
The SV650's advanced exhaust system has been designed to be light and compact, while still conforming to strict new emission standards. What's more, the design also contributes to the SV650's excellent power delivery and produces a great exhaust sound too.
Agile, Fun to Ride
Lightweight Chassis
With a remarkable ready to ride weight of only 197kg, the SV650 makes manoeuvring and handling easy and pleasurable. The SV650 makes good use of its light weight with; responsive acceleration, nimble handling and absolute cornering confidence. Riders of all levels can take to the city or winding roads and experience unrestricted fun.
Slim Body
The SV650's streamlined profile is the result of ergonomically shaped side panels and optimised seat design, which let you straddle the motorcycle with your feet on the ground if stopped or for easy changes of position while flowing through corners.
The narrow, streamlined seat is 785mm in height and is designed almost flat from front to rear, this gives riders a high degree of grip in the upright position. Despite its ample 14.5 litre capacity, the fuel tank is slim and sports an ergonomic form for maximum rider comfort.
Aluminium Wheels and Radial Tyres
The five-spoke cast aluminium wheels create a sporty look. For an excellent balance of cornering performance and straight line speed stability, the SV650 uses the Dunlop radial sport 120/70ZR17M/C for the front and 160/60ZR17M/C for the rear.
Suspension
The front suspension system employs durable 41mm telescopic right way upfront forks with 125mm travel and are adjustable for pre-load. While the rear features link-type suspension with a stroke of 63mm and is pre-load adjustable to one of 7 pre-defined settings. Together, the SV650's suspension system ensures consistent ride-ability and sporty handling performance.
Brakes and ABS
The SV650'S stopping performance comes courtesy of large 290mm dual front disc brakes and a 240mm rear brake disc provide incredible performance and control. Compact and lightweight, the SV650 has state-of-the-art ABS technology manufactured by Nissin, thus making it possible to further reduce vehicle weight without sacrificing performance. The 32-bit ECM monitors wheel revolutions at 50 times per wheel rotation in order to deliver a high degree of braking and stabilisation control. So stopping performance is maintained across various road conditions.
Advanced Technology
Low RPM Assist
The SV650 comes with Suzuki's Low RPM Assist function that utilises the Idle Speed Control (ISC) to help boost engine rpm in launching operation or running at low speed. This new feature helps suppress engine stalls when running at slow speeds, resulting in better start control and operation especially in stop-and-go traffic.
Suzuki Easy Start System
The Suzuki Easy Start System engages the starter motor at a precisely timed pre-set interval to start the motorcycle with just a push of a button. A computerised 32-bit ECM checks the status and disengages the starter motor immediately after start.
Clean, Slim and Simple Form
New SV look
The overall shape expresses its slim, lightweight design and is intended to enhance the strength of V-Twin engine. Clean, neatly shaped body lines have been styled to appeal to a wide variety of riders. A combination of black plastics and painted parts emphasise its slim, sporty and lightweight looks. The body lines are made of flat lines on the top and angular lines from front axle running through to tail section.
Classic Style Headlight
The round multi-reflector headlight is designed to distribute the maximum amount of light to ensure the SV650 is always seen. In classic SV650 style, the distinctive round shape is used not only for its original aesthetic but also allows for easy customisation.
Striking Rear LED Lights
An integrated twin-LED tail light and brake light configuration is compact and slim. High performance LEDs deliver excellent visibility and high durability, and makes for sharp and sleek rear section.
Ready to Customise
The look of the standard SV650, when combined with the wide range of Genuine Accessories, means each bike can become as individual as its rider. So whether its high style and a café racer look or practicality for the daily commuter, the SV650 can do it all.
Full LCD Instruments
A multifunction LCD instrument panel displays; gear position, digital speedometer,
tachometer, as well as indicators for odometer, tripmeter, clock, water temperature gauge and fuel gauge. The backlight is adjustable in six levels of brightness and can be set to your preference.
2017 Suzuki SV650 www.Totalmotorcycle.com Features and Benefits
Engine Features
Each cylinder head features a compact combustion chamber with two 31mm intake valves set at 14 degrees from the cylinder centerline and two 25.5mm exhaust valves set at 16 degrees from the cylinder centerline.
Each 39mm, extra-fine, 10-hole atomization injectors produce an average spray particle diameter that is improves combustion efficiency.
Suzuki Dual Throttle Valve (SDTV) fuel injection system provides better efficiency and throttle response through a butterfly valve system with the primary valve controlled by the rider and the secondary throttle valve controlled by the engine management system.
An automatic Idle Speed Control (ISC) system is integrated into each throttle body, and produces stable idle while improving cold starting and reducing emissions immediately after start up.
Dual spark plugs cylinder heads feature iridium spark plugs to reduce spark plug electrode degradation and allow the electrode to be finer producing a more intense, hotter spark and further enhancing combustion.
Single valve springs reduce inertia weight and mechanical losses while maintaining accurate valve control.
The SFV650 is powered by a 645cc sporty fuel injected, DOHC, 90 degree V-twin engine based on the proven SV650 powerplant famous for its long term reliability, broad power and quiet rumble.
An oval throttle pulley helps smooth low rpm/mid-range power delivery.
Race-proven Suzuki Composite Electrochemical Materials (SCEM) cylinder plating reduces friction and improves heat transfer, durability and ring seal.
The SFV650 arrives with a lighter and narrower radiator to increase efficiency, while an enhanced liquid to liquid oil cooler reduces weight.
Transmission Features
A strong and smooth shifting 6-speed transmission.
Clutch release mechanism is changed from ball-screw type to cam type system and the transmission gear engagement dogs are strengthened to help improve shifting of the six speed transmission.
To reduce mechanical noise, a scissor type primary gear is split length wise with the two halves spring loaded, and the clutch and countershaft sprocket covers are now double layered for additional sound reduction.
Chassis Features
---
Compact trellis steel frame featuring 25 degree of rake and 104 mm of trail for stable and sporty handling with a beautiful look.
Chassis and bodywork are designed to be as slim as possible where the fuel tank meets the seat, the outside forward edges of the seat are rounded and features a low 785 mm (30.9 in) seat height. All to make the new SFV650 easier for entry level riders to comfortably put both feet on the ground when stopping and for maximum rider confidence.
Dual floating front brake discs measure 290mm in diameter and work with dual piston calipers; single 240mm rear disc brake disc works with a single piston caliper.
Rear shock spring is preload adjustable over a seven step range and rear wheel travel is 130 mm.
Single rear shock is connected to the rectangular-section steel swingarm through a progressive linkage which allows the suspension to react smoothly to bumps and improve overall ride comfort.
Front forks feature 41mm stanchions with spring preload adjustability over a 15mm range and front wheel travel is 4.9 in.
Additional Features
Instrument cluster is positioned above the headlight and provides an analog tachometer, LCD digital speedometer, LCD dual trip-meters and odometer. An LCD digital clock, and LCD digital gear position indicator are also featured. Indicator lights include a two way remaining fuel warning lamp, backed up by an LCD digital reserve trip meter.
Fuel pump is lighter and more compact and located within the 15 liter fuel tank.
Organically shaped multi reflector headlight incorporates high and low beams as well as a position light and flanked by chrome lens turn indicators.
Compact combination tail and brake light is packaged neatly underneath the rear seat framed by stylish seat rails and also flanked by clear lens turn indicators.
Dunlop qualifiers sport radials are fitted with a 120/70ZR17 front and a 160/60ZR17 rear tire.
Stylish 17 inch cast aluminum -alloy wheels feature a new five spoke design with a 17 x 3.50 inch front wheel and a 17 x 5.00 inch rear wheel.
Tubular handlebar shape and footpeg positions are designed to work with the seat position to add to rider comfort.
The carefully shaped seat has ample padding and the rear edges are bolstered to support the rider's hips well.
European inspired styling treatment features sleek flowing lines and an unmatched elegant look.
---
2017 Suzuki SV650 – www.Totalmotorcycle.com USA Specifications/Technical Details
US MSRP Price: $TBA USD
Engine
Engine 645 cc, 4-stroke, 2-cylinder, liquid-cooled, DOHC, 90-degree V-Twin
Bore x Stroke 3.19 in x 2.46 in (81.0 x 62.6mm)
Compression Ratio 11.2: 1
Fuel System Fuel injection
Starter Electric
Lubrication Wet sump
Drive Train
Transmission 6-speed, constant mesh
Final Drive Chain
Chassis
Suspension Front Telescopic, coil spring, oil damped
Suspension Rear Link type, coil spring, oil damped, spring preload 7-step adjustable
Brakes Front Twin 2-piston calipers, 290 mm discs
Brakes Rear Single 1-piston caliper, 240 mm disc
Tires Front 120/70ZR17M/C (58W), tubeless
Tires Rear 160/60ZR17M/C (69W), tubeless
Fuel Tank Capacity 3.8 US gal (14.5 L) / 3.6 US gal (13.8 L) CA model
Color Pearl Mira Red & Pearl Glacier White
Overall Length 2140 mm (84.2 in.)
Overall Width 760 mm (29.9 in.)
Curb Weight 195 kg (429.9 lbs.) / 197 kg (434.3 lbs.) ABS model
Wheelbase 1445 mm (56.9 in.)
Ground Clearance 135 mm (5.3 in.)
Seat Height 785 mm (30.9 in.)
Final Drive DID525V8, 114 links
Transmission 6-speed constant mesh
Electrical
Ignition Electronic ignition (Transistorized)
Dimensions and Curb Weight
Overall Length 2140 mm (84.2 in.)
Overall Width 760 mm (29.9 in.)
Wheelbase 1445 mm (56.9 in.)
Ground Clearance 135 mm (5.3 in.)
Seat Height 785 mm (30.9 in.)
Curb Weight 195 kg (429.9 lbs.) / 197 kg (434.3 lbs.) ABS model
Warranty
Warranty 12 month unlimited mileage limited warranty
---
2017 Suzuki SV650 – www.Totalmotorcycle.com Canadian Specifications/Technical Details
Canada MSRP Price: $ CDN
Engine:
Engine 645 cc, 4-stroke, 2-cylinder, liquid-cooled, DOHC, 90-degree V-Twin
Bore x Stroke 3.19 in x 2.46 in
Compression Ratio 11.5 : 1
Fuel System Fuel Injection
Starter Electric
Lubrication Wet sump
Drive Train:
Transmission 6-speed, constant mesh
Final Drive Chain
Chassis:
Suspension Front Telescopic, coil spring, oil damped
Suspension Rear Link type, coil spring, oil damped, spring preload 7-step adjustable
Brakes Front 2-piston calipers, 290 mm disc, twin
Brakes Rear 1-piston caliper, 240mm disc
Tires Front 120/70ZR17M/C (58W), tubeless
Tires Rear 160/60ZR17M/C (69W), tubeless
Fuel Tank Capacity 3.8 US
Color Pearl Vigor Blue / Pearl Glacier White
Electrical:
Ignition Electronic ignition (Transistorized)
Dimensions and Curb Weight:
Overall Length 2130 mm (83.9 in.)
Overall Width 760 mm (29.9 in.)
Wheelbase 1445mm (56.9 in.)
Ground Clearance 135mm (5.3 in.)
Seat Height 785 mm (30.9 in.)
Curb Weight 202kg (445lbs)
Warranty:
Warranty
12 month unlimited mileage limited warranty.
---
2017 Suzuki SV650 – www.Totalmotorcycle.com European Specifications/Technical Details
Europe/UK MSRP Price: £ GBP (On The Road inc 20% Vat)
Power and torque conversions to imperial units (in brackets) are approximate and included as a guide only.
Dimensions and Weights
Overall length: 2140mm (84.3in)
Overall width: 760mm (29.9in)
Overall height: 1090mm (42.9in)
Wheelbase: 1445mm (56.9in)
Seat height: 785mm (30.9in)
Kerb Mass: 197.0kg (434.3lbs)
Fuel capacity: 13.8litres (3 UK gallons)
Ground clearance: 135mm (5.3in)
Engine Specifications
Engine capacity: 645cc
Engine: 4-stroke, liquid-cooled, DOHC V-Twin
Bore: 81mm x 62.6mm
Compression ratio: 11.2 : 1
Lubrication: Wet sump
Ignition: Electronic ignition (Transistorised)
Fuel system: Fuel injection
Starter: Electric
Transmission: 6-speed constant mesh
Drive: Chain
MPG: 73.60*
Power: 56.00kW @ 8500rpm (75.00hp)†
Torque: 64.00N.m @ 8100rpm (47.00lb.ft)†
Chassis Specification
Front suspension: Telescopic, coil spring, oil damped
Rear suspension: Link, type, coil spring, oil damped
Front brakes: Disc brake, twin
Rear brakes: Disc brake
Front tyres: 120/70R17 M/C (58W) tubeless
Rear tyres: 160/60R17 M/C (69W) tubeless
Manufacturer Specifications and appearance are subject to change without prior notice on Total Motorcycle (TMW).