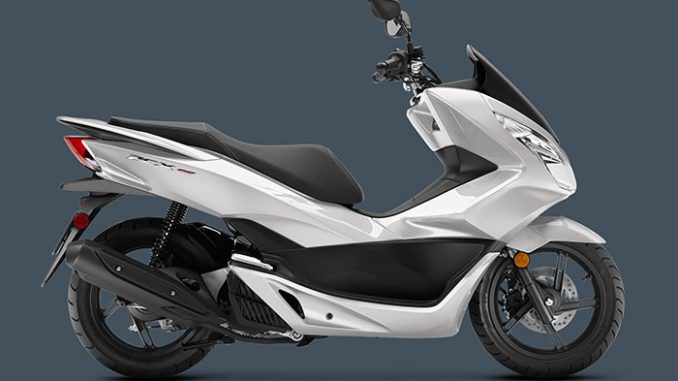 You have come to the right spot. Total Motorcycle – Built by Riders, For Riders; Enjoy the ride…
2017 Honda PCX150 Review

2017 Honda PCX150 on www.Totalmotorcycle.com
Fun, Versatile or Affordable? Have it all!
The PCX150 stands out as a best-seller worldwide thanks to its modern design and remarkable value for money in terms of initial purchase price, low operating costs and thrifty fuel efficiency. Its low-friction Enhanced Smart Power [eSP™] 153cc, liquid-cooled engine is extremely efficient, and a 2.1-gallon fuel tank helps give it long range between fill-ups. Stylish LED headlights, taillight and turn signals add a trendsetting touch, and a handy 12-volt accessory socket serves as a convenient charging station for personal electronics. With a light curb weight of 295 pounds, a nimble 51.8-inch wheelbase and a low 29.9-inch seat height, the PCX150 serves as an easygoing ride that adds a big element of fun to the day's travels.
Goes everywhere you go
Some things in life are all about practicality. Some things are affordable. And some things are just plain fun. But it's the rarest of the rare to find something that's all of the above. Unless, of course, you're talking about a 2017 Honda PCX150.
We all need a way to get around, so let's start with the practical part. First, as you'd expect, the PCX150 offers some awesome fuel efficiency. How awesome? An estimated fuel economy of 100 miles per gallon!** Next, it's loaded with smart features like integrated, lockable underseat storage for all your stuff. Its effortless Honda automatic transmission means no shifting ever, not even into park or neutral. It's freeway legal, and offers Honda's unmatched reputation for engineering quality.
Now, how about the fun part? Riding the PCX150 is a blast! The crisp bodywork looks great, and there's plenty of room to share the fun with a lucky passenger.
So check out a Honda PCX150, and turn just getting around into the best part of your day.

The power to move you.
With its 153cc liquid-cooled four-stroke engine, the PCX150 is great for urban commutes, trips around town, and is freeway-legal, should you need to head onto the highway.

Make stopping for gas a special occasion.
How far can you go on a tank of gas? With its great fuel efficiency and a large gas tank, the PCX150 means less time spent on fill-ups and more time riding.

Stylin'
Dual front LED headlights along with bold bodywork really make the PCX150 stand out. Who says practical can't also be stylish?
Those seeking a practical, versatile scooter with a simple-to-use automatic transmission and room for a passenger need look no further than the PCX150, which is available in two new colors for 2017: Pearl White and Dark Pearl Blue. The 150cc liquid-cooled four-stroke engine works great for urban commuting but is also freeway-legal for longer jaunts, while the fuel efficiency and 2.1 gallon fuel tank help make gas-station stops a rare occurrence. The package is rounded out with a bold design topped off by dual LED headlights.
•Colors: Pearl White, Dark Pearl Blue
---
2017 Honda PCX150 www.Totalmotorcycle.com Key Features
Engine/Drivetrain
•Liquid-cooled 153cc single-cylinder four-stroke engine is fuel efficient thanks to friction-reduction measures applied to engine internals.
Chassis/Suspension
•Bodywork gives this modern scooter a sportier look that captures a distinctive, motorcycle-like style.
•Large 2.1-gallon fuel tank located under floorboard for low center of gravity and enhanced riding traits.
•Compact dual LED headlights, taillight, turn signals and license plate light provide a distinctive look while producing brilliant illumination.
•Large, lockable under-seat storage space, which can hold a full-face helmet and more, features a new spring-loaded hinge so it stays open for convenient access.
•Integral 12-volt adaptor is a convenient charging point for personal electronics.
•Instrumentation includes fuel consumption readout and clock, plus speedometer, odometer, trip meter and fuel gauge.
•Theft-deterrent ignition-system cover and steering lock help provide security when parked.
•Sidestand and centerstand offer parking versatility.
•Helmet hook under seat.
•Storage compartment under dash for small items.
Transferable one-year, unlimited-mileage limited warranty; extended coverage available with a Honda Protection Plan
Honda Genuine Accessories
Rear Trunk, Trunk Base Kit, Windscreen, Outdoor Cover
WARRANTY: Because we're so confident in the quality of each of our Honda Genuine Accessories, we're pleased to offer one of the best warranties in the industry. One-year warranty begins on the day accessories are purchased by the customer.
Miles per gallon values are calculated estimates of fuel consumed during laboratory exhaust emissions tests specified by the EPA, not during on-road riding. Use for comparison purposes only. Your actual mileage will vary depending on how you ride and maintain your vehicle, weather, road conditions, tire pressure, cargo and accessories, rider and passenger weight, and other factors.
2017 Honda PCX150 www.Totalmotorcycle.com Features and Benefits
Electric Start
Turn the key, press the button and the PCX150's fuel-injected engine fires right up and runs smooth, even in colder weather.
Rider Comfort
That long, plush seat does more than just look comfortable—it's probably nicer than that sofa in your living room. The stepped passenger section gives your copilot a better view.
12-Volt Accessory Adaptor
The PCX150's integral 12-volt adaptor has a convenient charging point for personal electronics.
Dual Headlights
One of the first things you'll notice about the PCX150 is its dual LED headlights. In addition to being a big element in the PCX150's bold style, the dual headlights provide ample lighting and aid visibility.
Under-Seat Storage
Flip the seat open and you have room for a full-face helmet or an evening's worth of groceries. The main compartment locks for security and is weather-resistant, too. There's even a second compartment in the dash for your mobile phone, wallet or MP3 player.
Fuel Capacity
The PCX150 is incredibly fuel efficient–an estimated fuel economy of 100 miles per gallon.** Its large fuel tank means you can go even longer and ride even further between fill-ups.
PGM Fuel-Injected Engine
The PCX150 features liquid cooling and Programmed Fuel Injection (PGM-FI) for great performance in all traffic conditions. Plus the PCX150 offers impressive fuel efficiency.
V-Matic Transmission
With the Honda V-Matic automatic transmission, just start the engine, twist the gas and go. The V-Matic means no shifting, ever—you concentrate on the road ahead and enjoy the ride! The V-Matic is a continuously variable design, so you'll never feel it lurch from one gear to another.
Easy To Park
The PCX150 gives you the choice of both a sidestand and a centerstand. That makes it easy to park for a fast dash into a store (the sidestand) or when you need to park it upright in a tighter space (the centerstand). With a lot of other scooters, you only get one or the other.
Super-Smart Style. Honda Heart And Soul.
In the future, maybe all two-wheeled transport will be as good as this. But why wait when you can be riding the Honda PCX150 now? It's full of the features that make it one of the smartest ways to get around since man started walking on two legs. Just click on the hotspots above for more detail.
---
2017 Honda PCX150 – www.Totalmotorcycle.com USA Specifications/Technical Details
US MSRP Price: $3499 USD
ENGINE
Engine Type 153cc liquid-cooled single-cylinder four-stroke
Bore And Stroke 58.0mm x 57.9mm
Induction PGM-FI with automatic enrichment
Ignition Full transistorized ignition
Compression Ratio 10.6:1
Valve Train SOHC; two-valve
DRIVE TRAIN
Transmission Honda V-Matic belt-converter automatic transmission
CHASSIS / SUSPENSION / BRAKES
Front Suspension 31mm hydraulic fork; 3.9 inches of travel
Rear Suspension Twin shock, 3.0 inches of travel
Front Brake Single 220mm disc with three-piston caliper and CBS
Rear Brake Drum with CBS
Front Tire 90/90-14
Rear Tire 100/90-14
DIMENSIONS
Rake 27.0 degrees
Trail 86mm (3.4 inches)
Wheelbase 51.8 inches
Seat Height 29.9 inches
Curb Weight 286 pounds (Includes all standard equipment, required fluids and a full tank of fuel-ready to ride)
Fuel Capacity 2.1 gallons
Miles Per Gallon 100 MPG – Honda's fuel economy estimates are based on EPA exhaust emission measurement test procedures and are intended for comparison purposes only. Your actual mileage will vary depending on how you ride, how you maintain your vehicle, weather, road conditions, tire pressure, installation of accessories, cargo, rider and passenger weight, and other factors.
OTHER
Model Id PCX150
Available Colors Dark Pearl Blue, Pearl White
FACTORY WARRANTY INFORMATION
One Year Transferable, unlimited-mileage limited warranty; extended coverage available with a Honda Protection Plan.
---
2017 Honda PCX150 – www.Totalmotorcycle.com Canadian Specifications/Technical Details
Canada MSRP Price: $ CDN

Engine & Drivetrain
Engine Type
Liquid-cooled single-cylinder four-stroke
Displacement
153 cc
Bore & Stroke
58 mm x 57.9 mm
Compression Ratio
10.6:1
Valve Train
SOHC, two-valve
Fuel Delivery
PGM-FI electronic fuel injection
Transmission
Automatic V-Matic
Final Drive
Belt
Chassis & Suspension
Front Suspension
31 mm fork; 100 mm (3.9 in.) travel
Rear Suspension
Single shock; 75 mm (2.9 in.) travel
Dimensions & Additional Information
Tires
90/90 – 14 front; 100/90 – 14 rear
Brakes
Front single 220 mm disc with triple-piston caliper; 130 mm rear drum. Combined Braking System
Seat Height[2]
760 mm (29.9 in.)
Wheelbase
1,315 mm (51.8 in.)
Curb Weight
130 kg (286 lbs.) including required fluids and full tank of gas – ready to ride
Fuel Capacity
8 litres
Colour
Matte Techno Silver Metallic
---
2017 Honda PCX150 – www.Totalmotorcycle.com European Specifications/Technical Details
Europe/UK MSRP Price: £ GBP (On The Road inc 20% Vat)
Model not available
Manufacturer Specifications and appearance are subject to change without prior notice on Total Motorcycle (TMW).