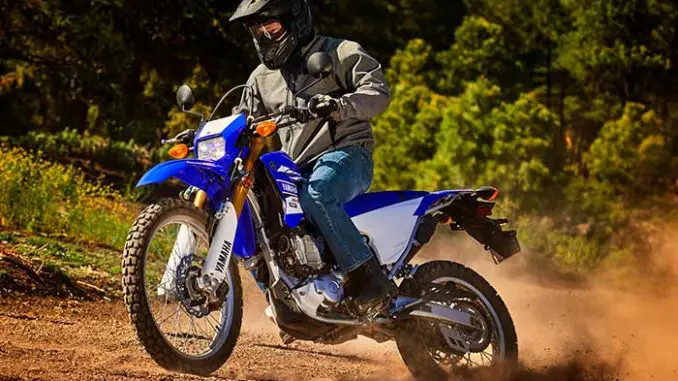 2017 Yamaha WR250R Review

2017 Yamaha WR250R on www.Totalmotorcycle.com
Conquer Dirt…
Inspired by our legendary WR off road series, the WR250R is a machine that offers excellent performance on road and off. Discover for yourself just how 250cc of fuel injected power can push the limits of performance. The WR250R is ready to tame the twistest road or the toughest trail … with power, handling and style.
Advanced Dual Sport
Offers high-end components and performance for one of the most advanced dual sport bikes. Ideal for those who ride off-road more than on.

Engineered for the extreme
Saturday and Sunday are your days. The days you live for. The WR250R is the ultimate weekender. Much more than just another trail bike, it's a blend of Yamaha's world-dominating off-road know-how and the no-compromise attitude of our R-Series supersport bikes.
It's engineered to deliver the purest feel and feedback, so you've got the confidence to take your technique to the next level and ride like you've never ridden before.
Equipped with lightweight titanium inlet valves, the liquid-cooled, 4-stroke, DOHC, 4-valve, single-cylinder engine pushes hard all the way to 10,000 rpm, making this one of the strongest 250 singles ever built by Yamaha.

Dual purpose with a competitive edge
This is a no-compromise, dual purpose Supermotard based directly on our WR-F and YZ-F racers, which have won titles in every major dirt-bike championship going. Optimised for both on and off-road performance, it features a full-on, advanced competition spec: 10,000 rpm engine, aluminium main frame and race suspension.

Awesome engine
The 4-stroke, 4-valve, DOHC, 10,000 rpm single-cylinder engine is the real deal: large diameter titanium intake valves and high lift cams for high rpm levels. It's also liquid cooled for peak performance, and features ceramic-plated cylinder and forged piston, and is one of the strongest 250 singles ever built by Yamaha.

Super-responsive chassis
The light and tough aluminium main frame and swingarm afford incredibly agile handling, whether you're riding the roughest terrain or the city streets. On top of this, the bike is equipped with a 21 inch front wheel and 18 inch rear wheel, plus wave-type disc brakes.

Race-spec suspension
This motorcycle is engineered to deliver the purest feel and feedback. The competition-quality suspension features fully adjustable 46 mm upside-down forks, link-type monocross rear suspension and aluminium triple clamps.

Smooth and seamless
The electronic fuel injection system is designed to ensure strong, seamless power right across the rpm range, and delivers instant throttle response. The smooth operating clutch combines with a 6-speed gearbox for slick shifting and a gear to suit just about every road and off road situation.

Stunning look and feel
With looks to match its stunning performance, this machine combines visual beauty with radical off-road design. No matter how extreme the terrain, you'll be riding in comfort thanks to a generous 300 mm ground clearance, plus handlebar, seating and footrest positioned for comfortable riding on or off-road.
2017 Yamaha WR250R www.Totalmotorcycle.com Key Features
1. YZ- F Developed Dual Sport
Directly descended from our YZ motocrossers and WR off-road machines, the WR250R is here to make Yamaha's off-road prowess street accessible.
2. Off-Road Focused Performance
Not exactly an enduro model and not a streetbike either, the WR250R is for riders who ride off-road more than on.
///Power
Potent, liquid-cooled, 250cc, DOHC, 4-valve, 4-stroke powerplant with super light titanium intake valves and electronic fuel injection.
///Performance
Don't let 250 cubic centimeters fool you, this machine performs well above its displacement. Adjustable suspension, a wide ratio 6-speed transmission and disc brakes front and rear provide serious dual sport performance.
2017 Yamaha WR250R www.Totalmotorcycle.com Features and Benefits
/// Engine
• Blacked out, 942cc, air-cooled, SOHC, 4-valves per cylinder, fuel injected, 60° V-twin power plant pumps out impressive power & torque. Maximum torque is reached at 3,000 rpms.
• SOHC, pent-roof, 4-valve cylinder heads.
• 4-valve design optimizes breathing efficiency & overall engine performance at all rpms
• 31.5 mm intake & 28 mm exhaust valves use friction reducing single valve springs
• compact pent roof combustion chamber design & optimized squish area forces the fuel / air mixture toward the centre of the combustion chamber for more complete combustion & excellent power with reduced emissions
• 25,000 km valve adjustment intervals
• Specially designed roller rockers activate the valves.
• Y shaped roller rocker arms allows a greater amount of valve lift without causing excessive camshaft wear & friction
• slipper portion of the rocker arm utilizes a needle bearing for reduced camshaft wear & reduced sliding resistance (friction)
• No fuss, traditional air-cooled engine design.
• cylinders have a tapered "V" appearance to highlight the V-twin engine design
• cooling fins have been optimized for excellent cooling even in stop & go traffic
• easier maintenance
• Automatic cam chain tensioners reduce mechanical noise & simplify maintenance.
• "Liner-less", ceramic composite-plated cylinder bores.
• ceramic coating sprayed directly on the aluminum blocks, eliminating the liners & reducing weight
• excellent heat dissipation for consistent power delivery
• ceramic coating enhances the thin film of oil between the cylinder & piston, reducing friction & increasing power
• Flat top, lightweight forged aluminum pistons.
• less reciprocating mass for fast engine response
• reduced mechanical vibration for excellent reliability
• Single pin style crankshaft.
• design accentuates V-twin engine character, pulse feel & sound
• Crankcases feature a "Tri-Axis" layout for the crank, main & drive axles.
• creates a more compact & shorter engine front to back
• shorter engine allows for optimum engine placement in the "sweet spot" of frame for desired weight distribution & great handling
• Wet sump lubrication system with easy access, spin on oil filter & drain plug for easy oil changes.
• Classic side mounted 2.3 litre air box houses an easy access, a high-flow viscous paper-type filter.
• "Closed loop", dual bore, 35 mm throttle body fuel injection system with linear throttle response for easy riding.
• system uses throttle position sensor (TPS) to help optimize intake air flow & power
• ISC or idle speed controller ensures a steady idle
• 4 – hole injectors optimize fuel atomization & feature a dual spray pattern for more complete combustion chamber filling
• "closed loop system" uses an oxygen sensor to "sniff" spent exhaust & automatically adjust the fuel / air ratio for reduced emissions
• oxygen sensor is located before the mufflers, so the use of aftermarket "slip-on" mufflers will not affect the closed loop system
• fuel injection benefits include; excellent throttle response, choke-free starting, steady idling during warm up, excellent fuel economy & reduced emissions
• Smooth-shifting, 5-speed transmission.
• optimized gear ratios match engine power for strong acceleration
• 5th gear offers reduced engine rpms at highway speeds
• clutch is an "outer pull" design for light, easy lever effort
• Narrow design belt drive with carbon fibre cords.
• narrow 21 mm wide belt design
• cleaner & quieter than chain drive… no messy chain splatter
• low maintenance… no regular adjustments or lubrication required
• belt drive system simplifies customization
• Maintenance-free transistor controlled ignition (TCI).
• produces a strong spark for fast starts
• provides precise ignition timing / mapping for optimum engine performance at all rpms
• 2 into 1 exhaust system.
• large diameter header pipes for maximum flow; rear header pipe "snakes" forward to provide the correct tuned length.
• slightly upswept, dual stage muffler produces a low, throaty V-Twin growl & features an aluminum end cap
• heat shields protect rider & passenger from hot components
• 3-way honeycomb catalyzer reduces harmful exhaust emissions
• Air Injection System injects fresh air into exhaust ports to fully burn any unburnt fuel, further reducing exhaust emissions.
/// CHASSIS
• Tube type, double cradle steel frame with exposed rear subframe.
• provides a natural riding position & roomy ergonomics
• frame utilizes a rigid engine mounting system optimizing the overall chassis rigidity balance for superior handling
• engine mounting position provides a low center of gravity for light, easy handling
• Tube-type, steel, swingarm compliments the frame & features a dual shock rear suspension system.
• 1575 mm (62″) wheelbase provides light, agile handling, for a fun riding experience.
• 41mm KYB front fork offers 120 mm (4.7″) of wheel travel.
• good ride comfort & compliance
• traditional "scrambler style" fork boots ("gaiters") help prevent fork tube "nicks" & protect fork seals
• Adjustable, premium, remote reservoir, dual gas charged shock rear suspension. Rear wheel travel is 70 mm (2.8″).
• 5 – positions of spring preload adjustability to suit load and / or rider preferences
• remote reservoir design keeps the shock cooler for more consistent damping performance
• Single, 298mm front disc brake features a floating, wave-style disc squeezed by a twin piston caliper.
• strong, confidence-inspiring stopping power
• wave-style disc offers more surface area than a conventional round disc for excellent heat dissipation
• 298 mm rear wave-style disc brake is squeezed by single piston caliper.
• caliper mounted to the underside of swingarm, reducing the centre of gravity for light handling
• location also hides the caliper for a clean, custom look
• Classic, spoked, scrambler style 19″ front & 17″ aluminum wheels.
• lightweight design reduces unsprung weight for superior suspension performance
• front rim size is 2.50 x 19″ // rear rim size is 3.50 x 17″
• dual sport, wide block tread design (90% on road / 10% light off road)
• Fun styled, retro scrambler body work
• Steel fenders front & rear steel for easy re-painting or customization.
• 13 litre, slim design, teardrop shaped, flangeless fuel tank.
• 2.8 litre reserve capacity (low fuel light illuminates)
• flangeless design provides a clean custom look
• Slim, low profile one piece rider & passenger seat.
• good comfort & support
• seat height is 830 mm (32.7″)
• slim design makes it easier to touch ground
• traditional passenger grab strap
• Lightweight aluminum rider foot pegs are positioned almost directly below the seat.
• traditional, natural upright riding position
• Wide, scrambler style 7/8″ conventional handlebar with reinforcing crossbar for added strength.
• provides an upright riding position & excellent rider comfort
• wide design for easy handling & that special scrambler image
• bar can be changed to a different "bend" for easy customization or personal preferences
• Triple clamp mounted LCD digital meter / instrument.
• functions include; speedometer, odometer, dual trip meters, fuel reserve trip meter (counts kilometers since low fuel light activated), clock & range of warning lights
• instrument functions can be "tabbed" through & reset using the LHS handlebar switch gear, allowing the operator to change instrument functions without taking hands off the bars.
• 60/55 watt high intensity halogen headlight with chromed bezel.
• Round "vintage design" LED tail light.
• The WR250R is designed to be compact & slim, featuring clean, simple styling with the ability to easily personalize / customize the bike with a wide range of Genuine Yamaha accessories.
/// DETAILS
• classic vintage styled graphics
• high mounted front & rear turn signals
• upper & lower belt drive cover helps prevent debris from entering the belt and pulley areas
• fork mounted steering lock
• self-cancelling turn signals
• traditional dipstick to check oil level
• Yamaha diagnostic service tool coupler
• Low-maintenance, sealed battery (battery should be charged during winter storage)
---
2017 Yamaha WR250R – www.Totalmotorcycle.com USA Specifications/Technical Details
US MSRP Price: $6,699 USD
Engine Type 250cc liquid-cooled DOHC 4-stroke; 4 valves
Bore x Stroke 77.0mm x 53.6mm
Compression Ratio 11.8:1
Fuel Delivery Yamaha Fuel Injection (YFI)
Ignition TCI: Transistor Controlled Ignition; direct ignition
coil
Transmission Constant-mesh 6-speed, multiplate wet clutch
Final Drive Chain
Suspension / Front Inverted fork, fully adjustable; 10.6-in travel
Suspension / Rear Single shock, fully adjustable; 10.6-in travel
Brakes / Front Hydraulic single disc, 250mm
Brakes / Rear Hydraulic single disc, 230mm
Tires / Front 80/100-21
Tirres / Rear 120/80-18
L x W x H 85.6 in x 31.9 in x 48.4 in
Seat Height 36.6 in
Wheelbase 55.9 in
Rake (Caster Angle) 26.7°
Trail 4.4 in
Maximum Ground
Clearance
11.8 in
Fuel Capacity 2.0 gal / CA model, 1.9 gal
Fuel Economy** 71 mpg
Wet Weight*** 295 lb
Warranty 1 Year (Limited Factory Warranty)
Color Team Yamaha Blue
---
2017 Yamaha WR250R – www.Totalmotorcycle.com Canadian Specifications/Technical Details
Canada MSRP Price: $7199 CDN
Engine
4-stroke, Liquid-cooled, DOHC, 4-valve, single
Displacement
250cc
Bore and Stroke
77 x 53.6mm
Compression Ratio
11.8:1
Maximum Torque
2.4kg-m (17.4 ft-lb) @ 8,500 rpm
Fuel Delivery
Mikuni 38mm throttle body F.I.
Estimated Fuel Consumption±
30kpl / 84.7mpg (Imp.)
Lubrication
Wet sump
Ignition / Starting
TCI / Electric Start
Transmission
6-speed
Final Drive
"O" ring chain
Suspension (Front)
Adjustable 46mm inverted fork / 270mm (10.6″) wheel travel
Suspension (Rear)
Fully adjustable Monocross / 270mm (10.6″) wheel travel
Brakes (Front)
250mm floating disc / twin piston
Brakes (Rear)
230mm disc / single piston
Tires (Front)
80/100-21
Tires (Rear)
120/80-18
Length
2,175mm (85.6″)
Width
810mm (31.9″)
Height
1,230mm (48.4″)
Wheelbase
1,420mm (55.9″)
Ground Clearance
300mm (11.8″)
Seat Height
930mm (36.6″)
Fuel Capacity
7.6 litres (1.7 Imp. gal.)
Wet Weight
134 kg (295 lb)
Colour(s)
Yamaha Racing Blue
---
2017 Yamaha WR250R – www.Totalmotorcycle.com European Specifications/Technical Details
Europe/UK MSRP Price: £ See Dealer for Pricing in GBP (On The Road inc 20% Vat)
Engine type 4-stroke, liquid-cooled, DOHC, 4-valves, Forward-inclined single cylinder
Displacement 250cc
Bore x stroke 77.0 mm x 53.6 mm
Compression ratio 11.8 : 1
Maximum power 22.6 kW (30.7PS) @ 10,000 rpm
Maximum Torque 23.7 Nm (2.42 kg-m) @ 8,000 rpm
Lubrication system Wet sump
Clutch Type Wet, multiple-disc coil spring
Carburettor Electronic Fuel Injection
Ignition system TCI
Starter system Electric
Transmission system Constant Mesh, 6-speed
Final transmission Chain
Chassis
Frame Semi double cradle
Front suspension system Upside-down telescopic fork
Front travel 270 mm
Caster Angle 26º
Trail 111 mm
Rear suspension system Swingarm, (link suspension)
Rear Travel 270 mm
Front brake Single Disc, Ø 250 mm
Rear brake Single Disc, Ø 230 mm
Front tyre 80/100-21M/C 51P
Rear tyre 120/80-18M/C 62P
Dimensions
Overall length 2,180 mm
Overall width 810 mm
Overall height 1,230 mm
Seat height 930 mm
Wheel base 1,420 mm
Minimum ground clearance 300 mm
Wet weight (including full oil and fuel tank) 134 kg
Fuel tank capacity 7.6 litres
Oil tank capacity 1.5 litres
Manufacturer Specifications and appearance are subject to change without prior notice on Total Motorcycle (TMW).