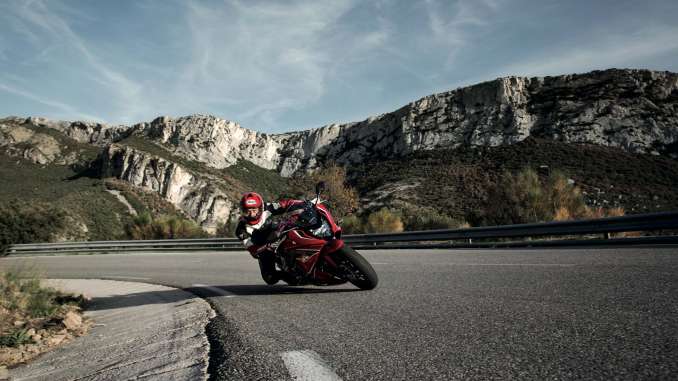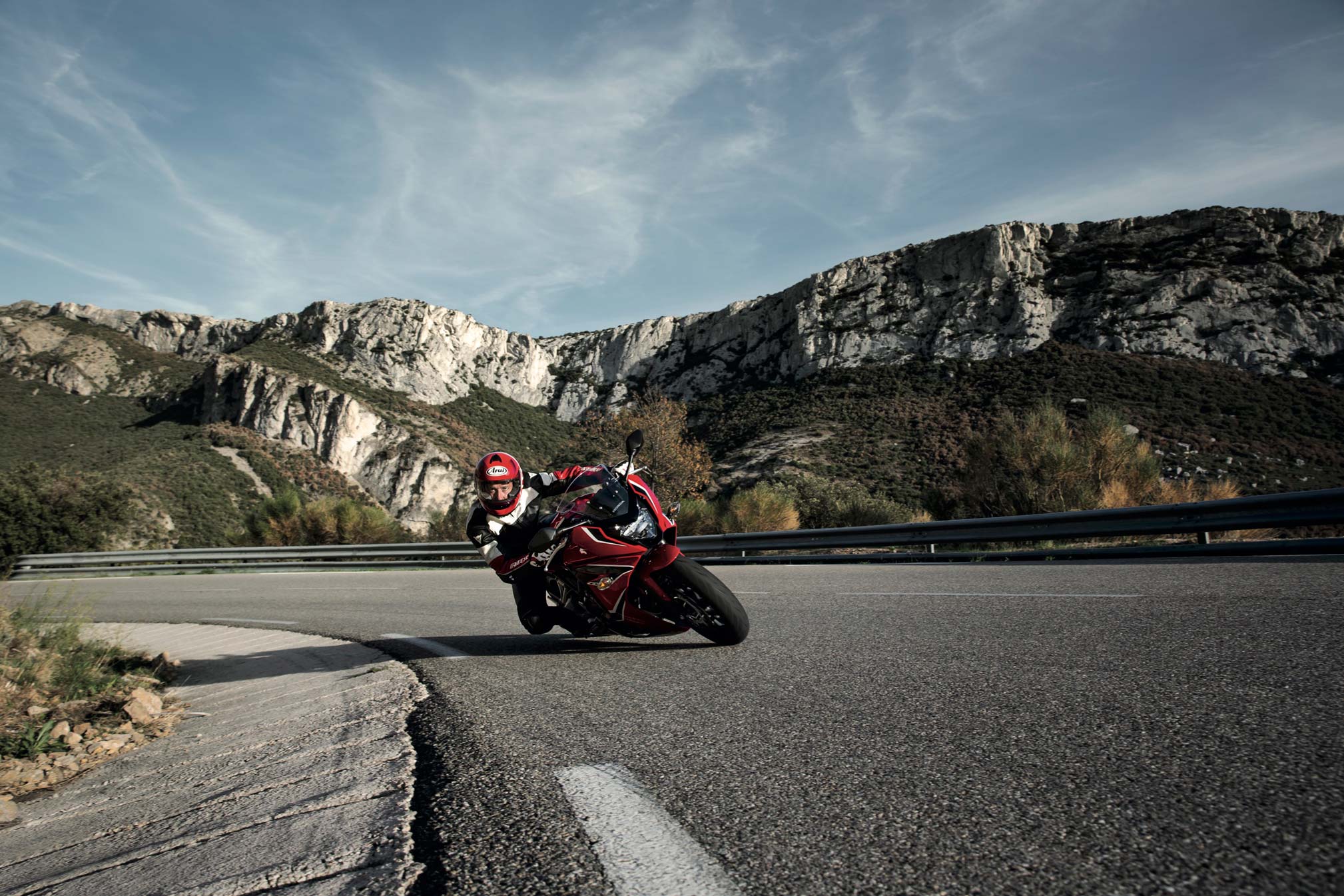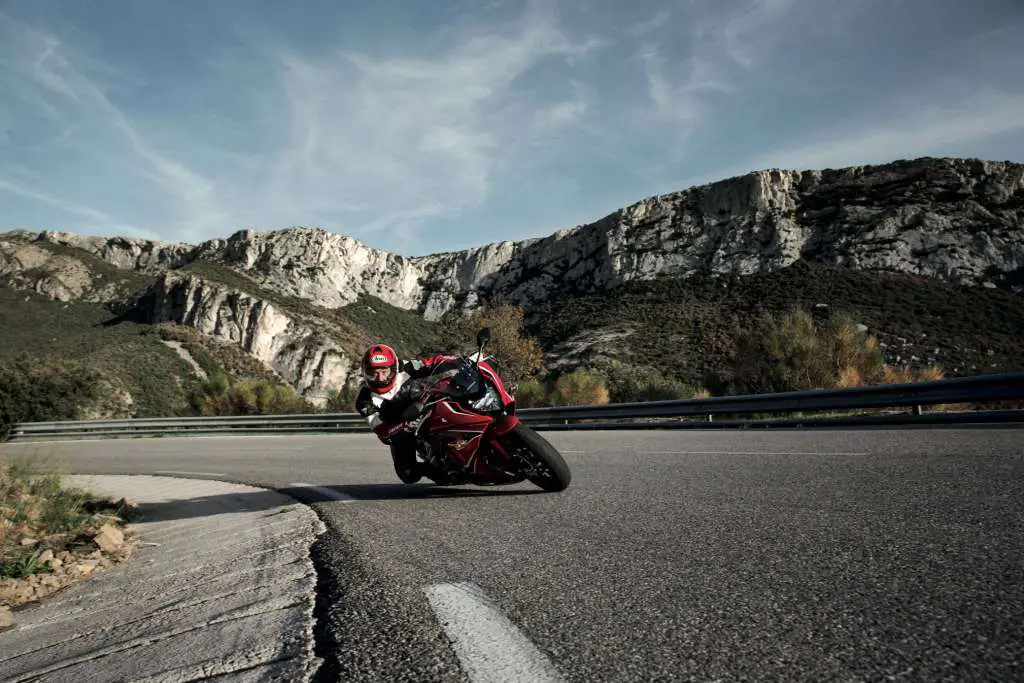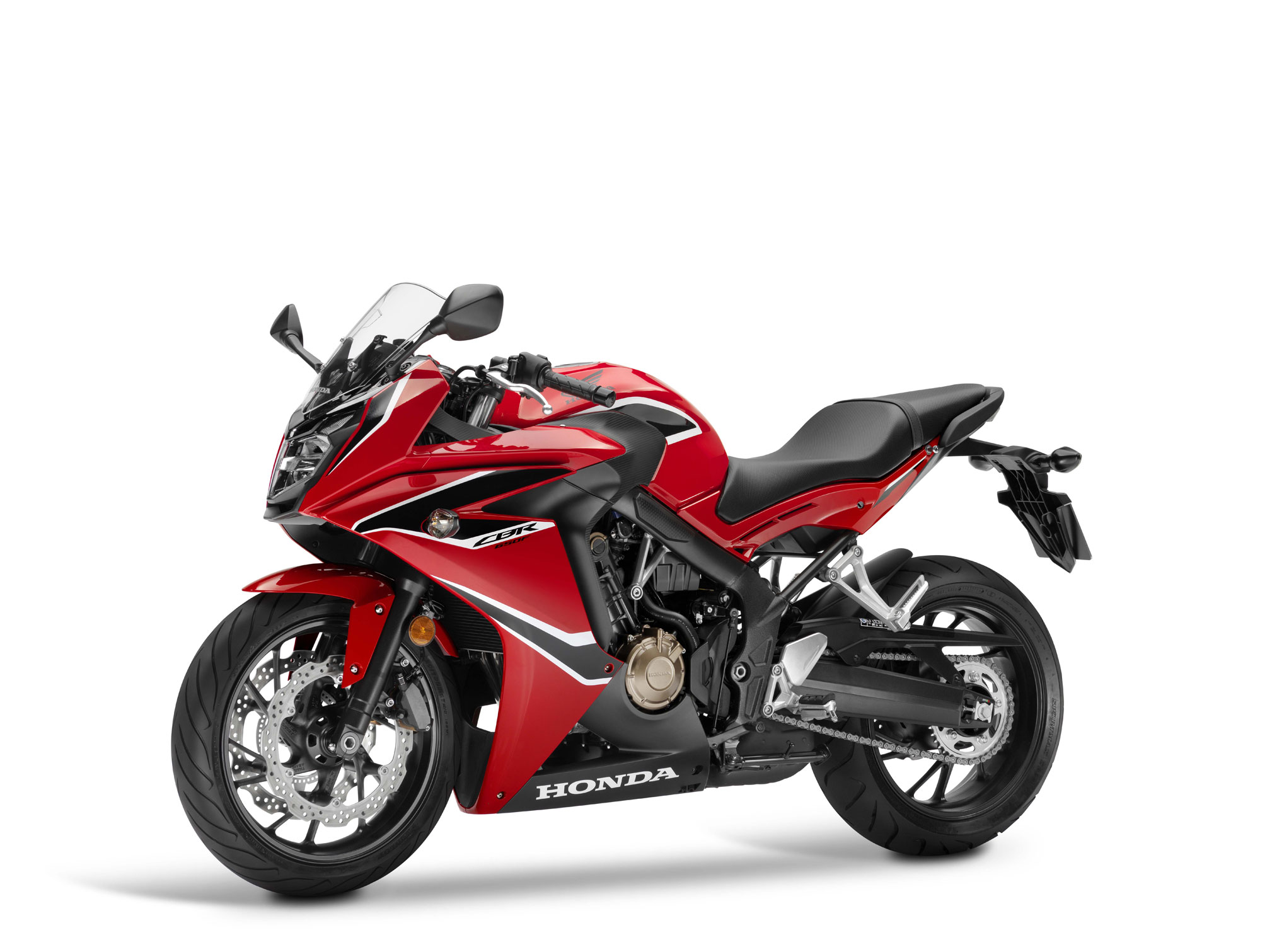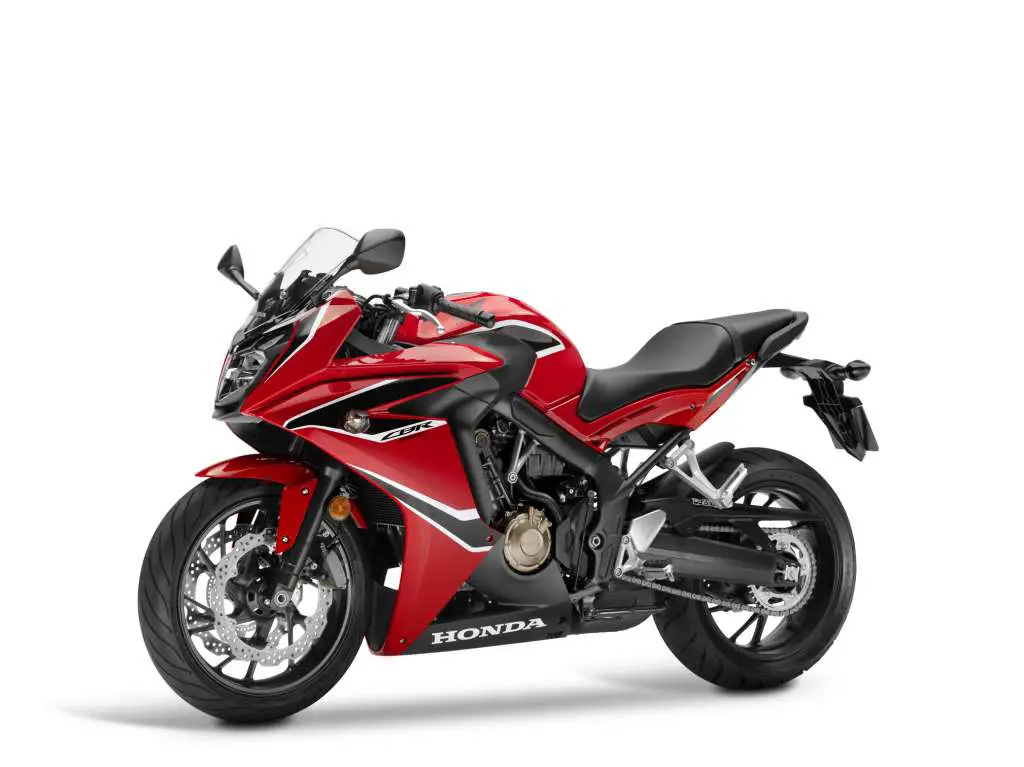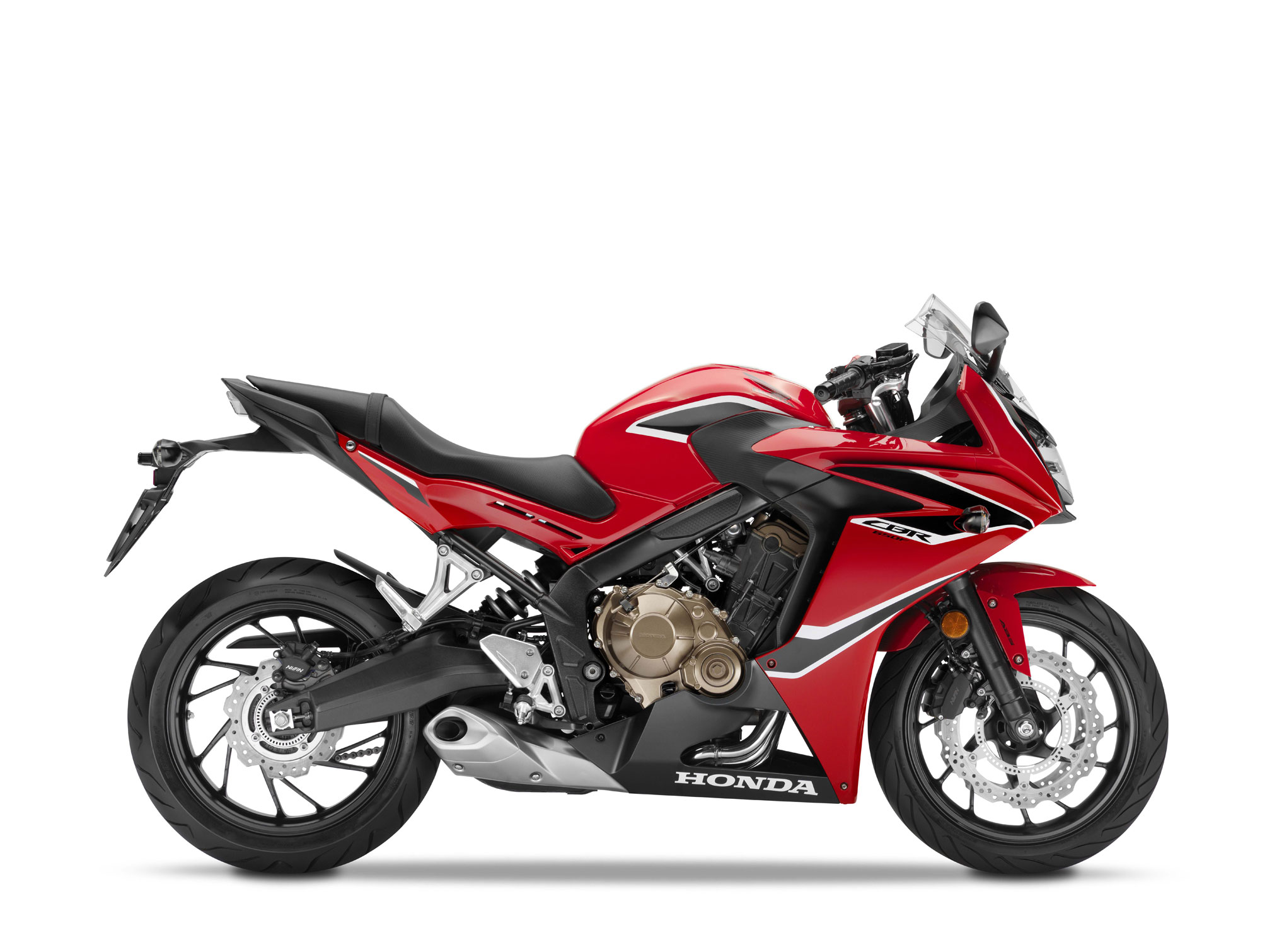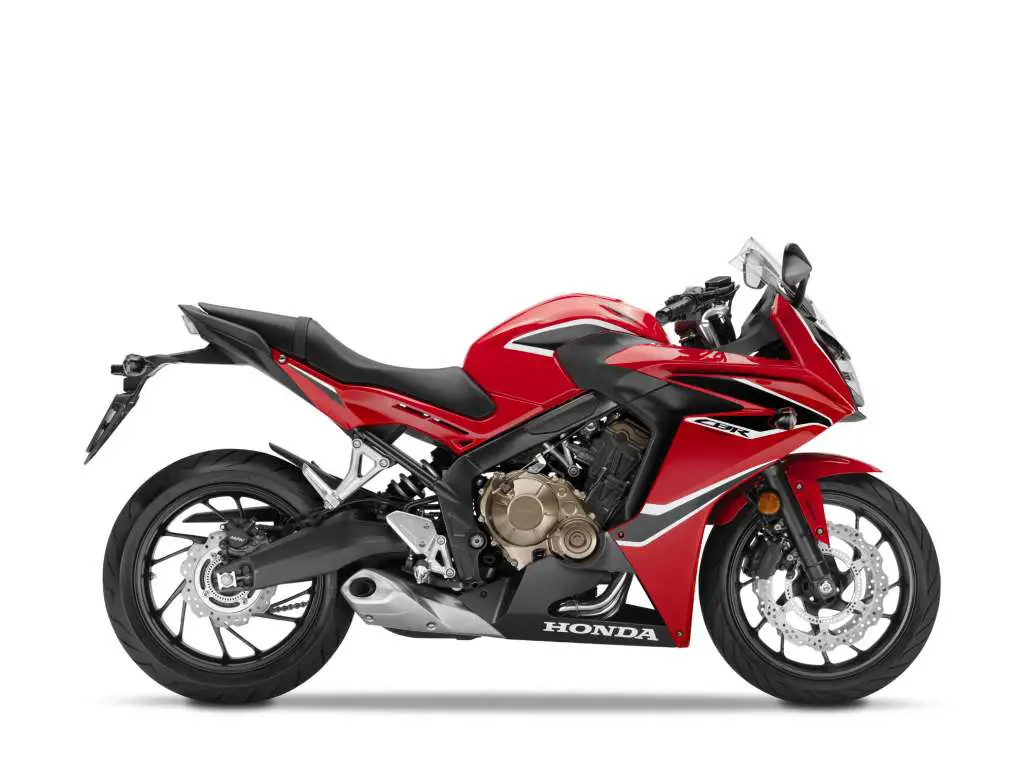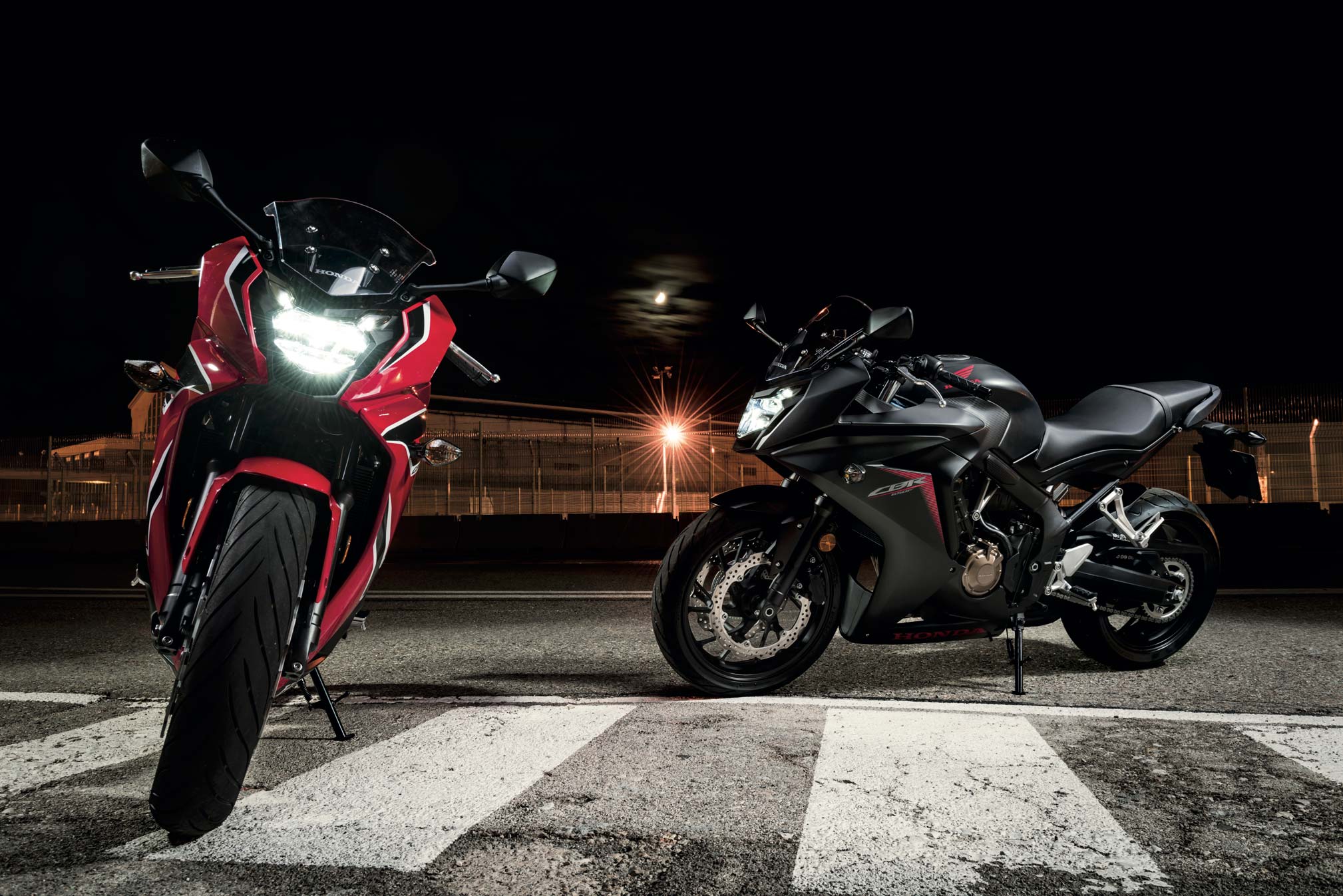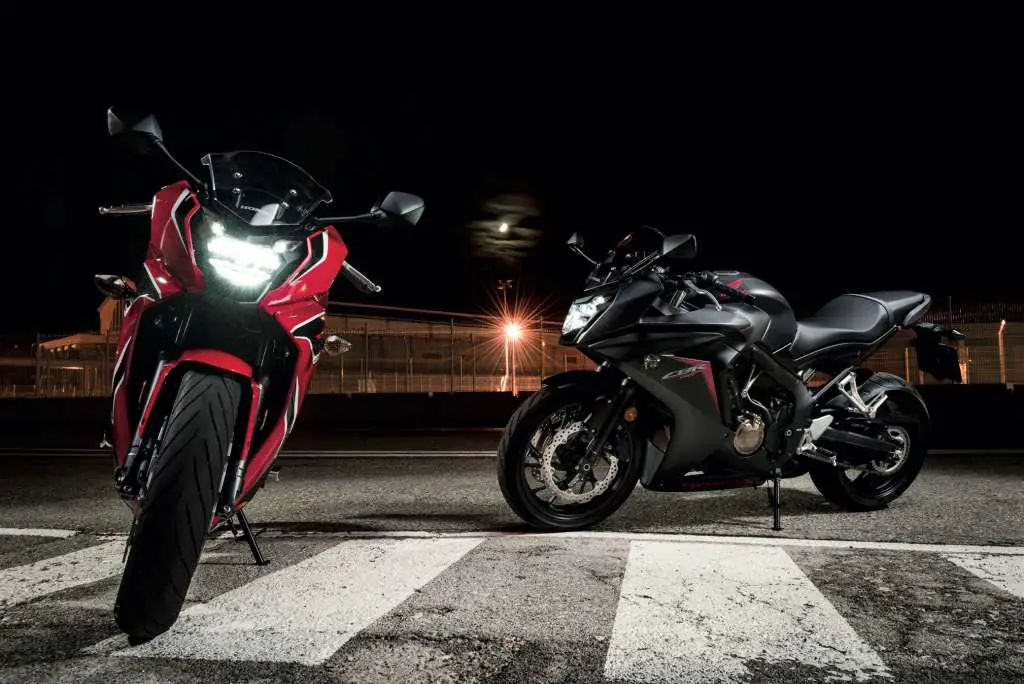 MEET THE MODERN SPORTBIKE.
Used to be sportbikes made you choose between some arbitrary displacement classes. First there was 500s and 750s. Then it was 600s and 1000s. That was all fine if you wanted to go racing, but what if you were just after a stellar sportbike for the street? Seems like everyone forgot about you.
Not Honda. The CBR650F is built for streetbike riders who want a sport machine that makes sense seven days a week. That extra 50cc compared to the 600s? Sure, it lets us fatten up the CBR650F's powerband. But there's a lot more to this bike than more engine displacement.
With it's open rider triangle (where your seat, hands, and feet contact the bike), the CBR650F is comfortable in traffic or for longer rides. Its inline-four engine is specifically tuned for low-to-midrange torque, delivering a powerband that's suited for a wide range of riding styles. Plus we've made some significant updates this year. Now you get a bike that looks sharper, handles better, and makes even more power.
A fun ride at a great price, weekday commuter, weekend sport riding, long trips, short hauls, solo or with a passenger—the 2018 Honda CBR650F does it all.
Affordable Performance.
The CBR650F is a machine that offers an incredibly high fun factor while keeping real-world budgets in mind. Its aggressive new styling offers excellent ergonomics and improved engine performance.
Power Up!
Honda pioneered the modern inline-four layout and we've never looked back. With smooth running and offering terrific performance, including increased peak power for 2018, the CBR650F's powerplant is one of our best.
The Fundamentals Count
Rock-solid handling starts with a rock-solid chassis. The CBR650F's frame is strong for sharp, responsive handling, but not too stiff for casual, everyday riding.
Information Central
The CBR650F offers a digital LCD instrument package. Everything is clearly visible, night or day, and includes all the info you need for longer trips or cross-town commutes.
Super Sport Style
This middleweight motorcycle has a real thirst for action.
One quick glance gives away its true purpose – from headlight to taillight it looks agile and fast. The CBR650F just can't hide its desire to perform and will take riding enjoyment to a level you never thought possible. It can provide you with comfortable, everyday performance when you want it, but you'll also find this free-revving bike is eager to satisfy the irresistible urge to just let it go on an empty, open road.
Super Sport or Street
Whichever you choose, you'll be riding a 650cc machine that really packs a punch.Close up of Honda CBR650F engine.
An engine that breathes
Clothed in super sport fairing – sharing a striking similarity with the 2017 Fireblade – that's been created to include air channels that run from the front straight into the interior air box and intake duct for better performance.
Leading the way
The clear-lensed LED headlight will make sure you can see well ahead on the darkest roads and city streets. The rear taillight, housed in the sleek and sporty tail section, is also LED and improves visibility with a bright and very noticeable stoplight.
Information in a flash
Just a quick look down is all you need. This simple, twin digital screen, with a white back light, means you won't miss a thing: rev-counter, speedometer, fuel gauge, clock, odometer and warning lights are all clearly displayed.
Controlled stopping power
The CBR650F has revised two-piston Nissin front calipers that squeeze 320mm wavy discs. With two-channel ABS as standard, they provide excellent braking response, adding confidence in all conditions. A single-piston rear 240mm disc is at the rear.
Shaped to ride
The seat has been created with a narrow middle section, this is not only good for rider movement, but helps ground reach when you're on and off the pegs in traffic. For comfort, it's been designed with rubber mounts underneath to minimise any vibration.
Complete control
Pin-point and precise suspension means sharper handling.
Front fork
The CBR650F has a 41mm Dual Bending Valve type fork that provides excellent control. Incorporating a free valve structure that progressively increases the amount of damping according to the road conditions – there is no limit to how much the compression damping can be reinforced. This simple, innovative technology – a world first – delivers superior performance levels that are equivalent to cartridge type suspension units, but in a lighter package.
Rear shock
Underneath the seat is housed a single-tube, monoshock suspension unit with 7-stage spring preload adjustment. It works directly on the neatly curved, gravity die-cast – for stability and strength – aluminium swingarm.
Eye-catching fork caps are finished in Alumite.
Primed for action
Feel and hear the power from one corner to another.
Light to the touch the CBR650F is a delight to ride, especially when you're miles away from the city.
The CBR650F's engine develops 67kW @ 11,000rpm and 3kW more than the previous model, it's an increase you can really feel above 5000 rpm. This is down to a new intake and completely redesigned, 4 into 1 exhaust system. Together with a dual-pass muffler to reduce back-pressure, it delivers a raucous growl when you wind on the throttle. Drive it out of a corner and accelerate through the stacked six-speed gearbox and you get hard acceleration with the short gear ratios – more noticeable in the bike's mid-range.
Sharp, sure and confident
The CBR650F is built around a steel diamond frame, which incorporates twin 64mm x 30mm elliptical spars. It provides you with excellent rigidity and balance that's specifically tuned to deliver real-world handling for the road. A rake of 25.5° with trail of 101mm and wheelbase of 1,450mm gives a good combination of straight line stability with light and exciting turning ability.
2018 Honda CBR650F Totalmotorcycle.com Key Features
American Honda announced today the addition of the CB650F to its model lineup for the 2018 model year, while also confirming the return of two other exhilarating sport bikes in the capable CBR650F and the incredibly popular Grom. The CB650F is the latest in an admired lineage of Honda middleweight four-cylinder naked bikes dating back to the CB400F of the 1970s, and with a great power-to-weight ratio, pared-back style, and comfortable riding position, it has all the elements of a great-performing midsize street-fighter.
"We're pleased to offer the tough-looking, strong-performing CB650F to American customers for the 2018 model year," said Lee Edmunds, American Honda's Manager of Motorcycle Marketing Communications. "The CBR650F has shown that this four-cylinder power plant is a solid performer, and in this package it adeptly rounds out our comprehensive lineup of naked sport bikes, fitting in perfectly between the CB500F and the CB1000R."
Honda's newest middleweight naked bike is powered by a compact 649cc inline four-cylinder engine that provides a satisfying rush of power and torque while emitting a throaty growl through beautiful side-swept exhaust headers (a Honda signature) and a single, organically shaped, under-swingarm muffler. With minimal bodywork, the view of the handsome engine and twin-spar frame is unobstructed. Suspension comprises a Showa Dual Bending Valve fork and adjustable shock, and both the headlight and taillight feature LED bulbs. All three brake rotors are wave-style, the dual 320mm front discs being squeezed by Nissin calipers. Longer rides are made comfortable by the sporty-yet-natural riding position and a rubber-mounted handlebar.
Engine / Drivetrain
649cc liquid-cooled inline four-cylinder engine features a muscular torque spread through the low- to midrange portions of the powerband, especially below 4000 rpm.
Tuned especially for strong acceleration from a standing start and strong midrange roll-on throttle response for real-world street-riding performance.
Liquid-cooled inline four-cylinder engine features Honda's Programmed Fuel Injection (PGM-FI) system.
Dual overhead camshafts actuate four valves per cylinder. This layout allows a high degree of freedom in cylinder head design for optimum performance.
The camshafts are driven by a silent-type cam chain for reduced engine friction, and the surfaces of the cam-chain pins are treated with vanadium for lower friction and increased toughness.
The piston pins and connecting rods are treated with a special friction-reducing protective coating for greater durability and efficiency.
Cylinders are inclined at a 30-degree angle to help lower the center of gravity (CG) for more agile handling.
Sweeping right-side four-into-one exhaust system is both stylish and functional, and muffler emits a raucous growl.
Chassis / Suspension
Upright riding position and rubber-mounted handlebar for a comfortable ride.
Low center of gravity (CG), light curb weight, and slim cross-section work together to provide lightweight steering feel and responsive handling.
Street fighter styling places the CB650F squarely in the company of Honda's CB1000R and CB500F naked models.
Minimalist bodywork makes for a tough, street-fighter image and allows a full view of the engine and exhaust.
The frame incorporates elliptically shaped twin 64mm x 30mm steel spars for tuned flex to deliver excellent sport riding characteristics.
The engine is incorporated as a stressed member of the frame, an efficient layout for enhanced handling.
Single-shock rear suspension is actuated directly by the strong yet lightweight aluminum swingarm for 5.0 inches of rear-wheel travel.
Shock spring preload is adjustable in seven steps to accommodate variations in load and riding conditions.
Large, 41mm Showa Dual Bending Valve fork with 4.3 inches of travel for a well-controlled yet comfortable ride.
Lightweight cast-aluminum wheels with 120/70ZR-17 tire in front and 180/55ZR-17 rear.
Wave-type dual front 320mm disc brakes and 240mm rear give strong stopping power and lend a stylish touch while also saving unsprung weight.
Honda's ABS system is available for more confident stopping in challenging conditions.
LCD multi-function digital meter package includes speedometer, tachometer, odometer/A&B trip meters, fuel gauge and clock. Meter can also display average and instantaneous fuel consumption.
Under-seat utility area adds modest but convenient storage space.
Headlight and taillight both have LED bulbs.
L-shaped air valves on the wheels allow easier access, simplifying air-pressure adjustment.
Transferable one-year, unlimited-mileage limited warranty; extended coverage available with a Honda Protection Plan.
Meets current EPA standards.
Models sold in California meet current CARB standards and may differ slightly due to emissions equipment.
2018 Honda CBR650F Totalmotorcycle.com Features and Benefits
Dynamic performance
The liquid-cooled 649 cc engine uses compact internal architecture, a quick six-speed low ratio gearbox and starter/clutch layout with cylinders canted forward 30 degrees for a lower centre of gravity, packing a real pound-for-pound punch.
Increased power
The proven DOHC 16-valve cylinder head with direct cam actuation and 11.4:1 compression ratio increases peak power delivery at 11,000 rpm.
Excellent torque
Tuned for increased torque and effortless performance in low and mid rpm, the four-cylinder engine can smoothly pull away from idle at 1,500 rpm in sixth gear.
Optimal fuel economy
Specific mapping and timing work together to optimize fuel economy and deliver over 350 km in range from the generous 17.3L fuel tank.
Sporty sound and feel
The attractive right side-swept 4-1 exhaust features a dual-pass internal structure to reduce back pressure and deliver an addictive high-rpm howl, reminding riders of its CBR racing heritage.
Quality construction
Asymmetric piston skirts, ferrous spines on the cylinder sleeves and a silent SV cam chain using a Vanadium coating on its pins ensure reduced friction, minimal oil consumption and improved heat transfer.
Quick acceleration
Shorter gearing ratios mean the new CBR650F takes off the line faster than its predecessor, with noticeable power from 5,000 rpm due to new intake and exhaust management. The PGM-FI fuel injection system operates with information from four separate throttle body sensors on 32 mm throttle bores for crisp and accurate throttle response.
Sharp response
The new intake/exhaust management and short air intake funnels deliver an enticing sound at start-up, with a sharper response under acceleration as the throttle opens up and engine revs to higher rpms.
Sporty handling
A rigid steel diamond frame paired with twin 64 mm x 30 mm elliptical spars provides sport-inspired balanced handling, specifically tuned for high levels of rider feedback and sharp performance.
Comfort and stability
Brand new 41 mm Showa Dual Bending Valve (SDBV) front fork improves ride comfort and handling stability through proportional rebound damping with firm compression damping.
Adjustable suspension
The single-tube monoshock suspension offers 7-stage spring preload adjustment and operates directly on the curved gravity die-cast aluminum swingarm.
Attractive design
Blacked-out cast aluminum six-spoke wheels with 120/70-17 front and 180/55-17 rear radial tires also feature L shaped air valves for easy maintenance.
Stopping power
Revised two-piston Nissin calipers work the front 320 mm wavy disc brake with a single-piston rear 240 mm disc and two-channel ABS fitted as standard equipment.
Sleek styling
New super sport CBR-inspired fairings offer sleek design and attractive styling to help channel airflow for great performance and handling. The bronzed engine cover, blacked-out frame and chiseled sport bike appearance come together to deliver an aggressive speed shape, further accented by the crisp LED headlight and clear-lensed LED taillight.
Comfortable seating
The sporty yet relaxed riding position with 810 mm seat height offers a carefully shaped comfortable seat that also helps minimize vibration. The firm and narrow middle profile allows riders to easily reach the ground with ample seating for a passenger.
Digital display
The digital dash includes twin large screens that display speed and rpm on the left with the fuel gauge, clock, odomotre and warning lights on the right. Both screens feature bright white back lighting.
Safe and sound
A compact 'wave' design ignition key offers increased security and reduced chance of breakage.
2018 Honda CBR650F – Totalmotorcycle.com USA Specifications/Technical Details
US MSRP Price: $ See Dealer for Pricing in USD
ENGINE
Engine Type 649cc Liquid-Cooled Inline Four-Cylinder
Bore And Stroke 67mm x 46mm
Induction PGM-FI Programmed Automatic Enrichment Circuit, with 32mm Throttle Bodies
Ignition Digital transistorized with electronic advance
Compression Ratio 11.4:1
Valve Train DOHC; four valves per cylinder
DRIVE TRAIN
Transmission Six-speed
Final Drive #525 O-ring chain
CHASSIS / SUSPENSION / BRAKES
Front Suspension 41mm Fork; 4.3 inches travel
Rear Suspension Single shock with spring-preload adjustability; 5.0 inches travel
Front Brake Two-piston calipers with dual 320mm discs
Rear Brake Single-caliper 240mm disc
Front Tire 120/70ZR-17 radial
Rear Tire 180/55ZR-17 radial
DIMENSIONS
Rake 25.3° (Caster Angle)
Trail 101.3mm (3.98 inches)
Wheelbase 57.1 inches
Seat Height 31.9 inches
Curb Weight 461 pounds (Includes all standard equipment, required fluids and a full tank of
fuel—ready to ride)
Fuel Capacity 4.6 gallons
Miles Per Gallon TBD*
OTHER
Model ID CBR650F
Emissions Meets current EPA standards. California version meets current CARB standards and
may differ slightly due to emissions equipment.
Available Colors Matte Black Metallic/Candy Red
FACTORY WARRANTY INFORMATION
One Year Transferable, unlimited-mileage limited warranty; extended coverage available with
a Honda Protection Plan.
Note
*Honda's fuel economy estimates are based on EPA exhaust emission
measurement test procedures and are intended for comparison purposes only. Your
actual mileage will vary depending on how you ride, how you maintain your vehicle,
weather, road conditions, tire pressure, installation of accessories, cargo, rider and
passenger weight, and other factors.
2018 Honda CBR650F – Totalmotorcycle.com Canadian Specifications/Technical Details
Canada MSRP Price: $ See Dealer for Pricing in CDN
Engine & Drivetrain
Engine Type
Liquid-cooled inline four cylinder
Displacement
649 cc
Bore & Stroke
67 mm x 46 mm
Compression Ratio
11.4:1
Valve Train
Chain-driven DOHC, 4 valves per cylinder
Fuel Delivery
PGM-FI electronic fuel injection
Transmission
Six-speed
Final Drive
#525 O-ring-sealed chain
Chassis & Suspension
Front Suspension
41 mm SDBV telescopic fork; 108 mm (4.3 in) travel
Rear Suspension
Monoshock damper with adjustable preload; 128 mm (5 in.) travel
Additional Information
Tires
Front: 120/70ZR-17 Rear: 180/55ZR-17
Brakes
Front: dual 320 mm discs with dual-piston calipers Rear: 240 mm disc with single-piston caliper with ABS
Seat Height
810 mm (31.9 in.)
Wheelbase
1,450 mm (57 in.)
Curb Weight
211 kg (464 lbs.) including required fluids and full tank of gas—ready to ride
Fuel Capacity
17.3 L
Colour
Millennium Red with Deluxe Stripe
Warranty
12 months, unlimited mileage, freely transferable warranty; extended coverage available with Honda Plus
2018 Honda CBR650F – Totalmotorcycle.com European Specifications/Technical Details
Europe/UK MSRP Price: £7399 GBP (On The Road inc 20% Vat)
Engine
Bore × Stroke (mm) 67 x 46mm
Carburation PGM-FI electronic fuel injection
Compression Ratio 11.4:1
Engine Displacement (cc) 649cm3
Engine Type (cm³) Liquid-cooled 4-stroke 16-valve DOHC inline-4
Max. Power Output 67kW @ 11,000rpm (95/1/EC)
Max. Torque 64Nm @ 8,000rpm (95/1/EC)
Oil Capacity (Litres) 3.5L
Starter Electric
Wheels
Brakes Front 320 x 5mm dual hydraulic disc with dual-piston calipers and sintered metal pads
Brakes Rear 240 x 5mm hydraulic disc with single-piston caliper and resin mold pads
Suspension Front 41mm conventional telescopic fork 120mm stroke
Suspension Rear Monoshock damper with adjustable preload, 43.5mm stroke
Tyre Size Front 120/70-ZR17M/C (58W)
Tyre Size Rear 180/55-ZR17M/C (73W)
Wheels Front 17M/C x MT3.5 Hollow-section 6-spoke cast aluminium
Wheels Rear 17M/C x MT5.5 Hollow-section 6-spoke cast aluminium
Dimensions and Weights
Battery Capacity (VAh) 12V/8.6AH
Caster Angle 25.5°
Dimensions (L×W×H) (mm) 2,110mm x 755mm x 1,145mm
Frame type Steel diamond
Fuel Tank Capacity (Litres) 17.3L
Fuel Consumption 21km/litre
Ground Clearance (mm) 130mm
Kerb Weight (kg) 211kg
Seat Height (mm) 810mm
Trail (mm) 101mm
Wheelbase (mm) 1450mm
Transmission
Clutch Wet, multiplate with coil springs
Final Drive 525 O-ring sealed chain
Transmission Type 6-speed
Instruments and Electrics
Headlights 12V, 55W x 1 (low)/55W x 1 (high)
Instruments Digital speedometer, digital bar graph tachometer, dual trip meter, digital bar graph fuel gauge, digital clock
Tail Light LED
Manufacturer Specifications and appearance are subject to change without prior notice on Total Motorcycle (TMW).