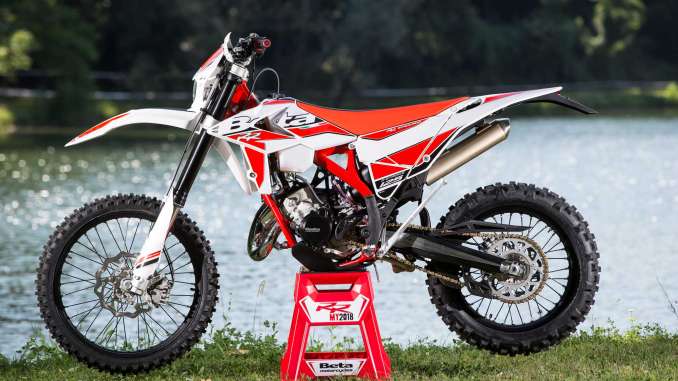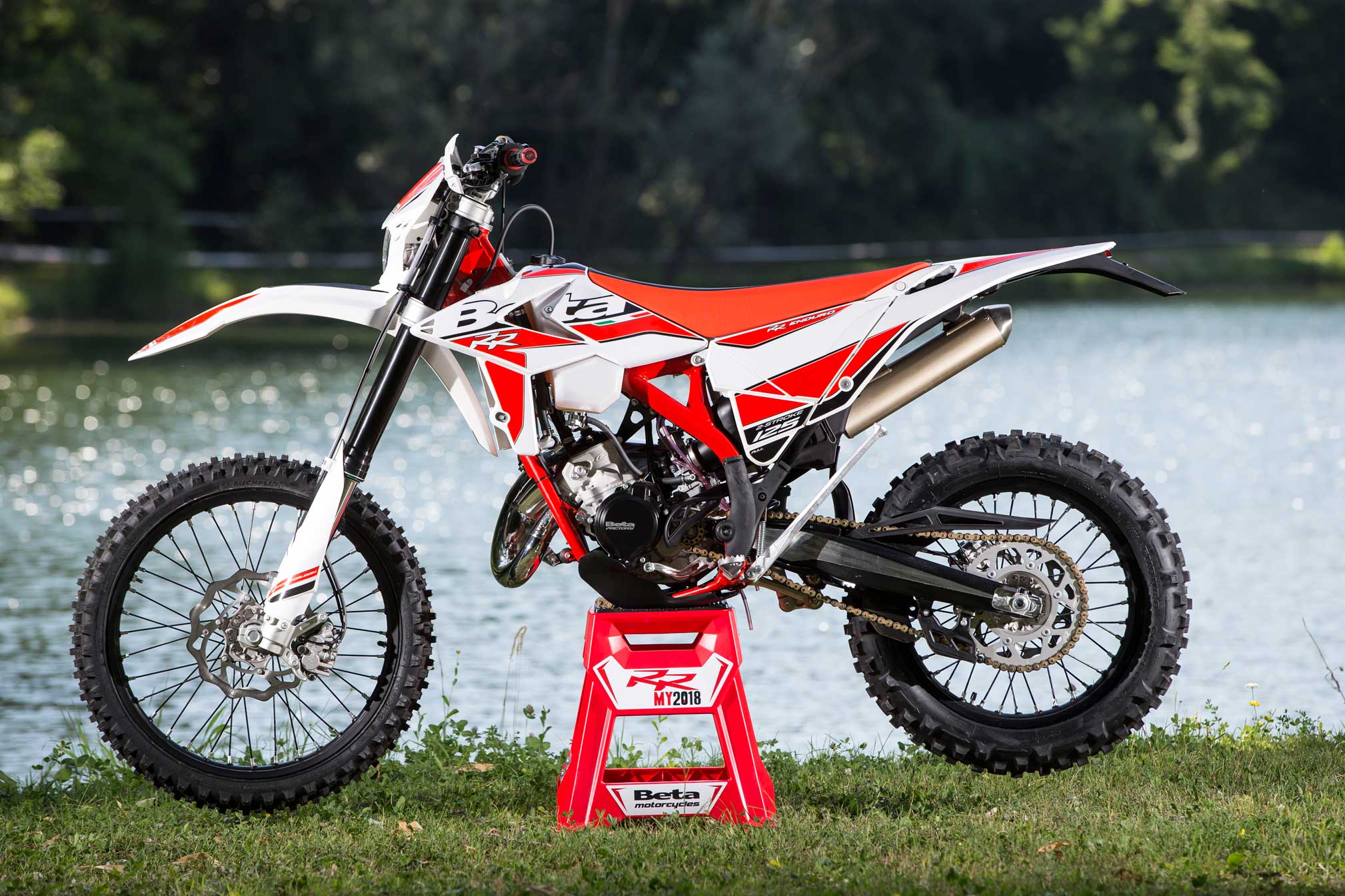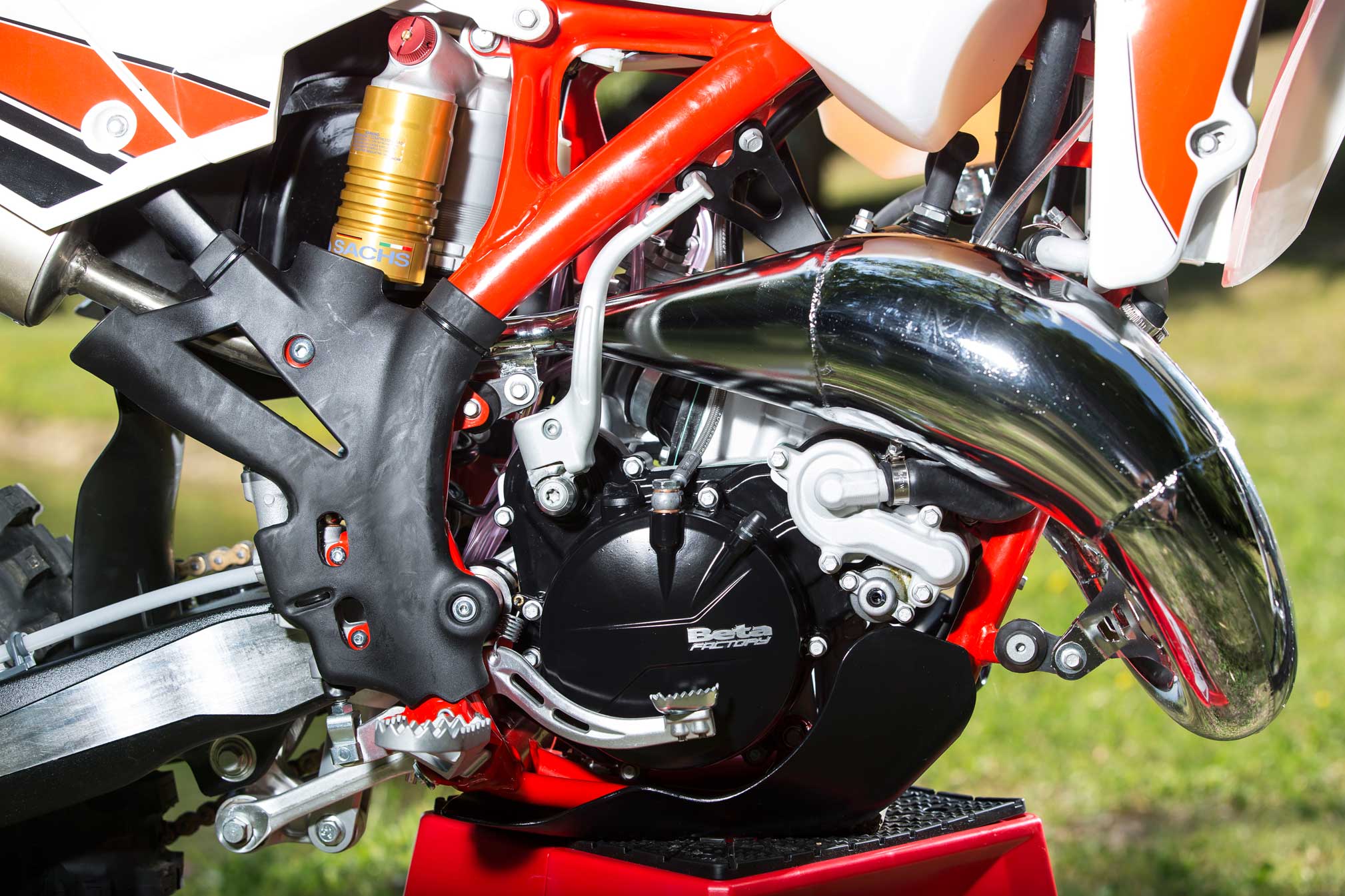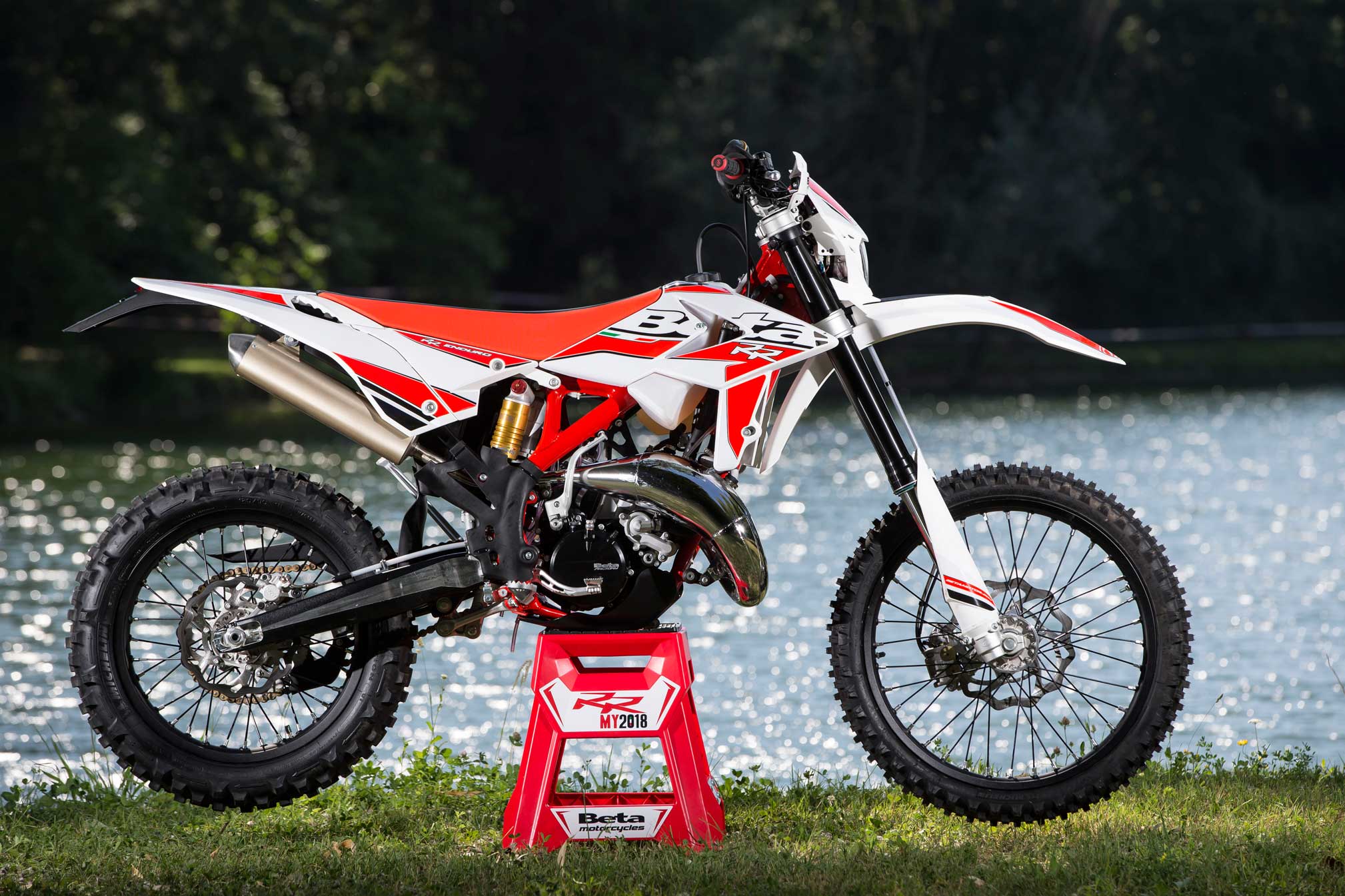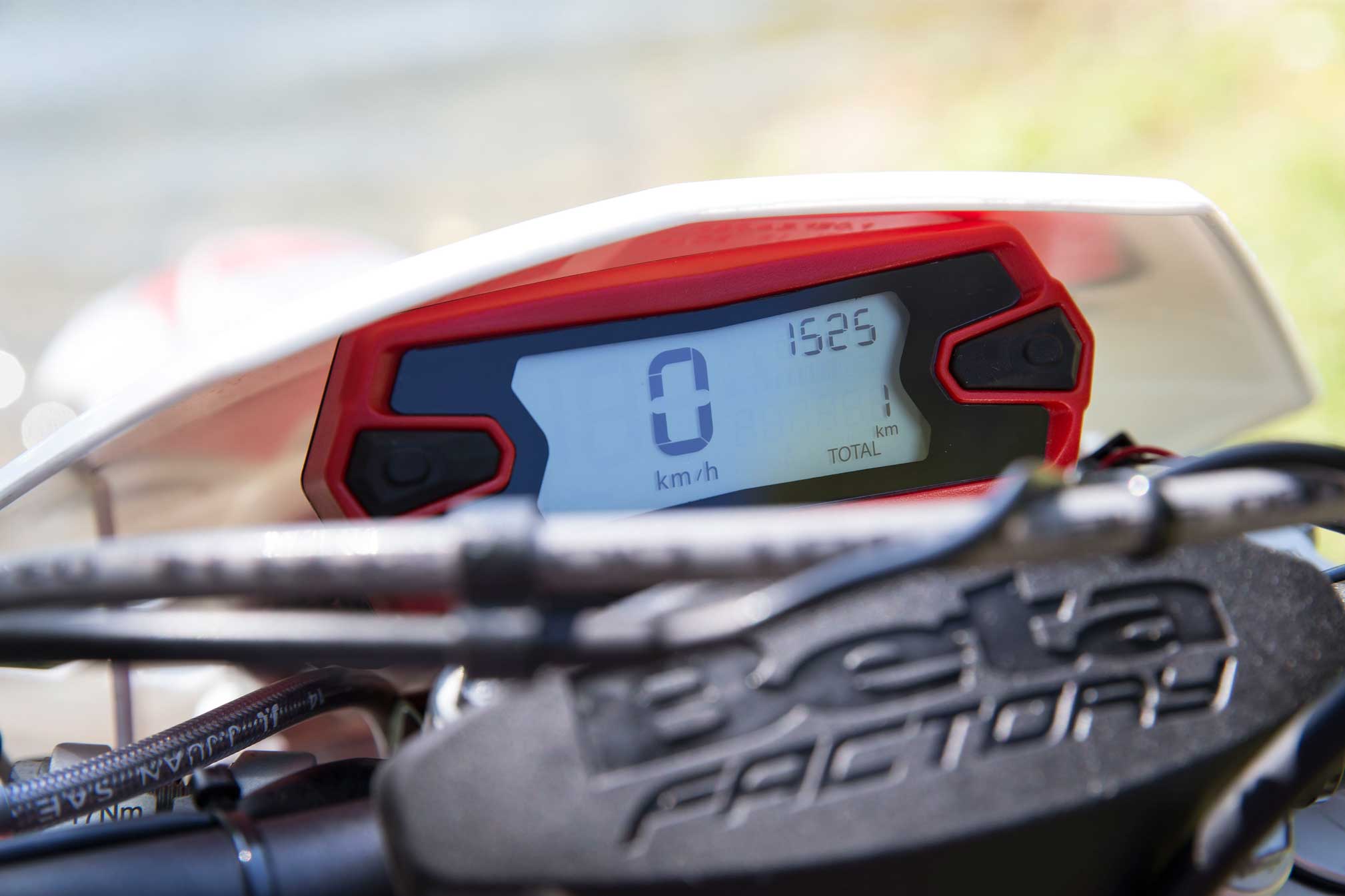 THE COMPLETION OF THE RANGE.
2018 Beta 125RR 2-Stroke REVIEW BY TOTAL MOTORCYCLE
The Beta range is completed with the arrival of the new RR 125 2T MY 2018!
This is a completely new project, the result of a long development from the Beta R&D department and aimed at filling a gap in the off road market as a play bike, but also a serious race bike for the newly created GNCC XC3 class as well as the NEPG Enduro classes.
2018 Beta 125RR 2-Stroke Totalmotorcycle.com Key Features
Engine
Smooth bottom end pulling power
Cylinder Head
Replaceable cylinder head dome
Transmission
Six speed transmission
Meter
Off road light and meter package
2018 Beta 125RR 2-Stroke Totalmotorcycle.com Features and Benefits
Engine
This is the smallest 2-stroke engine of the Enduro range currently produced at Beta's factory in Italy. The result of a long process of design and development, carried out entirely by the Technical and R&D Departments with the focus being a proper engine layout designed to optimize the distribution of weight while paying close attention to the power delivery. The result of the engine's components including the crankshaft and gearbox, has created a compact engine that provides the optimum performance and reliability. The power delivery is smooth, yet powerful which is a feature not found in many models this size.
There are many distinctive features of this engine, including:
• Double piston rings (54 mm): piston designed to ensure high rigidity and reliability; the choice of double rings provides a better seal at the low and medium rpm ranges typical of off road riding.
• Beta progressive valve: the power valve system derived from the 250 and 300cc RR models, characterized by a particular relationship between the opening of the main flap and that of the side boosters. The delay in opening the boosters enables excellent progressiveness in performance throughout the rpm range of the engine.
• Crankshaft with polyamide inserts: favoring lightness and ensuring optimum filling of the crankcase to the benefit of performance and reliability.
• Cylinder: exhaust flange system that is a separate machined part like that on the larger 2018 RR models, enabling better control of the piston-flap-cylinder front tolerance. By keeping this value to a minimum it is possible to achieve a significant performance boost at low rpm, reducing the leakage of gases.
• Removable cylinder head dome: rigid and lightweight, made possible by moving the engine coupling on the cylinder. The geometry of the combustion chamber is designed to provide the best compromise between responsiveness at low-to-medium revs and top end power delivery. It also facilitates the fine tuning and replacement of the combustion chamber.
• Die-cast aluminum crankcase: the casing geometries were designed according to an innovative layout in terms of the relative position of components and with a view to maximum weight reduction without compromising structural strength. The main bearing area received particular attention to ensure the correct rigidity of the walls in order to withstand the stresses transmitted by the crankshaft.
• Die-cast clutch and ignition covers in magnesium: ensuring very low weight and optimal surface finish. It was possible to also adopt this solution for the inner clutch cover thanks to the isolation of the water pump from this element.
• V-force4 reed valve assembly: the presence of the stoppers ensures high reliability without compromising performance. Provides stronger low-end power output.
• Pre-mix: to keep the weight of the bike low.
• 6-speed dog-box transmission: specially developed for this engine with gears made by mechanical machining of blanks, forged so as to provide mechanical strength and reliability while still maintaining very light and compact gearbox.
• Clutch: multi-disc in oil bath with reverse opening, unlike the larger RR's, this clutch actuator is integrated in the outer cover. This is a system designed for maximum lightness and compactness of the engine which, thanks to its low positioning, ensures the reduced size of the power unit and a significant centralization of weight.
• Electric starter-ready: Beta has designed the 125 engine to accept, as an accessory an electric start system for those wanting a push button start.
2018 Beta 125RR 2-Stroke – Totalmotorcycle.com North America Specifications/Technical Details
USA MSRP Price: $ See Dealer for Pricing in USD
Canada MSRP Price: $ See Dealer for Pricing in CDN
Engine Specs:
Type: Beta-Built single cylinder, 2-stroke, liquid cooled, with BPV power valve system.
Bore: 54mm
Stroke: 54.5mm
Displacement: 124.8cc
Compression Ratio: 15:1
Exhaust Valve: Beta Progressive Valve (BPV)
Ignition: AC-CDI Kokusan
Spark Plug: NGK BR9ECMVX
Lubrication: Premix
Carburetor: Keihin PWK 36mm
Clutch: Wet multi-disc
Transmission: 6-speed
Final Drive: O-ring chain
Chassis Specs:
Frame: Molybdenum steel/double cradle w/quick air filter access.
Wheelbase: 58.1"
Seat Height: 36.6"
Ground Clearance:12.8"
Footrest Height: 16.1"
Dry Weight: 207 lbs. (wet weight, no fuel)
Fuel Tank Capacity: 2.25 US gallons
Front Suspension: 48 mm Sachs USD fork, adjustable compression and rebound, TFX technology.
Rear Suspension: Aluminum Body Sachs shock w/adjustable rebound and hi/low speed compression
Front Wheel Travel: 11.6"
Rear Wheel Travel: 11.4"
Front Brake: 260mm rotor
Rear Brake: 240mm rotor
Front/Rear Rim: 21" (Front) 18" (Rear)
Front/Rear Tire: Enduro Competition
Warranty: 6 month Limited Warranty
2018 Beta 125RR 2-Stroke – Totalmotorcycle.com European Specifications/Technical Details
Europe/UK MSRP Price: £ GBP (On The Road inc 20% Vat)
TBA
Manufacturer Specifications and appearance are subject to change without prior notice on Total Motorcycle (TMW).