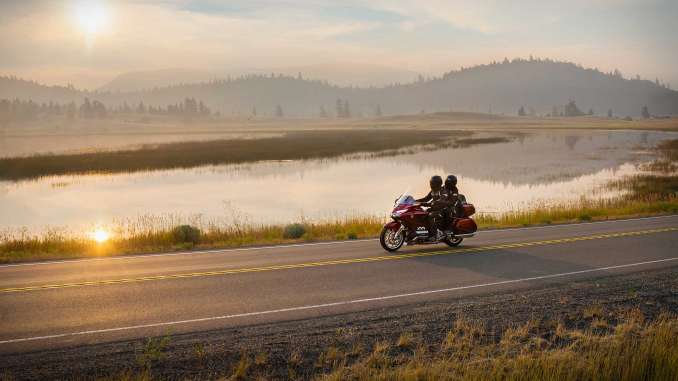 7-SPEED AUTOMATIC DCT TRANSMISSION.
2018 Honda Gold Wing Automatic DCT Review on Total Motorcycle:
This is huge news for 2018. For the first time ever, the Gold Wing is available with a brand new 7-Speed Automatic DCT. The shifts in this version are faster and smoother than ever, and the overdrive seventh gear is perfect for highway cruising.
7-Speed Automatic Dual-Clutch Transmission
Walking Mode/Reverse
This is a bike 43 years in the making. Rebuilt from the road up. Refined inside and out. Ready for anything. There's a new engine. New front suspension. Available 7-speed DCT. All in a more agile body that's over 85 pounds lighter. You'll also find the latest in technology, including Apple CarPlay integration, and five distinct trim levels to suit your style. The 2018 Gold Wing is designed to push the limits of what a touring bike can be. And expand the adventure beyond anything imagined.
Redesigned from the wheels up, the new Honda Gold Wing is sharper, more compact and lighter; its monumental flat six-cylinder engine now features 4-valves per cylinder and comes equipped with Throttle By Wire, 4 riding modes, Honda Selectable Torque Control and Hill Start Assist. The new chassis features an aluminium beam frame, double wishbone front suspension and single-sided Pro-Arm – damping is electrically adjustable, as is rear spring preload. An electric screen, Smart Key and Apple CarPlay are also standard equipment. An entirely new, third generation of Honda's unique Dual Clutch Transmission – with seven speeds – will also be available.
The Honda Gold Wing, since its introduction as a naked 1000cc machine in 1975 has always been the ultimate in two-wheeled travel. And it's a motorcycle that's been very much on its own journey, growing in physical size and displacement over the decades, all the while creating an enduring and unrivalled reputation for luxury, quality and comfort.
Now, in response to the evolutions of demographics and the motorcycle market, the development team in charge of the bike's future have decided on a radical departure from what would be a traditional update trajectory.
So for 2018 the G1800 Gold Wing takes a new direction and is brand new from the wheels-up. It still has an evocative, flat six-cylinder engine that delivers an avalanche of torque and power, and it still remains Honda's flagship premium tourer, loaded with features that allow two people to ride in style. Yet it's smaller, much lighter and much more agile – very much a true 'rider's motorcycle'.
And as a result the new Gold Wing's appeal is broader, reaching out to a younger generation of motorcyclists that may have overlooked – or simply not been aware of – the previous design. As happy on an urban commute as it is the open road, the Gold Wing is now a bike for all reasons, rather than just one.
Mr Yutaka Nakanishi, Large Project Leader (LPL) 18YM GL1800 Gold Wing
"We wanted our new Gold Wing to maintain its luxury but to be a much more 'rounded' motorcycle. A machine as useful to its owner around the city as it is out on tour. And more exciting to ride than ever. So we started from a blank piece of paper and made the Gold Wing smaller and lighter, and added all the technological hardware and software the modern rider could wish for. Now, just as in 1975, it remains a flagship model for Honda – and we are very proud to start this new chapter for such an important name."
OVERVIEW
Sharing a common engine and chassis platform, the new 'Wing will be available as the base model GL1800 Gold Wing, and as a 'Tour' edition with top box, which will also offer a version equipped with DCT and air bag. Depending on the variant, up to 48kg has been saved compared to the previous model.
The engine and chassis have been designed together, to move the riding position forward and create a much more compact motorcycle. The aluminium beam frame is constructed around the link front fork, which allows the engine to come further forward – as the front wheel moves up and down in a more vertical plane – while providing high-quality suspension control and front-end stability thanks to its stiffness and reduced friction. Suspension damping can also be adjusted electrically.
Optimised for size, the new flat six-cylinder engine has lost none of its power, torque and addictive delivery. Throttle By Wire has been added, with 4 rider modes; TOUR, SPORT, ECON and RAIN. Honda Selectable Torque Control (HSTC) maintains rear wheel traction while the suspension damping and Combined Brake System (CBS) alter depending on mode selected. Hill Start Assist (HSA) and Idling Stop add ease of use and improve fuel efficiency.
The manual transmission is now 6-speed, while the new Dual Clutch Transmission (DCT) features 7-speeds, with clutch feel, shift speed and rpm range of up/downshifts tailored specifically to each riding mode. It also features a creep forward and back function. The manual machine employs the same reverse system as the previous design.
Above all, a totally new sense of freedom can be found on the 2018 Gold Wing, with a step change in sheer riding enjoyment. The performance improvement is matched by even greater levels of relaxation: the stylish, aerodynamically-efficient fairing channels air around the rider and the electric screen adjusts for preference; the seats provide all-day comfort. New features like the smart key system, Apple CarPlay and Bluetooth connectivity bring even more convenience.
And much thought went into the Gold Wing's paint finish. The upper bodywork features deeper tone colour, with thick clear-coat complemented by seats finished in high-quality, high-grain materials. The lower body is highlighted with vivid textures that make a strong visual statement.
2018 Honda Gold Wing Automatic DCT Totalmotorcycle.com Key Features
Features
All-New Styling
Front to back, the highly anticipated 2018 Gold Wing is a complete re-invention, with a lower, swept-back touring design and a strong shoulder line – giving the Gold Wing all-new premium styling and an all-new frame.
Adjustable Electric Windshield
Every touring rider can appreciate the extra wind and weather protection with the integrated and fully adjustable electric powered windshield – effortlessly changing height to suit your preference.
Advanced LED Lighting
The new LED headlight and rear LED tail light design help deliver brilliant brightness and distinctive good looks that are sure to get noticed, plus new angular mirrors with integrated self-cancelling LED turn signals.
New Wheel Design & TPMS
The attractive all-new wheel design adds to the overall upscale styling, connecting to the road with a wide 200 series rear tire with standard Tire Pressure Monitoring System (TPMS).
Apple CarPlay® with Siri
Take the things you want to do with your iPhone and put them right on the Gold Wing's built-in display with Apple CarPlay®. Get directions, make calls, send and receive messages and listen to music through onboard controls or take advantage of Siri Voice Recognition.
Standard Bluetooth Connectivity
Seamlessly connect electronic devices via standard Bluetooth connectivity, available on all Gold Wing models to conveniently enjoy MP3, iPod and USB integration right at your fingertips.
7-inch Navigation & Audio LCD Display
The 2018 Gold Wing features an all new dashboard, featuring an intuitive 7-inch LCD display, housing a Harman Navigation system with premium audio and a host of all-new technology.
Smart Key Fob
For those seeking the ultimate convenience and security – this smart key fob never has to leave your pocket. The Gold Wing uses a proximity-key system to conveniently open storage compartments and start the bike at thtouch of a button.
New Engine and Powertrain
The 2018 Gold Wing is powered by a completely new engine. This flat six-cylinder motor with four valve heads offers increased power designed to go beyond the demands of the open road and deliver an incredibly responsive touring experience.
Selectable Riding Modes
Switch between four Selectable Riding Modes to easily find the power and performance to match your preferred riding style or road conditions. Choose between Sport, Touring, Eco or Rain modes to automatically adjust between engine, suspension and braking settings.
Advanced Ride Technology
The true moto enthusiasts in you will appreciate the responsive throttle by wire. Plus, long distance rides just got more comfortable, with cruise control, heated grips and both front and rear heated seats.
New Six-Speed Transmission
The 2018 Gold Wing offers a new and advanced six-speed manual transmission with reverse – making the iconic Gold Wing one of the most comfortable and reliable touring bikes ever made.
STYLING AND EQUIPMENT
Taut lines with a contemporary edge show off the motorcycle underneath
Comfort, heat management and air management vastly improved
Electric windscreen adjustable for angle and height
Cruise control operates smoothly via Throttle By Wire (TBW)
Ample luggage capacity for touring, and top box still takes 2 full-face helmets
7-inch TFT display provides navigation and audio information
Apple CarPlay allows iPhone users to use their device
Full LED lighting and auto-cancelling indicators
Smart key control adds convenience for ignition and luggage
The previous Gold Wing featured an expansive design and attitude. The new Gold Wing is a completely different proposition and replaces the relaxed lines of the outgoing model with a more honed, athletic ethos. Key words the Honda team used during development were 'Refined Shape, Taut Styling'.
It presents a unique silhouette and counterpoints comfort with the dynamic abilities of chassis and engine, adding the traditional Gold Wing premium level of fit, finish and materials. The new 'face' is daringly forward-slanting; combined with the compact fairing proportions, it presents an energetic frontal signature.
The key line of the body, stretching front to back, highlights the differing upper and lower bodywork functions while clearly showcasing the reduced overall size of the machine. A central element is the fairing, with its sharp and solid flat surfaces, and its nuanced aerodynamic detailing. It adds a tension that hints at the performance on offer.
Also on display is the motorcycle itself – the double wishbone front suspension, flat six-cylinder engine, exhausts – in all their functional beauty. Drawn together the design elements create cutting edge style, underpinned by incredible levels of engineering and electronics
It may be smaller and tauter in design, with a strong focus on the new aesthetics, but the development team responsible also had comfort, heat management and, most importantly, air management high on their agenda.
The previous bike's large fairing was designed to provide a pocket of still air behind it; the new approach is to channel airflow around the rider and pillion, effectively providing a pleasant cooling breeze. The reduced aerodynamic drag has also helped improve fuel efficiency.
Gone too is the large windscreen; in its place a smaller electric screen, operated from the left handlebar. It provides excellent wind protection (with the rider and pillion closer to it than before) yet at the same time a sense of space and freedom when required. Screen angle and height adjustment is step-less. Available as options are a larger screen, a fully-adjustable deflector for the arms and upper body and fixed deflectors for the lower legs and feet.
From a seating perspective rider and pillion are separated, much like the old model – the rider can enjoy riding the bike, while the pillion can sit back and enjoy the ride. The rider's seat shape is comfortable and supportive while allowing movement – to enjoy the Gold Wing's new dynamic – and easy ground reach.
All lighting is LED. The lower portion of the headlights use 5 polished optical lenses on both sides to create a Jewel-Eye low beam light signature. Using high beam (in the upper portion) creates a stereoscopic impression. The front indicators are housed in the mirrors and the indicators also auto-cancel; the system compares front and rear wheel speed difference and calculates when to cancel the indication relative to the riding situation.
The new Gold Wing's cruise control too has evolved; the speed that's been set with the cruise control switch (located on the right handlebar) is now shown in the bottom left area of the speedometer.
Also, through TBW the system has achieved a smoother transition to the specified speed and a much smoother operation, especially when going uphill. In the case of the manual transmission models squeezing the clutch or brake, or twisting the throttle cancels cruise control. For the DCT variant (in AT mode) after completing the deceleration with the cruise control system in operation ­– and resuming the previous speed – the Gold Wing returns to the preset with an appropriate shifting schedule.
Before designing the luggage Honda took out research to see just how owners were using their Gold Wings. And that intelligence led to the decision to reduce the total luggage volume as most were ridden for shorter, 2-3 day tours, with no need to carry larger amounts.
The rear top box of the 'Tour' versions will hold 2 full-face helmets; combined with the panniers 110L storage capacity is available. Opening is via a button or smart key. Available as options are a luggage rack for the top box and exclusively designed inner bags.
Capacity of the fuel tank is 4 litres less at 21 litres. But as the new Gold Wing is so much lighter and more aerodynamic, improved fuel economy of 50.4 mpg means tank range is similar to the previous design.
Luxurious instrumentation creates a unique cockpit. Different low-contrast colours with dark tones are applied to the dials, of which the peripheral areas form cone-shaped slopes to create a feeling of depth. A ring with a metal texture surrounds each dial, and the graduations glow in LED, giving concrete depth and a calm, cool image.
The 7-inch full-color TFT liquid crystal display screen provides infotainment-related information (for the audio and navigation systems) as well as managing the HSTC and suspension adjustment. Information is displayed in differentiated segments in a very functional order, so the rider can get all the relevant data with the minimum of eye movement.
Brightness adjusts automatically (with the maximum luminous intensity of the screen being 1000 cd) and the rider can also choose from 8 brightness levels. Tyre pressure is displayed as a numerical figure in the bottom left area of the instruments.
Pride of place – on the centre console and smart key – is the new Gold Wing emblem. Its crisp 3D, two-tone chrome design merges the strength and dignity of a lion's head with the majestic wings of an eagle ready to pounce with open talons. It activates all the motorcycle's systems and also incorporates the emergency key. The ignition and handlebar lock can be turned on or off while just carrying the smart key.
Operation of the luggage is simplified. With the smart key present a push button opens the panniers and top box. It is also possible to temporarily unlock the luggage via remote control; the unlock button on the smart key enables the passenger to instantly access the saddlebags and the rear luggage box. Hydraulic dampers smooth the opening and closing. Pushing and holding the call button results in the indicators flashing.
The Gold Wing is now compatible with Apple CarPlay, so the rider can utilise the personalised information and content inside their iPhone, such as telephone numbers and music playlists. Bluetooth connectivity has been adopted and a USB cable can also be plugged in.
Just as the new Gold Wing is lighter and more compact, its high-output audio amplifier system too has evolved. Lightweight speakers are sited to work with the new riding position and achieve a sound quality with vivid presence. A passenger audio control switch is available to ensure an even more pleasant riding experience; the switches are located on the upper part of the right pannier and adjusting the volume, switching the source and fast forwarding is possible.
The navigation system is displayed on the 7-inch full-color TFT liquid crystal display screen in the central area of the instruments and now includes a gyrocompass, which means guidance is continued even inside a tunnel. Cancellation of any waypoint or 'go home' instruction operation while riding is now possible.
CHASSIS
Total weight saving of 48kg compared to the previous model
Brand new aluminium beam frame moves the engine and rider forward
Double wishbone front suspension and redesigned Pro-Arm
Front and rear damping level adjusts to suit riding mode selected
Rear spring preload electrically adjustable
Dual-Combined Braking System (D-CBS)
The new Gold Wing's die-cast aluminium twin beam frame is designed to package the (now much more compact) engine in a tighter space, 40mm further forward. Its structural thickness has been optimised in each area to deliver a smooth and stable ride, from walking speed upwards, whether on tight city streets or out on the open road. The frame and swingarm together are 2kg lighter than the previous design.
The riding position for rider and pillion is now 36mm forward, and thanks to the dynamic of the double wishbone front suspension (and the angles the double wishbones are set at) the back of the front tyre under full suspension compression is 24mm forward.
Another benefit of the double wishbone front suspension is the reduction in sliding friction (from bump deflections and steering input) that a standard telescopic fork creates as the stanchions travel up and down in the fork leg; the new Gold Wing front end is 30% smoother. Bearings are used in all shaft bush areas for steering and suspension stroke, further reducing friction.
The steering input – via the dual fork holders – is also separated from the suspension provided by the single shock absorber and the Gold Wing's yaw is now 40% nimbler and easier to steer. In addition, a patented steering cross tie-rod connects the handlebars to the front axle and the position of the handlebar pivot with less mass around it (plus siting of the handlebars) delivers an entirely natural feel to the rider.
The Dual Combined Brake System (D-CBS) optimally distributes braking force to the front and rear wheels. Whereas the ABS was operated by 2 motors on the previous model, both have been replaced by one smaller and lighter circulation type ABS modulator which has been integrated with the brake ECU, resulting in a 1.3kg weight saving for the braking system. It also operates in linkage with the current Riding Mode of choice, automatically adjusting the braking characteristics to the riding situation, enhancing security. Dual 320mm front discs are gripped by 6 piston calipers, the rear 316mm disc by a 3-piston caliper.
A first for Honda is the Gold Wing's new Pro-Arm; the old design used tapered bearings plus pivot point plates of the necessary thickness to provide correct rigidity. The new Pro-Arm design uses a redesigned (patent-pending) pivot shaft structure and attaches to the frame on its left side. The right side serves as a maintenance access.
This has changed the stress and forces on the frame's swingarm pivot plates, allowing much greater freedom of design and making the machine easier to manage; it also contributes to stability. Pro-Link provides progressive suspension action and comfort – the link plates have been optimised and spherical joints are used throughout, cancelling out torsion.
Damping level is also adjusted electrically relative to the riding mode selected by the rider. Stepper motors housed within the front and rear shock absorbers move needles to control oil flow, tailoring damping force for the riding situation.
Rear spring preload is also now electrically adjusted. It's an intuitive – rather than numerical – system. Separate from the 4 riding modes, there are 4 settings of preload relative to load from soft to hard: single rider; rider with luggage; rider with pillion, and rider with pillion fully loaded with luggage. The setting is displayed on the TFT screen and adjusted via switch.
Rake and trail are set at 30.5°/109mm, with wheelbase of 1695mm. The previous Gold Wing weighed 413kg wet; the new Gold Wing weighs 365kg wet. The Gold Wing Tour weighs 379kg wet and the DCT and airbox version weighs 383kg wet.
ENGINE
Extensively revised flat six-cylinder engine 6.2kg lighter, with 4 valves per cylinder
Throttle By Wire (TBW) adds 4 rider modes to tailor power output
The rider modes also manage HSTC, suspension damping and brake force
Idling Stop and Integrated Starter Generator (ISG) on DCT version
Hill Start Assist (HSA)
6-speed manual gearbox with assist/slipper clutch
Core to the previous Gold Wing's appeal was its turbine-smooth flat six-cylinder engine, which produced torque from low rpm with a distinctive power delivery and feel that quickly became addictive.
To realise the handling ambitions of the new chassis the 1,833cc engine too has been redrawn. Still as a horizontally-opposed flat six, but now with four valves per cylinder rather than two, much more compact in size and 6.2kg lighter.
Peak power of 125bhp arrives @ 5,500rpm, with peak torque of 170Nm delivered @ 4,500rpm. The bore size of 73mm (from 74mm) has been optimised to stroke of 73mm and bore pitch shortened 9mm; the left and right cylinders are offset 4mm and the cylinder sleeves are now aluminium. Compression ratio is set at 10.5:1.
The Unicam cylinder heads – the inlet valves are operated by finger-follower rocker arm, the exhaust valves by roller rocker arms – also employ a co-axial rocker-arm shaft for both inlet and exhaust, doing away with the old model's valve lifter structure.
The combustion chambers are now a 4-valve 'pentroof' design (rather than a 2-valve 'bathtub') with the inlet ports designed to promote 'tumble' flows inside the cylinders thus improving efficiency. The piston skirts wear a molybdenum coating to reduce friction.
A stiffer crankshaft, constructed from SCM440H steel, allows a pin offset of -4mm and compared to the previous design the new engine is 33.5mm shorter in length. The crank sensor (which detects engine speed and piston position for EFI and ignition) has been moved from the front of the engine to the rear, reducing the distance between the front cover and crankshaft by 7mm.
The addition of Throttle By Wire (TBW) has brought with it 4 rider modes to alter the engine's character and power delivery, linked to Honda Selectable Torque Control (HSTC), suspension damping and the Dual Combined Brake System (D-CBS).
TOUR mode is the base setting for comfort and power. It gives a direct 100% opening ratio between throttle grip and throttle body butterfly, with 'default' damping and front/rear brake force distribution.
SPORT serves up the highest throttle to butterfly ratio and delivers strong acceleration, with firmer damping and rear brake lever pressure.
ECON mode offers maximum fuel economy and easy cruising, with lower throttle to butterfly ratio and default damping and brake force.
RAIN turns the dial down to suit wet and slippery conditions, with lowest throttle to butterfly ratio, default braking force distribution and soft suspension damping.
In all 4 riding modes HSTC constantly allows controllable acceleration in slippery conditions.
A single throttle body has replaced the dual throttle bodies of the previous design, with revisions to the diameter and thickness of the intake manifold to save weight. Intake manifold volume, from the throttle valve to intake valve has been reduced by approximately 10%, speeding up airflow and improving response.
There are two air intake ducts sited front left and right rear. This structure generates swirling as the air is drawn in – the result is more effective use of the air filter's entire surface area and reduction in resistance. The internal shaping of both ducts has been optimised to align with the intake pulses of the engine's low-rpm range, improving response and torque from smaller throttle openings.
The sound and feel of the Gold Wing's engine has always been its calling card. While the new dual exhausts maintain the internal structure of the old model – 2 internal chambers plus a resonance chamber – the glass wool has been removed to save weight.
To complement the engine's deep bass signature the exhausts now emit a powerful throb, without excessive noise. The cross-sectional areas of the exhaust pipes have been reduced 20% for two out of the six cylinders, bringing about the change in sound volume and depth.
The ISG (Integrated Starter Generator) combines the generator and starter motor into one component, with the generator effectively becoming the starter motor when supplied with reverse power.
The damper used for the coupling joint that transmits the driving force from both the ISG side and the crankshaft side has been changed from the viscous type used for the generator of the previous model to the mechanical, using an arc spring and rubber; weight is reduced by approximately 2.4 kg for the system as a whole. Helical gears are employed for the ISG driving gears, reducing the mechanical noise of the engine.
Key characteristics of the Idling Stop system are the ultra-quiet start-up of the engine thanks to the use of ISG, and the smooth starting feeling achieved through a combination of DCT and TBW control. When stopping at a traffic light with the Idling Stop system on, the engine automatically stops after 3 seconds and, when restarting, the rider only needs to turn the throttle, which immediately starts the engine.
The system is controlled so that hydraulic oil pressure is applied in advance to the DCT line that activates the clutch when the engine starts, so the time lag from when the rider opens the throttle to movement is reduced. To curb any abruptness the TBW makes the throttle butterfly open gradually following the throttle opening – thus the smooth acceleration befitting of a Gold Wing. Idling Stop can be turned ON or OFF from the right handlebar switch
Hill starts on a conventional motorcycle often involve simultaneously releasing the brakes, opening the throttle and engaging the clutch according to the grade of the slope. To ease this effort, the new manual transmission Gold Wing has adopted Hill Start Assist (HSA).
After stopping on a slope, further squeezing the brake lever quickly results in the ABS modulator generating hydraulic pressure for the rear brake caliper. When setting off – even when the brake lever is released – the hydraulic pressure temporarily retains braking force (for about 3 seconds) so starting on the uphill slope with the throttle is possible. When in operation, the HSA indicator is switched on to inform the rider.
The new 6-speed manual gearbox lowers the engine speed when cruising at 60mph, compared to the previous 5-speed design. It's also fitted with a 'cam damper' between the clutch and transmission, separating each inertial mass, reducing noise and improving shift quality/durability.
A cam assist and slipper clutch (with fewer discs and reduced hydraulic friction in the release mechanism) has replaced the hydraulic assist clutch. This has reduced clutch load at the lever by 20% and also smoothed downshifts; the slipper mechanism also contributes to the high-quality downshift feel. The reverse mechanism is exactly as it was on the previous Gold Wing.
DUAL CLUTCH TRANSMISSION (DCT)
Third-generation DCT with 7-speeds
Smoother, quieter with faster upshifts and downshifts
Walking mode allows machine to 'creep' forward or back
The 4 riding modes also manage DCT for optimised response
Honda's unique Dual Clutch Transmission is a natural fit for the new Gold Wing engine and development revolved around DCT as the base. This is the third all-new generation of the system and the first to have 7-speeds, specifically designed for long-distance cruising; it's also extremely smooth and fast shifting. And lighter than the 5-speed manual transmission fitted to the previous design.
DCT delivers consistent, seamless gear changes up or down and very quickly becomes second nature in use. It uses two clutches: one for start-up and 1st, 3rd , 5th and 7th gears: the other for 2nd, 4th and 6th, with the mainshaft for each clutch located inside the other for compact packaging.
Each clutch is independently controlled by its own electro-hydraulic circuit. When a gear change occurs, the system pre-selects the target gear using the clutch not currently in use. The first clutch is then electronically disengaged as, simultaneously, the second clutch engages.
The result is a consistent, fast and seamless gear change. Furthermore, as the twin clutches transfer drive from one gear to the next with minimal interruption of the drive to the rear wheel, any gear change shock and pitching of the machine is minimised, making the change feel direct as well as smooth. Extra benefits include durability (as the gears cannot be damaged by missing a gear) impossibility of stalling, low stress urban riding and reduced rider fatigue.
In the lower speed range of the new Gold Wing's DCT system, the ratios are close, reducing shift-shock and in the higher speed range set wider apart to reduce engine rpm. In both speed ranges comfort is improved as shifting up or down is of the highest quality.
Shift noise and shock have been addressed throughout the development of the third generation of DCT. Noise damper rubbers on both ends of the fork guide and the master arm greatly reduce any impact sound during gear changes.
A spring damper has been installed between the clutch and the main shaft in order to absorb the torque in the rotational direction, thus reducing the noise and shock of the contact between the clutch and main shaft when shifting gears.
The new Gold Wing's DCT features a 1.1mph forward Walking Mode with reverse of 10.7mph, operated instantly from a +/- switch on the left handlebar.
Of the main shafts with a double tube structure, the outer main shaft connected with the even-number gears is linked to the inner shaft with a chain, by way of the gears on the counter shaft. This structure gives outer main shaft the role of the reverse idle shaft, which has resulted in a lightweight reverse mechanism with a compact structure – with no need for any reverse idle shaft.
When activating Walking Mode the two clutches of DCT are utilised to enable moving backward with clutch #1 and moving forward with clutch #2. In this way, moving forward or backward at walking speed is now possible with only clutch control, without any need for gear shifting. Furthermore, the throttle-by-wire system controls speed by minutely controlling the clutch capacity, while maintaining a certain engine speed, assuring controllability with a sense of security in wide-ranging situations.
The 4 riding modes are interleaved with DCT. All share the same engine character, delivery and suspension settings as the MT model but add extra DCT-specific parameters. TOUR uses the default setting for smooth clutch engagement and gearshifts in AT mode, with a low-to-high rpm range for gear shifts. SPORT deploys a more direct clutch engagement, with gear shifts programmed in a mid-to-high rev range.
ECON has a soft clutch engagement, with low-to-mid rpm gear hold and default shifting feel. RAIN also operates a soft clutch, low-to-high rpm gear hold range and slower shifting in AT mode.
2018 Honda Gold Wing Automatic DCT Totalmotorcycle.com Features and Benefits
Honda's peerless touring machine becomes even more versatile with the latest evolution of Honda's legendary Gold Wing, not only resetting performance limits for touring bikes, but also rewriting the very concept of motorcycle touring. Designed to be more compact, lightweight, and technologically advanced than any touring model to come before it, the 2018 Honda Gold Wing Automatic DCT ushers in a new era of riding, with a long list of standout features meant for added comfort and performance, for both the rider and passenger. The next great adventure starts here.
Design
•Improved aerodynamic efficiency by 11.8 percent, to complement improved power-to-weight ratio and extend fuel mileage
•Compact side-mount radiator with higher performance allows for narrower front cowl
•New air-guiding ducts flow optimal amounts of air into the seat space, allowing a true motorcycling experience
•Electric windscreen, in varying heights depending on model, gives rider control over airflow through stepless adjustment for height and angle
•LED headlight provides new "wing line"
•LED turn signals with auto-cancelling function are integrated into mirrors at the front and into the taillights at the rear
•Two-piece seat is shaped in a way that allows the rider to easily move around in the saddle during spirited riding, and for passenger to tour in comfort
Engine / Drivetrain
•All-new 1,833cc liquid-cooled, horizontally opposed six-cylinder engine offers low center of gravity, minimal vibration, and quiet running
•New SCM440H material for the crankshaft is stronger, allowing the crankshaft to be made more compact
•Unicam® valve train offers weight savings and improved fuel efficiency, while also contributing to engine's more compact dimensions
•Four-valve head improves combustion efficiency and fuel efficiency
•Aluminum cylinder sleeves for reduced weight
•29mm shorter engine (from front to rear of left cylinder head) enables engine and rider position to be moved forward in chassis to put more weight on the front, promoting sporty handling
•Single, 50mm throttle body for reduced weight
•Intake-manifold volume reduced by 10 percent for more direct flow of air to combustion chamber, for improved responsiveness
•Enhanced exhaust sound achieved through reduction in pipe diameter on two of the six cylinders and removal of fiberglass in muffler
•Fuel economy improved by 20 percent, enabling fuel tank to be made smaller for better vehicle packaging and reduced weight
•Manual transmission-equipped engine is 13.7 pounds lighter than previous-generation engine
•DCT-equipped engine is 8.4 pounds lighter than previous-generation manual-transmission engine
•DCT features Walking Mode for creeping forward and backward (.75 mph in reverse direction, 1.1 mph in forward direction)
•On DCT models, removal of reverse idle shaft needed in conventional transmission saves weight
•Reduced shift shock and noise on DCT models through use of fork-shaft dampers, master-arm damper, and DCT clutch-center damper
•Both new transmission options allow quieter running and lower engine speeds during high-speed cruising
•Assist and slipper clutch on manual-transmission models have reduced lever effort by 20 percent, and reduced shift shock on downshifts
•Cam damper on manual-transmission model reduces shift noise and shift shock
•Integrated Starter Generator (ISG) saves weight and improves quietness at start-up
Technologies
•Throttle-by-wire system provides basis for advanced electronics package
•Four riding modes—Tour, Sport, Econ, and Rain—help tailor the riding experience for specific riding conditions
•On Tour models, Honda Selectable Torque Control (HSTC) system manages rear-wheel slip
•Hill Start Assist makes it easier to start from a stop on an ascent
•Optimized cruise-control function for relaxed cruising
•Smart Key for keyless starts and bag access
•Vehicle Viewfinder system simplifies locating motorcycle, for instance in larger parking lots
•Tire Pressure Monitoring System provides real-time status of tire pressure, also indicating when tire pressure drops below a certain level
•Apple CarPlay™ compatibility enables the rider to access Apple Music and Maps, make phone calls, and send dictated messages using Siri
•7-inch full-color Thin Film Transistor (TFT) display offers clear viewing of audio and navigation systems, as well as settings for individual rider-aid systems
Chassis / Suspension
•Robotically welded aluminum twin-spar frame
•Revised plate thicknesses in frame spars achieve optimized rigidity and flex characteristics
•Single-sided swingarm with new pivot-area structure
•Frame and swingarm are 4.4 pounds lighter
•Shorter seat rail moves rider and passenger forward, enabling better mass centralization
•Twin 320mm front-brake rotors, single 316mm rear rotor, for excellent stopping power
•Radially mounted 6-piston dual front-brake calipers and single three-piston rear-brake caliper
•Electronically controlled combined braking system with ABS uses single modulator for reduced weight
•Tires specifically designed for Gold Wing, in sizes 200/55-R16 (rear) and 130/70-18 (front)
•Double-wishbone front-suspension system reduces friction and enhances agility, reducing total shock transferred to the handlebars by 30 percent; inertial mass of components operated by handlebars is reduced by 40 percent
•Bearings for all shaft bushings on front-suspension system reduce friction for both stroke and steering
•Double-wishbone front-suspension system leads to more compact vehicle package, as new stroke trajectory allows more forward engine location
•Pro-Link® rear-suspension system ensures comfortable ride
•Convenient electrically controlled suspension-damping adjustment uses stepping motor acting on a needle to control oil flow rate
Additional Standout Features
•Weighs over 80 pounds less than its predecessor while still offering comfortable touring capability
•30-liter storage capacity each for left and right saddlebags
•50-liter storage capacity for rear luggage case on Gold Wing Tour models (optional on Gold Wing models)
•Dampers on saddlebag and rear luggage-case lids, for smooth operation
•Airbag model's collision judgment system arranged closer to the center of gravity for better mass centralization
2018 Honda Gold Wing Automatic DCT / Gold Wing Tour Model Comparison
GOLD WING TOUR MODELS
The three 2018 Gold Wing Tour models—Gold Wing Tour, Gold Wing Tour DCT, and Gold Wing Tour DCT Airbag—are the modern interpretation of the classic Gold Wing, the ultimate long-distance touring machine, but with highly improved performance capabilities. All three all-new Gold Wing Tour models feature full luggage provisions, including saddlebags and top case.
GOLD WING TOUR
Colors
Candy Ardent Red 
Pearl White 
Pearl Hawkseye Blue 
Significant Features
Saddlebags
Top case (removable with accessory kit)
Double-wishbone front suspension 
Tall electric windscreen 
6-speed manual transmission 
Reverse gear 
Audio speakers (2 front/2 rear) 
Four riding modes (Tour, Sport, Econ, Rain) 
Honda Selectable Torque Control (HSTC) 
Heated seat 
Heated grips 
Cruise control 
Electric damping adjust 
Electric preload adjust 
Center stand 
Built-in navigation 
Apple CarPlay™ compatible
GOLD WING TOUR DCT
Colors
Candy Ardent Red 
Pearl White 
Pearl Hawkseye Blue 
Significant Features
Compared to Gold Wing Tour, adds:
Seven-speed automatic DCT 
Walking Mode 
GOLD WING TOUR DCT AIRBAG
Colors
Significant Features
Compared to Gold Wing Tour DCT, adds:
GOLD WING MODELS
Boasting a sporty character, the two Gold Wing models—Gold Wing and Gold Wing DCT—come with saddlebags but no top case or the accompanying rear audio speakers. The electric windscreen is shorter on these models, and preload adjustment is manual. HSTC, electric damping-adjust, center stand, and heated grips are not included.
GOLD WING
Colors
Candy Ardent Red 
Matte Majestic Silver  
Pearl Stallion Brown 
Significant Features
Double-wishbone front suspension 
Short electric windscreen 
Six-speed manual transmission 
Audio speakers (2 front) 
Four riding modes 
Heated grips 
Cruise control 
Built-in navigation 
Apple CarPlay compatible
GOLD WING DCT
Colors
Candy Ardent Red 
Matte Majestic Silver  
Pearl Stallion Brown 
Significant Features
Compared to Gold Wing, adds:
Seven-speed automatic DCT 
Walking Mode 
Reverse
GOLD WING / GOLD WING TOUR FEATURE COMPARISON
GOLD WING
TOUR
GOLD WING
TOUR DCT
GOLD WING TOUR DCT AIRBAG
GOLD WING
GOLD WING
DCT
Double-Wishbone Front
Suspension
✓
✓
✓
✓
✓
Electric
Windscreen
Tall
Tall
Tall
Short
Short
Transmission
6-speed
manual
7-speed
automatic
DCT
7-speed
automatic
DCT
6-speed
manual
7-speed
automatic
DCT
Reverse
✓
✓
✓
✓
Top Box
✓
✓
✓
Optional
Optional
Audio Speakers
2 front/2 rear
2 front/2 rear
2 front/2 rear
2 front
2 front
Riding Modes
4
4
4
4
4
Cruise Control
✓
✓
✓
✓
✓
Honda Selectable Torque Control
✓
✓
✓
Heated Seat
✓
✓
✓
Heated Grips
✓
✓
✓
✓
✓
Fr./Rr. Electric Damping Adjust
✓
✓
✓
Preload Adjust
Electric
Electric
Electric
Manual
Manual
Center Stand
✓
✓
✓
Optional
Optional
Built-in
Navigation
✓
✓
✓
✓
✓
Apple CarPlay
Compatible
✓
✓
✓
✓
✓
Airbag
✓
Honda Gold Wing Timeline
1972
•A team led by Soichiro Irimajiri develops the M1 prototype (also known as Project 371), a flat-six, 1,470cc precursor of the Gold Wing.
1974
•The first Gold Wing—the 1975 GL1000 KO—makes its public debut at the Cologne Show in Germany. Developed by Toshio Nozue (also responsible for the CB750), the model is dubbed "the ultimate motorcycle" by Honda.
1976
•Honda offers an LTD version of the GL1000, with special features like LTD badges, gold striping, a chromed radiator shroud, and special seat and wheels.
1977
•Rider passion quickly emerges as the Gold Wing Road Riders Association (GWRRA) is founded in Phoenix.
1978
•The first edition of the Wing Ding touring rally is held in Phoenix.
1979
•On June 10, Honda opens its $50 million, 260,000 square-foot USA production facility in Marysville, Ohio, where the following year's Gold Wing would be produced.
1980
•Honda produces the all-new Gold Wing GL1100. Among the many changes are a longer wheelbase, electronic ignition, increased fuel capacity, and lighter weight.
•The GL1100's Interstate version features an optional stereo-intercom system with signal-seeking tuning.
•On May 1, Honda's Marysville Motorcycle Plant produces its first Gold Wing.
1981
•Hoping to expand the touring experience to a new demographic of riders, Honda offers the GL500 Silver Wing.
1982
•Honda introduces a luxurious Aspencade version of the GL1100, featuring two-tone paint and all of the updates from the Interstate.
1983
•The American Gold Wing Association is founded.
•The GL1100 debuts unified braking and Honda's advanced Torque Reactive Anti-Dive Control braking system (TRAC).
1984
•Honda produces the all-new GL1200, which has a stiffer frame, repositioned engine, smaller wheels, longer wheelbase and swingarm, and upgraded suspension.
1985
•Honda commemorates 25 years in America and 10 years of Honda Gold Wing motorcycles with the GL1200L Limited Edition.
•The naked version of the GL1200 is discontinued.
•Honda opens an engine plant in Anna, Ohio, where GL engines would eventually be produced.
•The GL's Limited Edition version enables auto-leveling rear suspension in order to maintain correct ride height regardless of varying load sizes.
1986
•Dolby noise reduction is added to the Gold Wing's audio system.
1987
•The Gold Wing Touring Association is founded.
1988
•The Gold Wing grows two cylinders and is introduced as the all-new flat-six GL1500. Highlights include a smoother transmission, increased fuel capacity, stiffer chassis, improved brakes, and comprehensive fairing.
1989
•The Pacific Coast, a mid-displacement Gold Wing spinoff featuring automotive-influenced styling, is introduced.
1993
•Large Project Leader Masanori Aoki moves to the U.S. for three years to learn English and study the Gold Wing culture prior to developing the 2001 GL1800.
1994
•American Honda publishes The First 20 Years, a book by Vreeke & Associates celebrating the Gold Wing's two-decade anniversary.
1995
•To recognize the Gold Wing's 20th anniversary, Honda offers three commemorative models.
1996
•On July 26, the Marysville plant produces its 1 millionth U.S.-built Honda—a Gold Wing.
1997
•Honda introduces the Valkyrie, a high-performance cruiser based on the GL1500 chassis.
2000
•Coinciding with the Gold Wing's 25th anniversary, GL engine production is moved from Anna, Ohio, back to Marysville.
•Whitehorse Press publishes Honda Gold Wing, a book by Darwin Holmstrom
2001
•Debut of the sensational GL1800. Developed under Masanori Aoki, it brings fuel injection, an aluminum frame, and optional ABS braking to the Gold Wing, and it has 20 patents for technological innovations.
•Haynes publishes an Ian Falloon-published book that shares the same Honda Gold Wing name as Holmstrom's book.
2005
•For its 30th anniversary, the Gold Wing gets a special commemorative badge.
2006
•The Gold Wing gets in-dash GPS, as well as heated seat and handgrips.
•Honda offers a GL1800 with the world's first motorcycle airbag.
2009
•XM Satellite Radio is added to the Gold Wing's audio system.
2011
•No Gold Wing model is produced.
2012
•The Gold Wing gets a new look, and production moves to Kumamoto, Japan.
•The Gold Wing's audio system becomes iPod-compatible.
2013
•Honda releases the F6B, a leaner, lightweight version of the Gold Wing.
2014
•Honda reintroduces the powerful Valkyrie, the ultimate cruiser.
2015
•Honda celebrates the Gold Wing's 40th birthday, offering a Gold Wing with three commemorative badges, two-tone paint scheme, an embossed passenger seat, and special ignition key.
2017
•On October 24, Honda unveils the all-new 2018 Gold Wing and Gold Wing Tour models during a special event at Santa Barbara, California's MOXI Museum of Exploration + Innovation.
Honda Gold Wing Numbers
20%: Reduction in clutch-operation load on the 2018 Honda Gold Wing Automatic DCT
6: Number of cylinders in the prototype engine for the original GL. (The production version would have four cylinders, though the engine grew to six cylinders in 1988.)
5.3 lbs.: Reduction in weight achieved through use of an Integrated Starter Generator system (ISG) on the 2018 Gold Wing, combining the generator and starter-motor functions
43rd: Anniversary that the Gold Wing is celebrating in the 2018 model year
SCM440H: Name of the high-strength steel-alloy material used for the 2018 Gold Wing's crankshaft, which enabled Honda engineers to reduce the component's dimensions
CRF450R: Honda model (an award-winning, high-performance motocrosser) from which the 2018 Gold Wing's Unicam® valve-train design was borrowed
1.1: Number of gallons by which the 2018 Gold Wing's fuel-tank capacity was reduced without sacrificing range, thereby improving performance and handling
999cc: Engine displacement of the original 1975 GL1000 Gold Wing
20%: Improvement in fuel economy for the 2018 Gold Wing during testing
13.7 lbs.: Amount by which weight has been reduced on the 2018 manual-transmission Gold Wing's engine
7: Number of speeds in the 2018 Gold Wing's advanced automatic Dual Clutch Transmission (DCT)
.75 mph: Speed at which the 2018 Gold Wing travels when in Reverse Walking Mode
$2,899: MSRP for the original, 1975 Gold Wing GL1000
4: Number of riding modes on the 2018 Honda Gold Wing Automatic DCT: Tour, Sport, Econ, and Rain
7 inches: Size of the 2018 Gold Wing's full-color Thin Film Transistor (TFT) liquid-crystal display
1,000: Number of miles Cycle magazine rode their 1988 GL1500 test unit in a single day for a story
4: Number of electric preload suspension-adjustment settings for the 2018 Gold Wing Tour: Rider, Rider + Luggage, Rider + Passenger, Rider + Passenger + Luggage
+80 lbs.: Amount by which weight has been reduced on the 2018 version, compared to its predecessor
Project 371: Prototype code name of the Shoichiro Irimajiri-led development project for the original Gold Wing
30%: Reduction in shock transmitted from the road surface to the handlebars on the 2018 Honda Gold Wing Automatic DCT, thanks to the double-wishbone front-suspension system
4.4 lbs.: Amount by which weight was reduced in the Gold Wing frame and swingarm for 2018
110 liters: Total capacity of the saddlebags and rear trunk on 2018 Gold Wing Tour models
2018 Honda Gold Wing Automatic DCT – Totalmotorcycle.com USA Specifications/Technical Details
US MSRP Price: $24,700 USD
ENGINE
Engine Type 1833cc liquid-cooled horizontally opposed six-cylinder
Bore And Stroke 73mm x 73mm
Induction Programmed Fuel Injection (PGM-FI)
Ignition Full transistorized Ignition
Compression Ratio 10.5:1
Valve Train SOHC; four valves per cyclinder
DRIVE TRAIN
Transmission Six-speed including overdrive
Final Drive Shaft
CHASSIS / SUSPENSION / BRAKES
Front Suspension Double Wishbone Type; 4.3 inches travel
Rear Suspension Pro Arm® single-side swingarm with Pro-Link® single shock; 4.1 inches travel
Front Brake Hydraulic; dual 320mm discs
Rear Brake Hydraulic; single 316mm disc
Front Tire 130/70R-18
Rear Tire 200/55-16
DIMENSIONS
Rake 30.5 degrees
Trail 109mm (4.3 inches)
Wheelbase 66.7 inches
Seat Height 29.3 inches
Curb Weight
787 pounds. Includes all standard equipment, required fluids and a full tank of fuel –
ready to ride
Fuel Capacity 5.55 gallons
Miles Per Gallon TBD
OTHER
Model ID GL1800
Emissions Meets current California Air Resources Board (CARB) and EPA standards.
Available Colors Candy Ardent Red, Matte Majestic Silver, Pearl Stallion Brown
FACTORY WARRANTY INFORMATION
Three Years
Transferable, unlimited-mileage limited warranty; Up to 8 years extended coverage
available with Honda Protection Plan
2018 Honda Gold Wing Automatic DCT – Totalmotorcycle.com Canadian Specifications/Technical Details
Canada MSRP Price: $ CDN
NA
2018 Honda Gold Wing Automatic DCT – Totalmotorcycle.com European Specifications/Technical Details
Europe/UK MSRP Price: £ GBP (On The Road inc 20% Vat)
Manufacturer Specifications and appearance are subject to change without prior notice on Total Motorcycle (TMW).