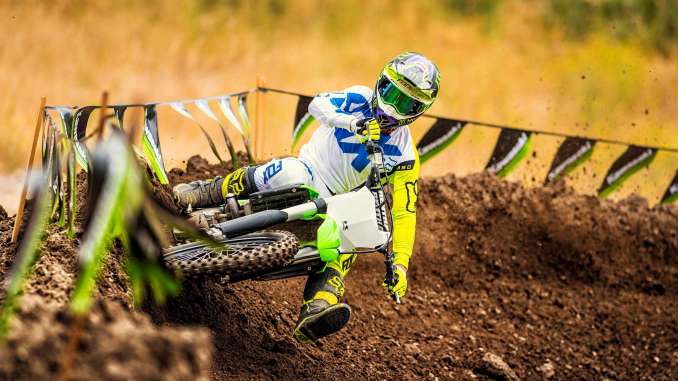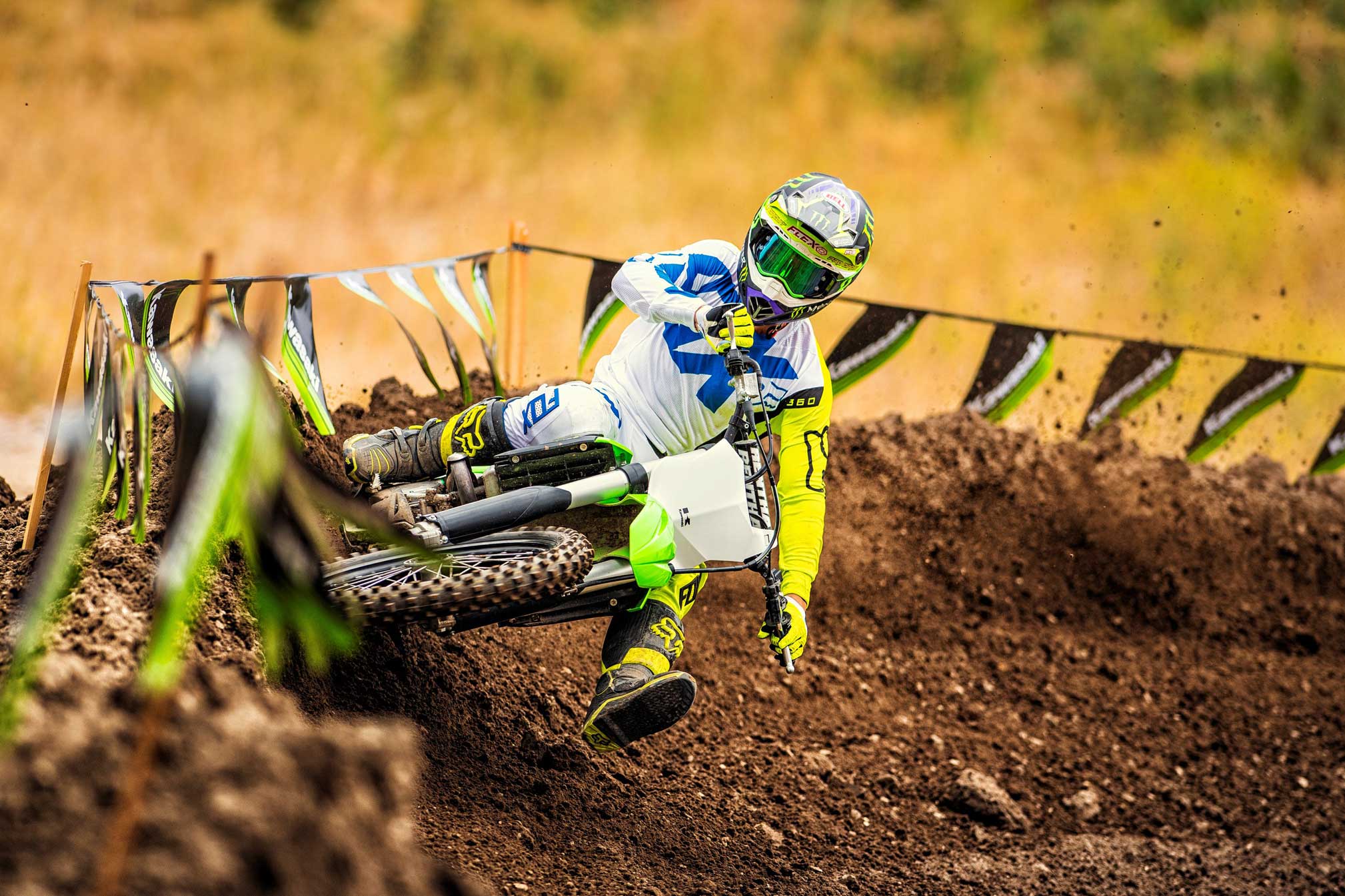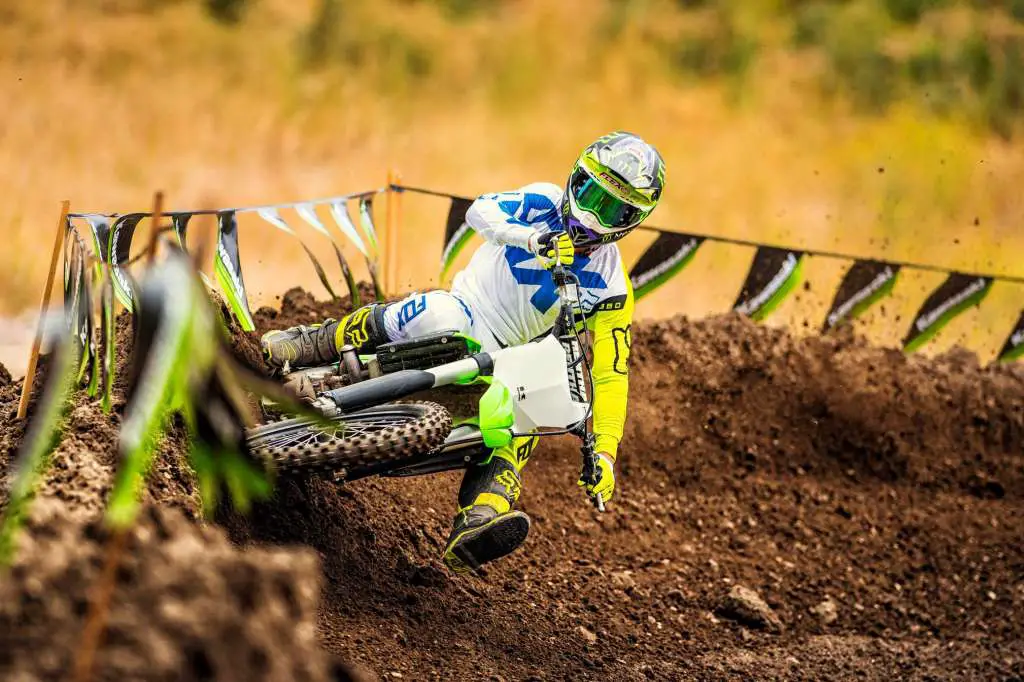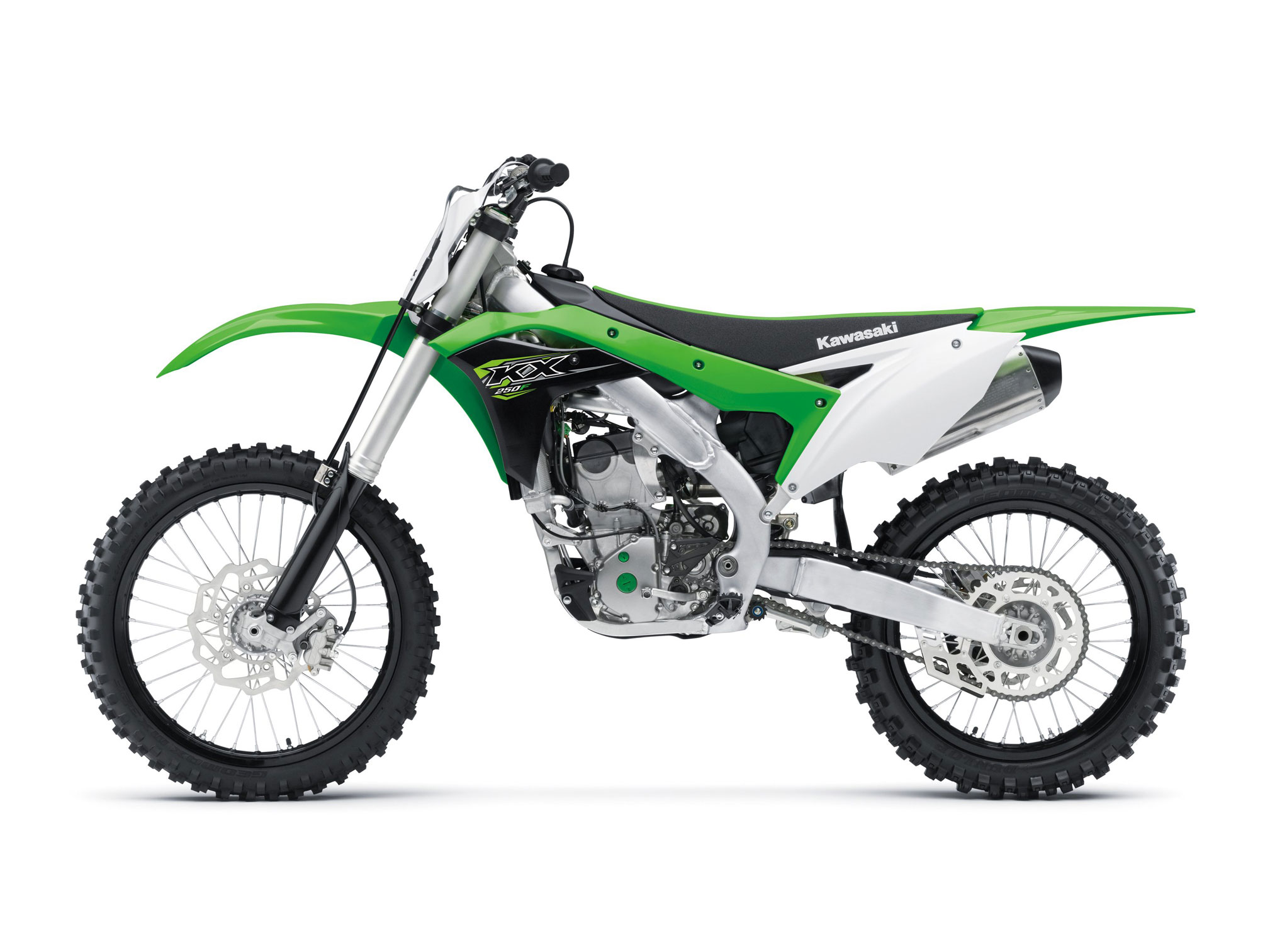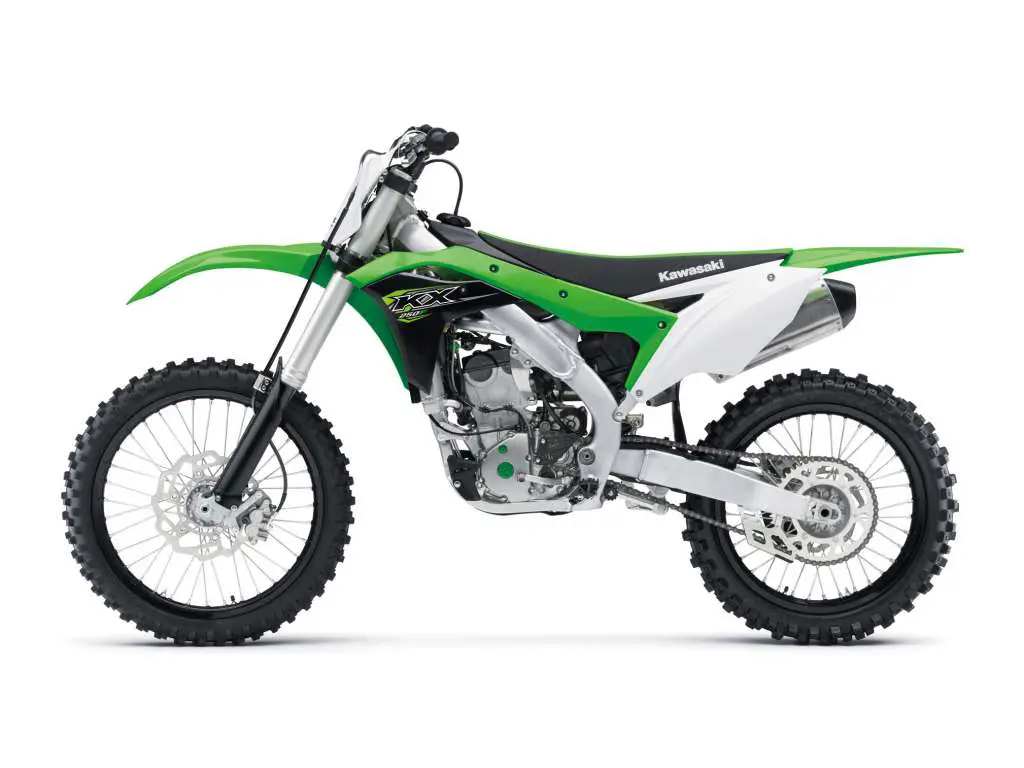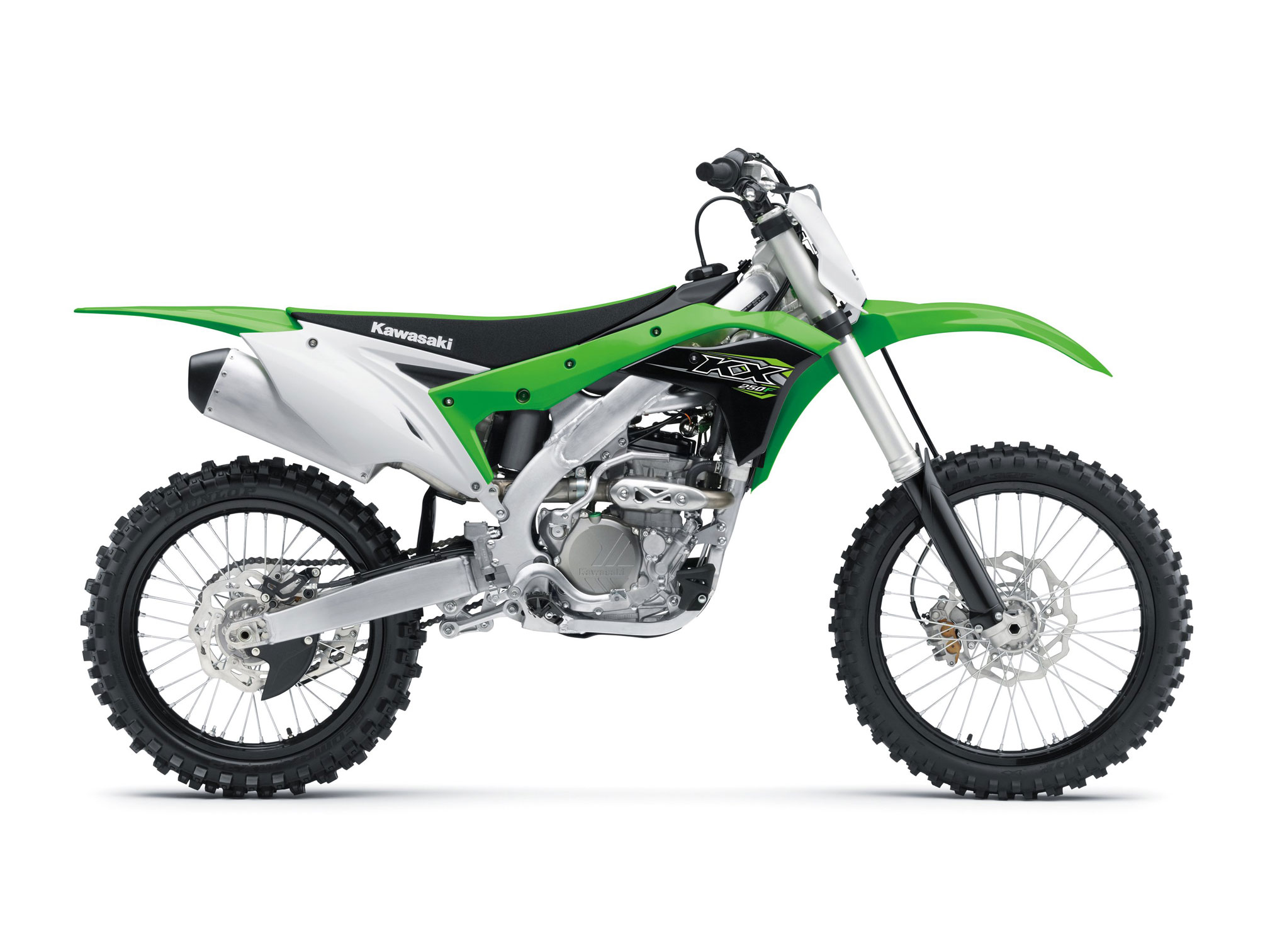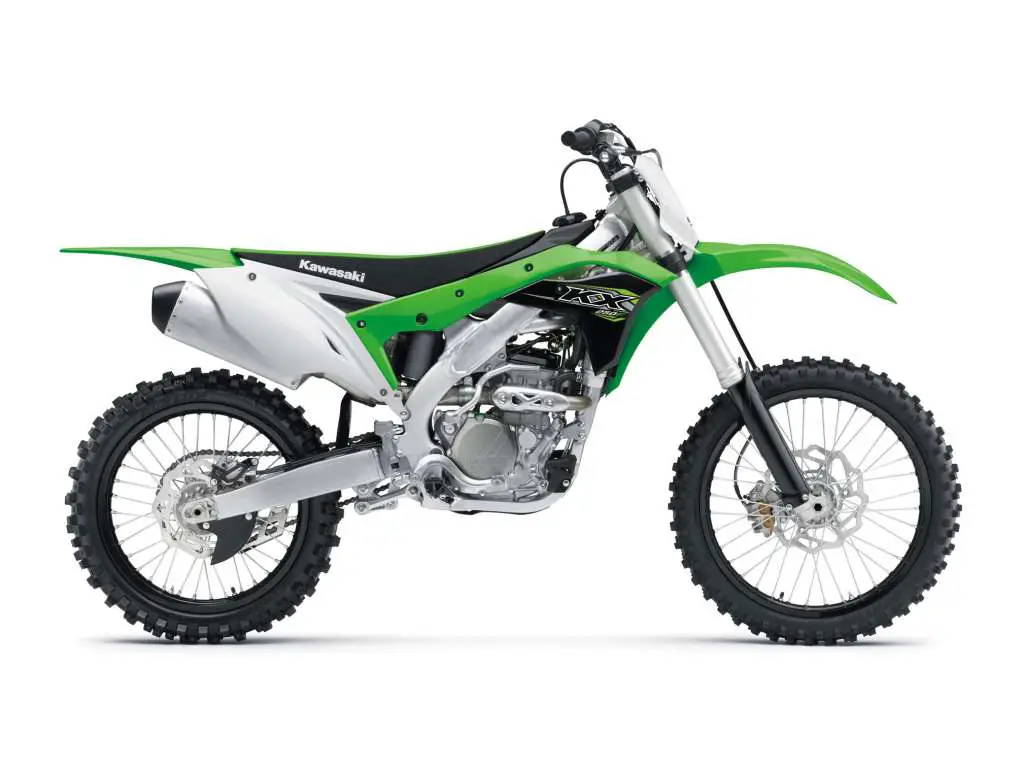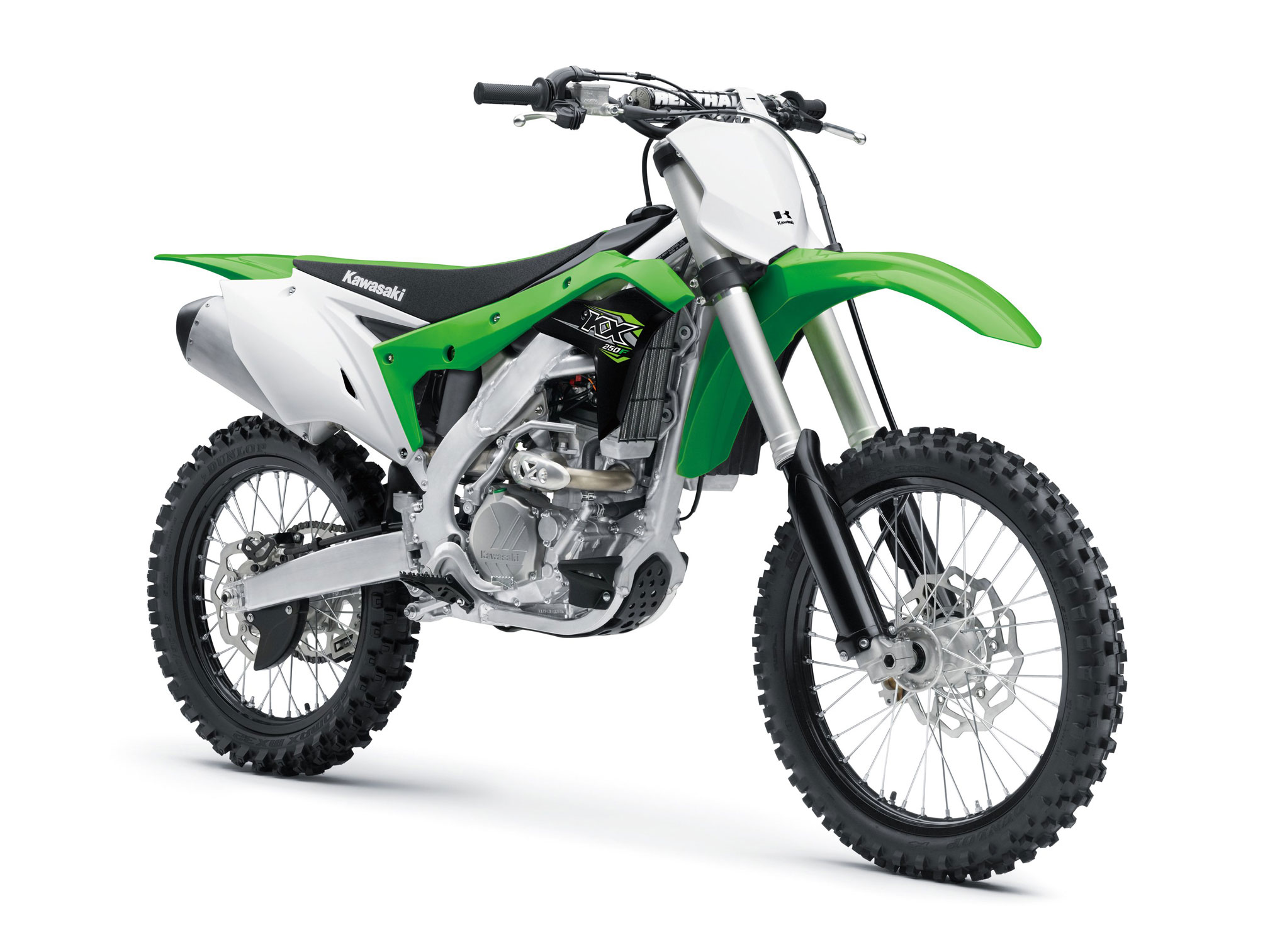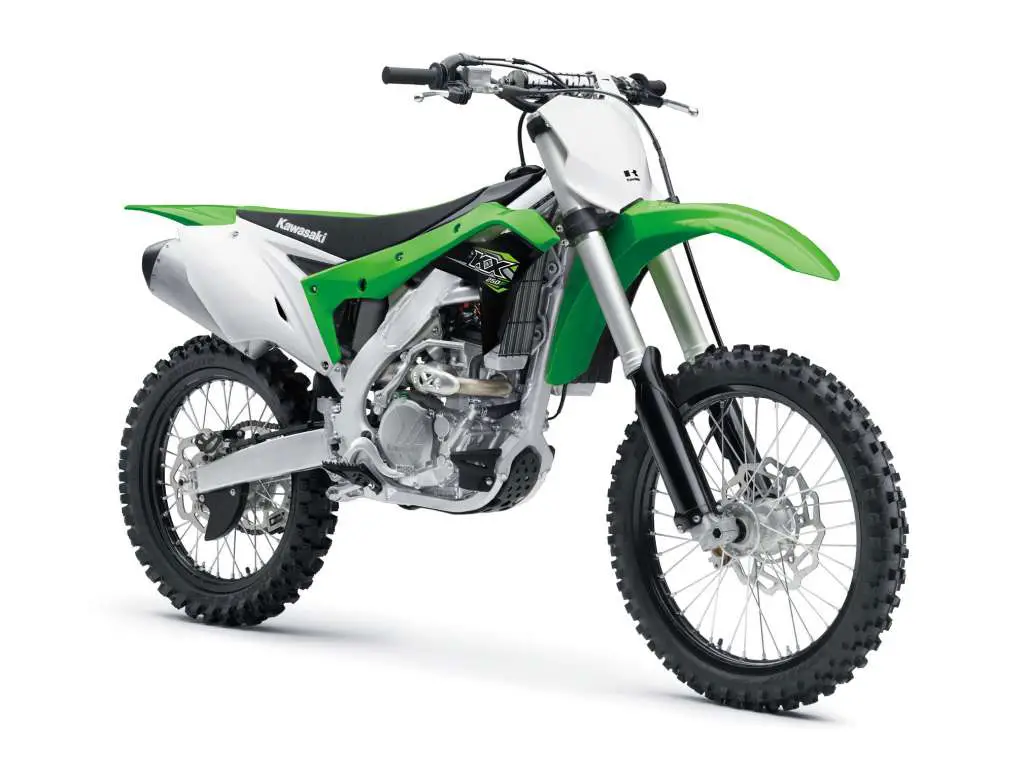 THE WINNING EDGE.
With more Supercross and Pro Motocross wins than all other OEMs combined, no one else comes close to the championship-winning power and race-ready technology of the Kawasaki KX™250F. The tradition continues in the new updated 2018 KX250F, The Bike That Builds Champions.
Absolutely nobody can exceed the championship legacy of Kawasaki and the KX™ motorcycle. KX owns more combined professional 250cc and 450cc AMA National Motocross and Supercross titles than any other manufacturer. Explore the tabs below to experience what KX is all about.
Speed, power, innovation and great looks, the 2018 KX250F is set to impress. With more urge, our new motocrosser is crafted to reduce lap times benefitting from engine and chassis weight reductions and a raft of engineering innovations. Building on a winning package, the new KX250F takes MX2 to the next level. This bike is for off-road and competition use.
2018 Kawasaki KX250F Totalmotorcycle.com Key Features
The dominating Kawasaki KX™250F motorcycle returns for 2018 with a list of enhancements to keep the KX250Fon top as the single-most dominant motocross bike of the last decade. The 2018 model offers an updated engine for an improved torque feeling throughout the rpm range, as well as improved holeshot performance. The KX250F still features a lightweight, slim and rigid chassis, but now features revised suspension to deliver improved bump absorption and suspension action. These improvements all mean one thing: faster lap times—the 2018 Kawasaki KX250F was found to have significantly faster lap times on the Kawasaki test track compared to the 2017 model.
The 2018 Kawasaki KX250F:
Improved power and torque throughout the rev range
Improved suspension settings for better compliance, resulting in quicker lap times
This year's KX250F is built with race-winning components to help Kawasaki riders get to the top step of the podium. From the showroom to the racetrack, the performance of Kawasaki's KX™ family of motorcycles is proof of its engineering pedigree. It truly is the Bike that Builds Champions.
2018 Kawasaki KX250F Totalmotorcycle.com Features and Benefits
ENGINE
New throttle body and fuel injector angle, for increased
torque feeling throughout rpm range
New fuel pump with increased output pressure
New intake boot
New intake camshaft
New cylinder head with revised intake tract and compression ratio (13.4:1)
New exhaust header with longer and larger piping
Highly acclaimed for its high output and smooth power delivery, the KX250F motorcycle is back with new tuning and improved performance. Tuned to best suit race-experienced riders, the 249cc liquid-cooled, 4-stroke single's wide power-band focuses on high-rpm performance that extends way into the over-rev. Riders will feel more power from low to high rpm, and experience improved over-rev characteristics.
Entering its second year after a major redesign, Kawasaki engineers concentrated on fine-tuning the 2018 KX250F's performance in multiple ways. The intake path has been revised with a shorter intake funnel and redesigned duct. Intake valve timing has also been advanced. The KX250F features a new fuel pump with increased output as well as a new injector placement angle, bringing more precision and improved performance. The Fuel Injection system and ECU also now have revised settings, providing performance the rider can feel at the flick of the throttle. The exhaust header is now larger and longer, further increasing torque and power output, while retaining the resonator chamber.
These changes have improved the power feeling from ultra-low to high rpm—the engine feels stronger at all rpm. The 2018 KX250F motorcycle also features improved over-rev characteristics, resulting in less rpm drop when shifting, keeping the bike in the sweet spot of power while trying to cut the fastest lap possible. While power and torque have improved, the KX250F is also now easier to use in high-rpm operation.
The dual-injector fuel injection system of the KX250F is a key component to its performance; the 2012 KX250F was the world's first production motocross bike to use such a system. Unlike a standard fuel injection system, which uses one injector downstream of the throttle valve, the system on the KX250F motorcycle uses a second, upstream injector located close to the airbox. The downstream injector is used to help ensure smooth, instant response featuring a finer atomization with more holes in the injector itself. The downstream injector creates that stronger low-to-mid range power and quick throttle response, while the upstream injector is charged with providing top-end power.
As rpm and throttle position increase, primary operation switches from the downstream injector to the upstream injector, depending on whether in a low (1st, 2nd) or high (3rd, 4th, 5th) gear, the transition is gradual and seamless. The upstream injector's greater distance from the combustion chamber gives the fuel particles and intake air more time to mix, as well as allowing the mixture to cool before entering the combustion chamber, both of which contribute to more efficient filling, and ultimately more power.
TUNING
Lightweight ECU, with revised settings
DFI® Connectors activate three separate engine tuning maps (standard, hard, soft)
Optional KX FI Calibration Kit (Handheld) requires no tools, laptop or battery
The lightweight ECU of the KX250F motorcycle was designed specifically to withstand the rigors of motocross racing, while still providing a wide variety of tuning options. The Kawasaki KX250F provides three engine maps that come pre-loaded into the motorcycle's ECU that are easily accessible through the DFI® coupling plug. These three color-coded couplers are designed to tune for hard, medium or soft track surfaces, and allow riders to find the ideal power delivery for a particular terrain.
Using the optional KX FI Calibration Kit (handheld), sold separately as a Kawasaki Genuine Accessory, a rider can store and select from up to seven separate engine maps. The kit includes a portable handheld calibration tool, which enables riders to make changes to the engine maps without the need of a PC, laptop or battery, making it easy to tune at the track. The handheld calibration module plugs in thanks to an additional harness not included in the kit.
FRAME & SUSPENSION
Lightweight, aluminum perimeter frame design
Showa 48mm Separate Function Front Fork (SFF Type 2)
Unchanged since the introduction of a new frame in 2017, the slim chassis design contributes to light, nimble handling. The flat seat makes it easy for riders to shift their weight, offering a high level of riding freedom. New for 2018 are fine-tuned front and rear suspension settings that deliver improved bump absorption, which result in improved handling. Kawasaki test riders found improved times in tight and open sections of the Kawasaki test track.
Up front you'll find revised Showa 48mm Separate Function Front Forks (SFF Type 2) with works-style internal construction that locates its damping assembly in the left fork tube and a spring in the right. The Separate Function Front Fork construction contributes to a planted feel at the front, superb damping performance and ride comfort with greater bottoming resistance. It also has excellent agility when on the brakes or when landing jumps. For 2018, revised settings contribute to greater precision over braking bumps and through corners.
The Uni-Trak® rear suspension with Showa shock features revised settings, new for 2018. These changes contribute to improved ride feel, traction, and increased rear-end feedback. The rear shock linkage mounts are below the swingarm to maximize wheel travel and cornering stability. Dual compression with high and low speed adjustability offers a wide range of tuning options. Self-lubricating Kashima coating on the inner shock body improves wear resistance and shock action.
LAUNCH CONTROL
The KX Launch Control system is a major advantage in getting out of the starting gate straight and fast. Launch Control Mode has the greatest effect within the first few seconds of releasing the clutch off the start.
The KX250F features a Launch Control system that, with the simple press of a button, allows riders to activate a separate engine map designed to assist starting in certain conditions. The Launch Control Mode map retards ignition timing, allowing tires to gain grip in low-traction situations, and allows riders to focus on their lines. Launch Control remains active through first and second gear, until the rider shifts into third gear, and then it returns to normal engine timing.
Even for top-level riders, controlling the hard-hitting power of a KX250F motocrosser off the start requires a high degree of throttle control and clutch finesse. By optimizing this power, Launch Control Mode helps riders maximize traction, increasing the chance of getting a good start.
BRAKES
Contributing to the racing components found throughout the KX250F are the brakes. Up front is an oversized 270mm Braking® brand rotor, which delivers strong braking force and superb control. The petal style discs contribute to both sporty looks and help deflect debris. Rear caliper guard helps protect the caliper from damage.
2018 Kawasaki KX250F – Totalmotorcycle.com USA Specifications/Technical Details
US MSRP Price: $7749 USDPOWEREngine

4-stroke, 1-cylinder, DOHC, water-cooled

Displacement

249cc

Bore x Stroke

77.0 x 53.6mm

Compression ratio

13.4:1

Fuel System

DFI® w/43mm Keihin throttle body and dual injectors

Ignition

Digital DC-CDI

Transmission

5-speed, return shift

Final Drive

Chain

PERFORMANCE

Front Suspension / Wheel Travel

48mm inverted Showa SFF telescopic fork with 40-way spring preload adjustability and 22-position compression and 20-position rebound damping adjustability/12.2 in

Rear Suspension / Wheel Travel

Uni-Trak® linkage system and Showa shock with 19-position low-speed and 4-turns high-speed compression damping, 22-position rebound damping, fully adjustable spring preload/12.2 in

Front Tire

80/100-21

Rear Tire

100/90-19

Front Brakes

Single semi-floating 270mm Braking® petal disc with dual-piston caliper

Rear Brakes

Single 240mm Braking® petal disc with single-piston caliper

DETAILS

Frame Type

Aluminum perimeter

Rake/Trail

28.4°/4.8 in

Overall Length

85.5 in

Overall Width

32.5 in

Overall Height

50.0 in

Ground Clearance

12.8 in

Seat Height

37.2 in

Curb Weight

230.3 lb**

Fuel Capacity

1.69 gal

Wheelbase

58.2 in

Color Choices

Lime Green

Warranty

Not Available

Kawasaki Protection Plus™ (optional)

Not Available

2018 Kawasaki KX250F – Totalmotorcycle.com Canadian Specifications/Technical Details
Canada MSRP Price: $8999 CDN

ENGINE

Displacement 249cc

Type 4-stroke, Single

Bore and stroke 77.0 x 53.6 mm

Cooling Liquid

Compression ratio 13.4:1

Valve system DOHC, 4 valves

Fuel system Fuel injection: ø43 mm x 1 (Keihin) with dual injection

Ignition Digital DC-CDI

Lubrication Forced lubrication (semi-dry sump)

Starting Primary Kick

BRAKES

Front: type Single semi-floating 270 mm petal disc

Front: calipers Dual-piston caliper

Rear: type Single 240 mm petal disc

Rear: calipers Single-piston caliper

DIMENSIONS

Overall length 2,170 mm (85.4 in.)

Overall width 825 mm (32.5 in.)

Overall height 1,270 mm

Wheelbase 1,478 mm (58.1 in.)

Ground clearance 324 mm

Seat height 945 mm

Curb mass** 104.5 kg

Fuel capacity 6.4 litres

DRIVETRAIN

Transmission 5-speed, constant mesh, return shift

Final drive Chain

Primary reduction ratio 3.350 (67/20)

Gear ratio: 1st 2.142 (30/14)

Gear ratio: 2nd 1.750 (28/16)

Gear ratio: 3rd 1.444 (26/18)

Gear ratio: 4th 1.235 (21/17)

Gear ratio: 5th 1.045 (23/22)

Final reduction ratio 3.846 (50/13)

Clutch Wet multi-disc, manual

FRAME

Type Perimeter, aluminum

Wheel travel: front 310 mm

Tire: front 80/100-21 51M

Wheel travel: rear 310 mm (12.2 in.)

Tire: rear 100/90-19 57M

Caster (rake) 28.4°

Trail 123 mm (4.8 in.)

Steering angle (left/right) 42° / 42°

SUSPENSION

Suspension, front 48 mm inverted Separate Function front Fork (SFF) Type 2 with 22-position compression, 20-position rebound damping and 40-position spring preload

Suspension, rear Uni-Trak linkage system shock with 19-way low-speed and 4-turn high-speed compression damping, 22-way rebound damping and fully adjustable spring preload

2018 Kawasaki KX250F – Totalmotorcycle.com European Specifications/Technical Details
Europe/UK MSRP Price: £6699 GBP (On The Road inc 20% Vat)

Engine

Engine type

Liquid-cooled, 4-stroke Single

Displacement

249 cm³

Bore x stroke

77 x 53.6 mm

Compression ratio

13.4:1

Valve system

DOHC, 4 valves

Fuel system

Fuel injection: Ø 43 mm x 1 (Keihin) with dual injection

Ignition

Digital DC-CDI

Starting System

Primary Kick

Lubrication

Forced lubrication, semi‑dry sump

Performance & Transmission

Transmission

5-speed

Final drive

Chain

Primary Reduction Ratio

3.350 (67/20)

Gear Ratios 1st

2.142 (30/14)

Gear Ratios 2nd

1.750 (28/16)

Gear Ratios 3rd

1.444 (26/18)

Gear Ratios 4th

1.235 (21/17)

Gear Ratios 5th

1.045 (23/22)

Clutch

Wet multi-disc, manual

Brakes & Suspension

Brakes, front

Single semi-floating 270 mm petal disc. Caliper: Dual-piston

Brakes, rear

Single 240 mm petal disc. Caliper: Single-piston

Suspension, front

48 mm inverted telescopic Separate Function front Fork (SFF) Type 2. Compression damping: 22-way. Rebound damping: 20-way. Spring preload: 40-way

Suspension, rear

Uni-Trak. Compression damping: 19-way (low-speed), 4-turns (high-speed). Rebound damping: 22-way. Spring preload: Fully adjustable

Frame & Dimensions

Frame type

Perimeter, aluminium

Trail

123 mm

Wheel travel front

310 mm

Wheel travel rear

310 mm

Tyre, front

80/100-21 51M

Tyre, rear

100/90-19 57M

Steering angle, left / right

42o / 42o

L x W x H

2,172 x 825 x 1,270 mm

Wheelbase

1,478 mm

Ground clearance

324 mm

Fuel capacity

6.4 litres

Seat height

945 mm

Curb mass

104.5 kg
Manufacturer Specifications and appearance are subject to change without prior notice on Total Motorcycle (TMW).