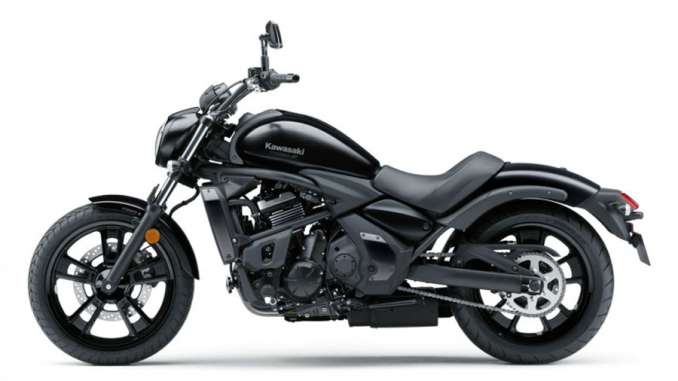 DESIGNED TO MAKE YOU RETHINK CRUISERS.
2018 Kawasaki Vulcan S ABS Review on Total Motorcycle:
The Vulcan S is not your average cruiser. It stands apart, with its Parallel Twin engine, unique frame and suspension layout, and its very non-traditional looks. Unlike any other cruiser, the Vulcan S is geared to fit a wide range of riders. Never taking away from its stylish features, this bike takes comfort, adjustability, and Ninja®-derived power and performance to the next level.
KAWASAKI RETURNS WITH THE VULCAN® S PLATFORM, THE MODERN CRUISER WITH ERGO-FIT™ COMPONENTS AND A SMOOTH RIDE
Designed to rethink cruisers, with a low-seat height, sporty suspension and adjustable ergonomics, the 2018 Vulcan® S line of motorcycles is back as the comfortable, sporty, smooth and easy-to-ride cruiser.
The Vulcan S has the same low silhouette of a bigger-bore Vulcan® cruiser, mixed with Kawasaki Ninja®-derived power and handling, as well as its popular ERGO-FIT™ components, designed to comfortably fit a wide range of riders.
For 2018, the Kawasaki Vulcan S cruiser returns with Kawasaki's user-friendly and unique ERGO-FIT components. This allows for two seat options for added comfort and rider placement, three footpeg placement options, and two different reach handlebars. Furthermore, the Vulcan S boasts one of the lowest weights of any motorcycle in its class (twin cylinder cruiser of similar displacement) and we all know what that means – easier to maneuver, quicker acceleration, easier to stop, quicker to turn and smooth suspension action. The Vulcan S cruiser is available in four configurations: the Vulcan S and Vulcan® S ABS, both of which are available in Pearl Blizzard White; the Vulcan S® ABS SE, available in Pearl Lava Orange paint; and the Vulcan® S ABS Café, available in Pearl Storm Gray.
2018 Kawasaki Vulcan S ABS Totalmotorcycle.com Key Features
• SMOOTH AND POWERFUL, YET EASY-TO-CONTROL ENGINE
• ULTRA-LOW SEAT HEAT HEIGHT
• ERGO-FIT™ 3-POSITION FOOTPEGS
• ERGO-FIT™ HANDLEBAR AND SEATS ALLOW FURTHER ERGONOMIC TUNING
• UNIQUE STYLING WITH A MODERN FLAIR
2018 Kawasaki Vulcan S ABS Totalmotorcycle.com Features and Benefits
Liquid-cooled, DOHC, 8-valve 649cc parallel twin with fuel injection delivers smooth, responsive performance, especially in the low and medium rpm ranges. The Ninja® 650-based engine is retuned for even more rider-friendly power characteristics that will inspire confidence in new riders.
The Vulcan S offers smooth starts from a standstill, smooth acceleration, and a satisfying pull when accelerating. The strong acceleration helps with highway merging and passing.
•Model-specific intake porting, camshaft profiles and long-type intake funnels contribute to strong low-mid rpm performance, contributing to the smooth acceleration and good pull feeling.
•Crankshaft design includes a heavier flywheel mass than the Ninja 650. This contributes to the easy-to-use engine character so it is very smooth when rolling on and off the throttle which makes
pulling away from a stop easier.
•Connector tube joining the header pipes helps eliminate peaks and valleys in the torque curve, resulting in smoother power delivery.
•The design of the under-engine muffler contributes to strong torque in the low-mid rpm range wich helps with control at lower engine speeds.
•Parallel twin engine is compact and helps reduce the dimensions of the entire motorcycle to keep it small and nimble.
•180-degree crankshaft plus balancer shaft for extremely smooth engine operation.
•Triangular crank and transmission shaft layout makes the engine very short from front to back, a semi-dry sump(KP) oil system reduces overall engine height, while the narrow pitch of the chrome
composite(KP) plated aluminum cylinders helps reduce engine width.
Positive Neutral Finder(KP)
•Just lift the shift pedal from first gear at a stop to select neutral easily.
•A Kawasaki exclusive.
Digital Fuel Injection (KP)
•Fuel injection settings provide smooth low end response while contributing to the engine's quickrevving character.
•Dual 38mm Keihin throttle bodies feature sub-throttle valves(KP) for high power output with smooth, sensitive throttle response. The sub throttles, located behind the main throttle valves, are controlled by the ECU so that the EFI system has smooth throttle response.
•Precise fuel injection plus exhaust catalyzer significantly reduce emissions.
•Fine-atomizing fuel injectors produce a fine fuel mist for better acceleration, combustion and fuel consumption.
ENGINE
The chassis is slim and lightweight, due in part to the compact design of the engine. Light, easy handling is complemented by a reassuring low seat height and a slim design that makes it easy to reach the ground. The low overall weight is apparent as the bike is lifted off its side stand, making the Vulcan S one of the most accommodating bikes for new riders available.
Frame
•The compact engine allows use of a slim, minimalist frame, resulting in a design that is narrow at the knees and feet.
•3D analysis was used to achieve the ideal stiffness balance for the frame, contributing to superb handling characteristics.
•Constructed of high-tensile steel for strength and light weight.
•The layout of the offset single-shock rear suspension allows the battery to be located beside the shock instead of beneath it. This elegant arrangement allows a lower seat height as well as a slim design.
•The exhaust is kept under the engine as much as possible, ensuring a slim chassis and an unobstructed reach to the ground.
•The Vulcan S's low weight and low center of gravity make it highly maneuverable, whether riding, pushing from a parking spot, or walking beside the bike.
•Slim backbone-style rear frame design allows all components to be positioned close to the bike centerline.
•Instead of using seat rails, a single beam formed from interlocked C-section pieces is used. The slim design enables a more comfortable seat construction.
•Separate swingarm pivot plates contribute to the slim chassis design. At the swingarm pivot, the lower part of rear frame is supported by two sleeves through which the swingarm bolt passes. This enables a narrower design between the rider's feet, facilitating the reach to the ground.
•Rigid-mount engine is a stressed member, contributing to the frame's idealised rigidity balance, and to the bike's excellent handling and stability.
•Frame geometry contributes to light, natural handling.
•Footpegs are positioned relatively high so that they do not touch down easily, enabling stress-free cornering.
•Optimized wheelbase balances light handling and a superior riding experience.
Suspension
•Both front and rear suspension settings prioritize ride comfort.
•Offset laydown single-shock rear suspension is equipped with linkage to enable a longer stroke for increased ride comfort.
•The rear suspension arrangement also contributes to the bike's compact design, freeing up space for a large-volume silencer under the engine.
•Rear shock features adjustable preload, with seven positions to suit rider size and payload.
CHASSIS
Brakes
•Large 300mm front disc is gripped by a twopiston caliper and at the rear a 250mm disc is gripped by single-piston caliper.
•The brakes provide ample stopping power.
•Customers looking for an added degree of reassuring braking performance can also choose models with ABS that assists braking under certain conditions.
•The compact ABS unit contributes to the lightweight chassis, and is conveniently tucked away under the rear shock, which ensures a slim construction beneath the seat.
Feeling comfortable—especially for a new rider—is one of the key factors when choosing a motorcycle. The Vulcan S was designed to be accommodating for a wide range of riders from short to tall. Complementing the relaxed riding position, adjustable footpegs and levers, and a number of accessory components allow riders to custom-fit their bike to suit size and preference.
Low seat height
•Low 27.8-inch seat height allows riders to easily put their feet on the ground when stopped, one of the most important factors in feeling comfortable on a motorcycle.
Slim chassis design
•The Vulcan S' parallel twin engine enables a slimmer space between the rider's legs since there is no cylinder there such as in a typical V-twin cruiser.
•Slim, backbone-style rear frame contributes to the easy reach to the ground.
ERGO-Fit™ adjustability
•Footpeg position can be adjusted to any of three positions: mid-reach, one inch forward, or one inch back. (Alternate shift linkage rods, sold separately, are necessary when changing the
position from standard.)
•Ergo-Fit™ reduced reach accessory handlebar positions the handle grips 1.7 inches closer to the rider.
•Three different accessory Ergo-Fit™ seats adjust rider position: reduced reach positions rider closer to the tank and controls to accommodate shorter riders, mid-reach for average-sized riders is standard, and extended reach provides a more spacious seating position for taller riders.
•Brake and clutch levers can be adjusted to suit the rider's hand size and preference.
Comfort
•Seat designed with thick padding to offer a wide surface and excellent hip support, ensuring ample comfort for city riding and short tours. The seat bracket is rubber mounted to reduce vibration
transferred through the seat.
•Footpegs are positioned for foot-forward control, creating a relaxed cruiser-style riding position.
•Handlebar is rubber-mounted to reduce vibration transmitted through the handle grips.
•Rider footpeg stays are rubber-mounted to further reduce vibration.
FIT & COMFORT
For riders who prefer not to follow the crowd, the unique design of the Vulcan S offers a stylish, modern alternative to the traditional cruiser image.
Styling Elements
•Curved, flowing style blended with a powerful, long-and-low stance and modern elements creates a unique, eye-catching design.
•Inverted triangle headlamp contributes to the Vulcan S's fresh, unique design.
•Tapered handlebar is fatter in the middle, contributing to a strong appearance of the handlebar area.
•Teardrop-style fuel tank adds a cruiser-style touch.
•Rear fender shaped to hug the wheel as closely as possible, creating a compact cruiser-style design. The design was made possible in part by the offset laydown rear shock.
•LED taillight contributes to the compact tail design and adds to the bike's modern image.
•Solo seat complements the low rear fender design.
•Metal trim added to various components, including the radiator shrouds, cylinder head cover and swingarm pivot cover contribute to the high-quality image.
Engine
•The engine configuration creates an image very different from the traditional cruiser.
•Finish on the cylinder head is similar to air-cooled fins, contributing to an aggressvie appearance.
•Slim radiator design matches the cruiser-style image.
•Attractive bend of exhaust pipes and under-engine muffler arrangement contribute to the Vulcan S's attractive styling.
•Dual-wall exhaust pipe design gives the header pipes a fatter appearance for a strong image.
Frame
•Elegant pipe perimeter frame is a key component of the Vulcan S's identity. The bike's bodywork accentuates the frame, rather than hiding it.
•The design of the frame, rear suspension and swingarm create an integrated line running from the front of the bike to the rear hub.
•Offset laydown rear single-shock suspension is a distinctive styling element, contributing the trendsetting design.
•The swingarm's D-shaped cross-section gives it a pipe-like design that matches the frame, and contributes to the high-quality appearance.
•Long wheelbase adds to the bike's cruiser-style long-and-low design.
•Key cylinder is located at the front of the fuel tank, creating a very clean cockpit area. The position also greatly facilitates access and ignition operation.
TREND-SETTING DESIGN
Wheels
•Original design of the cast wheels uses five spoke pairs to create a cruiser-style image with a strong impact.
Instrumentation
•Compact, stacked instrument cluster matches the bike's overall design and features an easy-toread layout.
•Analogue-style tachometer and multi-function dual-window LCD screen use white LED backlights for excellent visibility at night.
•Gear indicator in the instrument display provides gear position at a glance to help keep rider informed.
•Key cylinder is located at the front of the fuel tank, creating a very clean cockpit area. The position also greatly facilitates access and ignition operation.
2018 Kawasaki Vulcan S ABS – Totalmotorcycle.com USA Specifications/Technical Details
US MSRP Price: $ USD
See 2018 Kawasaki Vulcan S ABS SE
2018 Kawasaki Vulcan S ABS – Totalmotorcycle.com Canadian Specifications/Technical Details
Canada MSRP Price: $8,199 CDN
Engine
Displacement 649cc
Type 4-stroke, Parallel Twin
Bore and stroke 83.0 x 60.0 mm
Cooling Liquid-cooled
Compression ratio 10.8:1
Valve system DOHC, 8 valves
Fuel system Fuel injection: 38mm x 2 with sub-throttles
Ignition Digital
Lubrication Forced lubrication (semi-dry sump)
Brakes
Front: type Single 300 mm discs
Front: calipers Dual Piston
Rear: type Single 250mm disc
Rear: calipers Single-piston
Dimensions
Overall length 2,310 mm
Overall width 880 mm
Overall height 1,100 mm (High position)
Wheelbase 1,575 mm
Ground clearance 130 mm
Seat height 705 mm
Curb mass** 226 kg (EN650B: Single Seat)
Fuel capacity 14 litres
Drivetrain
Transmission 6-speed, return
Final drive Chain
Primary reduction ratio 2.095 (88/42)
Gear ratio: 1st 2.438 (39/16)
Gear ratio: 2nd 1.714 (36/21)
Gear ratio: 3rd 1.333 (32/24)
Gear ratio: 4th 1.111 (30/27)
Gear ratio: 5th 0.966 (28/29)
Gear ratio: 6th 0.852 (23/27)
Final reduction ratio 3.067 (46/15)
Clutch Wet multi-disc, manual
Frame
Type Perimeter, high-tensile steel
Wheel travel: front 130 mm
Tire: front 120/70R18M/C 59H
Wheel travel: rear 80 mm (3.1 in.)
Tire: rear 160/60R17M/C 69H
Caster (rake) 31º
Trail 120 mm
Steering angle (left/right) 35º / 35º
Suspension
Suspension, front 41 mm telescopic fork
Suspension, rear Offset laydown single-shock, linkage-equipped with adjustable preload
Details
Warranty 12 months warranty
2018 Kawasaki Vulcan S ABS – Totalmotorcycle.com European Specifications/Technical Details
Europe/UK MSRP Price: £ GBP (On The Road inc 20% Vat)
See 2018 Kawasaki Vulcan S ABS SE
Manufacturer Specifications and appearance are subject to change without prior notice on Total Motorcycle (TMW).