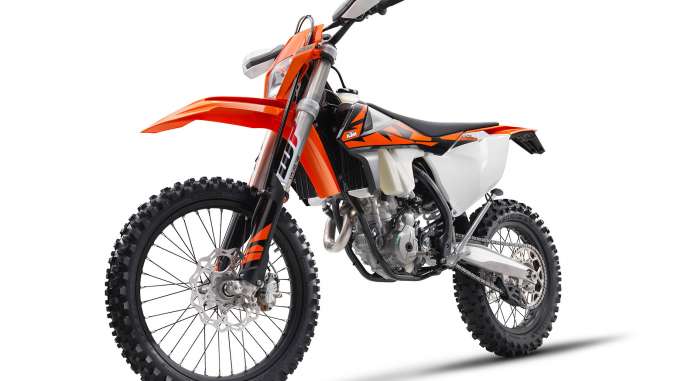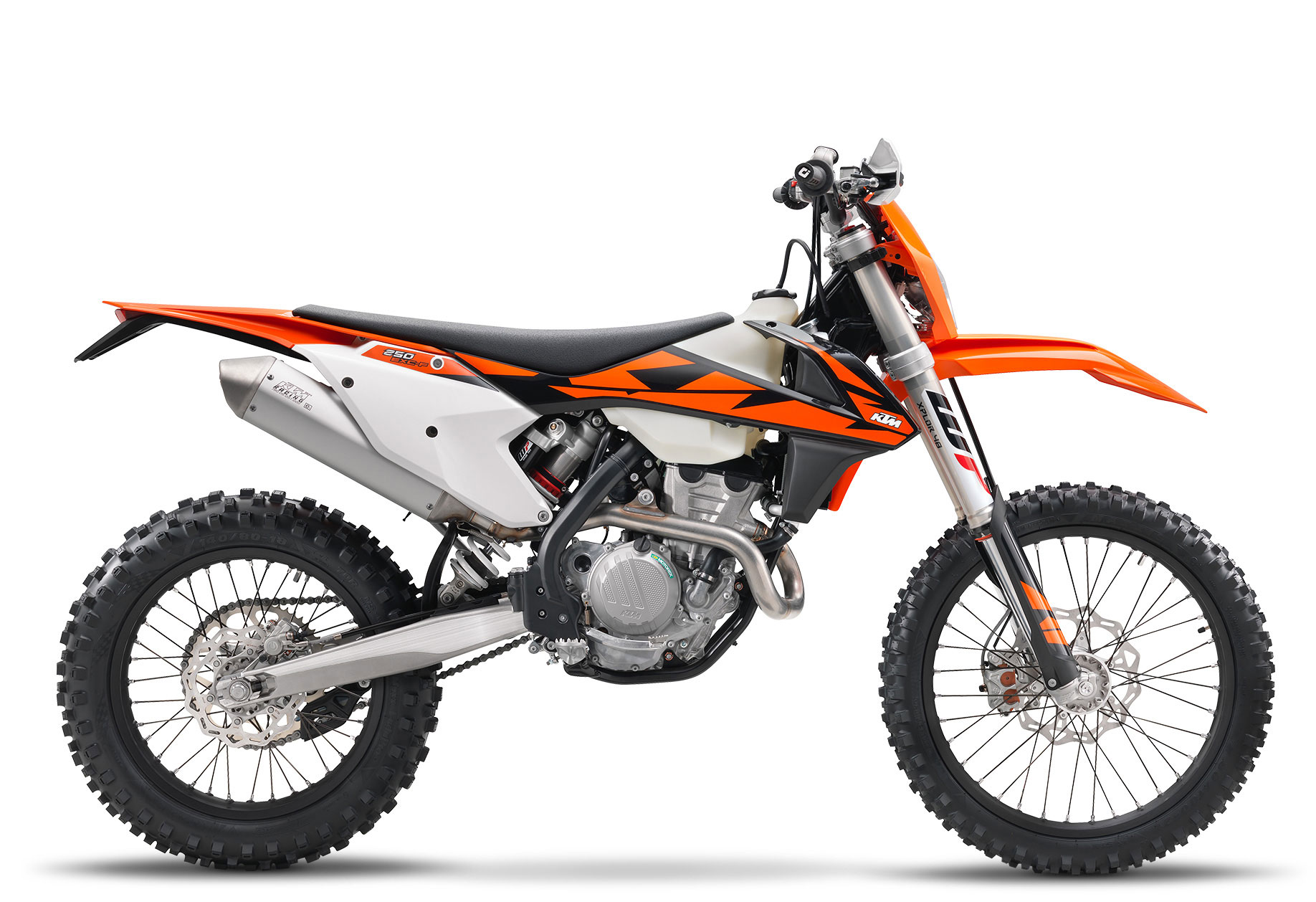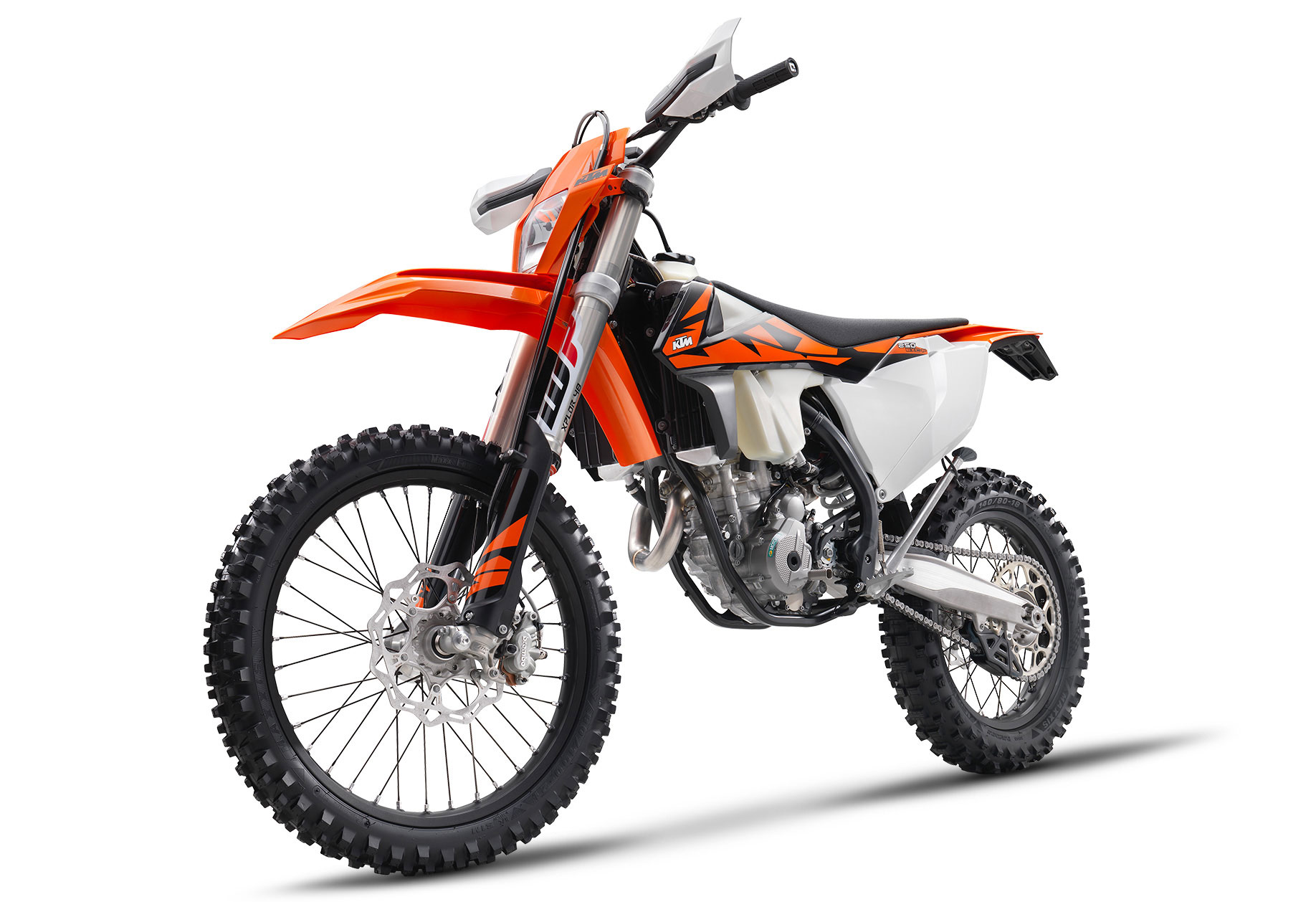 A RECIPE FOR SUCCESS.
Fill an agile, state-of-the-art chassis with an engine delivering class-leading power and torque. Then dress it with top class components, ensuring that the new 4-stroke maintains its edge over the competition. The result is a READY TO RACE dual sport suitable for amateur explorers, while still satisfying the pros. Eat that, adversaries.
2018 KTM 250 EXC-F Totalmotorcycle.com Key Features
Where is your limit?
2018 KTM 250 EXC-F Totalmotorcycle.com Features and Benefits
Outstanding style
Bodywork
KTM R&D, KISKA Design and the factory racers had their say in shaping the plastics with one goal: complete harmony between rider and bike. Perfect ergonomics and contact points provide maximum comfort in movement on the EXC-F. The I-beam structures of the front and rear fenders guarantee maximum stability and a low weight thanks to well thought-out construction and mounting. They also stay cleaner for longer. Clever brake hose routing on the front number plate prevents wear and tear.
Graphics
New graphics convey the READY TO RACE character of the 2018 KTM EXC-F model line.
Just add fuel
Engine
The light and compact KTM 250 EXC-F engine delivers class-leading torque and power over the entire rev range. The architecture with an optimized shaft configuration makes for excellent mass centralization and effortless rideability, at only 60.8 pounds. And that's including the comfort of an E-starter. The power curve reaches for the sky over the entire length of the rev range, begging for another gear at 12,800rpm. This makes the new KTM 250 EXC-F brilliantly suited to both amateur riders as to pros at the peak of their ability.
Cylinder head
The centerpiece of the compact DOHC engine is this cutting-edge cylinder head. It features light, dual overhead camshafts with friction-optimized cam followers boasting a hard DLC coating. Four lightweight titanium valves and high-flow ports maximize the flow rate for an optimal power band and outstanding performance across the seemingly endless rev range of 12,800rpm. Two lateral stays allow an efficient fixation of the engine to the frame and reduce vibration.
Crankshaft
The KTM 250 EXC-F's crankshaft utilizes a short connecting rod, making for an overall compact and lightweight engine with a snappy power delivery. A plain big (bottom) end bearing with two force-fitted bearing shells runs directly on the crank pin. This design is a must for the extremely high engine speeds and the unrivaled power of this 250cc engine while also enhancing the engine's durability for long crankshaft service intervals
E-Starter
The KTM 250 EXC-F is fitted with a unique E-starter as standard, which is a clear advantage when it comes to crunch time in the heat of battle. A strong starter motor made by Mitsuba will fire time and time again at the push of a button. Even under extreme conditions, thanks to its more heat resistant O-ring.
Crankcases and engine covers
The design of the die-cast engine crankcases allows for a centralized shaft configuration, moving the crankshaft close to the bike's center of gravity. This means quick and agile handling. The engine covers feature an advanced surface structure to reduce the wear caused by the rider's boots.
Transmission
The engine is fitted with a precise 6-speed Enduro transmission, with solid shift engagement thanks to a special low-friction coating on the shift forks. An advanced ´No Dirt´ gear shift lever design prevents mud or dirt build-up in the joint for trouble-free rides. For 2018, the transmission shaft gets a new bearing that has a bigger overlap in the cases. This means reliability even under extremely hard conditions.
Engine management system
The state-of-the-art Keihin engine management system with electronic fuel injection features a 42mm throttle body. Thanks to its unique injector position, the engine's response gives a whole new meaning to the word 'instantaneous'. Separate circuits for cold-starting and idle make on-site adjustments easy. Push the throttle back when the engine is warmed up and the cold start mode disengages.
Clutch
The KTM 250 EXC-F employs the KTM-developed DDS clutch (damped diaphragm steel) with a wear-free steel basket and extremely heat resistant clutch plates and new, nitrated steel liners. This clever design employs a diaphragm spring instead of the usual coil springs, making for considerably easier clutch action. A diaphragm spring also leaves sufficient space for a damping system to be integrated into the clutch hub. The goal is traction, but durability is as well. Light operation and telepathic amounts of control are standard with this hydraulic Brembo actuated clutch.
Balancer shaft
To balance the mass forces, the engine uses a multifunctional balancer shaft that also drives the water pump and timing chain.
Cylinder and piston
Inside the cylinder, with a bore of 78mm, thumps a reliable box-type piston made by CP. Its crown geometry is adapted perfectly to the high-compression combustion chamber (12.8:1), where its rigid structure and low weight maximize performance. Thanks to low oscillating masses, the engine revs freely with plenty of power.
Handle anything
Frame
The high-tech, lightweight chrome-moly steel frame has a knack for easy handling, outlandish rideability, precise cornering and excellent stability. You can also count on high torsional rigidity and low longitudinal stiffness. This results in better absorption of the energy created from the front and rear suspension, sucking up jumps and bumps. In short: more comfort and less rider fatigue. Laterally attached, lightweight aluminum engine head stays (the connection between cylinder head and frame) contribute to precise cornering and a reduced vibration level. The engineers could pull off all that, while keeping their frame 2.2 pounds lighter than that of the lightest competitor on the market. In addition, it is easier to maintain, easier to work on and supplies more space for the tank and other components. The bike also features an extra-light subframe made of strong and light aluminum which tips the scales at less than 2 pounds.
Footpegs
Sophisticated ´No Dirt´ footpegs prevent jamming up of the pegs, even when digging in deep ruts. The pegs on the EXC models are 6mm higher than the ones used on SX models, which benefits ground clearance. But you can swap them at will.
Swingarm
This state-of-the-art swingarm allows for an optimized mounting position of the PDS shock absorber, providing more progressive action. Furthermore, the cast aluminum design guarantees lower weight and a perfect flex behavior. The single-component casting process also eliminates any inconsistencies and weak points.
Rear suspension
The WP Xplor PDS is a newly developed shock absorber. The PDS is a KTM trademark feature where the shock absorber is directly connected to the upper side of the swingarm. This setup boasts the best possible mounting geometry and provides amazingly progressive damping. The shock absorber is mounted close to the centerline, which means nearly symmetrical loads for the swingarm and frame and more space for the exhaust system. A second piston works together with a closed cup (instead of a needle) towards the end of the stroke and is supported by a progressive shock spring for exceptional bottoming resistance. Various machined and anodized components and a distinctive WP color trim make this a valuable, high-end product compared to the less refined shock absorbers of the competition.
Front suspension
The WP Xplor 48 upside-down fork is a split fork developed by WP in close collaboration with KTM. It is fitted with a spring on both sides but features separated functions for each fork leg: compression damping is fitted on the left side, while rebound is on the right. So the forks can easily be adjusted with the twist of a dial on the top of the forks. New outer fork tubes and a reworked setting make for more sensitivity, improved damping behavior and a reduced weight. In addition, a sealed hydro-stop guarantees excellent resistance to bottoming-out. Due to high-quality materials and a state-of-the-art production process, the new WP Xplor 48 fork – with approx. 300mm of travel – has outstanding response and damping characteristics. A comfortable preload adjuster (standard for SIX DAYS models, retro-fittable for standard models) allows for a simple spring preload setting in three steps without tools (standard, +3mm, +6mm).
Brakes
You can't brake any harder, better, faster or stronger. High-tech Brembo calipers are combined with lightweight Wave brake discs. The steel-flex front brake hose has efficient protection and there's an integrated channel for the speedometer cable. First you outrun them, then you outbrake them.
Handlebar
KTM engineers know how to handle handlebars. This tapered unit, made of high-strength aluminum by NEKEN, features a throttle assembly with a robust aluminum body and easy free-play adjustment. An ODI volcanized grip sits on the right, while on the left side of the bar a comfortable ODI lock-on grip requires no glue or wire to secure it. You can retrofit two interchangeable throttle cams, for different response characteristics to suit your specific needs.
Triple clamp
The EXC-Fs are fitted with forged triple clamps with an offset of 22mm, ensuring a solid grip of the fork and precise handling. The handlebar is adjustable forwards and backwards over 4 positions, so the EXC-F will fit you like your favorite gloves.
Quality and comfort
Air filter box
The air filter box design offers maximum protection of the air filter against soiling, while ensuring maximum airflow in a quiet way. The large Twin Air filter is mounted in a stiff cage, which at the same time holds the system in place. This design is so simple; you can pop a fresh one in with a face full of mud – without tools and in seconds.
Fuel tank
The lightweight polyethylene tank has a capacity of 2.25 gallons. You will always be able to see how much fuel remains at a glance, thanks to the see-through plastic. By pushing the orange release button in the center of the fuel tank cap, the bayonet mechanism makes refueling quick and easy. It is fitted with an integrated fuel pump system and a fuel level sensor. Additionally, the fuel line features a 90° connector to the tank for better protection against damage.
Exhaust system
Noise limits are a real challenge for every manufacturer. Therefore, KTM has put a lot of effort into the development of its exhaust systems. All 4-strokes are fitted with a short high-end aluminum muffler, mounted as close to the engine as possible. This means more power, extra mass centralization and better rideability. An advanced internal design reduces the noise sufficiently to sit safely below the noise limit, while still providing the engine response and performance that is expected from a KTM.
Wheels
The EXC-F's wheels feature lightweight, CNC machined hubs and high-end Giant rims guaranteeing maximum stability at minimum weight. The wheels are fitted with Continental TKC 80 tires – perfect for surefooted performance off-road and stability on-road.
Cooling system
KTM's proven cooling system routes the coolant from the cylinder head through the frame triangle, directly to aluminum radiators made by WP. Thanks to flow optimized internal circulation and CFD-calculated ventilation, the system is superbly efficient. In addition, new radiator protections improve heat dissipation. Especially in the mud. They are also integrated into the front part of the shrouds to protect the radiators in a crash.
Battery & Wiring harness
A strong lithium ion battery breathes life into the engine and contributes to low vehicle weight. The lightweight battery and wiring harness are centralized in a compartment above the air filter box, allowing the mechanic to remove the subframe without removing the electronics. A happy mechanic is a good mechanic.
2018 KTM 250 EXC-F – Totalmotorcycle.com North American (USA, Canada) Specifications/Technical Details
US MSRP Price: $ See Dealer for Pricing in USD
Canada MSRP Price: $ See Dealer for Pricing in  CDN
Engine
Design
1-cylinder, 4-stroke engine
Displacement
249.91 cm³
Bore
78 mm
Stroke
52.3 mm
Starter
Electric starter
Transmission
6-speed
Primary drive
24:73
Secondary gear ratio
14:49
Clutch
Wet, DDS multi-disc clutch, Brembo hydraulics
EMS
Keihin EMS
Chassis
Frame design
Chrome-molybdenum steel central-tube frame
Rear suspension
WP Xplor PDS shock absorber
Suspension travel (front)
11.81 inch
Front brake
Disc brake
Rear brake
Disc brake
Front brake disc diameter
260 mm
Rear brake disc diameter
220 mm
Steering head angle
63.5 °
Seat height
37.8 inch
Weight READY TO RACE (without fuel)
235.89 lb.
Suspension travel (rear)
12.2 inch
Tank capacity (approx.)
2.25 US gal
2018 KTM 250 EXC-F – Totalmotorcycle.com European Specifications/Technical Details
Europe/UK MSRP Price: £7699 GBP (On The Road inc 20% Vat)
Engine
Design
1-cylinder, 4-stroke engine
Displacement
249.91 cm³
Bore
78 mm
Stroke
52.3 mm
Starter
Electric starter
Transmission
6-speed
Primary drive
24:73
Secondary gear ratio
14:52
Clutch
Wet, DDS multi-disc clutch, Brembo hydraulics
EMS
Keihin EMS
Chassis
Frame design
Chrome-molybdenum steel central-tube frame
Rear suspension
WP Xplor PDS shock absorber
Suspension travel (front)
300 mm
Suspension travel (rear)
310 mm
Front brake
Disc brake
Rear brake
Disc brake
Front brake disc diameter
260 mm
Rear brake disc diameter
220 mm
Steering head angle
63.5 °
Wheelbase
1482 ± 10 mm
Ground clearance
355 mm
Seat height
960 mm
Tank capacity (approx.)
8.5 l
Weight READY TO RACE (without fuel)
103 kg
Manufacturer Specifications and appearance are subject to change without prior notice on Total Motorcycle (TMW).