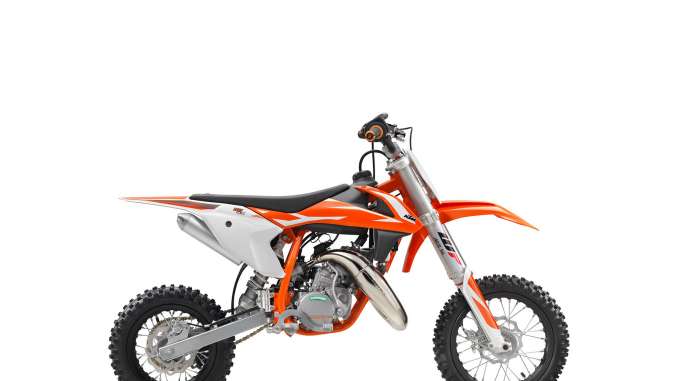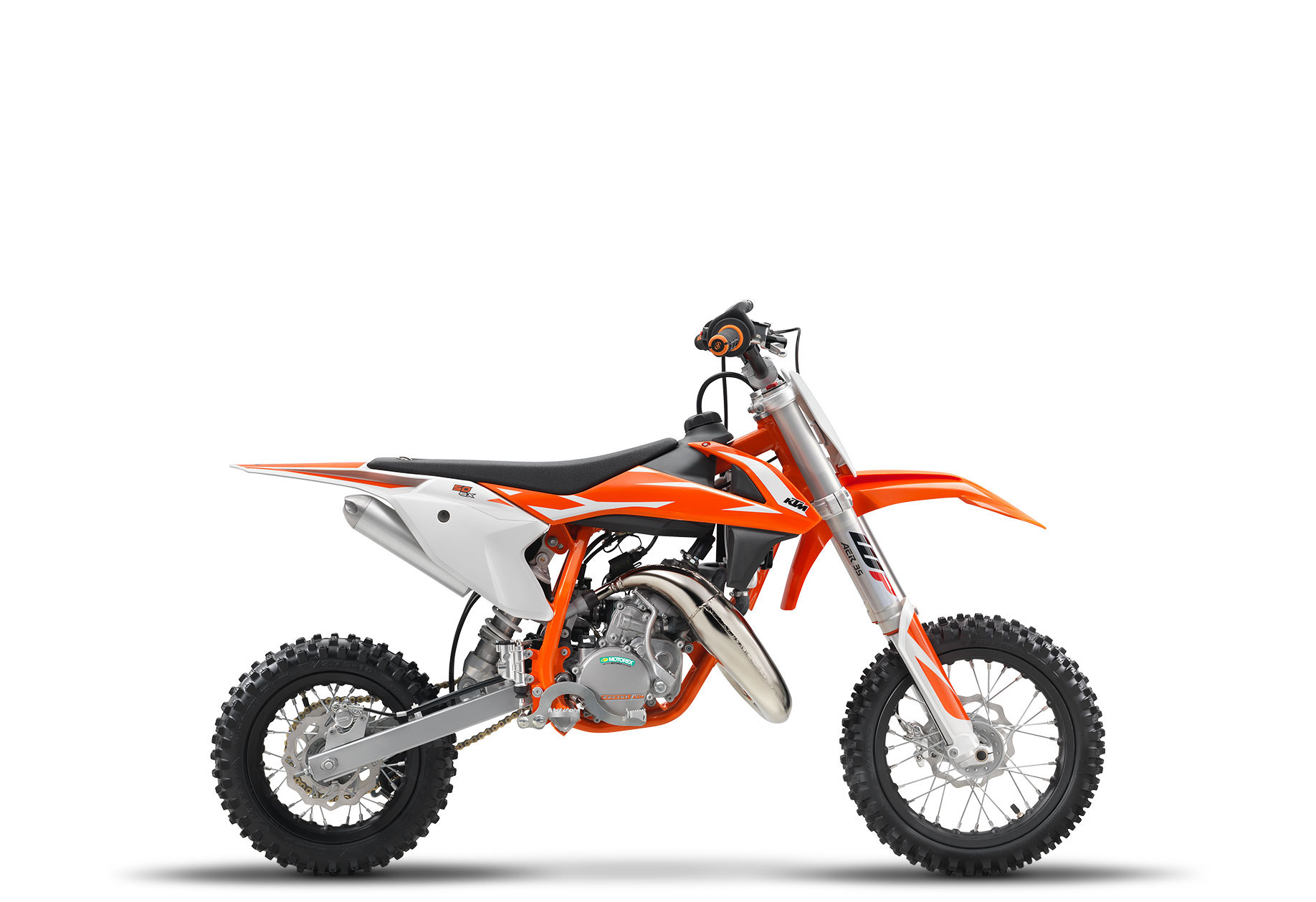 NEVER TOO YOUNG TO LEARN.
The KTM 50 SX is a true KTM for young MX riders that are READY TO RACE. It is a genuine dirt bike that, like its bigger siblings, is produced with top-quality components. This makes the KTM 50 SX the first choice as a stepping stone into the world of MX or for the first racing step on the ladder. With the youngster in mind this package has an engine that delivers steady, controllable power, incorporating an automatic clutch that is ideal for novice riders. This model features revolutionary WP AER 35 front fork, fully adjustable rear suspension, ultra cool graphics and the ability to make going fast, fun.
2018 KTM 50 SX Totalmotorcycle.com Key Features
With its 2-stroke and 4-stroke machines, from the KTM 50 SX to the KTM 450 SX-F ultimate powerhouse, KTM offers high quality serial equipment in all of its motocross range. As developed for its factory racing teams, which have won numerous races and championships, including last year's AMA 450 Supercross title with Ryan Dungey, as well as the FIM MX2 World Championship with Jeffrey Herlings, these KTM serial machines are renowned for being READY TO RACE right out of the crate.
For model year 2018 KTM introduces a brand new KTM 85 SX for junior riders that are cutting their teeth in the schoolboy ranks. With the serious competitor in mind, this machine has a new engine that is 0.69 kg lighter than the previous model, with improved power and rideability throughout the complete RPM range. In addition, the KTM 85 SX receives a lighter chassis with a revised chromium molybdenum steel frame as crafted by WP Performance Systems, as well as a lighter subframe. This READY TO RACE Mini, which joins the KTM 50 SX and KTM 65 SX in KTM's line-up of premium junior equipment, is fitted with high-quality Formula brakes, WP AER 43 forks and a specifically developed WP Xplor progressive damping system (PDS) shock absorber, which provides excellent sensitivity and outstanding bottoming resistance with full adjustability.
In the adult range the KTM 125 SX and KTM 150 SX now feature new aluminum head stays, as well as a new CDI control unit for improved starting behaviors. As with all of KTM serial equipment, the 4-stroke range, including the KTM 250 SX-F, KTM 350 SX-F and KTM 450 SX-F, boasts high-quality, class-leading components from the all-important E-starter, to the WP suspension, traction control and map selection, and much more to compliment the super lightweight, yet powerful championship winning engines.
In addition, the complete model year 2018 SX range including both 2-stroke and 4-stroke machines feature revised suspension settings in the WP AER 48 forks, along with a factory-looking orange frame plus, brand new graphics to finish the look.
2018 KTM 50 SX Totalmotorcycle.com Features and Benefits
CUTTING-EDGE 2-STROKE TECHNOLOGY
ENGINE
The modern, extremely compact 2-stroke engine fitted with an automatic clutch sets the standard in its class with improved power due to a new exhaust pipe. Thanks to the 3-shaft design, the crankshaft is close to the bike's center of gravity. This does not just benefit the handling, but also allows for a flow-optimized intake angle into the reed valve – a prerequisite for maximum performance.
POWER REDUCTION KIT
For absolute beginners the engine power can be reduced to a moderate 5.5hp using a kit from the PowerParts catalog.
EXHAUST
A newly developed exhaust pipe provides a higher output and a smoother power delivery over the entire rev range, making the new 50 SX even more competitive than before.
CYLINDER
The high performance cylinder features a pressure controlled exhaust valve (PCEV) and provides an unrivaled performance within the highly competitive 50 cc class.
CLUTCH
Developed by KTM, the centrifugal multi-disc automatic clutch provides manageable acceleration and makes riding this motorcycle the easiest thing in the world. It can be adjusted to the specific requirements of the track and the rider in minutes and without any special tools.
ERGONOMICS
BODYWORK
The bodywork is derived from the full-size SX models and provides perfect ergonomics with well thought-out contact points for the rider and maximum freedom of movement. In addition, smart design solutions for the new front and rear fenders are prime examples of an intelligent design, which guarantees maximum stability through a well thought-out structure and mounting.
FRAME
The modern frame produced by WP Performance Systems is made of lightweight, high strength chromoly steel profiles and combines maximum longitudinal stiffness with optimum torsional rigidity. It guarantees easy handling and precise cornering, but also outstanding stability.
GRAPHICS
Derived from the full-size SX bikes, the graphic design makes the new 50 SX look even cooler. Its frame has a super rugged polymer coating in black.
HANDLEBAR
Made of high quality aluminum alloy, the handlebar offers top stability and leverage for smaller riders.
RADIATOR
Like the big KTM bikes, the 50 SX has a liquid cooling system, which even cools the crankcase. Generously sized radiators ensure outstanding heat dissipation for high reliability, even under extremely heavy duty.
CHASSIS
FRONT SUSPENSION
The new 50 SX is the first model in its class fitted with a modern, fully adjustable air fork: the AER 35, made by WP Suspension. Beside a massive weight reduction of 1.6 pounds, the newly developed upside-down front forks with 35mm tube diameter and 205mm of travel ensure outstanding comfort, damping characteristics and directional stability. Another main benefit for junior riders is that the air spring fitted in the left fork leg can be adjusted perfectly and simply to the rider's weight just with an air fork pump.
REAR SUSPENSION
On the rear wheel a WP shock absorber linked directly to the swingarm provides excellent damping performance and is fully adjustable in order set the damping perfectly to rider's preferences and track conditions. The rear wheel travel is 185mm.
WHEELS
Like the big KTM factory racers, the 50 SX has super lightweight, black anodized, aluminum rims providing highest strength and safety. The OEM knobbly MAXXIS tires grip superbly on any surface.
BRAKES
The KTM 50 SX is fitted with front and rear hydraulic brakes by Formula combined with lightweight Wave brake discs that are easy to control even for the youngest riders. This ensures the best deceleration and the highest standard in the mini class.
2018 KTM 50 SX – Totalmotorcycle.com North American (USA, Canada) Specifications/Technical Details
US MSRP Price: $ See Dealer for Pricing in USD
Canada MSRP Price: $ See Dealer for Pricing in  CDN
Design
1-cylinder, 2-stroke engine
Displacement
49 cm³
Bore
39.5 mm
Stroke
40 mm
Starter
Kickstarter
Transmission
Single-speed automatic
Primary drive
61:33
Secondary gear ratio
11:40
Clutch
Centrifugal clutch (adjustable)
EMS
Seletra 2p D36
2018 KTM 50 SX – Totalmotorcycle.com European Specifications/Technical Details
Europe/UK MSRP Price: £3399 GBP (On The Road inc 20% Vat)
Engine
Design
1-cylinder, 2-stroke engine
Displacement
49 cm³
Bore
39.5 mm
Stroke
40 mm
Starter
Kickstarter
Transmission
Single-speed automatic
Primary drive
61:33
Secondary gear ratio
11:40
Clutch
Centrifugal clutch (adjustable)
EMS
Seletra 2p D36
Manufacturer Specifications and appearance are subject to change without prior notice on Total Motorcycle (TMW).