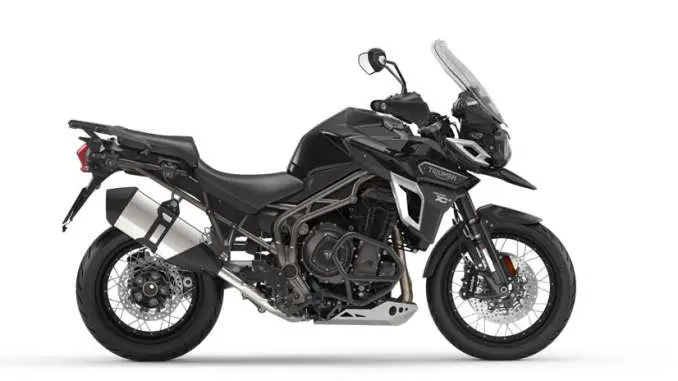 THE BEST RIDING EXPERIENCE ON ANY SURFACE.
2018 Triumph Tiger Explorer XCx Low:
Built for all terrain, the all-new Tiger Explorer XCX is the ultimate go anywhere, do anything transcontinental motorcycle. The Tiger Explorer XCX packs immense power and linear torque from its signature 1215cc triple engine and is optimised for all terrain with spoked wheels for tubeless tyres, ABS, Traction control and, Brembo monobloc 4-piston radial callipers at the front, and a single 282mm disc, 2-piston sliding calliper at the rear. Triumph's electronically controlled semi-active suspension system (TSAS) continuously adjusts the suspension settings as you ride, delivering the best control, comfort and riding experience on any surface.
Three new selectable Rider modes; Road, Rain and Off-Road, incorporate different setting for ABS, traction control and throttle maps, each optimised to suit the selected mode for maximum control, comfort and rider engagement.
With an electronically adjustable screen, hand guards and heated grips as standard, the Tiger Explorer XCX is the true transcontinental adventure bike.
2018 Triumph Tiger Explorer XCx Low Totalmotorcycle.com Key Features
•Lower seat height of 785 – 805 mm
•2 x 12V power socket
•Advanced On Board computer
•Aluminium sump guard
•cornering optimised ABS and Traction Control
•Cruise Control
•Engine Protection Bars
•Hand Guards
•Inertial Measurement Unit (IMU)
•"Off Road" riding mode
•Self-cancelling LED indicators
•Stainless radiator guard
•Triumph Semi Active Suspension (TSAS)
PLUS IN ADDITION TO THE STANDARD TRIUMPH EXPLORER XC FEATURES
•Characterful 1215 cc in line-three-cylinder with shaft drive
•Hydraulic Clutch
•Active safety – ABS and Traction Control
•Road and Rain riding modes
•Unique-in-class electrically adjustable screen
•Brembo monobloc M4.32 front brake calipers
•Adjustable WP front and rear suspension
•Spoked wheels for tubeless tyres
•On Board computer
•Protective sump guard
•Centre Stand
•12V Power Socket
•Immobiliser
It's your ride, it's your journey, and it's your planet to explore. So whether you choose motorways or mud tracks, twisty tarmac or bumpy town streets, Triumph's range of adventure and touring motorcycles all share your passion for travel and discovery.
2018 Triumph Tiger Explorer XCx Low Totalmotorcycle.com Features and Benefits
Tiger Explorer Range
Our Tiger Explorer family has been conceived, designed and built to deliver the ultimate go anywhere, do anything transcontinental touring motorcycle for every adventure rider, wherever they ride.
Everything feels right with the world
Our new Tiger Explorer is packed full of new rider-focused technology to ensure superb handling stability and control that can be tailored to your personal preference, letting you get the most out of your ride, whether on road, trail or byway.
The range is divided in to two distinct model variants. The XR series are optimised for road use, while the XC models thrive in more rugged terrain, but both are equally happy when the roles are reversed.
The unique-in-class 1215cc triple engine delivers more power, more torque and improved fuel consumption, smoothly and progressively across the whole rev range.
Hill Hold Control
The Tiger Explorer XRT and Tiger Explorer XCA offer a new hill hold control feature that prevents the motorcycle rolling back or forward when setting off on a steep incline or decline. This feature is particularly beneficial when the motorcycle is fully loaded or carrying a passenger.
The feature is activated by the rider pulling sharply on the front brake while stationary. The system then maintains the pressure when the front brake is released, to hold the bike stationary without having to use the front or rear brake. The hill hold function simply deactivates automatically by riding off normally.
Triumph Semi-Active Suspension (TSAS)
The new Tiger Explorer's performance is given a new level of dynamism on the XCX, XCA, XRX & XRT models with the addition of the ground-breaking Triumph Semi Active Suspension system. This allows the rider to electronically control the adjustment of the front and rear suspension damping, automatically adapting the rear shock absorber pre-load settings to reflect the terrain being covered and providing optimal grip and drive in any situation.
The system uses an inertial measurement unit which incorporates 3 gyros and 3 accelerometers to continuously measure the bike's roll, pitch and yaw as well as longitudinal & lateral accelerations. The chassis central unit then uses this information, along with suspension position, swing arm position, wheel speed sensors, brake pressure and twist grip, to calculate the damping settings. All designed to deliver an engaged, confidence inspiring ride.
Optimised Cornering ABS & Traction Control
To give the rider the handling, control and response they want, when negotiating well-made roads and broken terrain in all conditions, the new Tiger Explorer offers as standard multi-channel switchable ABS and traction control on the entry level XR model. The other four models come with cornering-optimised ABS and traction control, to ensure superb stability even when approaching the most challenging apex.
The XRX, XRT XCX, AND XCA models all feature an Inertial Measurement Unit. Through a series of strategically positioned sensors, the unit monitors and responds to the bike's movement status. The unit calculates the lean angle of the bikes and uses this measurement to ensure greater stability by optimising the performance of the ABS and traction control systems which helps control slip situations while cornering. Corner optimised braking controls the maximum applied pressure, depending on the lean angle of the bike, by modifying the front and rear braking balance. The result is a system which, in an emergency, a controlled stop is greatly improved.
Riding Modes
Riding Modes: OFF-ROAD
Designed to enhance the ride and pleasure of covering broken ground, the Traction Control and ABS settings are adjusted for optimised off road performance. The TSAS system has been specifically calibrated for this mode, optimising the damping response for enhanced control in off-road conditions.
Available on Tiger Explorer models XRX/XCX. XRT/XCA
Riding Modes: SPORT
Exploits the full potential of the Tiger Explorer's triple engine by providing a more direct throttle response. The setting of the ABS ensures excellent braking performance on paved surfaces, while the dedicated setting of the Traction Control allows increased rear wheel slip compared to the road setting, for a more dynamic ride. The TSAS system provides firmer damping to take on and conquer the most demanding roads.
Available on Tiger Explorers XRT/XCA
Riding Modes: RIDER CONFIGURABLE
The perfect setting for riders who wish to configure the ride to their own style, performance and enjoyment.
Available on Tiger Explorer XRT/XCA
Riding Modes
The Tiger Explorer family makes full use of Triumph's impressive Riding Mode technology to offer a choice of up to five Riding Modes, four which are pre-set and one which can be programmed by the rider – which alters the configuration of the bike to suit riding style, road and weather conditions.
Each Riding Mode changes the engine map, the levels of ABS and Traction Control, and where fitted, the damping set-up of the TSAS system and power.
Riding Modes: ROAD
Maximises comfort and riding pleasure, particularly over long distances. The ABS and Traction Control settings ensure great stability and optimise braking on paved surfaces. The engine map is set to make the most of the smooth delivery of power over asphalt or similar surfaces. The TSAS (if fitted) will provide the optimal setting for road use.
Available on all Tiger Explorer models
Riding Modes: RAIN
Specifically developed for use over wet and slippery surfaces, the engine map reduces power, the Traction Control setting minimises rear wheel slip for enhanced control and the ABS setting prevents lock-up, avoiding uncontrolled skids. The TSAS (if fitted) features a soft set-up to improve grip.
Available on all Tiger Explorer models
Exhaust
The Tiger Explorer features an exhaust system that not only helps with the engine performance and achieving compliance with the Euro 4 emissions standard, but also gives the family a distinctive, resonant exhaust note unique to a Triumph triple engine.
Triple Engine
At the heart of the Explorer is a unique 12 valve, 1215cc in-line three cylinder unit that generates incredible wall of linear torque 123NM at 6200 rpm and in fact 139ps at 9300rpm of power from the largest capacity engine in the segment.
To make the best use of its power, the new Tiger Explorer makes use of a hydraulic torque assist clutch to reduce lever effort and long-time rider fatigue. All New Tiger Explorer models feature a 6 speed gearbox in which the top gear is set high to make cruising long distances both easy and fuel efficient. Power is transmitted to the rear wheel through a low-maintenance final shaft drive.
Chassis
The chassis in the new Tiger Explorer has been designed to add a new level of dynamism to adventure riding. The addition of market leading adjustable WP suspension provides an enviable balance of comfort and control on the entry level models which is further enhanced by the inclusion of the all new Triumph Semi- Active Suspension system TSAS on the XRX, XRT, XCX & XCA
The inclusion of the technologically advanced, radially mounted Brembo monobloc calipers, is a further demonstration of our focus on agility, control and performance in every aspect of the chassis, suspension and braking systems.
Styling
Cockpit
The cockpit has been developed with one thing in mind, the rider. Refined ergonomics, all new switch gear and the inclusion of the latest LCD display ensures ease of use even at speed.
Electrically Adjustable Screen
The new Tiger Explorer sets a new level of rider focus in the segment. All models feature a first-in-class electrically adjustable screen that allows the rider to constantly tailor aero-protection and comfort whilst riding.
The Tiger Explorer XRT and Tiger Explorer XCA have the taller touring screen as standard.
Comfort
The seating, foot peg and bar position has been developed to ensure maximum rider comfort, whether sitting down putting in the miles, or standing up taking off-road in their stride. The inclusion of heated grips on all but the XR, as well as heated rider and passenger seats on the XRT and XCA, ensure year round, all climate comfort for the miles ahead.
Bodywork
Contemporary crisp lines, technically crafted details and distinctive styling give the new Tiger Explorer a tough, assertive and commanding stance. It displays a modern beauty and proportioned muscularity that portrays the confidence and capability you would expect from Triumph.
Choose your new Tiger Explorer
The perfect bike for the transcontinental adventurer. The new Tiger Explorer is available in 6 distinct models and in addition we have a low seat option on both the XRX and XCX.
Whether it's for the daily ride to work or that once-in-a-lifetime adventure, the new Tiger Explorer has taken the adventure segment to a new level. The power, performance, technology, styling and equipment have all been designed, developed and engineered to enable you, the rider, to choose exactly the right model and set-up for your individual requirements.
2018 Triumph Tiger Explorer XCx Low – Totalmotorcycle.com USA Specifications/Technical Details
US MSRP Price: $ USD
2018 Triumph Tiger Explorer XCx Low – Totalmotorcycle.com Canadian Specifications/Technical Details
Canada MSRP Price: $ CDN
2018 Triumph Tiger Explorer XCx Low – Totalmotorcycle.com European Specifications/Technical Details
Europe/UK MSRP Price: £14300 GBP (On The Road inc 20% Vat)
Type Liquid-cooled, 12 valve, DOHC, in-line 3-cylinder
Capacity 1215cc
Bore Stroke 85 mm / 71.4mm
Compression 11.0:1
Max Power EC 139 PS/137 Bhp (102 kW) @ 9,300 rpm
Max Torque EC 123 Nm @ 6,200 rpm
System Ride by Wire, fuel injection
Exhaust Stainless steel 3 into 1 header system, side mounted stainless steel silencer
Final drive Shaft drive
Clutch Wet, multi-plate hydraulically operated, torque assist
Gearbox 6-speed
Frame Tubular steel trellis frame
Swingarm Single-sided, cast aluminium alloy with shaft drive
Front Wheels 32 spoke, aluminium rim, for tubeless tyres, 19 x 3.0in
Rear Wheels 32 spoke, aluminium rim, for tubeless tyres, 17 x 4.5in
Front Tyres 120/70 R19
Rear Tyres 170/60 R17
Front Suspension WP 48 mm upside down forks, electronically adjustable damping, 168 mm travel
Rear Suspension WP monoshock, electronically adjustable semi active damping, 158 mm wheel travel. Automatic preload adjustment
Brakes Front Twin 305 mm floating discs, radially mounted monobloc Brembo calipers, 4-piston, switchable ABS
Brakes Rear Single 282mm disc, Nissin 2-piston sliding caliper, switchable ABS
Instrument Display and Functions Instrument pack with analogue tachometer, fixed segment LCD display and multifunction dot matrix LCD display. Fixed segment LCD display: speedometer, fuel gauge, gear position indicator, service indicator, clock, ambient air temperature, coolant temperature, cruise control status and set speed. Multifunction DOT matrix LCD display: three Riding Modes (Road, Rain, Off Road), windscreen adjustment, TSAS setting, Trip computer (journey distance, journey time, average fuel consumption, average speed), motorcycle information (odometer, range-to-empty, instantaneous fuel consumption, TPMS ready), setting menu, heated grips status, heated seat status ready.
Width Handlebars 830 mm (930 mm with handguards)
Height Without Mirror 1400 mm (1470 mm with higher screen position)
Seat Height 785 – 805 mm
Wheelbase 1520 mm
Rake 23.1˚
Trail 99.2 mm
Dry Weight 251 Kg
Tank Capacity 20 Litres
Fuel Consumption ** 53.3 MPG
CO2 figures ** EUR4 Standard: 122.0 g/km **CO2 and fuel consumption are measured according to regulation 168/2013/EC. Figures on fuel consumption are derived from specific test conditions and are for comparative purposes only. They may not reflect real riding results.
Manufacturer Specifications and appearance are subject to change without prior notice on Total Motorcycle (TMW).