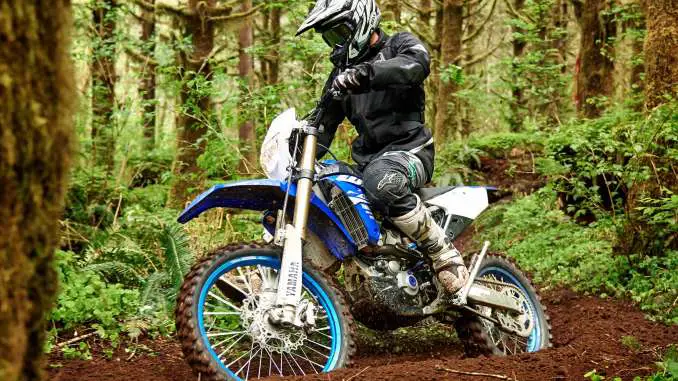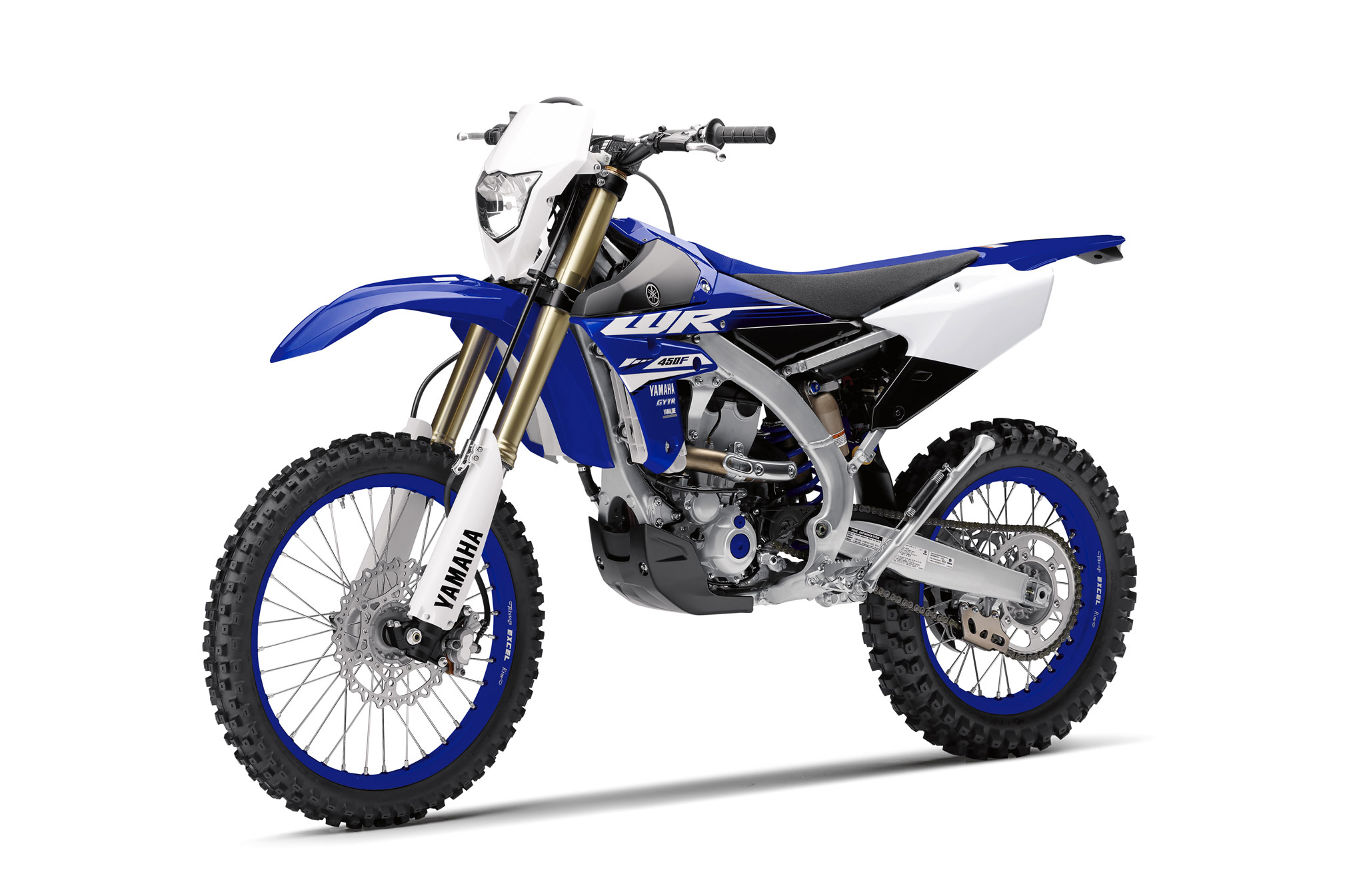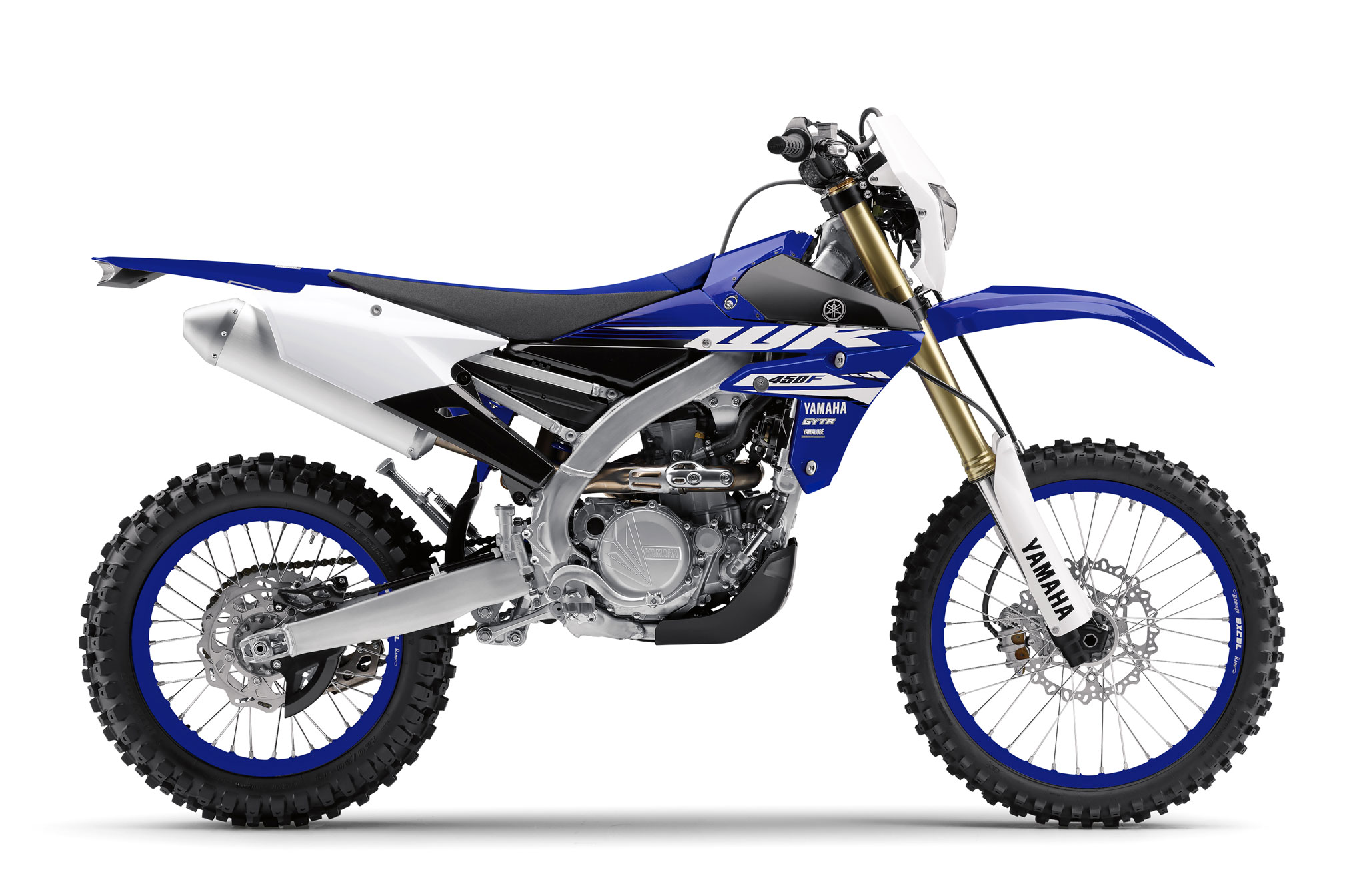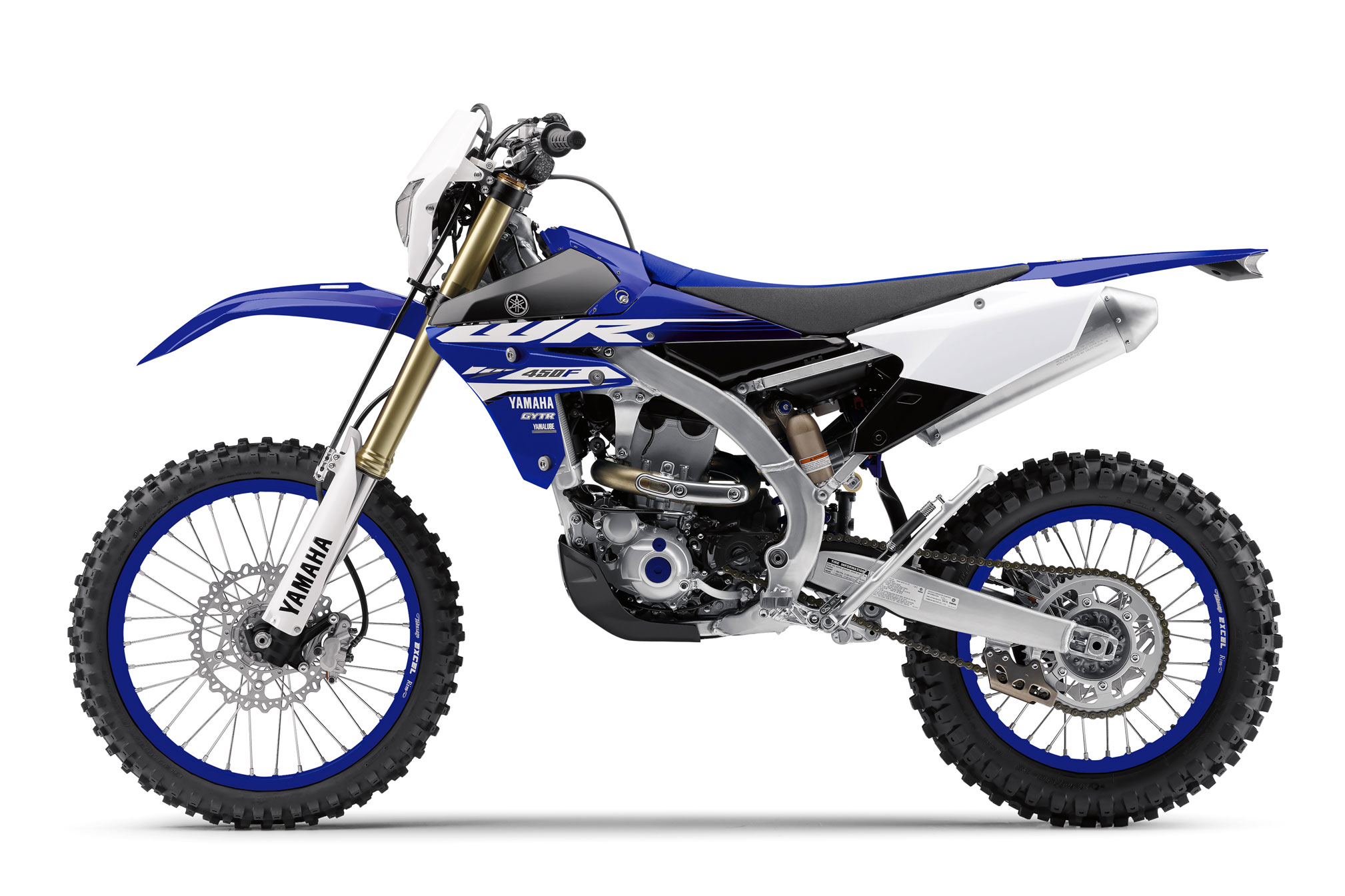 PURE OFF‑ROAD PERFECTION.
Packed with "out‑of‑the‑box" off‑road features ‑‑ perfect for enduros and off‑road thrill seekers.
Rightfully wrong
Equipped with the most advanced engine and chassis technology ever developed for a Yamaha dirt bike, the WR450F is ready to shake up the off road world.
Built for serious enduro racers as well as long distance rally riders and experienced recreational riders, the latest generation WR-F produces strong and linear torque that gives you outstanding performance together with a high level of controllability.
For lightweight handling this high-tech off road bike is equipped with a compact, mass centralised chassis – and with its wide ratio 5-speed transmission, latest KYB® suspension and main switchless electric start, the Yamaha WR450F is ready to win.
CONQUER DIRT
The WR450F utilizes many of the same features as our championship winning YZ450F. Yamaha's engineers draw on the highest level of competition for inspiration & innovations. From engine design to suspension to exterior styling, the racing performance & presence of our legendary YZ models can be found in our entire off road competition model lineup.
POWER
The WR450F utilizes our latest championship winning YZ450F rearward slanted, reverse fuel injected engine design. Tuning has been revised to suit enduro style use. The WR450F produces serious power for those riders who are serious about winning. And with our optional GYTR Power Tuner and special kit ECU, the machine can be quickly "tuned" to suit riding conditions and rider preferences. Click here for YZ Power Tuner suggested settings.
FRAME
Compact Bilateral Beam aluminum frame centralizes mass for exceptional handling & maneuverability, especially in tight technical situations. By centralizing mass, our engineers have produced a machine that feels and handles more like a 250. Add in the industry's best suspension system with improved settings for 2018 and you have an unbeatable combination.
Powering you into the victorYZone
Yamaha are powering into the 2018 season with the latest WR250F and WR450F, two of the world's most innovative and successful enduro bikes with a distinguished track record in EnduroGP and Enduro 2. Benefitting from some of the most advanced GP-developed engine and chassis technology, the WR250F and WR450F have the potential to take every rider into the victorYZone.
The WR-F's unique reverse cylinder head layout features a front facing inlet and rear exiting exhaust that increase intake and exhaust efficiency, thereby enhancing the engine's linear torque feeling. This innovative design delivers deep reserves of highly controllable and easy-to-use power, giving Yamaha WR450F and WR250F riders a real performance advantage.
The WR-F's mass centralized design delivers high levels of agility for precise control over all types of terrain – and the advanced aluminium chassis with its class-leading suspension gives excellent handling performance and traction over rock, sand, grass, dirt and mud.
With class-leading durability and legendary Yamaha reliability as standard, the 2018 Yamaha WR450F and WR250F give you winning performance combined with a thrilling ride on any type of terrain.
Loïc Larrieu and WR450F claim outright victory at ISDE 2017
Riding his Outsiders Yamaha Official Enduro Team WR450F, Loïc Larrieu claimed outright victory at the 92nd edition of the International Six Days Enduro that took place in Brive, France between August 28 and September 2.
Attracting over 800 riders from all over the world, this year's ISDE has been the most important global enduro event of the year. With Larrieu posting the fastest overall times on days one, three and five, he not only secured outright victory for himself, but also made a major contribution to Team France's World Trophy Team win.
Fighting for 2017 EnduroGP and Enduro 2 titles
Yamaha's distinguished record in World Enduro is once again underlined this season with Outsiders Yamaha Official Enduro Team Loïc Larrieu taking three consecutive double podium results in EnduroGP. The talented Frenchman is currently the leading 4-stroke rider, and is holding a strong 2nd place on his WR450F in the overall EnduroGP standings after 6 out of 8 Grand Prix.
It's even closer in Enduro 2, with Yamaha's Jamie McCanney and his WR250F just 6 points behind the Championship leader. With the GP of Great Britain being held in September, Manxman McCanney is focused on a strong home race performance to reinforce his fight for the World Championship.
With 2 rounds to go there's everything to play for, and with Larrieu and McCanney confident in their WR-F's total performance, Yamaha is looking good for another strong result to underline the WR-F's race winning DNA.
2018 WR250F & WR450F
Developed using our extensive EnduroGP and rally experience, the 2018 Yamaha WR-F models are supplied ready to win straight from the crate. Both the WR250F and WR450F benefit from the latest Yamaha reverse cylinder head technology thafeatures a straight inlet for instant response with strong linear torque. The switch-free electric starter gets you going quickly and easily – very handy when you're on the side of a hill or in a deep bog – and the enduro-specification radiators come with a lightweight cooling fan that regulates engine temperature even in severe conditions.
WR-F specific features include a wide-ratio transmission – 5-speed on the WR450F and 6-speed on the WR250F – as well as a mass-centralized design with an easy-access top mounted air filter. Both WR-F models also feature an optimised clutch, sealed O-ring chain, 18-inch rear wheel, 7.5 litre fuel tank, side stand and skid plate for ultimate enduro performance.
The list of standard features also includes a bright headlight and LED taillight, and the multi-function LCD enduro race computer gives you the information you need to ensure you stay on time.
Upgrades for 2018
The WR250F boasts a number of new features starting with its revolutionary rearward slanted, liquid-cooled, DOHC 4-stroke power plant with 4 titanium valves. A new cylinder head design with reshaped intake and exhaust ports matched to a new shorter intake funnel help to boost top end power, and new camshafts and valve springs were developed to further increase low to mid range power output.
The WR250F also receives a new lighter flat top piston design mated to a new shorter piston pin containing a DLC (diamond like carbon) coating to reduce friction and increase hardness.On the bottom end, the crank has adopted a new balance ratio and new nickel-chromoly steel connecting rod to produce broad, balanced, and predictable power while boosting reliability. These changes are regulated through a revised ECU that sends new 3-D mapping to the fuel injection system to optimise power output and engine feeling as well as improving the rev limiter. For a smoother clutch feeling the clutch push lever is redesigned, and to save weight, the kickstarter mechanism is removed.
Not stopping there, the same bilateral beam frame that is found on the winning YZ250F was added to the WR250F to improve handling. Featuring a central beam that's 12mm wider at the widest point – as well as newly shaped steel engine brackets and repositioned foot pegs – the 2018 WR250F is an extremely strong and well balanced machine, offering precise handling combined with high stability to attack both technical and high-speed sections.
The industry leading, fully adjustable KYB® spring-type forks and the KYB® rear shock come with optimised settings that work in harmony with the revised frame and engine character. For 2018 the WR250F comes with fresh new graphics, blue rims and an additional side cover.
For 2018 the WR450F benefits from a new ECU that optimises fueling and ignition timing for improved throttle feel and a smoother pick up. Revised suspension settings deliver enhanced handling characteristics, and weight is reduced with the removal of the kickstarter. Also featuring new graphics, blue rims and an additional side cover, the 2018 WR450F brings EnduroGP performance to every rider.
2018 WR250F & WR450F MODEL OVERVIEW
WR250F: New Features
• Newly designed cylinder head
• Lightweight flat top piston with DLC coating
• Intake and exhaust camshafts and valve springs
• Shortened intake funnel
• New ECU
• Redeveloped YZ250F-based aluminum frame
• Optimised suspension settings
• Additional side cover
• New graphics and blue rims
WR450F: New Features
• New ECU and engine maps
• Optimised suspension settings
• Additional side cover
• New graphics and blue rims
WR250F & WR450F Technical Highlights
• Powerful, compact and controllable 450cc / 250cc 4-stroke
• Potent fuel injected engine with linear torque
• Reverse cylinder head with front facing intake
• Aluminum beam frame with optimised rigidity
• Wide ratio transmission (WR250F 6-speed; WR450F 5-speed)
• Durable enduro clutch
• Switch-free electric starter and auto-decompressor
• Convenient optional Power Tuner for easy tuning
• Mass centralized design for agile handling
• Top mounted quickly removable air filter and underseat fuel tank
• High-specification suspension systems
• 18-inch rear wheel and Metzeler 6 Days FIM / Extreme tyres
• Enduro-spec radiators with lightweight cooling fan
Availability
The 2018 WR250F and WR450F will be available at Yamaha dealers starting in October 2017. Please contact your national press officer for more detailed information and the local retail price.
TT-R and PW50 models
Yamaha's TT-R and PW50 models are the bikes that have launched many professional and amateur dirt bike careers. The 2018 models are available from September onwards, and these much-loved user-friendly youth models feature revised colours/graphics.
Yamaha Genuine Accessories
Yamaha offer a wide range of Genuine Accessories that is continually evolving to meet the needs of our customers. The latest line up includes GYTR performance parts, slip-on mufflers and service items, as well as exclusive bolt on accessories that enable every rider to personalize their bike.
2018 Yamaha WR450F Totalmotorcycle.com Key Features
"Reversed" rearward slanted engine design with 4-valve cylinder head (titanium valves)
Forward mounted fuel injection & rear exiting "wrap around" exhaust
Electric starting
5-speed, wide ratio transmission
Radiator fan
Bilateral Beam aluminum frame
YZ based, adjustable suspension
270 mm front & 245 rear disc brakes
18 inch rear wheel
35 watt headlight & LED tail light
GYTR Power Tuner compatible (Competition Only Kit ECU is required)
Lightweight aluminum side stand
Heavy duty plastic engine skid plate
Convenient oil level sight glass
Lightweight, extra wide foot pegs
Folding shift lever tip
Heavy duty rubber swingarm protector
Lightweight chain guide / support reduces chance of chain derailment & helps protect rear sprocket
Heavy duty sealed "O" ring chain
Easy access GYTR Power Tuner & Yamaha Diagnostic tool connectors
Sealed, no spill, gel type, low maintenance battery (battery should be charged during winter storage)
Racing-Derived Updates
For 2018, the WR450F receives a range of updates developed from the YZ450F and FX racing models, including a new side cover, tires and revised suspension tuning, featuring a new fork seal wiper for durable sealing in the toughest conditions.
Innovative YZ450F-Based Engine Design
With a revolutionary rearward slanted, liquid- cooled, DOHC 4-stroke powerplant with four titanium valves based on the YZ450F™, a wide ratio five-speed transmission and WR- specific modifications—the WR450F™ is an "out-of-the-box" enduro machine.
Electric Starter System
Main switch-free electrical system provides push-button electric starting convenience. Just push the starter button and go—no need to power on a main switch or insert a key.
Bilateral Beam Aluminum Frame
The WR450F features a YZ-bred aluminum bilateral beam frame—engineered from castings, forgings and extrusions—with engine mounts optimized for chassis rigidity characteristics needed in enduro riding conditions.
Industry Leading KYB® Suspension
Industry leading, fully adjustable YZ450F-based KYB® spring-type forks with speed-sensitive damping and KYB® shock delivers precise, best-in-class, fade-free handling.
Enduro-Ready WR450F Features
WR450F-specific details include a wide-ratio five-speed transmission, temperature regulating radiator fan, an optimized clutch, sealed O-ring chain, enduro-specific tires with an 18-inch rear wheel, skid plate, and a standard side-stand. A bright headlight, LED taillight and a complete LCD enduro race computer are ready for long race days.
270mm Front Brake
270mm front disc brake offers outstanding machine control and performance, with exceptional stopping power and controllability.
2018 Yamaha WR450F Totalmotorcycle.com Features and Benefits
ENGINE
YZ450F based, "reversed" liquid-cooled, 450cc, DOHC, 4-valve (titanium), 4-stroke, single with fuel injection & electric starting.

engine has been tuned for excellent "ride ability & controllability"
broad, easy to use power band
power characteristics optimized for enduro style racing or riding

Rearward slanted, reversed cylinder design.

rearward slant moves a significant amount of rotating weight toward the centre of the chassis
rearward slanted design centralizes mass for excellent handling & a light feel

"Reversed" engine design (FI system is front mounted, exhaust exits from rear of cylinder).

FI throttle body & air box are front mounted, providing a straight intake path
straight intake path into the cylinder, provides optimum fuel/ air flow for excellent power
front mounted intake keeps fuel cooler since engine heat has less effect on incoming fuel (cooler fuel is more dense & increases power)
design centralizes mass for light, agile handling

Electric start with auto decompression system.

unit can be re-started in any gear
kick starter has been eliminated to reduce weight (kick starter kit available as an accessory P/N = B91-15602-00-00)

There is no main ignition switch on this model.

electric start button (RHS handlebar) activates the entire electrical system
kill switch (LHS handlebar) if held for a few seconds shuts down entire electrical system
design reduces weight

Compact 4-valve cylinder head features a 12.5:1 compression ratio.

titanium 37 mm intake valves & titanium 30.5 mm exhaust valves
4-valve design offers optimum flow for excellent power & torque
compact combustion chamber design

Lightweight titanium valves use load-reduced valve springs.

titanium valves reduces reciprocating weight & allows for a higher rpm limit (40% lighter than steel valves)
reduced friction (load reduced valve springs)
faster-revving & smoother power delivery

Automatic cam chain tensioner.

reduces maintenance & mechanical engine noise
special cam chain "sliders" reduce internal frictional losses.

Lightweight hollow intake & exhaust camshafts.

provide a broad power band well suited to enduro racing or serious recreational riding

Lightweight, ceramic composite coated aluminum cylinder.

reduced weight (no sleeve or heavy liner) plating is sprayed directly on the aluminum block
ceramic coating insures faster, more uniform heat dissipation
coating enhances the thin film of oil between the cylinder & piston, reducing friction & increasing power

Special cylinder "cutaways" allow air "trapped" under the piston to enter a side chamber (or cutaway).

reduces horsepower-robbing "pumping losses"

Crankcase also utilizes cutaways which match the cutaways in the cylinder for maximum efficiency.

reduces horsepower-robbing "pumping losses"

Lightweight, short-skirt, forged aluminum piston.

lightweight design means faster throttle response
reduced mechanical vibration for excellent durability
special coating on piston skirt reduces friction

Piston oil cooler jet nozzle directs oil to the desired portion of the cylinder, rod & underside of piston.

reduces piston, cylinder & rod temperatures for excellent durability

YZ450F inspired crankshaft & connecting rod features a carburizing process for excellent durability.
Lightweight gear driven counter balancer shaft.

reduces vibration for improved rider comfort & reduces rider fatigue

5-speed, wide ratio transmission utilizes a 2-bar, floating shift guide system & a 14 mm shift shaft.

smooth, positive shifts
good durability in the event of a crash (14 mm shift shaft)
optimized ratios for good performance in difficult sections & solid top end speed for fast sections
see spec page for gear ratios

Heavy duty, multi-plate, clutch with quick access magnesium outer cover.

clutch is designed for the rigours of enduro riding
clutch action is light to reduce hand fatigue during extended races / rides
quick access outer cover provides fast & easy clutch access

44mm Keihin throttle body fuel injection system.

12-hole injector
maximizes fuel atomization for more complete combustion & excellent power delivery
FI settings are specific to enduro racing / riding
FI benefits include automatic adjustments to insure the optimum fuel – air ratio regardless of outside air temperature & altitude
other benefits include excellent starting & excellent throttle response
cold start knob also doubles as an idle adjuster

The injector spray pattern, spray direction and the distance to the intake valves have been optimized. Forward mounted straight intake tract helps to maximize the benefits of the FI system & overall power output.
Optional, compact, hand held "GYTR Power Tuner" allows tailoring of both fuel injection duration & ignition mapping.

9- different setting points can be accessed for both fuel duration & ignition maps
maps can be stored & shared with other Power Tuners if desired
easy access GYTR Power Tuner connector port
NOTE:
 Competition Only Kit ECU is required for Power Tuner use on the WR450F

Forward mounted air box features a washable, dual-stage, foam air filter.

No tools required to access air filter

Wet sump lubrication system.

reduces weight (no remote oil tank or oil lines)
eases maintenance (easier & faster oil changes)

Easy access "cartridge-type" oil filter.
Lightweight, single core, dual rads with electric cooling fan.

standard cooling fan maintains consistent engine temperatures during slow speed, technical riding
radiator fin pitch is optimized for good air flow even at slow speeds

Maintenance-free transistor controlled ignition (TCI).

produces a strong spark for fast starts
provides precise ignition timing / mapping for optimum engine performance at all rpms

High capacity AC magneto to power the FI system.
Lightweight, wrap-around exhaust system based on YZ450F design.

exits from the rear of the engine & circles cylinder body
design ensures the optimum tuned header length
maximizes exhaust "pulse effect" for excellent power delivery
centralizes mass by moving weight closer to the centre of the chassis

Lightweight aluminum / stainless steel muffler (aka silencer).

multi-expansion design
spark arrestor equipped
CHASSIS / SUSPENSION
YZ450F based, compact, lightweight "Bilateral Beam" aluminum frame.

centralizes mass for exceptional handling & manoeuverability
frame offers an optimum rigidity balance between strength, rigidity & tuned flex, plus excellent shock absorbing qualities
frame features mounting tabs for accessory under engine skid plate (quick installation)

Lightweight, tapered aluminum swingarm.

lightweight design reduces unsprung weight for optimum suspension performance
excellent rear wheel traction & control

Lightweight detachable rear sub frame.

constructed of square-section, lightweight aluminum pipe with no bends
allows easy access when servicing rear suspension components

Revised YZ450F based, 48mm, adjustable, inverted, Kayaba "SSS" cartridge fork with 310mm (12.2″) of wheel travel.

new internal "free" piston design
revised fork seals with new scraper for better cleaning / clearing in muddy conditions
revised front fork rebound & compression settings
valving & settings are designed for enduro style riding
front fork adjustments include: 20-way compression damping & 20-way rebound damping
25 mm front axle
optional fork springs are available through Genuine Yamaha parts

Fork features a twin-chamber, "Speed Sensitive System" design meaning the damper unit is in a separate structure (completely separated air & oil chambers) which prevents aerated fork oil from entering the inner damper assembly and degrading its damping abilities. Since the inner damper is pressurized, it also eliminates bubbles forming in the oil.
Fork also features a Transfer Control Valve (TCV).

TCV enhances damping from mid to full stroke & improves bottoming characteristics
TCV offers more precise control throughout the full suspension stroke
TCV is located on the upside of the spring & its function is controlled by piston speed, not piston position, hence the term "Speed Sensitive System fork".

Large "wrap-around" plastic fork protectors provide excellent lower fork tube protection.

"self-supporting" design reduces friction for smoother fork operation.

YZ450F based, Monocross link rear suspension features a fully adjustable Kayaba piggyback shock with 318 mm (12.5″) of wheel travel. Settings have been revised.

shock valving & settings are tailored for enduro riding enduro racing / riding
revised rebound damping & high speed compression settings
separate adjusters for high- and low-speed compression damping
shock is in-line with the center axis of the frame for excellent control
shock adjustments include: threaded spring preload, 20 -way low-speed compression damping, 2 turns of high speed compression damping & 30-way rebound damping

270mm floating front "wave-style" disc & compact twin piston Nissin caliper.

wave disc design reduces weight & improves cooling (wave design offer more surface area for better cooling)

"Shorty style" adjustable front brake lever can be adjusted to fit various hand sizes.
245mm rear disc brake features a "wave-style" disc & single piston Nissin caliper & master cylinder.
Rear caliper & lower portion of the wave style disc are protected by heavy duty plastic protectors.
Lightweight, plastic resin 7.5 litre fuel tank

reduces centre of gravity & centralizes mass for exceptional handling & a lightweight feeling
tank can be flipped on its back without disconnecting fuel line (easy servicing under the tank)
2.0 litre reserve portion ( low fuel light illuminates)

Adjustable handlebar holders offer a total of 4 different handlebar positions with an adjustment range of 30mm.

suits wide variety of rider sizes
handlebar holders are rubber mounted for reduced vibration & improved rider comfort

Compact body work.

reduces weight & enhances the lightweight feel & look of the WR450F
flat design, "minimal" bodywork allows for fast, easy rider movements & a natural riding position
rad shrouds are slightly different than YZ450F to enhance airflow at slower speeds
minimal design aids in keeping the body looking good (less plastic to scratch or damage)
graphics are impregnated directly into the plastic rad shrouds & will not peel off or get damaged by pressure washing

Flat seat design.

provides easy rider movements
features a "cap cover" to access the fuel cap
non-slip seat cover material resists clogging with dirt or mud

Rugged Excel rims fitted with new Dunlop tires.

excellent durability
reduces unsprung weight for optimal suspension performance & handling
18″ rear wheel improves puncture resistance (Vs. 19″ designs)
front rim size is 1.60 x 21″, rear is 2.15 x 18″
new Dunlop tires MX3SF & MX3S tires

Lightweight digital meter assembly.

functions include: speedometer, odometer, dual trip meters & clock in the basic mode
"race mode" features pace management functions including; timer & distance compensating trip meter
warning lights for engine trouble (FI system) & low fuel

Stylish, slim design 35 watt headlight.

headlight beam is adjustable up & down

Brilliant LED rear taillight.
2018 Yamaha WR450F – Totalmotorcycle.com USA Specifications/Technical Details
US MSRP Price: $9,099 USD
Engine Type 449cc liquid-cooled DOHC 4-stroke; 4 titanium
valves
Bore x Stroke 97.0mm x 60.8mm
Compression Ratio 12.5:1
Fuel Delivery Keihin® fuel injection, 44mm
Ignition TCI: Transistor Controlled Ignition
Transmission Wide-ratio constant-mesh 5-speed; multiplate wet
clutch
Final Drive O-ring chain
Suspension / Front KYB® spring-type fork with speed sensitive
damping; fully adjustable, 12.2-in wheel travel
Suspension / Rear KYB® single shock; fully adjustable, 12.5-in
wheel travel
Brakes / Front Hydraulic disc, 270mm
Brakes / Rear Hydraulic disc, 245mm
Tires / Front 80/100-21 Dunlop® MX3S
Tires / Rear 120/90-18 Dunlop® MX3S
L x W x H 85.2 in x 32.5 in x 50.4 in
Seat Height 38.0 in
Wheelbase 57.7 in
Rake (Caster Angle) 26.3°
Trail 4.5 in
Ground Clearance 12.8 in
Fuel Capacity 2.0 gal
Wet Weight 271 lb
Warranty 30 Day (Limited Factory Warranty)
Color Team Yamaha Blue
2018 Yamaha WR450F – Totalmotorcycle.com Canadian Specifications/Technical Details
Canada MSRP Price: $10,449 CDN
ENGINE
Engine
Liquid-cooled, DOHC, 4-valve (titanium), single
Displacement
449cc
Bore and Stroke
97 x 60.8mm
Compression Ratio
12.5:1
Fuel Delivery
Keihin 44mm throttle body F.I.
Lubrication
Wet sump
Ignition / Starting
TCI / Electric & Kick
Transmission
Wide ratio 5-speed transmission
Primary ratio 2.609 (60/23)
Secondary ratio 3.846 (50/13)
1st gear 2.417 (29/12)
2nd gear              1.733 (26/15)
3rd gear 1.313 (21/16)
4th gear 1.050 (21/20)
5th gear 0.840 (21/25)
Final Drive
"O" ring chain
CHASSIS
Suspension (Front)
Adj. 48mm inverted fork / 310mm (12.2″) wheel travel
Suspension (Rear)
Fully Adj. Link Monocross / 318mm (12.5″) wheel travel
Brakes (Front)
270mm floating disc / twin piston caliper
Brakes (Rear)
245mm disc / single piston caliper
Tires (Front)
80/100-21
Tires (Rear)
120/90-18
CRITICAL DATA
Length
2,165mm (85.2″)
Width
825mm (32.5″)
Height
1,280mm (50.4″)
Wheelbase
1,465mm             (57.7″)
Ground Clearance
325mm (12.8″)
Seat Height
965mm (38″)
Fuel Capacity
7.5 litres (1.7 Imp. gal.)
Wet Weight
123 kg (271 lbs)
Colour(s)
Yamaha Racing Blue
2018 Yamaha WR450F – Totalmotorcycle.com European Specifications/Technical Details
Europe/UK MSRP Price: £7799 GBP (On The Road inc 20% Vat)
Engine
Engine type        Single cylinder, liquid-cooled, 4-stroke, DOHC, 4-valves
Displacement    449cc
Bore x stroke     97.0 mm x 60.8 mm
Compression ratio           12.5 : 1
Maximum power             –
Maximum torque             –
Lubrication system          Wet sump
Clutch type         Wet, Multiple Disc
Fuel system        Fuel Injection
Ignition system TCI
Starter system  Electric and kick
Transmission system      Constant Mesh, 5-speed
Final transmission            Chain
Chassis
Frame   Semi double cradle
Front suspension system              Telescopic forks
Front travel        310 mm
Caster angle       26º 20
Trail        114 mm
Rear suspension system Swingarm, (link suspension)
Rear travel          318 mm
Front brake        Hydraulic single disc, Ø 270 mm
Rear brake          Hydraulic single disc, Ø 245 mm
Front tyre            90/90-21 54M
Rear tyre             130/90-18 69S+M
Dimensions
Overall length    2,165 mm
Overall width     825 mm
Overall height    1,280 mm
Seat height         965 mm
Wheel base        1,465 mm
Minimum ground clearance         325 mm
Wet weight (including full oil and fuel tank)          123 kg
Fuel tank capacity            7.5 litres
Oil tank capacity               0.95 litres
Manufacturer Specifications and appearance are subject to change without prior notice on Total Motorcycle (TMW).