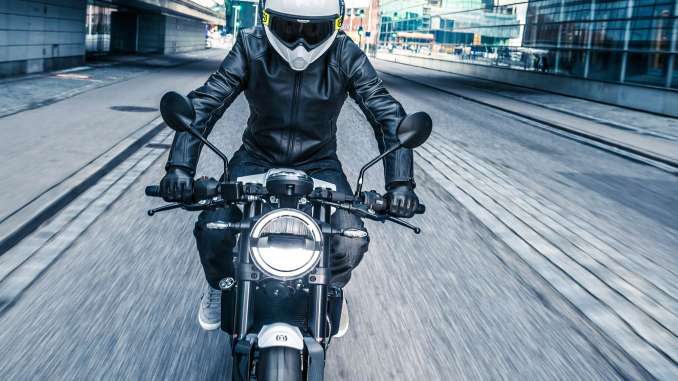 SIMPLE YET DESIRABLE.
2019 Husqvarna VITPILEN 401:
The Husqvarna VITPILEN 401 marks the start of an entirely new segment in the motorcycling world, it is free of excess and reduced to its simplest form. This bike aims to appeal to an entirely new generation of motorcycle users. It's for those less interested in the hype and hyperbole of modern day motorcycling and who prefer a simpler, more style-orientated approach. Its technologically advanced 4-stroke single-cylinder 375 cc engine is housed in an incredibly stripped down but progressive layout that offers excellent performance, yet doesn't boast about how racy it is. The basic idea and inspiration behind the bike was to create something completely reduced, while turning heads from an aesthetic point of view.
Ultimately it's as accessible as a motorcycle can be, it's honest and can be ridden by anyone with the will to learn.
The VITPILEN 401 is a fresh and simple new approach within the world of motorcycling. It is subtle, style-focused and stripped of all that is unnecessary. Its simple yet progressive design opens a new gateway to motorcycle culture and makes urban motorcycling more accessible and inviting than ever before. A bike for progressive, freethinking riders who appreciate exceptional design and seek new ways to experience their urban environment.
2019 Husqvarna VITPILEN 401 Totalmotorcycle.com Key Features
EXTERIOR
The design idea is to strip away all unnecessary gimmicks and create a simple, progressive mix of classic thinking and modern design. This way of thinking is synonymous with the Swedish heritage of Husqvarna Motorcycles and can be clearly seen on the VITPILEN 401. The lightweight and narrow bodywork is shaped into the VITPILEN 401´s progressive design and intelligently allows for seamless movement while riding.
WHEELS
17″ bronze anodised spoked wheels with electric yellow VITPILEN detailing are a design highlight of the VITPILEN 401. The wheels offer a unique sense of style and are also very robust, offering premium reliability on unpredictable and challenging urban terrain.
STYLE & DESIGN:
In terms of style and design, the VITPILEN 401 is reduced to nothing more than what is absolutely essential. With respect to the past it is simple, obvious and forward thinking in terms of the technology used, as well as the entire package itself.
BODYWORK:
The way in which the volume was sculpted is extremely sleek and pure, forming clean and soft lines. By contrast the shape itself is very intentional and well defined.
RIDING POSITION:
It is most certainly very approachable and accessible. Dynamic thanks to a more engaging position, which is far forward enough to be in full control while remaining relaxed thanks to its clip-on handlebars and natural ergonomics.
INNOVATION / EQUIPMENT:
The surface treatment (the way in which the bike was sculpted) is distinctive in that there's a contrast between the softness of the design and the extremely defined shapes on the tank. This forms very precise elements and fitting lines on the surface. Underneath, it is fully equipped with premium components including LED front and rear lights, WP suspension and a modern fuel-injected motor amongst other features.
THE RIDING EXPERIENCE:
The bike was designed to be as simple to ride as possible, without all the unnecessary electronics and rider assistance. It is designed for a 'sit down and enjoy the ride' experience.
With it's unique, bold and rugged appearance, the Husqvarna SVARTPILEN 401 is a modern single-cylinder 4-stroke set in a compact and thoughtfully designed package. Beyond its styling and exterior though, it has a high-focus on functionality, so comes with rugged knobbly tyres, a practical tank rack and more robust protection than its VITPILEN 401 sibling, which includes a protective skid-plate and exhaust protector. The riding position on the SVARTPILEN 401 is also more upright because of its higher and straighter bars.
STYLE & DESIGN:
The SVARTPILEN 401 has a more rugged style to it. The parts are designed with an obligation to not just look good but to be fully functional as well. With a nod of respect to the honest and simple way that motorcycles were created in the past, yet with truly modern equipment and styling.
BODYWORK:
For the SVARTPILEN 401 functionality plays an important role and you can see that when you take a look at the bodywork, more robust protective parts were incorporated into the design – such as an exhaust protector, skid plate and tank rack, which form the basis for a modern day scrambler.
RIDING POSITION:
Fitting with its higher bars and knobbly tires, the riding position for the SVARTPILEN 401 is more upright and centred than its VITPILEN 401 sibling's slightly tucked rider's stance.
INNOVATION / EQUIPMENT:
The SVARTPILEN 401 is fully equipped with a split seat as well as knobbly tyres, a protective skid plate, exhaust protector in a modern chassis with progressive engine technology.
THE RIDING EXPERIENCE:
Who knew being seated completely upright could be this relaxed? Rediscover your urban environment aboard this agile, functional and raw riding machine.
A POWERFUL URBAN ICON
The VITPILEN 701 is an immaculately designed street bike that offers a new perspective on urban motorcycling. Driven by a powerful single-cylinder engine, this compact and agile motorcycle is expertly crafted to deliver minimalist styling with exceptional performance and reduced to the bare essence of what a motorcycle should be. Created to suit the unique, progressive lifestyle of modern motorcycling, it delivers a more thrilling, honest and real bike experience.
SIMPLE. PROGRESSIVE.
Forget everything you know about contemporary street motorcycles, the VITPILEN range is innovative and progressive. Developed with a fresh perspective, reduced, pure and without industry influence, these motorcycles challenge all current design trends and use a clean, smart and less complicated way of creating a motorcycle. The simple yet progressive design approach is a thought provoking paradox where simplicity, ease-of-use and functionality meet innovative design and attention to detail.
2019 Husqvarna VITPILEN 401 Totalmotorcycle.com Features and Benefits
Headlight and taillight
The 'Real Street' range features a modern full LED headlight with a distinctive circular running light and two reflectors for high/low beam. Besides the added safety of the bright LEDs and saving energy, the headlight is a design feature that contributes to the unique style represented by the VITPILEN and SVARTPILEN 401 models. The taillight is also full red LED and through the design, seems to hover above the rear wheel. The SVARTPILEN 401 gets a protective cage structure on the front headlight.
Frame
The lightweight steel-trellis frame is a proven design, contributing to the easy and agile ride of the 'Real Street' range. Mass is grouped close to the centre of gravity to maximise manoeuvrability and precision. Made from high strength chromium molybdenum steel using hydro formed tubes and robot welding, designed with specific flex characteristics, the frame works in conjunction with the WP suspension to offer a comfortable and confident feel and combined with a tight turning circle for ease of use in urban environments.
Exhaust
The exhaust on the 'Real Street' range has been specifically designed to work well with the 375 cc engine and remain an aesthetically pleasing element that compliments the characters of the VITPILEN 401 and SVARTPILEN 401. Made from a combination of steel and aluminium, the exhaust system is integral for ensuring EURO IV regulations are met. Comprising of two parts, the pre-silencer is made from steel while the final silencer is made from aluminium. The final silencer is finished off with a raw aluminium look and the iconic Husqvarna logo.
Display
The 'Real Street' range features a simple and progressive, multifunctional display unit with all the relevant riding information – set in a round, character-defining design.
Bodywork
The bodywork is the same throughout the range, but differs in colour and in the perception of the proportions. The VITPILEN 401 bodywork is white; the SVARTPILEN 401 bodywork is black.
Seat
The seats are different on the VITPILEN 401 and the SVARTPILEN 401. High quality foam forms the base of both seats, but a long single piece, two-seater features on the VITPILEN 401, whereas the SVARTPILEN 401 features two single seats with different fabric from the VITPILEN 401. There will be options to remove the rear seat and fit a technical accessory on the SVARTPILEN 401.
Engine
The 'Real Street' range has a 375 cc, 44 hp (32kW), single-cylinder twin overhead camshaft engine that only weighs 36 kg, thanks to its compact modern design. The latest materials and production technologies deliver the bike's ample torque and useful acceleration at all engine speeds, but also give it good manners in everyday use, with outstanding fuel economy. The engine delivers 37Nm of torque from low down in the RPM range, perfect for urban riding. Additionally, by implementing a counter balancer shaft, vibration is kept to a minimum delivering a smooth and comfortable ride. By using electronic fuel injection and a 46mm throttle body operated by a ride-by-wire system, the engine delivers a sharp but refined and very controllable power delivery.
Brakes
The 'Real Street' range is equipped with quality hydraulic brakes. The 320 mm front disc provides ample surface area for the opposed, four-piston callipers, while the 230 mm rear disc, provides the surface area for a single piston, floating calliper to clamp on to. Additionally, a state-of-the-art Bosch 2-channel ABS system is fitted.
Suspension
WP suspension has built a strong reputation for quality engineering and ongoing development and innovation. The WP units on the 401s provides smooth handling, consistency and predictability. The 43 mm upside down forks guarantee the highest levels of stability and precision.
Slipper clutch
The VITPILEN 401 and SVARTPILEN 401 are fitted with a slipper clutch.
The slipper clutch works by allowing the clutch to slip under heavy braking when torque levels get too high from downshifts. This prevents the rear wheel from hopping or sliding and a more controlled deceleration.
Handlebars
The VITPILEN 401 has clip-on handlebars while the SVARTPILEN 401 has raised offroad style centrally mounted handlebars. Additionally, the handlebars comprise of separate left and right side units mounted directly to the upper triple clamp in a clip-on fashion giving the VITPILEN a sporty and stylish feel.
Tank
The tank on the 'Real Street' range 401s holds 9.5 litres. The SVARTPILEN 401 also features a tank rack that can be used to strap additional items onto if needed.
Tyres
The unique knobbly tyres on the SVARTPILEN are strong and durable "Pirelli Scorpion Rally STRs". While the VITPILEN wheels are fitted with Metzeler M5 tyres, which excel in all conditions the urban commuter could expect while also offering long durability.
2019 Husqvarna VITPILEN 401 – Totalmotorcycle.com Specifications/Technical Details
US MSRP Price: $ USD
Canada MSRP Price: $ CDN
Europe/UK MSRP Price: £ GBP (On The Road inc 20% Vat)
Australia MSRP Price: See Dealer for Pricing in AU
| | |
| --- | --- |
| Engine | |
| Engine type | Single cylinder, 4-stroke |
| Displacement | 375 ccm |
| Bore/stroke | 89/60 mm |
| Power | 32 kW (43 hp) @ 9.000/min |
| Torque | 37Nm @ 7.000/min |
| Compression ratio | 12.6:1 |
| Starter/battery | Electric starter/12V 8Ah |
| Transmission | 6 gears |
| Fuel system | Bosch EFI (throttle body 46 mm) |
| Control | 4 V/DOHC with cam levers |
| Lubrication | wet sump with 2 oil pumps |
| Engine oil | BelRay EXP 15W-50 |
| Primary drive | 30:80 |
| Final drive | 15:45 |
| Cooling | Liquid cooling |
| Clutch | Multi disc slipper clutch |
| Engine management/ignition | Bosch EMS |
| | |
| Chassis | |
| Frame | Chromium-Molybdenum-Steel trellis frame, powder coated |
| Subframe | Chromium-Molybdenum-Steel trellis frame, powder coated |
| Handlebar | Steel |
| Front suspension | WP-USD Ø 43 mm |
| Rear suspension | WP-Monoshock |
| Suspension travel front/rear | front 142mm / rear 150mm |
| Front brake | ByBre, opposed four piston caliper, brake disc Ø 320 mm |
| Rear brake | ByBre, single piston, floating caliper, brake disc Ø 230 mm |
| ABS | Bosch 9.1MB Two Channel |
| Wheels front/rear | Spoked wheels with aluminium rims, 3 x 17″; 4 x 17″ |
| Tyres front/rear | Metzeler M5 110/70-R17; 150/60-R17 |
| Chain | 5/8 x 1/4″ / X-Ring |
| Silencer | Stainless steel/ Aluminum silencer with regulated catalytic converter |
| Steering head angle | 65° |
| Triple clamp offset | 33 mm |
| Trail | 95 mm |
| Wheel base | 1357 +/-15,5mm |
| Ground clearance | 170 mm |
| Seat height | 835 mm |
| Tank capacity (approx.) | 9,5 litres/ 2.5 litres reserve |
| Weight (without fuel, approx) | 148 kg |
Manufacturer Specifications and appearance are subject to change without prior notice on Total Motorcycle (TMW).