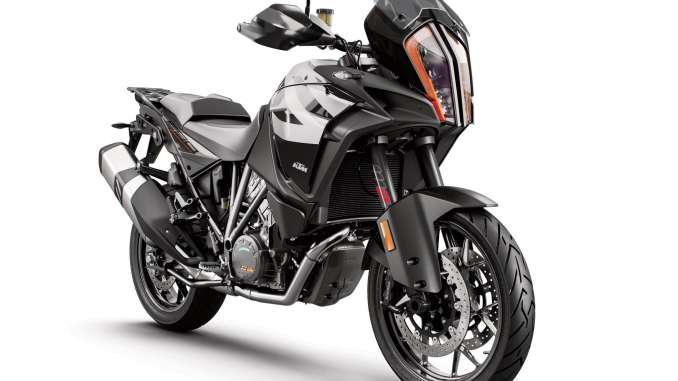 UNRIVALLED PERFORMANCE.
2019 KTM 1290 Super Adventure S:
Whether it's cracking the throttle wide open out of an exhilarating corner, or braking hard while tipping it in, bending the laws of physics is what the KTM 1290 SUPER ADVENTURE S is made for. Its powerful engine combined with a mere 473.9 lb dry weight is kept in check by the most advanced electronics in the world of motorcycling. All you have to do is focus on the road ahead and hold on tight, while enjoying every twist and turn en route to your destination.
2019 KTM 1290 Super Adventure S Totalmotorcycle.com Key Features
KTM: READY FOR ANYTHING IN 2019
KTM unveiled its most comprehensive, innovative and extreme range ever when it presented five new motorcycles at the EICMA show in Milan today (Tuesday, November 6). Leading its 2019 line-up is the eagerly anticipated KTM 790 ADVENTURE and KTM 790 ADVENTURE R. "You spoke, we listened." KTM is a riders' company and these all-new models are a direct result of customer feedback mixed with the brand's experience and expertise.
Punching way above their cubic capacities, with these two machines KTM sets a new performance and offroad ability benchmark in the mid-capacity travel enduro market.
The KTM 790 ADVENTURE is for travel enduro fans of every ambition and ability, ready to discover new roads whichever way it's pointed at – no matter surface. The KTM 790 ADVENTURE R is a lightweight, agile and technically advanced machine for adventurers that endeavor to challenge themselves while challenging tricky terrain. Both powered by the 799cc LC8c parallel twin – first seen in the KTM 790 DUKE – the engine has been tuned to deliver its torque lower down the rev range to fit the specific requirements of adventure riding.
The result is smooth acceleration, plentiful performance and a 450 km range from a 20-liter tank.
Each of these rugged bikes have been developed by some of the best adventure riders in the world and in conjunction with the Red Bull KTM Rally Factory Racing Team to provide a confidence-inspiring chassis with a low center of gravity and riding ergonomics to suit riders of all sizes and spirit. A full suite of rider assistance systems, easily navigated and activated with a bar-mounted menu switch, aligned to a full color, TFT display, allow the adventurous to get the most from these machines in all situations.
Elsewhere in the KTM Travel Enduro range, the incredible KTM 1090 ADVENTURE R, KTM 1290 SUPER ADVENTURE S and KTM 1290 SUPER ADVENTURE R receive new colors and graphics to keep these exciting machines looking as sharp and bold as they perform.
Rebooting supermoto for the road, the KTM 690 SMC R returns in 2019 and takes the KTM READY TO RACE approach to its purest incarnation on the street; lightweight, agile, addictive single-cylinder punch, premium chassis components and now backed up by leading performance enhancing electronics.
Powering the KTM 690 SMC R is the latest generation LC4 engine; the world's most powerful production single-cylinder engine dishes up a devastating 74 hp and 73.5 Nm of torque. Getting the most from this performance in all situations is a suite of rider assistance systems. Two ride modes – Street and Sport – cornering ABS, lean angle-sensitive motorcycle traction control (MTC), motor slip regulation (MSR) and Quickshifter+ are new to the game, with the familiar Supermoto ABS mode aiding rear slides with front-end confidence. All this is packaged in an updated chassis and new subframe, supported by the latest generation fully-adjustable WP APEX suspension and wrapped up in slimmer, sharper bodywork. Better still, the fun goes further with a 1.5-liter larger fuel tank.
The new KTM 690 ENDURO R is even more perfectly positioned to connect the tarmac and trails, also benefitting from the same engine, electronics and chassis improvements made to its sliding Supermoto sibling, but in a platform completely focused on offroad.
Evolution means retaining everything that was good about the previous model and building on that. Under the new seat and fresh bodywork –sharpened for both style as well as better movement on the bike – is an all-new chassis with WP XPLOR suspension derived from KTM's world-beating EXC models. Designed to be confidence-inspiring with ease of handling, it is ready to tackle everything from easy trails to extreme offroad obstacles as well as being a competent every day street bike. Endless enduro without the need to ever trailer to the trails.
The newly developed KTM SX-E 5 is the next step in KTM's innovative line-up. Combining class-leading knowledge in youth motorcycling with years of development work in the e-sector, the KTM SX-E 5 is based on the incredibly popular 2-stroke KTM 50 SX with a high-end chassis powered by an electric motor. The mission was clear: to create an ultra-competitive machine that is also easy to ride, even for pure beginners.
The KTM SX-E 5 enjoys the advantage of zero emissions, low noise and minimal maintenance, which makes it ideal for youngsters looking to make the first step into the world of motorcycling and thanks to its dynamic design, it is ideal for the growing rider with its adjustable seat height.
The KTM PowerPack can provide more than two hours of riding for a beginner – or 25 minutes for the faster junior racers – and with its external worldwide charger, full power is restored in approximately one hour. Coming from the READY TO RACE company, the KTM SX-E 5 will set a new benchmark within the electric-minicycle market in terms of performance, rideability, safety and serial standard.
As unveiled last month in Cologne, also joining the 2019 range is a sharper, stronger and more refined version of the KTM 1290 SUPER DUKE GT. The most radical long-distance Sports Tourer on the market takes the best from 'The Beast'; phenomenal engine performance, street handling and race track capabilities of the KTM 1290 SUPER DUKE R are brought into a machine that is as happy munching massive miles in comfort as it is carving up challenging corners. Major updates to this premium machine can be found in the engine, suspension, electronics and bodywork with a focus on improving comfort and performance – be it while two-up touring, continent cruising or track attacking.
The introduction of these new models sees the 2019 KTM range as distinctive and diverse as ever, with something for riders of all ages and abilities to create unforgettable riding memories in the unique READY TO RACE style. For more news about the KTM 2019 model range please visit www.ktm.com or your nearest official KTM dealer.
2019 KTM 1290 Super Adventure S Totalmotorcycle.com Features and Benefits
ENGINE & EXHAUST
There's more than enough power at your fingertips to explore beyond your wildest imagination, thanks to the KTM 1290 SUPER ADVENTURE S's 1301 cc V-twin engine. Immense power, total satisfaction.
ENGINE
CLASS-LEADING POWER
The 1301 cc V-twin engine's 160 hp with 140 Nm of torque are equally suited to lazy street riding as they are to full-throttle blasts onroad or off. The combination of lightweight chassis engineering and a compact but powerful engine take the KTM 1290 SUPER ADVENTURE S to the top of its class in terms of power-to-weight ratio and ride dynamics. A unique mix of the highest quality components combined with a fully developed and reliable engine allows extremely long service intervals of 15,000 km.
CHASSIS
With its ultra-lightweight tubular trellis frame, a high-strength, die-cast, open-lattice swingarm and top-quality WP Suspension components, the KTM 1290 SUPER ADVENTURE S offers outstanding stability and control in any situation. Keeping asphalt lovers in mind, the 1290 S is fitted with a 19-inch wheel up front and 17-inch at the rear, while excellent braking power is ensured thanks to world-renowned market leader BREMBO.
FRAME
STEEL PERFECTION
The chrome-molybdenum steel trellis frame is at the center of the bike's excellent robust chassis. Laser-cut and robot welded with a superb surface finish, it weighs a mere 9.8 kg, keeping the total unfueled weight at an impressively low 217 kg. All muscle, no fat.
SUSPENSION
The innovative WP semi-active suspension enables the rider to select four spectrums of use: 'Comfort', 'Street', 'Sport' and 'Offroad' while the SCU (Suspension Control Unit) adapts the damping rates in real-time to the riding surface and rider, based on the information provided by a set of stroke sensors and accelerometers. In addition, the spring preload of the rear suspension can be set to four pre-defined settings (solo, solo with luggage, two-up and two-up with luggage) – providing the perfect geometry in all situations.
WHEELS
DIE-CAST WHEELS
Alloy rims, manufactured in a low-pressure die casting process, are featherweight, and make the bike lighter overall. They also minimize the unsprung masses and moment of inertia, with a positive impact on handling and ride dynamics. The KTM 1290 SUPER ADVENTURE S gets a set of extremely grippy and durable tubeless Pirelli Scorpion Trail II's – sized at 120/70 ZR 19-inch and 170/60 ZR 17-inch. They are the perfect wingmen for this corner stormer.
BRAKES
BRAKING PERFECTION
Precise. Powerful. Consistent. Just as you would expect from a set of BREMBO brakes. Up front you'll find twin 320 mm diameter discs, which are radially mounted, plus 4-piston fixed calipers. At the rear, excess speed is taken care of by a generously dimensioned 267 mm diameter disc. And in case of an emergency, BOSCH's two-channel 9M+ ABS is there to save the day.
FUEL TANK
LONG RANGE
The KTM 1290 SUPER ADVENTURE S is more than just light, powerful and dependable. Thanks to low fuel consumption, a 23-liter fuel tank and 15,000 km service intervals it also hardly ever needs to take a break.
ERGONOMICS & COMFORT
Depending on the adventure, the bike's ergonomics can be easily adjusted to suit the rider's style, stature and preference. This equals a more comfortable ride, and a big grin once you get off it at the end of the day.
HANDLEBAR
TOTAL SATISFACTION
With two handlebar clamping positions: 10 mm forwards or backwards from stock; plus five reach settings of the hand levers, the rider has more freedom to move, greater control, and uncompromised comfort, which means a more satisfying adventure ride. Illuminated switches are designed to aid quick and easy access to the many control options from a natural riding position.
FOOTPEGS
RIDE COMFORT
Two footpeg positions: stock or 10 mm up and back (diagonally), allow riders to set the comfort level to suit their height and riding preference, which can make a big difference on a long adventure ride.
SEATS
TOURING COMFORT
This is where you'll hopefully spend a lot of time, so the seat has to provide support, adequate feedback and freedom of movement. Thanks to KTM's state-of-the-art 3D foam padding, the KTM 1290 SUPER ADVENTURE S has your backside covered for those long days in the saddle. When exploring far it's all about comfort for you and your passenger. In addition, you can choose between two seat positions (860 mm or 875 mm).
WINDSHIELD
QUICK ADJUST WINDSHIELD
The windshield's height can be changed as quickly as you can change your mind, thanks to the easily operated self-locking winder.
BODYWORK & GRAPHICS
The bodywork on the KTM 1290 SUPER ADVENTURE S is not only shaped to impress, but also to give you unrivalled performance on the ride. The sporty graphics highlight the bike's many innovative parts and features – such as the state-of-the-art display and user-friendly functions that enhance the riding experience.
SOFTWARE & ELECTRONICS
Controlling its immense power in all situations is simple thanks to the smoothly operating software and electronics package. MTC (KTM's lean angle-sensitive traction control system – Motorcycle Traction Control), Cornering ABS and ride modes support your riding – and do it gently and almost imperceptibly. The only intervention you notice is your grin from ear-to-ear.
2019 KTM 1290 Super Adventure S – Totalmotorcycle.com International Specifications/Technical Details
US MSRP Price: $18499  USD
Canada MSRP Price: $ See Dealer for Pricing in CDN
Europe/UK MSRP Price: £ See Dealer for Pricing in GBP (On The Road inc 20% Vat)
Australia MSRP Price: See Dealer for Pricing in AU
| | |
| --- | --- |
| ENGINE | |
| ENGINE TYPE | 2-cylinder, 4-stroke, V 75° |
| DISPLACEMENT | 1,301 cc |
| BORE / STROKE | 108 / 71 mm |
| POWER | 118 kW (160 hp) @ 8,750 rpm |
| TORQUE | 140 Nm @ 6,750 rpm |
| COMPRESSION RATIO | 13.1:1 |
| STARTER / BATTERY | Electric starter / 12V 11.2Ah |
| TRANSMISSION | 6 gears |
| FUEL SYSTEM | Keihin EFI (throttle body 52 mm) |
| CONTROL | 4 V / DOHC |
| LUBRICATION | Pressure lubrication with 3 Eaton pumps |
| ENGINE OIL | Motorex, SAE 10W-50 |
| PRIMARY DRIVE | 40:76 |
| FINAL DRIVE | 17:42 |
| COOLING | Liquid cooling |
| CLUTCH | PASC™ slipper clutch, hydraulically operated |
| IGNITION / ENGINE MANAGEMENT | Keihin EMS with RBW and cruise control, double ignition |
| TRACTION CONTROL | MTC (lean-angle sensitive, 4-mode, disengageable) |
| | |
| | |
| CHASSIS | |
| FRAME | Chromium-molybdenum-steel trellis frame, powder coated |
| SUBFRAME | Aluminum, powder coated |
| HANDLEBAR | Aluminum, tapered, Ø 28 / 22 mm |
| FRONT SUSPENSION | WP Semi-active Suspension USD Ø 48 mm |
| REAR SUSPENSION | WP Semi-active Suspension shock absorber |
| SUSPENSION TRAVEL FRONT / REAR | 200 / 200 mm |
| FRONT BRAKE | 2 × Brembo four piston, radially mounted caliper, brake disc Ø 320 mm |
| REAR BRAKE | Brembo two piston, fixed caliper, brake disc Ø 267 mm |
| ABS | Bosch 9ME Combined-ABS (incl. Cornering-ABS and offroad mode, disengageable) |
| WHEELS FRONT / REAR | Cast aluminum wheels 3.50 × 19″; 5.00 × 17″ |
| TIRES FRONT / REAR | 120/70 ZR 19; 170/60 ZR 17 |
| CHAIN | X-Ring 5/8 × 5/16″ |
| SILENCER | Stainless steel silencer with regulated catalytic converter |
| STEERING HEAD ANGLE | 64° |
| TRAIL | 120 mm |
| WHEEL BASE | 1.560 ± 15 mm |
| GROUND CLEARANCE | 220 mm |
| SEAT HEIGHT | 860/875 mm |
| FUEL TANK CAPACITY | approx. 23 liters / 3.5 liters reserve |
| DRY WEIGHT | approx. 215 kg |
Manufacturer Specifications and appearance are subject to change without prior notice on Total Motorcycle (TMW).