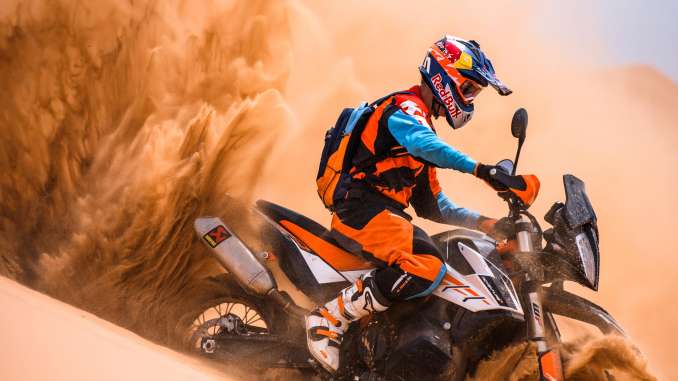 EXTREME ADVENTURE.
2019 KTM 790 Adventure R:
Developed from KTM's offroad race DNA, the 790 ADVENTURE R is a serious offroad motorcycle equipped for extreme terrain. With the hardcore adventurer in mind, it balances the power of a twin, with the lightness and agility of a single-cylinder offroad bike, to open up new riding possibilities. It offers an impressive fuel range without compromising agility, feeding a powerful yet compact, smooth and reliable engine. Access more extreme and distant offroad terrain thanks to easy-to-use rider aids and practical ergonomics.
KTM: READY FOR ANYTHING IN 2019
KTM unveiled its most comprehensive, innovative and extreme range ever when it presented five new motorcycles at the EICMA show in Milan today (Tuesday, November 6). Leading its 2019 line-up is the eagerly anticipated KTM 790 ADVENTURE and KTM 790 ADVENTURE R. "You spoke, we listened." KTM is a riders' company and these all-new models are a direct result of customer feedback mixed with the brand's experience and expertise.
Punching way above their cubic capacities, with these two machines KTM sets a new performance and offroad ability benchmark in the mid-capacity travel enduro market.
The KTM 790 ADVENTURE is for travel enduro fans of every ambition and ability, ready to discover new roads whichever way it's pointed at – no matter surface. The KTM 790 ADVENTURE R is a lightweight, agile and technically advanced machine for adventurers that endeavor to challenge themselves while challenging tricky terrain. Both powered by the 799cc LC8c parallel twin – first seen in the KTM 790 DUKE – the engine has been tuned to deliver its torque lower down the rev range to fit the specific requirements of adventure riding.
The result is smooth acceleration, plentiful performance and a 450 km range from a 20-liter tank.
Each of these rugged bikes have been developed by some of the best adventure riders in the world and in conjunction with the Red Bull KTM Rally Factory Racing Team to provide a confidence-inspiring chassis with a low center of gravity and riding ergonomics to suit riders of all sizes and spirit. A full suite of rider assistance systems, easily navigated and activated with a bar-mounted menu switch, aligned to a full color, TFT display, allow the adventurous to get the most from these machines in all situations.
Elsewhere in the KTM Travel Enduro range, the incredible KTM 1090 ADVENTURE R, KTM 1290 SUPER ADVENTURE S and KTM 1290 SUPER ADVENTURE R receive new colors and graphics to keep these exciting machines looking as sharp and bold as they perform.
Rebooting supermoto for the road, the KTM 690 SMC R returns in 2019 and takes the KTM READY TO RACE approach to its purest incarnation on the street; lightweight, agile, addictive single-cylinder punch, premium chassis components and now backed up by leading performance enhancing electronics.
Powering the KTM 690 SMC R is the latest generation LC4 engine; the world's most powerful production single-cylinder engine dishes up a devastating 74 hp and 73.5 Nm of torque. Getting the most from this performance in all situations is a suite of rider assistance systems. Two ride modes – Street and Sport – cornering ABS, lean angle-sensitive motorcycle traction control (MTC), motor slip regulation (MSR) and Quickshifter+ are new to the game, with the familiar Supermoto ABS mode aiding rear slides with front-end confidence. All this is packaged in an updated chassis and new subframe, supported by the latest generation fully-adjustable WP APEX suspension and wrapped up in slimmer, sharper bodywork. Better still, the fun goes further with a 1.5-liter larger fuel tank.
The new KTM 690 ENDURO R is even more perfectly positioned to connect the tarmac and trails, also benefitting from the same engine, electronics and chassis improvements made to its sliding Supermoto sibling, but in a platform completely focused on offroad.
Evolution means retaining everything that was good about the previous model and building on that. Under the new seat and fresh bodywork –sharpened for both style as well as better movement on the bike – is an all-new chassis with WP XPLOR suspension derived from KTM's world-beating EXC models. Designed to be confidence-inspiring with ease of handling, it is ready to tackle everything from easy trails to extreme offroad obstacles as well as being a competent every day street bike. Endless enduro without the need to ever trailer to the trails.
The newly developed KTM SX-E 5 is the next step in KTM's innovative line-up. Combining class-leading knowledge in youth motorcycling with years of development work in the e-sector, the KTM SX-E 5 is based on the incredibly popular 2-stroke KTM 50 SX with a high-end chassis powered by an electric motor. The mission was clear: to create an ultra-competitive machine that is also easy to ride, even for pure beginners.
The KTM SX-E 5 enjoys the advantage of zero emissions, low noise and minimal maintenance, which makes it ideal for youngsters looking to make the first step into the world of motorcycling and thanks to its dynamic design, it is ideal for the growing rider with its adjustable seat height.
The KTM PowerPack can provide more than two hours of riding for a beginner – or 25 minutes for the faster junior racers – and with its external worldwide charger, full power is restored in approximately one hour. Coming from the READY TO RACE company, the KTM SX-E 5 will set a new benchmark within the electric-minicycle market in terms of performance, rideability, safety and serial standard.
As unveiled last month in Cologne, also joining the 2019 range is a sharper, stronger and more refined version of the KTM 1290 SUPER DUKE GT. The most radical long-distance Sports Tourer on the market takes the best from 'The Beast'; phenomenal engine performance, street handling and race track capabilities of the KTM 1290 SUPER DUKE R are brought into a machine that is as happy munching massive miles in comfort as it is carving up challenging corners. Major updates to this premium machine can be found in the engine, suspension, electronics and bodywork with a focus on improving comfort and performance – be it while two-up touring, continent cruising or track attacking.
The introduction of these new models sees the 2019 KTM range as distinctive and diverse as ever, with something for riders of all ages and abilities to create unforgettable riding memories in the unique READY TO RACE style. For more news about the KTM 2019 model range please visit www.ktm.com or your nearest official KTM dealer.
2019 KTM 790 Adventure R Totalmotorcycle.com Features and Benefits
ENGINE & EXHAUST
The LC8c is the most compact performance engine on the market, and the 790 ADVENTURE R's version was specifically adapted to the needs of serious offroad adventure riding: minimal vibration thanks to two balancer shafts, a 6-speed sequential gearbox, and advanced engineering for weight optimisation. The exhaust is made from stainless steel, as is the muffler, which has been designed to be as small and light as possible to aid mass centralisation. This compact muffler is positioned as high as possible for better ground clearance.
ENGINE
COMPACT PERFORMANCE
The LC8c is the most compact performance engine on the market. Pumping out 95 hp (70 kW), combined with modern electronics and a 6-speed sequential gearbox, and with an estimated 400 km fuel range, it is the perfect combination for extreme offroad exploration. On transport stages a smooth ride is assured thanks to two balancer shafts, which keep vibration to a minimum, and, with long service intervals of 15,000 km, you can ride for days on end without a worry.
AIRFILTER
EASY ACCESS
When designing the KTM 790 ADVENTURE R a special effort was made to have the airfilter easily accessible for cleaning and servicing while on a ride. The airbox is located under the seat with the intake at the rear of the bike to aid in the overall packaging of the motorcycle. This means that in addition to easy airfilter access, the seat and tank could be kept low and the bike could be made narrower where it counts: in the leg area. It has also allowed for a central positioning of the electronics to keep mass centralized.
COOLING
ADVANCED COOLING
During extreme offroad exploration, it's important the LC8c engine keeps its cool to ensure its advanced power and performance are maintained. Thanks to the KTM 790 ADVENTURE R's design and advanced cooling technology, riding for hours in hot conditions is possible.
EXHAUST
STAINLESS STEEL EXHAUST
A redesigned stainless-steel exhaust system utilizes a mid-exhaust sound damper to centralize mass, which allows for a relatively small muffler, thereby maximizing the exhaust system's ground clearance. The sound – ready for extreme adventure!
CHASSIS
The KTM 790 ADVENTURE R is ready to conquer all extremes. Its tubular CroMo steel frame and lightweight steel trellis subframe are engineered to be compact but strong, to handle harsh conditions. A steering damper aids stability, while the heavy-duty spoked 21-inch front and 18-inch rear wheels with METZELER Karoo 3 tyres are specifically developed for offroad riding performance.
SUSPENSION
SPRUNG FOR SERIOUS ADVENTURE
When setting off for an adventure ride, there are so many variables with bike setup that can influence the bike's performance: rider weight, extra luggage, fuel – it all has to be taken into account before heading offroad. The KTM 790 ADVENTURE R comes with high-performance WP suspension perfectly suited to venturing farther off the beaten track, which means, no matter the type of terrain, it can be adjusted to suit most riders' personal preference and riding conditions.
WHEELS & TYRES
MAXIMUM OFFROAD PERFORMANCE
The spoked 21-inch front and 18-inch rear wheels are specifically developed to handle hardcore offroad exploration – heavy-duty, lightweight and long-lasting – they are definitely up to the task. They are fitted with METZELER Karoo 3 adventure tires to maximize offroad performance.
FRAME
AGILE YET STRONG
The overall geometry of the KTM 790 ADVENTURE R was developed for light handling, and comfort on long distance exploration missions – with unchallenged offroad capability. Strength was a big consideration in the design, so a tubular CroMo steel frame is used with the engine acting as a stressed member to reduce weight and overall size. All design and engineering innovations are focused on being compact and light.
BRAKES
ALL-TERRAIN STOPPING POWER
Pulling up the mighty 790 ADVENTURE R on any terrain is easy thanks to twin 320 mm diameter brake discs with 4-piston, radially mounted calipers up front, and a 260 mm diameter brake disc actuated by a double piston floating caliper in the rear. The front and rear brake combination provides an ideal mix of control and stopping power in all riding conditions.
FUEL TANK
FUELED TO TRAVEL FAR
The 20 liter fuel tank is central to this new bike's design innovation. The main tank volume is placed as low as possible for various reasons including: lowering the center of gravity for improved handling; the bike is narrow in the knee area when standing up, adding a lot of control when riding off-road; it allows for a straighter and lower seat, giving the rider more freedom to move and aiding better accessibility; and provides an exceptional fuel range of approximately 450 km on the open road which is a big
ERGONOMICS & COMFORT
The KTM 790 ADVENTURE R has several adjustable features to enhance rider comfort, including a higher or lower seat option, and six handlebar mount positions. A low-slung fuel tank, which lowers the centre of gravity, improves handling, and allows the rider to move around more freely. Its long-distance race ergonomics are designed for extreme riding, and the easy-to-access air filter makes it simple to change on the trail.
HANDLEBAR
ALLOY TAPERED HANDLEBAR
An aluminum-tapered handlebar allows maximum control while offering a comfortable riding position. The handlebar can be mounted in six different positions, which results in 30 mm of adjustment range, allowing for a personal fit.
FOOTPEGS
ALL-TERRAIN FOOTPAGS
Whether it's all-day riding while standing or sitting, the KTM 790 ADVENTURE R's strong footpegs have been developed for superior ergonomics and to accommodate street or off-road boots in a wide range of conditions. The footpegs have rubber inserts, which can be removed.
SEATS
ALL-DAY COMFORT
The single piece, offroad style seat was developed to allow maximum freedom of movement, plenty of grip and still offer the comfort needed for long days in the saddle. The two-part seat of the KTM 790 ADVENTURE also fits the KTM 790 ADVENTURE R.
WINDSHIELD
SHAPED FOR ATTACK
The KTM 790 ADVENTURE R has a low-profile windshield, which enables the rider to move around the bike freely when standing and offers an unobstructed view directly in front of the bike, even when the screen is covered in dirt. The higher 790 ADVENTURE windshield can be used on the 790 ADVENTURE R.
BODYWORK & GRAPHICS
This all-new travel enduro concept is built around a lightweight and compact enduro-oriented chassis, and continues with sleek but impact-resistant bodywork, which not only offers protection for the motorcycle, but also reduces the overall weight of the 790 ADVENTURE R so it can be easily ridden further offroad. Its bold and agressive KTM design has been developed in parallel with the new Factory Racing rally bike.
TRIM PARTS
LED ILLUMINATION
LED lights are used on the KTM 790 ADVENTURE R as the main headlight, taillight and indicators. LED lights offer great illumination and visibility. They are compact, so they help reduce the overall volume of the motorcycle.
SOFTWARE & ELECTRONICS
When you find yourself in a tricky situation, ABS, MTC and ride modes are there to assist in a variety of conditions. MTC (Motorcycle Traction Control) is KTM's lean angle sensitive traction control system that reacts immediately if the rotational speed of the rear wheel is disproportionate to the riding situation. Rally mode allows a more direct control over the various functions, allowing the rider to determine the character of the bike more freely. The rider can more precisely fine-tune the slip adjust to match the condition of the surface, the skill level of the rider and the requirements of the ride. The Ride-By-Wire system electronically translates the throttle commands of the rider into optimum throttle valve positions for the current riding situation. The Ride-By-Wire system electronically translates the throttle commands of the rider into optimum throttle valve positions for the current riding situation.
ACCESSORIES & LUGGAGE
The KTM 790 ADVENTURE R is ready to rumble straight off the showroom floor, but when you need to set it up to suit your individual needs KTM PowerParts boast a wide range of accessories to enhance your riding experience. All KTM PowerParts are developed specifically for their chosen machine, guaranteeing KTM riders only get parts that perfectly complement their ride and provide that important 'factory fit' straight from the dealer.
2019 KTM 790 Adventure R – Totalmotorcycle.com International Specifications/Technical Details
US MSRP Price: $ USD
Canada MSRP Price: $ See Dealer for Pricing in CDN
Europe/UK MSRP Price: £ See Dealer for Pricing in GBP (On The Road inc 20% Vat)
Australia MSRP Price: See Dealer for Pricing in AU
| | |
| --- | --- |
| CHASSIS | |
| FRAME | Chromium-molybdenum-steel frame using the engine as stressed element, powder coated |
| SUBFRAME | Chromium-molybdenum-steel trellis, powder coated |
| HANDLEBAR | Aluminum, tapered, Ø 28 / 22 mm |
| FRONT SUSPENSION | WP-USD Ø 48 mm |
| REAR SUSPENSION | WP PDS shock absorber |
| SUSPENSION TRAVEL FRONT / REAR | 240 / 240 mm |
| FRONT BRAKE | 2 × radially mounted 4 piston caliper, brake disc Ø 320 mm |
| REAR BRAKE | 2 piston floating caliper, brake disc Ø 260 mm |
| ABS | Bosch 9.1 MP (incl. Cornering-ABS and offroad mode, disengageable) |
| WHEELS FRONT / REAR | Spoked wheels with aluminum rims, 2.50 × 21″; 4.50 × 18″ |
| TIRES FRONT / REAR | 90/90-21″; 150/70-18″ |
| CHAIN | X-Ring 5/8 × 1/4″ |
| SILENCER | Stainless steel primary and secondary silencer |
| STEERING HEAD ANGLE | 63.7° |
| TRAIL | 110.4 mm |
| WHEEL BASE | 1,528 mm |
| GROUND CLEARANCE | 263 mm |
| SEAT HEIGHT | 880 mm |
| FUEL TANK CAPACITY | approx. 20 liters |
| DRY WEIGHT | approx. 189 kg (without fuel) |
Manufacturer Specifications and appearance are subject to change without prior notice on Total Motorcycle (TMW).