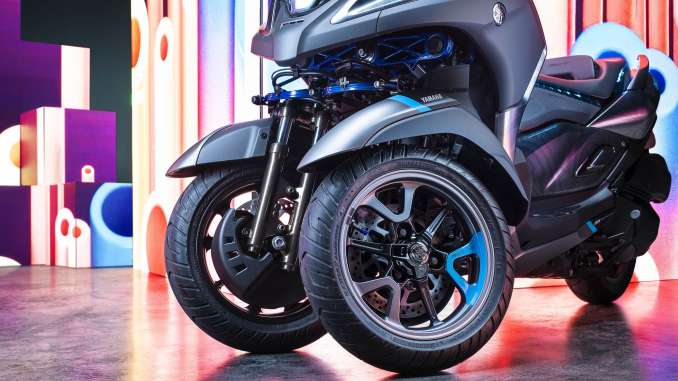 PREPARING FOR THE FUTURE, NOW.
2019 Yamaha 3CT Concept:
Europe has one of the highest levels of urbanization in the world, with nearly three quarters of the population living in towns and cities, and this equates to around 550 million European citizens who need access to an affordable, reliable and accessible mode of transport. This number is forecast to grow significantly as more people are attracted by the many advantages of urban life, and the increase in congestion will require a dramatic change in the transport choices that are made.
Yamaha Urban Mobility
Yamaha's Urban Mobility vehicles offer an accessible personal transport solution for anyone who is looking for a user-friendly commuting solution – regardless of their age, gender or riding experience.
The company's goal is to build attractive, easy and accessible vehicles that give everyone the freedom to move, and enrich every aspect of urban life – while offering value for money together with Yamaha quality and reliability.
In 2015 Yamaha decided to expand the Urban Mobility traditional scooter range, launching the innovative Tricity 125, followed in 2017 by the 155 version. This move is now powering the daily commuting of over 22,000 customers riding urban areas as Paris, Milan or Rome. With its innovative lightweight 3-wheel design that gives increased control in different weather and surface conditions, the easy to ride Yamaha Tricity has succeeded in attracting a new generation of customers to the Urban Mobility segment.
Yamaha's leading 3-wheel technology: The next step
Many of these new customers who have been converted to the 3-wheel scooter concept in recent years are now looking to step up to a larger 3-wheel model that offers increased performance and on-board comfort while retaining the easy-to-use character of the Tricity.
To feed those customers, but in general all the ones that are looking for an innovative solution to commute with extra stability, Yamaha is looking towards the next phase in its comprehensive 3-wheel vehicle development programme presenting the 3CT prototype that is seen for the first time at the EICMA Show.
This prototype confirms that Yamaha's future design direction will maintain the successful formula already proven by the Tricity, with ease of use and lightness being amongst the key goals, along with increased performance for higher speeds, and increased dynamism. This will give it the ability to operate over a wider range, enabling longer distance commuting into the city while retaining the agility of the Tricity in traffic.
Innovative Tilt Lock Assist
To increase the riding comfort in the traffic stop and go, the 3CT is equipped with a Tilt Lock Assist system that supports the rider to stop while the scooter remains straight-up. This new Tilt Lock Assist has an innovative design that does not lock the front suspension, keeping the vehicle much smoother in stop and go operation as well as moving it by foot at parking places.
Fun, fashionable and fresh new style
As a perfect combination of Yamaha DNA and Tricity family feeling, the 3CT's dynamic bodywork has an innovative new colour treatment that features a patchwork of randomly shaped 'jigsaw' pieces consisting of numerous different striped patterns that create a distinctive urban-camo look that's unlike anything else. To contrast the eye-catching and original bodywork, the wheels and chassis are predominantly grey with electric blue highlights, accentuating the 3CT's fresh avant-garde looks and giving a coordinated look.
3D printed seat with LED lights
The chic 3CT prototype is full of cool surprises and original design features, including a 3D printed seat – the first time this technology has been featured on a Yamaha chassis.
Best in class 300cc engine
The driving force that makes the 3CT prototype such a strong performer both in the city and on the highway is the new Blue Core 300cc engine, which has been one of the key element to contribute to set XMAX 300 as the best-selling sport scooter in Europe.
Yamaha 3CT prototype: Because we all need to Move.Live.Love.
Designed using the knowledge gained from the company's 3-wheel Tricity as well as the leading Sport Scooters – and featuring the most sophisticated leaning multi-wheel technology with innovative Tilt Lock Assist – the Yamaha 3CT prototype demonstrates what the future holds.
Wherever and whenever, the 3CT has the potential to give everybody the ultimate freedom to Move.Live.Love.
Concept
2019 Yamaha 3CT Concept Totalmotorcycle.com Features and Benefits
Concept
2019 Yamaha 3CT Concept – Totalmotorcycle.com USA Specifications/Technical Details
US MSRP Price: $ USD
Canada MSRP Price: $ CDN
Europe/UK MSRP Price: £ GBP (On The Road inc 20% Vat)
Australia MSRP Price: See Dealer for Pricing in AU
NA
2019 Yamaha 3CT Concept – Totalmotorcycle.com Canada Specifications/Technical Details
NA
2019 Yamaha 3CT Concept – Totalmotorcycle.com European Specifications/Technical Details
NA
2019 Yamaha 3CT Concept – Totalmotorcycle.com Australian Specifications/Technical Details
NA
Manufacturer Specifications and appearance are subject to change without prior notice on Total Motorcycle (TMW).