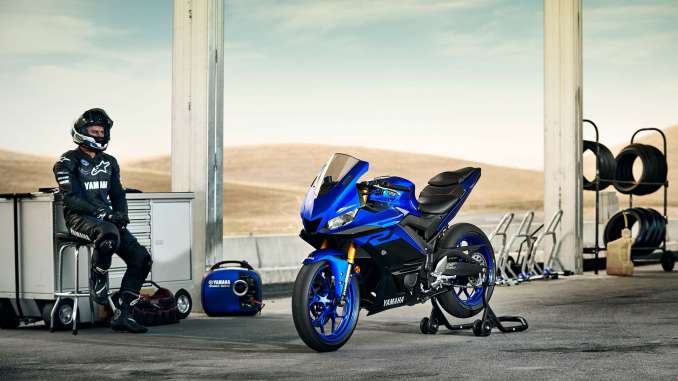 SUPERSPORT RIDING MADE EASY.
2019 Yamaha YZF-R3:
R World is calling! Yamaha introduces the new 2019 YZF-R3, boasting next-generation R-series styling and updated handling to bring it more in line with its supersport stablemates. Whether you're tackling crosstown traffic or a twisty road, the R3 is perfect for new riders who want a sporty machine that's also rider-friendly.
Legendary Yamaha superbike styling, advanced twin cylinder engine and ultra‑light chassis make it the bike of choice.
///Performance
Powering the R3 is a 320 cc, DOHC, parallel twin featuring a 4-valve cylinder head, 32 mm throttle body fuel injection and 6-speed transmission. Dig a bit deeper and you will find many of the high tech features found in our R6 power plant inside this engine too. Highway speeds are easily obtainable making the R3 a very versatile machine.
///Easy Riding
The R3 has been designed to provide a fun, enjoyable riding experience. To that end, the R3 utilizes a lightweight diamond type steel frame which is narrow and compact with a low 780mm (30.7″) seat height. Despite the cool super sport styling, the R3 offers a comfortable, upright riding position which reduces rider fatigue and increases the fun factor.
56 MPG
2018 World SSP300
After a tough 2018 race series, leading Yamaha bLU cRU rider Galang Hendra Pratama (Yamaha Pata Semakin di Depan Biblion Motoxracing Team) took a creditable 10th overall in the World SSP300 Championship that ended with the 11th round of the at the Circuit de Nevers Magny-Cours, France.
At the final race of this highly competitive championship the Yamaha YZF-R3 demonstrated its outstanding performance with Daniel Valle taking hisBCD Yamaha MS RacingYF-R3 to victory on the day, while R3-mounted riders took 4 out of the top 5 places, demonstrating the race-winning performance of this lightweight supersport.
All-New Styline
Featuring new bodywork and ergonomics inspired by the MotoGP® YZR-M1®, the 2019 YZF-R3® is sleeker, more aerodynamic and more refined than ever before.
High-Revving Supersport Engine
Yamaha's championship-winning technology gives the YZF-R3 a broad spread of power with exciting high-rpm performance.
Upgraded Suspension
The new inverted fork works with a Monocross rear shock to provide exceptional handling, with balanced chassis rigidity, a near 50/50 weight balance, and damping and spring settings designed for a wide range of road conditions
Compact Chassis
With a fully-fueled weight of only 368 pounds and a seat height of only 30.7 inches, the YZF-R3 is ultra-light, nimble, and confidence inspiring—whether on tight city streets or wide-open racetracks.
Practical Performance
A range of exclusive technologies ensures the YZF-R3 combines Yamaha's legendary refinement and reliability with thrilling performance, all while sipping fuel at a efficient 56 mpg.
New for 2019
Ultimate Lightweight Supersport
The all-new YZF-R3 features a range of features to boost performance, quality and style. Sleek new bodywork echoes Yamaha's YZR-M1 MotoGP® machine, with high-tech LED lighting and new instruments. A new inverted fork offers enhanced suspension feel and feedback. The lower fuel tank and revised handlebar position improve rider ergonomics. And new Dunlop® radial tires boost grip and road feel.
Yamaha's R World Calls for Excitement with New 2019 YZF-R3 Motorcycle
Complete 2019 Supersport Lineup Offers Riders the Pinnacle of Performance
Cypress, CA – October 10, 2018 – Summoning those in search of exhilarating experiences, Yamaha Motor Corporation, U.S.A., launched a new YZF-R3 Supersport motorcycle today capped by the release of their video, "R World is Calling." Serving as the entry point to the company's 2019 U.S. Supersport lineup that includes the YZF-R6, YZF-R1, and YZF-R1M, the new YZF-R3 and YZF-R3 ABS models boast next-generation R-series styling and updated handling features.
R World is Calling
Yamaha has a rich heritage of building the most sought after Supersport motorcycles designed to deliver the pinnacle of performance on and off the track. From the rider-friendly YZF-R3 to the competition-focused YZF-R1M, the Yamaha R-series model lineup provides options for riders of all skill levels to experience the pure exhilaration of R World.
New 2019 YZF-R3 and YZF-R3 ABS
Powered by a 321cc twin-cylinder engine that delivers excellent power for navigating cross-town traffic, carving twisty roads, or participating in a track day, the new 2019 YZF-R3 and YZF-R3 ABS models are user-friendly and feature Yamaha's race-inspired R-series styling. While the ABS model adds confidence-boosting stopping performance, both models are perfect for first-time riders or experienced sportbike pilots who prefer a lightweight, nimble machine.
Renowned Engine and Chassis
A reliable 321cc liquid-cooled, four-stroke, in-line twin-cylinder, dual overhead cam (DOHC), eight-valve, fuel-injected engine returns as the heart of the YZF-R3. Featuring the latest combustion technology, lightweight forged aluminum pistons, and all-aluminum DiASil Cylinders with an offset design, the smooth-running and quick-revving YZF-R3 engine produces easy-to-manage power.
A lightweight steel frame with a simple design incorporates the engine's crankcase as a stressed structural member of the chassis, resulting in the perfect balance of rigidity and weight. The long, asymmetrical swingarm design effects the efficient transmission of engine power to the rear wheel, while a preload-adjustable KYB rear shock mounted in a Monocross suspension design contributes to a mass centralization of weight. Combined with an all-new inverted front fork, an all-new triple clamp, 10-spoke cast aluminum wheels, a 298mm front brake disc with a floating twin-piston brake caliper, 32 degrees of handlebar steering range, a 30.7-inch (780mm) seat height, and approximately 50/50 front-rear weight distribution, the YZF-R3 chassis produces nimble handling around town and on the race course.
All-New Inverted Front Fork and Triple Clamp
To help achieve the right balance of comfort and sport riding performance for both street and track, the 2019 YZF-R3 features an all-new KYB 37 mm inverted front fork. Coupled with an all-new triple clamp that incorporates an aluminum handlebar crown with R-series styling, the assembly works to provide the rider with outstanding handling during cornering and braking.
New Fuel Tank Design and Handlebar Position
The easy-to-ride character of the YZF-R3 expands for 2019 thanks to a new fuel tank and fuel tank cover design, along with a handlebar position that is 22 mm lower. Fuel tank capacity remains at 3.7 gallons (14 liters), but the redesigned shape of the tank and cover (31.4 mm wider above the knee area and 20 mm lower at the fuel cap) helps to achieve a feeling of unity between the rider and machine. From riding around town to being tucked in on a straightaway or leaned over while apexing track corners, the ability to easily grip the YZF-R3 from multiple body positions allows the rider to take advantage of its full performance potential.
New Front Fairing and Windscreen Design
The new YZF-R3 features a front fairing and windscreen design that pays homage to Yamaha's flagship MotoGP® race bike, the YZR-M1, with an aggressive look that also achieves outstanding aerodynamic performance. Developed in conjunction with wind tunnel and track tests, the new fairing and windscreen combination reduces aerodynamic drag (CdA) by seven percent, enabling a decrease in air turbulence around the rider's helmet when in a tucked position and a top speed increase of five mph during Yamaha tests. The center duct in the fairing also functions to direct airflow to the radiator, contributing to engine cooling performance.
Additional New Features
New LED headlights and position lights add to the aggressive look of the redesigned front fairing, and a new LCD instrument panel displays essential information that is easy to read at a glance. New Dunlop SPORTMAX GPR-300 radial tires are also featured to provide the YZF-R3 with the best grip in all riding conditions.
2019 Yamaha YZF-R3 Totalmotorcycle.com Features and Benefits
Engine
Potent Twin-Cylinder Powerplant
321cc liquid-cooled, inline 2-cylinder engine delivers excellent power and performance throughout the rpm range. With a 180-degree crank design and integrated counterbalancer, the layout minimizes vibrations for a smooth, refined engine character.
High-Revving Engine Architecture
With a compression ratio of 11.2:1, double overhead cams (DOHC) and four-valve cylinder heads, the YZF-R3 motor is designed for quick-revving performance and high-rpm efficiency to deliver an exciting ride and broad spread of power.
Six-Speed Transmission
A smooth-shifting six-speed gearbox ensures the rider always has the right ratio, whether riding through tight canyon corners or racetrack straightaways.
Modern Fuel Injection
Downdraft induction fuel injection system provides easy starting, excellent fuel economy, and responsive performance in all conditions.
Advanced Cylinder Construction
Yamaha's unique all-aluminum DiASil cylinder is used to ensure excellent heat dissipation, with an innovative offset cylinder design that reduces horsepower loss and improves both power and fuel efficiency.
Strong and Lightweight Pistons
Forged aluminum pistons—the same technology used for the YZF-R1® and YZF-R6®—means lighter weight and excellent strength at higher temperatures, ensuring reliability at higher rpm.
Compact Exhaust System
Short muffler design features modern styling and helps to centralize mass, improving agility for ultra-responsive handling.
Chassis/Suspension
All-New Inverted Front Fork
For 2019, the YZF-R3 features an all-new inverted fork with optimized spring and damping settings. The inverted design allows the greater surface area for the sliding tube, significantly improving fork rigidity for sporty front-end feel and feedback without losing real-world comfort. The new fork design also includes an YZR-M1-inspired top clamp for improved supersport style.
Monocross Rear Shock
The centrally-mounted single shock design centralizes mass and is tuned to strike a balance between ride comfort and sporty performance, making it capable across a wide range of uses, from urban commuting to trackdays.
Plush, Controlled Suspension
41mm KYB® front suspension offers 5.1 inches of travel for rider comfort and control, while a preload-adjustable rear shock allows tuning for passenger and cargo.
Potent Braking with Available ABS
The 298mm floating-mount front disc brake ensures excellent stopping power, while a 220mm floating disc handles the braking performance on the back. The YZF-R3 ABS model also features an antilock braking system to boost rider confidence and prevent wheel lock-ups in reduced-traction conditions.
Sportbike-Spec Wheels and Tires
10-spoke cast aluminum wheels with light hollow axles are both strong and stylish while minimizing unsprung weight for refined handling performance. For 2019, new Dunlop® radial tires offer enhanced grip and feedback, too.
Additional Features
All-New R-Series Styling
The R3 features all-new bodywork that continues the legendary styling born from the YZR-M1 MotoGP® machine. Up front, the glaring face of the R3 features new LED headlights and a central air duct that works with the cross-layered fairing panels to maximize cooling airflow for the engine. Overall, the new body not only boosts refined styling from every angle, it is significantly more aerodynamic at high speeds, too.
Redefined Sportbike Ergonomics
Thanks to lower fuel tank design and lowered handlebars, the rider is able to more naturally grip the machine for improved confidence, especially when tucking aggressively behind the updated windscreen on the racetrack.
LED Lighting
Thanks to the engine placement and overall machine dimensions, the YZF-R3 features a near 50/50 front/rear weight distribution for enhanced performance and road feel.
New Digital Instrumentation
The updated multi-function meter informs the rider of gear position, fuel capacity, real time and average fuel economy, water temp, clock and an oil change trip meter—all presented in a clean, modern layout.
2019 Yamaha YZF-R3 – Totalmotorcycle.com USA Specifications/Technical Details
US MSRP Price: $4999 – $5299 USD
Canada MSRP Price: $6299 CDN
Europe/UK MSRP Price: £ See dealer for pricing in GBP (On The Road inc 20% Vat)
Australia MSRP Price: See dealer for pricing in AU
Engine Type 321cc liquid-cooled, DOHC inline twin-cylinder; 8 valves
Bore x Stroke 68.0mm x 44.1mm
Compression Ratio 11.2:1
Fuel Delivery Fuel Injection
Ignition TCI: Transistor Controlled Ignition
Transmission 6-speed; multiplate clutch
Final Drive Chain
Suspension / Front Inverted telescopic fork; 5.1-in travel
Suspension / Rear Monocross single shock, adjustable preload; 4.9-in travel
Brakes / Front 298mm hydraulic disc; ABS model available
Brakes / Rear 220mm hydraulic disc; ABS model available
Tires / Front 110/70-17 Dunlop® Sportmax® GPR-300
Tires / Rear 140/70-17 Dunlop® Sportmax® GPR-300
L x W x H 82.3 in x 28.7 in x 44.9 in
Seat Height 30.7 in
Wheelbase 54.3 in
Rake (Caster Angle) 25.0°
Trail 3.7 in
Maximum Ground
Clearance 6.3 in
Fuel Capacity 3.7 gal
Fuel Economy** 56 mpg
Wet Weight*** 368 lb / 375 lb (ABS model)
Warranty 1 Year (Limited Factory Warranty)
Color Matte Black w/ABS; Vivid White w/ABS; Matte; Black; Team Yamaha Blue
*** Wet weight includes the vehicle with all standard equipment and all fluids, including oil, coolant (as
applicable) and a full tank of fuel. It does not include the weight of options or accessories. Wet weight is
useful in making real-world comparisons with other models.
2019 Yamaha YZF-R3 – Totalmotorcycle.com Canada Specifications/Technical Details
Engine
Liquid-cooled, DOHC, 8 valves (4 valves/cyl.), inline twin
Displacement
321 cc
Bore and Stroke
68 x 44.1 mm
Compression Ratio
11.2:1
Fuel Delivery
32 mm throttle body F.I.
Estimated Fuel Consumption±
23.5 kpl / 66 mpg (Imp.)
Lubrication
Wet sump
Ignition / Starting
TCI / Electric
Transmission
6-speed
Final Drive
O-ring chain
Chassis
Suspension (Front)
37 mm upside-down fork / 130 mm (5.1″) wheel travel
Suspension (Rear)
Adjustable Monocross / 125 mm (4.9″) wheel travel
Brakes (Front)
298 mm floating disc / twin-piston caliper / ABS equipped
Brakes (Rear)
220 mm disc / single-piston caliper / ABS equipped
Tires (Front)
110/70-17
Tires (Rear)
140/70-17
Critical Data
Length
2,090 mm (82.3″)
Width
730 mm (28.7″)
Height
1,140 mm (44.9″)
Wheelbase
1,380 mm (54.3″)
Rake / Trail
25 degrees / 95 mm (3.7″)
Ground Clearance
160 mm (6.3″)
Seat Height
780 mm (30.7″)
Fuel Capacity
14 litres (3.1 Imp. gal.)
Wet Weight
167 kg (368 lb)
Colour(s)
Yamaha Racing Blue
Matte Black
White
2019 Yamaha YZF-R3 – Totalmotorcycle.com European Specifications/Technical Details
2019 Yamaha YZF-R3 – Totalmotorcycle.com Australian Specifications/Technical Details
TBA
Manufacturer Specifications and appearance are subject to change without prior notice on Total Motorcycle (TMW).