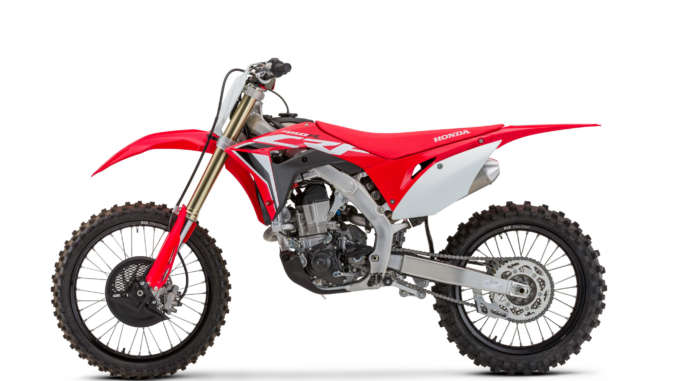 HOLESHOT HUNGRY. PODIUM READY.
2020 Honda CRF450R:
Honda's incredible CRF450R just keeps getting better and better. And if you're looking to dominate the 450 class, this is the bike you want. A whole selection of updates this year make the bike look and handle even better.
Then there's the limited-production CRF450R Works Edition. The RWE gets all the improvements of the CRF450R plus a special hand-ported cylinder head, black DID DirtStar LT-X rims, a new, exclusive Yoshimura exhaust system with titanium header, titanium nitride-coated lower fork legs and shock shaft, an RK gold chain, special ECU settings, a factory-spec gripper seat, and more.
For 2020, Honda's flagship CRF450R—the same platform raced by Team Honda HRC's Ken Roczen and Cole Seely—puts more engine-management choices at the fingertips of racers, with the addition of Honda Selectable Torque Control (HSTC). Developed through HRC's worldwide racing effort, the system maximizes rear-tire hookup to keep all of the Unicam® engine's horsepower driving the bike and rider forward, improving racing success regardless of track conditions. In keeping with racing-body regulations, the system measures rate of rpm increase and adjusts delivery accordingly, and a handlebar-mounted switch enables selection from three levels of delivery (most in class). In addition, the CRF450R's front-rear balance is refined and handling is improved thanks to internal suspension updates, and a new battery position that lowers the machine's center of gravity. Improved rear-brake pad performance and durability, and the exclusive specification of Dunlop Geomax® MX3S tires round out a machine that's ready to take riders to the next level.
2020 Updates
All-new Honda Selectable Torque Control with three levels of intervention. HSTC monitors rpm spikes and responds by temporarily reducing torque to aid rear traction. A handlebar-mounted switch allows selection between three modes, depending on conditions and rider preference.
Revised mapping for riding modes in Standard, Smooth and Aggressive options, selectable via a separate handlebar-mounted switch, enables simple tuning depending on rider preference or course conditions.
Revised internal fork and shock settings for improved chassis balance and overall handling.
Battery position lowered by 28mm moves center of gravity downward to further improve chassis balance and handling.
New rear brake-pad material for improved performance and increased durability.
Elimination of lower rear brake-rotor guard, to improve heat dissipation and reduce unsprung weight.
Updated graphics.
Honda Announces 2020 Dirt Bikes – Performance updates to CRF250R highlight extensive CRF lineup
From the fire-breathing, high-flying CRF450RWE all the way down to the friendly, cute CRF50F, Honda's off-road motorcycle lineup is the most all-encompassing and versatile on the powersports market, a fact that was driven home when American Honda today made its first new-model announcement of the 2020 model year. With eight and four machines respectively, Honda's CRF Performance and CRF Trail families offer something for everyone, whether they be pro-level racers looking to give Ken Roczen and Cole Seely a run for their money, youngsters preparing for their first two-wheel forays, or anyone in between.
The newest iterations of Honda's proven full-size motocross models—the CRF250R and CRF450R, as well as the elite CRF450RWE—all receive important upgrades to raise performance levels even higher, while the CRF150R mini is back again in 2020. The CRF450RX and CRF250RX closed-course off-road racers benefit from the same improvements as their track-focused siblings, while the CRF450X off-roader and CRF450L dual-sport machine return for the new model year with updated graphics. At the other end of the spectrum, the approachable, fun 2020 CRF250F, CRF125F, CRF110F and CRF50F await recreational riders with trail-focused performance and proven reliability.
"For generations, Honda has demonstrated its commitment to the dirt bike market, and that's never been truer than now," said Chris Cox, American Honda's Manager of Experiential Marketing/Press. "Our 2020 lineup of off-road models, including the CRF Performance and CRF Trail families, comprises machines that are top-of-class for motocross, off-road competition, trail riding and, in the case of the CRF450L, even using streets to extend off-road adventures. With such a capable and diverse collection of motorcycles, you can once again expect to see a lot of red on tracks and trails from coast to coast."
CRF PERFORMANCE LINE
Last year saw Honda significantly expand its CRF Performance family to include machines for riding applications including motocross, closed-course off-road, pure off-road, and even dual sport. For 2020, a number of models in the lineup get important upgrades to keep Red Riders running at the front of the pack.
CRF TRAIL LINE
Motorcycling is armed with legions of riders who got their start on Honda trail bikes, and with the 2020 lineup of CRF Trail models, that trend is sure to continue long into the future.
2020 Honda CRF450R Totalmotorcycle.com Features and Benefits
Engine/Drivetrain
449cc single-cylinder engine with Unicam cylinder head, downdraft intake tract, electronic fuel injection and electric start offers unparalleled "Absolute Holeshot" performance.
Selectable HRC launch control provides a steady stream of torque for excellent performance on race starts.
Electric starter (powered by a lightweight lithium-ion battery).
Shift sensor allows a dedicated ignition map for each gear, enabling optimum running.
Chassis/Suspension
Twin-spar aluminum frame engineered for great traction and cornering feel, and to minimize weight.
Chassis layout allows heavier components to be located as centrally and low as possible for nimble handling and feel.
Front-brake caliper uses a pair of pistons (30mm and 27mm) for optimal braking performance on a 260mm rotor with a petal pattern to best dissipate heat.
Showa® shock and 49mm coil-spring fork.
Front brake hose resists expansion for precise, consistent braking feel.
Top triple clamp has two handlebar-clamp locations for moving the handlebar back and forth by 26mm. With reversible handlebar clamp enabling an additional 10mm of adjustment from the base position, there are a total of four different handlebar positions.
Black Renthal® Fatbar® handlebar encourages active riding position, while also contributing to light steering feel.
Footpegs shed mud and give the rider great feel and confidence in all riding conditions.
Lightweight, compact 1.66 gallon titanium fuel tank keeps weight to a minimum.
Black D.I.D rims deliver a strong presence on and off the track.
Minimization of lines and gaps in the plastic panels results in a smooth surface, facilitating riding-position changes.
In-mold graphics are durable and resistant to peeling caused by washing or abrasion.
Available only through Honda dealers, Dunlop Geomax MX3S tires provide superior bump absorption and excellent grip.
HANDLING
NEXT-GENERATION ALUMINUM FRAME
The CRF450R's Next-Gen twin spar aluminum frame positions the rear shock's mounting point lower, opening up the airbox area and contributing to a lower center of gravity for more holeshots. The frame geometry also helps improve traction, feeling and steering precision.
RELOCATED BATTERY/BATTERY BOX
For 2020, we designed a new battery box for the CRF450R that moves the battery 28mm lower. That helps lower the overall center of gravity, which is always a benefit for responsive handling.
NEW SUSPENSION SETTINGS
Not a big change, but hey, with a bike this good we're talking about chasing perfection. What you'll experience is better front/rear balance.
SHOWA SPRING FORK
The 49mm Showa fork features a conventional spring design that helps increase the CRF450R's front-suspension precision, handling and feel. The spring rate provides better bottoming resistance and improved handling.
SWINGARM
The CRF450R's swingarm uses a special fabrication technique that lets us fine-tune the flex to work with the chassis and give you better rear traction and cornering precision.
TWIN-MUFFLER EXHAUST SYSTEM
The CRF450R's dual exhaust system is light, compact, and positioned close and low in the frame to take weight off the rear end and bring more mass to the bike's center for improved handling. It also allows for more air flow, and that equals added horsepower.
ENGINEERING
HRC LAUNCH CONTROL
We're talking about a special ECU program here: push the button to select the mode, hold the throttle open, release the clutch, and the CRF450R will do the rest, launching you into the first turn with a big advantage. It turns your bike into a holeshot-seeking machine!
Honda SELECTABLE TORQUE CONTROL (HSTC)
Notice that new button on the handlebar by the clutch perch? New for 2020, the CRF450R and CRF450RWE get our Honda Selectable Torque Control (HSTC). You can choose from one of three settings to perfectly dial your bike in depending on how much traction is available.
ENGINE MODE SELECT BUTTON
This simple handlebar-mounted button lets you dial in engine power delivery character with a push of your thumb. Choose between Standard, Smooth and Aggressive, depending on track conditions.
NEW REAR BRAKE PADS
Brakes are for more than just stopping: they help you set up the bike in turns and jumps. This year we changed the pads on the 2020 CRF450R so they'll last longer and give you even more stopping power—a real win/win to help you win.
260mm FRONT BRAKE
The CRF450R's large front-brake disc measures a whopping 260mm. You get great brake feel and a pattern that cuts down on weight. Front and rear brake-disc guards are part of the package too.
TITANIUM FUEL TANK
Grams and performance count, and the CRF450R uses a titanium fuel tank. Light and strong, it's also thinner than our previous plastic unit, while maintaining the same capacity, freeing up more space and helping to centralize fuel mass.
CONVENIENCE
ELECTRIC STARTER
Kickstarting? Maybe if you're riding in the vintage class, but not here. By ditching the kickstarter entirely, our engineers can make the CRF450R lighter. Electric starters and lithium-ion batteries are so light now and so good that putting them on a bike like this is a win/win combination. And winning is what a CRF450R is all about.
PERFORMANCE
EXCLUSIVE WORKS EDITION
Homologated for racing and available in limited numbers, the CRF450RWE Works Edition includes all the improvements of this year's CRF450R plus a special hand-ported cylinder head, black DID DirtStar LT-X rims, an exclusive Yoshimura exhaust system including a titanium header, titanium nitride-coated lower fork legs and shock shaft, an RK gold chain, special ECU settings, black triple clamps, revalved suspension, a factory-spec gripper seat, and an HRC decal package.
449cc UNICAM ENGINE
Honda's Unicam cylinder heads combine the best of single- and double-overhead-cam designs. The configuration contributes to a compact engine that saves weight over a comparable dual-overhead-camshaft motor and also permits a narrow included valve angle. This flattens the combustion chamber to facilitate ignition flame propagation, allowing a high compression ratio. Since less space is taken up in the cylinder head, the camshaft sits lower in the head for a more compact engine and a lower center of gravity.
TITANIUM INTAKE VALVES
Lightweight titanium intake valves cut down on reciprocating mass and permit the use of smaller valve springs, reducing overall engine height.
DOWNDRAFT FUEL INJECTION
The CRF450R features a downdraft intake tract and FI body to help increase both power and fuel-metering precision. It's part of the reason the CRF450R offers such explosive power and massive torque, especially out of the starting gate and in the critical first 100 feet of the race to the first turn.
DOUBLE-SPRAY INJECTOR SETTINGS
The CRF450R's fuel-injection system sprays twice per intake cycle. That helps increase fuel atomization without adding the weight or complexity of a second injector. The better fuel atomization means more power in the midrange and on overrev—you'll feel it the first time you race.
DUNLOP MX3S TIRES
Developed using Dunlop's "block-on-block" design technology, the CRF450R's MX3S tires give excellent feedback and are a perfect complement to the CRF450R's frame and suspension.
CYLINDER HEAD LAYOUT
The CRF450R uses our latest finger-follower rocker design. The Unicam cylinder head remains one of the most efficient in the MX world, giving you the design and performance of a double-overhead-cam layout but the compactness of a single-overhead-cam design.
13:5:1 COMPRESSION RATIO
The CRF450R features a refined squish area that helps boost compression to an impressive 13.5:1. That means improved combustion efficiency for more power.
UPDATED "IN MOLD" GRAPHICS
With all the time you'll be spending in victory circle, you need to look your best. The 2020 CRF450R has you covered. Our redesigned "in mold" graphics look great, and stay looking good. Plus, the CRF450RWE gets special red number plates this year.
SKID PLATE
A factory skid plate is light and offers the engine and lower-frame protection that a racer demands.
COMFORT
RENTHAL "FATBAR"
The aluminum Renthal Fatbar features a bend that's even better than the legendary Honda "CR" bar. It's the new standard of excellence—you're gonna love it! In addition, the CRF450RWE gets special Renthal grips.
BLACK RIMS
They may not help you go faster, but the black DID DirtStar rims sure look good.
FLAT SEAT/TANK JUNCTION
The CRF450R features a flat seat/tank junction, including a titanium fuel tank. The superior ergonomics make it easier to move forward and back on the bike, increasing your control.
2020 Honda CRF450R – Totalmotorcycle.com USA Specifications/Technical Details
US MSRP Price: starting from $9399 USD
Canada MSRP Price: $10599 CDN
Europe/UK MSRP Price: £ GBP (On The Road inc 20% Vat)
ENGINE
Type
449.7cc liquid-cooled 10º single-cylinder four-stroke
Valve Train
Unicam® OHC, four-valve; 38mm intake, titanium; 31mm exhaust, steel
Bore x Stroke
96.0mm x 62.1mm
Compression Ratio
13.5:1
Induction
Programmed fuel-injection system (PGM-FI); 46mm throttle bore
Ignition
Full transistorized
Starter
Push-button electric starter
Transmission
Constant-mesh 5-speed return; manual
Clutch
Multiplate wet (6 springs)
Final Drive
#520 chain; 13T/49T
SUSPENSION

Front

49mm fully adjustable leading-axle inverted telescopic Showa coil-spring fork
w/ 12.0 in. travel
Rear
Pro-Link system; fully adjustable Showa single shock w/ 12.4 in. wheel travel
BRAKES
Front
2-piston caliper (30mm, 27mm) hydraulic; single 260mm disc
Rear
1-piston caliper hydraulic; single 240mm disc
TIRES
Front
Dunlop Geomax MX3S 80/100-21 w/ tube
Rear
Dunlop Geomax MX3S 120/80-19 w/ tube
MEASUREMENTS
Rake (Caster Angle)
27°22'
Trail
116mm (4.6 in.)
Length
85.9 in.
Width
32.6 in.
Height
49.6 in.
Ground Clearance
12.9 in.
Seat Height
37.8 in.
Wheelbase
58.4 in.
Fuel Capacity
1.66 gal.
Color
Red
Curb Weight*
247 lbs.
*Includes all standard equipment, required fluids and full tank of fuel—ready to ride Specifications subject to change
2020 Honda CRF450R – Totalmotorcycle.com Canada Specifications/Technical Details
Engine & Drivetrain
Engine type
Liquid-cooled single-cylinder 4-stroke
Displacement
450 cc
Bore & stroke
96 mm x 62.1 mm
Compression ratio
13.5:1
Valve train
Unicam, 4 valves
Fuel delivery
PGM-FI electronic fuel injection with 46 mm throttle body
Transmission
Close-ratio, five speed
Final drive
#520 sealed chain; 13T/49T
Chassis & Suspension
Front suspension
Showa 49 mm telescopic inverted coil spring with rebound and compression damping adjustability; 268 mm (10.55 in.) travel
Rear suspension
Pro-Link® Showa single shock with adjustable spring preload, rebound damping adjustability, and compression damping adjustment separated into low-speed and high-speed; 314 mm (12.36 in.) travel
Dimensions & Additional Information
Tires
Front: 80/100-21 Rear: 120/80-19
Brakes
Front: 260 mm disc with dual-piston caliper Rear: 240 mm disc with single-piston caliper
Ground clearance
328 mm (12.9 in.)
Seat height
960 mm (37.8 in.)
Wheelbase
1,482 mm (58.3 in.)
Curb weight
112 kg (247 lb.) including required fluids and full tank of gas—ready to ride
Fuel capacity
6.3 litres
Colour
Extreme Red
Warranty
No warrranty
2020 Honda CRF450R – Totalmotorcycle.com European Specifications/Technical Details
Manufacturer Specifications and appearance are subject to change without prior notice on Total Motorcycle (TMW).