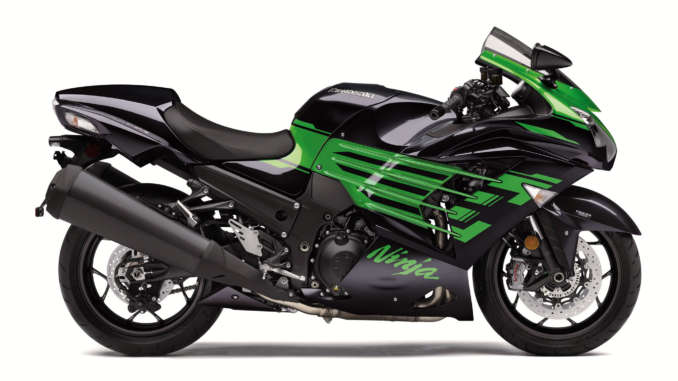 2020 Kawasaki Ninja ZX-14R ABS : KING OF THE QUARTER MILE.
2020 Kawasaki Ninja ZX-14R ABS.
As the flagship of Kawasaki's Ninja motorcycle line-up, the Ninja® ZX™-14R utilizes big horsepower in a polished and refined manner for exceptionally smooth power delivery. With additional technologies like ABS brakes and traction control, the Ninja ZX-14R is sure to please a wide range of experienced riders and riding styles.
Renowned for its dominance at the drag strip, the mighty Kawasaki Ninja® ZX™-14R is King of the Quarter Mile. An enormous 1,441cc engine, premium onboard electronics and uncompromising refinement give the Ninja ZX-14R the ability to take on the track or the backroads with sophisticated ease.
Prepare to experience performance in a way that only a Kawasaki can deliver. The ZX-14R is the ultimate blend of extreme excitement and everyday versitility. Feel at home traversing the mountain roads, or feel the ultimate rush hurtling down the dragstrip.
ADDITIONAL VEHICLE FEATURES:
Dual power modes
Back-torque limiting Slipper clutch
3-mode Kawasaki TRaction Control (KTRC)
High-grade dash meter
Stainless steel braided clutch and brake lines
Brembo® 4-piston M50 monobloc calipers
Large 310mm Brembo® floating front discs
2020 Kawasaki Ninja ZX-14R ABS Totalmotorcycle.com Key Features
BREMBO BRAKE SYSTEM
DISTINCTIVE, AGGRESSIVE STYLING
POWERFUL KAWASAKI ENGINE
MONOCOQUE ALUMINUM FRAME
ADJUSTABLE POWER MODE
KAWASAKI TRACTION CONTROL (KTRC) EQUIPPED
2020 Kawasaki Ninja ZX-14R ABS Totalmotorcycle.com Features and Benefits
ENGINE
High-Output Engine – Kawasaki's powerful engine puts it at the top of its class. With the ultra-smooth power delivery, there's a sharp acceleration feel in the mid- to high-rpm range. And to help convert the massive power into forward momentum with minimal wheel slip is the latest version of Kawasaki's traction control system, KTRC.
Long stroke engine contributes to massive torque at all rpm and substantially more power in the mid- high rpm range with noticeably strong acceleration from 4,000 rpm.
Cylinder head has milled combustion chambers to boost compression for increased performance.
Forged pistons match the combustion chamber, are strong and light, and the skirt design helps alleviate stress. Piston cooling jet system continuously sprays oil to the underside of the pistons for better cooling and increased performance.
Intake ports are hand polished for better flow and increased performance.
Large diameter exhaust ports help increase performance.
Wide bypass holes between the chrome-composite plated cylinders reduce pumping loss which contributes to increased performance.
Advanced Electronic Riding Aids
While the Ninja ZX-14R's engine performance is intended to be experienced unfiltered, the operator may choose to take advantage of some of the advanced electronic riding aids provided as standard equipment to suit riding conditions or preference.
Kawasaki Traction Control System (KTRC)
3-mode system combines the best features of Sport-KTRC from the Ninja ZX-10R and KTRC from the Concours® 14 to help provide maximum traction with some degree of slippage for track riding and rider assurance by facilitating smooth riding on slippery surfaces.
Modes 1 and 2 control ignition timing like S-KTRC, which uses complex analysis to calculate when traction conditions are about to become unfavorable and act before wheel slippage exceeds the range for optimal traction. Mode 3 has higher sensitivity and controls ignition timing, fuel and air for ultra-smooth operation.
The system distinguishes between smooth, power front wheel lifts and sudden lift, allowing smooth lift if acceptable acceleration is maintained.
A switch on the left handlebar switch housing gives the rider the option to turn the system off.
Power Mode
Allows riders to set power characteristics to suit riding conditions and style. Riders can choose between full power operation or low power, which is approximately 75 percent of full with a milder throttle response.
Ram Air Induction(KP)
Central Ram Air duct produces a straighter path to the airbox for maximum intake efficiency.
This system takes cooler, high-pressure air from in front of the fairing and guides it through the air cleaner and into the engine for maximum power output.
Digital Fuel Injection (KP)
Throttle body assembly with remote idle speed control (ISC) valve eliminates need to adjust idle and lowers emissions during deceleration, allowing smaller catalyzers to be used in the exhaust that contributes to better performance.
44mm Mikuni throttle bodies are fitted with Dual Throttle Valves(KP) that are controlled by the ECU to provide precise response and make DFI performance smoother.
Fuel injector nozzles disperse the finely-atomized fuel over a wider area to help boost power..
32-bit electronic control unit works with dual throttle valve system to further enhance throttle response and control.
Economical Riding Indicator (ECO)(KP) appears on instrument display to indicate when the operator is riding in a manner that results in better fuel efficiency.
High-Flow Exhaust System
Exhaust system features large-diameter tapered header pipes, collector and large muffler volume.
Internal construction of the mufflers is designed for maximum exhaust flow.
6-Speed Transmission
Heat and surface treatment on all gears for greater durability and wear resistance.
Final gearing further accentuates the strong acceleration.
Back-torque limiting (slipper) clutch prevent rear wheel hop and helps protect drivetrain.
ALUMINUM FRAME
The frame is a hollow aluminum box that arches over the engine from the steering head to the swing arm pivot. It is narrow, strong, rigid, and light.
Engine is rigidly mounted to increase the monocoque's torsional rigidity. Plus using the engine as a stressed frame member decreases the frame's weight by approximately four pounds.
Engine positioned forward in the frame, wheelbase and front/rear weight balance were carefully designed to achieve both high-speed stability and responsive handling.
The monocoque section houses the air box and air filter in a space-saving design that actually simplifies air cleaner maintenance. Two screws hold a plate on the left side of the frame that allows air cleaner access.
ELECTRONICS
Inverted 43mm Cartridge Type Front Fork(KP)
Firm damping rates offer stiff initial action to resist front-end dive when braking.
Rubber damper helps resist harsh bottoming.
Stepless damping adjustment allows riders to tune suspension performance.
Bottom-Link Uni-Trak® Rear Suspension(KP)
Gusseted swingarm for increased rigidity.
Firm damping rates match front suspension.
Linkage rates provide linear suspension action.
The bottom-link design concentrates the weight lower in the chassis for a lower center of gravity, which makes the bike more flickable.
Brembo Brakes with ABS
Similar system to that used on the Ninja H2™.
Radial mounted 4-piston front brake calipers.
Front brakes feature Brembo M50 cast monoblock calipers with four opposed 30mm pistons that clamp on 310mm Brembo discs for superb braking force. The outer edges of the discs have grooves down the center of the outer edges to help dissipate heat.
Brembo radial pump master cylinder and reservoir are calibrated for crankshaft to require very little lever movement to achieve strong front brake force.
Rear brake features caliper with two 32mm pistons that clamps a 250mm disc.
Stainless steel braided brake lines contribute to direct feel.
CHASSIS
Wind Tunnel-Designed Bodywork
Imposing front cowl has a aggressive appearance and features the ZX-14R's unique four-headlight design.
Standard single seat cover and aggressive tail section.
Fairing not only has a more dynamic appearance but improves radiator airflow that, combined with a heat guard on the exhaust pipe, helps to significantly reduce heat reaching the rider.
Full Instrumentation
Instruments enhanced with metal rings around speedometer and tachometer, with "Flying K" logo in center.
Multi-function button on left handlebar switch housing so that the rider can scroll through the meter functions without removing hand from handlebar.
Ambient temperature gauge for added convenience.
Fuel range readout.
Instrument dials have a dot pattern background for a stylish, high-quality appearance.
LCD screen can be set with either a black or white background.
2020 Kawasaki Ninja ZX-14R ABS – Totalmotorcycle.com USA Specifications/Technical Details
US MSRP Price: $14,999 USD
Canada MSRP Price: $17,999 CDN
Europe/UK MSRP Price: £ GBP (On The Road inc 20% Vat)
POWER
Engine 4-stroke, 4-cylinder, DOHC, 4-valve, liquid-cooled
Displacement 1,441cc
Bore x Stroke 84.0 x 65.0mm
Compression Ratio 12.3:1
Fuel System DFI® w/44mm Mikuni throttle bodies (4)
Ignition TCBI, battery powered & electronic advance
Transmission 6-speed return shift
Final Drive Sealed chain
Electronic Rider Aids Kawasaki Traction Control (KTRC), Power Mode, ABS
PERFORMANCE
Front Suspension / Wheel Travel 43mm inverted cartridge fork with adjustable preload, 18-way compression and 15-way rebound damping
adjustment/4.6 in
Rear Suspension / Wheel Travel Bottom-link Uni-Trak® and gas-charged shock with adjustable preload, stepless rebound and
compression damping adjustments, adjustable ride height/4.9 in
Front Tire 120/70 ZR17
Rear Tire 190/50 ZR17
Front Brakes Brembo dual floating 310mm discs with dual radial-mounted monobloc 4-piston calipers and ABS
Rear Brakes Single 250mm petal disc with opposed twin-piston caliper and ABS
DETAILS
Frame Type Aluminum monocoque
Rake/Trail 23.0°/3.7 in
Overall Length 85.4 in
Overall Width 30.3 in
Overall Height 46.1 in
Ground Clearance 4.9 in
Seat Height 31.5 in
Curb Weight 593.1 lb**
Fuel Capacity 5.8 gal
Wheelbase 58.3 in
Color Choices Metallic Diablo Black / Golden Blazed Green
Warranty 12 Month Limited Warranty
Kawasaki Protection Plus™ (optional) 12, 24, 36 or 48 months
**Curb weight includes all necessary materials and fluids to operate correctly, full tank of fuel (more than 90 percent capacity) and tool kit (if supplied). When equipped, California evaporative emissions
equipment adds approximately 2.2 lb.
2020 Kawasaki Ninja ZX-14R ABS – Totalmotorcycle.com Canadian Specifications/Technical Details
ENGINE
| | |
| --- | --- |
| Displacement | 1,441cc |
| Type | 4-stroke, In-Line Four |
| Bore and stroke | 84.0 x 65.0 mm |
| Cooling | Liquid |
| Compression ratio | 12.3:1 |
| Valve system | DOHC, 16 valves (4 valves per cylinder) |
| Fuel system | DFI with 44 mm Mikuni Throttle Bodies (4) |
| Ignition | Digital |
| Lubrication | Forced lubrication (wet sump with cooler) |
BRAKES
| | |
| --- | --- |
| Front: type | Dual semi-floating 310 mm petal discs |
| Front: calipers | Dual radial-mount, opposed 4-piston, 4-pad |
| Rear: type | Single 250 mm petal disc |
| Rear: calipers | Opposed, twin-piston |
DIMENSIONS
| | |
| --- | --- |
| Overall length | 2,170 mm (85.4 in.) |
| Overall width | 770 mm (30.3 in.) |
| Overall height | 1,170 mm (46.1 in.) |
| Wheelbase | 1,480 mm (58.3 in.) |
| Ground clearance | 125 mm (4.9 in.) |
| Seat height | 800 mm (31.5 in.) |
| Curb mass** | 265 kg (584.2 lbs.) |
| Fuel capacity | 22 litres (4.8 gal.) |
DRIVETRAIN
| | |
| --- | --- |
| Transmission | 6-speed, return, positive neutral finder |
| Final drive | Sealed chain |
| Primary reduction ratio | 1.556 (84/54) |
| Gear ratio: 1st | 2.611(47/18) |
| Gear ratio: 2nd | 1.947 (37/19) |
| Gear ratio: 3rd | 1.545 (34/22) |
| Gear ratio: 4th | 1.333 (32/24) |
| Gear ratio: 5th | 1.154 (30/26) |
| Gear ratio: 6th | 1.036 (29/28) |
| Final reduction ratio | 2.471 (42/17) |
| Clutch | Wet multi-disc, manual |
FRAME
| | |
| --- | --- |
| Type | Monocoque, aluminium |
| Wheel travel: front | 117 mm (4.6 in.) |
| Tire: front | 120/70ZR17M/C (58W) |
| Wheel travel: rear | 124 mm (4.9 in.) |
| Tire: rear | 190/50ZR17M/C (73W) |
| Caster (rake) | 23º |
| Trail | 93 mm (3.7 in.) |
| Steering angle (left/right) | 31º / 31º |
SUSPENSION
| | |
| --- | --- |
| Suspension, front | 43 mm inverted cartridge fork. with adjustable preload, stepless rebound and compression damping adjustments |
| Suspension, rear | Bottom-Link Uni-Trak and gas-charged shock with adjustable preload, stepless rebound and compression damping adjustments |
DETAILS
| | |
| --- | --- |
| Warranty | 12 months warranty |
2020 Kawasaki Ninja ZX-14R ABS – Totalmotorcycle.com European Specifications/Technical Details
Manufacturer Specifications and appearance are subject to change without prior notice on Total Motorcycle (TMW).