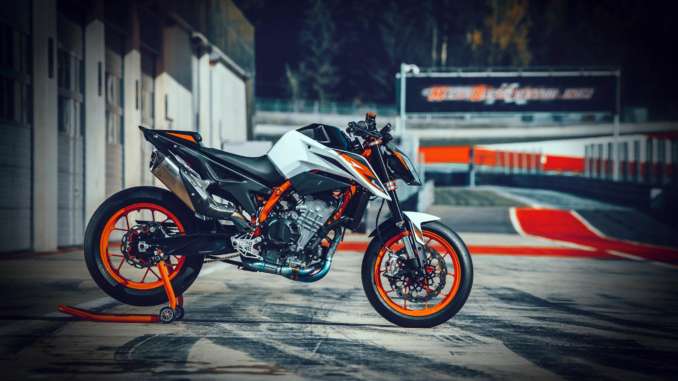 2020 KTM 890 Duke R : THE SUPER SCALPEL.
2020 KTM 890 Duke R Guide.
Still agile, but with more punch, the KTM 890 DUKE R takes all the things we love about the KTM 790 DUKE and turns it up to 11. This is a no-compromise mid-weight naked bike, equally at home on mountain roads as it is on the race track, delivering more power, more torque and more dukeness than any parallel twin that has come before.
KTM SHOW OFF NEW TRIPLE MODEL THREAT AT EICMA 2019
KTM revealed their latest innovations on the first day of the EICMA motorcycle show in Milan, Italy. The company unveiled three brand new models – the 2020 KTM 1290 Super Duke R, the 2020 KTM 890 DUKE R, and the 2020 KTM 390 ADVENTURE – as well as displaying their full gamut of motorcycles for 2020 across a busy exhibition stand. Pride of place was reserved for KTM's outstanding achievements in the world of racing with the KTM 450 RALLY, the KTM 250 SX-F, the KTM 300 EXC TPI and the KTM RC16 (MotoGP™) prominent.
The KTM 1290 SUPER DUKE R has been 're-Beasted'. KTM's flagship bike has won rave reviews by catering for the preferences and skills of a vast range of motorcyclists and has undergone its most radical re-invention yet for 2020. A completely new chassis, styling, and electronics mean the KTM 1290 SUPER DUKE R has trimmed weight across the board, while a reworked LC8 engine has unleashed even more power.
KTM have beefed up their potency in the midweight segment with the new KTM 890 DUKE R. Foregoing some of the excellent daily capabilities of its younger brother – the KTM 790 DUKE – the KTM 890 DUKE R is a sportier and edgier naked bike for hard riding. More power and more torque come from the new engine, which has been teamed with 'racier' ergonomics, better brakes, and fully adjustable WP APEX suspension. The KTM 890 DUKE R is ideal for the motorcyclist wanting a more extreme experience or searching for bigger thrills and 'flickability' compared to a larger capacity model.
The new KTM 390 ADVENTURE has harnessed the attributes and DNA from the popular and highly rated KTM 790 ADVENTURE as well as the development information gleaned from nearly two decades of Dakar Rally success. A breezy, agile, and ideal entry model for riders keen to discover the 'adventure' sensation, this motorcycle offers added versatility for touring and light offroading. Using elements of the KTM 390 DUKE as a base, the KTM 390 ADVENTURE offers proximity to the feeling and performance found at the root of the all-conquering KTM 450 RALLY but with crucial A2 license compatibility and current Euro emissions standards as part of the package.
KTM welcomes a ninth consecutive year of growth and another sales record in 2019 while continuing to pursue an even greater global market share and further consolidation as Europe's leading manufacturer. KTM will also be seeking to build on the strengths of their dealer network and international strategic partnerships.
After a grand opening this summer, the work, innovation, and history of the brand is now fabulously displayed in a visual and interactive manner at KTM's new Motohall, located in Mattighofen. Mr. Trunkenpolz, together with KTM Motorsport Director Pit Beirer, also took time to reference the impact and importance of MotoGP™ and the firm's presence at the elite level of racing as the conclusion of a third season in Grand Prix draws near.
There was considerable interest in a number of other motorcycles, especially the new KTM SX-E 5; an adjustable and versatile junior electric bike that has the potential to introduce a vast fresh generation to the buzz of riding.
In what is now customary fashion, KTM celebrated their competitive triumphs for the year. The Red Bull KTM Factory Racing Team earned their 18th Dakar success as well as the FIM Cross Country Rallies World Championship with two different riders. The KTM 450 SX-F was the basis for Cooper Webb's rookie AMA 450SX Championship win and victories for Tony Cairoli, Jeffrey Herlings, and Glenn Coldenhoff in MXGP. Spanish sensation Jorge Prado used the KTM 250 SX-F to accumulate a record amount of Grand Prix holeshots and won his second consecutive MX2 title. KTM recently launched the KTM 450 SX-F CAIROLI and KTM 250 SX-F PRADO limited editions in recognition of their feats.
Back on the slicks, the Red Bull KTM Factory Racing made fantastic progress in MotoGP™ with four bikes on the premier class grid, two front row starts, and a slew of top ten results from the 19 rounds of a season that is still delivering thrills. Moto2™ and Moto3™ victories were acknowledged and celebrated.
KTM announced that the fourth instalment of the unique European KTM ADVENTURE RALLY will take place in Greece during June 2020. A KTM ADVENTURE RALLY is the company's scheme for Adventure riders who want to fully embrace the KTM READY TO RACE spirit and share offroad experiences in incredible surroundings to form unforgettable memories with like-minded motorcyclists – including KTM Ambassadors, factory riders, and staff.
KTM look to 2020 with great optimism. The surge of almost 10 years of expansion shows no signs of slowing as the company evolves their R&D activities and output for both STREET and OFFROAD markets, fueled by their peerless racing endeavors. They will look to further consolidate their position as the continent's #1 manufacturer while also exploring other areas of global growth.
2020 KTM 890 Duke R Totalmotorcycle.com Features and Benefits
ENGINE & EXHAUST
Keeping the KTM 890 DUKE R at the peak of the middleweight fight is a powerful yet compact parallel-twin. Honed to be a more powerful version of the already-impressive KTM 790 DUKE, the KTM 890 DUKE R steps up power and torque levels to suit the aspirations of the most demanding street and track warriors.
ENGINE
PARALLEL PERFORMANCE
Developed from the same parallel twin that powers the KTM 790 DUKE, the KTM 890 DUKE R engine has been worked into a fire-breathing, high-performance midweight titan. With its increased bore and stroke, higher compression and higher max. RPM limit, the KTM 890 DUKE R churns out an impressive 121 HP and 99 Nm.
ENGINE CASE
The KTM 890 DUKE R features horizontally split, high pressure cast aluminum crankcases, allowing for reduced wall thickness and weight. A heavier crankshaft and flywheel setup also helps to pump up torque.
INJECTORS
Developed specifically for KTM by DELL'ORTO, new sensors in each throttle body measure the manifold pressure and adjust the mixture accordingly per cylinder, improving throttle response and smoothing out throttle action for more precise throttle inputs.
CYLINDER HEADS
A new cylinder head has been developed specifically for the KTM 890 DUKE R to accommodate a set of larger 37 mm intake and 30 mm exhaust valves, while the camshafts feature increased lift and a more aggressive profile. A new balancer shaft has also been added to match the increased RPM and increased rotating mass.
EXHAUST
FULL VOLUME
A stainless-steel thing of beauty. The middle damper centralizes mass and allows for a relatively small muffler that plays a dramatic soundtrack. Hundreds of test bench runs and complex simulations ensured that this exhaust system contributes decisively to the tractable torque curve and excellent emission standards.
CHASSIS
The KTM 890 DUKE R has a simple philosophy when it comes the chassis – be lighter with more stability and be able to push the lean angle without reducing agility. Thanks in part to less unsprung weight and sportier ergonomics, the KTM 890 DUKE R has achieved just that, saving approximately 3.5 kg when compared to the KTM 790 DUKE.
FRAMEWORK
SHARPER PRECISION
Just like the KTM 790 DUKE, the KTM 890 DUKE R's handling characteristics are thanks to the dynamic, loadbearing design of the tubular chassis, which allows it to carve through twisty tracks and mountain passes with extreme responsiveness. Just like every other KTM R, the frame is painted orange to highlight its sporty credentials.
SUBFRAME
The subframe is cast aluminum and houses the airbox. No plastic covers, no additional brackets – everything is cast into two connected pieces to reduce complexity and weight. The triangular shapes in the subframe allow for a stronger, stiffer construction.
SWINGARM
The die-cast, open-lattice swingarm is optimized for stiffness but features a steeper angle for increased stability as well as excellent flex characteristics. This makes the KTM 890 DUKE R every bit as sharp as you'd expect it to be.
SUSPENSION
Adapted to suit the added power of the KTM 890 DUKE R but still retaining the signature DUKE agility, the fully adjustable suspension on the KTM 890 DUKE R has been fettled to be sportier with improved high-speed stability, while retaining real-world street riding comfort.
FRONT FORK
The KTM 890 DUKE R features fully adjustable linear spring WP APEX front forks with split function damping, compression and rebound settings. This allows riders to perfectly sharpen their preferred setup for track or the street.
TRIPLE CLAMPS
Triple clamp stiffness has been tuned to match the flex of the fork, contributing to sporty handling and excellent feedback. An aluminum steering stem has been used instead of steel, as on the KTM 790 DUKE, to reduce the overall weight.
REAR SHOCK
A fully adjustable WP APEX shock takes command at the rear of the bike, with high and low speed compression settings, as well as rebound adjustment. A hydraulically adjustable preload adjuster allows for quick and easy tuning on the fly.
WHEELS
The KTM 890 DUKE R comes with extremely lightweight, light-alloy wheels finished in signature 'R' orange as standard. This not only drops the overall weight of the bike, but also minimizes the unsprung masses and aids in faster turn-in and reduced rolling resistance.
TIRES
Getting the KTM 890 DUKE R to really stick to the tarmac is a set of MICHELIN Powercup II hypersport tires. These are state-of-the-art in terms of tire development, offering fantastic grip on track or on the street in all conditions.
BRAKES
Developed with high performance street and track riding in mind, the KTM 890 DUKE R is fitted with the best brakes in the business. BREMBO Stylema monoblock calipers and lighter 320 mm floating disks upfront ensure sharp and precise brake feel, while slowing down from speed. These are further enhanced by a BREMBO MCS master cylinder, which allows the rider to adjust the lever ratio and brake feel. Overall, 1.2 kg of unsprung mass has been saved compared to the KTM 790 DUKE.
ERGONOMICS & COMFORT
The KTM 890 DUKE R delivers what you'd expect from its R-rating. An aggressive, track-ready seating position compels you to shred corners with pinpoint accuracy, while remaining comfortable on the street.
HANDLEBAR
WHITE-KNUCKLED GRIP
The tapered aluminum handlebars are positioned flatter, lower and further forward to increase feeling from the front tire and give the KTM 890 DUKE R a racier riding position. Riders can also tailor their preferred reach with three rotational adjustments and 4 positions of fine-tuning on the triple clamp.
Just like the KTM 790 DUKE, the KTM 890 DUKE R's handling characteristics are thanks to the dynamic, loadbearing design of the tubular chassis, which allows it to carve through twisty tracks and mountain passes with extreme responsiveness.
SEATS
SIT TIGHT
At 840 mm, the KTM 890 DUKE R sits higher than the KTM 790 DUKE to give it a meaner stance, but also more lean angle. The pillion seat comes as standard with the DUKE's signature cover to give the KTM 890 DUKE R a sharper, racier look.
FOOTPEGS
FIRM FOOTHOLD
The KTM 890 DUKE R features completely new foot pegs, which are positioned higher and further back for a sportier riding position and greater lean angles. Reverse race shifting is also possible without any additional parts.
BODYWORK & GRAPHICS
The shoulders-up stance of the KTM 890 DUKE shares its attitude with the fire breathing KTM 890 DUKE R for good reason. Distinctive lines, orange accents and signature KTM R graphics show its purpose with complete confidence.
BODYWORK
RAZOR SHARP LINES
The KTM 890 DUKE R casts an intimidating shadow thanks to its menacing profile and ultrasharp lines. In the metal, however, it's obvious that this DUKE means business. Compact proportions, loud graphics and a bright orange frame are all unapologetically KTM R.
TANK
Just like the KTM 790 DUKE, the KTM 890 DUKE R gets a 14 litre steel tank, perfectly profiled to accommodate aggressive and relaxed riding styles.
GRAPHICS
DESIGNED WITH INTENT
A high-quality application process has been used to ensure the signature 'R' graphics on the KTM 890 DUKE R demand respect. Contrasting orange on white sets it apart from anything else in the mid-weight title fight.
SOFTWARE & ELECTRONICS
The KTM 890 DUKE R is reined in and controlled by an advanced electronics package. From a full-color TFT display showcasing everything you need at a simple glace, to a plethora of Ride Modes and safety enhancements, manhandling the KTM 890 DUKE R is as easy as slicing a piece of cake.
LED HEADLIGHT
LIGHT THE WAY
The LED headlights on the KTM 890 DUKE R combine optimal near-field illumination with maximum light output. Daytime running lights ensure that other road users see you coming, which you undoubtedly will be doing at speed.
TFT DISPLAY
INFO CENTRE
A multicolor combination of relevant information, presented in an uncluttered way. As you rev the engine, the display bars change color, either spurring you on or warning you that the engine's still cold. The display also automatically adapts its illumination to the ambient light. On the KTM 890 DUKE R, anti-wheelie and ABS modes are shown in the display.
2020 KTM 890 Duke R – Totalmotorcycle.com International Specifications/Technical Details
US MSRP Price: $ See Dealer for Pricing in USD
Canada MSRP Price: $ See Dealer for Pricing in CDN
Europe/UK MSRP Price: £ See Dealer for Pricing in GBP (On The Road inc 20% Vat)
Australia MSRP Price: See Dealer for Pricing in AU
ENGINE
DISPLACEMENT
890 cm³
POWER IN KW
89 kW
TORQUE
99 Nm
DESIGN
2-cylinder, 4-stroke, parallel twin
BORE
90.7 mm
STROKE
68.8 mm
STARTER
Electric starter
LUBRICATION
Forced oil lubrication with 2 oil pumps
TRANSMISSION
6-speed
COOLING
Liquid cooled with water/oil heat exchanger
CLUTCH
PASC™ antihopping clutch, mechanically operated
EMS
Bosch EMS with RBW
CO2 EMISSIONS
110 g/km
FUEL CONSUMPTION
4.74 l/100 km
CHASSIS
FRAME DESIGN
Chromium-Molybdenum-Steel frame using the engine as stressed element, powder coated
SUSPENSION TRAVEL (FRONT)
140 mm
SUSPENSION TRAVEL (REAR)
150 mm
FRONT BRAKE
2 x Brembo Stylema Monobloc four piston, radially mounted caliper
REAR BRAKE
Brembo single-piston floating calliper, brake disc
FRONT BRAKE DISC DIAMETER
320 mm
REAR BRAKE DISC DIAMETER
240 mm
ABS
Two-channel Bosch 9.1 MP ABS (incl. Cornering ABS and Supermoto mode Disengegable)
CHAIN
520 X-Ring
STEERING HEAD ANGLE
65.7 °
GROUND CLEARANCE
206 mm
SEAT HEIGHT
834 mm
TANK CAPACITY (APPROX.)
14 l
DRY WEIGHT
166 kg
Manufacturer Specifications and appearance are subject to change without prior notice on Total Motorcycle (TMW).