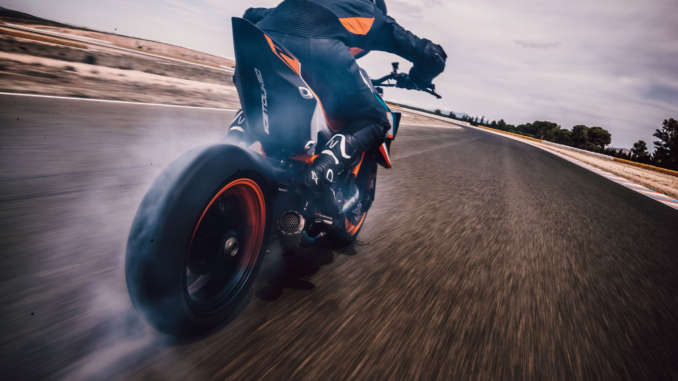 Introducing the new 2020 KTM Motorcycle Guide.
New Bike Reviews, Huge Photos, Full Specifications. Get it all at Total Motorcycle with the 2020 KTM Motorcycle Guide.
Supersport
Naked Bike
– 2020 KTM 1290 Super Duke R – New model
– 2020 KTM 890 Duke R – New model
Sports Tourer
Travel
– 2020 KTM 1290 Super Adventure R
– 2020 KTM 1290 Super Adventure S
– 2020 KTM 790 Adventure R Rally – New model
– 2020 KTM 390 Adventure – New model
Supermoto
E-Ride (Electric) Bike
– 2020 KTM Freeride EX-C – New model
Enduro – 4 Stroke
– 2020 KTM 500 XCF-W – New model
– 2020 KTM 350 XCF-W – New model
– 2020 KTM 350 XC-F – New model
– 2020 KTM 250 XC-F – New model
Enduro – 2 Stroke
– 2020 KTM 300 XC TPI – New model
MX – 4 Stroke
MX – 2 Stroke
– 2020 KTM 50 SX Mini – New model
From the Manufacturer: 2020 KTM Motorcycle Guide
THE NEW KTM SX RANGE IS OUT NOW!
After the race is before the race and when it comes to competing in the most prestigious championships around the world, this mantra is an important one to live by. KTM's desire to win in AMA Supercross and the FIM Motocross World Championship continues to be demonstrated with outstanding performances in each series thanks to KTM's focus on creating the sharpest weapons for the toughest battles. This READY TO RACE mindset and development in the most challenging arenas is translated directly into our serial production models.
Following on from last year's ground-breaking introduction of a new KTM SX generation, for model year 2020 the 2-stroke KTM 125 SX, KTM 150 SX and KTM 250 SX, and the 4-stroke KTM 250 SX-F, KTM 350 SX-F and KTM 450 SX-F have received performance enhancing engine updates to ensure they remain at the fore and as battle-ready as ever. These detailed refinements, that have been developed with KTM´s test riders in Europe and the USA along with factory racers around the globe, complement the high-quality serial components that the KTM SX range already boasts.
New graphics and colors give the range a fresh look for the new season, while an E-starter and a map select switch with integrated traction control and launch control on 4-stroke machines, premium brakes supplied by Brembo, No-Dirt footpegs are fitted as standard to KTM's class-leading line-up. High quality exhaust systems, plastics and seats join the reworked WP XACT suspension with the proven AER technology, which offers enhanced handling for model year 2020.
Designed by the very same engineers that are responsible for the bikes raced by the likes of Jeffrey Herlings, Antonio Cairoli and Cooper Webb, the KTM sportminicycle line-up continues to set the benchmark in out-of-the-crate performance for junior riders. For MY2020 the KTM 50 SX, KTM 65 SX and KTM 85 SX have a new look and feature the WP XACT suspension for precise handling and stability in the toughest motocross terrain.
All of the junior models boast premium components such as high-quality Formula brakes, a high-strength steel frame, ergonomically designed bodywork and high-performance engines. For model year 2020 the KTM 65 SX has a reworked ignition curve for improved performance, while the carburetor has been optimized for better power delivery. Its bigger brother, the KTM 85 SX, has a new transmission drive shaft fixing for safer sprocket fixation. The KTM 85 SX also has a reworked muffler with improved packing wool, which saves weight.
In addition, the KTM SX-E 5 will join the sportminicycles as another competitive option for junior riders. Based on the KTM 50 SX with its high-end chassis, but powered by an electric motor, the KTM SX-E 5 is easy to ride, has zero emissions, low noise and requires minimal maintenance – giving riders more options for places to ride, whilst being easy to use. The height of the bike is also completely adjustable, and it is aimed at riders aged from 4 to 10 years old, making it an exciting new model in the KTM line-up. The KTM SX-E 5 will be launched this summer.
"To be the consistent performer at any level of racing, you have to continue to progress in development. The work never stops – whether that's here in Mattighofen, or with our engineers in the USA. The KTM SX range model year 2020 has received a number of updates to complement last year's groundbreaking new generation models, and we can see that our continued efforts in development are paying off – our athletes both in Supercross and Motocross have enjoyed some fantastic results so far this season. Utilizing the same R&D team as their bigger brothers, the KTM sportminicycle models remain at the very forefront of junior racing competition with detailed refinements for MY2020. In addition, we are excited for the highly anticipated launch of the all-new KTM SX-E 5 electric minicycle, which will arrive this summer," said KTM´s Senior Product Manager Offroad, Joachim Sauer.
Manufacturer Websites: 2020 KTM Motorcycle Guide
KTM