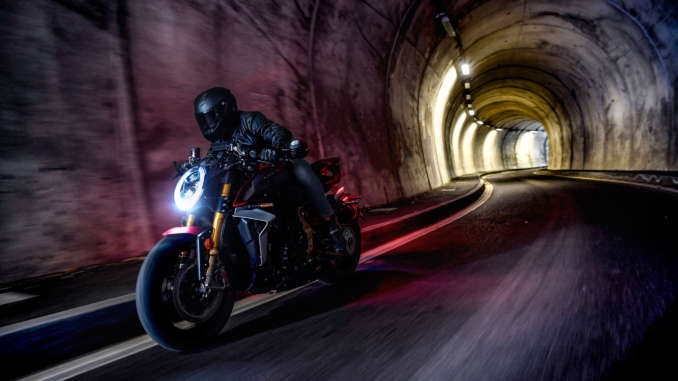 THE ITALIAN FIRECRACKER.
2020 MV Agusta Brutale 1000 Series Oro:
THE FASTEST NAKED BIKE IN THE WORLD
The very first Brutale changed the definition of the naked sports bike forever. Today, the Brutale 1000 Serie Oro brings a long pathway of development full circle, whilst marking the beginning of a new concept focused on the pursuit of the ultimate performance.
The split seat leaves the pattern of the underlying carbon fibre visible. The licence plate bracket is fixed to the single-sided swingarm. The billet foot peg brackets resemble those on the ultra-special RVS#1 and the wheel rims are 100% carbon fibre. Finally, the fire red color scheme with matt finish provides an exclusive metallic effect.
Design
The 1000 Serie Oro incorporates several of the characteristic Brutale design elements, such as its headlights, fuel tank and tail fairing, here all custom designed and engineered for this model, ensuring the same style traditionally associated with the Brutale name.
Performance
The 4-cylinder engine of the Brutale 1000 Serie Oro reaches a record-breaking 208 hp at 13,450 rpm. When matched with an Arrow exhaust system and dedicated ECU, this figure rises even further, reaching a breath-taking 212 hp (156 kW) at 13,600 rpm. The fastest naked bike on the planet smashes all barriers, claiming a top speed of over 300 km/h.
Technology
The MV Agusta engineers have radically changed the original design of the inline 4-cylinder engine, leaving untouched only the design of some castings and the concept cornerstones, such as the central distribution chain and radial valves. All the rest is brand new in the name of improved performance.
Engine
Innovative technical features include new valve guides, a redesigned combustion chamber, reworked camshaft timing with improved intake and exhaust lobes, pistons with new low friction compression, a brand new crankshaft, a redesigned airbox and a new exhaust system. Added to these are a new lubrication system, which is designed to improve efficiency even in extreme conditions.
Electronics
For the 4-cylinder engine of the Brutale 1000 Serie Oro, MV Agusta has developed a specific central control unit which regulates the multi-map Full Ride-by-Wire system and collects the data of the Inertial Measurement Unit (IMU). The experience accumulated during the Superbike World Championships has led to a radical improvement in the traction control system (which can be set to 8 levels and deactivated), an anti-wheelie system, a launch control system, and the EAS 2.0 Up & Down gear system, which operates on both uphill and downhill terrain.
Safety
Öhlins electronic suspension pieces provide optimum driving control in all road conditions. Considering the exceptional top speed of over 300 km/h, two spoilers have been mounted next to the radiator, improving stability and the load on the front wheel. New Brembo Stylema calipers grip 320 mm diameter floating discs and are linked to the Bosch 9.1 ABS system, the most compact and lightweight on the market. The Brutale 1000 Serie Oro also comes standard with tyre pressure sensors.
Warranty
MV Agusta offers a NEW 3 YEARS WARRANTY on the whole range, with a great service support for all customers. Customize your experience riding a model, discovering special kits and the vast range of readily available spare parts.
*Suggested retail price for Italian market only. To know the price in your region, please contact your nearest dealer
2020 MV Agusta Brutale 1000 Series Oro Totalmotorcycle.com Key Features
MV AGUSTA PRESENTS THE NEW 2020 MODEL RANGE
Varese, 2nd November 2019 – Quality, technology, performance. But also quick delivery of spare parts and professional service. There's more: expansion and improvement of the dealers network to offer clients timely, impeccable assistance. These are the short-term guidelines for MV Agusta, which has just set off on a growth path clearly envisioned by its CEO, Timur Sardarov.
To mark the company's determination in pursuing the 2020 objectives, production of the Brutale 1000 RR, the four-cylinder naked Superbike replica, has started in Schiranna. 208 hp maximum power, advanced chassis and suspension as well as leading-edge aerodynamic solutions all make the four-cylinder Brutale a defining example of MV Agusta's excellence in motorcycle manufacturing. As core priorities of the brand, these values are reinforced today by the attention and the investments in Research and Development.
From the production line to dealers showrooms: Superveloce 800 Serie Oro and Superveloce 800 bring MV Agusta's timeless fascination to the roads, with their intoxicating curves, classic and contemporary at the same time. The engine and the chassis are the pinnacle of engineering that position the Superveloce 800 among the most fascinating and dynamic sports bikes on the scene.
Beauty and functionality, exciting and confidence-inspiring riding: Dragster 800 RR SCS and Brutale 800 RR SCS both feature the revolutionary SCS 2.0 (Smart Clutch System) for clutch-free starts and stopping. A technical innovation that allows to stop and restart without touching the clutch lever, making the most out of the in-line three-cylinder engine mated to a counter-rotating crankshaft. All of this with only 36g weight increase compared to a traditional clutch.
The magic and technology of MV Agusta, at a competitive price. Thanks to the rationalisation of the production process and to efficiencies gained in the engineering phase, MV Agusta proudly presents its new Rosso Range, made up of Brutale 800, Dragster 800 and Turismo Veloce 800. The Rosso Range models stand out for their bright red livery and their comprehensive outfitting, despite a price tag that is lower than that of the models they derive from.
Vision, futuristic technology, and the pursuit of a dream: these are the values behind the creation of a new Concept Bike that will be revealed at EICMA as world premiere and which production is due to start in the coming months. The irreverent spirit of American drag races was the inspiration for a project that elevates the performance of the bike it derives from in the most daring of interpretations.
2020 MV Agusta Brutale 1000 Series Oro Totalmotorcycle.com Features and Benefits
2020 MV Agusta Brutale 1000 Series Oro – Totalmotorcycle.com Specifications/Technical Details
US MSRP Price: $ USD
Canada MSRP Price: $ CDN
Europe/UK MSRP Price: €42990 Euro
Engine: Four cylinder, 4 stroke, 16 valve
Timing system "D.O.H.C", radial valve
Total displacement 998 cm3 (60.9 cu. in.)
Compression ratio 13.4:1
Starting Electric
Bore x stroke 79 mm x 50.9 mm (3.1 in. x 2.0 in.) Max. power -r.p.m. (at the crankshaft) 153,0 kW (208 hp) at 13.000 r.p.m.
156.0 kW (212 hp) at 13.600 r.p.m.**
Max. torque – r.p.m. 116,5 Nm (11,9 kgm) at 11.000 r.p.m.
Cooling system Cooling with separated liquid and oil radiators Engine management system Integrated ignition – injection system MVICS
(Motor & Vehicle Integrated Control System) with eight injectors (4 lower fuel injectors
by Mikuni + 4 upper fuel injectors by Magneti Marelli with increased fuel flow). Engine control unit Eldor EM2.10, throttle body full ride by wire Mikuni, pencil-coil with ion- sensing technology, control of detonation and misfire – Torque control with four maps – Traction control with 8 levels + off and wheelie control with inertial platform
Electronic quick-shift MV EAS 2.1 (Electronically Assisted Shift Up & Down)
Clutch Wet, multi-disc with back torque limiting device and Brembo radial pump/lever assembly
Transmission Cassette style; six speed, constant mesh
Primary drive 48/82
Gear ratio
First gear: Speed 14/37
Second gear: Speed 16/33
Third gear: Speed 18/31
Fourth gear: Speed 20/30
Fifth gear: Speed 22/29
Sixth gear: Speed 21/25 Final drive ratio 16/41
Voltage 12 V
Alternator 350 W at 5000 r.p.m.
Battery Li-ion12 V – 4.0 Ah
Wheelbase 1415 mm (55.71 in.)
Overall length 2080 mm (81.89 in.)
Overall width 805 mm (31.69 in.)
Saddle height 845 mm (33.27 in.)
Min. ground clearance 141 mm (5.55 in.)
Trail 97 mm (3.82 in.)
Dry weight 186 kg (410.06 lbs.) – 184 kg (405.65 lbs.)**
Fuel tank capacity 16 l (4.23 U.S. gal.)
Maximum speed* over 300 km/h (186 mph)
Type CrMo Steel tubular trellis
Rear swing arm pivot plates material Aluminium alloy – Adjustable swingarm
pivot height forks with TiN superficial treatment.Completely adjustable with electronically controlled compression and rebound damping with manually controlled spring preload.
Fork dia. 43 mm (1.69 in.)
Fork travel 120 mm (4.72 in.)
Type Progressive, single shock absorber Öhlins EC TTX completely adjustable with electronically controlled compression and rebound damping and spring preload
Single sided swing arm material Aluminium alloy Wheel travel 120 mm (4.72 in.)
Front brake Double floating disc with Ø 320 mm
(Ø 12.6 in.) diameter, with steel braking disc and aluminium flange – Brembo radial pump/level assembly
Front brake caliper Brembo Stylema radial-type, single-piece
with 4 pistons Ø 30 mm (Ø 1.18 in.)
Rear brake Single steel disc with Ø 220 mm (Ø 8.66 in.) dia.- Brembo PS13 brake pump
Rear brake caliper Brembo with 2 pistons Ø 34 mm (Ø 1.34 in.)
ABS System Bosch 9 Plus with Race Mode and RLM (Rear wheel Lift-up Mitigation)
Front: Material/size Carbon fiber 3,50 " x 17 "
Rear: Material/size Carbon fiber 6,00 " x 17 "
Front 120/70 – ZR 17 M/C (58 W)
Rear 200/55 – ZR 17 M/C (78 W)
Material Carbon fiber with red thread and thermoplastic material
Steering damper Öhlins EC with electronic manual and automatic adjustment modes
Rider's footpegs CNC adjustable height
Exclusive features Light crankshaft – New combustion chamber Titanium bolts, screws and fasteners -Titanium connecting rods – Dashboard TFT 5"color display – Cruise control – Bluetooth – GPS – App MVride for navigation mirroring, app- controlled engine, suspensions and rider aids setup – Launch Control – FLC Front lift control Immobilizer
Titanium exhaust silencers with dedicated ECU Carbon fiber passenger seat cover – Racing ergal fuel tank cap – CNC front brake/clutch levers – CNC front brake/clutch fluid reservoir caps – CNC footboard – Z15 counter-shaft sproket – Rear paddock stand – Dedicated bike cover – Certificate of origin – Limited Edition
Environmental Standard Euro 4
Combined fuel consumption 6.7 l/100 km
CO2 Emissions 153 g/km
Manufacturer Specifications and appearance are subject to change without prior notice on Total Motorcycle (TMW).