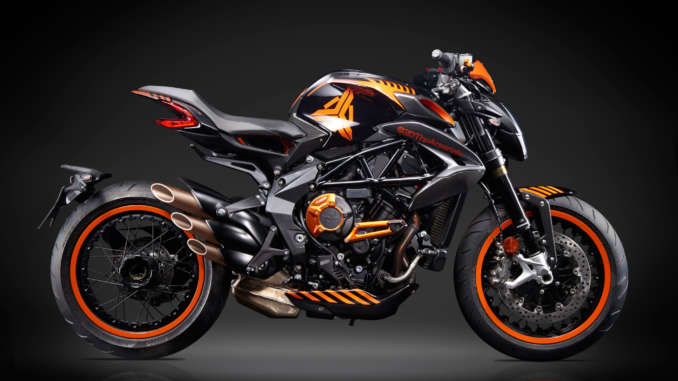 2020 MV Agusta Dragster 800RR x TheArsenale x TheArsenale: 798CC's OF THREE CYLINDER EXCITEMENT.
Introducting the 2020 MV Agusta Dragster 800RR x TheArsenale x TheArsenale:
MV Agusta will be producing a limited edition Dragster 800 RR entirely dedicated to TheArsenale, one of the world's most exclusive online retail concepts. TheArsenale's unique offer ranges from jet planes to motorbikes, to accessories and luxury apparel.
MV designers concentrated on specific areas of the bike and on the livery to visually align with TheArsenale's strong identity. The black and orange details create a contrasting colour scheme that brings out all the irreverent, fiery character of the Dragster 800 RR and perfectly connects with TheArsenale's concept of over-the-top excellence.
The same uncompromising technical specifications of the 800 RR production model were maintained for the TheArsenale edition, which features MV Agusta's classic inline-3-cylinder 798 cc engine developing 140 HP and a top speed of nearly 250 km/h. The TheArsenale model also features the MVICS full Ride by Wire system, as well as traction control adjustable on 8 levels and an electronic up&down gearbox mated to the hydraulic slipper clutch.
Ratmir Sardarov, Director of MV Agusta Motor S.p.A., commented: "We are excited about this new collaboration with TheArsenale. We were instantly seduced by their pioneering spirit and their extreme approach to luxury retail. Only the best, most exclusive models feature in their online virtual garage and our special TheArsenale edition Dragster 800 RR, a piece of pure motorcycle art, is now one of their brightest gems."
"We were proud to be working on such a project with an incredible brand and our joint efforts got paid off when we saw the bike in flesh" said Patrice Meignan, CEO and founder of TheArsenale, "a performance machine that carries the graphical look that we always envisioned our dream bike to be; this MV Agusta Dragster 800 RR x TheArsenale is the embodiment of our transportation dreams."
FROM 0 TO 100 IN AN INSTANT
Muscular. Mean. A streetfighter's look with a powerful three-cylinder heart. For us, the Dragster RR is the perfect blend of raw power, technology and design. Nothing represents this concept and embodies our vision better than the Dragster.
NEW DETAILS, UNVARIED CHARACTER
The front fender's side supports are made of aluminium, like the tank damper. The headlight has a new integrated light guide and the tail light is now a single unit.
EMOTIONS WITHOUT COMPROMISE
Super compact, aggressive, stunningly good looking. The design of the Dragster 800 RR takes no prisoners. Emotion in its purest form.
LIKE NO OTHER
The weight distribution, the refined chassis and suspension as well as the Dragster's unique character are the main characteristics of a machine that was created for the most demanding riding enthusiasts.
EVOLUTION OF PERFECTION
The three-cylinder engine was improved to comply with Euro 4 regulation and also to enhance performance and reliability. The engine's anchoring point to the frame has been revised, as well as the primary gears, valve guides and the cam phasing. The gearbox is also new, quicker and requires less force on the lever to engage gears.
UNRIVALLED ELECTRONICS
The MVICS with full Ride By Wire has been further improved. The unprecedented mappings were specifically developed for the new Dragster 800 RR. Traction control is adjustable on 8 levels and the sophisticated electronic up & down gearbox is mated to the hydraulic slipper clutch. An immobiliser with key recognition rounds up the offer.
SAFETY FOR AN EVEN GREATER RIDING PLEASURE
When there's nothing else to worry about than riding pleasure, fun is at its top, especially when your safety is guaranteed by a Bosch 9 PLUS two channels ABS system with Rear Wheel Lift-up Mitigation. The RLM system shoots in to mitigate excessive braking action on the front wheel and avoid rear-wheel lift.
Warranty
MV Agusta offers a NEW 3 YEARS WARRANTY on the whole range, with a great service support for all customers. Customize your experience riding a model, discovering special kits and the vast range of readily available spare parts.
Get in Touch
Take the next step to reach your dream
2020 MV Agusta Dragster 800RR x TheArsenale Totalmotorcycle.com Key Features
The anticipated ultimate machine on two wheels has finally arrived on TheArsenale Macau and on our online marketplace. After a lot of hard work and dedication, we are proud to announce our latest collaboration with the Italian motorcycle maker, MV Agusta. Like no other motorcycle on the market "Dragster 800 RR" captures the essence of what we as TheArsenale want to achieve in the world. This is one of the most special projects we have worked on so far and hope that you like it and appreciate it as much as we do. With a unique style that differentiates it from the rest. This is the most capable naked bike you can find on the planet.
MV AGUSTA PRESENTS THE NEW 2020 MODEL RANGE
Varese, 2nd November 2019 – Quality, technology, performance. But also quick delivery of spare parts and professional service. There's more: expansion and improvement of the dealers network to offer clients timely, impeccable assistance. These are the short-term guidelines for MV Agusta, which has just set off on a growth path clearly envisioned by its CEO, Timur Sardarov.
To mark the company's determination in pursuing the 2020 objectives, production of the Brutale 1000 RR, the four-cylinder naked Superbike replica, has started in Schiranna. 208 hp maximum power, advanced chassis and suspension as well as leading-edge aerodynamic solutions all make the four-cylinder Brutale a defining example of MV Agusta's excellence in motorcycle manufacturing. As core priorities of the brand, these values are reinforced today by the attention and the investments in Research and Development.
From the production line to dealers showrooms: Superveloce 800 Serie Oro and Superveloce 800 bring MV Agusta's timeless fascination to the roads, with their intoxicating curves, classic and contemporary at the same time. The engine and the chassis are the pinnacle of engineering that position the Superveloce 800 among the most fascinating and dynamic sports bikes on the scene.
Beauty and functionality, exciting and confidence-inspiring riding: Dragster 800 RR SCS and Brutale 800 RR SCS both feature the revolutionary SCS 2.0 (Smart Clutch System) for clutch-free starts and stopping. A technical innovation that allows to stop and restart without touching the clutch lever, making the most out of the in-line three-cylinder engine mated to a counter-rotating crankshaft. All of this with only 36g weight increase compared to a traditional clutch.
The magic and technology of MV Agusta, at a competitive price. Thanks to the rationalisation of the production process and to efficiencies gained in the engineering phase, MV Agusta proudly presents its new Rosso Range, made up of Brutale 800, Dragster 800 and Turismo Veloce 800. The Rosso Range models stand out for their bright red livery and their comprehensive outfitting, despite a price tag that is lower than that of the models they derive from.
Vision, futuristic technology, and the pursuit of a dream: these are the values behind the creation of a new Concept Bike that will be revealed at EICMA as world premiere and which production is due to start in the coming months. The irreverent spirit of American drag races was the inspiration for a project that elevates the performance of the bike it derives from in the most daring of interpretations.
2020 MV Agusta Dragster 800RR x TheArsenale Totalmotorcycle.com Features and Benefits
In style terms, the new Dragster 800 RR has evolved substantially. From the front fender, now featuring aluminum side brackets, that typical MV Agusta quality and originality is clear. The front end includes numerous technical changes, starting from the semi-handlebars, with a truly intuitive adjustable angle. There is a support in the central area designed by the CRC (Castiglioni Research Centre) that integrates the adjustable steering damper into the upper triple clamp, introducing a brand-new technical solution. The digital instrumentation is enhanced by a specific cover, with luxurious aluminum elements. The tank pad is also aluminum, standing out with a laser engraved MV Agusta logo.
The tail fairing is entirely new, starting from the support frame. The LED taillight helps to redefine the design of the bike. Instead of the dual element that had been used in the past, now there is a single element with a bold three-dimensional form. The insertion of a spectacular light guide further enhances the new design, enhancing the image of the Dragster 800 RR. The rear section of the redesigned seat is colored to match the fairings. The license-plate holder is brand new and the turn indicators now have LED lights.
Another stylistic and functional solution on the new Dragster 800 RR is the concealed passenger footpegs. The linchpin is on a bracket secured to the side plates of the frame and they can be instantly rotated from the retracted to open position. In the starting position, the extreme linearity of the tail fairing can be appreciated and in the passenger support, position integration of the overall design is clear.
ENGINE
The three-cylinder engine is closely derived from the one developed for the Brutale 800 RR, the focus of numerous technical upgrades to make it Euro 4 compliant while at the same time achieving significant increases in reliability and performance. The in-line three-cylinder engine is fastened to the frame using new anchoring points. This change has allowed an increase in the torsional rigidity to the advantage of the already exceptional riding dynamic of the Dragster RR.
Some of the main technical upgrades include the introduction of a new countershaft, a redesigned primary drive, the new profile of the intake cams and redesigned valves. The gearbox is entirely new. The force required to actuate the shift lever has decreased and the gears engage more quickly for even more efficient and smoother action. There are changes to the exhaust manifold and silencers too, the latter protected by new shields in anodized and brushed aluminum.
In terms of acoustic comfort, the engine covers contribute to reducing the mechanical noise, at the same time providing adequate protection in the event of an impact or a fall.
ELECTRONICS
The three-cylinder electronics management through an integrated MVICS, developed by MV Agusta with proprietary technology, has perfected operating logic in order to achieve significant differential increases in terms of operating functionality and accuracy. The Ride By Wire system has been improved to the benefit of easy operation. The ECU algorithms and maps are brand new, specifically programmed for the new Dragster 800 RR. In addition to the three maps defined by the manufacturer, you can personalize another, changing parameters such as throttle response, the rev limiter, throttle sensitivity, and the engine brake. The eight-setting traction control system has been updated, refining operation.
2020 MV Agusta Dragster 800RR x TheArsenale – Totalmotorcycle.com Specifications/Technical Details
US MSRP Price: $ USD
Canada MSRP Price: $ CDN
Europe/UK MSRP Price: € Euro
Type Three cylinder, 4 stroke, 12 valve
Timing system "D.O.H.C" with mechanical chain tensioner
Total displacement 798 cm3 (48.68 cu. in.)
Compression ratio 13.3:1
Starting Electric
Bore x stroke 79 mm x 54.3 mm (3.1 in. x 2.1 in.) Max. power – r.p.m. (at the crankshaft) 103 kW (140 hp) at 12.300 r.p.m. Max. torque – r.p.m. 87 Nm (8.87 kgm) at 10.100 r.p.m.
Cooling system Cooling with separeted liquid and oil radiators.
Engine management system Integrated ignition – injection system MVICS 2.0
(Motor & Vehicle Integrated Control System) with six injectors. Engine control unit Eldor EM2.0, throttle body full ride by wire Mikuni, pencil-coil with ion-sensing technology, control of detonation and misfire. Torque control with four maps, Traction Control with eight levels of intervention with lean angle sensor
Electronic quick-shift MV EAS 2.1 (Electronically Assisted Shift up & down)
Clutch Multi-disk wet clutch with hydraulic actuation and back torque limiting device
Transmission Cassette style; six speed, constant mesh
Primary drive 22/41
Gear ratio
First gear: 13/37
Second gear: 16/34
Third gear: 18/32
Fourth gear: 19/30
Fifth gear: 21/30
Sixth gear: 22/29
Final drive ratio 16/41
Voltage 12 V
Alternator 350 W at 5000 r.p.m.
Battery 12 V – 8.5 Ah
Wheelbase 1400 mm (55.12 in.)
Overall length 2035 mm (80.12 in.)
Overall width 935 mm (36.81 in.)
Saddle height 845 mm (33.27 in.)
Min. ground clearance 135 mm (5.31 in.)
Trail 103.5 mm (4.07 in.)
Dry weight 168 kg (370.38 lbs.)
Fuel tank capacity 16.5 l (4.36 U.S. gal.)
Maximum speed* 244.0 km/h (151.6 mph)
Type ALS Steel tubular trellis
Rear swing arm pivot plates material Aluminium alloy
Type Marzocchi "UPSIDE DOWN" telescopic hydraulic fork in DLC treated aluminium, with anodized fork legs and having
rebound-compression damping and spring preload external and separate adjustment
Fork dia. 43 mm (1.69 in.)
Fork travel 125 mm (4.92 in.)
Type Progressive Sachs, single shock
absorber with rebound and compression damping and spring preload adjustment
Single sided swing arm material Aluminium alloy Wheel travel 124 mm (4.88 in.)
Front brake Double floating disc with Ø 320 mm (Ø 12.6 in.) diameter, with steel braking disc and flange
Front brake caliper Brembo radial-type, with 4 pistons Ø 32 mm (Ø 1.26 in.)
Rear brake Single steel disc with Ø 220 mm (Ø 8.66 in.) dia.
Rear brake caliper Brembo with 2 pistons – Ø 34 mm (Ø 1.34 in.)
ABS System Bosch 9 Plus with RLM
(Rear wheel Lift-up Mitigation
Front: Material/size With aluminium alloy spokes 3.50" x 17"
Rear: Material/size With aluminium alloy spokes 6.00" x 17"
Front 120/70 – ZR 17 M/C (58 W)
Rear 200/50 – ZR 17 M/C (75 W)
Material Thermoplastic
Steering damper Manually adjustable with 8 settings Immobilizer
Environmental Standard Euro 4
Combined fuel consumption 6.7 l/100 km
CO2 Emissions 163 g/km
Manufacturer Specifications and appearance are subject to change without prior notice on Total Motorcycle (TMW).