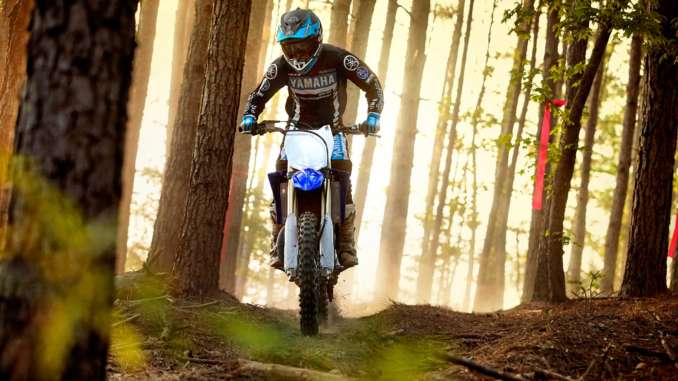 VICTORY… NEVER GIVEN ALWAYS EARNED.
2020 Yamaha YZ125X:
LEVEL UP YOUR PERFORMANCE
Designed to be the perfect step up to a full size X‑country machine, this light weight 2‑stroke is the pinnacle of performance on the race course.
Level up your performance. Designed to be the perfect stepping stone toward a full size cross-country machine, the all-new 2020 YZ125X is the pinnacle of lightweight, two-stroke performance on the race course.
ENGINE
Based on the legendary 125 cc liquid-cooled, reed-valve-inducted YZ two-stroke engine, the YZ125X utilizes a revised compression ratio, Yamaha Power Valve System (YPVS) timing, and a model-specific CDI unit, all focused on creating broad power delivery that suits off-road terrain and a wide range of rider skill levels.
CHASSIS
An ultra-lightweight YZ125-spec frame features a carefully engineered combination of aluminum castings, forgings and extrusions for the perfect balance of rigidity and flex, with industry-leading fully adjustable, KYB speed sensitive spring-type suspension tested and tuned specifically for the needs of cross-country racers.
RACE-SPECIFIC FEATURES
The 2020 YZ125X is race-ready with an aluminum tapered handlebar, YZ-F-style foot pegs, gripper seat, 18-inch rear wheel, sealed O-ring chain, off-road focused tires and suspension settings, a standard side stand and fuel tank petcock with reserve position.
KEY FEATURES
YZ125 two-stroke engine with Yamaha Power Valve System (YPVS)
Model-specific CDI unit
Racing intake system
Ultra-lightweight YZ125-spec frame
Industry-leading, XC-specific adjustable KYB suspension
Smooth shifting, 6-speed, close ratio transmission
"Gripper" type seat and narrow fuel tank
Adjustable, tapered aluminum handlebar
18-inch rear wheel and large rear sprocket
Yamaha Announces 2020 Lineup of Cross-Country Motorcycles
New Two-Stroke model and Redesigned YZ250FX Headline Yamaha's Cross-Country Lineup
MARIETTA, Ga. – June 4, 2019 – Yamaha Motor Corp., USA, announces its complete lineup of 2020 cross-country motorcycles specially designed for Hare Scrambles and Grand National Cross-Country (GNCC®) races, including the all-new YZ125X two-stroke motorcycle, as well as a newly redesigned YZ250FX.
"Yamaha's cross-country lineup builds on the unmatched success of our motocross designs, using industry leading technology to provide uncompromised performance for the tight, technical terrain of Hare Scramble and GNCC racing," said Steve Nessl, Yamaha's motorsports marketing manager. "With the introduction of the all-new YZ125X and newly redesigned YZ250FX, Yamaha offers even more variety to meet the demands of cross-country racers and enthusiasts alike."
Also returning to Yamaha's 2020 cross-country lineup is the two-stroke YZ250X, and four-stroke YZ450FX, translating Yamaha's YZ450F flagship motocross performance to the woods with cross-country enhancements.
Welcome to the victorYZone
Yamaha off-road competition bikes offer the latest technology and performance features designed to win races and help enthusiasts become one with their machine to make them the best riders possible – putting them in the victorYZone and atop the podium.
All-New 2020 YZ125X: Level-Up Your Performance
Designed to be the perfect step up to a full-size cross-country machine, this lightweight two-stroke is the pinnacle of performance on the racecourse.
An all-new model for 2020, the Yamaha YZ125X is optimized for the unique demands of Hare Scrambles and GNCC racing. It sports Yamaha's Power Valve System-equipped (YPVS™) 125cc, liquid-cooled, two-stroke, reed-valve-inducted engine, combined with a six-speed transmission tuned for smooth, wide, and controllable power character across the rev range. This backwoods racer is built on an ultra-lightweight aluminum frame carefully engineered for the perfect balance of rigidity and flex.
Cross-country performance of the YZ125X is optimized with model specific digital CDI ignition settings, new power valve shape, open timing, open duration, as well as a new cylinder head combustion chamber shape, all of which are focused on creating broad power delivery that suits off-road terrain and a wide range of rider skill levels.
The 2020 YZ125X is further equipped to endure the punishing terrain of cross-country racing with durability and comfort-enhancing features including a sealed O-ring chain, a standard side stand, and fuel tank petcock with reserve position. Fully adjustable, industry-leading KYB® speed-sensitive spring-type suspension has been tested and tuned specifically for the needs of cross-country racers. Enduro-specific Dunlop® Geomax AT81 tires with an 18-inch rear are ready to head straight to the races thanks to taller sidewalls for improved comfort and reduced pinch flats. A large 270mm front disc brake coupled with high-performance pad material offers outstanding machine control and performance, with exceptional stopping power and controllability for tight wooded trails.
The all-new 2020 YZ125X will be available from dealers this month in Team Yamaha Blue for $6,699 MSRP.
New 2020 YZ250FX: Your Power. Your Way.
This cross-country racer has all the features to win including the smartphone power tuner app that adjusts the bikes settings to your style and the track.
The 2020 YZ250FX is an out-of-the-box Hare Scrambles and GNCC competition machine. Based on the championship-winning 2019 YZ250F, it features Yamaha's revolutionary front-intake, rear-exhaust, liquid-cooled, DOHC four-stroke power plant with an added sixth gear, wide ratio transmission, and a range of cross-country upgrades. Yamaha's latest generation, aluminum bilateral beam frame delivers strength, lightness and durability for the tight, technical terrain of cross-country racing while still providing optimum stability in fast sections. The bike also features improved electronics including a compact, center mounted electric start system powered by an ultra-lightweight, four-cell, lithium-ion battery to minimize restart delays mid-race and add convenience everywhere else.
All-new bodywork on the YZ250FX is slimmer than ever, giving the bike a compact, nimble feel and easing rider movement across the machine in tough terrain. Fully adjustable, industry-favorite KYB suspension is specifically tuned for off-road racing and combined with Dunlop MX3S tires with 18-inch rear to deliver excellent comfort and durability in harsh conditions. Additionally, the YZ250FX is equipped with performance and convenience including four-position rubber-mounted handlebar clamps, a side-stand, wireless connectivity with the Yamaha Power Tuner App, and new for 2020, a handlebar-mounted map switch to adjust preselected engine maps on the fly.
The 2020 YZ250FX will be available from dealers in September in Team Yamaha Blue for $8,499 MSRP.
2020 YZ450FX: Power, Tuned to Perfection
Built for cross-country domination with electric start and smartphone power tuner app that adjusts the bike's settings for various rider styles and track conditions.
The 2020 YZ450FX utilizes Yamaha's distinct reward-slanted cylinder, 449cc, liquid-cooled, four-stroke engine design, complete with rear exhaust and forward-mounted intake system all working together to deliver class leading power and controllability for cross-country racing. Its bilateral beam frame and engine mounting position optimizes the machine's rigidity balance, resulting in improved cornering ability and traction, while industry-leading KYB suspension is specifically tuned to provide comfort and performance in the toughest of off-road conditions. Rider convenience is also a priority in the YZ450FX with enhancements including Yamaha's ultra-lightweight electric start system for effortless restarts under pressure, wireless connectivity with the Yamaha Power Tuner app for precision tunability directly from a smart phone and a handlebar-mounted map switch to choose between user defined engine maps on the fly.
The 2020 YZ450FX will be available from Yamaha dealers in August in Team Yamaha Blue for $9,599 MSRP.
2020 YZ250X: Two-Strokes, One Goal
Engineered with all the reliability and durability you've come to expect from Yamaha, this 2‑stroke was made to win cross‑country races.
Yamaha's 2020 YZ250X delivers classic two-stroke performance to cross-country racing. Its lightweight aluminum frame together with specifically tuned KYB spring type forks and rear shock provide unmatched handling performance and comfort in GNCC style conditions. The 249cc, reed-valve inducted engine, mated with a wide-ratio 5-speed transmission is race-ready. Based on the YZ250 motocross model, the YZ250X features a revised compression ratio, exhaust port, power valve timing, and model specific CDI unit for improved trail performance. All these features are focused on creating a wide, controllable power character along with light, nimble, and precise handling ideal for cross-country racing.
The 2020 YZ250X will be available from dealers this month in Team Yamaha Blue for $7,599 MSRP.
Yamaha bLU cRU Off-Road Racing Contingency
All 2020 YZ-X and YZ-FX models are once again eligible for Yamaha's bLU cRU Off-Road Racing Contingency Program, with nearly $5 million for Yamaha bLU cRU riders competing in off-road motorcycle racing. YZ riders can earn contingency payouts via a bLU cRU debit card, receive a 10% rebate on GYTR parts and accessory purchases of up to $1,000
2020 Yamaha YZ125X Totalmotorcycle.com Features and Benefits
ENGINE
Liquid-cooled, 125 cc, crankcase reed valve-inducted 2-stroke engine provides class leading power and acceleration.

super crisp, instant "right now" engine power (when in the powerband)
easy and economical to maintain, service and rebuild

7.5-degree cylinder angle and straight shot intake path through the combustion chamber.
Ceramic composite cylinder bore is a linerless design with the ceramic coating sprayed directly on the aluminum block.

reduced weight (no heavy iron liner)
reduced friction
extended cylinder life
excellent heat dissipation for consistent power delivery

Specially designed combustion chamber achieves a more complete burn at higher rpm.
Lightweight, flat-top forged aluminum piston.

excellent durability
light weight means fast engine response
matches combustion chamber design for maximum power delivery

Lightweight, ball-bearing-style crank.

lightweight design for fast throttle response
friction-reducing crank seals

Compact crankcases.

lightweight design
helps centralize mass

Quick-access, magnesium outer (sub) clutch cover.

lightweight design
speeds clutch access

Close-ratio, 6-speed transmission uses optimized gear ratios.

ratios are matched to engine output for maximum performance
optimal hook-up for outstanding acceleration and corner-exiting power
transmission features "involute splines" for smooth, positive shifting even under power

Yamaha's patented YPVS system.

features a slide (guillotine) type power valve that provides the benefits of both solid, low-rpm power delivery combined with a strong top-end punch. This system varies the exhaust port height and timing based on engine rpm.

Mikuni TMXx38 carburetor features a "D" slide design.

enhances overall power delivery
provides crisp throttle response at all rpm

6-petal, carbon fibre reed design.

for stronger high-rpm performance with greater over-rev capacity

CD (capacitor discharge) ignition system.

delivers a precise spark for fast, sure starts
ensures optimal timing at all rpm for fast, strong response

High-capacity, washable, dual-stage, foam air filter.

excellent filtering qualities
reusable filter reduces maintenance costs

Large-capacity, dual radiators feature 10-row cores.

maximum cooling efficiency

Lightweight exhaust system features a re-packable aluminum silencer which allows the rider/tuner to maintain the correct amount of back pressure for maximum engine performance while reducing noise.
Works-style clutch lever and race-spec barrel adjuster.

easy lever pull
for on-the-fly clutch adjustments
CHASSIS/SUSPENSION
Lightweight, aluminum, semi-double-cradle frame.

combines with compact engine to provide an awesome power to weight ratio
obvious benefit of an aluminum frame is a significant weight reduction
Yamaha maintains semi-double cradle design because it offers an excellent rigidity balance between lateral and torsional rigidity while offering controlled flex in the longitudinal plane
result is a light aluminum frame, which provides excellent handling, good ride quality, excellent stability and responsive cornering performance

Removable rear subframe.

constructed of square-section, lightweight aluminum
detachable design allows easy access when servicing rear suspension components

Lightweight, tapered design aluminum swingarm.

produced by "hydro forming", a forming method that uses high pressure water to form shapes
excellent rear wheel traction and control
lightweight design

Cast aluminum upper and forged lower triple clamps.

strong yet lightweight
fast, agile handling

Adjustable handlebar mounts.

handlebar can be moved 10 mm rearward if desired

"Speed Sensitive System" 48 mm, adjustable, inverted, "twin chamber" KYB fork. Front wheel travel is 300 mm (11.8″).

fork adjustments include: 20-way compression damping and 20-way rebound damping
optional fork springs are available through Genuine Yamaha parts
low-friction fork seals provide reduced stiction for a smoother stroke
twin-chamber design means the damper unit is in a separate structure which prevents aerated fork oil from entering the inner damper assembly and degrading its damping abilities
the inner damper is pressurized, it also eliminates bubbles forming in the oil
"Speed Sensitive" design means the damping force is controlled by piston speed, not position in the fork

Fork also features a Transfer Control Valve (TCV).

TCV enhances damping from mid to full stroke and improves bottoming characteristics
TCV offers more precise control throughout the full suspension stroke
TCV is located on the upside of the spring and its function is controlled by piston speed, not piston position, hence the term "Speed Sensitive System fork"

Large wrap-around plastic fork protectors.

provide excellent protection from dirt, mud and stone chips
self-supporting design reduces friction for smoother stroke

Monocross link rear suspension features a fully adjustable, KYB piggyback shock which provides 315 mm (12.4″) of wheel travel.

features separate adjusters for high- and low-speed compression damping
adjustments include: spring preload, 20-way rebound damping, 20-way low-speed compression damping and 2 turns of high speed compression damping
18 mm damper rod
Kashima coating (friction reducer) is used in the shock body and sub tank to reduce friction and improve suspension performance
piggyback shock utilizes a full rebound oil lock system for excellent suspension function and great ride quality.

270 mm floating front disc brake with Nissin twin piston caliper.

"wave" style rotor (disc) reduces weight, improves cooling (more surface area) and improves styling
braking performance is excellent with great feel and control

"Shorty" front brake lever is adjustable for various hand sizes.
245 mm rear disc brake with single piston caliper.

integrated master cylinder (fluid reservoir is integrated into the top of the master cylinder)
"wave" style rotor (disc) reduces weight, improves cooling (more surface area) and improves styling
strong stopping power with excellent feel and control

Rugged, plastic rear caliper and lower rear disc protectors / guards.
Sun Star-brand rear sprocket.

increases the contact area between the sprocket and chain rollers
reduces the load on the chain and increases service life of chain and sprocket

Lightweight, D.I.D. 21″ front and 18″ rear rims and premium Dunlop tires.

provide excellent durability
reduces unsprung weight for optimal suspension performance and handling

Flat-design seat features multi-density foam.

provides good initial softness/comfort and then increases the firmness as more pressure is applied
"pebble" finish on the top and side surfaces provides excellent rider grip and durability

Seat, handlebar and fuel tank ergonomics provide excellent freedom of movement for the rider.
DETAILS
Slim design, modern aggressive bodywork allows easy rider movements
Lightweight YZ250F/450F-based wide footpegs provide excellent grip & ground clearance
Heavy-duty 520 gold anodized "O" ring chain
Rugged chain guide helps prevent the chain from de-railing & also helps protect the rear sprocket
Serrated rear brake lever & folding shift lever tip
Stainless steel, inner clutch cable provides excellent strength, smooth action & long life
E10 friendly fuel system components
2020 Yamaha YZ125X – Totalmotorcycle.com USA Specifications/Technical Details
US MSRP Price: $6,699 – Team Yamaha Blue
Canada MSRP Price: $7799 CDN
Europe/UK MSRP Price: £See dealer for pricing in GBP (On The Road inc 20% Vat)
Australia MSRP Price: See dealer for pricing in AU
Engine Type 125cc liquid-cooled 2-stroke; reed-valve inducted
Bore x Stroke 54.0 mm x 54.5 mm
Compression Ratio 7.4~8.8:1
Fuel Delivery Carburetor
Transmission 6-speed; multiplate wet clutch
Final Drive Chain
Suspension / Front KYB® spring-type fork with speed sensitive
damping; fully adjustable, 11.8-in travel
Suspension / Rear KYB® single shock; fully adjustable, 12.4-in
travel
Brakes / Front Hydraulic disc, 270mm
Brakes / Rear Hydraulic disc, 245mm
Tires / Front 90/90-21 Dunlop® AT81F
Tires / Rear 110/90-18 Dunlop® AT81
L x W x H 84.3 in x 32.5 in x 50.6 in
Seat Height 37.6 in
Wheelbase 57.3 in
Rake (Caster Angle) 26.8°
Trail 4.6 in
Maximum Ground
Clearance
13.8 in
Fuel Capacity 2.1 gal
Wet Weight 209 lb
Warranty 30 Day (Limited Factory Warranty)
Color Team Yamaha Blue
*** Wet weight includes the vehicle with all standard equipment and all fluids, including oil, coolant (as
applicable) and a full tank of fuel. It does not include the weight of options or accessories. Wet weight is
useful in making real-world comparisons with other models.
2020 Yamaha YZ125X – Totalmotorcycle.com Canada Specifications/Technical Details
ENGINE
Engine
2-stroke, liquid-cooled, reed-valve, single
Displacement
125 cc
Bore and Stroke
54.0 x 54.5 mm
Compression Ratio
7.4~8.8:1
Fuel Delivery
Mikuni TMX x 38
Ignition / Starting
CDI / Kick
Transmission
Constant mesh, 6-speed
Final Drive
Chain
CHASSIS
Suspension (Front)
Fully adjustable 48 mm KYB inverted fork / 300 mm (11.8″) travel
Suspension (Rear)
Fully adjustable KYB link Monocross / 315 mm (12.4″) travel
Brakes (Front)
270 mm floating disc / twin piston caliper
Brakes (Rear)
245 mm disc / single piston caliper
Tires (Front)
90/90-21
Tires (Rear)
110/90-18
CRITICAL DATA
Length
2,140 mm (84.3″)
Width
825 mm (32.5″)
Height
1,285 mm (50.6″)
Wheelbase
1,455 mm (57.3″)
Ground Clearance
351 mm (13.8″)
Seat Height
955 mm (37.6″)
Fuel Capacity
8 litres (1.8 imp. gallons)
Wet Weight
94 kg (209 lb)
Colour(s)
Yamaha Racing Blue
2020 Yamaha YZ125X – Totalmotorcycle.com European Specifications/Technical Details
NA
2020 Yamaha YZ125X – Totalmotorcycle.com Australian Specifications/Technical Details
Manufacturer Specifications and appearance are subject to change without prior notice on Total Motorcycle (TMW).