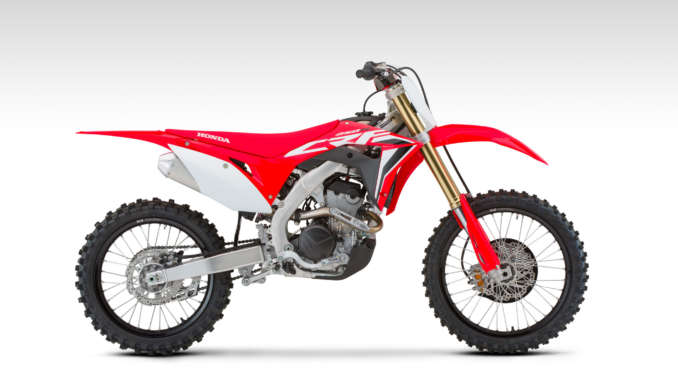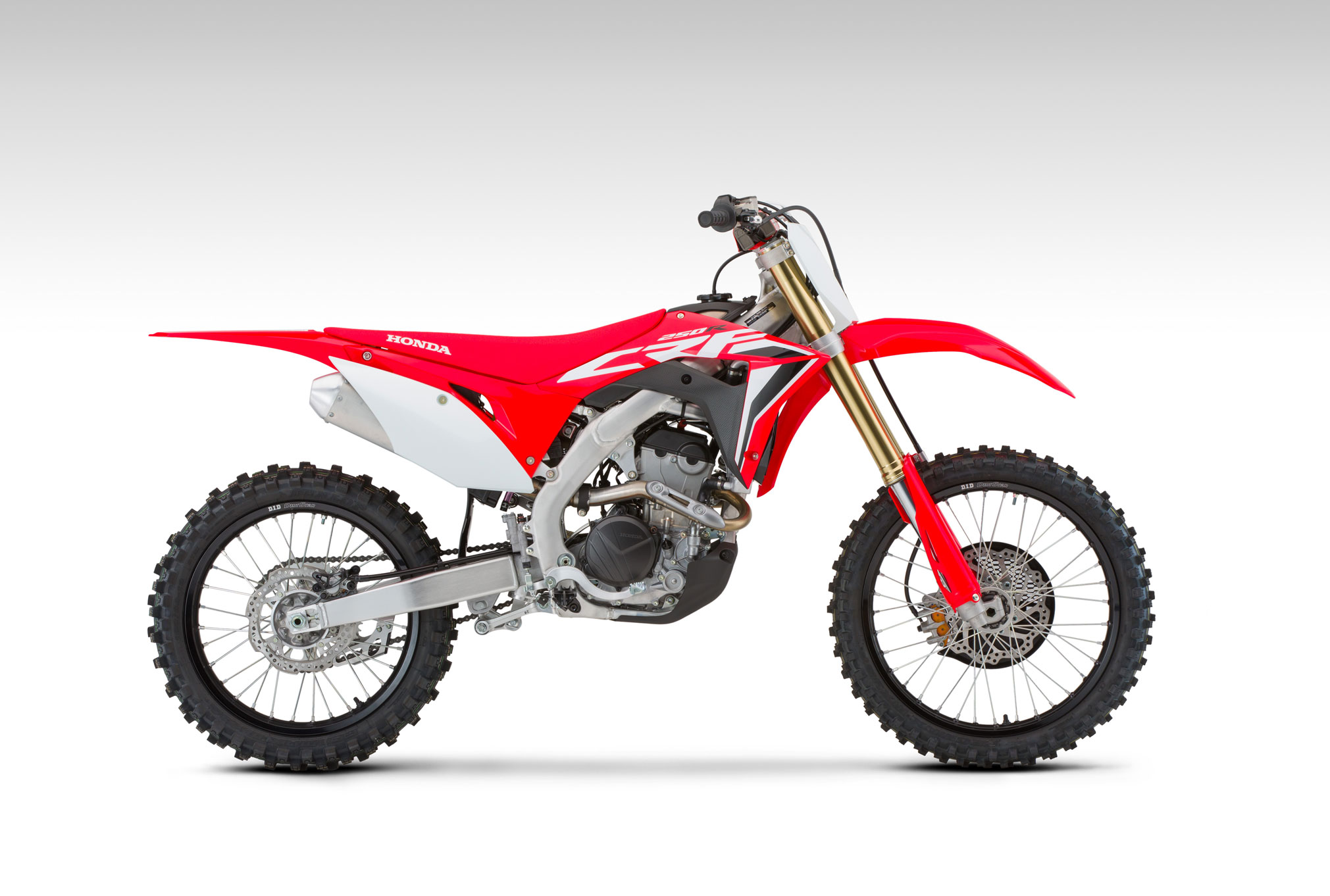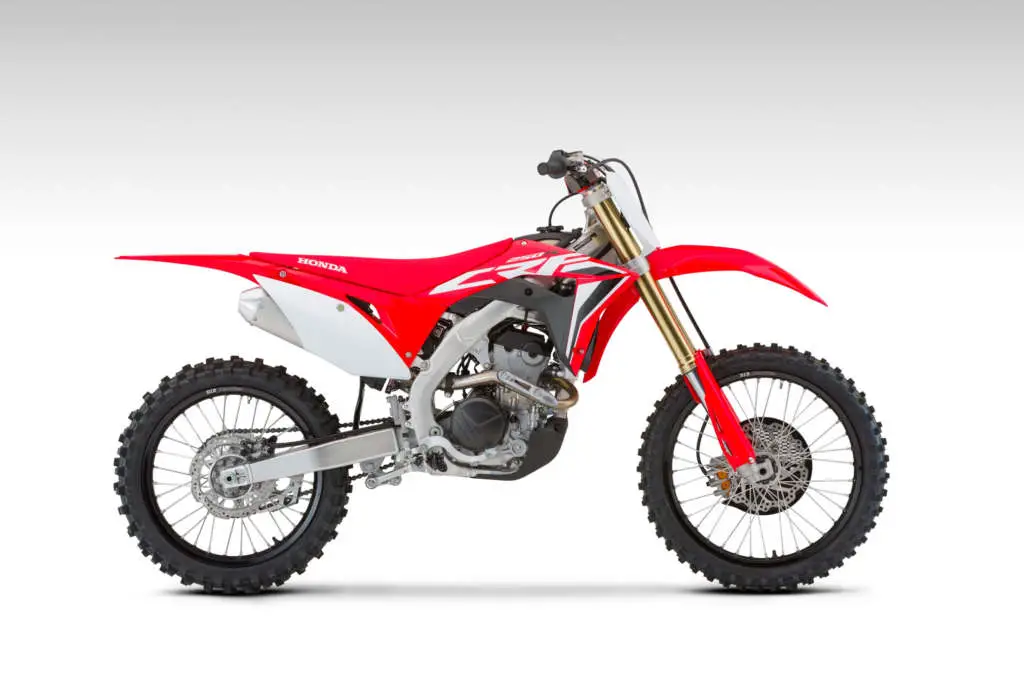 2021 Honda CRF250R: FIRST THE HOLESHOT. THEN THE PODIUM.
Introducing the 2021 Honda CRF250R…
The machine that took Phoenix Racing Honda rider Kyle Peters to the 2020 AMA Arenacross title returns for the 2021 model year, with strong power across the rev range and a low-center-of-gravity chassis layout that delivers nimble, stable handling. The CRF250R has also performed well in the 2020 AMA Supercross series, where GEICO Honda rider Chase Sexton leads the 250SX East title chase through the first six rounds.
Heroic podium speeches start with heroic holeshots—if you're not on it from the second the gate drops, the other guys are gonna eat your lunch. That's why you need to be on a Honda CRF250R. Because it'll be you who's doing the feeding—feeding the rest of the field your roost. High-revving DOHC engine. Fine-tuned twin-spar aluminum chassis. The kind of fit, finish, and refined detail you see on factory bikes. The list of features goes on and on. It's a complete package that's ready to win, right off the showroom floor. All it takes is the right rider—and that's where you come in.
ENGINE / DRIVETRAIN
High-performance, DOHC, 249cc single-cylinder engine with dual-overhead-cam design and high rev limit, offering great performance.
Finger rocker arms with Diamond Like Coating (DLC) maximize valve lift while retaining a low engine height.
Downdraft intake layout produces strong power and enables great throttle response by reducing resistance, thereby improving air-charging efficiency.
Gear-position sensor allows dedicated ignition maps for each gear.
Large air-filter element for good airflow.
Second and third gears have a WPC surface treatment for durability and minimal friction.
44 mm throttle body provides ideal low-rpm intake airflow for strong corner-exit performance.
Piston oil jet uses five nozzle holes for efficient piston-cooling efficiency and minimized knocking, enabling a precise ignition-timing setting for optimum power delivery.
Advanced AC generator reduces weight and friction losses.
Electric-start standard for easy, fast engine startup.
Easily selectable Standard, Smooth, and Aggressive riding modes enable simple tuning depending on rider preference or course conditions.
Selectable HRC launch control provides a steady stream of torque for excellent performance on race starts.
CHASSIS / SUSPENSION
Aluminum perimeter frame and swingarm are designed to achieve optimum yaw-angle stiffness while retaining lateral and torsional stiffness, resulting in good stability.
Low center of gravity reduces front-end lift for strong acceleration performance.
Lightweight and compact 1.66 gallon titanium tank keeps weight to a minimum.
Lightweight front-brake caliper uses pistons of different diameters (30 mm and 27 mm) for strong braking performance.
Front brake hose resists expansion for precise braking.
Renthal® Fatbar® reduces weight of the steering system, and flexes for optimal comfort.
Top triple clamp features two handlebar-holder locations for moving the handlebar rearward and forward by 26 mm, ensuring rider comfort. When holder is turned 180 degrees, the handlebar can be moved an additional 10 mm from the base position, resulting in four total unique riding positions.
Black rims deliver a strong presence on and off the track.
Smooth bodywork layout eases rider movement.
In-mold graphics are durable and resistant to peeling caused by washing or abrasion.
Geomax MX3S tires, exclusively available through Honda, for superior bump absorption and grip in wide variety of conditions.
2021 Honda CRF250R Totalmotorcycle.com Features and Benefits
ENGINEERING
HRC LAUNCH CONTROL
We're talking about a special ECU program here: push the button to select the mode, hold the throttle open, release the clutch, and the CRF250R will do the rest, launching you into the first turn with a big advantage. It turns your bike into a holeshot-seeking machine!
BIG BORE/SHORT STROKE
The CRF250R's 79.0mm bore and short 50.9mm stroke let our engineers create a high-revving engine with plenty of room for large valves. The engine breathes and revs—the two keys to making power in the motocross world.
CLUTCH DESIGN AND MATERIALS
The CRF250R's clutch uses two different types of friction material. Why? The clutch can handle the increased power of the engine without being any larger. The lighter rotating weight is directly related to how fast the engine revs. Stronger clutch springs help cope with all that power.
DOHC ENGINE LAYOUT
The CRF250R uses a double-overhead-cam (DOHC) engine layout with a unique finger-follower rocker design. Together with the rest of the engine's architecture (bore and stroke, intake tract, piston, and more), you get more power and a higher redline.
DOWNDRAFT INTAKE AND EXHAUST LAYOUT
The DOHC cylinder-head design let our engineers straighten out the CRF250R's intake and exhaust tracts. The intake is short and just about arrow straight, and the exhaust flows more efficiently too. No athlete's going to win a sprint if they try to run while holding their breath, and it's no different with your bike's engine. You'll experience both more power and better throttle response.
REFINED DUAL-EXHAUST SYSTEM
The CRF250R's dual-exhaust system is light, compact, and positioned close and low in the frame to take weight off the rear end and bring more mass to the bike's center for improved handling. The pipes' length are fine-tuned to give you more low- and midrange torque.
ENGINE MODE SELECT BUTTON
This simple handlebar-mounted button lets you dial in engine power delivery character with a push of your thumb. Choose between Standard, Smooth and Aggressive, depending on track conditions.
ENGINE OIL SCAVENGE PUMP
Deep in the engine, there's a special oil scavenge pump. While you may never see it, it helps keep the CRF250R's overall design compact.
GEAR-POSITION ENGINE MAPPING
Talk about smart: The CRF250R features an ECU with special engine mapping for each gear. You can't give an inch in this class, so having your engine deliver optimal power for each gear choice is one of the features that separates CRF250R riders from the rest.
GRADUAL PIPE-BEND RADIUS
Notice how the CRF250R's dual exhaust pipes make gradual, large-radius bends out of the head, then flow straight back to the mufflers with no abrupt angle changes. Getting the exhaust out of the engine—while still maintaining a tuned exhaust length, is the key to power, while the pipes' low mass and twin-silencer design optimize the CRF250R's center of mass for superior handling.
"H" SECTION CRANK
Look closely at the CRF250R's crankshaft profile and you'll see its "H" cross-section design. What's up with that? Just like a structural "I" beam in an aircraft wing or a skyscraper, it boosts strength and cuts weight over a conventional crank's shape—a big deal when you consider this part spins at over 14,000 rpm!
LITHIUM-ION BATTERY
Like the rest of the CRF250R, the bike's Lithium-Ion battery is both super light and high performing. In fact, it weighs less than half the weight of a conventional lead-acid battery.
SHARED ENGINE/GEARBOX LUBRICATION
The 2021 CRF250R uses a shared engine/transmission oiling design. Why? Combining the two systems shaves weight and helps make the engine more compact, especially when it comes to placing the right-side cam drive and the clutch so close together.
TITANIUM FUEL TANK
Every gram counts on a bike in the 250 class, which is why the 2021 CRF250R has a titanium fuel tank. Light and strong, it's also thinner than our previous plastic unit, freeing up more space and helping to centralize fuel mass.
TITANIUM INTAKE AND EXHAUST VALVES
Light is right when it comes to a high-revving engine's reciprocating masses. That's why the CRF250R uses titanium intake and exhaust valves. Plus, the valve angle is a super-narrow 20.5 degrees (included). Ovalized valve springs and long-wearing Diamond-Like Carbon (DLC) treated finger rockers complete the package.
TOTAL AIR MANAGEMENT
Total air management means complete attention to how efficiently air gets through the intake, through the head, and out the exhaust. Eliminate losses here, and you make more power everywhere. And the best part? It's free horsepower—you just need a bike with smart design.
CONVENIENCE
ELECTRIC START
The CRF250R is equipped with an effortless electric starter. Convenient and lightweight, it's a huge deal if you need to restart a stalled bike in the heat of battle.
PERFORMANCE
DOUBLE-SPRAY INJECTOR SETTINGS
The CRF250R's fuel-injection system sprays twice per intake cycle. That helps increase fuel atomization without adding the weight or complexity of a second injector. The better fuel atomization means more power in the midrange and on over rev—you'll feel it the first time you race.
BRIDGED-BOX PISTON
The CRF250R's bridged-box piston is the final piece to the CRF250R's engine performance package. The design features a reinforcing structure between the skirts and the wrist-pin bosses that helps enable the CRF250R's high redline.
HIGH CAPACITY RADIATOR
When you're making big power and riding long motos, you need plenty of radiator capacity to keep your engine running strong. No worries—the CRF250R has you covered in that department.
HIGH REDLINE
With our better-breathing DOHC design and the big-bore/short-stroke engine, the CRF250R's rev limit is way impressive. The same goes for peak power and peak torque.
HIGH-VOLUME AIR CLEANER
The 2021 CRF250R features an air-cleaner element with plenty of surface area and volume. The result? More power!
HIGH-PERFORMANCE CAM PROFILES
With input directly from our HRC factory team, we've given the CRF250R cam profiles that help the engine produce better bottom end torque and power, while still retaining the CRF250R's screaming peak.
MORE POWER
Feel free to hold that throttle open and head for the first turn—the CRF250R is designed to win that critical holeshot drag race. You'll also feel the increased low-end to mid-range torque.
THROTTLE BODY
With a 44mm venturi designed to speed up airflow, the CRF250R's throttle body really reaps benefits at low engine operating speeds. You get power and snap, right now.
HANDLING
SHOWA® SPRING FORK
The 49mm Showa® fork features a conventional spring design that helps increase the CRF250R's front-suspension precision, handling and feel. The 39mm piston diameter and 25mm rod diameter guarantee a plush feel and supple action.
260mm FRONT BRAKE
The CRF250R's large front-brake disc measures a whopping 260mm. You get great brake feel and a pattern that cuts down on weight. Front and rear brake-disc guards are part of the package too.
DUNLOP MX3S TIRES
Developed using Dunlop's latest "block-on-block" design technology, the CRF250R's MX3S tires give excellent feedback and are a perfect complement to the CRF250R's frame and suspension.
LOW BATTERY MOUNTING
To keep a bike's center of gravity low, you need to pay attention to all the details. That's why we locate the CRF250R's battery low in the chassis. It's just another reason why the bike handles so well.
LOW REAR SHOCK MOUNT
With its low rear shock mount on the frame, the CRF250R benefits from both a lower center of gravity (cg) as well as chassis stability.
SHORT SWINGARM
The CRF250R's short swingarm helps make it light, and also helps give the bike better rear-wheel traction, and reduces unsprung mass, important considering how much power you have on tap.
TWIN-SPAR ALUMINUM FRAME
The CRF250R's latest twin-spar aluminum frame is identical to the CRF450R's except for the lower engine cradle where the engine mounts. It's the foundation for the 250's superb handling.
COMFORT
BLACK RIMS
They may not help you go faster, but the sweet black DID DirtStar rims sure look good.
FLAT SEAT/TANK JUNCTION
The 2021 CRF250R features a flat seat/tank junction, including a titanium fuel tank. The superior ergonomics make it easier to move forward and back on the bike, increasing your control.
"IN MOLD" GRAPHICS
With the all the time you'll be spending in victory circle, you need to look your best. The CRF250R has you covered. Our "in mold" graphics look great, and stay looking good.
REAR SUBFRAME
The CRF250R's subframe uses extruded rear members that produce a 20-percent reduction in weight versus the previous generation. Since that weight comes off the top of the bike, it also contributes to the CRF250R's low center of gravity.
SMOOTH STYLING
Blending the CRF250R's body panels does more than just make the bike look smooth, fast, and stylish. It also helps you move around on the bike while riding. Nothing wrong with smooth, fast, and stylish, though.
2021 Honda CRF250R – Totalmotorcycle.com USA Specifications/Technical Details
US MSRP Price: $4799 USD
Canada MSRP Price: $7999 CDN
Europe/UK MSRP Price: £ GBP (On The Road inc 20% Vat)
| | |
| --- | --- |
| ENGINE | |
| Type | 249cc liquid-cooled single-cylinder four-stroke |
| Valve Train | DOHC, four-valve; 33mm intake, titanium; 26mm exhaust, titanium |
| Bore x Stroke | 79.0mm x 50.9mm |
| Compression Ratio | 13.9:1 |
| Induction | Programmed fuel-injection system (PGM-FI); 44mm throttle bore |
| Ignition | Full transistorized |
| Starter | Push-button electric starter |
| Transmission | Constant-mesh 5-speed return; manual |
| Clutch | Multiplate wet (5 springs) |
| Final Drive | #520 chain; 13T/48T |
| SUSPENSION | |
| Front | 49mm fully adjustable leading-axle inverted telescopic Showa coil-spring fork; 12.0 in. travel |
| Rear | Pro-Link system; fully adjustable Showa single shock; 12.4 in. travel |
| BRAKES | |
| Front | 2-piston caliper (30mm, 27mm) hydraulic; single 260mm disc |
| Rear | 1-piston caliper hydraulic; single 240mm disc |
| TIRES | |
| Front | Dunlop Geomax MX3S 80/100-21 w/ tube |
| Rear | Dunlop Geomax MX3S 100/90-19 w/ tube |
| MEASUREMENTS | |
| Rake (Caster Angle) | 27°22' |
| Trail | 116mm (4.6 in.) |
| Length | 85.9 in. |
| Width | 32.5 in. |
| Height | 50.2 in. |
| Ground Clearance | 12.9 in. |
| Seat Height | 37.8 in. |
| Wheelbase | 58.3 in. |
| Fuel Capacity | 1.6 gal. |
| Color | Red |
| Curb Weight* | 237 lbs. |
*Includes all standard equipment, required fluids and full tank of fuel—ready to ride
Specifications subject to change
2021 Honda CRF250R – Totalmotorcycle.com Canada Specifications/Technical Details
ENGINE
Engine Type 249cc liquid-cooled single-cylinder four-stroke
Bore and Stroke 79.0mm x 50.9mm
Induction Programmed Fuel-Injection system (PGM-FI); 44mm throttle bore
Ignition Full transistorized
Compression Ratio 13.9:1
Starter Electric with lithium-ion battery
Valve Train DOHC, four-valve; 33mm intake, titanium; 26mm exhaust, titanium
DRIVETRAIN
Transmission 5-speed
Final Drive #520 Chain; 13T/51T
CHASSIS SUSPENSION BRAKES
Front Suspension 49mm fully adjustable leading-axle inverted telescopic Showa SPG coil-spring fork;
12.0 inches of travel
Rear Suspension Pro-Link system; fully adjustable Showa single shock; 12.4 inches of travel
Front Brake Single 260mm hydraulic disc
Rear Brake Single 240mm hydraulic disc
Front Tire Dunlop Geomax MX3S 80/100-21
Rear Tire Dunlop Geomax MX3S 100/90-19
DIMENSIONS
Rake (Caster Angle) 27° 22′
Trail 4.6 Inches
Wheelbase 58.3 inches
Seat Height 37.8 inches
Curb Weight 237 pounds (Includes all standard equipment, required fluids and a full tank of
fuel–ready to ride)
Fuel Capacity 1.6 gallons
Ground Clearance 12.9 inches
Length 85.9 inches
Width 32.5 inches
Height 50.2 inches
OTHER
Available Colors Red
Model ID CRF250R
2021 Honda CRF250R – Totalmotorcycle.com European Specifications/Technical Details
TBA
Manufacturer Specifications and appearance are subject to change without prior notice on Total Motorcycle (TMW).