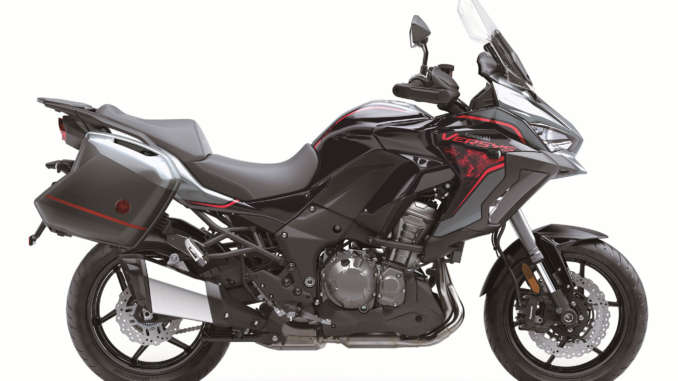 2021 Kawasaki Versys 1000 ABS LT SE : EMBRACE THE OPEN ROAD.
Introducing the new 2021 Kawasaki Versys 1000 ABS LT SE…
The Versys 1000 ABS LT SE motorcycle combines an exhilarating ride with touring potential, allowing riders to ride as long or as far as they want, on any type of road. Kawasaki's advanced IMU-equipped rider support systems contribute to riding enjoyment and rider confidence, while electronic cruise control, Kawasaki Electronically-Controlled Suspension (KECS) and ample bodywork provide rider comfort so that the highly versatile Versys 1000 ABS LT SE is a capable partner for adventure on the open road.
Open-road adventure awaits when you ride the Versys 1000 ABS LT SE motorcycle. With a 1,043cc engine, nimble chassis and comfort at its core, versatility and functionality is central in every facet. Confidently take on any road at any time, with a motorcycle that's as reliable as it is fun. The 2021 Versys 1000 ABS LT SE features a 1043cc in-line four-cylinder engine, upright riding position, Integrated Riding Modes, Kawasaki Quick Shifter (KQS), all-LED lighting including cornering lights, multi-function TFT color LCD screen, Smartphone Connectivity via RIDEOLOGY THE APP, Electronic Cruise Control and heated grips. For 2021, the Versys 1000 ABS LT SE benefits from an update to its KECS (Kawasaki Electronic Control Suspension) to incorporate Showa's Skyhook EERA (Electronically Equipped Ride Adjustment) technology. Showa's Skyhook software was carefully fine-tuned by Kawasaki engineers to ensure the sporty riding character of the Versys 1000 ABS LT SE was preserved, delivering a smoother ride as it continually adapts to the road surface in real time and reduces pitching under braking, especially when riding two-up. Steering remains light when riding on the highway and the bike feels more planted when riding in wet conditions, contributing to increased rider confidence. The Versys 1000 ABS LT SE is returning for 2021 Pearl Storm Gray / Metallic Diablo Black / Metallic Flat Spark Black.
2021 Kawasaki Versys 1000 ABS LT SE Totalmotorcycle.com Key Features
• EQUIPPED WITH INERTIAL MEASUREMENT UNIT (IMU) FOR ROBUST ELECTRONIC RIDING AID PACKAGE
• NOW EQUIPPED WITH SHOWA'S SKYHOOK SUSPENSION TECHNOLOGY
• ELECTRONIC THROTTLE VALVE INTEGRATES STANDARD CRUISE CONTROL SYSTEM
• SMOOTH INLINE FOUR-CYLINDER ENGINE WITH LINEAR POWERBAND HELPS REDUCE RIDER FATIGUE
• DUAL LED HEADLIGHTS AND CORNERING LIGHTS
• ADJUSTABLE WINDSCREEN
2021 Kawasaki Versys 1000 ABS LT SE Totalmotorcycle.com Features and Benefits
KECS WITH SHOWA SKYHOOK TECHNOLOGY
Updated software for the semi-active Kawasaki Electronic Control Suspension (KECS) system incorporates Showa's Skyhook EERA (Electronically Equipped Ride Adjustment) technology to deliver an even more composed ride.
The Skyhook concept imagines a hook supporting the motorcycle's sprung weight and modulates the suspension's damping force to allow the wheels to track road dips and bumps while maintaining the motorcycle's vertical position with minimal disturbance.
• Showa's Skyhook software, carefully fine-tuned by Kawasaki engineers to ensure the Versys 1000's sporty riding character was preserved, delivers a smoother ride as it continually adapts to the road surface in real time. It provides excellent road holding ability, reduces pitching (especially when riding two-up), maintains light steering and helps make the motorcycle feel more planted when riding in wet conditions.
• While KECS controls suspension damping using multiple sources:
– Real-time stroke speed and position from the built-in stroke sensors
– Vehicle acceleration/deceleration from the IMU
– Front/rear wheel speed from the FI ECU
– Front brake caliper pressure from the ABS ECU
KECS with Skyhook also takes into account vertical acceleration and pitch rate when determining the damping force required.
• Suspension components and actuation are unchanged from the standard KECS.
• Base damping character is determined by the integrated Riding Mode selection as before, and rear preload adjustability is available as before.
ADVANCED ELECTRONIC RIDING AIDS
Kawasaki's cutting-edge electronics have always excelled due to the highly sophisticated programming that gives the ECU an accurate real-time picture of what the chassis is doing using minimal software.
Incorporating a Bosch IMU and the latest evolution of Kawasaki's proprietary dynamic modeling software, the Versys® 1000 SE LT+ motorcycle's electronic management technology helps riders enjoy the ride with enhanced confidence.
• The IMU measures inertia along 5 axes: acceleration along longitudinal, transverse and vertical axes; roll rate; and pitch rate. The yaw rate is calculated by the ECU using Kawasaki's patented software to provide six-axis chassis attitude input of lean angle and acceleration/deceleration force for more precise management of the electronic riding aids.
• Unlike competitors' systems that have pre-set limits, Kawasaki's proprietary software enables a dynamic system that has a higher level of chassis awareness and adapts to changing conditions such as vehicle attitude, pavement conditions and tires.
Corner Management Function
• Corner Management Function uses both KIBS and KTRC to assist riders with tracing their intended line through a corner by suppressing the tendency for the bike to stand up while braking in a turn. The IMU inputs helps the system maintain optimum hydraulic pressure based on the bike's lean and pitch angles.
• The same base system used on the Ninja H2™ and Ninja® ZX™-10R motorcycles with revised program settings to suit the performance parameters of the Versys® 1000 SE LT+.
• Supersport-style high-precision system with smooth feedback for added braking confidence.
• The engine ECU communicates with the ABS ECU (which monitors wheel speed and front caliper hydraulic pressure) to regulate brake pressure. The high-precision control provides a more consistent lever feel than conventional ABS systems.
• Back torque limiting clutch system supplements ABS function during downshifts for optimum performance.
Kawasaki Traction Control System (KTRC)(KP)
• 3-mode system covers a wide range of riding conditions, offering either enhanced sport riding or rider assurance by facilitating smooth riding on slippery surfaces.
• Modes 1 and 2 control ignition timing like Sport-Kawasaki Traction Control (S-KTRC), which uses complex analysis to predict when traction conditions are about to become unfavorable and act before wheel slippage exceeds the range for optimal traction. Mode 3 has higher sensitivity and controls ignition timing, fuel and air for ultra-smooth operation.
• A switch on the left handlebar switch housing gives the rider the option to turn the system off.
Power Mode
• Allows riders to set power characteristics to suit riding conditions and style. Riders can choose between full power operation or low power, which is approximately 75 percent of full with a milder throttle response.
Integrated Riding Modes: Sport, Road, Rain, Rider (manual)
• All-inclusive modes that link KTRC, Power Mode and KECS allow riders to efficiently set traction
control, power delivery and suspension character to suit a given riding situation.
• Riders can choose from three settings (Sport, Road, Rain) or a manual setting (Rider). In the manual Rider mode, each of the systems can be set independently.
– Sport: enables riders to enjoy sporty riding on winding roads.
– Road: offers comfortable riding over a wide range of situations, from city riding to highway cruising and rural roads.
– Rain: offers rider reassurance when riding on a wet road surface.
RIDING MODE KTRC POWER MODE KECS
Sport 1 F Hard
Road 2 F Normal
Rain 3 L Soft
Rider (manual) 1,2,3 or Off F or L Hard, Normal or Soft (Compression/Rebound: +5/-5)
• KIBS settings are adjusted according to the KECS damping (Rider Mode) setting selected. The riding mode can be changed while riding, using the button at the left side of the handlebar.
Electronic Cruise Control
• Allows a desired speed to be maintained with the simple press of a button so that the rider does not have to constantly modulate the throttle. This reduces stress on the right hand when traveling long distances, enabling relaxed cruising and contributing to a high level of riding comfort.
• Once the desired speed has been selected, engine output is adjusted automatically via the Electronic Throttle Valves to maintain speed when ascending or descending grades are encountered. The set speed can be adjusted using the "+" and "-" buttons.
• Operating the brake lever, clutch lever or rear brake pedal, or shifting gears, causes the Electronic Cruise Control to disengage. Closing the throttle beyond the "zero-throttle" position is another instinctive way to disengage the system. The system also disengages automatically in the event of large traction control intervention.
RIDEOLOGY THE APP Smartphone Connectivity†
† Do not operate smartphone while riding
• A Bluetooth® chip built into the instrument panel enables riders to connect to their motorcycle wirelessly. Using the smartphone application "RIDEOLOGY THE APP," a number of instrument functions can be accessed, contributing to an enhanced motorcycling experience.
Available functions:
– Vehicle Info: information such as fuel gauge, odometer, maintenance schedule, etc can be viewed via the smartphone.
– Riding Log: GPS route information as well as vehicle running information can be logged and viewed via the smartphone.
– Telephone notices: when a call or mail is received by the smartphone, this is indicated on the instrument display.
– Vehicle Settings: Riding Mode (Road, Sport, Rain, Rider) can be set in advance on the smartphone and uploaded when paired with the bike, as can riding support systems (like KQS) and the payload mode.
– General Settings: general instrument display settings (such as preferred units, date, date format, etc) can be adjusted via the smartphone.
• Once vehicle information has been downloaded to the app, it can be viewed on the smartphone. Available information includes: odometer, trip A, trip B, fuel gauge, remaining range, average gas mileage, average speed, max lean angle (right/left), battery voltage, Kawasaki service reminder, oil change reminder, etc.
• Detailed riding logs including GPS information and vehicle running information can be recorded. While riding, the app tracks vehicle speed, rpm, gear position, throttle position, front brake fluid pressure, acceleration/deceleration, current mileage, and coolant temperature from moment to moment. Once the riding log has been paired, riders can review these items in a graphic-style display at any point along the route. The app can also display a ride summary, with information that may include: route travelled, total distance, total time, gas mileage (best/average), speed (best/average), max lean angle (right/left), etc. For either display mode, riders can select which items are displayed, and can arrange them in their preferred order.
• When riding with the app ON the bike and smartphone are always connected. When the engine is turned off, the latest riding information stored by the app may be viewed on the smartphone.
Any vehicle setting changes made via the app while the engine is off, or while out of range, will be uploaded when the ignition is turned on and the smartphone is in range with the app ON. General settings can only be updated via the app when the bike and smartphone are connected.
• Tuned to provide strong low and mid-range torque with a smooth power delivery.
• An intoxicating intake howl contributes to the engine feel and allows riders to enjoy the sound when accelerating.
• Good over-rev characteristics so that power does not drop off suddenly at high rpm.
• A secondary balancer, driven off a gear on the 6th web of the crankshaft, eliminates excess vibration. A certain amount of engine vibration was designed to be part of the bike's character (vibration contributes to the feeling of acceleration, increasing linearly with rpm), so vibration was not totally eliminated.
• Generator puts out 15.3 amps at 1,100 rpm to provide sufficient power for a full complement of accessories.
• Flexible engine character means the Versys® 1000 SE LT+ motorcycle works just as well cruising along at low-rpm as it does being ridden more aggressively in the mid-high rpm range.
Digital Fuel Injection (KP)
• Electronic Throttle Valves (ETV) enable the ECU to optimize the volume of both the fuel, via the injectors, and the air, via the throttle valves, delivered to the engine. Optimized fuel injection and throttle position results in smooth, natural engine response and ideal engine output.
• The ETV is Kawasaki's first system with the accelerator position sensor located at the handlebar instead of the throttle body, eliminating throttle cable maintenance. Friction is built in to the twist grip to simulate the feel of a traditional throttle cable.
• FI settings provide linear power delivery with quick and smooth throttle response that helps with low- speed maneuverability, roll-on power, and contributes to sport riding potential
• Downdraft throttle bodies provide air the shortest distance to the engine to help boost performance. While downdraft throttle bodies often use short intake funnels to maximize high-rpm performance, the funnels on Versys® 1000 SE LT+ motorcycle's are longer to offer the best power characteristics for street riding excitement.
• 38mm throttle bores enhance low and mid-range response.
• Oval sub-throttle valves are used to deliver extremely smooth response. The oval shape also helps keep the engine slim – important since the throttle bodies are positioned between the rider's knees.
• Denso long-type, 12-hole fine-atomizing injectors with tapered nozzle openings contribute to combustion efficiency.
• Power delivery is quite linear and, thanks to FI settings, response is both quick and very smooth. Both characteristics facilitate control (especially for low-rpm maneuvers or when rolling the throttle on) and contribute to sport riding potential.
Exhaust System
• Large connector pipes joining exhaust headers 1-4 and 2-3 to reduce exhaust resistance for optimum flow and performance at all rpm.
• Three-way catalyzers in the exhaust collector ensure emissions regulations are met without sacrificing performance.
• Compact, sporty muffler enhances appearance.
• Under-engine pre-chamber contributes to a more centralized mass by enabling a smaller-volume silencer.
• Single-side muffler offers lower weight than twin mufflers.
Assist & Slipper Clutch(KP)
• Using the rotational forces of the clutch hub and pressure plate, the clutch is forced together during acceleration (Assist function) so that fewer and lighter clutch springs can be used for a lighter feel at the lever. During high back-torque, such as when too low of a gear is selected during downshifting, the Slipper function allows some clutch slippage to help prevent engine lock-up, stalling and rear wheel hop.
• Judder spring component helps prevent judder when the clutch is disengaged.
Kawasaki Quick Shifter (KQS)
• A contactless-type quick shifter enables clutchless upshifts and downshifts for seamless acceleration and quick and easy deceleration.
• During acceleration, the system detects that the shift lever has been actuated, and sends a signal to the ECU to cut ignition so that the next gear can be engaged without having to use the clutch.
• During deceleration, the KQS system automatically controls engine speed, allowing you to downshift without operating the clutch.
• KQS does not function below 2,500 rpm.
6-Speed Transmission
• Gear ratios accommodate a wide range of riding situations, including sport riding, highway cruising, and riding fully loaded with passenger and luggage.
• Short first gear facilitates moving off from a stop while fully loaded, while long third through sixth gears are suited to both sport riding and relaxed highway cruising.
Chassis balance and suspension settings were selected to maximize rider enjoyment on the street. With its superb control and feedback, the Versys® 1000 SE LT+ motorcycle offers a high level of rider confidence in numerous street riding situations and accommodates a variety of riding styles. And because the Versys® 1000 SE LT+ is intended to be used on a variety of streets where road imperfections are common, its long-travel suspension enables riders to cope with rough street conditions while KECS allows the Versys® 1000 SE LT+ to remain composed where bikes with stiffer, sportier set-ups would require a much slower pace. The relaxed, upright riding position offers a high level of machine control as well as a good vantage ahead.
Frame
• Aluminium twin-tube frame design features frame beams that go over the engine, allowing a narrow construction that is easier to grip with the knees.
• Lightweight and highly rigid, the frame uses the engine as a stressed member. The frame contributes to handling, offering a firm, planted feeling, stability and light, nimble turning.
• The frame is a 5-piece cast aluminium construction, consisting of steering stem, left and right main frames, and two cross pieces. The
two main frame components have open C-shaped cross sections and were die-cast to ensure a smooth surface finish.
• Reinforcing pipes join the engine hangers, offering increased chassis rigidity to suit the long- suspension configuration.
• Rear sub-frame is a steel pipe trellis unit that enables the Versys® 1000 SE LT+ motorcycle's high payload.
• Welds were strategically placed for a better appearance.
• The frame uses 4 engine mounts. The upper rear crankcase mount and front cylinder mounts are rubber to help prevent vibration and provide excellent handling characteristics.
• Standard center stand for utility and ease of maintenance.
• The Horizontal Back-link linkage is placed atop the swingarm for better mass centralization and to make room for the exhaust pre-chamber.
• Based on the semi-active system introduced on the 2018 Ninja® ZX™-10R SE motorcycle, KECS electronically controls damping to the cartridge front fork and BFRC lite (Balance Free Rear Cushion) rear shock that adapts to road and riding conditions in real time
to provide the ideal amount of damping for the current condition. Combining advanced, mechanical components with the latest electronic control technology, KECS offers the suppleness to handle a wide range of street riding situations and the firm damping for more sport-oriented riding so that the tires feel planted and enhance cornering confidence.
• Damping is adjusted electronically to suit vehicle speed and suspension stroke speed. Deceleration is also considered to help control (not eliminate) the natural pitching that occurs under braking.
• A solenoid valve controls damping with direct (single-stage) actuation. This results in an extremely quick reaction time of one millisecond – much quicker than systems that rely on step-motors, or those that use pilot valves (two-stage actuation) that slow the system's responsiveness. The quick reaction time makes KECS ideal for sport riding applications, where natural feeling is crucial to feeling at one with the bike.
• Built-in stroke sensors on both the fork and rear shock provide real-time stroke speed and compression information. The sensor coils provide input to the KECS ECU every millisecond, which is complemented by information provided by the IMU (acceleration/deceleration) and the FI ECU (vehicle speed) every 1/100th of a second. The KECS ECU then directs current to the solenoids to adjust damping as required by the situation.
• Base damping character is set according to the integrated Riding Mode (Sport, Road, Rain, Rider (manual)) selected. KECS then adjusts to the road surface environment in real time to provide the ideal damping, taking into account vehicle speed, stroke speed and deceleration.
• Rear preload is also electronically set. Riders can choose from three payload modes (each with +5/-5 adjustment):
– Rider only
– Rider with luggage
– Rider with passenger and luggage
• Showa's latest BFRC-lite (Balance Free Rear Cushion) shock offers excellent ride comfort and traction.
• Damping valves are located outside the shock cylinder so that the hydraulic circuit does not generate the pressure balance fluctuations that typically occur in conventional dampers.
• By placing the valving in a damping force chamber, the whole surface
of the shock piston can act on the oil, stabilizing internal pressure which results in a more compliant shock.
• Electronically-controlled preload adjustment allows quick and easy setting changes for specific load conditions.
• Provides high ride comfort and traction and reduces weight.
Brakes/Tires
• Large 310 mm front petal discs are gripped by opposed 4-piston radial- mount monobloc calipers with differentiated diameter pistons: 32mm upper, 30 mm lower. The highly rigid monobloc calipers contribute to superb feel and excellent stopping power.
• Radial-pump front brake master cylinder also contributes to the superb feel offered by the calipers. Squeezing the lever produces a linear increase in brake force for better brake control.
• Front brake reservoir tank is smoked plastic, adding a classy touch to the cockpit area.
Relaxed Cockpit
• Large windscreen has a center vent that when open reduces the negative-pressure effect in the cockpit to help prevent the rider from being pulled forward at highway speeds.
• Windscreen height adjustment knobs are placed behind the screen so the rider can adjust windscreen height while stopped without dismounting.
• Large handguards wrap over the rider's hands for enhanced wind deflection.
• Optional Kawasaki Genuine Accessories ERGO-FIT® reduced reach seat is available that has thinner padding and lowers seat height approximately ¾ inches for an easier reach to the ground.
• Heated grips with variable temperature settings add to rider comfort in cold conditions.
• The seat's slim design and the knee grip characteristics of the tank provide freedom of movement, allowing the riders to change sitting position should they so choose.
• Thick urethane padding increases comfort and contributes to a seat height that places the rider in a position of fun controllability.
• Footpegs are positioned low and forward, contributing to a spacious riding position. Rubber-mounted brackets and rubber-coated footpegs help reduce vibration reaching the rider.
• The very natural, relaxed position offers the rider a high level of machine control. The upright riding position accommodates a variety of riding styles, broadening the spectrum of riding enjoyment and also offers a high level of comfort, a great benefit for touring.
• When combined with the long-stroke suspension, the upright
riding position and higher seat height offer a commanding view of the road ahead – especially advantageous when navigating city traffic.
• Wide, large-diameter handlebar offers easy control, especially for low-speed maneuvering. Rubber mounts help reduce vibration for rider comfort.
• Ergonomic grab bars provide comfortable passenger grips.
TFT Instrumention
• First introduced on the Ninja H2™ SE motorcycle, the high-grade full color multi-meter display features TFT (thin-film transistor) technology to provide a high level of visibility. The screen's background color is selectable (black or white), and screen brightness adjusts automatically to suit available light. In addition to scrollable multi-function windows, two display modes offer riders a choice of how they want their information presented.
• Touring Mode: easy-to-read, calm layout offers a substantial amount of information at-a-glance.
• Sport Mode: important information is prioritized and presented graphically for easy digestion. G-force (based on feedback from the IMU), throttle and front brake application are illustrated visually rather than numerically.
* Bluetooth chip allows connection to smartphone and RIDEOLOGY THE APP.
* Handlebar switches allow the rider to easily scroll through all mode selection and display options with a fingertip.
Standard KQR™ 28-liter Saddlebags
• Saddlebag design is integrated with tail section and are large enough to hold a typical full-face helmet.
• Similar in design to the Concours®14 motorcycle's mounts, the saddlebags can be easily removed and installed, plus there's no supporting framework to detract from the motorcycle's adventure style when they're removed.
• One-key system for the ignition and saddlebags is convenient.
• A lightweight resin-construction rear carrier (12-pound maximum capacity) provides a solid platform for carrying items.
• Large under-seat storage space has room for compact rain gear or other small items.
• High capacity generator develops enough electricity to power a 45 watt accessory DC power outlet.
• Upper cowl and surrounding bodywork provide substantial wind protection as well as conveying a strong Kawasaki Versys® brand identity. Air passages between the upper cowl and side cowls are designed to reduce air resistance to help deflect the wind.
• Front fender design has long, slim deflectors that not only enhance the bike's looks but also help protect the fork inner tubes from road debris.
• A balanced use of color and metal and plastic materials emphasizes the functional beauty of the bike's individual parts and the sculpted bodywork shaped with rider comfort in mind.
Highly Durable Paint
• Kawasaki's Highly Durable Paint and Highly Durable Matte Paint has a special coat that allows minor scratches to self-repair to help the paint maintain its high-quality finish.
• Soft and hard segments in the paint work together like a chemical spring, creating a trampoline effect that absorbs impacts.
– In some cases, it takes about one week for the paint to recover.
– The paint will not recover from scratches caused by a key, coins, zippers or snaps.
LED Lighting
• LED headlights each have high and low beam plus a position lamp, offering superb brightness for night riding.
• LED taillight displays a dual H pattern when the position lamp is on.
LED cornering lights are incorporated into the side shrouds to help illuminate the road when cornering. Each of the three lights has a fixed direction and is activated in order according to lean angle to create a wider illuminated path in the intended direction.
2021 Kawasaki Versys 1000 ABS LT SE – Totalmotorcycle.com USA Specifications/Technical Details
US MSRP Price: $  USD
Canada MSRP Price: $20999 CDN
Europe/UK MSRP Price: £ See Dealer GBP (On The Road inc 20% Vat)
– 2021 Kawasaki Versys 1000 SE LT+
2021 Kawasaki Versys 1000 ABS LT SE – Totalmotorcycle.com  Canadian Specifications/Technical Details
| | |
| --- | --- |
| Engine | 1,043cc, liquid-cooled, 4-stroke DOHC 16-valve in-line four |
| Bore x Stroke | 77.0 x 56.0 mm |
| Compression Ratio | 10.3:1 |
| Fuel System | Fuel injection: ø38 mm x 4 |
| Ignition | Digital |
| Starting | Electric |
| Lubrication | Forced lubrication, wet sump |
| Transmission | 6-speed, return |
| Clutch | Wet multi-disc, manual |
| Final Drive | Chain |
| Frame | Twin tube, aluminum |
| Front Suspension / Wheel Travel | ø43 mm inverted fork with KECS-controlled compression and rebound damping, manual spring preload adjustability, and top-out springs / 150 mm (5.9 in) |
| Rear Suspension / Wheel Travel | Horizontal Back-link, BFRC lite gas-charged shock with piggyback reservoir, KECS-controlled compression and rebound damping, and electronic spring preload adjustability / 152 mm (6.0 in) |
| Rake / Trail | 27.0° / 106 mm |
| Steering Angle (L/R) | 34° / 34° |
| Front Tire | 120/70ZR17M/C (58W) |
| Rear Tire | 180/55ZR17M/C (73W) |
| Front Brakes | Dual semi-floating ø310 mm petal discs with radial-mount, monobloc, opposed 4-piston calipers |
| Rear Brake | ø250 mm petal disc with single-piston caliper |
| Dimensions (L x W x H) | 2,270 x 950 x 1,530/1,490 mm (high/low) (89.4 x 37.4 x 60.2/58.7 in (high/low)) |
| Wheelbase | 1,520 mm (59.8 in) |
| Road Clearance | 150 mm (5.9 in) |
| Seat Height | 840 mm (33.1 in) |
| Curb Mass** | 257 kg (567 lb) without saddlebags |
| Fuel Capacity | 21 litres |
| Instrumentation | Analogue-style tachometer + full-colour TFT screen with digital speedometer, gear position indicator, fuel gauge, odometer, dual trip meters, current and average fuel consumption, remaining range, bank angle display and max bank angle recording function, average speed, total time, coolant temperature, intake air temperature, ice warning, clock, Economical Riding Indicator and IMU indicator |
| Warranty | 24 months |
| Kawasaki Protection Plus | 12 / 24 / 36 / 48 months |
2021 Kawasaki Versys 1000 ABS LT SE – Totalmotorcycle.com European Specifications/Technical Details
TBA
Manufacturer Specifications and appearance are subject to change without prior notice on Total Motorcycle (TMW).